If you want to find the best solar powered lights for camping, then you're not alone. Trying to choose the best tent lights for camping or outdoor lights for camping can be tricky, so this guide is here to lead the way (even during darkness).   
When you're wondering what sort of solar camp lights there are or which to go for, this article narrows down the options. We have tested and reviewed a selection of solar lights that are commonly used for camping so we can help you make the best choice. Only eight great products have made the grade, but all bases are covered.  
If you want to find the top solar rechargeable camping lights available right now, look no further! 
No time right now to discover the best solar lights for camping? Pin It and save it for later: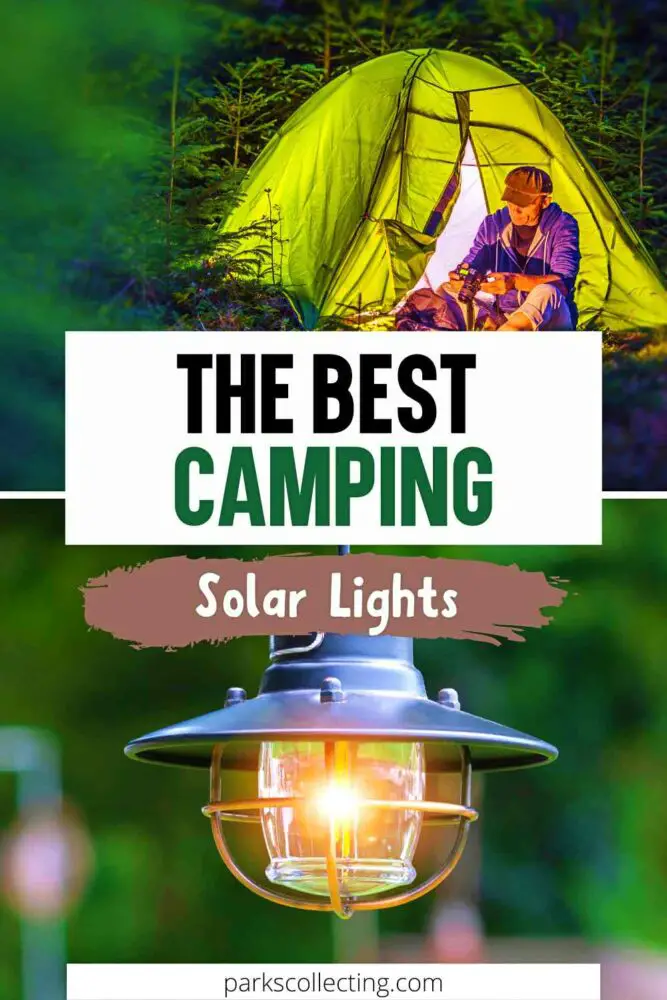 From solar powered tent lights like a hurricane lamp or camping lantern to a string of fairy lights or motion sensor lamps, we have tried out all the top products right. Whether the best rechargeable camping light for you can be powered via USB or a 220V socket as well as solar power, all options are covered. 
Read on to find all the best camping lights that are solar powered. Then you can make an informed choice regarding which one's right for you.  
Let's dive on in by taking a look at our overall top pick. 
The Best Solar Lights for Camping 
The LuminAID PackLite Titan is the number one choice overall. Click here to view it. 
Why buy the LuminAID PackLite Titan? 
The LuminAID PackLite Titan is a collapsible camping lantern with a convenient carry strap.  We found it to be a tough product that can stand up to dust, water and pressure. The powerful 4,000 mAh battery can even be used to power up your phone. Solar lights can often be quite dim, but the power behind this model made it brighter than most.  
>> Click here to see the LuminAID PackLite Titan 
---
Best Solar Camping Lights Comparison Table
The Best Solar Camping Light – Frequently Asked Questions 
What is the best brand for solar lights? 
Top rated solar lights are made by top brands including Goal Zero, MPOWERD and LuminAID. Between them, these three brands make solar powered camping lanterns and string lights that are ideal for outdoor life. They stand out because their products are made to last, portable, user-friendly and ultra-efficient.  
Are solar lanterns good? 
Solar lanterns are great. Every one we've listed can be charged by another means such as a USB port or a 220V socket. Some even come with a hand crank. When you do get sufficient sunlight to power them fully, you're using a source of free, eco-friendly power. What could be better than that?  
What type of solar lights are brightest?  
Solar lanterns can be on the dim side.  Of all the brands we put through their paces, the Goal Zero Lighthouse camping lantern is brightest of all. With up to 600 lumens, this one even has a hand crank for emergency power.  It can also be used on 180 or 360° settings to conserve power.  
---
The Best Outdoor Solar Lights For Camping (based on our test and reviews) 
LuminAID PackLite MAX 2-in-1 Lantern 
With five brightness settings, a run time of up to 50 hours and 150 lumens of LED light, this Luminaid is one of the best lights for camping. Plus, it runs on free solar power, of course. 
It took us 12 to 14 hours of sunlight to fully charge it, which is not very quick.  A bonus, though, is that you can also charge this lantern via USB if you don't have enough sunlight, which takes one to two hours.  To balance the slow charge time, the integral lithium-ion battery has a 2,000 mAh rating, so it holds a charge pretty well and unless you have it on all night, it charges back up again with a day of normal sunlight. 
We also liked that you can charge your smartphone or tablet via the USB output port provided. 
The lantern is collapsible, comes with an adjustable strap for hanging up and is cool to the touch.  Made from heavy duty materials, it's also shatter-resistant, rustproof and waterproof.
Pros: 
Collapsible lantern with strap 
Can charge it via a USB if there isn't enough sunlight 
Can use the USB to charge a tablet or phone 
Heavy duty & is shatter, dust & waterproof
>> Click here to view on REI
 
>> Click here to see on Amazon
---
LuminAID PackLite TITAN 2-in-1 Lantern 
The Titan model is a good alternative to the LuminAID PackLite Max from the same manufacturer. Offering up to 300 lumens and a 4,000 mAh lithium-ion battery, this one is better equipped to last the distance.  
To inflate this lantern really fast, all you need to do is twist it.  We found that even after being on for a couple of hours in our test, this lantern didn't get hot, making it one of the safest and best camping lights for tents you'll find.
The downside is that it takes 16 to 20 hours of sunlight to fully charge, but once it's charged up, it runs for up to 100 hours. We found this to be a little less, but with some sun every day, it can easily last for your entire camping trip.   You can also charge it via USB in four hours or less if you don't have enough sunlight. 
These tough solar powered camping lights are made using ultra durable materials. They're also fully waterproof, dust resistant and shatterproof. We tested this out some rough(ish) treatment and it stood up to it all.   
A loop means you can carry or hang yours up easily and it's collapsible for packing and storage.
Pros: 
Up to 300 lumens 
Powerful 4,000 mAh battery so it holds power for a long time 
Tough, waterproof, shatterproof & dust-resistant 
Cons:
Long initial charge time (though you can charge it via USB in much less time) 
>> Click here to view on REI
 
>> Click here to see on Amazon
---
MPOWERD Luci Inflatable Solar Lantern 
This is not only a contender as the best camp light around: it also works as a power bank to charge your phone via USB.  
You can charge this one via USB as well as solar power. A full charge via USB takes five to six hours, while via sunlight you're looking at around 28 hours, which is a long time. The flip side is that it has a powerful, built-in 4,000 mAh lithium-ion battery that can run for up to 50 hours on one charge once it's charged up.
31 warm, white LEDS emit 360 lumens of power, and the lamp has a glare-free, diffused finish so the light inside your tent won't appear too bright. We aren't fans of LED lights in general, but we found this created a more pleasant ambience than LEDs often do.  
The construction is super tough, and can withstand his levels of pressure. These very portable solar lights are also waterproof.
Pros: 
Up to 360 lumens 
Nice warm light 
Charge devices via 2-way USB 
Pressure-resistant & waterproof
Cons:
Lesser-known brand 
Slower/ longer charge time than similar products 
Length of charge is adequate but less than other products with similar battery strength 
>> Click here to view on REI
 
>> Click here to see on Amazon
---
Goal Zero Crush Solar Lantern 
Our quest to find the best camping solar lights around continues with the Crush from Goal Zero. This is a small, compact design, so it's not one for when you want high levels of lighting.  
In terms of impressing your friends and portability, though, this solar light camping is a clear winner. Eight color settings means you can change the tone at will from red to blue or green to orange, magenta, red, aqua or white. 
60 lumens of light are supplied and it can run for up to 35 hours. It can be charged via the integral solar panel or USB, and packs down to just over half an inch for storage.
Pros: 
8 color modes 
Ultra compact design 
Chargeable vis USB or solar
>> Click here to view on REI
 
>> Click here to see on Amazon
---
Goal Zero Lighthouse 600 Solar Lantern
Goal Zero make some of the top solar tent lights around and another great option from them is the Lighthouse 600. This impressive lantern can provide up to 600 lumens of light. Do note that the solar panel is not included, however. Check our reviews of solar panels if you're looking to get one. 
A clever feature is the way you can use just half the lantern if you want to, saving a lot of power. There are also user-friendly folding legs and an integral carry handle. As well as solar or USB power, you can crank this one up by hand too. 
The built-in lithium-ion battery can be used to charge up your devices when you're away from home. If all else fails, one minute of cranking should give you 10 minutes of light. Enough to see your way by for that after-dark bathroom trip!
Pros: 
Up to 600 lumens 
Hand crank power option 
Use 180 or 360° of LED light
Cons:
Not a collapsible design 
Solar panel purchased separately
>> Click here to view on REI
 
>> Click here to see on Amazon
---
MPOWERD Luci Solar String Lights
This reel filled with a long string of solar lights is such a practical, multi-purpose product when you want something other than the solar rechargeable camping lantern. Instead you get a line of fairy lights to string up in the backyard or at the campground. 
There are 20 bright LEDs, and you can pick between 10 display modes. There is also a hopeful USB port for charging mobile devices. An integral flashlight also lets you find your way safely during darkness.
On the low setting these lights can run for up to 20 hours, or 11 on medium and five on high. When flashing mode is used, they'll last for around nine hours. This lightweight, portable pack all rolls up into the reel once you're done, and the solar panel is already built into this.
Pros:
Built-in flashlight 
Clever reel design 
20 LEDs with 10 lighting modes
Cons:
More for ambient lighting
>> Click here to view on REI 
 
>> Click here to see on Amazon 
For more on string lights for camping, check out this post. 
---
Solar Sensing Camping Lights 2-Pack 
If you want a light that comes on automatically when you leave the tent during the night, go for this one. It's also ideal for use when you want the reassurance of a security light. Or two.  
In fact, buying this two-pack means you could fix one up permanently at home while leaving the one to take away on camping trips. The range of detection is 20 feet plus, and for the first 20 seconds the light emitted is ultra-bright. 
These portable solar lights for camping or home use are compatible with temperatures between -30 and 120℉. An efficient solar panel means they're fully charged in under six hours, and the outer shell is made from durable aluminum rather than plastic.
Pros: 
2-pack of motion sensor lights 
Fully charged in 6 hours 
Tough aluminium shell
Cons:
Not designed for constant lighting
>> Click here to see on Amazon
---
Portable LED Hurricane Solar Lantern
The final serious contender as best solar light for camping is a hurricane lantern. It features a collapsible and portable design. The brightness on this solar lighting for camping can be adjusted according to how far you pull up the handle. 
It all packs down into a size as small as a cell phone, and the folding handle means you can hang it on that loop in your tent. There's an integral 1,600 mAh lithium-ion battery, and this can be charged via a 220V socket as well as by solar power.
A USB output means you can use to power up your phone if required. Once fully charged, the lighting lasts for up to 25 hours, and the casing is also waterproof to cope with inclement weather.
Pros: 
Packs down very small 
Easily adjustable lighting 
Can be charged via 220V socket
Cons:
Build quality 
Not the greatest power bank
>> Click here to see on Amazon
---
Which are the best outdoor lights that use solar power? 
If you wanted to find top-rated solar camping lights for outdoor use, we hope you've found this piece useful. When you use solar power to light up the night, you not only benefit from free power. You're also harnessing the most eco-conscious source around!  
Whether it's for creating an atmosphere, peace of mind or as a source of bright light inside your tent, buying solar powered camping lights is a great investment. 
Happy camping!   
Do you have another pick for the best camping solar lights?  I'd love to hear what it is.  Join my private Facebook group National Parks Collectors and comment and let me know (you can also pick up extra planning tips, share your photos and stories with other national park lovers and more).  
If you liked this post about the best solar camping lights, please share the love and Pin It to your Camping Gear board!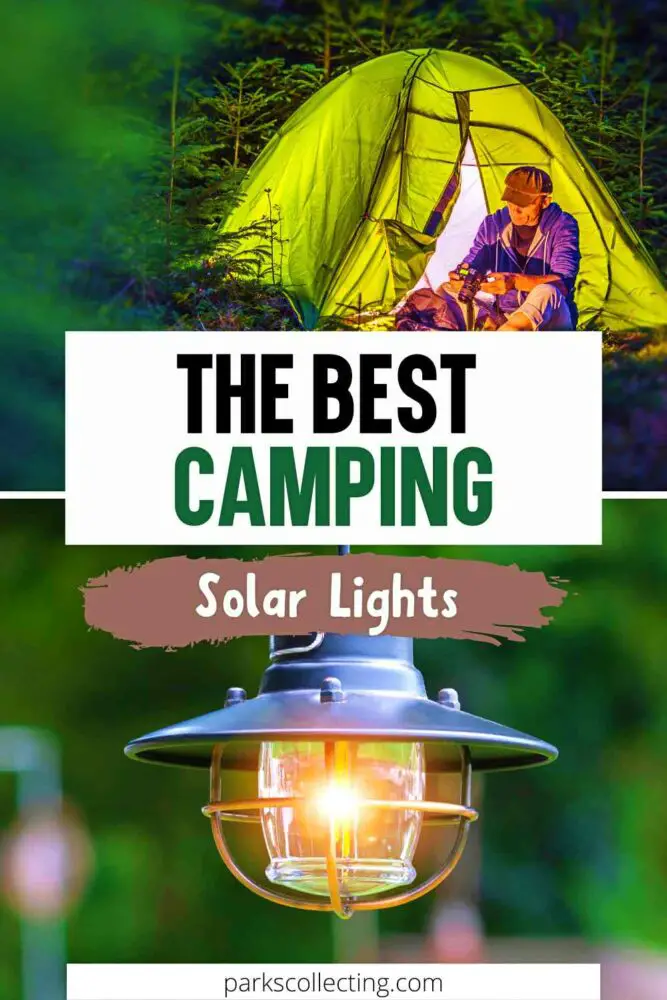 Read more travel product reviews
---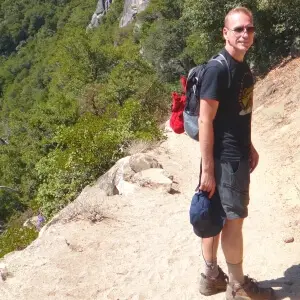 James Ian has dedicated his life to travel and has traveled to 82 countries and all 7 continents.  He's visited all of the main national parks in the United States, as well as many national monuments and state parks.
As a national park expert, James has contributed to many publications, including Time Business News, Savoteur, and Wired. He also has several published detailed itineraries in addition to many free online guides.
James has rafted through the Grand Canyon; rappelled down slot canyons near Zion and Arches; hiked among the hoodoos in Bryce and the enormous trees in Sequoia; admired the waterfalls in Yosemite and the colored hot springs in Yellowstone; seen moose in Grand Tetons and seals in the Channel Islands, and much more.
---
Parks Collecting is a participant in the Amazon.com Services LLC Associates Program, an affiliate advertising program designed to provide a means for sites to earn advertising fees by advertising and linking to amazon.com. Amazon and the Amazon logo are trademarks of Amazon.com, Inc. or its affiliates. As an Amazon Associate I earn from qualifying purchases.