Whether you're already looking for the best backpack dog carrier for hiking or have not previously considered taking your four-legged friend along, this guide is for you.
We list, review and recommend all the best backpack dog carrier hiking products. Like a Baby Bjorn carrier for dogs, each of these products lets your dog take to the trails with you, without worrying about when they'll tire of walking. We include the best dog backpack carriers for all sizes – one can even carry two dogs if required.  
 No time to read about the best dog backpack for hiking now?  Pin It and save it for later: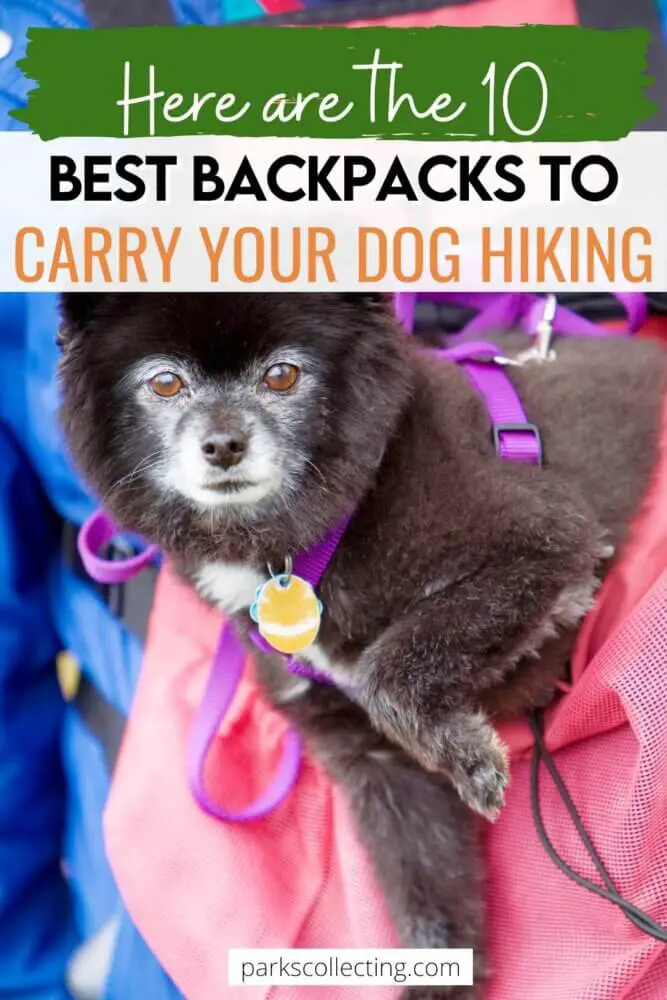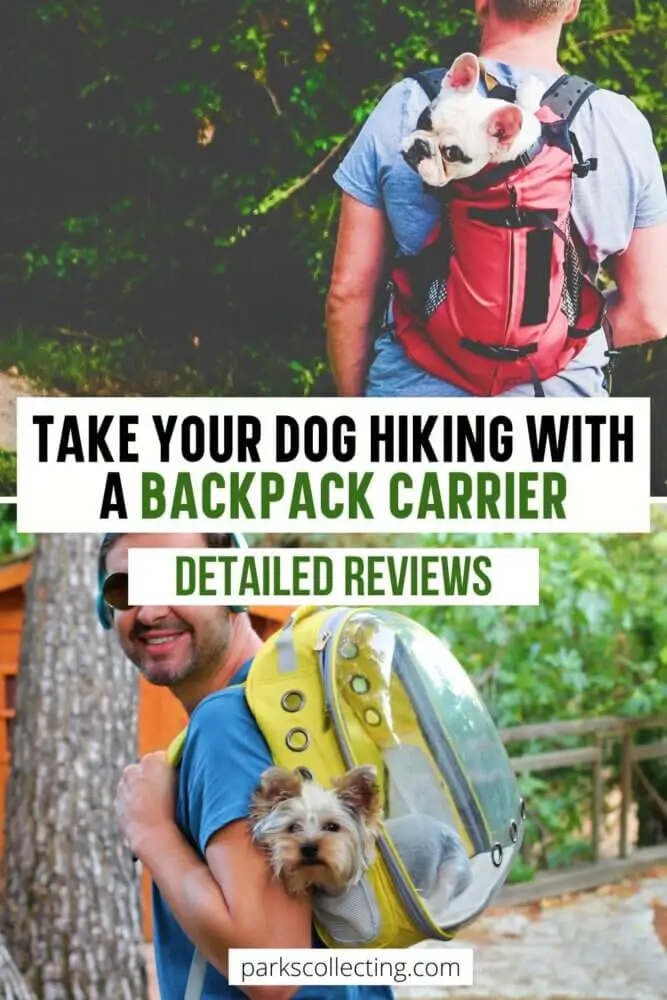 Please note this post may contain affiliate links, which means we may receive a commission, at zero cost to you, if you make a purchase through a link. Please see our full Disclosure for more information. If you have any questions, please contact me.
Our pick for the best backpack dog carrier for hiking 
See our top overall pick at a glance with right here. The number one recommendation is the K9 Sport Sack Navigate, which is available in five different sizes to ensure the right fit. 
Why buy the K9 Sport Sack Knavigate? 
This is the best hiking dog backpack carrier because you can order it in just the right size to suit your dog. It's also a serious, rugged backpack made for outdoor use. Whether you have a Maltese, a Pug, a Corgi or a Whippet, this top quality carrier can ably cop with the load.  
>> SEE THE K9 KNAVIGATE DOG BACKPACK HERE
---
Best backpack to carry dog hiking comparison guide  
Compare every dog backpack hiking product right here. The easy reference table lists the key features of each hiking dog pack, so you can narrow down the options at a glance. 
If you are reading this on a mobile device, you might need to swipe to scroll across each listing. 
---
Best dog carrier backpack for hiking categories 
While every dog hiking backpack carrier listed is a great product, there are several categories included – according to the pet's size or the features of the carrier. 
Best backpack carriers for dogs 
Here we list 7 of the best options overall. Top picks include a double carrier suitable for two small pets, a couple of airline approved products, some with useful extras and even an expandable backpack dog carrier for hiking. 
Jump straight to the best overall carriers
Best small dog carrier for hiking 
For the purposes of this guide, we define a small dog as one weighing under 15 lbs. The best carrier here is airline approved and packed with great features. 
Jump straight to the best small dog carrier
Best medium dog backpack carrier 
A medium dog weighs from 16 to 30 lbs. Our number one medium sized dog backpack carrier is one of two great K9 backpacks for dogs listed in this guide. 
Jump straight to the best medium dog carrier
Best large dog backpack carrier for hiking  
If your pooch weighs over 30 lbs, then you need a large dog carrier backpack. Again a K9 product comes out on top. 
Jump straight to the best large dog carrier
Best front dog carrier for hiking 
A front pack dog carrier allows you to see your pet all the time, so it's ideal for a nervous or fidgety animal.  
Jump straight to the best front-facing dog carrier
Best dog sling for hiking 
Invest in a dog sling for hiking and you can keep your pet comfortable while leaving your back, front and hands free.  
Jump straight to the best sling dog carrier
---
Finding the best dog carrier for hiking – Frequently Asked Questions 
How much do good backpacks for carrying dogs usually cost? 
We've included a range of prices here so you can find the ideal carrier for you. How much you want to spend might depend on how often you plan to use the carrier – as well as the size and weight of your pet.  
What are some useful doggy backpack extras to look out for? 
Pockets are a great feature, as it gives you somewhere to store items while hiking. Also look for comfort – for your pet as well as you. Padded seating for them and and an ergonomic design for you could make your trips so much more enjoyable.  
How do I carry the other items we need? 
Many of the best dog carrier backpacks for hiking will have several pockets. Think about what you need to take and how much space you'll need when choosing the right puppy hiking backpack. Alternatively, select a sling or front carrier and you could carry a backpack as well. 
How does the dog's size matter? 
The size of the dog is relevant in three ways. Consider its weight, length and girth when checking whether a carrier will be suitable for you and your pet.  
---
The Best Dog Carrying Backpack Products 
Petsfit Comfort dog carrier backpack 
Suitable for a pet weighing up to 15 lbs, this Petsfit dog carrier for walking is highly rated among a large number of satisfied owners.
There is a nice choice of colors, including gray, black, pink and green. Chest and waist straps and buckles make sure your pet stays safety in place while avoiding shoulder or back strain for the wearer. Four mesh windows give your pet a good view of the surroundings, while a soft fleece mat keeps them cozy.  
>> BUY THE PETSFIT COMFORT PET CARRY BACKPACK ON AMAZON 
---
Ytonet dog backpack carrier 
This is one of the smaller backpacks to carry a dog and has a modest price tag to match.
The Ytonet product makes an ideal puppy backpack carrier for those on a budget, and still offers various features for comfort and practicality. There's a soft pad at the bottom for your pet to sit on, and storage pockets to the sides for all your kit.
Adjustable, padded shoulder straps also make this dog carrier pack comfortable to wear when hiking.  
---
Pettom dog backpack  
With a maximum carrying capacity of 17.6 lb, this Pettom backpack carrier for dogs when hiking is also ideal for use on most aircraft. This makes it a top pick among those who are flying to their destination.
Grab handles as well as shoulder straps make it easy to move around when at the airport. There are multiple storage pockets, an inner leash clip, security buckle and a removable fleece mat. Again, chest and waist straps held to ensure an even load.  
>> GET THESE PETTOM DOG CARRIERS FOR HIKING ON AMAZON 
---
Petsfit Expandable backpack pet carrier 
Also from Petsfit is this expanding backpack pet carrier for hiking.
What's handy about this one is the face that you can increase the internal space by a huge amount. This means you can keep your pet contained when stopping for a rest break – without them feeling too confined.
For you, there are wide, pressure-relieving shoulder straps which are both adjustable and breathable. Waist and chest straps also help to ensure the load is secure and evenly spread.  
---
Pet Ami Deluxe Pet Carrier 
Again the Pet Ami carrier can carry slightly more weight – up to 18 lbs maximum.
This sleek backpack to put your dog in when hiking comes in a dozen color options. A thick sherpa lining is a feature your pet will love, while good ventilation, a reinforced design and safety straps will keep you both comfortable.
A collapsible pet bowl with clip is included with these pet backpacks for dogs too. 
>> BUY THESE PET AMI DOG BACKPACKS ON AMAZON  
---
Ibiyaya Double Compartment pet carrier 
This is surely the top pick among puppy backpacks for anyone who has more than one pet.
As long as they are small and have a combined weight of no more than 26.5lbs, each can sit in its own cozy compartment. Or the Ibiyaya backpack pet carrier for hiking could accommodate one larger pet instead.
To ensure human comfort, there are padded hip straps, a sternum belt and anatomically-shaped shoulder straps.  
>> BUY THE IBIYAYA DOUBLE PUPPY CARRIER ON AMAZON
---
Best small dog backpack for hiking 
Kurgo G Train dog carrier backpack
The best hiking backpack for small dogs is the Kurgo G Train dog carrier backpack. With a capacity of 25 lbs maximum, these back packs to carry dogs come in red or black.
Kurgo's airline approved backpacks to carry dogs in are also ideal for hiking. A waterproof bottom also makes this a great backpack for a puppy. There are stowaway shoulder straps and carry handles to the top and front, and this one can transform into a more conventional pet carrier when required.
A laptop sleeve is even included, plus two water bottle pockets. This ergonomically designed product has lots of padding and straps to spread the load, too. 
>> SEE THESE KURGO BACKPACKS ON AMAZON  
---
Best medium sized dog backpack for hiking 
K9 dog backpack carrier
Our top pick dog backpack carrier for medium dogs is the K9 dog backpack carrier.
It comes in four sizes, and whichever you choose it is good for a dog weighing up to 30 lbs. Testament to the popularity of this dog backpack carrier for a 30 lbs pet is the fact that they make it in 12 colors.
This US-based company provide a handy sizing chart for guidance when buying, so you can sure of getting the ideal fit. For your comfort, there is a mesh ventilation system to the padded shoulder straps and some handy storage pockets.  
>> BUY THE K9 SPORT SACK BACKPACK FOR MEDIUM SIZED DOGS ON AMAZON
>> BUY THE K9 SPORT SACK BACKPACK FOR MEDIUM SIZED DOGS ON PETCO
---
Best backpack to carry a large dog 
K9 Sport Sack Navigate
The best dog carrier backpack for a large dog is the K9 Sport Sack Navigate.
Available in five different sizes from extra small to extra large, the biggest XL model can cope with a dog weighing up to 50lbs that is up to 26 inches in length and 37 in girth. A very impressive capacity for anyone seeking a backpack dog carrier in a large size.
Whether you have a Boxer, Collie or Husky, this big dog carrier backpack comes in midnight black or light lunar gray.  
>> BUY THE K9 BACKPACK FOR BIG DOGS ON AMAZON  
---
Best front facing dog carrier 
Alfie Pet Amos carrier
---
Best dog sling carrier for hiking 
AutoWT sling
This AutoWT can carry a dog weighing up to 13 lb. It's a great alternative to a dog backpack carrier for hiking, as long as your dog is fairly small and light.
Made from soft cotton, the sling is adjustable and comes in your choice of 10 color options. There are buttons and a safety hook to ensure your pet stays in place, while the thickly padded shoulder strap assures your comfort the walking.
A front pocket is included for storage, and this dog carrier for hiking is also machine washable. 
---
Which is the best backpack carrier for your dog? 
Wherever you choose to take your pet, we hope this guide helps when choosing a hiking backpack dog carrier. Whatever you select, purchasing the right dog carrier hiking backpack will give your and your furry friend the ultimate in freedom and flexibility.  
Happy hiking!  
Do you have any other recommendations for the best hiking backpack for dogs?  Let me know. Join my private Facebook group National Parks Collectors and comment and let me know.
If you liked this post, pin it to your hiking board!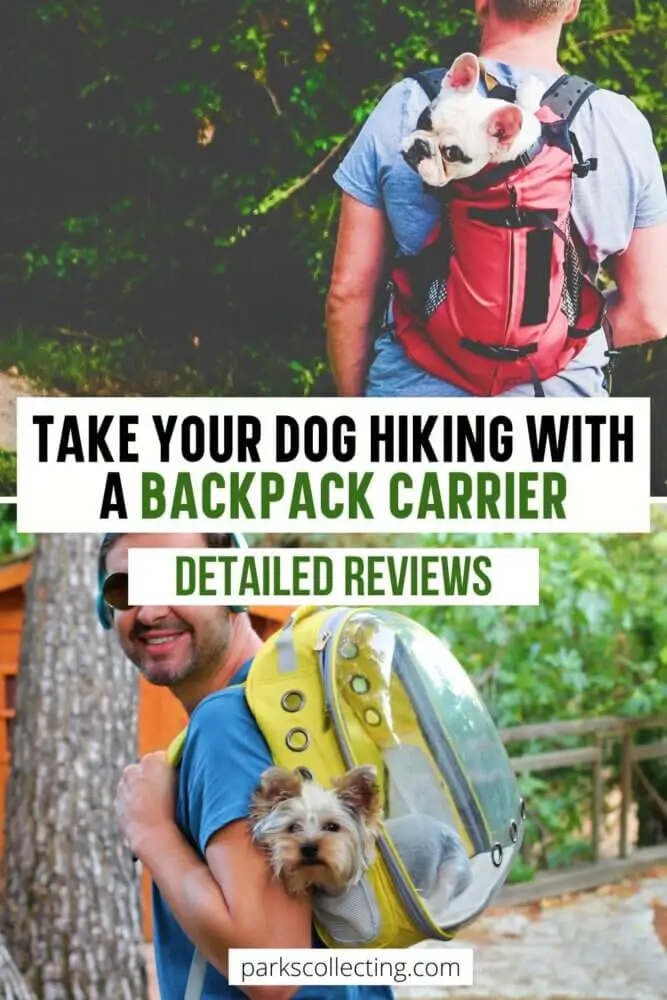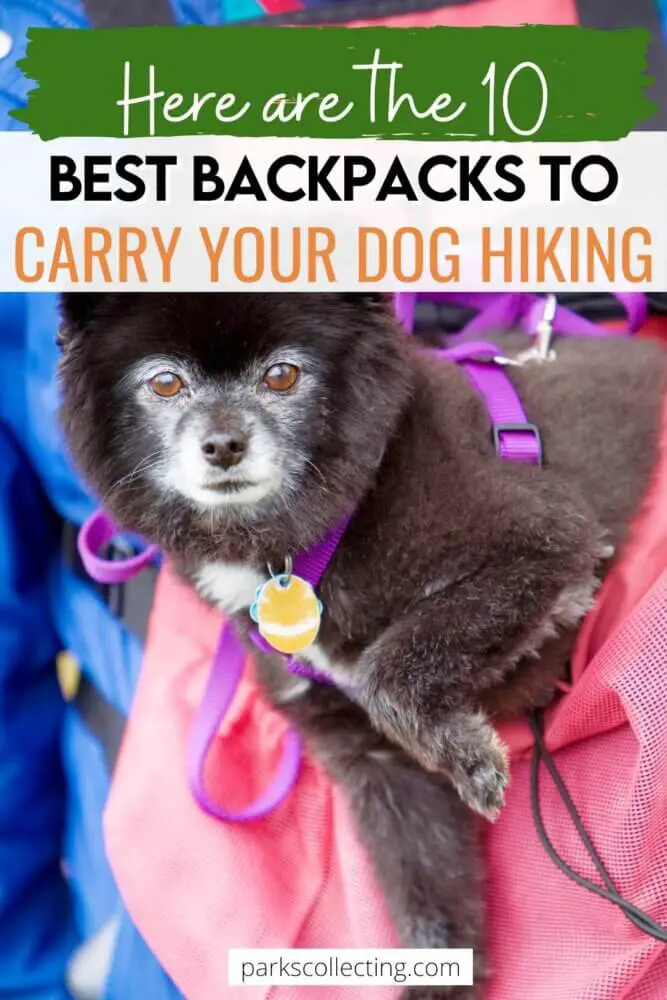 ---
Read more travel product reviews
Hiking
---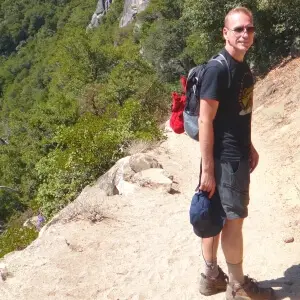 James Ian has dedicated his life to travel and has traveled to 82 countries and all 7 continents.  He's visited all of the main national parks in the United States, as well as many national monuments and state parks.
As a national park expert, James has contributed to many publications, including Time Business News, Savoteur, and Wired. He also has several published detailed itineraries in addition to many free online guides.
James has rafted through the Grand Canyon; rappelled down slot canyons near Zion and Arches; hiked among the hoodoos in Bryce and the enormous trees in Sequoia; admired the waterfalls in Yosemite and the colored hot springs in Yellowstone; seen moose in Grand Tetons and seals in the Channel Islands, and much more.
---
Parks Collecting is a participant in the Amazon.com Services LLC Associates Program, an affiliate advertising program designed to provide a means for sites to earn advertising fees by advertising and linking to amazon.com. Amazon and the Amazon logo are trademarks of Amazon.com, Inc. or its affiliates. As an Amazon Associate I earn from qualifying purchases.