Yellowstone Travel Guide
Yellowstone National Park is not only the first national park in the United States, it is also one of the best national parks in the United States.
The park has incredible variety. It's a geothermal hot spot, and you can see erupting geysers like Old Faithful, bubbling mud pots, boiling cauldrons, and fantastical brightly colored hot springs. There is also a large lake for watersports, thundering waterfalls and a deep canyon, and some of the best wildlife viewing in the country. This is THE place to see bison in the wild!
Use this Yellowstone visitors guide to get all the information you need to have an amazing trip to the national park. 
No time to read this Yellowstone National Park Guide now?  Pin It and save it for later: 
Yellowstone National Park at a Glance
State: Wyoming, Montana, Idaho 
Main attractions: Geysers, colored pools/ hot springs, other geothermal features, lake, wildlife, canyon, waterfalls 
Fun Facts: 

Yellowstone is the first national park in the USA – and the entire world.  It became a national park on March 1, 1872. 
The national park is a supervolcano.  It has had three "supereruptions" in the last 2 million years – one 2 million years ago, another 1.2 million years ago, and a third around 630,000 years ago. 
Yellowstone is home to half the world's hydrothermal features.  Look for geysers, mudpots, fumeroles (steam vents), and hot springs. 
Yellowstone National Park is often nicknamed "America's Serengeti".   It  has the largest concentration of mammals in the lower 48 states (67 species). 
---
Itineraries for Yellowstone National Park
Get a one-day, two-day, three-day or four-day detailed itinerary for Yellowstone National Park. 
EXCLUSIVE BONUS CONTENT WITH YELLOWSTONE ITINERARIES
---
Yellowstone National Park Guide
Please note this post may contain affiliate links, which means we may receive a commission, at zero cost to you, if you make a purchase through a link. Please see our full Disclosure for more information. If you have any questions, please contact me.
How to Plan a Trip to Yellowstone National Park  
Planning a Trip to Yellowstone National Park can be overwhelming – but it doesn't have to be.  Use this Yellowstone National Park travel guide to help plan your trip.   Click on the links below to go to detailed guides and find answers to your questions.  
Entrance Fee for Yellowstone National Park 
There is an entrance fee to get into Yellowstone.  Find the latest fees on the NPS website.    
To avoid long lines and save money, if you are planning to visit more than just Yellowstone this year, it can be great value to purchase an America The Beautiful pass.   
The one-year pass includes standard entrance at all sites managed by the National Park Service, Forest Service, Fish and Wildlife Service, Bureau of Land Management, Bureau of Reclamation and Army Corps of Engineers. It covers the entrance fee for a driver and all passengers in a personal vehicle or up to 4 adults at sites that charge per person.
Get an America The Beautiful pass here. 
Yellowstone Park Entrances 
There are five entrances to Yellowstone National Park:   
North Entrance. This is just outside Gardiner and is convenient if you fly into Bozeman Yellowstone International Airport (BZN). The entrance is open to regular vehicular all year and can be used for oversnow travel in winter. 
Northeast Entrance. This is next to Cooke City/ Silver Gate and is accessed from the east over the scenic Beartooth highway.  The entrance is open all year, but the only access from the road the east, the Beartooth Highway, is closed in winter. 
West Entrance. The main gateway town here is West Yellowstone, where there is a seasonal regional airport and easy access from the west. The entrance is open for oversnow travel only in winter.
Southeast Entrance.  The nearest town is Cody.  Easy access for points to the east and southeast.  The entrance is open for oversnow travel only in winter.
South Entrance. This is the main entrance used for travel between Yellowstone and Grand Teton National Park, which is just eight miles south of Yellowstone.  The entrance is open for oversnow travel only in winter.
Yellowstone Visitor Centers  
There are several visitor centers throughout the park.  For details, addresses, and opening hours, visit the NPS website.   
---
Things to Do in Yellowstone National Park 
---
Where to Stay In/ Near Yellowstone National Park 
Places To Stay Near Yellowstone
There are gateway towns at or near each of the entrances. 
Places To Stay Inside Yellowstone National Park 
There are several lodges and several campgrounds inside the park.   
Find details of all the lodges inside Yellowstone National Park here. 
---
The Best Airports for Yellowstone National Park
If you're looking for flights, use Skyscanner to scan the Internet for the cheapest deals.  
---
How to Get Around Yellowstone National Park 
Once you're there, the easiest way to get around Yellowstone National Park is by car.  You'll need your own vehicle or to rent a car at the airport.  You can find a rental car here. 
The other option is to get a taxi from the airport in West Yellowstone and then take a tour from there to the park.    
---
The Best Time to Visit Yellowstone National Park
In general, the best time to go to Yellowstone National Park is early September.  Most things are still open, the crowds have thinned out, and the fall color is starting to pop (though it can randomly snow even then!).  However, this isn't the only good time to go. 
---
How Long to Spend in Yellowstone National Park 
How many days you should spend in Yellowstone depends on a number factors including how much time you have available, your budget, and your interests.  I recommend at least four days to see the park's highlights.
---
Best Hikes in Yellowstone National Park
Hikes in Yellowstone range from short, easy walks on flat boardwalks to much longer hikes out into the backcountry.
---
Travel Insurance for Yellowstone National Park 
A Yellowstone National Park visitor guide wouldn't be complete without travel insurance.  Protect yourself against trip cancellation, loss or theft of your property or any medical emergencies.   
 A great insurance option is World Nomads. It includes coverage for regular hiking trails.  You can book it here  or get a quote right here: 
---
Travel Tips for Yellowstone National Park
My top three tip for visiting Yellowstone are: 
Stay away from the animals and stay on the boardwalks!  People die in Yellowstone because they ignore warnings. Boardwalks are built over scalding hot water that will burn your flesh away. Bison gore tourists who get to close almost every year. The NPS guidelines are to stay at least 100 yards (91m) from bears and wolves and at least 25 yards (23m) from elk, bison, moose, and other animals. 
Have a plan.  Avoid spending your vacation driving around parking lots looking for a space to park.  Get one of my detailed itineraries – they tell you when and where to go to have the least chance of getting caught in traffic, and the best chance of being in the right place at the right time to enjoy the geysers, waterfalls, canyon, hot springs, etc., take the best photos, and see wildlife. Get the 1-, 2-, and 3-day itineraries here. 
Get an early start and stay late. This is the best way to beat the crowds, see wildlife, and have the best light for photos.  Tour buses leave by late afternoon, and this is also when light is great for photos. 
---
Best Books About Yellowstone National Park
Round out your Yellowstone planning guide with a reading list.
---
---
To save this Yellowstone guide for later, Pin It to your National Parks board: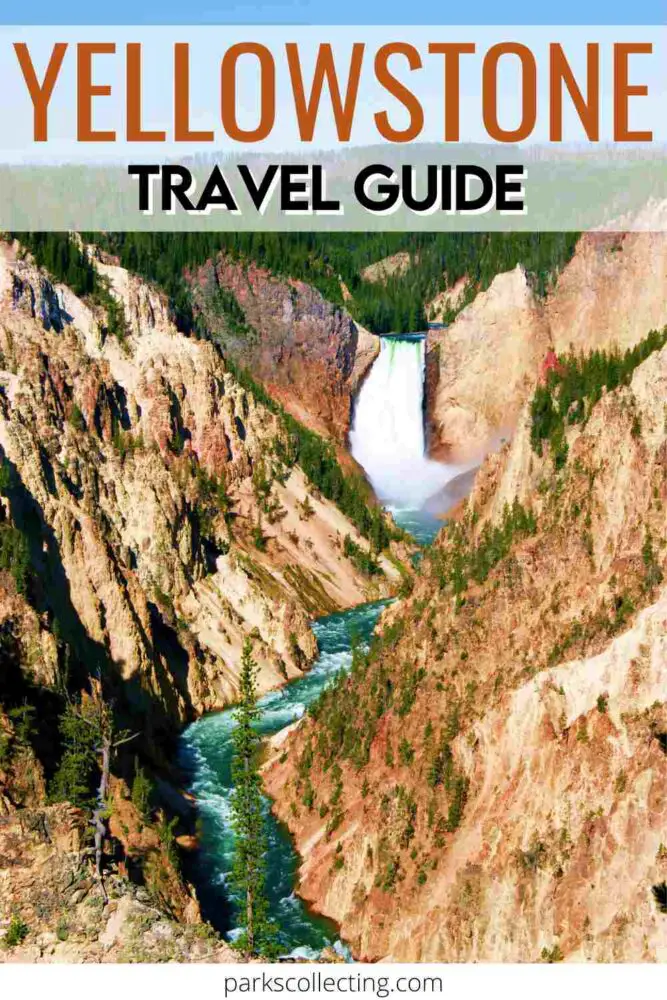 ---