Zion National Park is one of the most incredible Utah parks. The main part of the park is Zion Canyon, and unlike most canyons, it is the canyon floor, rather than the rim, that is the main place to visit. The surrounding area is riddled with narrow slot canyons, which make for unique hikes and epic experiences canyoneering for the more adventurous.  
When you visit Zion National Park, you can spend the time on the flat canyon floor surrounding by incredible red rock views, or embark on some of the most unique hikes in the country. There is a reason that Zion is the best national parks in the United States. 
However, planning a trip to Zion National Park can be tricky.  The park is incredibly popular and can get crowded.  Use this guide to visiting Zion National Park to get all the information you need to have an amazing Zion trip. 
Zion National Park Travel Guide
No time to read this Zion National Park Guide now?  Pin It and save it for later: 
Zion National Park at a Glance
State: Utah 
Main attractions: Canyon, slot canyons, views, hikes 
---
Itineraries for Zion National Park
Get a one-day, two-day or three-day detailed itinerary for Zion National Park here.
EXCLUSIVE BONUS CONTENT WITH ZION NATIONAL PARK ITINERARIES
---
Zion National Park Guide
Please note this post may contain affiliate links, which means we may receive a commission, at zero cost to you, if you make a purchase through a link. Please see our full Disclosure for more information. If you have any questions, please contact me.
How to Plan a Trip to Zion National Park  
Planning trip to Zion National Park can be overwhelming – but it doesn't have to be.  Use this Zion National Park visitors guide for all your Zion National Park trip planning.  Click on the links below to go to detailed guides and get answers to your questions.  
Entrance Fee for Zion National Park 
There is an entrance fee for the park.  Find the latest fees on the NPS website . 
To avoid long lines and save money, if you are planning to visit more than just Zion this year, it can be great value to purchase an America The Beautiful pass.   
The one-year pass includes standard entrance at all sites managed by the National Park Service, Forest Service, Fish and Wildlife Service, Bureau of Land Management, Bureau of Reclamation and Army Corps of Engineers. The pass covers the entrance fee for a driver and all passengers in a personal vehicle or up to 4 adults at sites that charge per person.
Get an America The Beautiful pass here. 
Zion National Park Entrances 
Zion National Park has four main sections.  
East Mesa:  The East Entrance Station is here. This is where you'll enter the park if you come from Kanab, Grand Canyon's North Rim, or Bryce Canyon.  You'll go through the Zion-Mt Carmel Tunnel soon after entering.  There are several hiking trails into the park in this area of the park, too. 
Zion Canyon: Zion's main entrance is here, the South Entrance Station.  The main gateway town of Springdale is also here.  This is where you'll enter the park if you come from Las Vegas.   
Kolob Terrace: Enter along Kolob Terrace Road near Virgin (open seasonally only).  There is no formal entrance gate here. The road continues all the way to Kolob Reservoir and beyond.
Kolob Canyons: This is a more remote section of the national park that is accessed separately and has its own entrance station. 
Zion National Park Visitor Centers  
There are three Visitor Centers in Zion National Park.
The main Zion Canyon Visitor Center is just inside the South Entrance.
The Zion Human History Museum also has a smaller Visitor Center.
There is also the Kolob Canyon Visitor Center.
For opening hours, which vary seasonally, visit the NPS website.  
---
Things to Do in Zion National Park
There is no shortage of things to do in Zion National Park, no matter when you go. 
---
Best Tours of Zion National Park
---
Where to Stay In/ Near Zion National Park 
Places To Near Zion National Park 
The main gateway town for Zion National Park is Springdale, which is just outside the main South Entrance.  Find accommodations in Springdale here 
Places To Inside Zion National Park 
There is one lodge inside the park. Check availability for Zion Lodge. 
There are three campgrounds.  South Campground and Watchman Campground are both just inside the South Entrance in the main Zion Canyon section. Lava Point Campground is in the Kolob Terrace section of the park. There are no campgrounds in the Kolob Canyons part of the park.  
---
How to Get To Zion National Park
If you need a rental car, find one on RentalsCars.com 
If you're looking for a flight, find a good deal on Skyscanner 
---
The Best Airports for Zion National Park
Use Skyscanner to scan the Internet for the cheapest deals to help you decide and book. 
---
The Best Time to Visit Zion National Park 
In general, the best times to go to Zion National Park are May and September. You'll avoid the summer crowds and heat, but everything will be open. However, these aren't the only good times to go. 
---
How Long to Spend in Zion National Park
How many days you should go to Zion for depends on your interests, how much you like to hike (and how fit you are), your budget, and how much time you have available.  I recommend at least three days for the main section of the park, and longer if you want to visit Kolob Canyons as well. 
---
Best Hikes in Zion National Park
---
Travel Insurance for Zion National Park 
In addition to using this Zion National Park visitor guide for trip planning, you should also think about travel insurance.  Protect yourself against trip cancellation, loss or theft of your property, or any medical emergencies.   
 A great insurance option is World Nomads. It includes coverage for regular hiking trails.  You can book it here  or get a quote right here: 
---
Travel Tips for Zion National Park 
My top three tip for a Zion National Park visit are: 
Have a plan.  Avoid the crowds as much as possible and see all the highlights.  Get one of my detailed itineraries – they tell you when and where to go to have the least chance of getting caught in crowds and the best chance of being in the right place at the right time to enjoy the trails and take the best photos.  Get the 1-, 2-, and 3- day itineraries here. 
Get an early start each day. This is the best way to beat the crowds and have the best light for photos.  
Don't just do the famous hikes.  There are dozens of incredible trails in Zion that are less crowded but no less spectacular than their famous counterparts.
---
---
To save this guide to Zion National Park for later, Pin It to your National Parks board: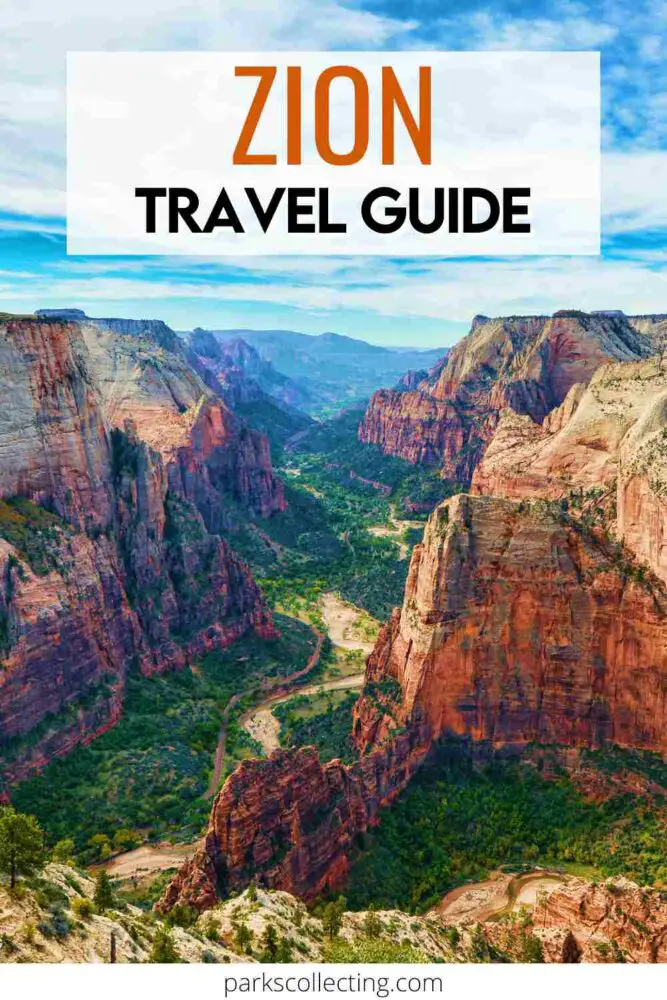 ---
---