Zion National Park is open all year round (though services are more limited in winter), so you can visit it at any time of the year.  However, if you are wondering when to visit Zion National Park, it is useful to know what to expect each season throughout the year.  The best time to go to Zion will depend on several factors including the weather, the crowds and the trails.  
No time right now to discover the Best Time of Year to Visit Zion National Park? Pin It and save it for later: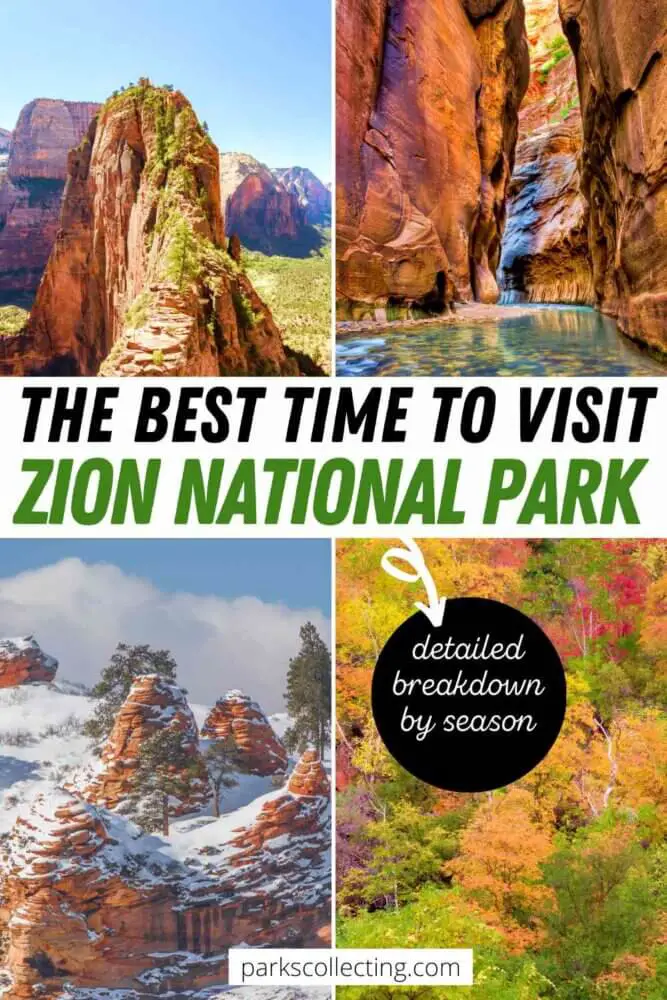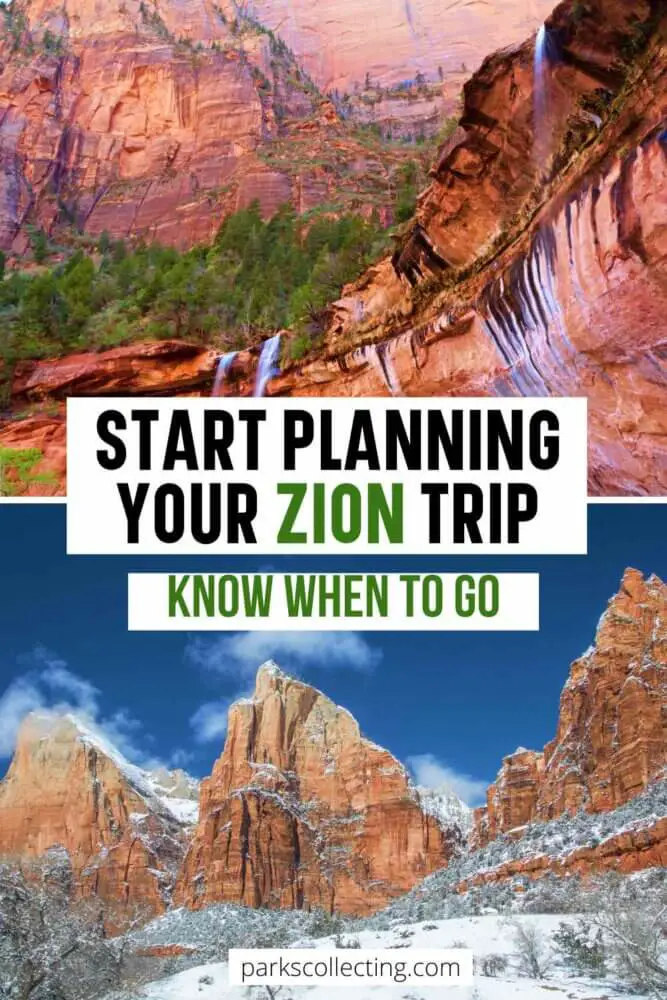 When is the Best Time of Year to Visit Zion National Park? 
Spring (March – May) 
Is spring the best time of the year to visit Zion National Park? 
As spring starts, temperatures become comfortable, the winter snows start to melt and things start to open up more.  Wildflowers burst into bloom, the waterfalls actually have water and baby animal can be seen.  However, the weather can be unpredictable, so if you visit in spring, prepare for various conditions and be flexible.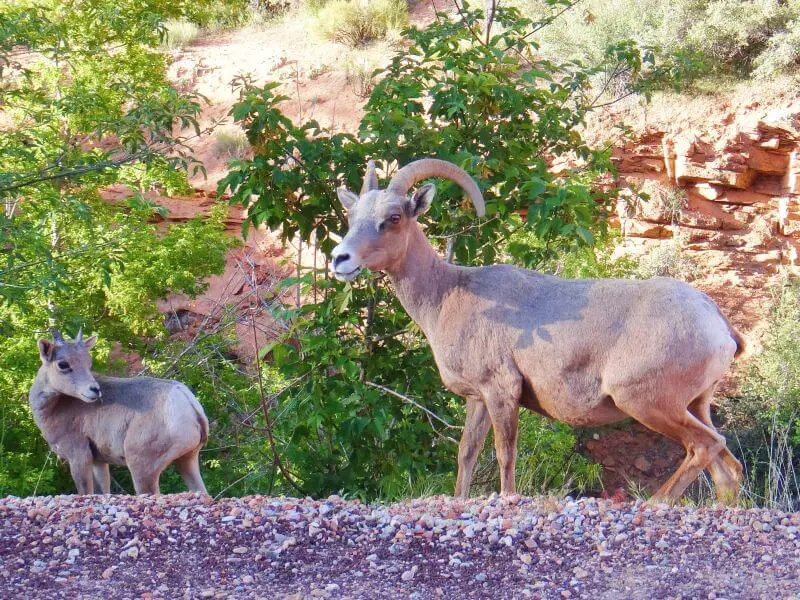 PROS 
Lovely temperatures.  The winter chills disappear, but the scorching heat of summer hasn't arrived.  Spring has the perfect temperatures for hiking. 
Wildflowers.  From mid- to late-March, the wildflowers burst into bloom and put on a show. There are hanging gardens at Weeping Rock and Emerald Pools and these are especially beautiful in spring, though you can see the flowers throughout the park.    
Not too many people.  Although there are more people in spring than in winter, the canyon and trails are still not too crowded in spring. 
Wildlife.  Spring sees the birth of baby animals, so you may see baby mule deer and even baby bighorn sheep.  They are very cute!
Shuttle.  From spring to fall, most of the road through the park is closed to private traffic.  Instead, there is a free shuttle that runs along the canyon floor.  This makes visiting Zion National Park very easy and convenient, especially with zero or very short wait times for the shuttles in spring.  
CONS 
Trail closures. As the snow melts, river levels rise and there can be some flooding, which can cause some trails to be closed.  The Narrows is usually not open until summer due to high water levels (though it can open in May if the snow melt was early). 
Weather.  The weather can be unpredictable in spring.  In some years, the snow melts early in spring and by May, water levels have receded and you can even hike the Narrows in May (which I did).  In other years, there can even be a snow storm in late May, causing trail closures.  
More crowds than winter. While there are certainly fewer people than summer, there are also definitely more people than winter.  Spring break especially can be crowded.  
---
Summer (June – August) 
Is summer the best time for Zion National Park?  
Summer is by far the busiest time of year in Zion National Park, as this is when schools are out and many people can take a summer vacation.  This can mean crowds, but is also means that all services are open.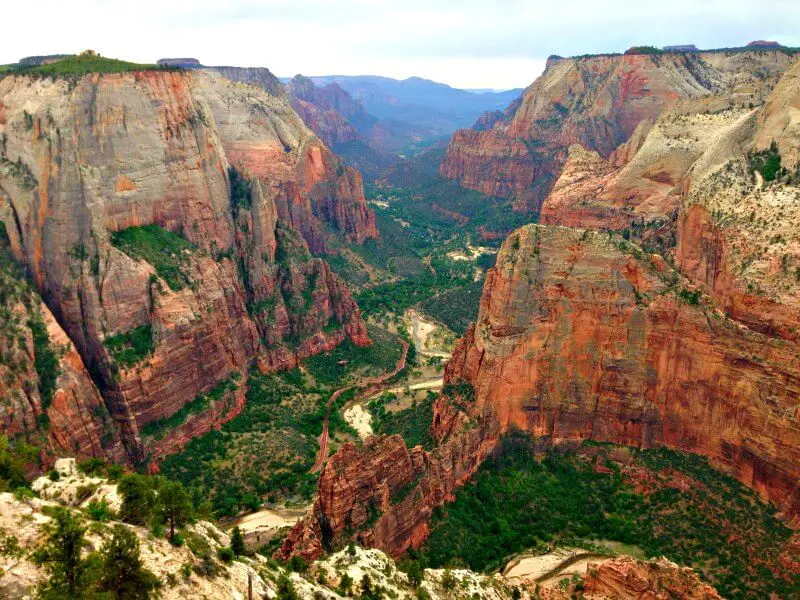 PROS 
Early summer temperatures.  Although it gets extremely hot by late June and in July and August, early June is actually usually a lovely time. 
Everything is open.  All of the accommodations, restaurants, services, tours and activities are open in summer, so there is nothing that you can't do. 
Shuttle. The shuttle service runs throughout summer. 
Trails. Although hiking the trails can be hot and crowded, they are typically all open for most or all of the summer. In other seasons, trails can be closed due to the snow or rain.
CONS 
It gets hot. The average temperature in Zion National Park in July is 100°F/ 38°C, though it can get up to 115°/ 46°C and 30 of the 31 days in July exceed 90°F/ 32°C.  August and late June aren't much cooler.  This can making hiking in exposed trails quite unpleasant. If you do hike, make sure you have:
Crowds. Zion is not a huge park and it is also very popular in summer.  Although the shuttle bus prevents traffic jams inside the park, there can still be lines at the park entrance, lines at shuttle stops and even lines to get on some of the trails like Angel's Landing. Holiday weekends are the busiest times of all. 
Expensive. With crowds comes demand for services and with that comes increased prices.  Expect to pay a premium on accommodations during the summer. 
Limited availability. In addition to being peak prices, accommodations also fill up fast.  There are a lot of options in Springdale, which is right at the park entrance, but even so, accommodations there can fill up.  Campgrounds and the lodge inside the park are even more popular and tend to book out as soon as they open up their reservations.  
Trail closures.  In early June, some trails may still be closed if the snow melted late or there was lots of spring rain (though all of the trails are generally all open through most of the summer months, as noted above).   
Possibility of flash floods.  The area around Zion is riddled with narrow canyons, which increases the possibility of flash floods when it rains.   
---
Fall (September – November) 
Is fall the best time of year for Zion National Park? 
In fall, the temperatures finally drop, crowds thin out and many of the trees inside Zion Canyon turn beautiful golden colors.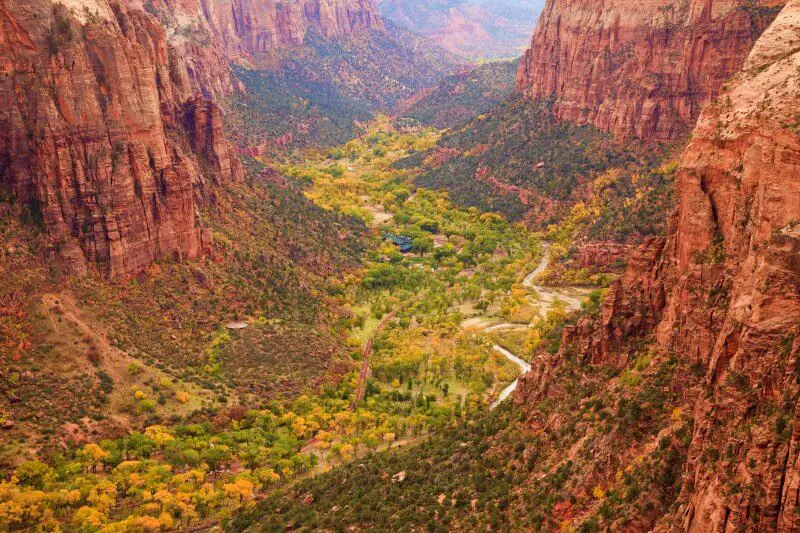 PROS 
Fall foliage.  Seeing the beautiful fall foliage of the trees lining the Virgin River that winds it ways through Zion Canyon, surrounded by red rocks and framed by blue sunny skies is an incredible experience.   
Lovely temperatures.  The cooler fall temperatures are great for hiking.   
Fewer people.  After Labor Day, kids head back to school and there are significantly fewer people visiting the park most of the time. 
Shuttle Service.  The shuttle buses run until mid-November, making it easier to get around. 
Hike the Narrows.  Fall is the best time to visit Zion Narrows, as the water level is not too high and the water temperature is not too cold.  Plus, the risk of flashfloods is lower than at other times of the year. 
CONS 
Possible trail closures.  By late fall, winter weather can have set in and caused some trail closures.  
Possible crowds.  On early fall weekends, Thanksgiving and school holidays, it can still get pretty crowded.   
---
Winter (December – February) 
Is winter the best season to visit Zion National Park? 
Winter may be least popular time to visit Zion, but the bottom of the canyon has fairly mild winter temperatures and the snow dusting the red rock of the upper reaches of the canyon is beautiful.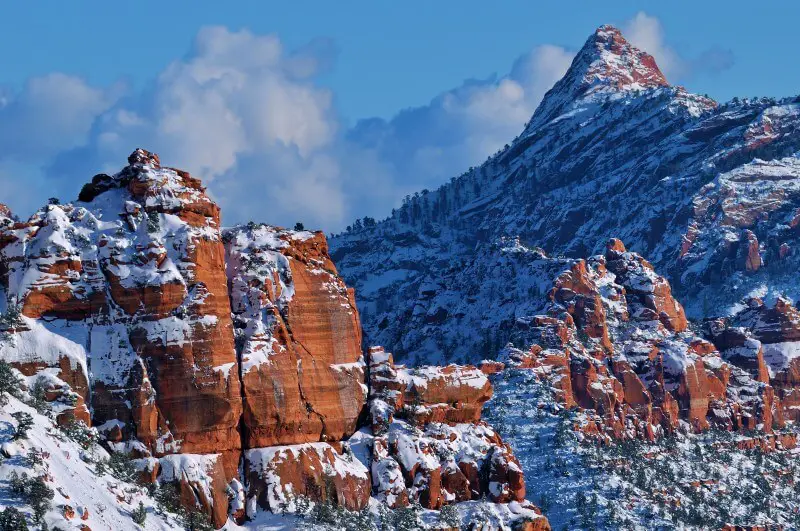 PROS 
Mild winter temperatures.  The main road through Zion runs along the canyon floor, rather than the rim, and the temperatures at this lower level are pretty mild in winter.  The Zion National Park average temperature in December and January is in the low 50's F/ around 11°C, so snowfall here is not common.   If it does snow on the canyon floor, it usually melts within hours.
Fewer people. Winter is the season when there is the least amount of people, so you will have the park pretty much to yourself (at least much more than any other time of the year).  
Beautiful winter scenery. When the snow drapes over the red rocks of the upper reaches of the park, it is truly magical.
Wildlife.  Animals such as mule deer stick and bighorn sheep tend to head down to the warmer lower elevations in winter, which means you have a better chance of seeing them than in the hotter summer months.   
You can drive through the canyon. The shuttle system is closed throughout the winter and you can drive the entire length of the canyon. 
CONS 
Trail closures.  While most of the trails are technically open year-round, the snow and ice can make them dangerous and even cause temporary closures.   If you are hiking in winter, be sure to have the appropriate gear.  You will need: 
Fewer activity options.  Many of the activities that are available in summer such as canyoneering, are closed in winter. 
Road closures.  Some roads such as the Kolob Terrace Road are closed throughout winter.  Even those that are open may be temporarily closed if it snows.  
High river levels.  Due to high precipitation, river levels can be high and rock slides and flash floods are possible.   
---
Conclusion: When is the best time of year to go to Zion National Park? 
What the best time of the year to visit Zion National Park is will depend to some extent on why you are going there and your tolerance to crowds and temperatures.   
Many people don't have a choice but to travel in summer when the kids are out of school, and although it is hot and crowded, all of the services are open and it is still beautiful.   
If you have a choice, I think the best month to visit Zion National Park is September (after Labor Day).  There are fewer people, the temperatures are lovely, the fall color is putting on a show, prices are lower, accommodation is easier to book, and the trails are still open.   
I also love May.  Although the weather can be unpredictable, if the trails are open and the river level low enough, you get all the benefits of fall except instead of fall foliage there are wildflowers, waterfalls and baby animals.   
However, winter has its own beauty- and very few people.  
So, no matter what time you visit Zion, you will have an amazing time!
---
What do you think is the best time to travel to Zion National Park?   I'd love to hear from you.  Comment below.     
If you liked this post, please share the love and Pin it to your National Parks and Zion National Park boards!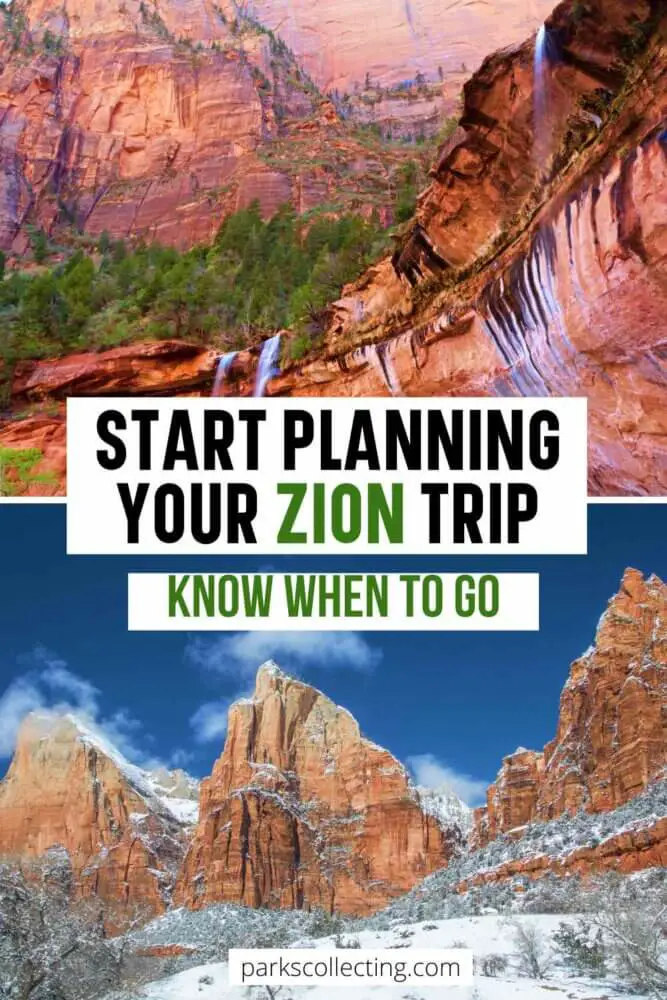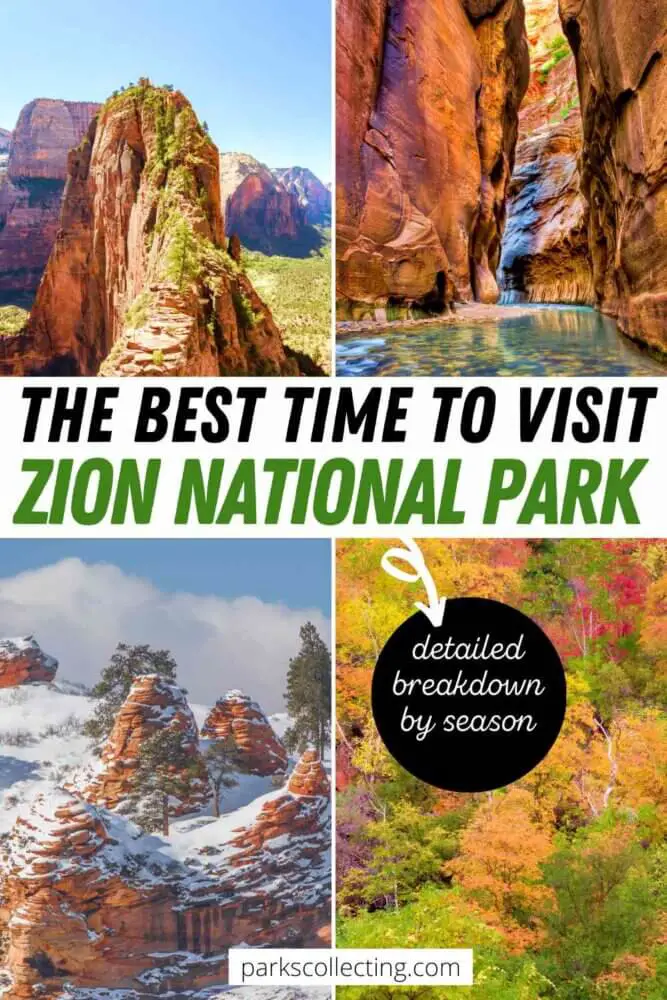 For more information to help you plan your trip to Zion National Park, read my Guide to Zion National Park. 
---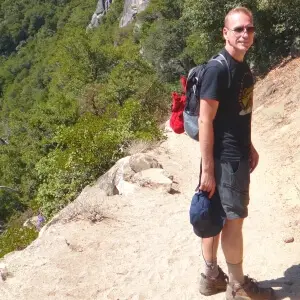 James Ian has traveled to 82 countries and all 7 continents.  He has visited all of the main national parks in the United States, as well as many national monuments and state parks.
He has rafted through the Grand Canyon; rappelled down slot canyons near Zion and Arches; hiked among the hoodoos in Bryce and the enormous trees in Sequoia; admired the waterfalls in Yosemite and the colored hot springs in Yellowstone; seen moose in Grand Tetons and seals in the Channel Islands, and much more.
---
Parks Collecting is a participant in the Amazon.com Services LLC Associates Program, an affiliate advertising program designed to provide a means for sites to earn advertising fees by advertising and linking to amazon.com. Amazon and the Amazon logo are trademarks of Amazon.com, Inc. or its affiliates.