The Angels Landing hike is one of the most iconic hikes in the entire country.  It includes a section over a narrow ridge with steep drop offs on both sides, that has chains for you to hold on to.  This section is narrow.  And the Angels Landing trail is extremely popular.  This has resulted in congestion and long lines on the trail in recent years.   
In order to alleviate this overcrowding and congestion and to improve safety, the National Park Service has introduced a lottery system to get Angels Landing permits. 
The permit system can be a little complicated.  I am a national park expert and I have written this detailed guide to the Angels Landing lottery to make your planning easy and help ensure you can get to do this incredible hike. 
No time right now to learn how to get an Angels Landing permit?  Pin It and save it for later: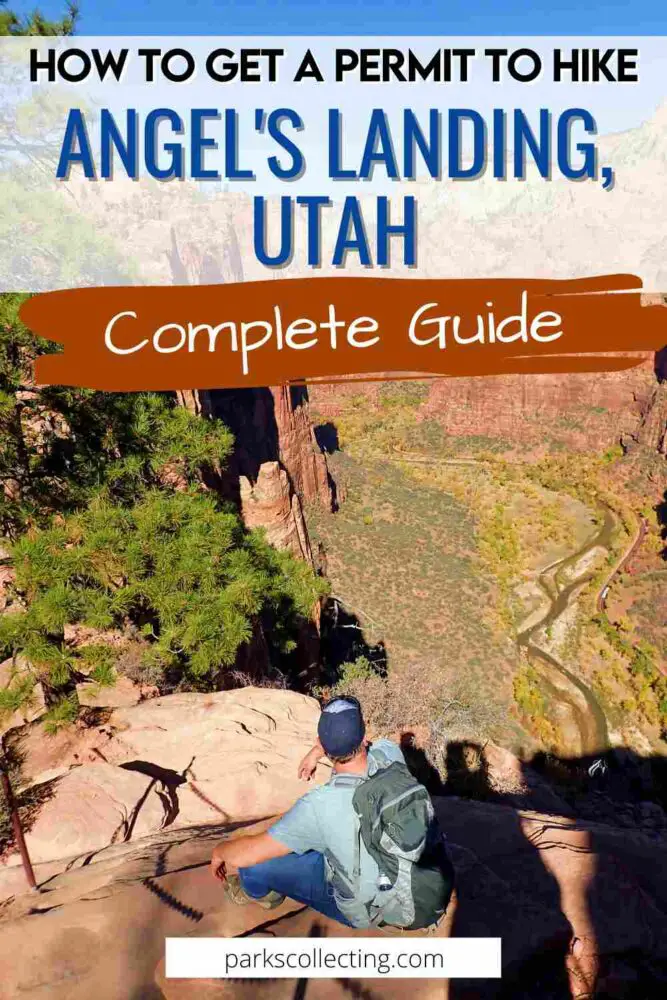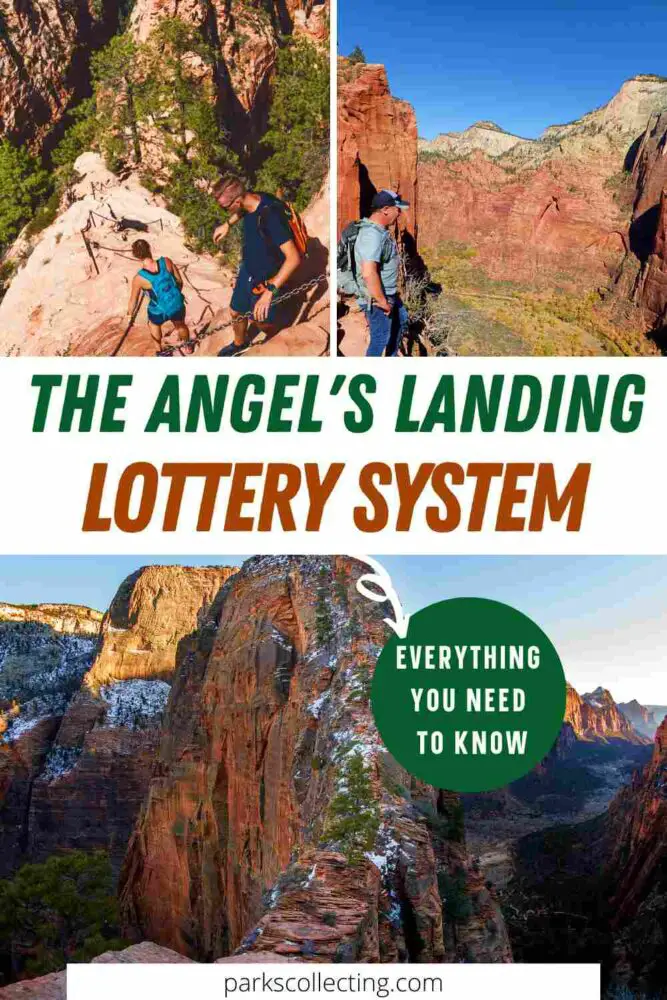 Please note this post may contain affiliate links, which means we may receive a commission, at zero cost to you, if you make a purchase through a link. Please see our full Disclosure for more information. If you have any questions, please contact me.
If you are planning to visit Zion Canyon National Park by yourself, make your planning easy and stress free with a detailed itinerary. I have 1-, 2- and 3-day itineraries for Zion National Park that include all the park highlights (including Angels Landing, of course), give you choices based on your preferred activity level, and take all the stress out of planning your trip. 
Additional help with your Zion trip planning:
>> The Best Time of Year to Visit Zion National Park
>> Best Vacation Rentals Near Zion National Park
>> How to Plan a Trip to Zion National Park
>> Best Hikes in Zion National Park
>> How to visit Zion Without Shuttle Tickets
>> Zion Shuttle Guide
>> Best Photo Spots in Zion National Park
>> How Many Days to Spend in Zion National Park
>> Best Airports for Zion National Park
Type of reservations 
Permits to hike Angel's Landing will be issued via a lottery system.  Permits are issued for three time slots each day (see below).  Once you start the hike, you can take as long as you like.  
When is an Angels Landing permit required? 
You will need a permit to hike Angel's Landing at any time of the year (and any time of the day), starting April 1, 2022.  The permit is needed for ANY portion of the Angel's landing trail (not just the section with chains).  
FREE DOWNLOAD
Subscribe to regular updates with tips for planning, travel inspiration and trip ideas and get instant access to the free PDF of this
How To Get Angels Landing Permits
How to get an Angels Landing pass 
The permits will be released via two lotteries. You can apply for a permit for up to six people (including you). 
1) Seasonal Lottery 
Most permits are released in advance via the 'seasonal lottery'.  The lottery is run four times/ year. You enter the lottery within the window for your trip dates (see schedule below).    
You can pick up to seven dates or date ranges with corresponding start times (ranked in order of preference).  
It does not matter when in the lottery period you enter.  For example, the first lottery window is January 3 – January 20.  Whether you enter on January 3, January 10 or January 20, your name goes in the lottery in the same way.  There is no advantage to entering on the 3rd over entering on the 20th – you have the same chance of having your name called whenever you entered the lottery.   
Hike Dates
Enter Here
Lottery Opens
Lottery Closes
Permits Issued
Time Slots Available
April 1 to May 31, 2022
Enter the lottery here
January 3
January 20
January 25
- Before 9:00AM
- Between 9:00AM & 12:00PM (noon)
- After 12:00PM
June 1 to August 31, 2022
Link coming soon
April 1
April 20
April 25
TBA
September 1 to November 30, 2022
Link coming soon
July 1
July 20
July 25
TBA
December 1, 2022 to February 28, 2023
Link coming soon
October 1
October 20
October 25
TBA
*  Times are the time you can start the hike at the Grotto Trailhead (Shuttle Stop 6) 
If you don't get a permit, you can apply again the day before.  Or, if your travel plans are flexible, try another seasonal pass for different dates. 
2) Day Before Lottery 
You can apply for a permit the day before your planned hike.  The lottery opens at 12:01 AM (just after midnight) MST and closes at 3:00PM MST.   
You can enter the lottery any time within this period.  There is no advantage to entering at 12:01 compared with any other time in the lottery period.  So, for example, if you enter the lottery at 2:00PM, you have the same chances of getting a permit as if you entered the lottery at 1:00AM. However, I don't recommend leaving it to close to 3:00PM in case the system crashes or something else goes wrong and you miss out being able to enter.  
You can select multiple preferences for hike start times if your plans are flexible. 
Results are emailed at 4:00PM MST the same day you enter (the day before the hike).   
How much do Angels Landing tickets costs? 
It costs $6 to apply for a permit for up to six people (seasonal or day-before). This fee is non-refundable and you pay it whether you get a permit or not. The $6 covers however many people you apply for (it is NOT per person). 
If you get a permit, you will be automatically charged an additional $3 per person. 
Note: If you get a permit using the seasonal lottery, you can cancel the permit (or reduce the number of permits) up to two days before the hike date.  You will get a full refund of the $3 per person fee for any cancellations or reductions in people. The $6 application fee is not refundable.  
Note: You cannot: 
Change the date of your hike  
Increase the number of people in your group 
Transfer the permit to someone else or nominate an alternate leader 
On the day of your Angels Landing (Zion National Park) hike 
Be sure to print out or download your permit before you get to the trailhead.  Rangers will be checking permits at the Grotto (Shuttle Stop 6), at Scout Lookout, or along the trail. If you don't have a permit to show, you will probably be turned away. 
FREE DOWNLOAD
Subscribe to regular updates with tips for planning, travel inspiration and trip ideas and get instant access to the free PDF of this
How To Get Angels Landing Permits
Good luck and enjoy hiking Zion National Park Angels Landing!  
---
Do you have any other thoughts about Angel's Landing permits?  I'd love to hear them.  Join my private Facebook group National Parks Collectors and comment and let me know (you can also pick up extra planning tips, share your photos and stories with other national park lovers and more).  
If you found this post useful, please share the love and Pin It to your Zion National Park board!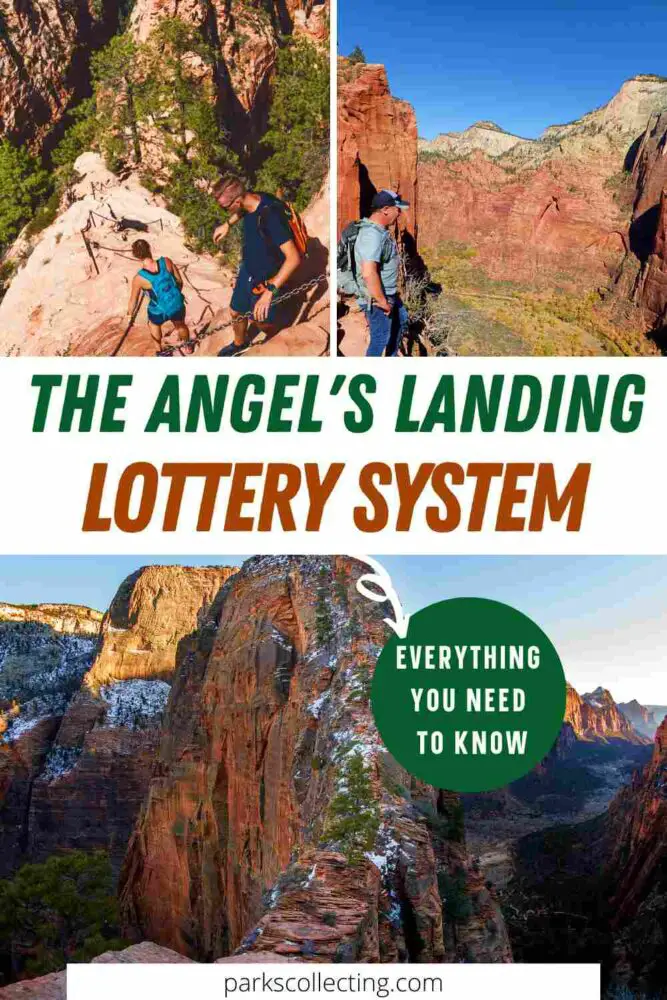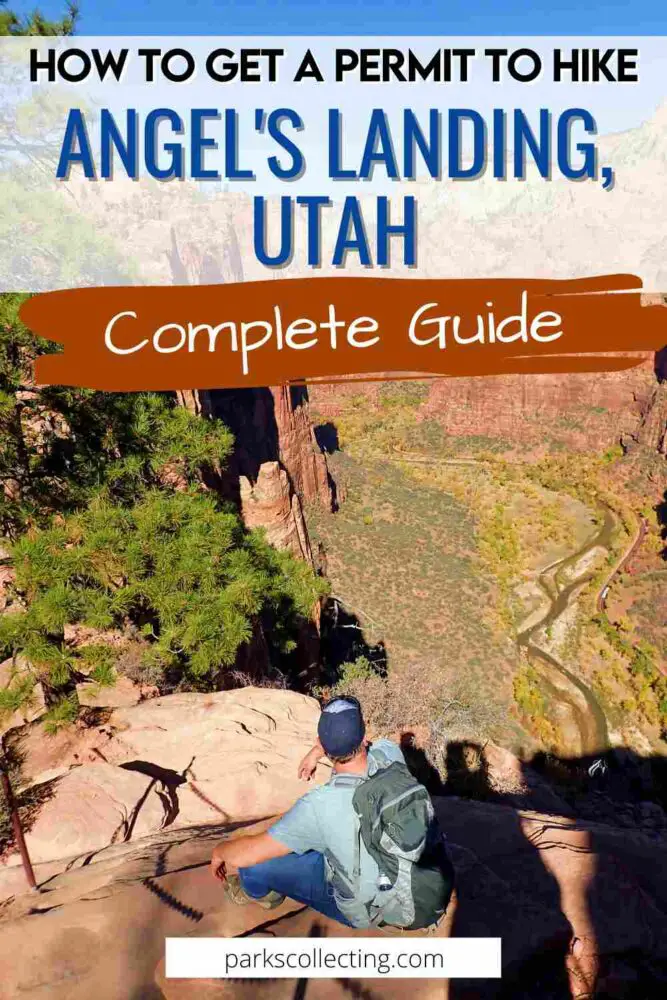 If you are thinking about traveling to some other national parks, don't miss my guides to: 
Which national parks require reservations
Glacier National Park's Going to The Sun Road in reservation system
Yosemite National Park day use reservations
Rocky Mountain National Park timed entry system
Acadia Cadillac Mountain reservation system
Arches National Park timed entry system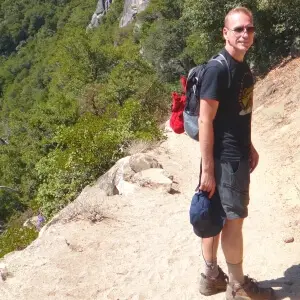 James Ian has traveled to 82 countries and all 7 continents.  He has visited all of the main national parks in the United States, as well as many national monuments and state parks.
He has rafted through the Grand Canyon; rappelled down slot canyons near Zion and Arches; hiked among the hoodoos in Bryce and the enormous trees in Sequoia; admired the waterfalls in Yosemite and the colored hot springs in Yellowstone; seen moose in Grand Tetons and seals in the Channel Islands, and much more.
---
Parks Collecting is a participant in the Amazon.com Services LLC Associates Program, an affiliate advertising program designed to provide a means for sites to earn advertising fees by advertising and linking to amazon.com. Amazon and the Amazon logo are trademarks of Amazon.com, Inc. or its affiliates. As an Amazon Associate I earn from qualifying purchases.