The tallest mountain in Acadia National Park is Cadillac Mountain.  The views from the summit are spectacular and this is a popular place to watch the sunrise. 
In order to eliminate congestion on the Cadillac Summit Road and the parking area at the top, the National Park Service has introduced a reservation system for the road. 
The reservation system can be a little complicated.  I am a national parks expert and I have written this detailed guide to the Cadillac Summit Road reservations system to make your planning easier and help ensure you can get to the summit to enjoy the views. 
No time right now to learn about the Acadia Cadillac Mountain reservation system 2021?  Pin It and save it for later: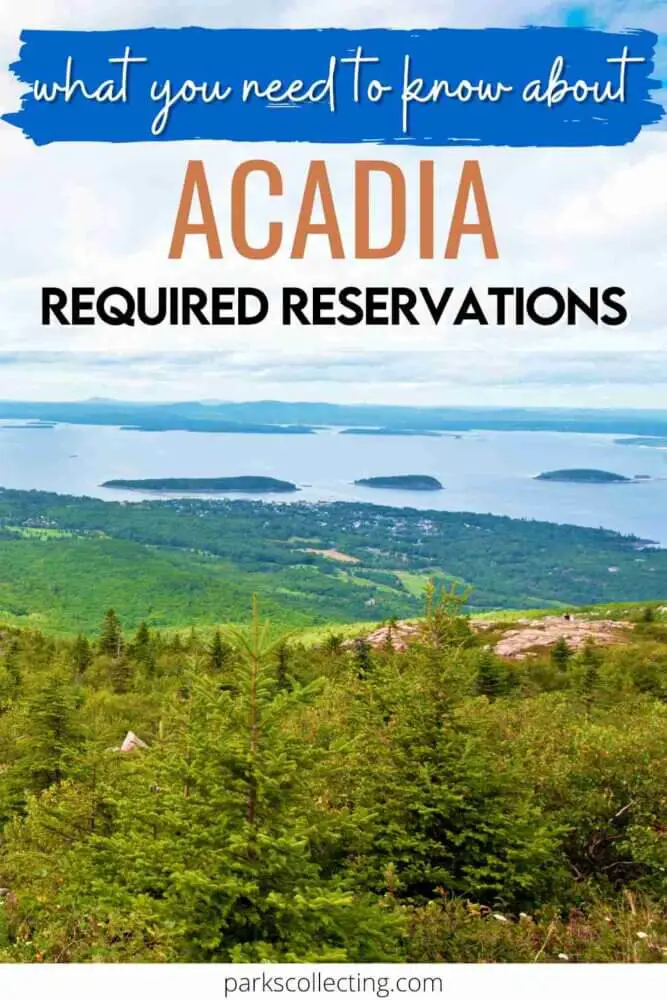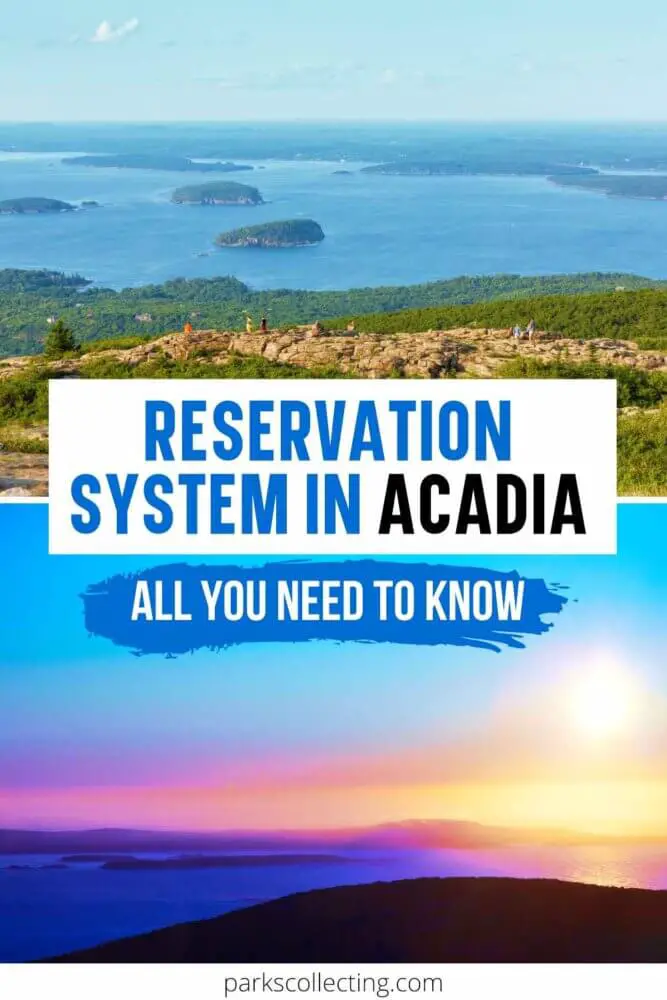 Please note that some of the links below may be affiliate links.  At no additional cost to you I earn a small commission if you make a purchase.  Read my Disclosure for more information. If you have any questions or have other resources you love, please comment below.
Type of entry tickets/ reservations 
Reservations will be required for vehicle access to Cadillac Summit Road that goes to the top of Cadillac Mountain.  
There are two types of timed entry Cadillac Summit Road reservation periods: 
1) Sunrise reservations.  This applies for entry in a two-hour window as follows (times change with the sunrise times):   
May – July:  3:30 am – 5:30 am 
August: 4:00 am – 6:00 am 
September: 4:30 am – 6:30 am 
October: 5:00 am – 7:00 am 
There is a limit of one reservation within a seven-day period. 
2) Daytime reservations.  You reserve a time slot that gives you a 30-minute window in which to enter the road throughout daylight hours.    
Reservations are required between the following hours (varies by month): 
May – July:  6:30 am – 8:30 pm 
August: 7:00 am – 8:00 pm 
September: 7:30 am – 7:30 pm 
October: 8:00 am – 6:30 pm 
There is a limit of one reservation a day. 
Note that for both types of timed entry, re-entry is not permitted. 
The reservation is for timed entry only and does not include a parking reservation. 
Period reservations are needed for 
The ticketed timed entry Cadillac Summit reservation system will be in place between May 26 and October 19, 2021. 
How to get entry tickets/ make reservations 
The tickets will be released in two different allotments: 
1) 30% of the tickets will become available at 10:00 am Eastern Time each morning 90 days in advance of each date.  
2) The remaining 70% of them will be released at 10:00 am Eastern Time two days in advance of each date. 
Entry tickets are only available online at the NPS reservation system.  They will not be available at park entrance stations, visitor centers or park offices. 
Cost of tickets/ reservations 
Tickets cost $6 per vehicle (and all its occupants) and are valid for the time and day on your ticket only. 
Note that this $6 is in addition to the park entrance fee and is not included in the national park fee.   
When is it not necessary to make a reservation for the Cadillac Summit Road? 
This reservation (and fee) is not required if you hike, ride a bicycle or take a taxi to the summit. The entry ticket is only required for private automobiles, not bicycles, taxis or hikers.  
Tips For Getting Timed Entry Tickets for Cadillac Summit Road in Acadia National Park 
Read my post about which national parks require reservations in 2021 for some insider tips on making reservations (and the low down on the other national parks that also require some form of reservations this summer). 
Good luck and enjoy Acadia National Park!  
---
Do you have any other tips for getting Acadia reservations?  I'd love to hear them.  Comment below.    
If you found this post helpful, please share the love and Pin it to your Acadia National Park board!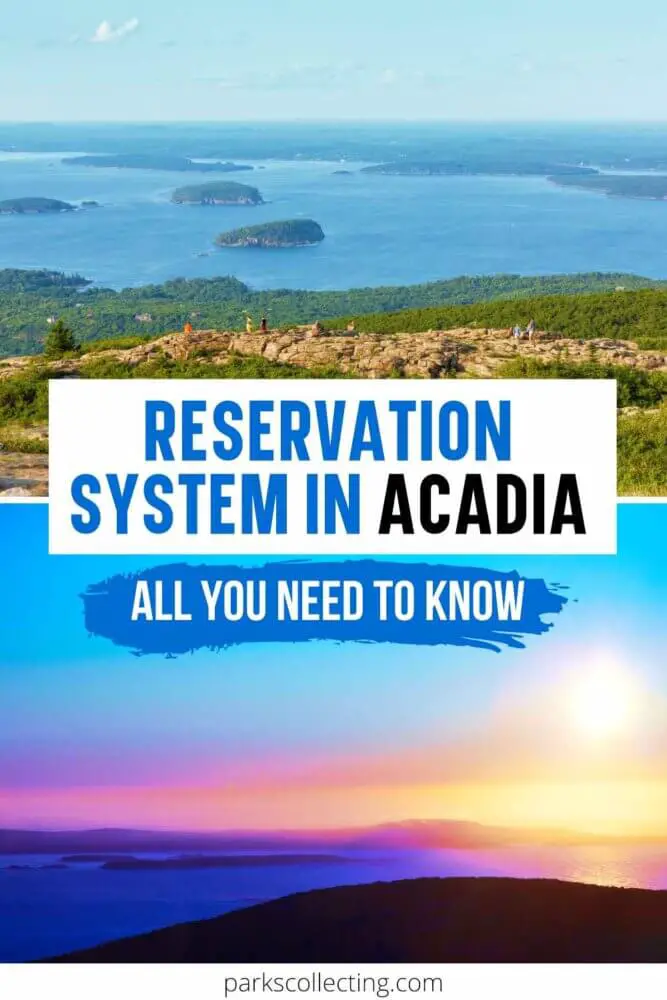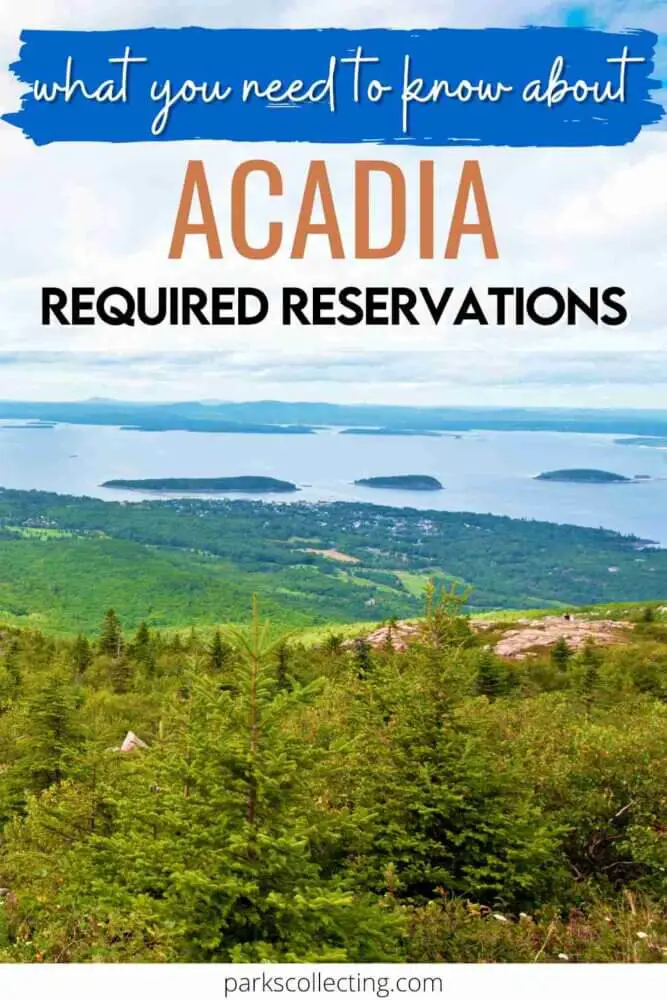 If you are thinking about traveling to some other national parks, don't miss my guides to: 
---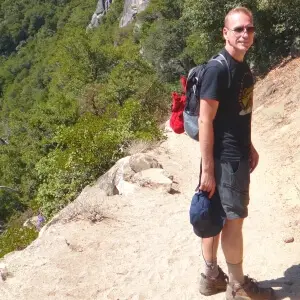 James Ian has traveled to 82 countries and all 7 continents.  He has visited all of the main national parks in the United States, as well as many national monuments and state parks.
He has rafted through the Grand Canyon; rappelled down slot canyons near Zion and Arches; hiked among the hoodoos in Bryce and the enormous trees in Sequoia; admired the waterfalls in Yosemite and the colored hot springs in Yellowstone; seen moose in Grand Tetons and seals in the Channel Islands, and much more.
---