Grand Canyon Travel Guide
Grand Canyon National Park is justifiably famous as one of the Seven Wonders of the Natural World and one of the best national parks in the United States. The enormous canyon is breathtaking. 
You can visit either the north or the south rim (or both). The north rim is higher, is less visited, and has a shorter season and fewer facilities. 
Most people visit the south rim, which has plenty of facilities, activities, accommodations, stores, and restaurants. You can enjoy the views from multiple vantage points along the rim, hike down into the canyon, take mule ride, and even ride the rapids of the Colorado River through the canyon. 
Use this Grand Canyon National Park Travel Guide to get all the information you need about how to visit the Grand Canyon to have an amazing trip. 
No time to read this Grand Canyon Travel Guide now?  Pin It and save it for later: 
Grand Canyon National Park At A Glance
State: Arizona
Main attractions: Canyon, river
Fun Facts:  

Grand Canyon is 277 miles long, 18 miles wide and over a mile deep.  The national park, which does not contain the entire canyon, is larger than the state of Rhode Island. 
It took time for the Colorado River and geological activity to carve the canyon.  It's over 6 million years old. 
The most dangerous animal in Grand Canyon National Park is the rock squirrel!  These small critters bite – and can carry rabies or plague.  They may look cute, but it's best to stay well away from them. 
---
Itinerary for Grand Canyon National Park
Get a one-day, two-day or three-day detailed itinerary for Grand Canyon National Park
EXCLUSIVE BONUS CONTENT WITH GRAND CANYON ITINERARIES
---
Grand Canyon Guide
Please note this post may contain affiliate links, which means we may receive a commission, at zero cost to you, if you make a purchase through a link. Please see our full Disclosure for more information. If you have any questions, please contact me.
How to Plan a Trip to the Grand Canyon  
Planning a trip to the Grand Canyon can be overwhelming – but it doesn't have to be.  Use this Grand Canyon guide for all your Grand Canyon planning.  Click on the links below to go to detailed guides and answers to your questions.  
Some helpful Grand Canyon trip planning information:
Entrance Fee for Grand Canyon National Park 
There is an entrance fee for the park.  Find the latest fees on the NPS website.    
To avoid long lines and save money, if you are planning to visit more than just the Grand Canyon this year, it can be great value to purchase an America The Beautiful pass.   
The one-year pass includes standard entrance at all sites managed by the National Park Service, Forest Service, Fish and Wildlife Service, Bureau of Land Management, Bureau of Reclamation, and Army Corps of Engineers. The pass covers the entrance fee for a driver and all passengers in a personal vehicle or up to 4 adults at sites that charge per person.
Get an America The Beautiful pass here. 
Grand Canyon National Park Entrances 
You can access Grand Canyon from the North Rim or the South Rim.  It takes over 4 hours to drive between them.   
The South Rim is easier to access and has more facilities, and this is where most people visit.  The main entrance is the South Entrance Station.  It's 5 miles north of the gateway town of Tusayan; 55 miles north of Williams, Arizona via SR 64 from I-40; and 80 miles north of Flagstaff, Arizona via US 180. 
You can also access the South Rim from the Desert View East Entrance. This is on Arizona State Highway 64 near Cameron and is convenient if you are coming from points east like Page, AZ. 
The entrance to the North Rim of Grand Canyon National Park is located 30 miles south of Jacob Lake on Highway 67, not far from the Utah border.  It's 14 miles from the actual rim of the canyon.  This entrance (and the entire North Rim) is only open mid-May to mid-October.  
Grand Canyon National Park Visitor Centers 
The North Rim Visitor Center is near the parking lot for Grand Canyon Lodge and Bright Angel Point. 
On the South Rim, the main Grand Canyon Visitor Center is in Grand Canyon Village near Mather Point.   
You can also get information at the Grand Canyon Conservancy Visitor Center Park Store. 
Additional Visitor Centers are the Verkamp's Visitor Center in the Village Historic District, near Hopi House and El Tovar Hotel, and at Desert View. 
Grand Canyon Village also has a separate Backcountry Information Center. There are also a shop and exhibits at Kolb Studio and the Yavapai Geology Museum. 
---
Best Tours of the Grand Canyon
---
Things to Do at the Grand Canyon
---
Where to Stay In/ Near Grand Canyon National Park 
Places To Inside Grand Canyon National Park 
There are several lodges and campgrounds inside the national park.  
The lodges on the South Rim are: El Tovar Hotel; Bright Angel Lodge & Cabins; Kachina Lodge; Maswik Lodge; Thunderbird Lodge; and Yavapai Lodge.  
The South Rim campgrounds are: Mather Campground; Trailer Village RV Park; and Desert View Campground (East Entrance). 
The lodge on the North Rim is the Grand Canyon Lodge. The North Rim Campground is the only campground on the north rim. 
Below the rim of the canyon, there are several backcountry campgrounds: Bright Angel Campground (right at the bottom); Indian Garden Campground (half way down the Bright Angel Trail); and Cottonwood Campground (halfway down the North Kaibab Trail). 
Places To Stay Near Grand Canyon National Park 
---
How to Get To Grand Canyon National Park 
The most common ways to get to Grand Canyon National Park are to drive or fly into one of the nearby airports and pick up a rental car there.   
However, there are other options, too, including a daily train to the South Rim from Williams.
If you need a rental car, find one on RentalsCars.com 
If you're looking for a flight, find a good deal on Skyscanner 
---
The Best Airports for Grand Canyon National Park 
If you're looking for flights, use Skyscanner to scan the Internet for the cheapest deals.  
---
How to Get Around Grand Canyon National Park 
The easiest way to get around the South Rim is to take a free shuttle. There are several routes from Tusayan, around Grand Canyon Village, west to Hermit's Rest and east to Yaki Point.
If you want to head further east to Desert View, you'll need to drive.  
---
The Best Time to Visit Grand Canyon National Park 
The north rim is only open mid-May to mid-October.
The South Rim is open year-round. In general, the best times to go to Grand Canyon National Park are April-May and September-November when the days are cool but not freezing, the weather is drier, and there are fewer people. Summers get very crowded, and winter, while different, can be snowy and cold.  
---
How Long to Spend in Grand Canyon National Park 
How many days you should go to the Grand Canyon for depends on when you have time off, how much time you have, your budget, and your interests.  I recommend at least three days to see all the main areas along the South Rim, do some hikes and experience other don't-miss activities. If you add on a river trip, you'll need a solid week.
---
Best Hikes in Grand Canyon National Park
The Grand Canyon has some truly incredible hikes, from the easy Rim Trail to the epic Rim-to-Rim two-day hike.  
---
Travel Insurance for Grand Canyon National Park 
In addition to working out the logistics of your trip using this travel guide, Grand Canyon planning should also include travel insurance.  Protect yourself against trip cancellation, loss or theft of your property, or any medical emergencies.   
 A great insurance option is World Nomads. It includes coverage for regular hiking trails.  You can book it here  or get a quote right here: 
---
Travel Tips for Grand Canyon National Park 
My top three tips for how to visit Grand Canyon National Park are: 
Stay more than a day. According to park surveys, the average stay is 5 to 7 hours, with just 17 minutes spent looking at the canyon. However, this is not enough time to do everything at Grand Canyon Village alone and certainly not enough time to truly appreciate the beauty of the canyon. There are multiple overlooks along the rim with different views. I recommend allowing at least three days at the South Rim to really take this amazing place in.  
Have a plan.  You want to get the most out of your time at the Grand Canyon. The best way to do this is to get one of my detailed itineraries. They tell you when and where to go to hit all the highlights, see the best views at the right time, and have the best chance of being in the right place at the right time to enjoy the trails and take the best photos.  Get the 1-, 2-, and 3-day itineraries here. 
Go below the rim.  Most people just see the canyon from the rim, but to truly appreciate its enormity and grandeur, you have to head below the rim and be surrounded by the towering canyon walls. Going even just a short way will give you a whole different perspective.
---
Best Books About the Grand Canyon 
I love to read books about places I go.  Get in the spirit of your vacation and learn about the Grand Canyon before you go, immerse yourself with reading material while you're there, and/ or keep your memories alive after your trip.   
---
---
To save this Grand Canyon visitors guide for later, Pin It to your National Parks board: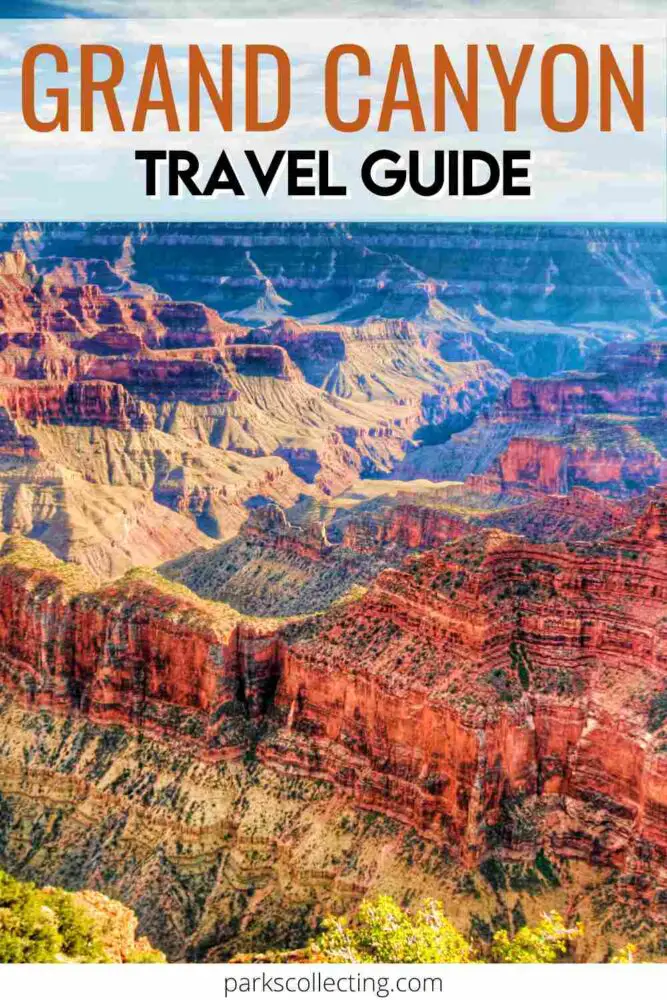 ---
---