Imagine riding white water rapids surrounded by the towering walls of the Grand Canyon. 
Or walking inside the hollowed-out trunk of one of the largest trees on the planet. 
Or walking across a narrow ridge in Fin Canyons. 
Or seeing a bison with a geyser erupting behind it. 
Or hiking between craggy peaks topped with ice and ribboned with waterfalls. 
Or swimming through giant kelp forests, accompanied by curious seals and bright orange Garibaldi fish.  
Or kayaking past pebbly beaches and beautiful forested islands.
Or stepping back in time as you walk through ancient dwellings built in the side of steep cliffs. 
Or wading through a river in a narrow slot canyon … 
You can do these and more in the incredible national parks in America.  Natural wonders, fascinating history, incredible wildlife … these national parks have it all!
No time to read about the best US national parks now?  Pin It and save it for later:
Please note this post may contain affiliate links, which means we may receive a commission, at zero cost to you, if you make a purchase through a link. Please see our full Disclosure for more information. If you have any questions, please contact me.
If you plan to visit more than a couple of parks in a year (or the same park more than twice), then look at getting the America the Beautiful Pass.   It gives you unlimited access for a year (from date of purchase) to over 2,000 federal recreation sites including all U.S. national parks plus national forest and BLM lands.  It includes admission for one vehicle or four people (for places that charge per person).
Buy the America the Beautiful Pass here
Map of the Best National Parks: United States
FREE DOWNLOAD
Subscribe to monthly updates with tips for planning, travel inspiration and trip ideas and get instant access to the free PDF of this
The Best U.S. National Parks
1. Acadia National Park
Acadia is the classic northeast United States coastal landscape, easily making it the north Atlantic's best national park.   United States has many amazing parks, and Acadia is in the top ten most-visited for a reason. 
The park is all about woods and water.  The surrounding seas are dotted with islands and strewn with lobster buoys.  There are lakes, a sandy beach, 27 miles of historic motor roads, 158 miles of hiking trails, and 45 miles of carriage roads.  
Acadia is a hiker's paradise, but you can also cycle on the carriage rides, kayak around the islands, join sailing trips, and even take a ferry out to the nearby Cranberry Islands.
PLAN YOUR TRIP: Acadia National Park Guide
Top Things to Do in Acadia National Park
Hiking.  Some of the most famous hikes in Acadia include the Beehive and the Precipice, with sometimes challenging technical elements culminating in specular views over the surrounding islands.  There are easier routes to the same lookouts!
Swimming.  The north Atlantic can be icy, even in summer, but beautiful Sand Beach makes it more appealing.  For warmer water, head to Echo Lake, where a cool dip is the perfect end to a hike in the hills. These beaches made it on to my Top 15 National Parks Beaches
Enjoying delicious popovers.  These eggy, airy pastries are a New England classic.  Have them smothered in lashings of butter and jam at an outdoor lakeside table at the Jordan Pond House.
Cycling.  The carriage roads that lace the park, built at the behest of John D. Rockefeller Jr. in the early part of the 20th century, are perfect for cycling.
Kayaking.  Kayaking around the islands is a lovely way to enjoy the natural beauty of this area.
Sailing.  A sunset sailing trip helps you appreciate the islands.  Life doesn't get much better this.
Taking the ferry to the Cranberry Islands.  Travel between islands past lobster pots and lobster fishermen and have lunch at a waterfront lobster shacks.  The lobster here is delicious, fresh and affordable.  Then walk around the small towns and on the pebbly beaches before heading back to Bar Harbor.
Access
Acadia National park is in Maine. The national park is divided over part of Mount Desert Island, the Schoodic Peninsula and Isle au Haut, though the most visited part is Mount Desert Island, which is accessed over a short land bridge.  The town of Bar Harbor is adjacent to the park on Mount Desert Island.  There are free shuttles in summer from Bar Harbor into the park, and they have bicycle racks on the front.
---
2. Arches National Park
Arches National Park in Utah is one of the must see national parks in USA because of its incredible natural beauty.  The arches that give the park its name are fascinating, but they are not all there is to see.  The park has several distinct sections, each with several spectacular arches, 'fins' or narrow ridges that the arches form in, cliffs, narrow canyons, and even an historic cabin. 
The main areas, in the order you encounter them as you drive along the only road in and out of the park are:
Park Avenue, a small canyon with dramatic cliffs
Balancing Rock
The Windows section with several key arches including Double Arch, North Window, South Window and Turret Arch
Fiery Furnace.  Can only be accessed by ranger-guided hike or with a special permit.  Arches include Skull Arch and Surprise Arch
Delicate Arch, reached by a hike or seen from the distance. This free-standing arch features on Utah's license plate. 
Arches alongside the road, including Sand Dune Arch and Skylight Arch
Devil's Garden.  Nearby hikes take you to Tapestry Arch and Broken Arch.  Arches inside Devil's Garden include Tunnel Arch, Pine Tree Arch, Landscape Arch, Partition Arch, Navajo Arch, and Double O Arch.
PLAN YOUR TRIP: Arches National Park Guide
Top Things to Do in Arches National Park
Hiking. The main activity onside the national park is hiking.  Hikes to arches range from short, flat and very easy to the challenging all-day hike through Devil's Garden.
Canyoneering.  The area surrounding the park is riddled with narrow slot canyons, making this area a prime destination for canyoneering.  Canyoneering involves traversing down and through canyons, including rappelling, some short climbing, squeezing between narrow openings and sometimes even swimming. 
Climbing.  This area is also very popular for climbing and there are opportunities for all levels of expertise.
Mountain biking.  From simple routes to some of the most challenging mountain biking routes in the entire country, there is something for everyone.
Access
Arches National Park is in Utah.  The nearest town is Moab, just five miles from the park entrance.  There are plenty of accommodation options in Moab, as well as outfitters for a variety of adventure sports.
---
3. Bryce Canyon National Park
Bryce Canyon is an alien-like landscape like nothing else you will ever see.   It is one of the best parks in United States because it is home to the largest collection of hoodoos (stone pillars) in the world.  The incredible natural formations crowd Bryce Canyon Amphitheater and other areas along the canyon.  You can see them on the scenic rim drive from above and then hike down into the 'canyon' among them. 
PLAN YOUR TRIP: Bryce Canyon National Park Guide
Top Things to Do in Bryce Canyon National Park
The scenic rim drive.  Drive the one-way road from the Bryce Amphitheater out to Rainbow point, stopping off frequently to enjoy the very changing views from viewpoints along the way.
See Bryce Amphitheater from all angles on the Rim Trail.  The vast majority of the national park's signature orange, pink and red hoodoos are concentrated in the dazzling bowl-shaped Bryce Amphitheater. 
Hike among the hoodoos.  There is nothing quite like walking down into the 'canyon' (it's not really much of a canyon) and being surrounded by towering pillars of stone.  There all have different shapes; famous ones include Thor's Hammer and Queen Victoria.  There are several incredible hikes among the hoodoos that you can do.
Take in a western show.  At night, in season, you can dine on authentic cowboy chow and enjoy a fun show of western songs, dancing and lasso skills.
Access
Bryce Canyon is in Utah, near Zion National park, and they are often visited together.  The small but functional Bryce Canyon Village is just outside the park.  There are accommodations and stores there, but not much else.  The main airport access is Las Vegas, several hours away.
---
4. Channel Islands National Park
The Channel Islands National Park consists of five of the eight Channel Islands off the coast of southern California.  The islands have good hiking opportunities, but it is the surrounding waters that make this one of the top national parks in America.  This area is home to giant kelp forests. Suba diving through a forest of golden kelp is a fascinating experience, made even better by curious seals and sea lions and small bright orange Garibaldi fish that frequent the forests.
PLAN YOUR TRIP: Channel Island National Park Guide
Top Things to Do in Channel Islands National Park
Diving.  If you like scuba diving, you will love diving through the giant kelp. This is one of the most unique marine environments in the world.  Read my guide to diving the Channel Islands for more details.
Sailing/ boating.  Enjoy the beauty of this area from the water.
Hiking.  There are trails on the islands, ranging from well-signed, fairly flat trails on Anacapa to more primitive unsigned trails on Santa Rosa.
Kayaking.  You can go with your own kayaks or, if you don't have one, there are several companies that you can use to arrange a guided sea kayaking trip along the shores and into the coves of the islands.
Whale watching.  Whale and dolphin watching trips leave throughout much of the year.  Gray whales are in the area from mid- to late-December through mid-March and blue and humpback whales can be seen during the summer.  Dolphins are in the waters all year round.
Access
The Channel Islands National Park is off the coast of California.  The five Channel Islands in the national park are Santa Cruz, San Miguel, Santa Barbara, Santa Rosa and Anacapa Islands.   There are visitor centers on the mainland in Ventura (just north of Los Angeles) and Santa Barbara, and these are the main access points for the park concessionaire boats and planes and private boat that you need to access the islands.   
---
5. Death Valley National Park
Death Valley is the lowest and driest place in the United States and the hottest place on earth!  Summer temperatures are often in excess of 120°F in the shade; however, November-March is very pleasant. 
Death Valley is more than just extreme temperatures, however.  There are several incredible desert landscapes all within easy driving distance of each other, making this another of the top national parks in United States.  Visit badlands, a volcanic crater, sand dunes, slot canyons, salt flats and even a Spanish villa all in the one valley!
PLAN YOUR TRIP: Death Valley National Park Guide
Top Things to Do in Death Valley National Park
Stand at the lowest point in North America at Badwater basin.  These are salt flats that are the lowest point in North America, 282 feet below sea level.
Enjoy the views over the valley.  Dantes Point is 5,000 feet (1,500m) above the valley, giving you a stunning birds' eye view
Hike into narrow canyons.  There are several narrow slot canyons you can hike (early morning is recommended).  A highlight is Mosaic canyon, with multi-colored, layered stone.
Walk on sand dunes.  The Mesquite Flat Sand Dunes are white sand dunes 100-feet/ 30 m high. 
Admire Ubehebe Crater.  A 600 feet/ 183 m deep volcanic crater.
Be awash in living history at Scotty's Castle.  A fascinating Spanish Colonial Revival villa that makes an interesting stop for a living history tour (closed 2020 due to flood damage)
Marvel at the natural colors along Artist's Drive.  A 9-mile/ 14.5-km drive through multi-colored hills.  The colors are a result of different ores.
Take in sunset or sunrise at Zariskie Point.  Golden badlands make a stunning sunrise and sunset spot
Access
Death Valley National Park is in California and Nevada.  The main place to stay in the park is Furnace Creek, where there are campsites and motel-style accommodations (with a very welcoming swimming pool), restaurants and stores.  It is a two – two and a half-hour drive from Las Vegas.  Route 190 cuts through the valley.
---
6. Grand Canyon National Park
Grand Canyon needs no introduction.  Its size is overwhelming (in a good way) and is guaranteed to take your breath away.  You should definitely take in its grandeur from the rim (the south rim is the most popular and easiest to access), but there is much more to see and do.
Hike down into the canyon, and even stay overnight in a cabin at Phantom Ranch.  Take a multi-day river trip through the canyon, riding the river rapids and seeing the canyon from the very bottom.  Explore historic buildings…  There is so much to do and explore.
PLAN YOUR TRIP: Grand Canyon Guide
Top Things to Do in Grand Canyon National Park
Take in the views from rim.   There are plenty of opportunities to see the sprawling vistas of Grand Canyon.  Hike the rim trail; hike, cycle or take a shuttle along Hermit Road (West Rim Drive); and drive along Desert View Drive (East Rim Drive).  There are multiple vantage points along the way.
Hike below the rim.  Nothing beats the feeling of being surrounded by the canyon walls.  The Bright Angel Trail is the most famous and easiest to access, though there are other trails too. You can even hike rim to rim and then take a shuttle back to your starting point (an overnight stop in the canyon is required).
Overnight at Phantom Ranch.  Stay in a rustic cabin or dorm at the only lodging at the bottom of the canyon.  It's very popular, so book early.  Learn how, including all about the complicated lottery system here.
White water rafting.  Riding along the Colorado River gives you a unique perspective.  See the walls slowly rise up higher and higher as you progress through the canyon, ride wild rapids, hike into side canyons only accessible by boat, and camp each night on sandy beaches surrounded by the canyon walls.  Choose from regular rafts, large motorized rafts or tiny wooden dories.  Read more details here.
Step back in time.  From the historic south rim train station, the "Geologic Fireplace" in the Bright Angel Lodge History Room and the Kolb Studio to the Tusayan Pueblo/Museum and Desert View Watchtower, there is loads of fascinating history to discover.
Learn about the geology.  The Yavapai Museum of Geology has fascinating displays teaching you all about the layers of the Grand Canyon (and gives you a rare rim view of the Colorado River).
Take a mule ride.  You can ride a mule down to Phantom Ranch (if you have a booking) or do a shorter sample through woods at the top of the south rim to a canyon viewpoint.
Enjoy the galleries and shops at Grand Canyon Village on the south rim. Don't miss the Hopi House for native American art.
Access
Grand Canyon National Park is in Arizona.  The canyon can be accessed from the north rim, which is less accessible, or the south rim, where there are plenty of facilities.  The main access town for the south rim is Flagstaff.  You can also the Horseshoe Bend from Paige.
---
7. Grand Teton National Park
The dramatic craggy peaks of the Grand Teton range rise straight up from the plains of the Jackson Hole valley.  The Snake River winds its way around the valley, lakes sidle up to the mountains and canyons drive deep wedges between the peaks.  Moose wander down to the water to drink and eat, river otters dart around, and bison wander the flats … There are so many reasons that this is one of the best parks in the United States.
PLAN YOUR TRIP: Grand Teton National Park Guide
Top Things to Do in Grand Teton National Park
Take a drive.  The classic 42-mile scenic drive takes you in a loop on the inner and outer roads along the main length of the mountain range, stopping at many park highlights along the way.  Read a full guide to the Grand Teton scenic drive here.
Take in the views.  There are several classic spots to see and capture the incredible beauty of this park.  For a full list, read my guide to the best viewpoints in Grand Teton National Park, but highlights include Oxbow Bend, Signal Mountain, Snake River Overlook and Schwabacher Landing.
Go hiking.  There are so many awesome hikes in Grand Teton National Park.  Includes hikes into canyons such as Cascade Canyon, to and around lakes, and up to viewpoints.
See the wildlife. Grand Teton has some of the best wildlife of any national park.  This is a great place to see moose, but you can also see bison, antelopes, black bears and river otters.
Go boating, swimming, snow shoeing, etc.  There are so many other things to do in the park and the surrounding area that I have compiled a detailed guide to the top 25 things to do in Grand Teton NP.
Take in history (and get the perfect foreground for your classic Grand Teton shot) at the Moulton barns in Mormon Row.
Access
Grand Teton National Park is in Wyoming.  The nearest town is Jackson, accessed by the Jackson airport.  Yellowstone National Park is immediately to the north, which is why many people combine visits to both of the parks in one itinerary.
---
8. Mesa Verde National Park
Mesa Verde, home to some of the best-preserved and most fascinating native American cliff dwellings, is one of the top national parks in the United States for history.  Native American people lived in dwellings built into overhangs in steep cliffs hundreds of years ago and seeing them and visiting them is a truly amazing experience. 
PLAN YOUR TRIP: Mesa Verde National Park Guide
Top Things to Do in Mesa Verde National Park
Visit the cliff houses and villages.  These are the main reason to visit Mesa Verde, after all.  A couple of the dwellings are well set up for visitors and are open every year.  These include Balcony House, which you have to access via wide ladders, and the large Cliff Palace.  Spruce Tree House is unstable and can only be seen from across the ravine.  Others like Step House are closed some years and open others (for limited visits), in order to minimize impact on them.
Go hiking.  Hiking isn't the thing most people think of when they think of Mesa Verde, but there are actually a few good hikes that you can do.  Highlights include the Spruce Canyon Trail and the Petroglyph Point Trail, which has signs along the way highlighting various plants and natural features and ends at some well-preserved ancient petroglyphs.
Visit the Chapin Mesa Archaeological Museum.  Get an insight into the people who built and lived in the cliff dwellings.
Access
Mesa Verde National Park is in southwest Colorado.  The cliff dwellings are on top of Mesa Verde, which is at least an hour uphill drive from the visitor center near the entrance to the park at the bottom of the mesa.  Nearby towns are Mancos and Cortez.  Durango is also only about 35 miles away.  
---
9. Sequoia National Park / Kings Canyon National Park
Redwoods may be the tallest – and most famous – trees, but sequoias are actually the largest trees on the planet.  Most of them – including the biggest of them all – are in Sequoia National Park and the adjacent Kings Canyon National Park.  Nothing quite prepares you for how truly awe-inspiring – and just plain BIG – they are.   If this doesn't give you an appreciation for how amazing this planet is, then I don't know what will.   This is an easy pick for one of the best national parks in the United States.
PLAN YOUR TRIP: Sequoia National Park Guide
Top Things to Do in Sequoia National Park
Hiking.  There are plenty of trails that take you to and between the largest sequoia trees.  A top pick is the Congress Trail, which is an easy loop from the General Sherman Tree (the largest tree on earth) to many sequoia trees that have been named after famous political and historical figures. 
Seeing wildlife.  The meadow in the middle of the Big Tree Trail is a great spot to see black bears at dawn and dusk (keep your distance).
Learning about the sequoia trees at the Giant Forest Museum.
Access
Sequoia National Park is in California.  The park is a five-hour drive from San Francisco and a two-hour drive from Fresno.
---
10. Yellowstone National Park
Yellowstone is not only one of the best national parks in United States, it is also the oldest.  Highlights include spouting geysers, bubbling mud pots, churning cauldrons, steaming fumaroles, brightly colored hot springs, thundering waterfalls and beautiful lakes.  Add in herds of bison, elk, wolves, trumpet swans, black bears, and antelope and there is very little that this national park does not have.
PLAN YOUR TRIP: Yellowstone National Park Guide
Top Things to Do in Yellowstone National Park
Geysers.  The most famous – and popular – geyser is Old Faithful, which faithfully gushes several times a day.  The surrounding area has plenty of others, though, and seeing them is truly awe-inspiring.
Brightly colored hot springs/ pools.  From the enormous, sun-like Grand Prismatic Spring (best seen from the Grand Prismatic Spring Overlook trail) to the smaller but no less stunning Morning Glory Pool, the bright blue Sapphire Pool, and more, the colors of these hot springs will amaze you.
Mudpots, bubbling cauldrons and steaming fumeroles.  You can see and learn about so many different types of geothermal marvels. 
Waterfalls.  Yellowstone Falls are incredible and there are several vantage points – including from the brink of the falls. The falls are split into the Upper and Lower Falls and then enter the Grand Canyon of the Yellowstone.  The scenery will truly make your jaw drop.  Nothing can quite prepare you for the natural splendor of this part of the park.
Wildlife.  Lamar Valley and Hayden Valley are the best places in the park to see wildlife.  Indeed, this is the best place in the United States to see bison.  You may even find yourself in a traffic jam as all vehicles stop while a herd of bison saunter down the road.  There are also elk, antelope and even wolves, that were reintroduced to the park several years ago.
Hiking.  There are plenty of great hikes that you can do, from simple walks on boardwalks to keep you safe from hot water and steam, to longer back country hikes away from the geothermal activity.
Access
Most of Yellowstone National Park is in Wyoming, but parts are also in Montana and Idaho.  The roads through the park basically form a large figure eight, and there are access points on both sides, top and bottom of the 'eight'.  Grand Teton National Park is to the south.  There are airports at Cody and Jackson, WY; Bozeman, Billings and West Yellowstone, MT; and Idaho Falls, ID.
---
11. Yosemite National Park
Yosemite National Park is famously one of the United States best national parks due to its sheer beauty.  The sheer cliffs and dramatic shapes of El Capitan, Half Dome and Sentinel Rock are equally appealing to climbers as they are to casual visitors who just want to soak in their grandeur.  The park is also home to waterfalls of all shapes and sizes, and fascinating wildlife.
PLAN YOUR TRIP: Yosemite National Park Guide
Top Things to Do in Yosemite National Park
Hiking.  Yosemite is a hiker's paradise.  From the Misty Falls trail, which goes to two stunning waterfalls, or the Upper and Lower Yosemite Falls trails, which have views of the falls AND Yosemite Valley, to more adventurous treks to stunning viewpoints, there is something for everyone.
Driving.  Either a self-guided drive, or a ranger-led 'train' along the valley floor, will let you see wildlife and varying views.  You can also drive up into the hills for absolutely breathtaking views over the valley and the surrounding incredible rock formations
Access
Yosemite National Park is in California.  It is a 4.5-hour drive from San Francisco and a 3.5-hour drive from Sacramento.
---
12. Zion National Park
Zion National Park regularly makes it on to the top 10 US national parks lists.  The main part of the park is Zion Canyon, and, unlike most canyons, the floor of the canyon, rather than the rim, is the main section visitors see.  There are incredibly narrow slot canyons all around the area in addition the main canyon.  The park has stunning views and some of the best hikes in the country!
PLAN YOUR TRIP: Zion National Park Guide
Top Things to Do in Zion National Park
Hiking.  There are several truly classic hikes in Zion.  The most famous is The Narrows, which is actually a hike in a river (sometimes thigh deep) along a narrow, very tall, slot canyon.  The other really famous hike is Angel's Landing, which has several technical elements and is not for the faint-hearted (or those with a fear of heights).  If you do it, you be rewarded with stunning views of Zion Canyon.  Another, less scary but totally awesome, hike is the Canyon Overlook Trail.
Taking the shuttle along the bottom of Zion Canyon.  Most canyons are seen from above, but the main access to Zion Canyon is actually the canyon floor.  A free shuttle goes along the length of the canyon, from Springdale to the start of the Narrows hike. Along the way, there are stunning views, and the main lodge, where you can have lunch or an ice cream under an enormous cottonwood tree.
Canyoneering.  The area around the national park is riddled with multi-layered slot canyons.  There are several companies in Springdale that organize guided trips that take you rappelling down a series of stepped tubes carved into the rocks over the years by flashfloods.  This is an adventure enthusiast's paradise!
Access
Zion National Park is in Utah.  The nearest town is Springdale, right outside the main entrance to the park.  Most of the floor of the Zion Canyon is closed to traffic – you need to take a free shuttle from Springdale to access the canyon for most of the year.  This keeps traffic down and makes it easy to access.
---
Enjoy the national parks!
Do you have a favorite park? I'd love to hear about it. Join my private Facebook group National Parks Collectors and comment and let me know.
FREE DOWNLOAD
Subscribe to monthly updates with tips for planning, travel inspiration and trip ideas and get instant access to the free PDF of this
The Best U.S. National Parks
Read More  
Do you love visiting national parks?
---
If you liked this post, please share the love and Pin it to your National Parks or US Bucket List boards!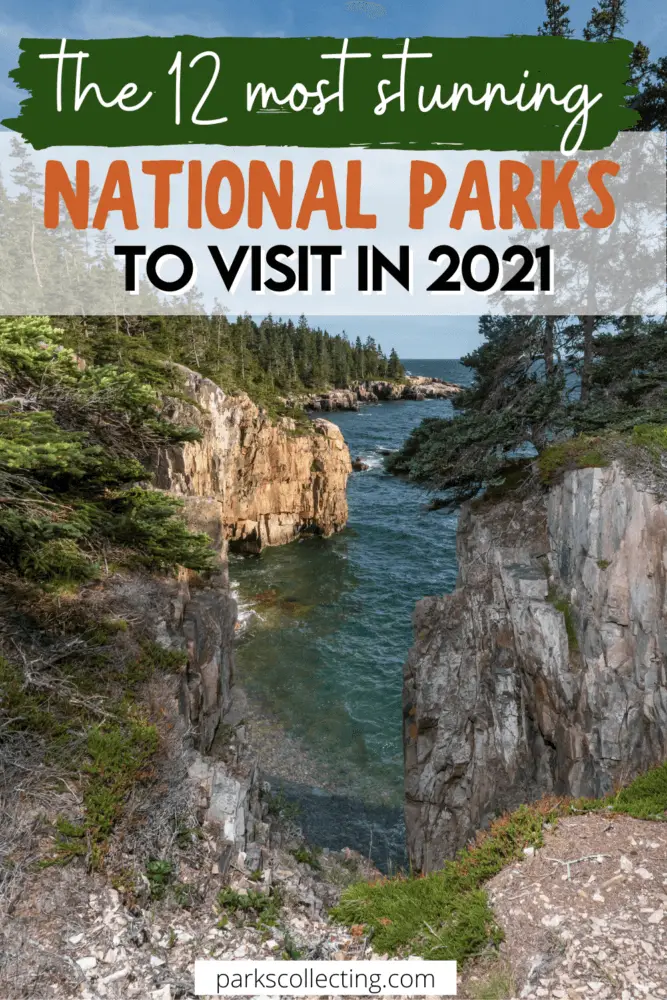 ---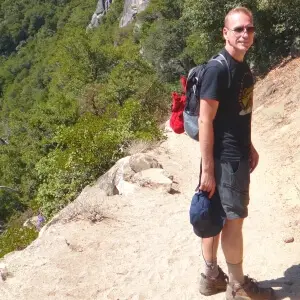 James Ian has traveled to 82 countries and all 7 continents.  He has visited all of the main national parks in the United States, as well as many national monuments and state parks.
He has rafted through the Grand Canyon; rappelled down slot canyons near Zion and Arches; hiked among the hoodoos in Bryce and the enormous trees in Sequoia; admired the waterfalls in Yosemite and the colored hot springs in Yellowstone; seen moose in Grand Tetons and seals in the Channel Islands, and much more.
---
Parks Collecting is a participant in the Amazon.com Services LLC Associates Program, an affiliate advertising program designed to provide a means for sites to earn advertising fees by advertising and linking to amazon.com. Amazon and the Amazon logo are trademarks of Amazon.com, Inc. or its affiliates. As an Amazon Associate I earn from qualifying purchases.