I walk along a narrow path.  On my right side is a steep sandy-colored cliff.  On my left is a group of crazy towers made of stone.  One close by has a cube of sandstone perched on top, looking like a rendition of Thor's Hammer.  A silent city of these pillars stretches away to my left. 
The path I am following curves downwards, deep into this forest of orange and salmon stone and sand.  This crazy landscape looks like it belongs on a Star Wars set more than earth.
I am in Bryce Canyon National Park, hiking among the hoodoos.
TOP TOUR: Book a 3-hour scenic tour of Bryce Canyon now
TOP HOTEL PICK: Check availability now
FIND THE CHEAPEST CAR RENTAL: Search Discover Cars for the best deals
FIND THE CHEAPEST FLIGHTS: Search Skyscanner for the best deals
GET TRAVEL INSURANCE: Get insured with Travelex before you go
No time to read about the best hikes in Bryce Canyon National Park now? Pin it for later: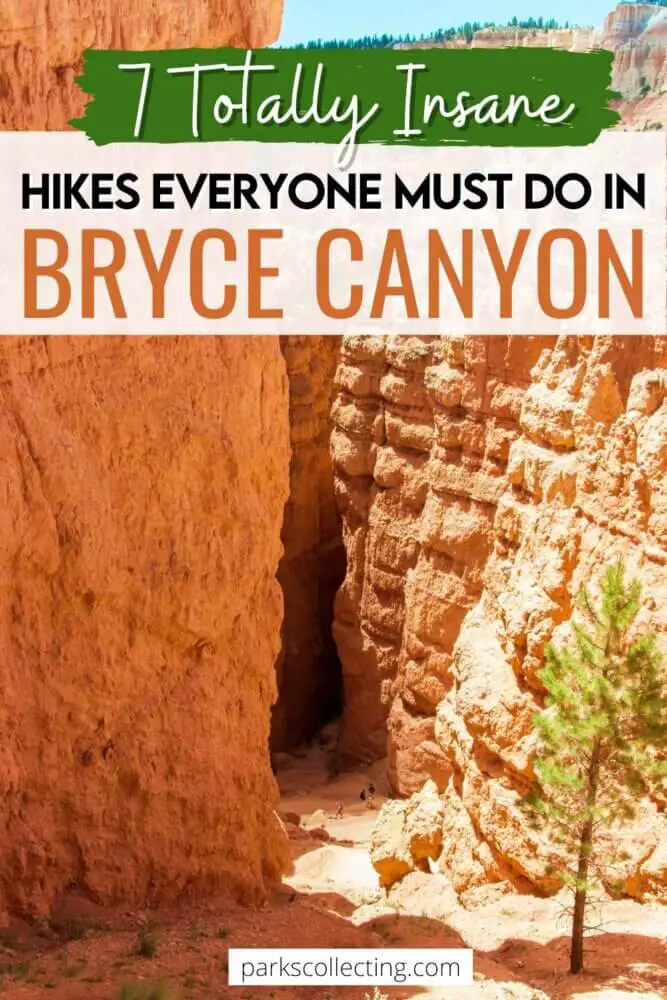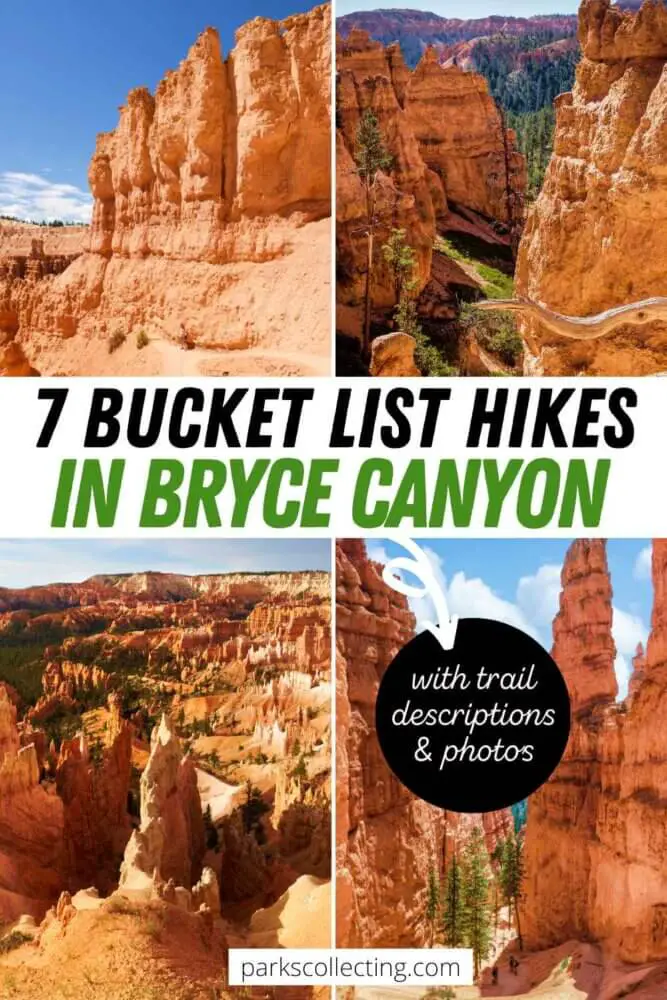 The national parks in the United States have so many fantastic hikes, but there is something special about Bryce Canyon and its hoodoos.
What is a hoodoo?
So, you may have heard about Bryce Canyon hoodoos.  It's a cute word, right?  But what is a hoodoo?  According to Wikipedia, a hoodoo is "a tall, thin spire of rock (with variable thickness) that protrudes from the bottom of an arid drainage basin or badland."  They are typically found in desert areas.
If you are planning to visit Bryce Canyon National Park by yourself, make your planning easy and stress free with a detailed itinerary. I have 1-, and 2-day itineraries for Bryce Canyon that include all the park highlights, give you choices based on your preferred activity level, and take all the stress out of planning your trip. 
Overview of Bryce Canyon
You will first drive through Bryce Canyon City, then enter the park and get to the Visitor Center.  Then you get to Bryce Amphitheater.  This is the main concentration of hoodoos and is where the lodge and the campgrounds are.  A shuttle bus is available in this area. 
A spur road off to the west goes to Bryce Point.  The main road continues about 18 miles (about a 30-minute drive) to Rainbow Point, with many lookouts along the way.  That's it.  It's a fairly small, self-contained park, but spectacular.
Read my Guide to the Bryce Canyon Scenic Drive for details about the 18-mile scenic drive.

Seeing the Bryce Canyon National Park hoodoos is an incredible sight, and your first view of the "Silent City", as it nicknamed, is truly awe-inspiring.  Inspiration Point or Bryce Point are the best spots for this overview.  Read my guide to the Best Viewpoints in Bryce Canyon to make sure you don't miss any of the views.
However, hiking in Bryce National Park down among the hoodoos is the best way to experience the park and my favorite thing to do in the national park. 
There are several Bryce hikes you can do, but here is my choice for the best trails in Bryce Canyon:
HIKING GEAR:
Essential Hiking Gear: Have the right gear for your hikes
Day Hike Packing List: Make sure you pack everything you need for hiking among the hoodoos of Bryce Canyon
Best Hikes at Bryce Canyon
1. Queen's Garden/ Navajo Loop Trail Bryce Canyon
This is the most popular of the Bryce Canyon day hikes and my personal favorite.   The Queens Garden/ Navajo Loop is 2.9 miles/ 4.6 km and takes about 2-3 hours.  It has a moderate difficulty level, but I did it when I was carrying a few extra pounds and was fine – my trick when hiking is to stop often and take a million photos.  That way I rarely get out of breath.
Many people recommend doing it in an anticlockwise direction, because the steepest section is a descent, but the national park's service recommends doing it in a clockwise direction because it is safer and the views are better.  I did it this way, and I would recommend it.
Start at Sunrise Point and take the Queen's Garden Trail.
The first section of the trail is (0.9 miles/ 1.4 km) to the Queen's garden Junction.  There are plenty of cool hoodoos here, and the path actually goes through archways cut into outcrops and the scale is a little overwhelming (in a good way).
As you near the bottom of the amphitheater, you enter a ponderosa pine forest, that provides a bit of a respite from the heat.  There is a short spur path from the main path to the Queen's Garden.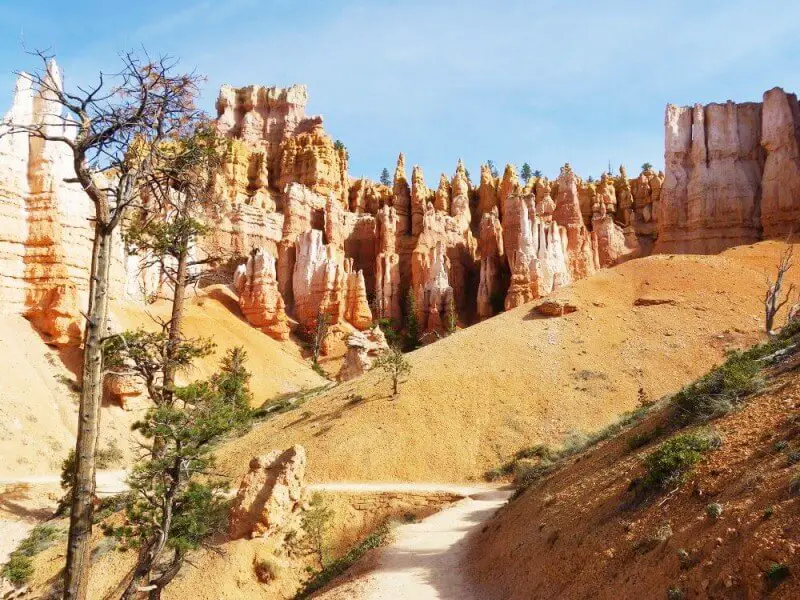 The official end of the Queen's Garden trail is the hoodoo called Queen Victoria.  It supposedly looks like a statue of Queen Victoria – there is a photo of her in a similar pose nearby, so you can compare (or find the right hoodoo – it's not the only hoodoo around, and the resemblance is not immediately clear and easy to find).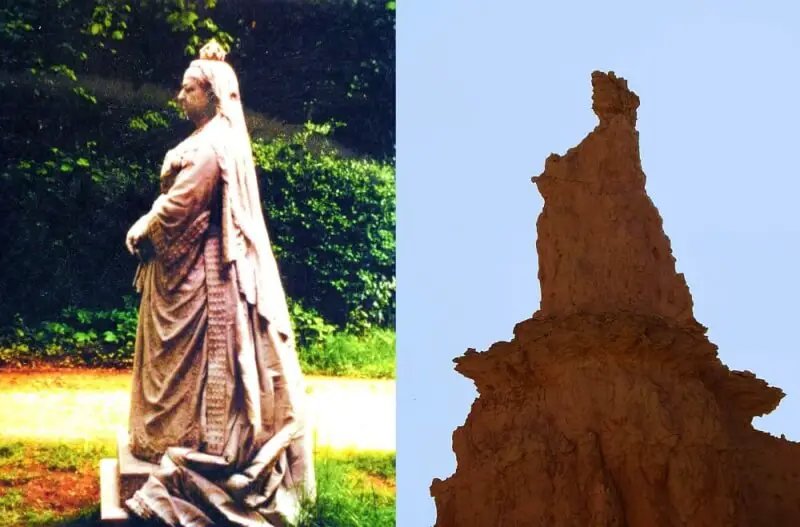 Back on the main trail, continue another 0.8 miles/ 1.3 km to a 4-way junction.  If you hear horses, it's because the horse trail passes near here.  From here, one of the trails goes off the Peekaboo Trail (about 3 miles), another of Bryce National Park best hikes.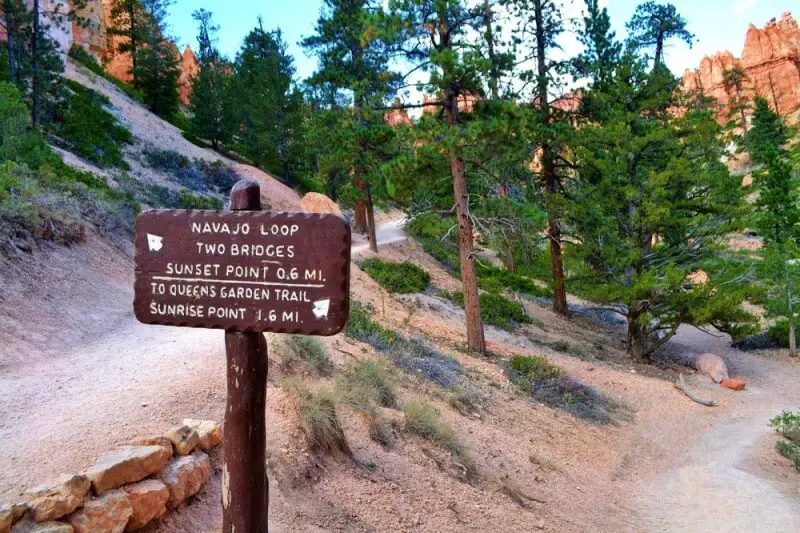 However, for this hoodoos hike, take the Navajo Loop trail, and there are two choices back up to the rim for which side of the loop you go to get to Sunset Point.   You can go via Two Bridges (0.6 miles/ 1 km) or via Wall Street (0.7 miles/ 1.1 km).  The Wall Street section is a narrow canyon and is perhaps the more famous of the two, but is only open in summer.
I took the Two Bridges because there are better views of Thor's Hammer and some of the other more famous hoodoos, that you don't get to see as well in the Wall Street section.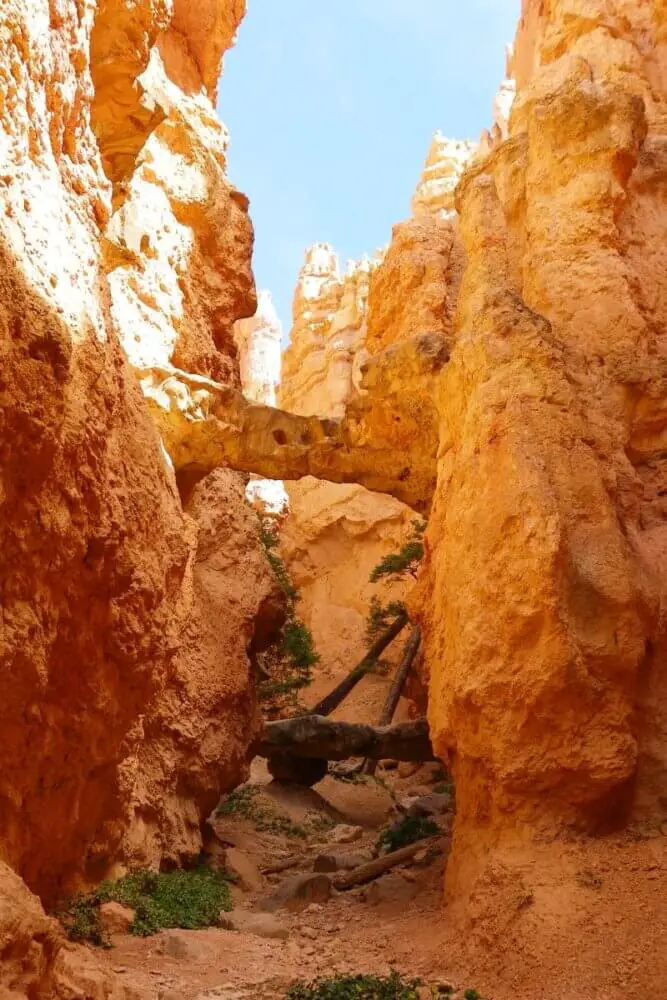 Either way ends at a series of incredibly steep switchbacks.
The narrow canyon here is very steep, but we took so many photos that I never got out of breath, even though the ascent (or descent if you're going the other way) is about 650 feet/ 198 m.  There are lots of great views of the hoodoos in this section.
Then it's an easy 0.5 miles/ 0.8 km along the rim from Sunset Point to Sunrise Point to finish the loop.
2. Queen's Garden Trail Bryce Canyon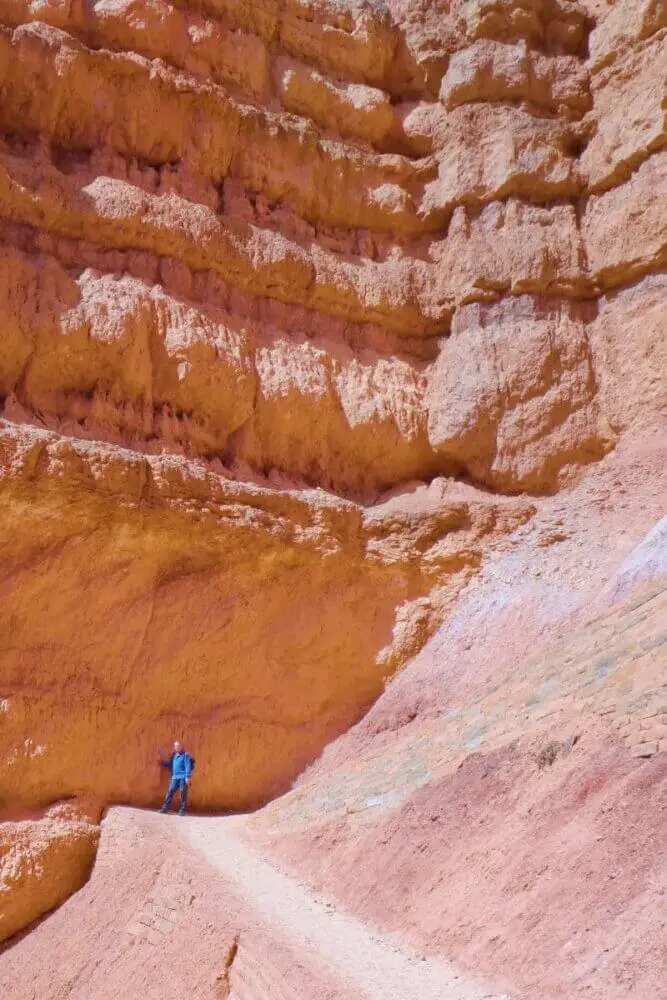 This is an out and in hoodoos trail, but the views are different each way, so it will not seem like you are doing the same trail twice.  It's the easiest of the trails (moderate level of difficulty) that go down into Bryce Amphitheater.
The trail is 0.9 miles/ 1.4 km each way (1.8 miles/ 2.9 km return) with an elevation change of 357 feet/ 109 m and takes about 1-2 hours.  The trail goes from Sunrise Point to the Queen Victoria hoodoo in Queen's Garden.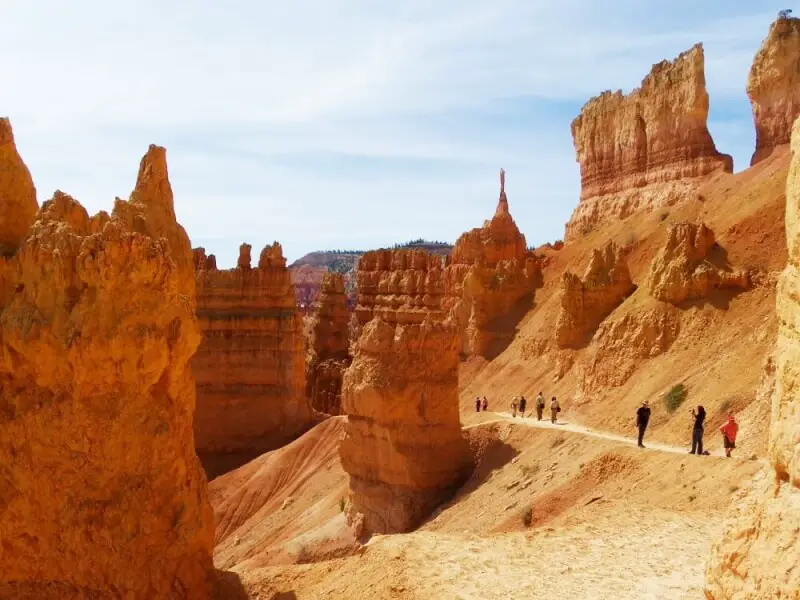 3. Navajo Loop Trail Bryce Canyon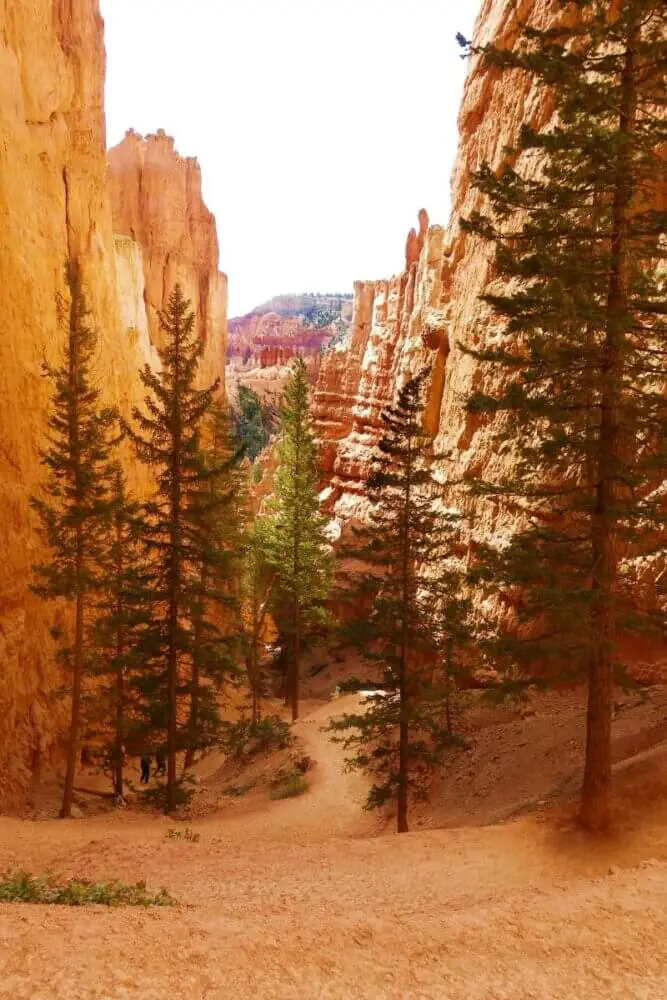 Another of the top hikes in Bryce Canyon, this is a moderate hike that is 1.3 miles/ 2.2 km with an elevation change of 550 feet/ 168m.  It takes 1-2 hours. Note that the Wall Street section is closed in winter, so the whole loop is only possible in summer.  Most people tend to do this in a counterclockwise direction, but the national park service recommends doing it clockwise because it has better views and is safer that way.
4. Rim Trail Bryce Canyon
The Rim Trail in Bryce Canyon is another Bryce Canyon must do hike.  It goes all the way from Bryce Point to Fairyland Point.  It can be broken into sections connecting the best view points of the hoodoos from above.
Bryce Point – Inspiration Point: 1.5 miles/ 2.4 km; closed in winter. Bryce Point has arguably the best views of the "Silent City", as the main amphitheater of hoodoos is called.  In addition to the hoodoos, you can see landscape features such as the Aquarius Plateau and the Sinking Ship.  We got up early to see the sunrise from Bryce Point and to be honest, the colors were a little disappointing.  It got better after the sun had been up for a little while but the light was still soft.
Inspiration Point – Sunset Point: 0.7 miles/ 1.2 km. The view from Inspiration Point is similar to Bryce Point, but the hoodoos are closer, so you can see more details.
Sunset Point – Sunrise Point: 0.5 miles/ 0.8 km. This section is paved.
Sunrise Point – Fairyland Point: 2.4 miles/ 4 km

5. Sunset Point to Sunrise Point Trail Bryce Canyon
This is the easiest trail and is one of the best hikes in Bryce Canyon, even though it doesn't go down in among the hoodoos.  It is 1 mile/ 1.6 km return (0.5 miles/ 0.8 km one way) of paved path with just a 34-feet/ 10-meter elevation change.  It takes about an hour and is wheelchair accessible.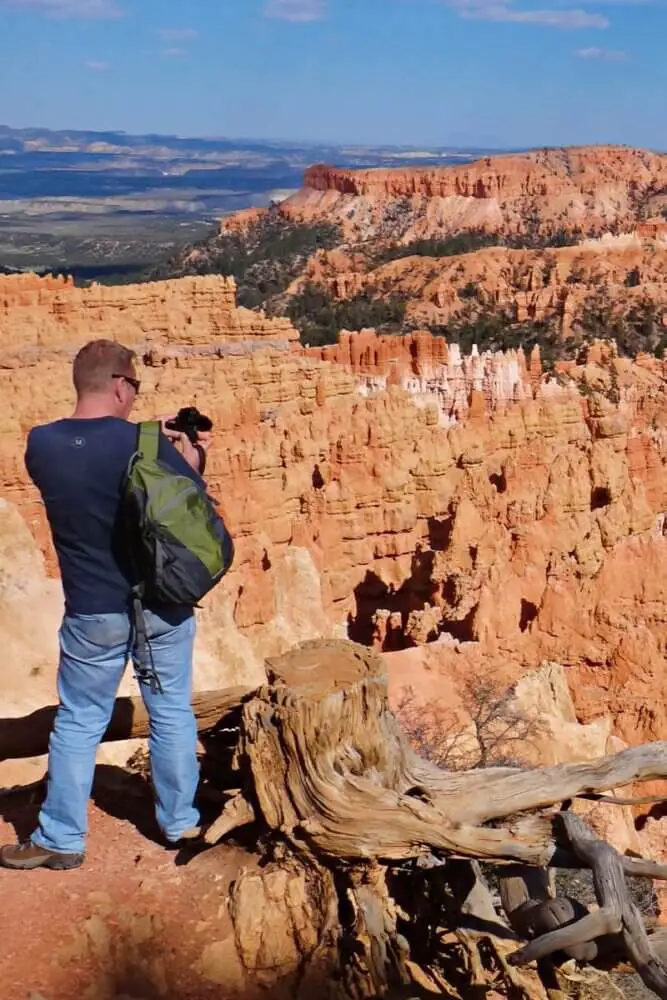 6. Peekaboo Loop Trail Bryce Canyon
Another of the top Bryce Canyon hikes that goes down into the valley and through the hoodoos.  This goes past the Wall of Windows.  It can be taken as a stand-alone trail from Bryce Point or added to the Navajo Loop Trail from Sunset Point.
7. Bristlecone Loop
The last of my must do hikes in Bryce Canyon is this very easy hike from the end of the road at Rainbow Point or Yovimpa Point, which is on the other side of the parking lot. 
It's a one-mile loop and has less than 200 feet / 60m elevation change.  It's basically a stroll through bristlecone pines, blue spruce and fir trees, with occasional views of the canyon below.  Pleasant. 
This is the highest part of the park (9,100 feet/ 2,775 m), so it can be cooler than the rest of the park and is often closed in winter and early spring because of the snow. There's a chance to see pronghorn deer here too.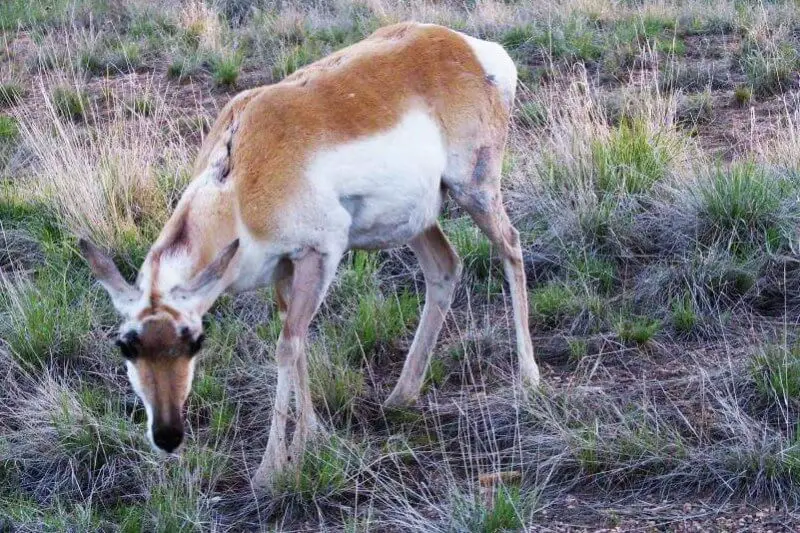 The verdict: Best Bryce Canyon hiking trails
The Bryce Canyon National Park trails are all great.  Seeing the hoodoos from above is breathtaking and the overall view of Bruce Amphitheater from above is spectacular. 
However, hiking down into the amphitheater and being surrounded by the hoodoos is magical.  I especially loved the Queen's Garden/ Navajo Loop trail and walking through the hoodoos and seeing them up close.
It's possible to do all or just one of the trails described above. 
If you prefer to take it easy, the short walk between Sunset Point and Sunrise Point is not strenuous and gives incredible views of the hoodoos below. 
If you like to hike, and have a moderate level of fitness, then the Queen's Garden and/ or Navajo Loop Trails get my vote. 
If you have even more time, the longer trails give more of the same experience.  Leave time for a drive to rainbow Point and the easy Bristlecone Loop trail and all the lookouts on the way back to the main area.
Happy hiking!
What's your favorite hike in Bryce Canyon? Do you have any other tips to share? I'd love to hear them. Join my private Facebook group National Parks Collectors and comment and let me know.
If you liked this post, please share the love and Pin It to your Hikes or National Parks Boards!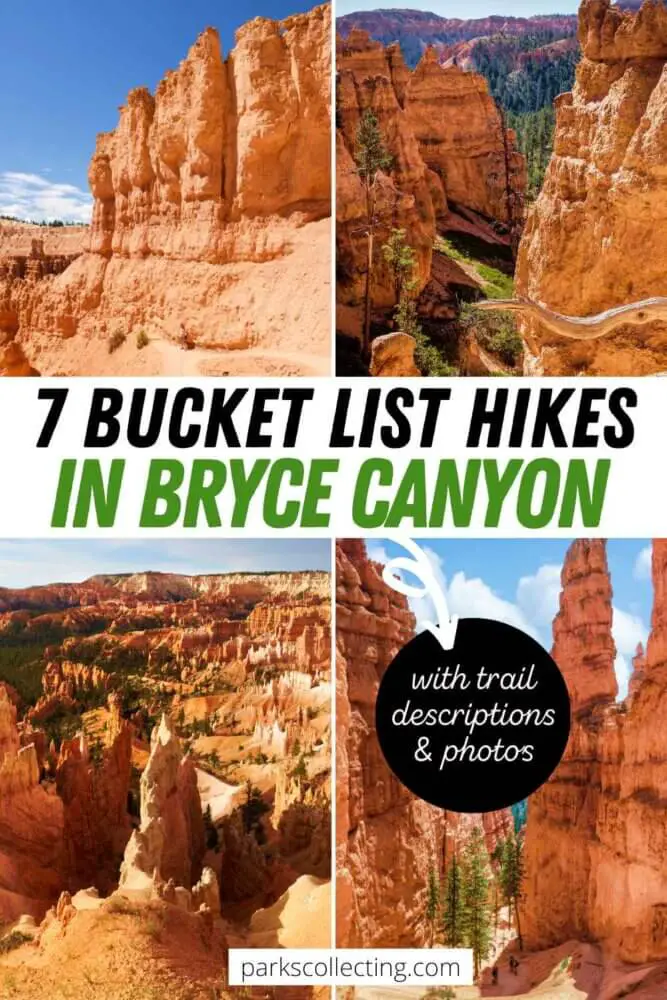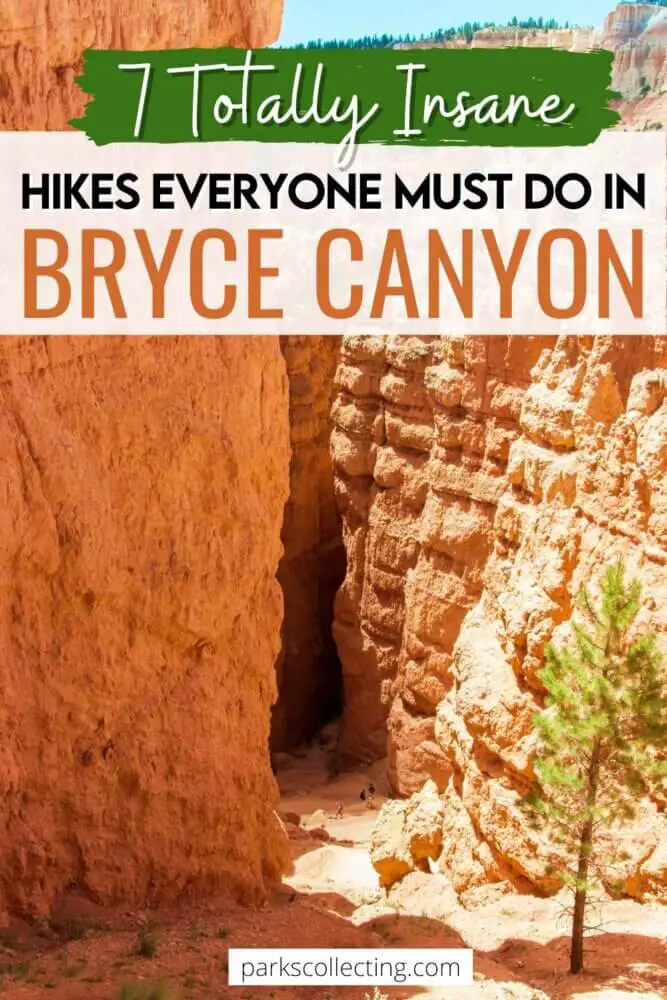 ---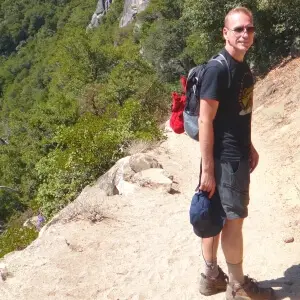 James Ian has traveled to 82 countries and all 7 continents.  He has visited all of the main national parks in the United States, as well as many national monuments and state parks.
He has rafted through the Grand Canyon; rappelled down slot canyons near Zion and Arches; hiked among the hoodoos in Bryce and the enormous trees in Sequoia; admired the waterfalls in Yosemite and the colored hot springs in Yellowstone; seen moose in Grand Tetons and seals in the Channel Islands, and much more.
---
Parks Collecting is a participant in the Amazon.com Services LLC Associates Program, an affiliate advertising program designed to provide a means for sites to earn advertising fees by advertising and linking to amazon.com. Amazon and the Amazon logo are trademarks of Amazon.com, Inc. or its affiliates. As an Amazon Associate I earn from qualifying purchases.