If you're seeking the best microspikes for winter hiking, then this guide is most definitely for you. With experience of using crampons on hiking boots ourselves, we know all too well just what to look for – and can even recommend the ones we own.  
Whether you want the best snow spikes for hiking or are searching for the best trail crampons, we cover both in this guide. In fact, the terms 'microspikes' and 'crampons' are often used interchangeably. To find out more about crampons vs microspikes, don't miss the FAQs section which covers this.  
Read on to find your ideal pair of winter hiking boots crampons or microspikes. 
No time to read about the best microspikes for hiking now?  Pin It and save it for later: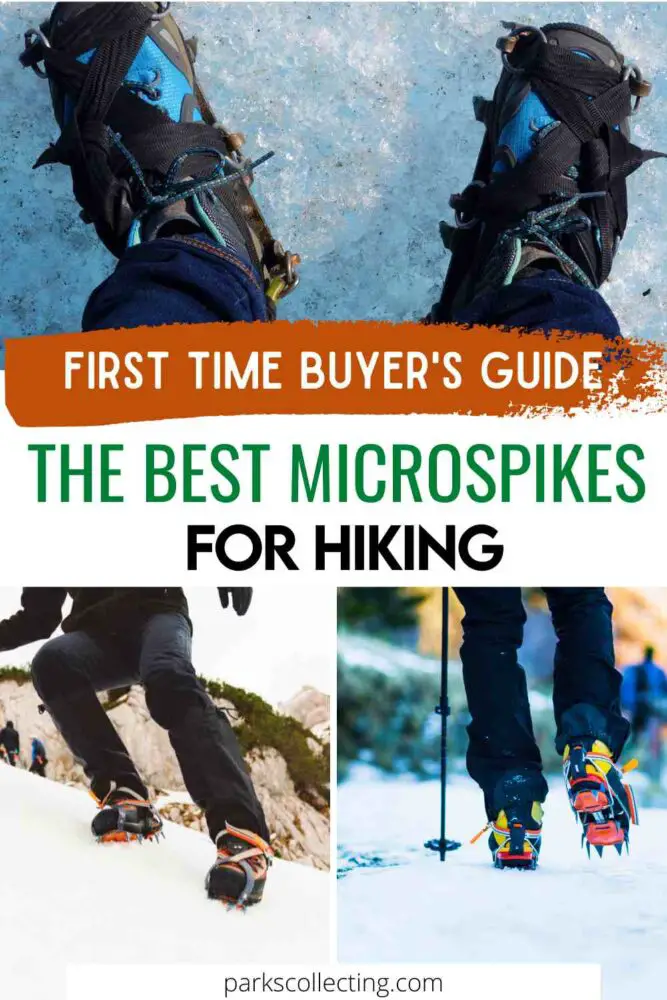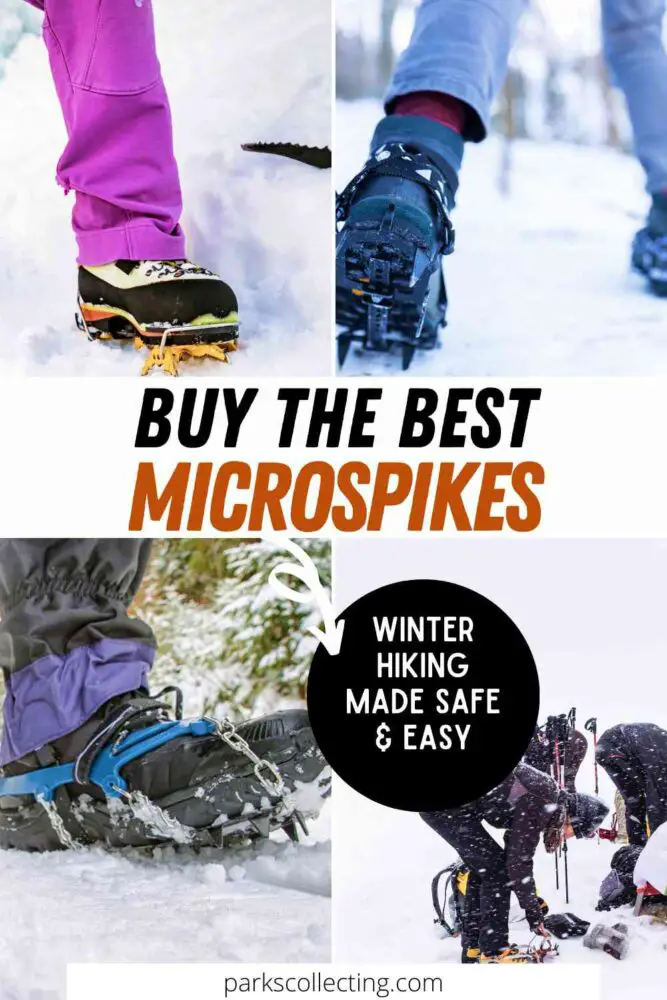 Please note this post may contain affiliate links, which means we may receive a commission, at zero cost to you, if you make a purchase through a link. Please see our full Disclosure for more information. If you have any questions, please contact me.
See the best hiking crampons overall here 
We love these robust and reliable Kahtoola microspikes – and have ourselves tested them time and time again.  
Why buy these Kahtoola microspikes? 
We actually have personal experience of these microspikes from Kahtoola, and recommend them very highly indeed. They offer a secure fit, superb traction and are constructed from heat treated, rust-proof stainless steel. 
>> See these Kahtoola micro spikes here 
---
Best hiking microspikes comparison table 
This helpful table should help you compare all kinds of shoe spikes for hiking, so you can quickly see the best features of each product featured in this guide. 
If you are reading this on a mobile device, you might need to swipe to scroll across. 
| Name | Image | Key Features | Rating (/10) | Price |
| --- | --- | --- | --- | --- |
| Kahtoola MICROspikes | | Great traction, corrosion-proof, secure toe bail | 10 | CHECK NOW |
| Yaktrax Ascent | | Strong aluminum, heavy-duty webbing, carry bag | 9.9 | CHECK NOW |
| Grivel G20 Plus | | Secure fit, reduces fatigue, ideal for icy descents | 9.8 | CHECK NOW |
| EnergeticSky | | Carry pouch, even weight spread, strong silicone cover | 9.4 | CHECK NOW |
| Yaktrax Traverse | | Lightweight, multi-purpose, come with carry bag | 9.6 | CHECK NOW |
| Uelfbaby | | 18-month warranty, great value, durable stretch bindings | 9.3 | CHECK NOW |
| Unigear | | Heat treated steel, double chains, natural stride | 9.5 | CHECK NOW |
| Hillsound Trail Ultra | | Leading brand, 4 sizes, 2-year warranty | 9.7 | CHECK NOW |
Choosing the best hiking spikes for boots – Frequently Asked Questions 
What's the deal with microspikes vs crampons? 
To help you decide whether to buy crampons or microspikes, let's first address the difference. Firstly, you may notice that many products listed in this guide – and elsewhere – are described by retailers as both microspikes and crampons.
Although they do differ, this happens because they are both used for the same purpose – walking on slippery ground. Snow and ice in particular.
To understand the difference between crampons and microspikes, read on for an outline of each. 
What are microspikes? 
Microspikes are lighter and more portable than crampons. They comprise a series of chains attached to a base plate that sits under the foot. A series of spikes helps the wearer to achieve a good grip on slippery terrain. They're a bit like snow chains for the feet, and are attached to footwear via a stretch binding system. 
What are crampons? 
If you're considering the pros and cons of hiking crampons vs microspikes, it's useful to know that products described as crampons tend to be more heavy duty.
They may have a sturdier frame and fewer spikes, though these spikes will be longer. For descents on icy terrain, crampons are the best bet, though they are heavier. 
What about microspikes vs snowshoes? 
Snowshoes are the third option, and we've covered these in a separate guide. When considering microspikes or crampons, it can be worth weighing up this third option too.  
Snowshoes are designed for snow rather than ice, and have a wider footprint. They are often meant to 'float' over snow rather than gripping it. If you're comparing trail crampons vs microspikes, it's also worth knowing that some snowshoes have spikes built in. 
Check out our comprehensive guide to finding the best snowshoes here 
---
The best microspikes for hiking options 
Best hiking crampon overall: Kahtoola MICROspikes 
We can state with confidence that these are the best spikes for hiking, because we own and love them. The award-winning Kahtoola microspikes traction system assures the wearer of great grip, and they come in a choice of four sizes.
Kahtoola microspikes sizing is simplified by the handy chart they provide, and they come with a two-year warranty. You can also check the Kahtoola microspikes weight according to the size you order.
Don't just take out word for it – you can click the link below to read all the great product reviews. They are also recommended for running. 
Pros: 
Corrosion-resistant stainless steel 
Built-in toe bail ensures security 
Award-winning traction
>> Click here to view or buy Kahtoola microspikes on Amazon
>> Click here to view or buy Kahtoola microspikes on REI
---
Yaktrax Ascent microspikes
This set of Yaktrax microspikes also comes very highly recommended. They are designed for even the most challenging terrains, including glaciers as well as regular snow and ice.
There are 16 spikes to each foot, held together by a tough stainless-steel base and strong chains. A stretch  binding also gets over the boot or shoe, ensuring that these hiking boot spikes stay firmly in place.
A carry bag is included, and there are four sizes to choose from.
Pros:
Suitable even for glaciers 
Strong stainless steel construction 
Carry bag supplied
>> Click here to see these Yaktrak Ascent microspikes
---
Grivel G20 Plus Crampon
If you're looking for Grivel microspikes, then check out their G20 Plus crampon.
If your hiking routes are very demanding, this might well be the best crampon for you. These lightweight crampons connect to your footwear via toe and heel bails, plus an ankle strap adds extra security. A down-turn on the front point even helps to reduce fatigue in the calf muscles.
These impressive crampons for winter hiking are suitable even for the most perilous descents.
Pros: 
Ideal for steep, slippery descents 
Secure fit via bails and ankle strap 
Front downturn reduces fatigue
>> Click here to find out more about the Grivel G20 Plus on Amazon
>> Click here to find out more about the Grivel G20 Plus on REI
---
EnergeticSky microspikes
Designed for a variety of terrain, these microspikes for boots are made for walking on icy and snowy surfaces.
There are 19 durable stainless steel spikes for each foot, and these have been placed for even weight distribution. A strong, stretchy silicone cover ensures they fit firmly to your hiking boots.
Three sizes are available, and these lightweight winter hiking crampons come complete with a pouch for carrying.
Pros: 
Carry pouch included 
Equal weight distribution 
Thick silicone cove
>> Click here to discover these EnergeticSky microspikes
>> Click here to discover these EnergeticSky microspikes on Desertcart
---
Yaktrax Traverse microspikes
Another option from Yaktrax is offered here in the form of the Yaktrax Traverse. This is also a highly rated contender as best hiking spikes.
These are heavy duty microspikes, designed for use on the street as well as hiking trails. Each of the 13 stainless steel spikes is 1/4 of an inch long. They attach to your hiking boots by means of the tough elastomer binding.
There are three sizes to choose from and each pair comes with a carry bag.
Pros: 
Multi-purpose microspikes 
Weight just 0.62 lbs 
Carry bag
>> Click here to check out the Yaktrax Traverse
>> Click here to check out the Yaktrax Traverse on Desertcart
---
Uelfbaby microspikes
This very affordable pair of hiking boot crampons offer good grip and include an 18 month warranty for your peace of mind.
They can be used on wet, slippery mud or grass as well as snow and ice – ideal for the elderly at risk of falls. Highly elastic rubber bindings are thicker than those found on other products, and these can also cope with temperatures as low as -45℉.
This product is perhaps the ideal budget pair of microspikes for snow, ice and slippery ground.
Pros: 
Great value for money 
18-month warranty 
Strong, stretchy bindings
>> Click here to see these Uelfbaby microspikes on Amazon
>> Click here to see these Uelfbaby microspikes on Galleon
---
Unigear Traction microspikes
With 18 spikes, these Unigear microspikes are tailor made for wintry terrain. Among all the best ice spikes for hiking, these are also one of the more lightweight options.
The stainless steel has been heat treated to add strength and anti-corrosive properties, and there are 18 spikes to each foot. These vary in length to ensure great grip.
This product has also been designed to encourage a natural gait whilst maintaining good traction.
Pros: 
Heat-treated stainless-steel build 
Welded, double link chains 
Encourages natural stride
>> Click here to view these Unigear microspikes Amazon
>> Click here to view these Unigear microspikes on Unigear Shop
---
Hillsound Trail Ultra microspikes
Along with Kahtoola and Yaktrax, Hillsound are one of the best winter hiking spikes brands out there.
The Trail is a hugely popular product, attracting far more than its fair share of top ratings and reviews. With double links to the side chains and tough elastomer bindings, these are a solid choice than come in four size options.
The complete package is offered here, as these crampons for boots come with a carry bag and a two-year warranty.
Pros: 
4 size options 
2-year warranty 
Leading brand 
>> Click here to check out these Hillsound microspikes
>> Click here to check out these Hillsound microspikes on Moosejaw
---
Which are the best winter shoe spikes for you? 
We hope this guide has helped you determine which removable spikes for shoes are ideally suited to your outdoor activities. The best crampons for hiking boots will allow you to hike with confidence, even in the most challenging and chilly conditions.  
---
Happy winter hiking!   
Do you have any recommendations for the best crampons for hiking boots?  I'd love to hear them.  Join my private Facebook group National Parks Collectors and comment and let me know.
Read more travel product reviews 
Winter Wear and Gear 
If you liked this post, please share the love and Pin it to your Outdoor Gear board!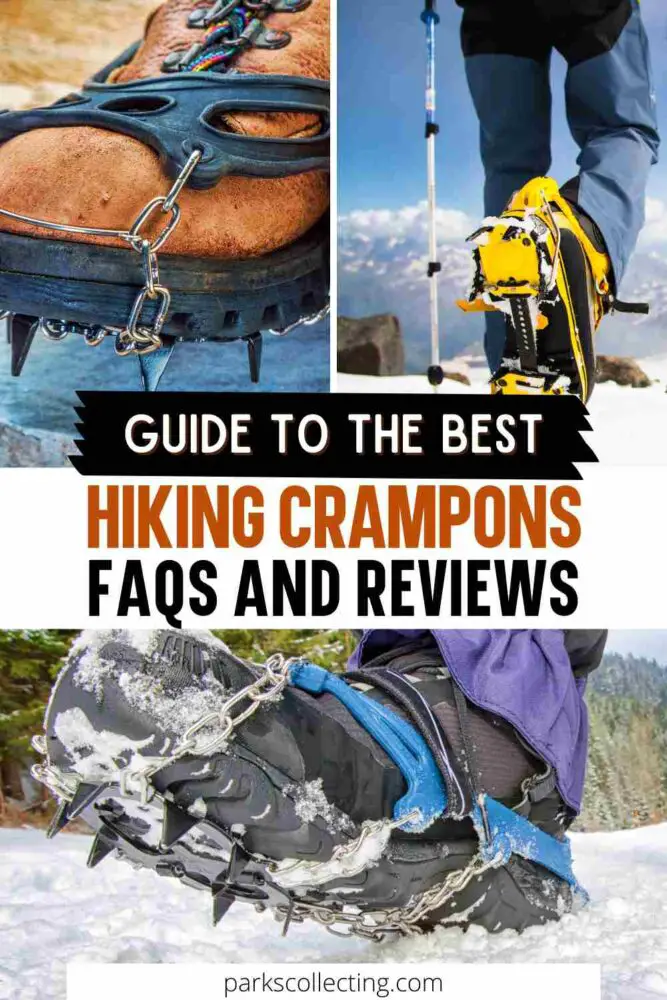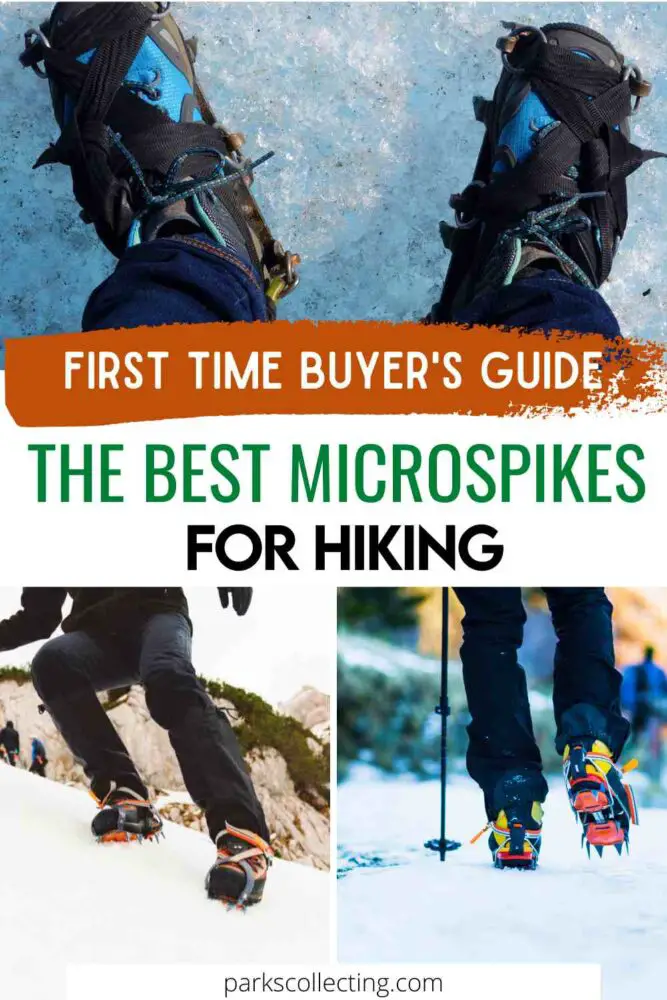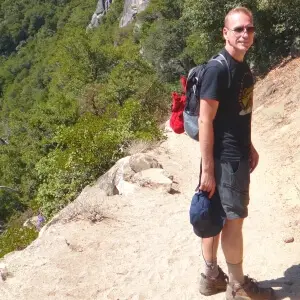 James Ian has traveled to 82 countries and all 7 continents.  He has visited all of the main national parks in the United States, as well as many national monuments and state parks.
He has rafted through the Grand Canyon; rappelled down slot canyons near Zion and Arches; hiked among the hoodoos in Bryce and the enormous trees in Sequoia; admired the waterfalls in Yosemite and the colored hot springs in Yellowstone; seen moose in Grand Tetons and seals in the Channel Islands, and much more.
---
Parks Collecting is a participant in the Amazon.com Services LLC Associates Program, an affiliate advertising program designed to provide a means for sites to earn advertising fees by advertising and linking to amazon.com. Amazon and the Amazon logo are trademarks of Amazon.com, Inc. or its affiliates. As an Amazon Associate I earn from qualifying purchases.