How do you begin when choosing between portable tent heaters for camping? What's the best way to heat a tent when camping?  
This handy guide should help you decide. A range of tent warmers for camping are featured, so whether you want a winter camping tent heater or a small propane heater for a tent, this guide will help you narrow down the options.
Various features – such as auto shut off when low oxygen levels are detected or if the heater is tipped over – are included on safe camping heaters for tents. This means you can easily stay safe while remaining warm and dry. Read on to find your ideal safe tent heater for camping.
No time to read about the best tent heater for camping now?  Pin It and save it for later: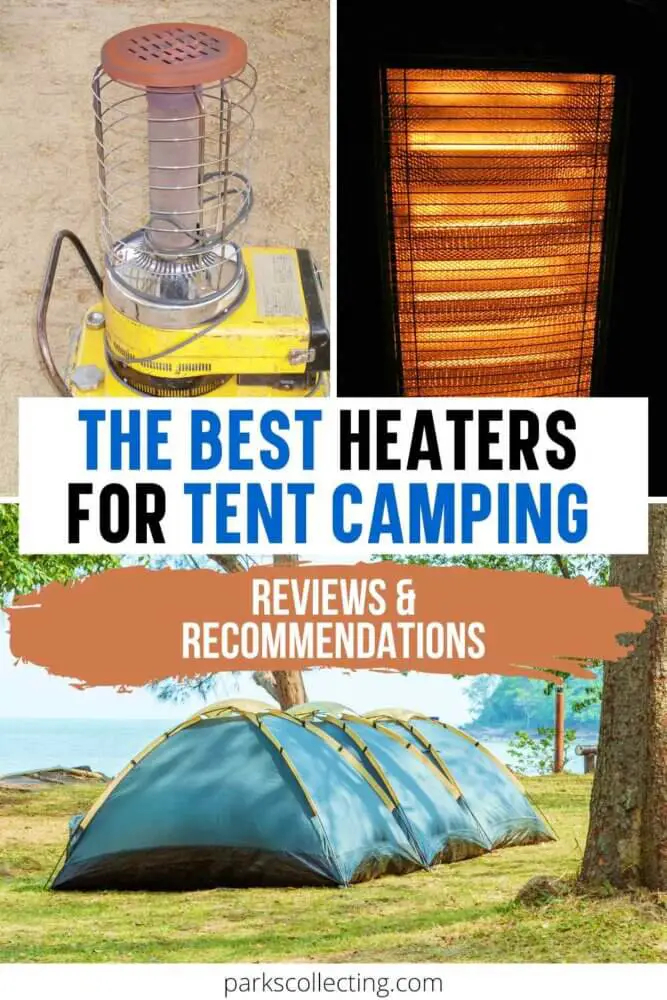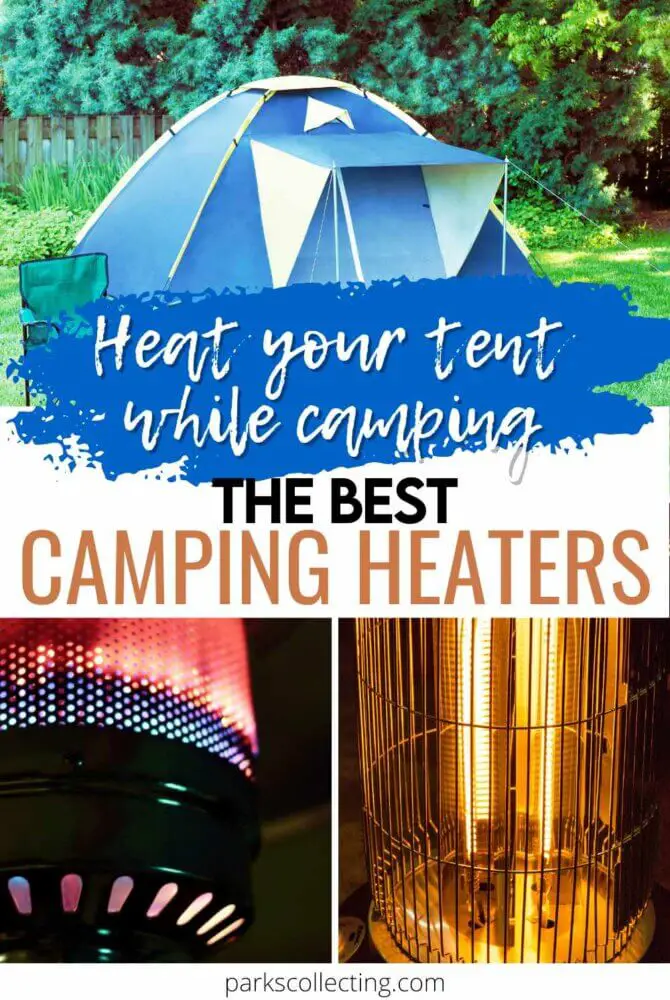 Please note this post may contain affiliate links, which means we may receive a commission, at zero cost to you, if you make a purchase through a link. Please see our full Disclosure for more information. If you have any questions, please contact me.
Our pick for the best camping heater for a tent
Our number one pick overall is the Campy Gear 2 in 1, propane fueled heater that also doubles as a camping stove.
Why buy the Campy Gear 2 in 1 Heater and Stove?
Although some of the electric heaters featured here are great, we wanted to feature something more portable. This Campy Gear heater can also be used to cook dinner – and having a hot meal inside you can also help to keep you warm 😉 . It also saves you carrying an extra item around.
>> See the Campy Gear 2 in 1 Stove and Heater
---
Best Heater for Tent Camping Comparison Guide
To make it easier to find the best heater for a tent, this comparison chart lists all of the top pick heaters for camping tents, so you can see them all together.  We have included the type of heater (by fuel), as well as price categories and ratings.
If you are reading this on a mobile device, you might need to swipe to scroll across.
---
Best Tent Heaters for Camping Categories 
Best heaters for tents – general 
A selection of the best camping heaters for tents includes some propane heater camping options, as well as several that require electricity. One is even designed to double as a cooking stove. 
Jump straight to best heater for a tent in general
Best propane heater for tent camping 
Although we feature propane camping heaters in the general section, this one contains our top pick for that category. A Mr Heater tent heater is our favorite portable gas heater for camping. 
Jump straight to best propane heaters for camping 
Best electric camping heater 
Our number one electric tent heater for camping is made by Stanley – a brand well known for its robust, heavy products often preferred by tradespersons.  
Jump straight to best electric heater for camping in a tent
Best diesel heater for tent 
A portable diesel heater is another option when it comes to fueling your tent heater. This one is both powerful and energy efficient. 
Jump straight to best diesel-powered in tent heater
Best kerosene tent heater 
Kerosene is another alternative for those who cannot access mains power when camping. Our chosen product is effective as well as portable. 
Jump straight to best kerosene camp tent heater
Best tent wood stove heater 
If you like the idea of a wood burning tent heater, then takes a look at this category. The item featured can even be used for backyard cooking too. 
Jump straight to best wood burning indoor tent heater
---
Finding the best portable heater for camping – Frequently Asked Questions 
What is the best heater for camping? 
The answer to this question can depend on available power sources. Electric heaters are affordable, safe and efficient, but they also require that power. Other alternatives include propane, kerosene, diesel and even wood. Take a look at our top picks in each category to see what might suit your needs best.  
Is a tent heater safe? 
Most space heaters are actually packed with safety features. The majority will switch off automatically if they detect low levels of oxygen, overheat or are tipped over. They may also have a programmable off function. So yes, they are built very much with user safety in mind.
What about a winter tent heater? 
A good tent heater can help to make winter camping trips a realistic option. Combine a source of heat with thermal clothing and a good sleeping bag and you can stay toasty all night long – even when it's freezing outside. 
Can I cook on my heater? 
A couple of the options featured here can also be used as a small camping stove, or for backyard cooking when at home.  
---
The Best Camping Tent Heaters – General 
Mr Heater Little Buddy propane heater 
If you want a highly portable propane heater for camping, take a look at Mr Heater's Little Buddy. It's ideal for heating a tent with up to 95 square feet of inside space.
This one also has double auto shut offs for safety in the event of it tipping over or low oxygen levels. A key selling point of this one is how light and easy to carry it is. 
---
Honeywell 360-degree fan forced heater 
This Honeywell surround heat tent heater uses fan forced technology to provide energy efficient space heating. For safety, it has an auto-off timer option, tip over switch, double overheat protection and a cool touch handle.
This also makes it highly portable. If you have mains power access when camping, then this Honeywell heater is ideal. 
---
Minetom ceramic space seater 
Like some other electric tent heaters for camping, this Minetom space heater puts ceramic technology to good use.
This very affordable option is also energy efficient, so it's great if you can access mains power or have your own source. It also has a carry handle, plus that all important tip over shut off and overheat protection. 
---
Campy Gear 2 in 1 propane heater 
Our first pick in the general category is this small propane tent heater that doubles as a cooking stove.
It's designed to heat your tent space during chilly periods – and to help you prepare a hot meal.
With dual safety controls and an adjustable cooking flame, it is designed to keep you warm even in the coldest weather conditions. 
---
Honeywell digital ceramic tower heater 
If you have a large tent space to heat, then this larger Honeywell heater will do the job.
It offers a 1500 watt output and 2 heat settings. It even has a built-in dust filter and is energy efficient.
For safety there is also overheat and tip-over protection plus a programmable thermostat and auto-off option. The oscillating heat should ensure every corner of the tent stays cozy. 
---
Vsanstar mini camping heater 
This is the most compact heater we feature here.
You will need to use it conjunction with a camping stove. If you already have one of those – or are buying one anyway – then this is ideal for generating heat both indoors and out.
This durable little heater has a handle, and even a carry bag to store and transport it in. 
---
TexsportSportsmate portable propane heater 
The portability of this model makes it one of the best propane tent heaters for camping. It is also highly rated and very versatile.
The burner is fully adjustable and it has a strong, sturdy and stable paddle foot base. If the flame goes out, this propane heater will shut off automatically.
This product is great for use when camping both indoors and out.  
---
Best Propane Heater for Camping 
The top propane camping heater is this highly rated, heavy duty Mr Heater product.
This safe propane tent heater is approved for indoor and outdoor use, so it's ideal for use during chilly evenings outside too. A clean burning heater, it gives out radiant heat for tents with up to 225 square feet of interior space.
There is also a handle plus tip-over and overheat protection. 
---
Best Electric Tent Heater 
To power the electricity, pick up a generator for camping.
Our choice for best electric camping heater is the robust and portable Stanley space heater.
Using electricity, it's suitable for those who have a power source of their own or access to mains. It heats up very quickly and offers a choice of two heat settings.
Like other heaters we feature, safety is assured by the auto-off switch that operates if it is knocked over. 
---
Best Diesel Tent Heater 
This No. 32 portable diesel air heater attracts great reviews and is suitable for on-the-go use.
It has low fuel consumption but is capable of heating a space rapidly. A powerful source of heat, this includes a muffler to reduce noise.
It can be permanently installed inside an RV, van, motorhome or boat, or used as a portable heat source inside a tent or room. 
---
Best Tent Kerosene Heater 
Want a kerosene heater in your tent? Our top pick in this category is this World Marketing of America compact kerosene wick heater.
This offers another alternative to propane tent heaters, where mains power is not available. The fuel tank can hold over a gallon and it provides radiant heat for up to 450 square feet of tent space.
Its compact size makes it ideal for taking away on camping trips.  
---
Best Tent Wood Heater 
A portable wood stove tent heater provides another alternative to mains or propane power. This Stanbroil wood burning stove is very versatile, and can be used for backyard cooking as well as camping.
As it's simple to transport and to assemble it can easily be used both at home and when away.
You can save money as the large fuel chamber can make use of foraged branches, twigs or even pine cones, and the fume output is low.   
---
Which is the best portable camping heater for your tent? 
All the best safe tent heaters for camping are listed here – which you choose is down to your needs. Whether you want a small camping heater for solo travels or are considering heaters for tents for winter camping trips, we hope you find just what you want to help you stay warm.  
Happy camping!   
---
Do you have another pick for the best camping tent heater?  I'd love to know what it is.  Join my private Facebook group National Parks Collectors and comment and let me know.  
If you found this review of the best tent safe heater helpful but are not quite ready to buy yet, Pin It so you can find it easily!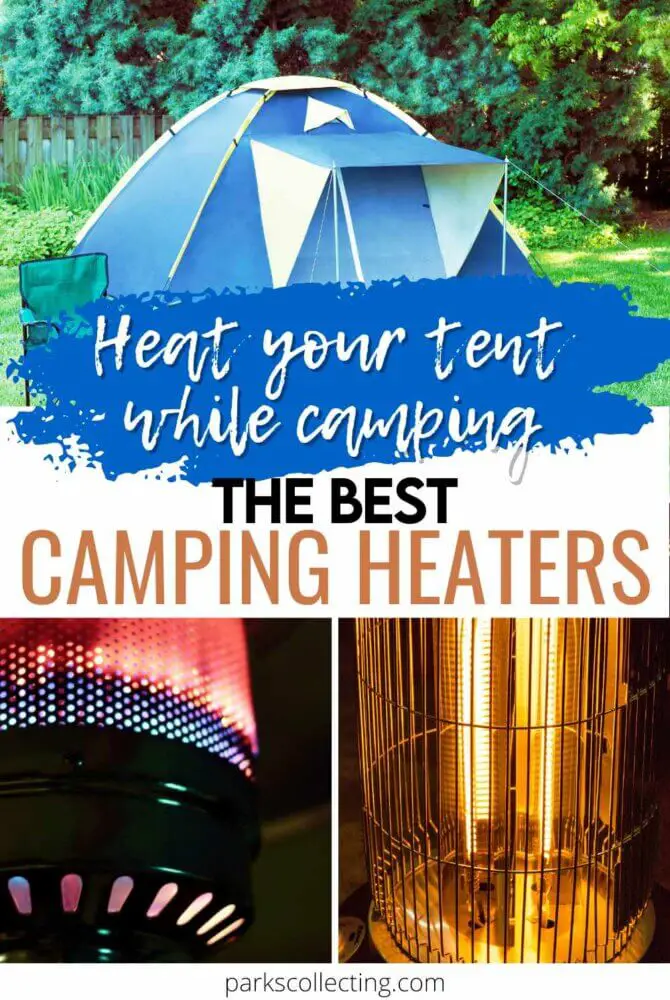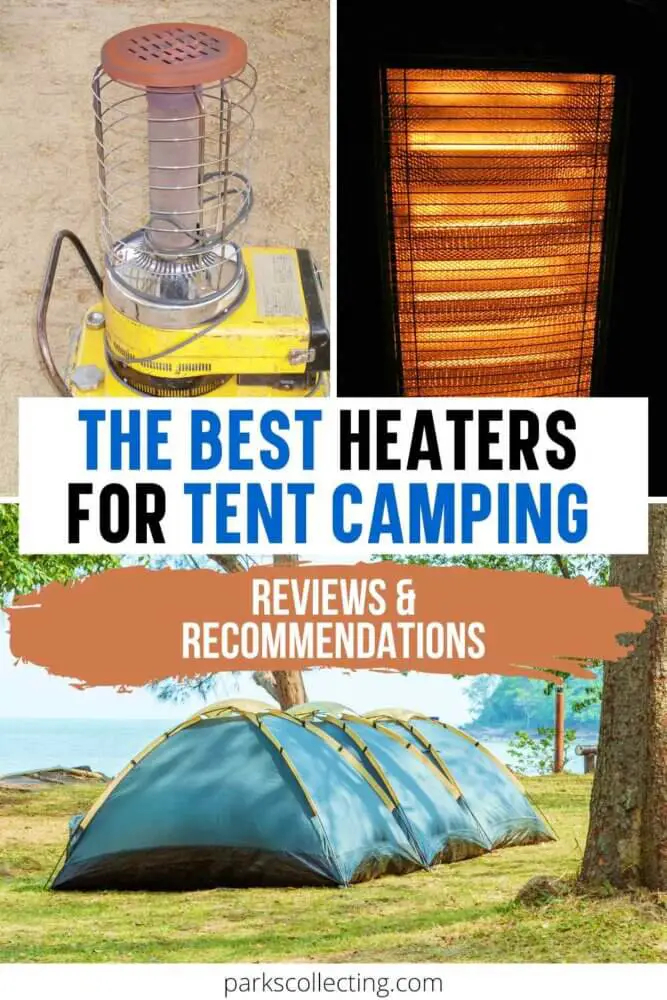 ---
Read more travel product reviews 
Camping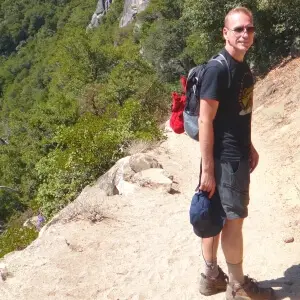 James Ian has traveled to 82 countries and all 7 continents.  He has visited all of the main national parks in the United States, as well as many national monuments and state parks.
He has rafted through the Grand Canyon; rappelled down slot canyons near Zion and Arches; hiked among the hoodoos in Bryce and the enormous trees in Sequoia; admired the waterfalls in Yosemite and the colored hot springs in Yellowstone; seen moose in Grand Tetons and seals in the Channel Islands, and much more.
---
Parks Collecting is a participant in the Amazon.com Services LLC Associates Program, an affiliate advertising program designed to provide a means for sites to earn advertising fees by advertising and linking to amazon.com. Amazon and the Amazon logo are trademarks of Amazon.com, Inc. or its affiliates. As an Amazon Associate I earn from qualifying purchases.