Whether you think you want a tent for truck with a topper for sleeping in or a truck bed pop up tent, this guide will steer you through the options. I explain the two main types of truck tent campers: tents that mount to the roof of your vehicle and those that you fit into the rear truck bed section.
All the listed products are my personal favorites and are tried and tested. If you want to go truck camping, don't make any more plans until you've read this guide!
No time to read about the best truck tent camper now?  Pin It and save it for later: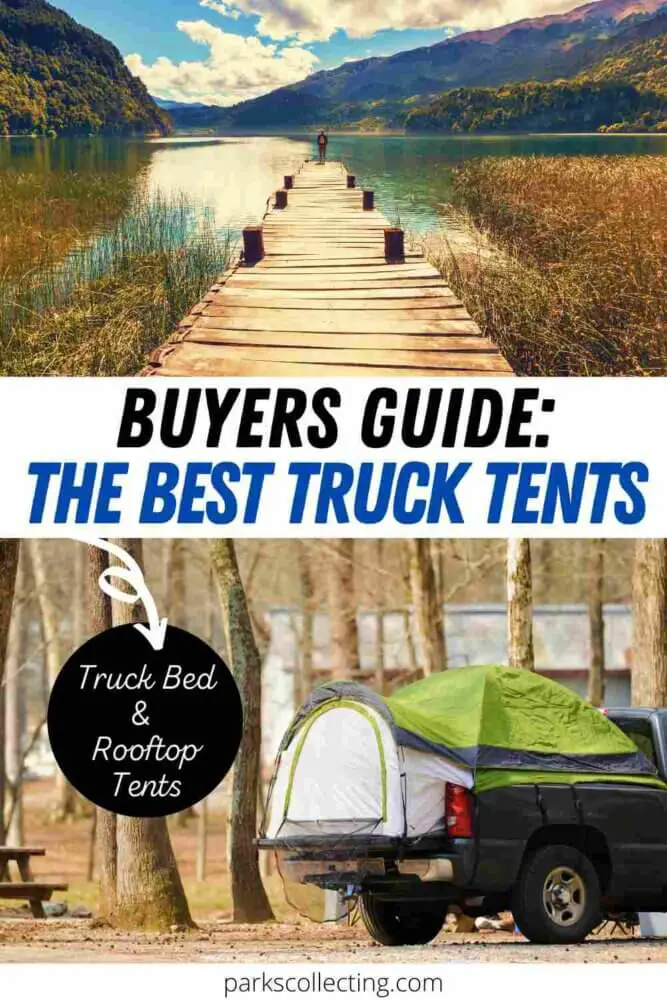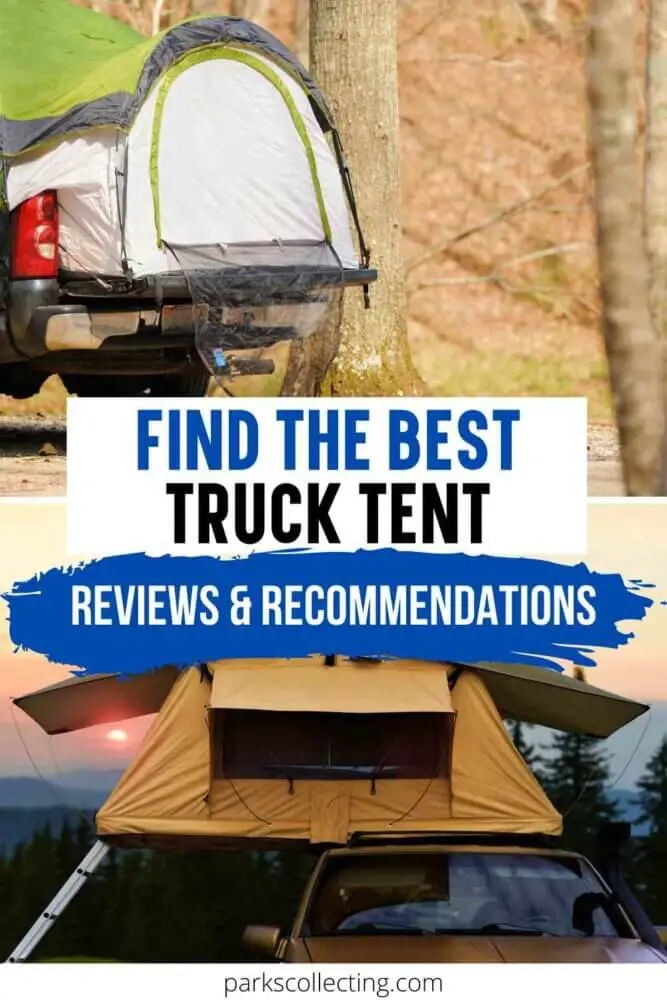 Please note this post may contain affiliate links, which means we may receive a commission, at zero cost to you, if you make a purchase through a link. Please see our full Disclosure for more information. If you have any questions, please contact me.
What's the best truck camping tent?
Want a quick solution? The extending Overland Vehicle Systems Nomadic 3 is my top overall pick among all the best truck tents for camping.
Why buy the Overland Vehicle Systems Nomadic 3?
This superb product is the best of all these tents for pickups due its good quality and impressive features. These include marine grade materials, LED lighting, a high density foam mattress and ease of fitting.
>> See the best truck mounted tent here
---
Camper tents for pickup trucks comparison guide
This handy table lets you compare truck camper tent products at a glance. In this case I've listed the truck bed tents first followed by the rooftop type, so you can compare camping tents with ease.
If you are reading this on a mobile device, you might need to swipe to scroll across. 
---
Pickup truck tents and awnings categories
Best truck bed tents for camping
Tents for the bed of your truck are the most affordable type. They are ideal for beginners, such as couples or singles who want to try out truck camping, and also those who don't want to climb a ladder to get into the tent.
Tents for the bed of a truck provide a quick, simple and accessible way to take that road trip. 
Best truck top tent options
A roof top tent for a pickup or other truck means you sleep above your vehicle. This helps to protect you from extreme weather as well as wildlife. Some of these tents also offer additional living and storage space in the form of an annex or extension.
---
Finding the best pickup tent campers – Frequently Asked Questions
What are the main types of truck tent camping tents?
There are two general types of truck tents – tents for beds of trucks and tents that go on top of trucks. Read on to find out more about each of these options. I've reviewed all the top tent campers for back of pickup trucks and the best truck topper tents.
What are the advantages of a tent for the truck bed?
A tent for bed of a truck is the most affordable type. Tents for pickup beds tend to be lightweight and therefore easy to transport. They also require no rack for fitting. Plus, you don't need to climb a ladder to get into them which is more comfortable if you have any mobility difficulties.
Why consider roof top campers for trucks?
A decent tent that goes on top of a pickup truck – like those listed here – will better protect you from weather and wildlife as you sleep. So, if you're headed somewhere with frequent storms or lots of local fauna, this is a great option.
Once fitted, they can be really easy to put up in just a few steps. They also tend to be sturdier – the poles, fabric and floors are generally better for stormy weather.
This type of truck tent can – depending on the model – also sleep more people.
Another con is the price – they are definitely pricier than bed tents or regulars camping tents (though much cheaper than an RV!) However, although they are more expensive, a mattress is included with every model, giving them built-in comfort.
They are also attached to the top of your truck, which increases drag (and gas mileage).
Are all tents that attach to trucks the same size?
Among the bed type tents, there are various sizes available, such as small or short, medium and large or long to suit your make and model of vehicle. Most of the tents for a truck bed listed here come in different size options.
If you want see more sizes, click on the tent's link and then scroll down to see which other sizes are available. Most manufacturers make all sizes, from short bed truck tent products to long bed truck tent models.
Be sure to choose a size that fits your truck (either the bed or the roof rack). Check the tent and your vehicle and rack specs carefully before you buy.
For rooftop tents, check it is OK for your truck. You'll want to look at:
Tent weight (check the specs).
Static weight capacity, which is the weight of the tent + the people inside + their gear + the rack. Rooftops are usually engineered to withstand a lot of weight in case they roll over, so this is not usually a problem, but double check.
Car and rack dynamic weight capacity. This is the ability to support the tent weight while you're driving. Verify it for your truck and the rack.
Rack compatibility – make sure your rack and tent are OK together.
Can any car take a rooftop tent?
No.  You should never use a rooftop tent if the rooftop load limit of your vehicle is under 165 lbs.  In general, rooftop tents are not suitable for cars, sedans and hatchbacks but can be used with SUVs and trucks
How do you know if your car can handle a roof top tent?
It should have a roof load limit of at least 165 pounds, much check with the tent manufacturer specs on purchasing website to make sure it's suitable before your own vehicle before buying.
Rooftop tents are typically OK with most raised rail and some fixed point systems.  You should not use a rooftop tent with a clip (Q-Tower or BaseLine) or flush rail type system.  Do not use them with a Landing Pad 6 or 7.
How do you install a rooftop tent?
What are some things to consider when choosing tent campers for trucks?
The best pickup truck tents will be durable, sturdy, waterproof, have good ventilation and be easy to set up.
When choosing a tent for a truck bed, you want one that has a built in waterproof floor and rainfly, and enough space inside. You also want one that is good in the wind.
Ideally it will have a way to hang a lantern inside and some storage. Some also come with a back doorway that gives direct access to the cabin – great if you have gear or a family member staying in the truck cabin.
Tents on top of trucks should have a comfortable built-in mattress, have a good ladder, and not create too much drag as you drive when stored on your roof. The floor bolts to your roof rack, so be sure to check that your roof rack has the right capacity and setup for the tent before buying it.
Other things you'll want to consider are annexes, which give extra space; durability; and how well they do in bad weather.
---
Best Truck Bed Tent
Here are the best tents for the back of a truck:
Napier Backroadz Truck Tent
My first contender for the title of best pickup truck bed tent for camping is this Napier product.
This pickup bed tent comes in various sizes to suit your vehicle, from a compact truck tent to larger models. The manufacturer provides a handy table to help you get the right one. It has a spacious interior, full rainfly and storm flaps.
The setup is easy – in fact, thanks to a color coded pole and sleeve system, it takes just ten minutes to set up. There is a complete tent floor in this, plus various storage features including a lantern hook, gear loft and pocket.
Pros:
Easy setup (unlike many other options)
Good headroom
Good in wind
Cons:
Poles can snap if not set up properly – take care!
This pick up tent camper is good for first timers.
>> See these Napier Backroadz pickup bed tents here
---
Guide Gear Full Size Truck Tent
This tent for the back of a truck converts your vehicle to a camper in minutes. Guide Gear truck tents are made for almost any full-length pickup including GMC, Ford, Nissan, Chevy and Toyota models. As long as your mattress measures between 79 and 81 inches it should fit perfectly.
The Guide Gear full sized tent has a water resistant coating and full rainfly to keep you dry. A 4-pole system makes it simple to erect. This long tent for the back of your truck is heavy duty, yet light enough to take anywhere.
Pros:
Fits most full-sized pickup beds (though you should always check the specs carefully to make sure it fits your actual truck)
Lots of head space
A tie at the top of the dome can hang a lantern, which I found helpful
Cons:
Can be too big for some smaller pickups – always check the specs
This pick up truck tent camper is good for those with a big truck looking for space.
>> Check latest price for this Guide Gear back of truck tent here
---
Kariyee Double Layer Truck Tent
This Kariyee tent has impressive ratings among budget tents for truck beds.
A double layer design plus storm flaps and full rainfly help keep you dry in inclement weather. There is also a sewn-in floor and two large mesh windows for ventilation.
It's meant for any full-size short bed pickup, and is used with the tailgate open for extra legroom. There is also a storage pocket and lantern hook, plus a color-coded assembly system.
Pros:
Sufficient headroom
Durable
Plenty of ventilation
Cons:
Instructions are kind of vague – I recommend that you assemble it the first time before your trip
This camper tent for truck beds is good for people looking for a solid budget option.
>> Read more about this truck bed tent camper HERE
---
Napier Sportz Truck Tent
A key feature of this tent for the back of your pickup truck is the added awning. As the awning fixes to the tailgate, there is no need for ropes. It also has a completely sewn-in floor.
This is also made by Napier and offers occupants over 5.6 feet of interior headroom – enough for some to stand up in. An access panel is another great bonus as it allows you to access the cab area while camping, meaning you can store gear in there.
A carry bag and color-coded set up system are also included with this full-size short truck tent.
BONUS: There is also a 4-person attachment tent you can buy to increase the sleeping capacity to 6. Tents on trucks are usually limited in size, so if you're looking for a 6 or 4 person truck tent, this is a great option.
Pros:
Awning that attaches to tailgate
Attachment tent available to increase capacity
Back panel to access truck cab
Cons:
Not the easiest bed of truck tent to assemble
Some poles are a bit long
This tent truck camper is good for people looking for a reliable, sturdy option and/ or who want some additional space.
>> See current prices for this tent for your pickup bed here
---
Vevor Standard Truck Tent
My final listing in the tents for the bed of a truck category is this affordable Vevor product.
Despite its modest price tag, I've found the quality good and it has a waterproof, stitched-in floor and taped seams. Soft straps and buckles mean your truck's finish will not be affected, and a carry bag comes with it.
A large viewing window with flaps assists with ventilation as well as giving campers a great view of the night sky.
Pros:
Easy to set up
Soft straps and buckles so your vehicle doesn't get scratched
Comes with a flashlight
Cons:
Not good for smaller pickups
These in- bed truck tents are good for those looking for a simple, affordable, easy-to-set up option.
>> Read more about this tent truck bed for camping here
---
Best Rooftop Tents for Trucks
Here is the best truck tent topper selection available:
Thule Tepui Kukenam Rooftop Tent
This is a great all weather tent that holds up in strong winds and storms. The thick fabric and sturdy foot plate make it a great option if you might end up in bad weather (which is always a possibility). I've found it stayed dry in a strong storm.
It lasts a long time – a good investment.
Pros:
Big enough for three people
Good quality thick fabric makes it last well in all weather
I find the large pockets inside super handy for storing small gear
Ventilation panels help keep things cool
Cons:
Doesn't fold up that easily – you may have to crawl up on top to fold it away
Ladder feet dig into the metal frame of the tent. Tape some rubber to the bottom and it'll fine.
This is a good option if you might be camping in stormy weather.
>> CHECK THE PRICE ON AMAZON HERE
>> CHECK THE PRICE ON REI HERE
>> CHECK PRICE ON SPORTMANS.COM
---
Raptor Series Offgrid Voyager Truck Camping Rooftop Tent
This is a standard size truck roof tent with a ladder included. As usual, installation does require a 140-pound roof rack, plus cross or parallel bars.
Sleeping two, this highly-rated pickup truck roof top tent has a high-density foam mattress. The unique system means it takes just moments to set up, and the 8-foot ladder is telescopic.
Weatherproofing sheds rainfall and stands up to strong winds, and there are 2 hanging shoe and storage pockets, adjustable air vents, an integral awning and heavy-duty storage cover.
Pros:
Built in awning helps create more space
Large door
Easy to set up
Minimal drag and wind noise when driving
Ladder easy to set up and store
Comfortable mattress, which is a definite bonus!
Cons:
Instruction manual not great. Take your time and look online for additional help if need be.
This tent topper for truck campers is good for those looking for a good quality tent at a reasonable price.
>> Check the current price of this roof top truck tent here
---
Smittybilt Overlander Tent
Another of my best rated truck rack tent products, the Smittybilt Overlander also boasts various features to protect users from the elements. A rain fly and heavy duty waterproof top can stand up to wet weather, while a sunroof and mosquito netting to the side windows are ideal for sunny days and nights.
There is a 12V power adaptor and even LED strip lighting inside. An external shoe storage bag and a sturdy travel bag are included too. This is suitable for all-season use and features a wider than average telescopic ladder.
For more space, you can buy a tent annex (see details here)
Smittybuilt also has an awning you can attach to your vehicle to expand your outdoor living space (see the awning here).
Pros:
XL size sleeps up to 4 people (standard size is 2-3, so this is great for larger groups or if you just want more space)
'Sunroof' flaps give good ventilation
Easy to set up
Cons:
Mattress is not the most comfortable – consider taking a supplement
These pickup truck tent campers are good for those planning to camp throughout the year in all seasons.
>> Read more about the Smittybuilt Overlander truck topper tent here
---
Overland Vehicle Systems Nomadic 3 Extended Roof Top Tent
Want a bigger truck top tent camper? Then try this one for size. It fits any vehicle that has an aftermarket or factory roof rack – without the need for any kind of modification or drilling.
The rip stop, marine grade fabric repels water and wind and there is a comfortable 3-inch foam mattress with cotton cover. This top of truck tent also comes with a tubular telescopic ladder, hand held and Velcro strip LED lights, a storage loft and six pockets.
Packed with heavy duty materials, this also has a reinforced diamond plate base and a user-friendly fold and go design.
Pros:
Comes with Memory Foam pillows, a lap table and a small broom and dust pan
Comfortable mattress and insulated floor
Easy to set up once installed
Spacious – good for larger groups or you just want more room
Cons:
Rain fly is not that great
These pick up tent campers are good for people new to tent truck camping looking for a good quality, reliable option.
>> See the current price of the Overland Vehicle Systems Nomadic truck roof top camper tent here
---
TMBK Roof Top Tent
Another of my picks among the best truck top tents that's made by Overland Vehicle Systems, this one's a little more affordable than the Nomadic models.
It also comes with a telescoping ladder and that foam mattress with cotton cover. Other features I like include an insulated base and a marine grade waterproof body plus rain fly. Again, this fits any truck with a roof rack, without requiring any drilling or modifications.
Pros:
Skylight
Easy setup
Heavy duty cover
Cons:
On the small side
Poor instruction manual
This pickup camper tent is good for anyone looking for a good budget option.
>> Read more reviews of the TMBK pickup roof top tent here
---
ARB Series III Simpson Rooftop Tent with Annex
This one is also among the best truck roof top tent products, and offers the best of both worlds. There is a tent that goes on top of the truck as well as a ground level annex.
The ARB Series III Simpson Rooftop Tent also comes with its own retractable ladder and a 2.5-inch foam mattress. Sleepers are better protected from wildlife and the elements by their raised position, while the annex gives plenty of extra living and storage space.
Pros:
Easy to set up after installation
Great ventilation – it helps keep things cooler
Tent cover zips into place
Good quality
Annex provides extra space
Cons:
Installation instructions are not clear. I found them kind of confusing, but did figure it out.
Annex does not have a floor (you can buy a tarp here)
This pickup truck camper tent is good for a quality product and more space.
>> See the current price of the ARB elevated truck tent with annex here
---
Which is the best pick up truck tent for you?
The first question is – do you go for a camping tent on top of your truck or narrow your search to tents that fit in the bed of a truck only? Whichever you choose, I hope this article helps you pick from the best camping tents for trucks out there.
Enjoy your next adventure!
Do you have another pick for the best pickup truck tent camper?  I'd love to hear what it is.  Join my private Facebook group National Parks Collectors and comment and let me know.
If you liked this post about pickup tents, please share the love and Pin it to your Camping Gear board!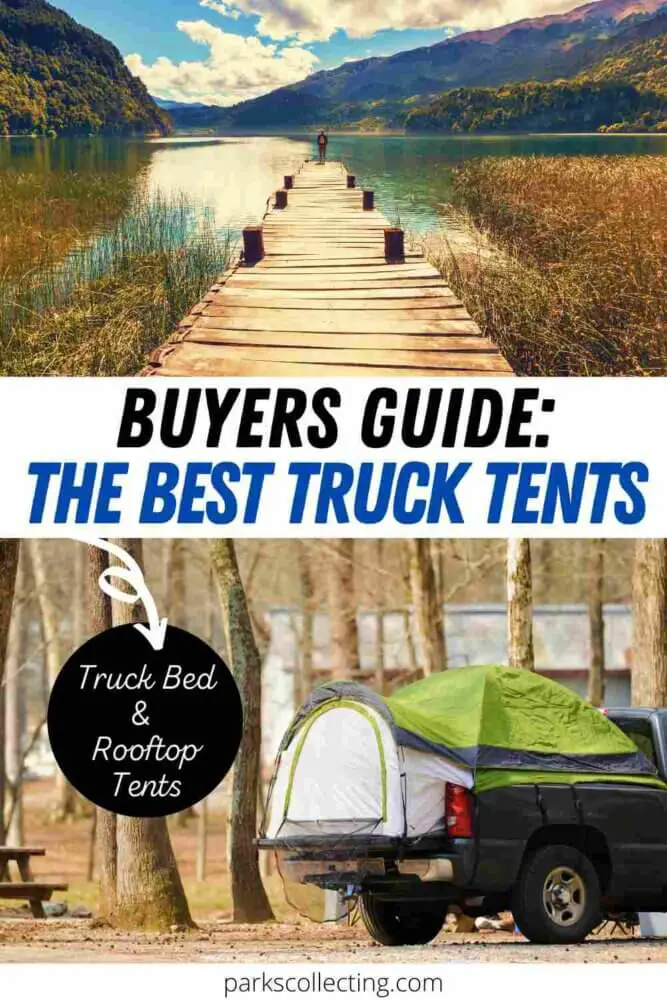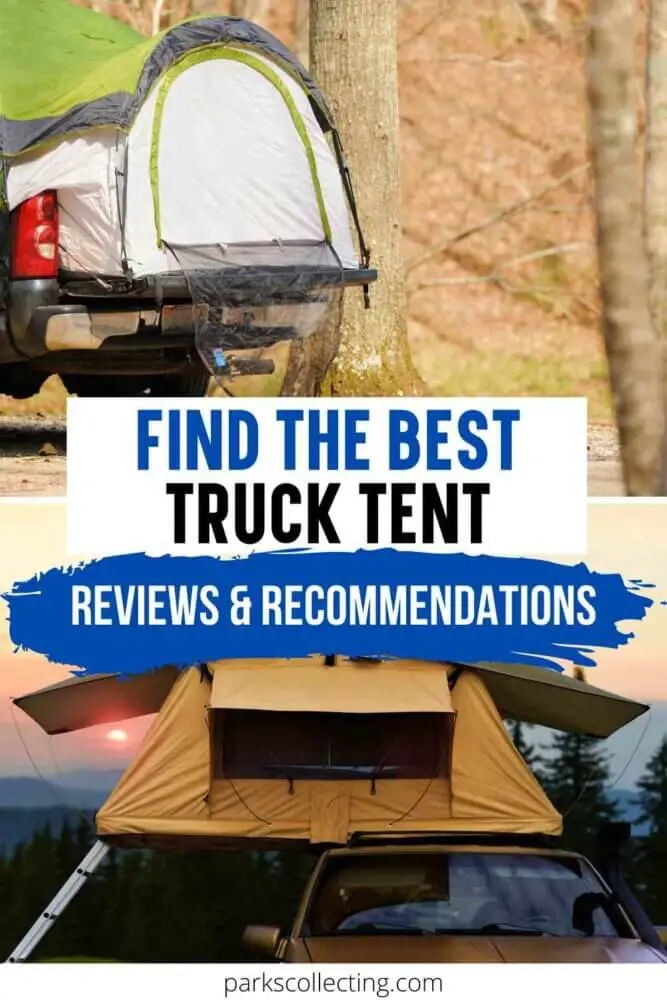 Read more travel product reviews 
Camping 
---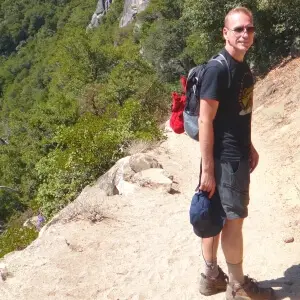 James Ian has traveled to 82 countries and all 7 continents.  He has visited all of the main national parks in the United States, as well as many national monuments and state parks.
He has rafted through the Grand Canyon; rappelled down slot canyons near Zion and Arches; hiked among the hoodoos in Bryce and the enormous trees in Sequoia; admired the waterfalls in Yosemite and the colored hot springs in Yellowstone; seen moose in Grand Tetons and seals in the Channel Islands, and much more.
---
Parks Collecting is a participant in the Amazon.com Services LLC Associates Program, an affiliate advertising program designed to provide a means for sites to earn advertising fees by advertising and linking to amazon.com. Amazon and the Amazon logo are trademarks of Amazon.com, Inc. or its affiliates. As an Amazon Associate I earn from qualifying purchases.