If you want to source the best portable hot water shower for camping, this guide is here to help. Covered here is everything you should know when shopping for a camping hot water heater and shower. 
If you're in a rush, take a quick look at our pick of the portable outdoor showers for camping just below. Or you can compare the best portable showers for camping very easily with the time-saving comparison chart beneath that.  
Further down the page we also address some of the most frequently asked questions on the subject of portable outdoor showers for camping, so you know what to keep in mind when choosing the best camping portable shower with hot water.   
Eight of the top portable camp showers are then reviewed. So continue reading to find the best portable shower for camping, for you.  
No time right now to read about best portable hot water shower for camping?  Pin It and save it for later: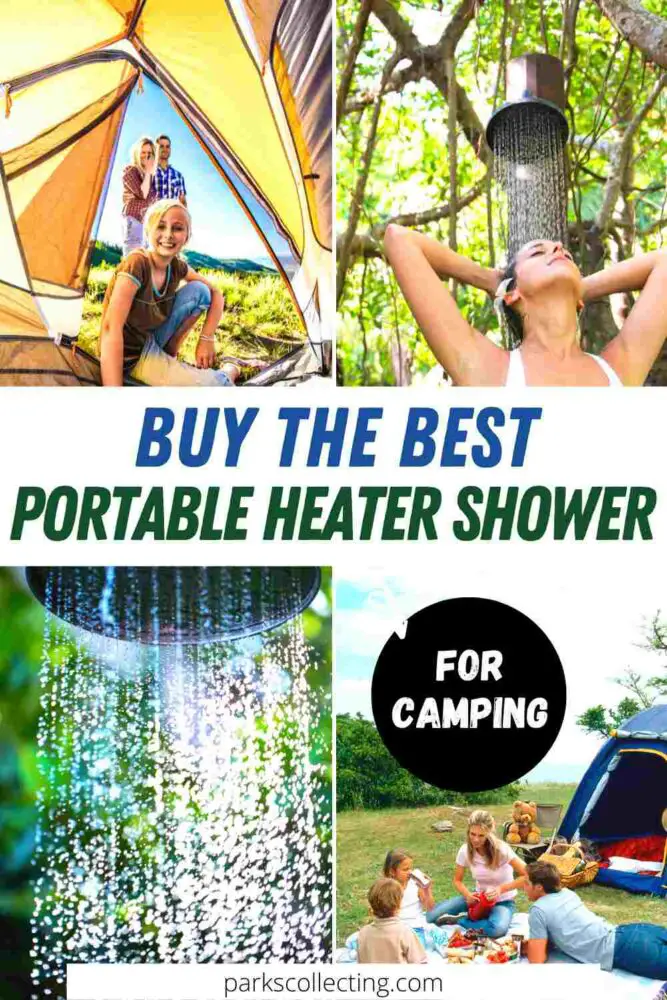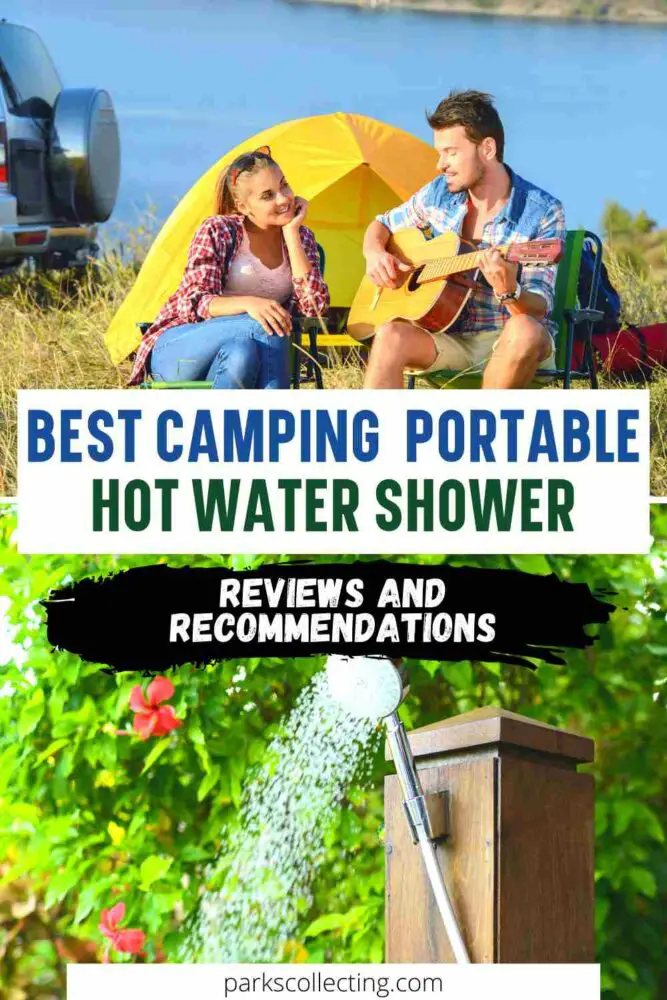 Please note this post may contain affiliate links, which means we may receive a commission, at zero cost to you, if you make a purchase through a link. Please see our full Disclosure for more information. If you have any questions, please contact me.
The Best Portable Hot Water Shower For Camping Overall 
The best portable camping shower with hot water overall is the Hike Crew portable propane hot water shower. See it here. 
Why buy the Hike Crew gas hot water camping shower? 
The Hike Crew model is King of the camping portable showers because it comes complete with a good carry bag, and you can even adjust the temperature and spray to give the full outdoor shower experience. It also has an LCD display and the casing is as sleek and compact as possible.  
Click here to view the best portable shower for camping from Hike Crew  
---
Best Portable Camping Showers With Hot Water Comparison Table 
Best Portable Hot Water Shower For Camping Categories 
Propane Camping Shower 
A portable propane shower for camping is powered by gas. Options in this category include portable propane showers for camping from Camplux, Mr Heater, Gasland, Hike Crew and Flame King.  
Electric Camping Shower 
An electric hot water shower for camping requires no gas, though you will need some kind of power source. The product listed here comes from Coleman, a major camping brand.  
---
Choosing The Best Portable Heated Shower – Frequently Asked Questions 
How do you take a hot shower while camping? 
Invest in the best portable hot water shower system within your budget and you can take a hot shower any time you like. Hot water is produced by some mobile showers for camping that are on the market, so you don't need to wash in chilly water or rely on solar power.  
Instead, an electric or propane shower for camping gives you access to hot water, so you can have a really good wash. Even when there are no campsite showers to use, or you don't want to wait in line for your turn.  
How do portable camping showers work?   
So how do portable showers work? A portable hot water camping shower has a pump to provide a steady flow of heated water. This is often powered by propane – and most of the showers reviewed here are fueled by propane.  However, they may also be run on electric supplied by the mains, your vehicle or a portable generator.  
A built-in rechargeable battery operates this type. Most portable gas camping showers also need batteries, or require a source of electricity. A shower head then allows you to stand beneath to get washed in warm water instead of cold.  
Are camp showers worth it? 
If you like to spend nights away from home while camping, fishing or attending festivals, then having access to a hot portable camping shower can make so much difference to your trip. It means no more queuing for communal facilities.  
You can feel really clean when using warm rather than cold water. Buy the best hot water shower for camping and you might even find it has a multitude of uses at home, such as when cleaning horses or dogs, or when you don't want to bring sand into the house after being at the beach.  
What does GPM mean? 
You might see the showers in this guide described by their GPM. This stands for gallons per minute, so it's referring to the water flow.
The higher the GPM, the better the water pressure, but the quicker you'll use up water.  In a regular shower in your bathroom at home, the maximum GMP is typically 2.5.  In a camping shower, a GPM of 1.3 is adequate and will help save water as long as you don't mind less pressure than you're used to at home.  
---
The Best Portable Hot Shower For Camping: Reviews 
Propane Camp Shower Products  
Camplux 1.32 GPM portable hot water shower 
This one is definitely a serious contender as best camping hot water shower system. It's a hot water shower for camping that's powered by liquid propane gas, and comes complete with a handle for carrying. 
 This Camplux hot portable shower weighs only 14 lbs and takes only around five minutes to install once you're on site. No pre-heating is needed, and this helps to make it a very economical model. 
 All you need to get started is two D batteries and a water pressure of at least 3 PSI. It has lots of safety features including anti-freeze and overheat protection and an integral flame-failure shut-off. Many customers also use this one for showering dogs or horses. 
Pros: 
Carry handle 
Various safety features 
Work with water pressure of 3 PSI+
>> Click here to view this Camplux shower
---
Gasland 1.58 GPM hot water shower
If you want a portable hot shower for camping that gives you heat on demand, this one from Gasland is a good bet. It's safe, tankless, lightweight and compact. 
No pre-heating is required, as with the Camplux model, and it needs just 3.6 PSI of water pressure to get going. The design means it saves gas and water, and the operational noise is also minimal.  
There's also a drainage plug so you can discharge any remaining water for use to storage in cold areas with sub-zero temperatures.
Pros: 
Highly efficient 
Lots of safety features 
Lightweight & portable
>> Click here to view this Gasland shower
---
Mr Heater Basecamp BOSS-XB13 Shower System
This Mr Heater hot water shower is a complete battery-operated camping hot shower. The electric ignition works to produce hot water almost instantaneously and in total six D cell batteries are needed to power this and the pump. 
You'll need a source temperature of 60°F to operate this shower, and it can then heat the water by up to 35°F higher than that. 
To protect the user, it has an automatic tip-over shut-off and an anti-scald function. The pump with filter system and shower head are supplied and it can run for up to 40 minutes, which is enough time for a number of people to take their turn. 
Pros: 
Pump, filter & shower head included 
Runs for up to 40 minutes 
Instant electric ignition
>> Click here to view this Mr Heater shower
---
Hike Crew Portable Water Heater & Shower
Hike Crew's camping water heater and shower is a little like the Mr Heater model detailed above. It also runs on propane, but the unit is a bit more sleek. A carry bag is also included with this product. 
You have more control over this portable hot water heater and shower than many other models. There's a temperature control, three shower spray options and a hand-held faucet. 
The gas burner automatically shuts off when the maximum temperature of 125°F is achieved, and there is a clear LCD display panel. The shower head, AC/DC and 12V adapters and everything else you need comes with this Hike Crew camping shower.
Pros: 
Carry bag provided 
3 shower spray patterns 
Temperature control & LCD display
Cons: 
Electric & propane required 
>> Click here to view this Hike Crew shower
---
Camplux 1.32 GPM Camping Shower With Stand
This is one of the most portable outdoor hot water shower options available. It comes with a large, smooth carry handle and a stand, so it's easy to set up once you arrive at camp.
A waterproof carry bag is also supplied. Quick brass connectors mean you don't need thread tape or spanners, and it works even when the water pressure is only 3.0 PSI. The 5 liter tank also holds more water than some models. 
Lots of inbuilt protection guards against freezing, overheating, low water flow, dry combustion, high water pressure and flame failure. This makes this portable hot water shower for camping one of the safest options too.
Pros: 
Stand, bag & carry handle 
Quick brass connectors 
Great safety features
Cons: 
Stand means more to carry 
>> Click here to view this Camplux shower
---
Flame King Tankless Hot Water Shower
This Flame King camping portable hot water shower is another tankless model. It's pretty high tech for a portable heater, with temperature and flow controls and a digital display so you can see what's going on. The robust casing is made from steel and built to last, and the supplied hose is 4.5 feet long. This is wrapped in steel to prevent looping, puncturing and kinking.  
A 10 liter capacity is more generous than many comparable products and there is integral protection against over-heating, freezing and flame failure. 3.6 PSI of water pressure is required to start this one up.
Pros: 
10 liter capacity 
Tough casing & hose 
Flow & temperature controls
Cons: 
May be bigger than you need 
>> Click here to view this Flame King shower
---
Camplux 2.64 GPM Portable Hot Water Shower
You may have noticed that this is the third Camplux product listed in this guide. That's because their portable showers for camping are simply some of the best on the market, and receive consistently high ratings and good reviews. 
This is a larger, more powerful option than the other two. It's equivalent to the Flame King model detailed above as it also offers up to 2.64 gallons per minute. 
Other great features include the various safety functions, plus the fact that it's designed to make minimal noise while using as little gas as possible.
Pros: 
Great brand 
2.64 gallons per minute 
Power saving technology
>> Click here to view this Camplux shower
---
Electric Camp Shower Products  
Coleman H2Oasis Portable Hot Water Shower 
Buying a Coleman portable hot water shower means you're getting a product from one of the most reliable brands in the camping business. It has a powerful electric pump that can dispense water heated up to 125°F in less than a minute. 
This Coleman gas hot water camping shower has a long 6-foot hose with a non-kink design to help ensure a steady stream of heated water to wash in. A collapsible water carrier is also provided as part of the package, as is a mesh bag.  
A Coleman camping hot water shower like this is great because it has an integral lithium-ion battery that can be charged from your vehicle. The charger is supplied. An attached holder means you can also use the shower head like a faucet.  
You can also power this with a portable generator with an adaptor (find one here).  
Pros: 
No propane required (though it can be powered with propane too).  Which means that if you run our of propane, you can still charge the battery and get hot water. 
Li-Ion battery & car charger 
Collapsible water carrier included
Cons: 
Needs re-igniting if water flow stopped, which is a bit of a pain if you're trying to conserve water
>> Click here to view this Coleman shower 
---
Geyser System Portable Shower & Cleaning Kit 
This 12V camping hot water shower is a little but different from the other options.  It operates more like a powered sponge bath than a regular.   
You can get a warm shower by mixing cold water and boiling water in the tank, but it comes with an optional electric hot water heater (off a 12V battery, such as your car or trick battery), which I recommend. It gets you clean without using much water, so I especially love this portable 12V hot water shower for situations where water is scarce. 
Pros: 
Very efficient water usage.  it's especially great for camping situations where you need to conserve water e.g., if you've had to carry all the water you'll use 
Adjustable valve to regulate water pressure 
Also has a scrubbing brush to use to wash dishes – you've got to love something that serves two purposes when camping 
Small, so easy to store
Cons: 
Not a regular shower –it's definitely more functional than enjoyable 
>> Click here to see the price on Amazon 
>> Click here to see the price on REI 
---
These electric and gas hot water camping showers can certainly make outdoor living more pleasant. Not only does a portable gas hot water shower let you get really clean, but the heat can also help to ease sore muscles and joints after a long day of hiking. 
Many who buy the best portable gas camping shower also find it has many other uses – such as for washing pets or when you're too muddy or sandy to enter the indoor bathroom. Whichever you go for, cold campsite showers – or not washing property it all – will soon become a thing of the past.  
Happy camping!    
---
Do you have another pick for the best portable hot water shower for camping  I'd love to know what it is.  Join my private Facebook group National Parks Collectors and comment and let me know. (You can also pick up extra planning tips, share your photos and stories with other national park lovers and more).   
If you found this review of the best camping hot water shower helpful but are not quite ready to buy yet, Pin It so you can find it easily!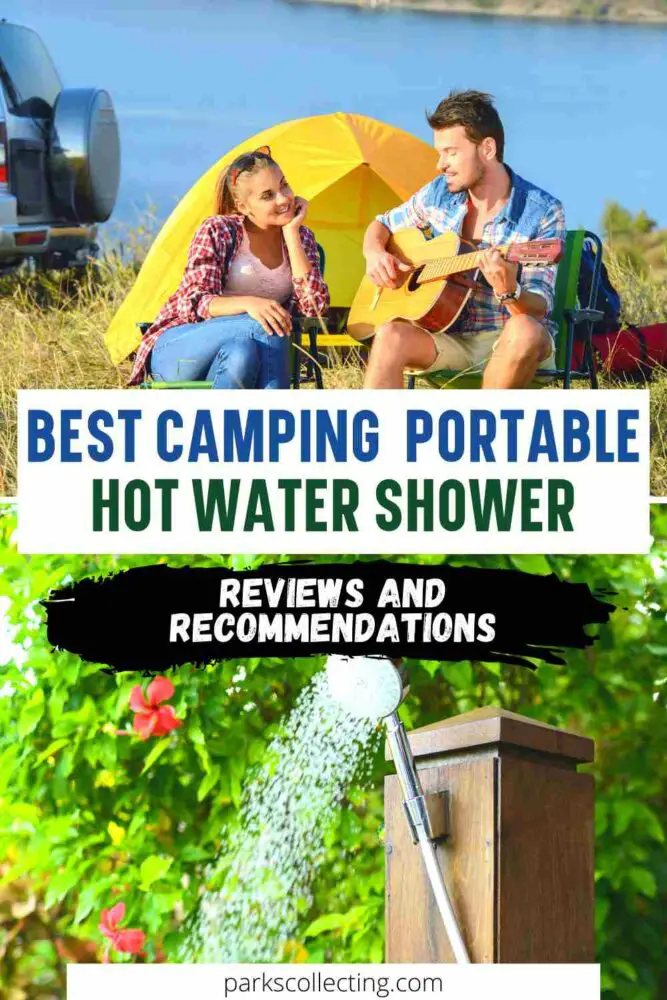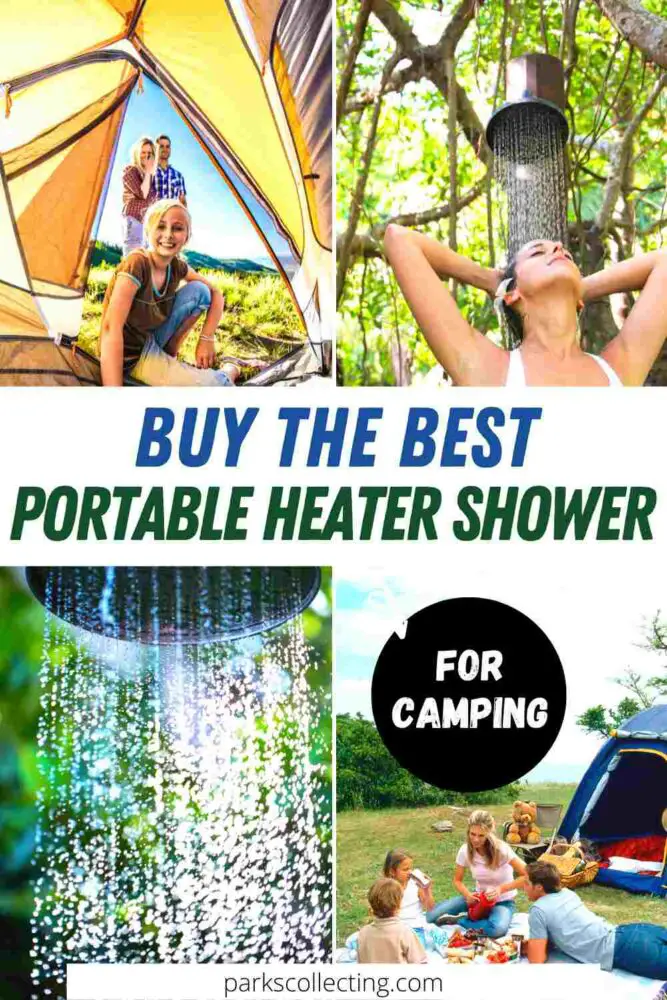 Read more travel product reviews  
Reviews of other items you may need for your camping trip: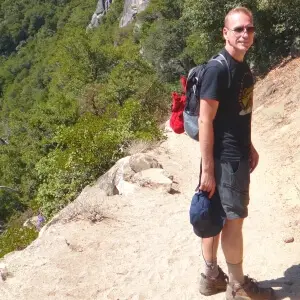 James Ian has dedicated his life to travel and has traveled to 82 countries and all 7 continents.  He's visited all of the main national parks in the United States, as well as many national monuments and state parks.
As a national park expert, James has contributed to many publications, including Time Business News, Savoteur, and Wired. He also has several published detailed itineraries in addition to many free online guides.
James has rafted through the Grand Canyon; rappelled down slot canyons near Zion and Arches; hiked among the hoodoos in Bryce and the enormous trees in Sequoia; admired the waterfalls in Yosemite and the colored hot springs in Yellowstone; seen moose in Grand Tetons and seals in the Channel Islands, and much more.
---
Parks Collecting is a participant in the Amazon.com Services LLC Associates Program, an affiliate advertising program designed to provide a means for sites to earn advertising fees by advertising and linking to amazon.com. Amazon and the Amazon logo are trademarks of Amazon.com, Inc. or its affiliates. As an Amazon Associate I earn from qualifying purchases.