Where do you start when choosing the best small generator for camping? This guide will show you the way. We list gas and solar powered generators, as well as the best dual fuel portable generator products.
Before listing our portable generator reviews, we run through some frequently asked questions regarding how to find the quietest generator for camping, why size and weight matter and what sort of power output you should be looking for.
Read to find the best portable inverter generator for all your camping needs.  
No time to read about best generator for camping now?  Pin It and save it for later: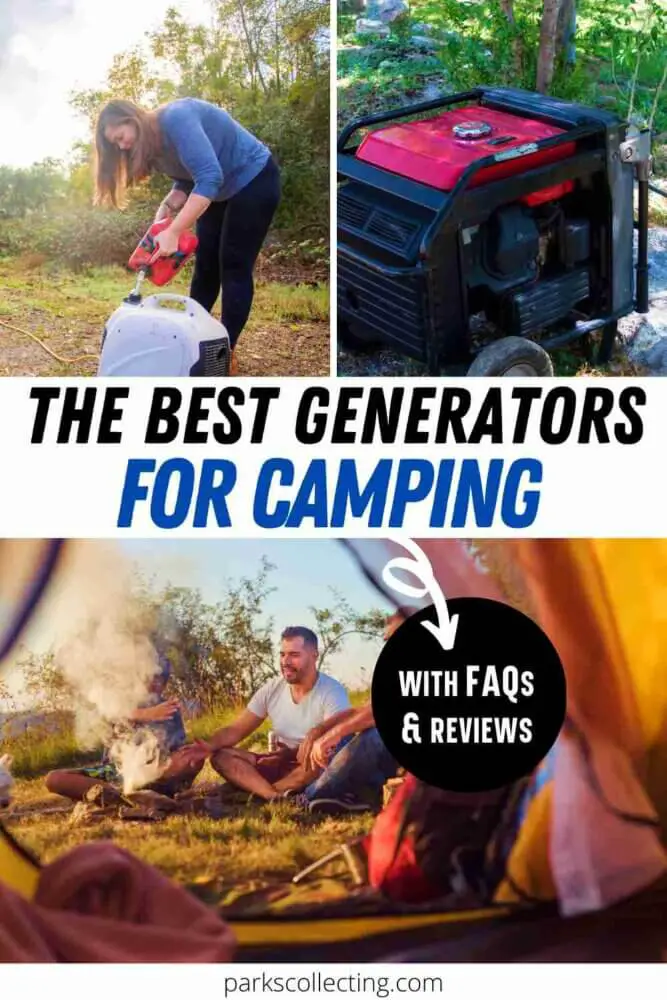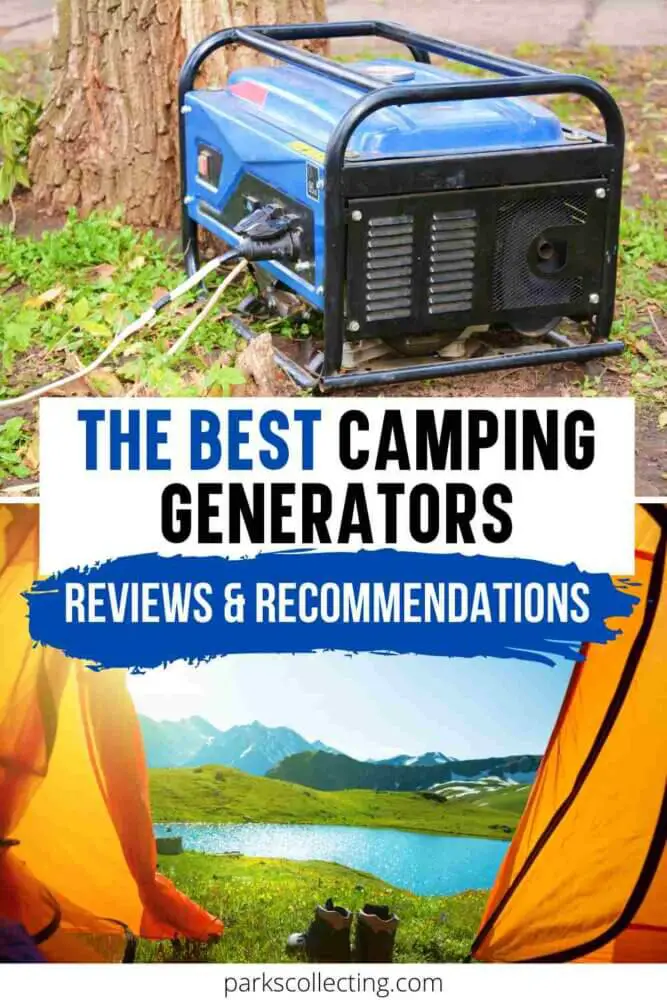 Please note this post may contain affiliate links, which means we may receive a commission, at zero cost to you, if you make a purchase through a link. Please see our full Disclosure for more information. If you have any questions, please contact me.
See the best power generator here 
Our number one pick among the best rated portable generators is the Yamaha EF2000iS. It's tricky to pick just one overall as everyone has different needs, but this top brand generator wins as it offers 2000 watts of power in a quiet, compact and portable package. 
Why buy the Yamaha EF2000iS? 
To buy a Yamaha generator means investing in the best. This top rated model has a muffler to reduce noise, making it one of the contenders as quietest generator on the market. It has a comfortable carry handle and a sleek, compact design. Fuel efficiency is also improved by the machine, as it adjusts the engine speed according to demand.  
> >> Click here to see the Yamaha 2000 watt generator  
---
Best camping generators comparison guide 
In a hurry to go camping with a generator? Compare all small portable generators for camping 
options with this quick reference table. We've listed them in order of output, from the least power to the most. Solar generators can be found at the top – simply because they tend to offer less power than the average gasoline model.  
If you are reading this on a mobile device, you might need to swipe to scroll across. 
Best power inverter for camping categories 
Both categories are listed under one heading, beginning with 4 solar generators and ending with 8 gas powered ones, as follows. 
Solar powered portable power generators 
A solar powered generator gives you free fuel, once it's set up with compatible solar panels. They tend to offer lower outputs than gas generators, however. 
Top portable generators than run on gas 
The majority of generators are fueled by gas. Among the eight picks in this category, one dual fuel option can also run on propane.  
---
Finding the best camping power generator – Frequently Asked Questions 
How does generator sizing work?  
As a very rough guide, a generator's power will be reflected in its size. In reality this means a bigger generator will usually be bulkier and heavier than a less powerful one. Some premium brands do manage to pack more power into smaller machines. 
How do I supply power to a generator that's portable? 
The generators listed in this guide run on either solar power or gasoline. Some solar models also have a lithium battery that can be charged via the mains or a car socket. One gas generator listed can run on propane if required instead. 
How do I find the best quiet portable generator for camping? 
If you want small, quiet generators, then do think hard about how much power you really need. Using more appliances will require a more heavy duty generator – and this will usually be noisier. While there's no such thing as a completely silent portable generator, the quietest generators around make great low noise generators for camping.  
How much power do I need? 
A small generator will do – as long as you don't want to use high drain appliances. A small model can normally power a smartphone and larger devices with ease, but may struggle with kettles, fridges or heaters, for example. If you do have a lot of appliances, such as when camping as a family or group, then looking for a generator with a larger output may be a good idea.  
What if I need more power in future? 
A number of the generators listed here can be paired with another one of the same make and model. This gives you some from of future-proofing, as you can buy another if your power needs increase rather than starting all over again.  
---
The best inverter generator for camping recommendations 
Solar generators for camping 
Bluetti portable solar generator for camping 
This 300 watt model could be the best solar powered generator for you if your charging needs are limited to portable devices – and you don't mind buying a solar panel for it. Wireless charging is enabled, so it's ideal for smartphones. It is capable of powering larger items like a TV or car fridge too.
Anyone seeking the best small portable generator should take a look at this – and you can choose between 3 colors. 
>> Click here to see more details about this mini generator for camping and the latest price 
---
Rockpals portable power station 
This Rockpals 300 watt product offers another option for those looking for the best portable generator for camping that is solar powered. This one also has lithium battery back-up.
Using pure sine wave technology to protect sensitive equipment, it's ideal for charging portable devices – including a laptop. There are lots of features to keep users safe, including excess heat, current, load and shortage protection. The sine wave technology also helps to reduce noise. 
>> Click here to see more details and the latest price for this small quiet generator for camping  
---
WattFun portable power station 
Like the previous product, the WattFun solar generator also has lithium back up. This 500 watt small power generator resembles a compact, portable music center, and is designed for ease of use.
More than 10 outlet ports mean it's compatible with a range of appliances, and it can also be used with most solar panels. Whether you want to charge a car fridge, laptop, TV or smartphone, this little power station can cope. It also offers pure sine wave technology and wireless charging.  
>> Click here to see more details and the latest price for this small quiet portable generator 
---
JackeryExplorer 500 portable quiet generator 
Originating from California, Jackery produce clean, green, convenient and quiet generators for outdoor types. The Explorer 500 offers off-grid power via a lithium battery pack or an optional solar panel. A smooth, solid handle makes it easy to transport and it has pure sine wave outlets.
This little machine can be via a solar panel, or by plugging into a mains or car socket. Capable of powering a car fridge, TV and portable devices, it's powerful enough for those who want to enjoy some creature comforts when camping.  
>> Click here to see more details and the latest price for this quiet generator 
---
Gasoline generators for camping 
Honda Inverter Generator EU1000i 
Looking for a 1000 watt generator? Our listings begin with this Honda. A quiet generator, it's ideal for powering small appliances such as lights, a coffee maker or camping fridge.
Like other Honda portable generators, this one is highly rated for its compact size and reliability. It has a carry handle, and weighs under 29lbs. Should you need more power in the future, this one can be paired with another of the same model to produce 2000 watts. 
>> Click here to see more details and the latest price for this 1000 watt Honda generator  
---
Yahama Inverter Generator EF2000iS 
Purchase a Yamaha generator and again you're buying onto top brand experience, reputation and reliability. Among Yamaha portable generators the EF2000iS is highly rated and has an ultra quiet muffler to reduce noise.
The engine speed on this 2,000 watt output model automatically adjusts to improve fuel efficiency. There's a handle for carrying and the design is compact and sleek.
Our top pick, this is the best 2,000 watt generator we've found. 
>> Click here to see more details and the latest price for this quiet camping generator  
---
WEN 56203iquiet gas generator 
This WEN product is one of the best quiet generator for camping options. At 39lbs, it's also one of the top rated portable generators on the market. The manufacturer says the noise level can be compared to a conversation and it produces up to 2000 watts of clean power.
A 2-year warranty comes with this one for added back-up, and a fuel shut-off has been incorporated into the design to prolong its life. If the best 2000 watt inverter generator for you is a budget option, this one is a good bet. 
>> Click here to see more details and the latest price for this small camping generator  
---
PowerSmart ultra quiet generator 
Another top pick among portable generators for camping, this PowerSmart model is a highly regarded, gas powered product. Like some others listed, it can also supply extra electricity when paired with another of the same model.
It has a comfort carry handle for easy transportation and provides clean power while operating at a low volume. We love the portability, reliability and reduced noise level, and it comes with a two-year warranty. 
>> Click here to see more details and the latest price for this portable silent generator for camping  
---
Champion portable power generator for camping 
Seeking a propane powered generator? This Champion model is one of the best propane generator portable products. It can also be used as a gas powered generator, as it is a dual fuel model.
With a 2,500 watt output, it packs a lot of power into a 39 pound package – although this varies slightly according to the fuel used. When used as small propane generators for camping, these can run for up to 34 hours. If you wish, another Champion generator can be added via the optional parallel kit to double the output. 
>> Click here to see more details and the latest price for this small inverter generator  
---
Generac portable generator GP2500i 
A very popular product, this Generac model is also parallel ready – meaning you can pair it with another the same to double the output.
Like some of the other small generators for camping we list, this looks like a large fuel can complete with carry handle. Handy features include a USB port and LED indicators for overload, low oil or ready. It also has a simple start-up, economy mode and covered power outlets. 
>> Click here to see more details and the latest price for this portable camping generator  
---
Westinghouse camping inverter generator 
While it's neither the most lightweight portable generator for camping – nor is it a super quiet generator – this Westinghouse product packs a serious punch.
It offers real value for money and a high level of power output. It can also run for over 13 hours on a full fuel tank. Safety features include a low oil shut-off and rubber covers for all power outlets.
If you're taking the family and the car, this is a great budget option – the best 4000 watt generator offering a little extra power.  
>> Click here to see more details and the latest price for this electric generator for camping  
---
Togopower generator with electric start-up 
If you want a heavy duty power generator when camping, take a look at this one from Togopower.
The 8000 watt machine works as a 6500 watt generator when operating, providing power for all kinds of electrical appliances. If you want the smallest or quietest camping generator it might not be for you, but it is a power house for those want an electric start machine.
At half load, it can run for over 8 hours on a full tank. If you need to power camping fridges and freezers, a tent heater or an air conditioner, this could be the product for you. 
>> Click here to see more details and the latest price for this Togopower gas generator for camping  
---
Which is the best generator inverter for you? 
Whether your priority is finding the quietest generators for camping or you know you want an affordable, reliable 6000 watt generator, we hope we've helped you find the best generator for your camping trips. 
Happy camping!    
Do you have another pick for the best camping generator?  I'd love to know what it is.  Join my private Facebook group National Parks Collectors and comment and let me know.    
If you found this review of the best generator for camping helpful but are not quite ready to buy yet, Pin It so you can find it easily!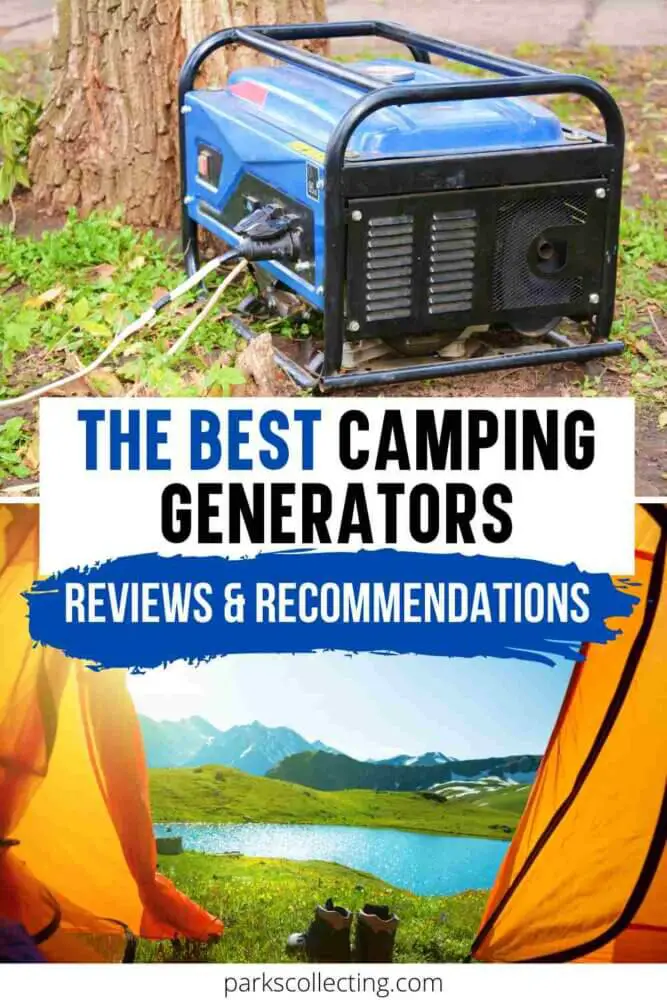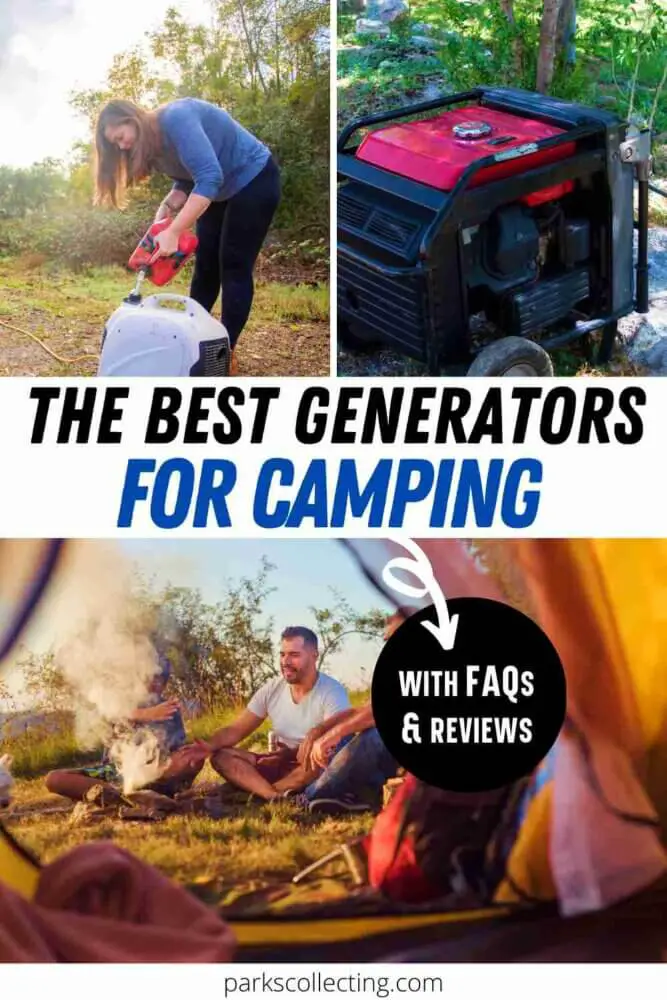 Read more travel product reviews  
Camping  
---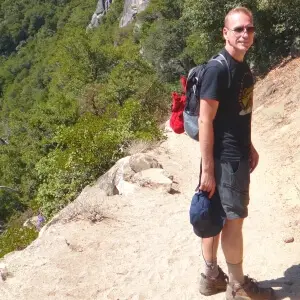 James Ian has traveled to 82 countries and all 7 continents.  He has visited all of the main national parks in the United States, as well as many national monuments and state parks.
He has rafted through the Grand Canyon; rappelled down slot canyons near Zion and Arches; hiked among the hoodoos in Bryce and the enormous trees in Sequoia; admired the waterfalls in Yosemite and the colored hot springs in Yellowstone; seen moose in Grand Tetons and seals in the Channel Islands, and much more.
---
Parks Collecting is a participant in the Amazon.com Services LLC Associates Program, an affiliate advertising program designed to provide a means for sites to earn advertising fees by advertising and linking to amazon.com. Amazon and the Amazon logo are trademarks of Amazon.com, Inc. or its affiliates. As an Amazon Associate I earn from qualifying purchases.