If you want to find the best big tent for camping then that's exactly what this guide is here to help with. Sourcing an extra large camping tent for a group or family size camping tents isn't always easy, but with a simple, all-boxes-checked list of 10 to choose from, it's far simpler.  
Some of the best large family camping tent options listed here are available in other sizes too, so you can fit in more or less people. As well as everyone's luggage and camping gear.  
The contenders for best big family tents for camping include models by big brands like Coleman, NEMO, REI and more, and are available from a selection of retailers. Each has unique features to recommend it as the best tent for your camping trips, such as inflatable supports, light blocking technology, detachable screens, integral porches or even a skylight. 
Find the best tents for big families and groups right here. If you're in a rush, take a quick peek at our top pick to get an idea of the top options? You can also compare the best large family tent products quickly and easily with the quick-reference chart below. 
No time right now to discover the best large tents for camping? Pin It and save it for later: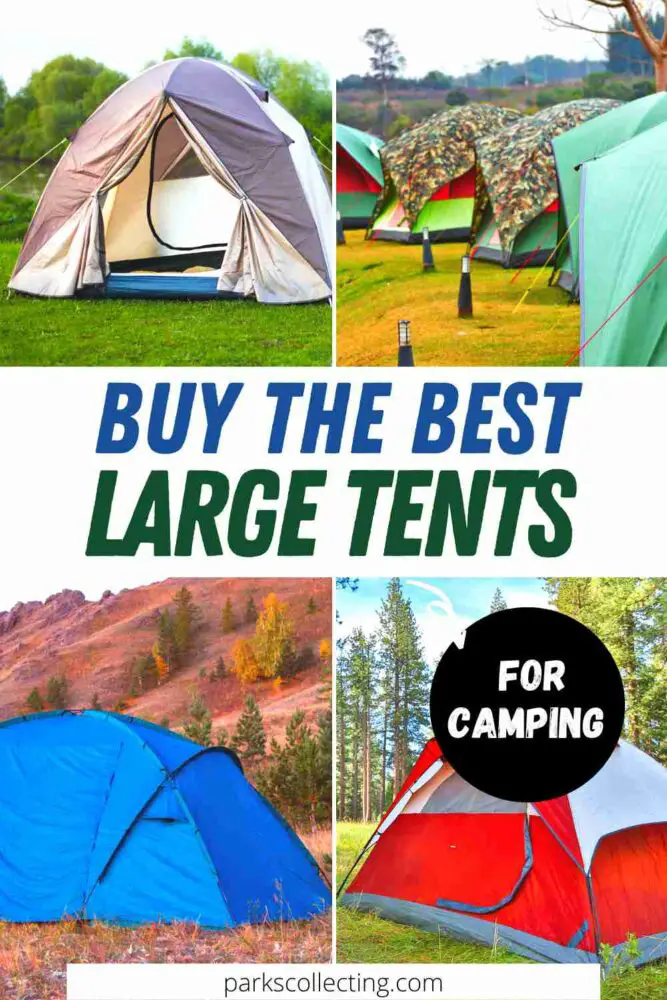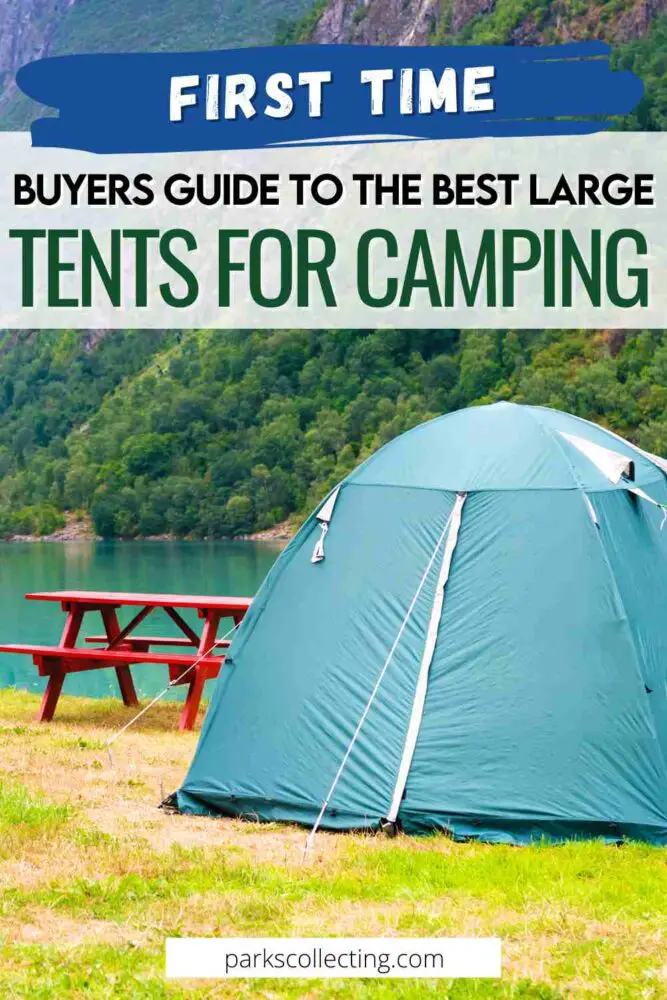 Please note this post may contain affiliate links, which means we may receive a commission, at zero cost to you, if you make a purchase through a link. Please see our full Disclosure for more information. If you have any questions, please contact me.
The Best Large Tents For Camping Overall 
Our top pick for best large tent for camping is the NEMO Wagontop 8. View it here. 
Why buy the NEMO Wagontop 8? 
The NEMO Wagontop 8 is my favorite of all the big camping tents with rooms because it has a large porch area for added space and storage; is really simple to set up on site; and has an upgraded, ultra robust floor that's recently been added to the design. The price tag is very reasonable too. You can also buy this as a 4 or 6 person tent.  
>> Click here to see the NEMO Wagontop 8 person tent  
---
Best Large Camping Tent Comparison Table 
Choosing The Best Big Camping Tent – Frequently Asked Questions 
What is the biggest camping tent? 
When you want to find the largest camping tent there's no one-size-fits-all answer. Some tents have a more spacious footprint, while others among the biggest tents for camping are more generous in terms of headroom.  
Storage space can be key too. What do you want more? Extra floor space, room to stand up straight, or plenty of storage? These are factors to consider when picking between the largest camping tents.  
What is the largest tent size? 
If you want to find the biggest tent for camping then it's good to know what your options are. There are a lot more 4 or 6 person tents than there are for 10 or more.  
If you want, for example, a 14 person camping tent or even a 20 person camping tent, you'd probably be better looking for two or more separate tents. Just imagine how heavy and unwieldy a 15 person camping tent would be to store, carry and set up! 
What type of tent is best? 
The best tent for you depends on what you want to get from it. Will you spend a lot of time in the tent during the day, or simply use it to crash out in last thing at night?  
Space, storage, weatherproofing, warmth, ventilation, and how easy the tent is to store, carry and put up are all factors to bear in mind when choosing between the best rated tents for camping.   
---
The Best Huge Camping Tents 
NEMO Wagontop Tent
If you want the best and biggest camping tent, the NEMO Wagontop is one of the best options out there. Great features on this family size tent include a spacious entrance porch for storage and added room, the panoramic windows that give it an airy feel. I'm 6 feet tall and I love that adults can stand up fully inside. 
If the best camping tent for you is one that's easy to put up, then this one also checks that box.  A simple, single wall structure and pole system makes it quick to erect once you reach the site. There are just four poles to make life much easier. Loops and pockets inside provide plenty of storage too.  
The floor has has an upgrade since the previous model to make it tougher. If you like, you can even add the NEMO Victory™ blanket (you can get one on REI here) over the top of this for added comfort. This impressive product is not only one of the best large camping tents around, it's also covered by a lifetime warranty.  
Pros:
Large vestibule for added storage & space
The 4 pole hub system makes set-up simple 
Ultra tough 300 denier floor makes this good for rough surfaces and rough wear
Cons:
You may want extra guy lines & stakes. I find that with the larger tents like this, these come in handy.
>> Click here to see on Amazon 
---
Zempire EVO TL V2 Tent 
The Zempire EVO TL V2 is a real contender as best camping family tent. With three doors and a five person capacity, everyone can move around without getting in each other's way. Inflatable supports make this large family tent easy to erect. 
There's one main door plus two side ones, so you can get plenty of airflow through the space during the day or a hot, stuffy night. A light-diffusing fabric construction improves privacy, while bug-proof mesh and seam-sealed seams keep bugs and water out.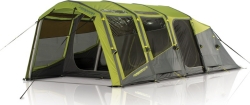 If you like your large camping tents with rooms to be well-lit then you'll love the fact that this one comes with a light rigging system fitted. A carry bag, repair kit, double action pump and three year warranty complete the package. 
Pros:
Carry bag, pump, repair kit & 3 year warranty supplied 
Light rigging system for camping lanterns 
Inflatable supports for easy set-up
Cons:
You pay for quality – this is not the cheapest tent on the market. However, it's a good investment for future camping trips.
---
REI Co-op Wonderland X
If you're seeking the best camping tent for a family or group of four, then the REI Co-op Wonderland X is a great option. It's built to last during inclement weather, as well as to provide plenty of useful space for everyone. 
An inner tent screen that clips in is included with this big family tent so you can create separate living and sleeping areas if you want to. This can then be pulled back during the day to give you more space.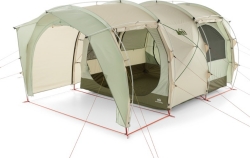 If you don't mind buying the poles, you can also create awnings with the end doors and side panels. There are plenty of storage pockets for everyone's stuff, and a color-coded design simplifies set-up. This family size camping tent is also made using eco-friendly bluesign®-approved materials. 
Pros:
Great weather-proofing 
Lots of storage pockets, which are handy for keeping gear organized with lots of people around
Clip-in screen to create separate spaces gives flexibility depending on who you're camping with
Cons:
Need to buy extra poles if you want to sue the doors and side panels as awnings.
---
MSR Habitude
Whether you want a huge tent for camping or one for a family of four, this one might fit the bill. It's available as a four person tent or a six person model, and is simple, no fuss design that comes with a very attractive price tag. 
Though this one is compact in comparison to other family size tents for camping, it has several features to make it feel more spacious. These include vertical side walls, a wide doorway and high ceilings. Pole hubs and color-coded clips make set-up simple too.   
The Xtreme Shield coating improves waterproofing and the sturdy frame and cannot can withstand strong winds and rain. There are loops and compartments for storage, and even an integral vestibule light for late-night entry into the tent (you'll need to supply batteries for this). 
Pros:
Great value price 
Surprisingly spacious interior 
Loops, pockets & late-night porch light
Cons:
This is smaller than most of the other models listed here. The 6 person model is reasonably sized, but depending on the size of your group, this may be too small.
>> Click here to see on Amazon
---
Big Agnes Bunk House Tent 
When you want an extra large tent for four or even a giant camping tent for six, this one by Big Agnes will give you plenty of room. An unusual yet very helpful feature that I like is the large mat right outside the entrance, where you can place wet or muddy footwear while keeping it off the ground.  
The windows on this can be closed completely, left fully open or you can use the mesh screen to add ventilation while warding off bugs. Another unique feature placing this product among the best large family tents for camping is the door keepers that hold each door secure while it's open.    
A big front vestibule also doubles up as an awning, giving you plenty of space for more of your gear or camping furniture. There are eight pockets inside to give everyone storage room of their own, including media and bin pockets. A backpack carry bag also comes with this one.
Pros:
Backpack-style carry bag 
Large front vestibule or awning makes a nice extra living space
Media, bin & mesh storage pockets
Cons:
This is on the smaller side, so also may be too small depending on how many people you're camping with.
>> Click here to see on Amazon
---
Bushnell Shield
With a two minute set-up and sizes ranging up to a 12 person camping tent, the Bushnell Shield is without a doubt one of the top huge tents for camping.
Pre-attached poles make assembly quick and simple.  Heat Shield technology keeps the interior cool even when the sun is beating down. This also helps to block out rays during the early morning, so you can sleep in. The finish is also water repellent, and there are sealed seams to prevent rain entry. 
This can be set up as a 3 room camping tent if you like, or you can leave the room dividers out to create one large living area. Lots of inside pockets ensure plenty of storage options too.  
Pros:
Heat Shield technology keeps tent cool & dark 
Pre-attached poles ensure 2-minute set-up 
Create up to three rooms by using dividers, making this a great versatile option for larger groups
Cons:
Not the most robust fabric. if you are careful with it, it's fine, but you won't want to bang it around too much.
>> Click here to see on Amazon
---
Coleman Peak1
Coleman is one of the top camping brands around and the Peak1 is one of the best tents for large families you'll find. Sleeping six, a great bonus is the WeatherTec™ Plus system that includes a tub floor, 2,000 mm waterproof fabric and taped seams. 
It all comes with a large branded carry bag to store it all in. The skylight makes this one of the best family camping tent options for stargazers (and gives you some fresh air on warm nights), while a wide door means it's easy to get you and your gear in and out.   
A large vestibule area gives you space for all the luggage, and storage pockets mean there's an off-floor place for everything. Reflective detailing means you can find your way back at night, and it's all covered by a five year Coleman warranty. 
Pros:
5 year warranty 
Wide entrance door & skylight 
Large vestibule plus inside storage pockets
Cons:
Only 1 door and 1 room, s is not great if you're after some privacy in the tent.
---
NEMO Aurora Highrise
With its turquoise color, lime trim and patterned floor, this NEMO product is quite possibly the best large camping tent for stylish sorts. It's about function too, though. While it's quite compact, steep side walls mean you can all stand up when inside. 
There are lots of compartments for all your gear, and one of these turns your headlamp into a night light for an even glow throughout the tent. An oversized duffel bag for storage means you can cram it all back in easily when it's time to head home or move on.  
As with other NEMO products, a lifetime warranty is provided, and the intuitive design makes it simple to set up once you arrive at the campsite for the night.  
Pros:
Stylish looks 
Built-in nightlight pocket 
Steep sides so you can stand up straight
Cons:
Not the biggest option on the list. best for smaller groups.
>> Click here to see on Amazon
---
Viinice/ZMDZA Double Layer Tent 
These big tents for camping with rooms come as a 6, 8, 12 or 10 person camping tent. A double layer construction keeps wind, water and chills out more effectively, and makes sure you stay warm during colder weather.  
These extra large tents for camping come with a thick skirt to ward off drafts too, and the thick Oxford cloth is tough and durable. The windows are triple-layered for even more protection from wind and cold.   
You can even use awning poles with this tent to create extra sheltered outdoor living space. 
Pros:
Double walls and triple layered windows 
Great thermal protection 
Tough Oxford cloth
A good size for bigger groups
Cons:
Not the quickest to set up. Definitely not a quick pop up option, so allow extra time for setup.
>> Click here to see on Amazon
---
TangTangxi Double Door Tent
Our final option among extra large camping tents is this one with double doors. It also has two rooms and can fit up to a dozen people snugly inside.  
The twin doors give this tent a superior feeling of spaciousness and allow free movement without feeling at all cramped or claustrophobic. There's also lots of headroom, so that even the taller members of your group can stand up straight in this large multi room tent.  
These are some of the best extra large family camping tents around and offer a flexible multi-room set-up for larger numbers of people.
Pros:
Room for up to 12 people 
Double doors give great access 
Lots of headroom for standing upright
Cons:
Not the warmest tent. Best for summer trips.
>> Click here to see on Amazon
---
Which is the best huge camping tent for you? 
While our top pick is the NEMO Wagontop 8, that doesn't necessarily mean that's the best large outdoor camping tent for you. All the big camp tents listed in this guide have features that make them stand out, so it's simply a matter of pinning down what are priorities for you.  
Whichever of the best large family camping tents you go for, having lots of space at your disposal means everyone can do as they please without tripping over everyone else's bags in the process! 
Happy camping!
Do you have another pick for the best massive tents for camping?  I'd love to hear what it is.  Comment below.
If you liked this post about the best camping tents for large families, please share the love and Pin It to your Camping Gear board!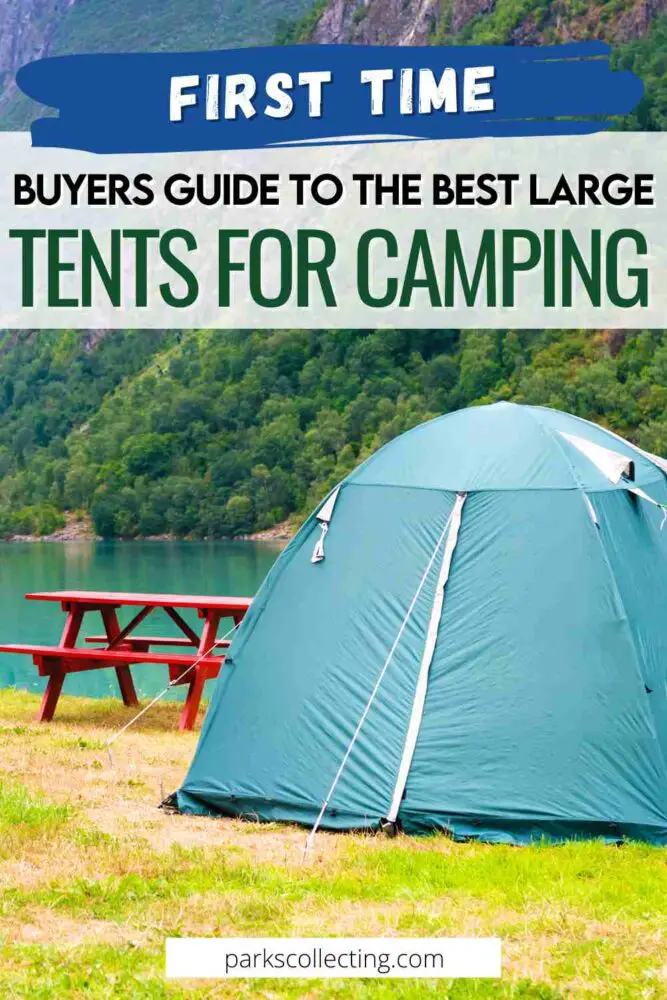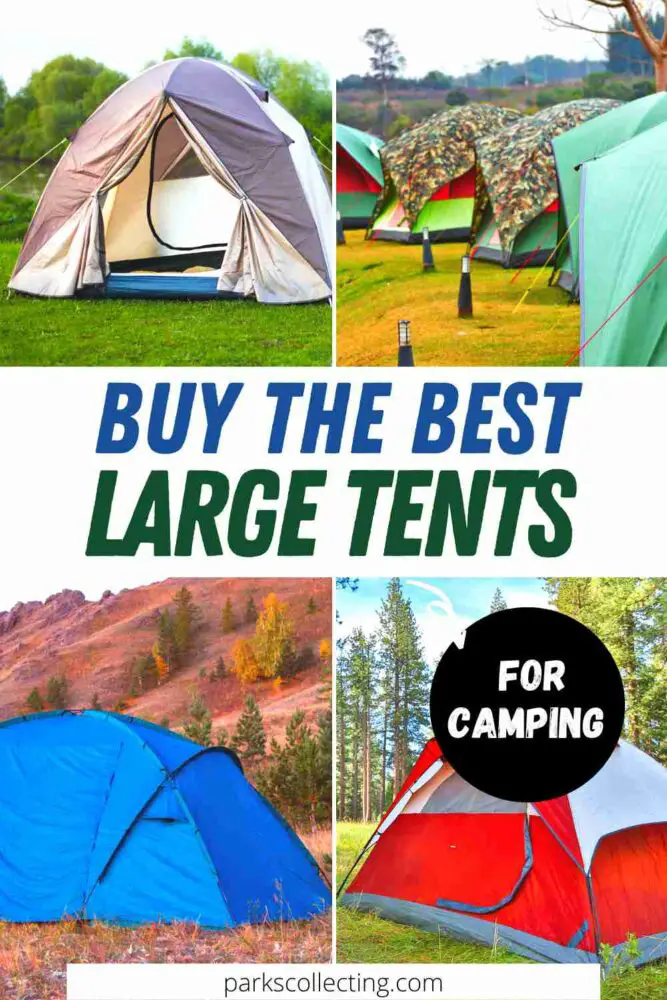 Read more travel product reviews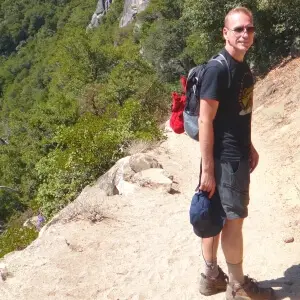 James Ian has dedicated his life to travel and has traveled to 82 countries and all 7 continents.  He's visited all of the main national parks in the United States, as well as many national monuments and state parks.
As a national park expert, James has contributed to many publications, including Time Business News, Savoteur, and Wired. He also has several published detailed itineraries in addition to many free online guides.
James has rafted through the Grand Canyon; rappelled down slot canyons near Zion and Arches; hiked among the hoodoos in Bryce and the enormous trees in Sequoia; admired the waterfalls in Yosemite and the colored hot springs in Yellowstone; seen moose in Grand Tetons and seals in the Channel Islands, and much more.
---
Parks Collecting is a participant in the Amazon.com Services LLC Associates Program, an affiliate advertising program designed to provide a means for sites to earn advertising fees by advertising and linking to amazon.com. Amazon and the Amazon logo are trademarks of Amazon.com, Inc. or its affiliates. As an Amazon Associate I earn from qualifying purchases.