Buying a small portable air conditioner for your camping tent can help you keep your cool when it's hot outdoors. But how do you choose between tent air conditioners, and how long will it take to find the right one? 
This post will guide you through the entire process, so you can pick out the best portable air conditioner for tent camping for you. Included is a quick reference small camping air conditioner comparison chart, so you can see which options might suit you at a glance. 
Also covered are the frequently asked questions that pop up when considering the purchase of a portable tent air conditioner for camping. If you're in a rush (and who isn't?) you can also take a peek at our top pick just below.  
It's worth mentioning at this point that a mini air conditioner for tent could be the right option. By this we mean an AC unit that's designed to cool the person, rather than chilling the entire tent. This can be a far more efficient option in terms of power usage. You may need one of these each, however, so a more powerful unit might be best for a family or group.  
Continue reading to find out all you need to know about buying a portable air conditioner for a tent. Seven of the best small tent air conditioner units are also listed, to help you narrow down your search. Let's begin! 
No time right now to learn about the perfect camping tent air conditioner? Pin It and save it for later: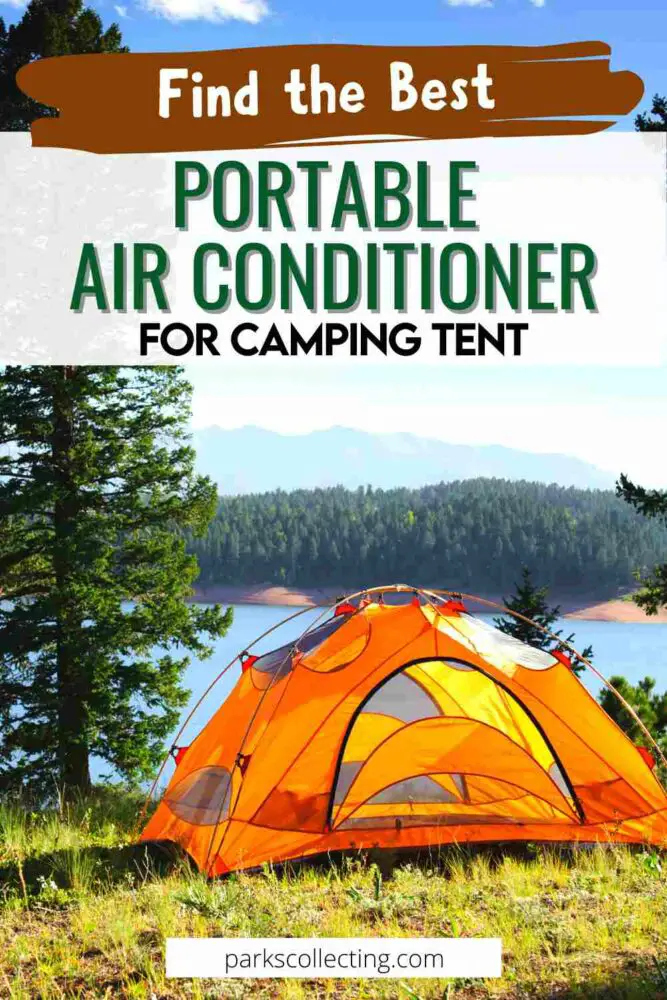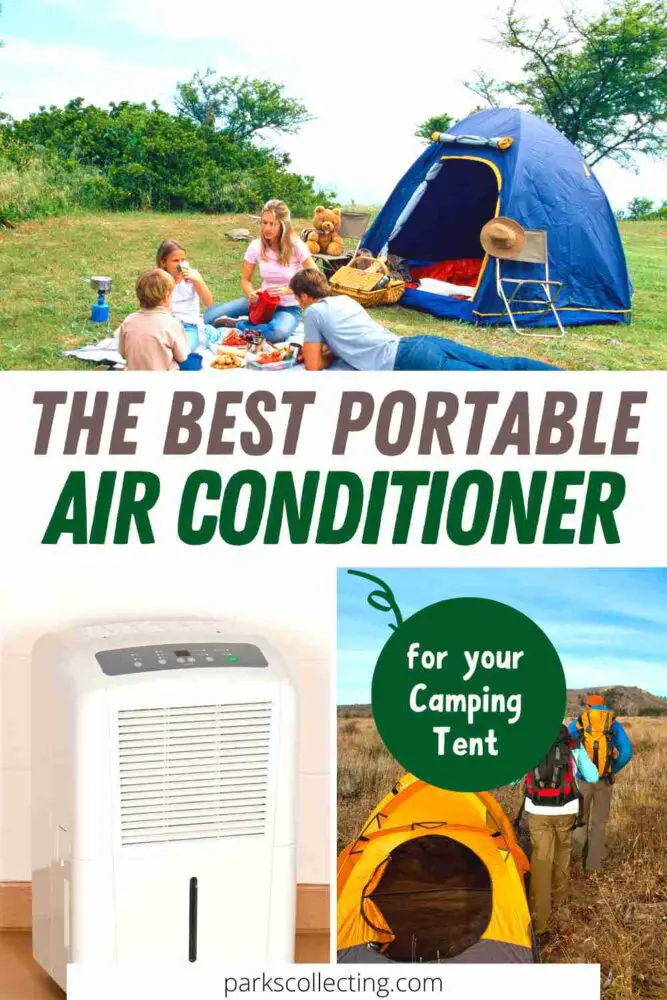 The Best Portable Air Conditioner For Tent Camping Overall 
Why buy the Eenour QN750? 
This is the best air conditioner for a tent when you want to cool the entire space rather than just one person. It's comfortable to carry, energy efficient, cools quickly and has a powerful Panasonic twin cylinder compressor.
>> Click here to view the Eenour QN750 
---
Best Portable AC Unit For Camping Comparison Table 
Compare the key features and power source of each large or small air conditioner for tent camping quickly and easily with this comparison chart. You can also click the links supplied to check the current price of each product.
---
Best Portable Air Conditioner For Camping Tents – Frequently Asked Questions 
Can you use an air conditioner in a tent? 
Yes – you can indeed! Pick between a small portable air conditioner for your tent to keep everyone cool, or a personal one that will offer the right chill level for each person. As with using AC in general, remember to close doors and windows for the full effect.  
If using air conditioning makes camping more comfortable for you, then why not go for it? It could make all the difference when it comes to living outdoors during hot weather.  
How do you keep a tent cool in hot weather?  
There are a number of hacks for keeping a tent cool when temperatures rise. The most straightforward is to get hold of the best air conditioner for camping you can find. Always drink plenty of water too, and pack light, loose clothing.  
Otherwise, you might like to try putting your tent up in a shaded spot, using a reflective sunshade, removing the rainfly when it's dry, opening doors and windows to let the breeze in (unless you're using AC) or even sleeping in a hammock.  
Are portable air conditioners good for tent campers?  
Camping tent air conditioner units can be ideal for camping in hot weather: in fact, buying one could be the difference between enjoying an outdoor adventure and staying at home.  
You can either buy a personal AC unit for each member of your party, or invest in a bigger, more powerful one to cool the entire tent. Remember to close your windows and doors when the unit is operating for the best effect. 
Do portable air conditioners use a lot of electricity? 
Clearly it's not only about forking out for the best tent AC unit. You also need to think about running costs. The power usage of a mains, generator or battery operated air conditioner for a tent will vary hugely. 
If you want to save power, it's worth thinking about a personal rather than a whole tent portable air conditioner. This can cool you down in a far more energy efficient way. Some of these also provide light, so you get two functions in one machine! 
---
The Best Tent Air Conditioner For Camping (Based on our test and reviews)
Eenour QN650 Air Conditioner 
This portable air conditioner for a tent is ideal when you have a compact space to keep cool, as it has an ultra powerful Panasonic compressor with twin cylinders. It can reduce the temperature by over 15°F in just five minutes.  
There are three speeds, so you can choose the precise chill factor you want. The sleep mode is ideal for during the night, when you can rest without being disturbed. We also love the way it's easy to carry due to a comfortable and generously sized integral handle.
You can power this portable AC for your camping tent via the mains or a portable generator or power station. Do note that it's not designed to be powered via your car battery or outlet socket.
Pros: 
Powerful Panasonic compressor 
Smooth integral handle 
Fast cooling 
3 speeds
Cons:
Suited to small spaces only
>> Click here to view on Ali Express
 
>> Click here to see on Amazon
---
Eenour QN750 Air Conditioner
The QN750 by Eenour is the more powerful version of the QN650 detailed above. The company say this one's 34% more efficient than the model with a lower spec. This compact portable air conditioner for camping can be controlled via the LCD panel and also has a choice of three operating speeds. 
When using cooling mode, you can expect a 12℉ lower temperature within your tent than what's outside. When used inside with the door closed, it's suitable for a tent with a footprint of up to up to 45 square feet.
It's a pretty efficient little portable AC for tent camping, using a low amount of energy to power it. A one-year labor and parts warranty also comes with this machine. Like the QN650, it can also be carried via the sleek built-in handle.
Pros: 
Suitable for spaces up to 45 square feet 
Twin cylinder compressor 
Low power consumption 
Sleek built-in handle
Cons:
Build quality could be improved
>> Click here to view on Desert Cart
 
>> Click here to see on Amazon
---
Evapolar EvaCHILL Personal Air Conditioner
Why choose between portable AC units for tents when you could simply cool yourself down? Whether you travel solo or buy one each, this is a very cost-effective option when you want to find the best AC for tent camping.  
When it comes to looks this one's a winner, with a sleek, compact design. You can also pick between three colors. As well as chilling the air, the unit can also remove big particles of dust and humidify the air.
The design is simple, but effective. It has a carry handle, four speeds and can be controlled via one button. Evapolar also say that it can be up to 100 times more energy efficient than a standard AC unit!
Pros: 
Personal AC unit 
Very low power consumption 
Sleek looks and comes in 3 colors
Cons: 
No good for cooling whole tent 
Replacement cartridges can be costly
>> Click here to view on Walmart
 
>> Click here to see on Amazon
---
Evapolar EvaLIGHT Air Conditioner With Light
If you need tent lighting as well as a portable air conditioner in a tent, then how about the Evapolar Evalight? This one even has a sleep timer, so you can enjoy a blissful slumber while knowing that you'll wake up early enough to set off on your hike. 
Evaporative technology is used, so you'll need to empty the water tank from time to time to keep it running smoothly. As with the EvaChill, this uses far less power than typical, larger portable AC units for camping.
The control panel on the top is simple to use and it's clear to see what mode, brightness setting and fan speed is being used.
Pros: 
Very energy efficient 
LED lighting & sleep timer 
Simple one touch control panel
Cons:
Limited area coverage 
Expensive replacement cartridges
 
>> Click here to view on Walmart
 
>> Click here to see on Amazon
---
Air Misting Portable AC Unit
This tent air conditioner is battery powered via a built-in 5,000 mAh rechargeable pack. That's not the only thing that makes it stand out, however. It also works by spraying out a cooling mist to increase the chill factor. 
 If it's super hot, you can even add ice to make the cooling breeze even more refreshing. Due to the unique way it works, only 10 watts of power are required to run it. A full tank of water will last for up to 12 hours.
The design of this portable AC unit for tent camping is lightweight, compact and a regular shape that's easy to store. You can carry it via the handle on top and there are three speeds for adjustable chilling.
Pros: 
3 speeds 
Cooling water & ice mister 
Tank of water lasts up to 12 hours 
Compact design with carry handle
Cons:
Water mist not ideal for use with tech 
You'll need one each
>> Click here to view on Walmart
 
>> Click here to see on Amazon
---
LaoTzi Rechargeable Cordless Air Conditioner
Another option for those seeking a battery powered tent air conditioner is this one, also fitted with a rechargeable battery. With a low decibel sound output of just 30dB, it's whisper quiet, cordless and power efficient. 
There are three speeds, and the water tank lasts for two to three-and-a-half hours after topping up. Like the Evapolar Evalight, this battery air conditioner for camping and home use can also light up the night, and there are seven color cycles to pick from.
You can even wave goodbye to a tent that smells of used hiking socks, as you can add a fragrance disc to this battery-operated tent air conditioner if you like.
Pros: 
Very quiet 
Cordless design 
7 color lighting modes 
Fragrance discs can be added
Cons:
Water tank needs refilling fairly often
>> Click here to see on Amazon
---
Shaalek Remote Control Personal Air Conditioner
This mini portable air conditioner for camping comes with a rechargeable 4,000 mAh battery, and provides cool air and light. It also has a timer and a remote control.  
The battery can be fully charged in four hours, and then can operate for between two and seven depending on the mode used. There are three speeds and two spray modes to choose from. 
A nicely designed control panel means you can quickly check on the speed and status, and a water tank level indicator shows when it's time to top up. You can also add ice to this one for more intensive cooling effect. 
Pros: 
Remote control 
Integral lighting 
Use ice for extra cooling
Cons:
Limited running time on one charge
>> Click here to see on Amazon
---
Which is the best air conditioner for tent camping? 
Buying the best air conditioner for a tent can make camping in hot climates or during summer so much more comfortable. So, we hope this guide has helped with your search!  
Whether you buy a tent AC unit that's battery powered or use mains hook-up to keep it running, investing in a good one really can make all the difference to how well you sleep at night. With a choice between units that can cool the whole tent or the individual, the only question remaining is which one will suit your budget and preferences most of all.  
Happy camping!   
Do you have another pick for the best air conditioner for tent camping?  I'd love to hear what it is.  Comment below.     
If you liked this post about portable AC for camping, please share the love and Pin It to your Camping Gear board!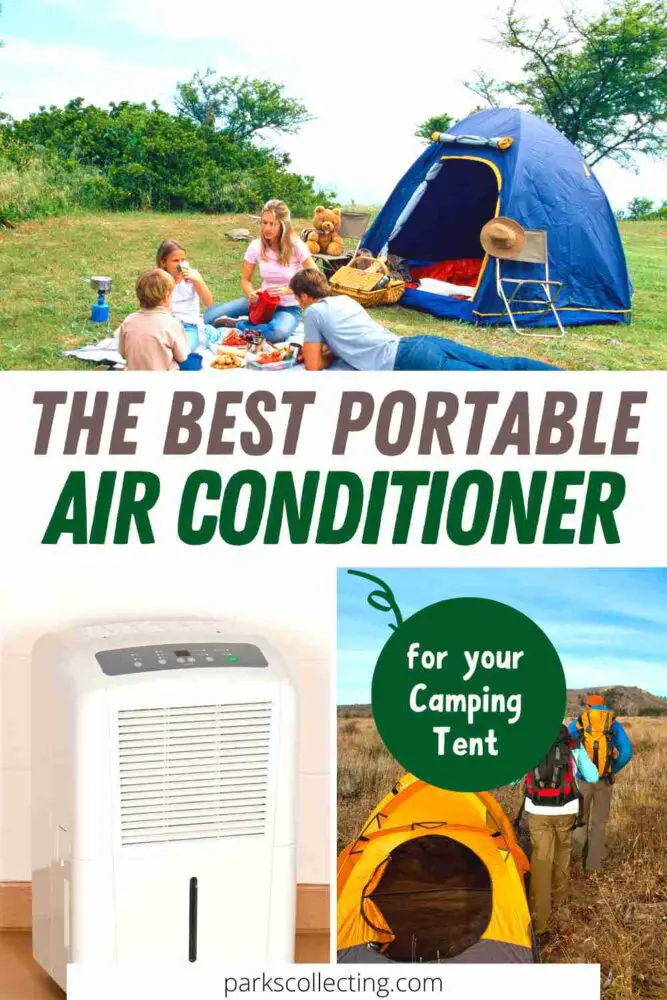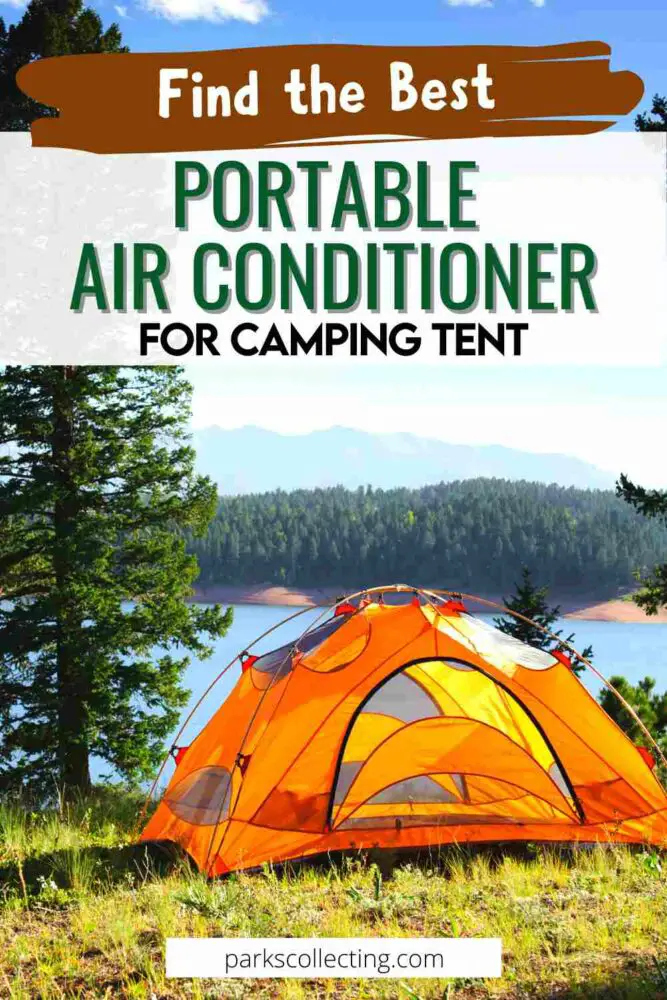 Read more travel product reviews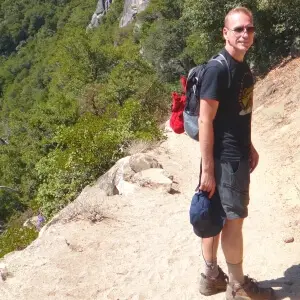 James Ian has dedicated his life to travel and has traveled to 82 countries and all 7 continents.  He's visited all of the main national parks in the United States, as well as many national monuments and state parks.
As a national park expert, James has contributed to many publications, including Time Business News, Savoteur, and Wired. He also has several published detailed itineraries in addition to many free online guides.
James has rafted through the Grand Canyon; rappelled down slot canyons near Zion and Arches; hiked among the hoodoos in Bryce and the enormous trees in Sequoia; admired the waterfalls in Yosemite and the colored hot springs in Yellowstone; seen moose in Grand Tetons and seals in the Channel Islands, and much more.
---
Parks Collecting is a participant in the Amazon.com Services LLC Associates Program, an affiliate advertising program designed to provide a means for sites to earn advertising fees by advertising and linking to amazon.com. Amazon and the Amazon logo are trademarks of Amazon.com, Inc. or its affiliates. As an Amazon Associate I earn from qualifying purchases.