If you're wondering what spotting scope to choose when you want to view wildlife from a distance, this guide is here to help you figure things out.  
For many nature fans, getting hold of the strongest spotting scope you can afford opens up a whole new world of wildlife and birdwatching opportunities. On our trips around US national parks, seeing wildlife is a high priority, and we've found a spotting scope the best thing to use for great quality images. 
Once you get used to handling yours, spotting scope photography is also possible as long as you line up the eyepiece and camera lens very carefully. This may mean you can achieve your dream of becoming an accomplished amateur wildlife photographer!
No time right now to read about the best spotting scope for wildlife viewing? Pin It and save it for later:
Please note this post may contain affiliate links, which means we may receive a commission, at zero cost to you, if you make a purchase through a link. Please see our full Disclosure for more information. If you have any questions, please contact me.
Whether you want a spotting scope for 1,000 yards, the best 50mm spotting scope or one with a larger observational lens, this guide can help you track the right one down. We have tested products by leading manufacturers such as Swarovski, Burris and Vortex, as well as a few impressive budget options and are here to share our findings with you. 
Continue reading to find out all about choosing your product. There's a table for making quick spotting scope comparisons plus a series of frequently asked questions that will help you pinpoint what to look out for.  Do you know what a spotting scope with a mil dot reticle does, for example? 
These sections are followed by the best products we tested and reviewed – plus a selection of other items you may need. First, though, let's take a look at our top pick overall. 
---
The Best Spotting Scope For Wildlife Viewing Overall 
The Swarovski ATS 80 is the top pick overall. View it here. 
Why buy the Swarovski Optik ATS 80? 
We found this Swarovski model to be the best of the bunch because it offers crystal clear imagery, it looks great, has a user-friendly angled body, and it comes with a lifetime warranty. It's also waterproof to a depth of 13 feet.
>> Click here to see this Swarovski spotting scope
---
Best Spotting Scopes For Wildlife Viewing Comparison Table 
This spotting scope comparison table lets you see the options at a glance. This focuses on the size of the lens, each scope's key features and whether the body is straight or angled.
Choosing Top Rated Spotting Scopes – Frequently Asked Questions 
Should I use a spotting scope or a telescope? 
The first thing to think about is this. Do you really need – or want – a spotting scope? If you're just getting started with wildlife viewing and it's not yet a major interest, then you may be okay using a pair of binoculars instead.  
Check out this guide to buying the best binoculars for wildlife viewing for more info about binoculars.  
How about a straight vs an angled spotting scope? 
One of the first decisions you'll need to make is whether to go for an angled or a straight spotting scope. So, what's the deal with a spotting scope – straight vs angled?  
An angled spotting scope can often be placed on a lower tripod. This gives added stability. The angle can also make it easier to look through.  
Some people prefer the straight models, though. These can be simpler to pack and carry, as they're more streamlined. As with many items, the choice really comes down to personal preference.  
What about a spotting scope vs. a telescope? 
A spotting scope is more portable, easier to use and often more robust than a telescope. If you're zooming in on wildlife rather than the night skies, a spotting scope is ideal.  
For getting a closer look at animals, birds or plants from a distance, a spotting scope is the best choice. It's also a much more compact and lightweight option than a long, bulky telescope.  
Should I buy a spotting scope with a reticle? 
So, what's a reticle? This is the grid-like lines you sometimes see on an optical device. Such as when a sniper is focusing on their target in a movie or game.  
While they can help you focus on an object, they're not necessary for wildlife viewing. For shooting or military use, however, a spotting scope with a mil reticle is ideal.  
How does a spotting scope work? 
A spotting scope is like a more advanced version of a set of binoculars, though it has one lens rather than two. As you look through this lens, a prism is used to divide light up, creating two images.  
These pictures are then transformed into one clear, viewable image. You'll need a tripod when using a spotting scope for stability. You can then swivel the lens around as you like.  
Can you take photographs with a spotting scope? 
Yes, you can.  If you're wondering how to use a spotting scope for taking pictures, it's simply a matter of lining up the lends and the eyepiece correctly. Adapters are available if you need assistance.  
Practice can also make perfect when it comes to snapping great shots when using a spotter scope in conjunction with your camera! 
What about a bluetooth spotting scope?  
You can buy WiFi spotting scope cameras to use with your spotting scope. They will allow you to see images displayed on your phone screen. The pictures are transmitted via bluetooth.  
How do I choose a spotting scope for wildlife? 
Experts recommend choosing a lens with a diameter of 50mm or more. An objective lens of this size should provide you with clear, well-lit images.  
Look out for weatherproofing too, so you can use it outdoors during all conditions. Shock and scratch resistance are also practical features. A case can also be useful for protection and transportation.  
---
The Top Spotting Scopes Based on Our Tests and Reviews 
Vortex Razor 
The Vortex Razor range definitely belongs in any list of the top 10 spotting scopes. This Vortex spotting scope comes in a choice of sizes, and you can opt for a straight or angled version. 
Price-wise this is mid-range, yet it offers a pretty impressive spec and quality. The forward-thinking design ensures ultra sharp, distortion-free images. We found that the colors are very accurate, so it's easier to spot wildlife even when the creature is well camouflaged.
It's designed to cope with low light conditions or poor weather, and is water, scratch and fog proof, and even has an integral sunshade.   If you might need to use it in windy conditions, go for the angled model as you can mount this on a tripod at a lower height to improve stability.
Pros:
Angled or straight versions 
Weather & scratch resistant 
Clear images with lifelike color
Cons:
We found the eyepiece and lens caps to be fiddly 
---
Nikon Fieldscope ED50 
Nikon also makes some of the best wildlife spotting scopes around. This one is also available as an angled or straight scope. Whichever you go for, it features a lightweight, compact design that's very portable. 
The ultra high resolution lenses ensure crisp, clear images that we were impressed with. This is a waterproof product from one of the top spotting scope brands, and is also fog proof to ensure the lens doesn't mist up while you're trying to focus on something in the distance.  We found it lived up to this claim.
With extra low dispersion glass and multicoated lenses, this scope offers superior wildlife viewing. It also comes with a protective neoprene case and an adjustable carry strap, and is compatible with a wide range of lens filters and eyepieces.
Pros: 
Compact & lightweight 
Waterproof & fog resistant 
Decent case & strap included
Cons:
Not the highest spec (though we still found the image good enough for basic wildlife viewing) 
>> Click here to view on REI
 
>> Click here to see on Amazon
---
Swarovski Optik ATS80
If you have more cash to splash when choosing what spotting scope to buy, it's well worth taking a look at this Swarovski spotting scope. The 80mm objective lens diameter ensures crystal clear detail, just as you might expect from this premium Austrian brand. 
We found that even when lighting is low or when we were trying to make out tiny details, this Swarovski scope produces images with realistic coloring and great transmission of light.
With a minimum focusing distance of 5 yards, this waterproof model might well be the best spotting scope for 1,000 yards or more. You can submerge it in water at depths of up to 13 feet and it comes with a lifetime warranty. 
Is this the best high end spotting scope around? It's a very strong contender for sure.
Pros:
Lifetime warranty 
Crystal clear images 
Waterproof to 13 feet 
Cons:
Relatively expensive, so best if you're a little more serious about your wildlife viewing
>> Click here to view on ALS
 
>> Click here to see on Amazon
---
Swarovski Objective Module 
If you are in the market for a Swarovski product, this one is only a fraction more costly than the Optik ATS80 detailed above. The precision this model offers combined with a clever modular design makes this one really stand out. 
Whether you want the best 115mm or 65mm spotting scope on the market, you don't really need to look any further.  We found that every minute detail of birdlife, animals or plants can be examined with ease, and it's a super stylish-looking item too.
We also tested it in poor light.  If you like to see what's going on as the day dawns or darkens, then this is the perfect spotting scope for you. It's also waterproof to 13 feet and offers up to 70 x magnification. The modular design also means you can switch up the objective lens to match the viewing situation you're in.
Pros:
Leading brand 
Flexible, modular design 
Even tiny details are ultra sharp 
Cons:
The higher price tag makes it best for serious wildlife viewers
>> Click here to view on ALS
 
>> Click here to see on Amazon
---
Vortex Viper HD 
When you want to find the best spotting scope for under 1,000 dollars, consider the Vortex Viper. It's available as a 20-60×85 or 15-45×65 model. You can also pick between straight and angled versions. 
When we tested it, we found it had high resolution images with lifelike colors. It also enables a 3D effect, plus a wide or deep field of view.  We liked that the angled model allows you to mount it lower down. This means you can use a smaller tripod, and also offers superior stability.
The protective ArmorTek coating resists dirt, oil and scratches, and the scope is also both fog and water resistant. There's also a built-in sunshade. The twist action eyecups are also easy to adjust, even when wearing eyeglasses.
Pros:
Clear, 3D effect images 
Wide & deep fields of view make this one of our top picks 
Protective ArmorTek coating
Cons:
It's not the sleekest-looking model ,so if aesthetics are important, this might not be your top pick 
>> Click here to view on ALS
 
>> Click here to see on Amazon
---
Leupold SX-2 Alpine 
No spotting scope guide would be complete without a great budget option or two. The first contender as best spotting scope for under $500 is the impressive Leupold SX-2 Alpine.  
If you don't want to spend a huge amount of money on a telescope for wildlife viewing, then this one offers a compact package and clear images.  It has clear images even for long distances, although the colors were a little off compared to models with a higher price tag.  We tried it out looking at wolves in Yellowstone and were impressed with the quality of the images for the price.  The lens also fogged up a bit in the early morning.
Despite the drawbacks, if you want the best spotting scope for long distance viewing and don't want to spend too much, this Leupold spotting scope isa solid choice.
Pros:
Made in the US 
Great value for money
Lightweight & compact 
Good image quality for the money 
Cons:
Expect minor color fringing 
Lens not fully fog proof 
>> Click here to view on Sportsman's Warehouse
 
>> Click here to see on Amazon
---
Burris Signature HD 
The Burris Signature HD is designed for the rugged, outdoor life. It's one of the largest spotting scope options listed here and features an armored, die-cast body to cope with the demands of your active life. 
An integral sunshade actually serves two purposes, as it also guards the lens against rain or snow as well as glare. We took it on a winter hike and To be honest, it was a bit on the heavy side of our hike, but it did well with the glare from the snow.
The adjustable eyecup is compatible with eyeglasses, while the focusing knob permits coarse or finer adjustments.  
A rotating tripod mount offers great versatility when it comes to viewing angles, and it gave clear images even when it was very cold.  Neoprene and hard shell cases complete the package.
Pros:
Die-cast, armored body 
Hard shell & neoprene cases 
Sunshade wards off glare & water
Good in extreme temperatures 
Cons:
Heavier & bulkier than some 
>> Click here to view on Sportsman's Warehouse 
 
>> Click here to see on Amazon 
---
Barska Blackhawk
For bird and wildlife watching on a budget, the Barska Blackhawk is one of the best zoom spotting scope for the money.  
A great feature is the armored, shockproof casing, and it even comes complete with a folding mini tripod. Hard and soft cases are also included. An extending sunshade reduces glare while offering extra protection for the lens, and the latter is multi-coated to provide sharp images.
We tested it in different lights and over several distances.  It's fitted with a 100mm objective lens, so it performed well during dawn or dusk when there are lower levels of natural lighting, as you'd expect.  The image was less clear over long distances, but given the price, this is a good spotting scope for 1,000 yards or less.
Pros:
Shockproof, armored casing
Foldable mini tripod supplied 
Hard and soft cases
Cons:
On the heavier side 
Not as clear as pricier models, so it's better for shorter distances (under 1,000 yards) 
>> Click here to see on Amazon
---
Viewing Scopes: Other Things You'll Need 
Spotting Scope Covers
While many spotting scope covers are brand-specific, there is a decent, versatile option available. This is the Hazard 4 Optics case, which can carry all sorts of spotting and photography equipment and accessories. The spotting scope cover has removable padded inserts, a daisy chain and outer pocket, plus a long strap for carrying.  
Click here to view this spotting scope cover
---
Spotting Scope Mount
You may also need a spotting scope mount for your vehicle. If you're out looking for dangerous wildlife, this allows you to see bison, bears or other large creatures from the safety of your car. A Vortex Optics mount is a reliable choice from a big brand, and has been built to last the distance. 
Click here to see this spotting scope mount 
---
Spotting Scope Carrying Bag
If you'd like a more conventional carry bag than the sling pack detailed above, there's one specially designed for spotting scopes and small telescopes. While it's compact, most spotting scopes will fit inside. There are also larger telescope bags available for bigger models. 
Click here to view this spotting scope carry bag 
---
Spotting Scope Lenses
Investing in a telephoto lens system can help you take top quality pictures more easily when using it with your spotting scope. The Swarovski one, for example, works with their ATX and STX scopes and is covered by a two-year limited warranty. Once set up, this is very simple and effective.
Click here to see this spotting scope lens 
---
Which Is The Best Wildlife Viewing Scope For You? 
Hopefully this guide has helped you decide whether or not to invest in a spotting scope. Buying a good quality one really can open up your world of wildlife viewing, which is ideal when you head out to national parks.  
Interested in binoculars? Then why not check out our guides to the best binoculars under $100, $200 or $300? 
Good luck wildlife viewing!   
Do you have another pick for the best spotting scopes?  I'd love to hear what it is.  Join my private Facebook group National Parks Collectors and comment and let me know (you can also pick up extra planning tips, share your photos and stories with other national park lovers and more).   
If you liked this post about spotting scopes, please share the love and Pin It to your Outdoor Gear board!   
Read more travel product reviews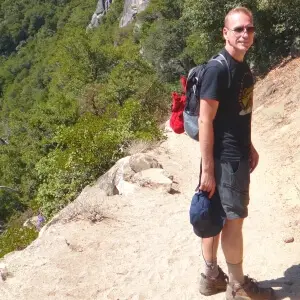 James Ian has traveled to 82 countries and all 7 continents.  He has visited all of the main national parks in the United States, as well as many national monuments and state parks.
He has rafted through the Grand Canyon; rappelled down slot canyons near Zion and Arches; hiked among the hoodoos in Bryce and the enormous trees in Sequoia; admired the waterfalls in Yosemite and the colored hot springs in Yellowstone; seen moose in Grand Tetons and seals in the Channel Islands, and much more.
---
Parks Collecting is a participant in the Amazon.com Services LLC Associates Program, an affiliate advertising program designed to provide a means for sites to earn advertising fees by advertising and linking to amazon.com. Amazon and the Amazon logo are trademarks of Amazon.com, Inc. or its affiliates. As an Amazon Associate I earn from qualifying purchases.