Holidays and birthdays are usually filled with joy, but they can also bring a little dread as you try to find just the right gifts for your loved ones.  Well, if they like hiking, this curated gift guide for hikers will help you find the perfect gifts for the hiker in your life.
No time right now to get the best gifts for hikers?  Pin It and save it for later: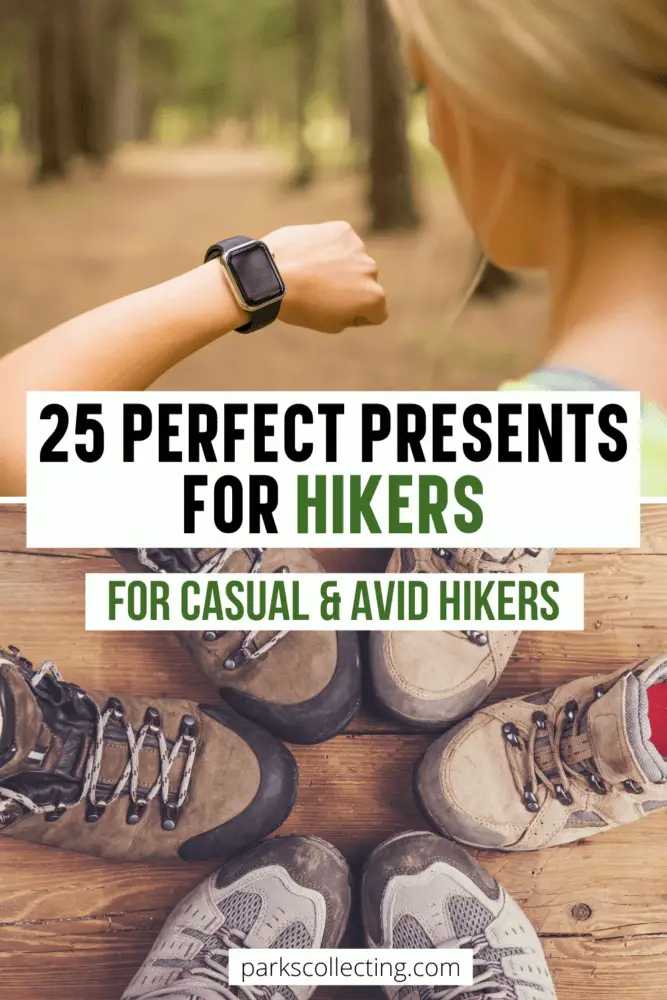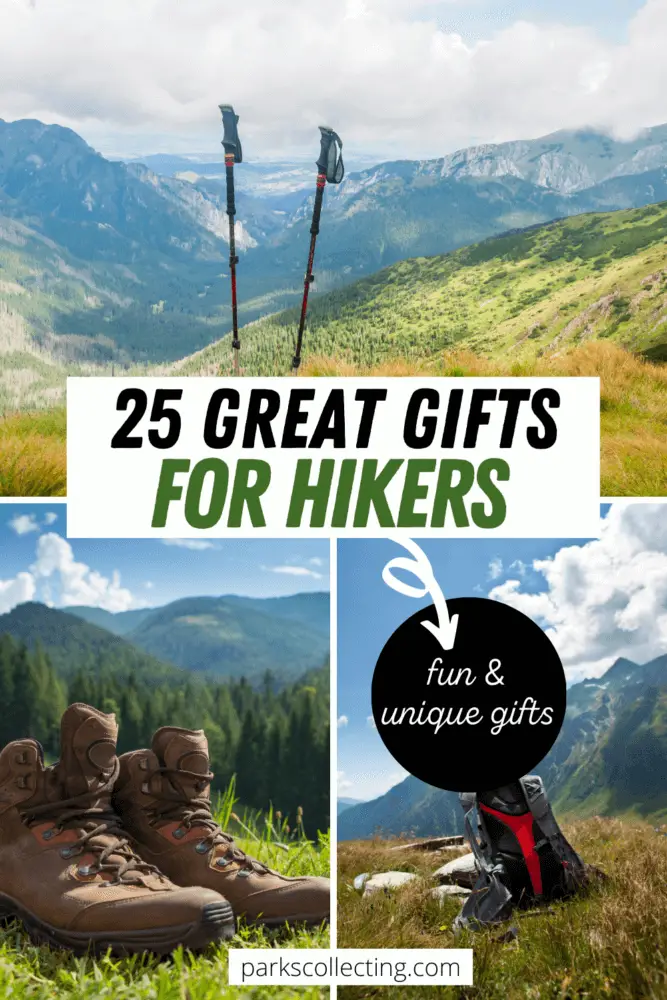 Please note this post may contain affiliate links, which means we may receive a commission, at zero cost to you, if you make a purchase through a link. Please see our full Disclosure for more information. If you have any questions, please contact me.
The 25 Best Gifts for Hikers
What the best gift for hikers is can depend on whether they are casual or avid hikers; whether they like cool gadgets or practical hiking gift ideas, or whether they are hiking with a dog or a child.  No matter what, we have compiled a list of the best gifts ideas for hikers.
Must Have Gifts for Hikers
1. Waterproof Jacket
This may not be the most glamorous gift, but it is one of the best hiking gifts because no matter where you hike, protection from the elements is key and hikers will really appreciate this.
It's hard to go wrong with the Columbia Sportswear EvaPOURation Jacket.  The Omni-Tech fabric is waterproof, wicking and breathable (which helps reduce sweat).  It comes in six colors and multiple sizes and there are versions for men and for women.
---
2. Hiking Pants
Hiking pants are another of our top picks for hiker gifts. Hiking pants are especially designed for outdoor activities, so they are water repellent, light, quick drying and durable.  The hiker in your life will love getting these practical presents.
---
3.  Hiking Shoes
There is nothing more important to hikers than a good pair of hiking shoes, so they are a great gift idea for hikers.  If you are giving a gift, you will want them to have the very best. The best hiking shoes on the market are the Salomon X Ultra Gore Tex.  They are ergonomically designed for maximum comfort, support, cushioning, stabilization and traction.  Their special descent design technology makes them great for technical hikes, but they are also ideal for casual hikers.
---
4.  Hiking Sandals
Give your hiker something different that they may not have tried before.  Hiking sandals are a great alternative to heavy hiking shoes and boots and make great gifts for a hiker.  They are comfortable, light and airy, but still have the traction, stability and arch support needed for hiking.  These are especially great for hot weather or water hiking.
---
Unique Hiking Gifts
So far we have looked at practical gift ideas for hikers, but for something more fun, here are some truly unique gifts for hikers. 
5.  Waterproof Pocket Blanket
This 60 x 56 inch blanket literally fits in your hand!  It is perfect for breaks during hikes, but also for picnics, a day at the beach (it's sand proof) and camping trips.  It comes in its own bag and takes up almost no space in a hiking pack and is super lightweight.  It's waterproof and tear proof, so protects hikers from rocks, twigs, etc.
Practical and fun, it's size also makes it a good stocking stuffer.
---
6.  GPS Locator for Hikers
Get you hiker some unique hiking gear with a handheld GPS navigator.  They will never risk getting lost again!
The Garmin 66i has an altimeter (so they can tell their height above sea level) and compass and comes preloaded with typographical maps for hikes that indicate natural features and points of interest. It is water resistant and durable.  As soon as your hiker has used this, they will be unable to imagine how they ever got by without it.
This is my top pick for best handheld GPS for hiking.
---
Cool Gifts for Hikers
We have hand-picked some extra cool hiking gadgets and cool hiking gear.  The hiker in your life will be blown away when they receive these gifts!
7.  Cobra Paracord Bracelet
This is not only super cool, it is also super practical.   Hikers always need to be prepared, and this has several essential tools in a practical wrist bracelet.  The bracelet has a fire starter and ferro rod striker (to start a fire without matches or a lighter), a loud emergency whistle (great if you get lost or run into bears), and 12 feet of super strong paracord (rope).  It is adjustable for smaller wrists.
---
8.  Fingerless Flashlight Gloves
Another cool gift is this pair of fingerless LED flashlight gloves.  They are great for any activities they need to do with their hands in the dark and are perfect if your hiker ends up out after dark, or is camping or fishing. There are two lights in each glove – one in the index finger and one in the thumb.  Your hiker/ camper can do a task without needing to hold a flashlight; the light shines exactly where their hands are!  They are one size fits all, but the spandex is stretchy and easily fits even large hands.  Possibly the coolest gift ever!
---
9.  Garmin GPS Watch
When hiking on harder-to-follow trails, hikers should always have some kind of GPS device.  These Garmin GPS watches make great gifts for people who like to hike.  The watch actually has not one but three navigation satellite systems (GPS, Glonass and Galileo) to help ensure hikers can always track their location even in places GPS alone doesn't cover.
It also has a built-in compass.  It is designed for all temperatures, and is shock proof and water resistant.  It also monitors your heart rate, activity and stress. In addition, it works as a smart watch and connects to most smart phones.
---
10.  Portable Blue Tooth Speaker
This is a fun choice so that your hiker can listen to music on their hike – either while they are hiking or when they are resting.  These SANAG portable Bluetooth speakers are small, lightweight and waterproof, anti-shock and anti-damage, making them perfect for hiking. They also have great sound quality and a long battery life.
---
Gifts for Casual Hikers
Not all hikers are super serious and into long treks or technical hikes.  We have hand-picked some of the best gifts for day hikers.
11.  Hiking Day Pack
No matter how casual a hiker your loved one is, they will need a good pack to take with them.  Good quality hiking day packs are especially designed for maximum comfort and are great gifts for hikers as they will help make even the most casual hiker happier. 
The Osprey packs have an integrated rain cover (so the contents won't get wet if it rains) and a side pocket for keeping a water bottle handy.
The zippered hip belt helps support the weight of the pack on their hips rather than just their shoulders (so they won't have neck and shoulder pain) and the pockets in them are handy for keeping small items they want to access easily like a camera phone.
The pack also has a mesh back panel, which helps creates padding at the back and absorbs sweat.
---
12.  Water Bottle
One of the golden rules of hiking is that no hiker should set out on any hike, even short walks in nice weather, without water.  A water bottle is up there with hiking shoes and a backpack as one of the absolute hiking essentials and is one of the top gifts for hikers.
The insulated Hydro Flask Water Bottle keeps hot and cold liquids at their temperature for hours.  It is stainless steel, so it is super durable, which is perfect for hiking.  It comes in multiple sizes and colors
---
Gifts for Avid Hikers
If your loved one is a serious hiker, they probably have most of the essentials already.  But that doesn't mean you can't find them the perfect gift.  If they are an avid hiker, then they are probably doing longer, tougher and more technical hikes.  Which means they will need gear to make sure they are safe and happy at all times.
13.  Ultralight Survival Tent
Hikers should always be prepared for a rapid change in weather, an injury or something else unexpected.  This is why serious hikers always carry an emergency tent with them. 
This two-person emergency tent is small – it packs up into a bag that fits in their fist – but is big enough for two people to lie in and shelter from the elements if needed.   And it makes the perfect gift. It's ultra light (just 8.5 oz), durable, tear-resistant, heat-reflecting, waterproof and comes with 20 feet of tough nylon cord. 
---
14.  Winter Hiking Boots
Chances are your avid hiker is not going to stop hiking in the winter.  So they will need winter hiking boots, especially designed for cold weather conditions. Winter hiking boots have extra insulation to keep their feet warm and extra grip for snowy conditions.
---
Best Gifts for Campers and Hikers
Many long hikes require camping out in the wilderness for one or more nights.  Even shorter hikes are often in areas where camping as a base is a great option.  If your hiker also likes camping, here are some gift ideas for them.
15. Portable Solar Panel
Avid hikers tend to go on longer (and even overnight) hikes.  So, they will need to recharge their cameras/ phones.  This is why portable solar panels make great gifts for hikers and campers.  The Goal Zero Nomad 10 is small (7.5 x 7.2 inches folded), light (1.2 lbs) and water resistant.  It comes with a stand to prop it up in the right direction and can charge a phone in 2-3 hours.
---
16.  Headlamp
Another of our favorite gift ideas for hikers and campers is a headlamp flashlight.  There are always tasks to do at night, like cooking or pitching a tent, that require their hands to be free.  A headlamp flashlight solves this problem.  Even just walking to a bathroom in the dark is easier if they don't need to carry a flashlight. 
The Foxelli headlamp is light and comfortable with an adjustable headband and 5 different light modes/ brightness settings.
---
Fun Gifts for Hikers
Here are some fun gifts for the hiker who has the basic essentials already.
17.  Trekking Poles
Hiking poles make a great gift for hikers.  On hard hikes, they are a life saver, but even on simpler hikes, hiking poles can make hikes easier.  Hiking poles are not all equal though, and you will want to make sure you get some good ones.  Ones that are too heavy, for example, can make long hikes harder rather than easier. 
These Foxelli Carbon Fiber Trekking Poles are collapsible (so they are easier to carry when not being used); lightweight (to avoid arm strain); shock absorbent (which helps prevent jarring); have quick locks (so they can be adjusted easily); have natural cork grips (which are easy to hold); and even come in their own carry bag (which is helpful when packing them in luggage to avoid damaging other belongings).
---
18.  Binoculars
It is very common when hiking to see animal, birds or natural features in the distance that you want to see in more detail.  This is why taking binoculars on hikes is such a great idea. 
These Vortex Optics Diamondback 10×42 Roof Prism Binoculars are the best binoculars for the money.  They have 10 x 42 magnification and are waterproof and fog proof. 
These are my pick for the best binoculars for the money.
---
Gifts for Hikers with Dogs
If your hiker likes to hike with their dog(s), here are two perfect gift ideas for them.
19.  Backpack to carry your dog
If your hiker has a dog they love to take with them but the dog can't walk the entire way, then they will love the K9 Sport Sack Navigate dog carrier.  It is especially designed for hiking and cycling and comes in five sizes.  It has comfortable shoulder straps, is fully ventilated, is fully adjustable and is vet approved.
I've written a detailed Guide to the Best Dog Backpack for Hiking and this makes is at the top pick.
---
20.  Packs for your dog to carry
If your hiker has a larger dog, rather than carrying them, they can get their dog to carry some of their load.  This backpack for dogs to wear is actually a comfortable form-fitting 'saddle bag'.  It has stash pockets and an integrated harness.  Of course, they won't want to overload their dog or put strain on them in any way, so there is also a handy guide included to calculate appropriate pack loads.
---
Gifts for Hikers with Kids                  
Whether you are looking for a gift for someone with very young kids that they want to take on the trails with them or with older kids who need to entertained, there is the perfect gift available.
21. Child Carrier for hikers
If the hiker in your life has young children, they don't need to be kept from hiking.  They just need a comfortable carrier to carry their young child in. 
This Deuter Kid Comfort Pro has a range of ergonomic features that make this a great gift. These include an airflow back, a built-in sun roof, water repellent coating, soft pillow and mirror They will be able to set off on to any trail they like and take their whole family with them.
I've written a complete Guide to the Best Baby Carrier for Hiking and this is my top pick!
---
22.  Scavenger Hunt for Kids
Older kids can hike themselves, but they may get bored easily.  This is where the next gift idea comes in.  It is actually a gift for the kids of your hiker, but it will make their hikes much more enjoyable too!  Keep the kids busy with a scavenger hunt, so they are fully engaged during the hike (there is also a card deck to be used indoors on a rainy day).
Suitable for ages 6 and up, this kid's scavenger hunt card game will have kids looking for items on the cards they get throughout the hikes.
---
Stocking Stuffers for Hikers
If you are struggling to find the perfect Christmas gift for hikers, look no further.  We have chosen some small gifts for hikers that will fit into their stockings and not break the bank.
23.  Hiking Socks
Socks may be an old boring standby in general, but they are actually some of the best – and most practical – Christmas presents for hikers.  Having the right socks can make the difference between an awesome fun hike and an uncomfortable one, so your hiker will love getting socks especially designed for hiking. 
These Danish Endurance merino wool hiking socks are naturally moisture wicking and insulating, and will keep their feet warm in winter and cool in summer. Plus, the cushioning effect helps provide additional comfort.  They come in a handy three-pack and will still fit into their stocking!
---
24.  Beanie
If you are looking for Christmas gift ideas for hikers who like to hit the trails in colder weather, then stuff their stocking with a beanie. 
This unisex Botack knitted Slouchy Beanie is super comfy, stylish and will keep them warm when hiking (or skiing). It has a double layer of acrylic fabric, so it is super warm and soft.  It comes in three different color combinations.
---
25.  Water Filter System / Life Straw
Since it is not safe to drink water without filtering it first (you never know if there is a dead animal lying in the water upstream), and it is sometimes too much to carry all your water with you, a LifeStraw Personal Water Filter is one of the best Christmas gifts for hikers.  It's small (9 x 1 inches), light (2 oz.) and has no batteries or moving parts.  And, most importantly, it filters out 99.99% of waterborne bacteria and parasites. 
---
More gift ideas
I hope your hiker loves their gifts!
Do you have any other suggestions to add to this hiking gift guide? I'd love to hear them. Join my private Facebook group National Parks Collectors and comment and let me know.
If you liked this post, please share the love and Pin it!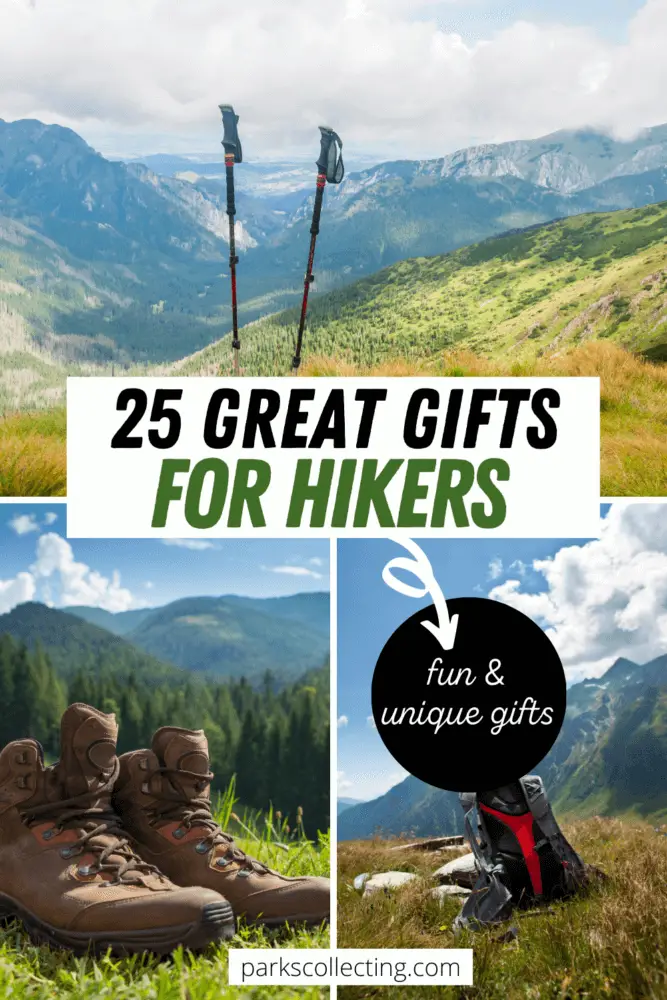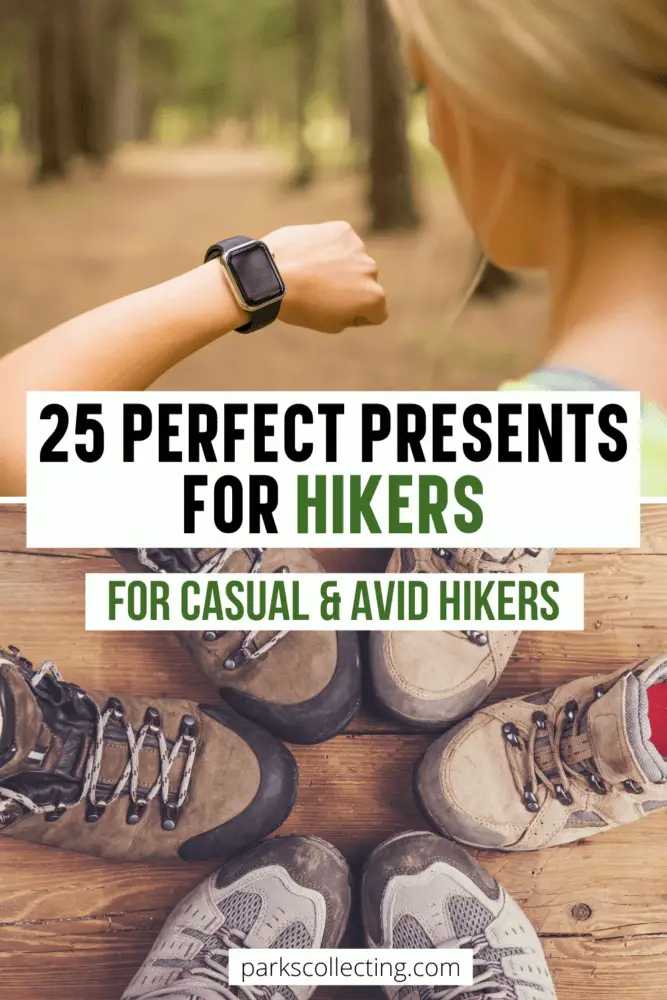 ---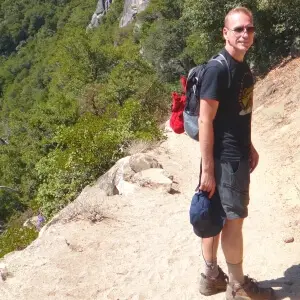 James Ian has dedicated his life to travel and has traveled to 82 countries and all 7 continents.  He's visited all of the main national parks in the United States, as well as many national monuments and state parks.
As a national park expert, James has contributed to many publications, including Time Business News, Savoteur, and Wired. He also has several published detailed itineraries in addition to many free online guides.
James has rafted through the Grand Canyon; rappelled down slot canyons near Zion and Arches; hiked among the hoodoos in Bryce and the enormous trees in Sequoia; admired the waterfalls in Yosemite and the colored hot springs in Yellowstone; seen moose in Grand Tetons and seals in the Channel Islands, and much more.
---
Parks Collecting is a participant in the Amazon.com Services LLC Associates Program, an affiliate advertising program designed to provide a means for sites to earn advertising fees by advertising and linking to amazon.com. Amazon and the Amazon logo are trademarks of Amazon.com, Inc. or its affiliates. As an Amazon Associate I earn from qualifying purchases.