If you need to source the best baby backpack carrier for your hiking trips, then this guide is for you. From a Kelty, Deuter or Osprey backpack baby carrier to some great value budget picks, we list all the best baby hiking carrier choices.  
Our top recommendations for everyone – from smaller women to the biggest dads – are listed, and we also include a hiking carrier that can be used from birth. If you like to take your kids out to discover the outdoor world, then stay right here to find the best baby carrier backpack for your needs.  
 No time to read about the best baby carrier for hiking now?  Pin It and save it for later: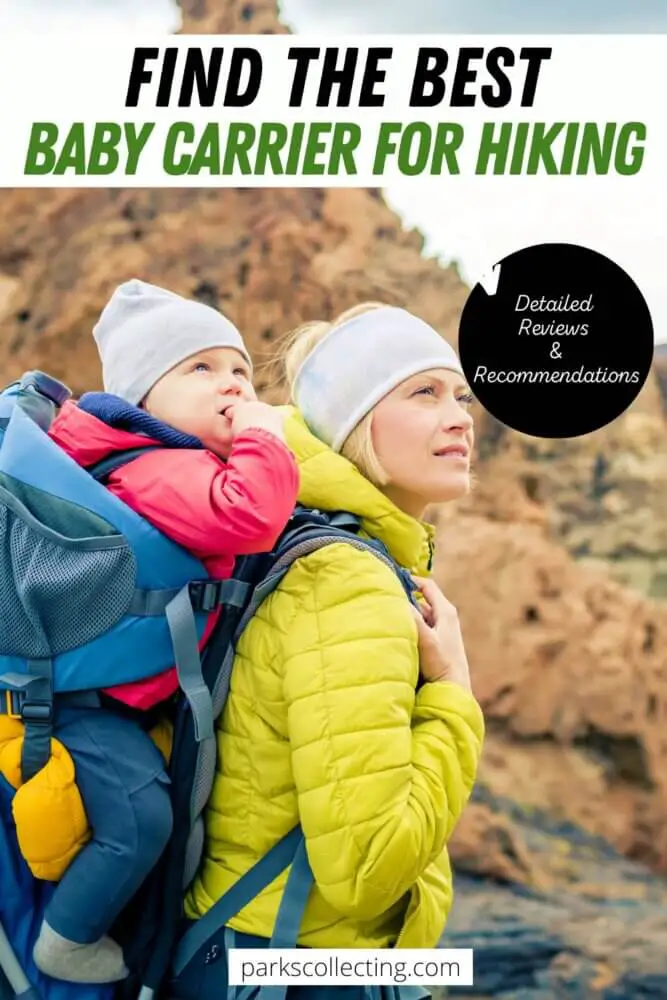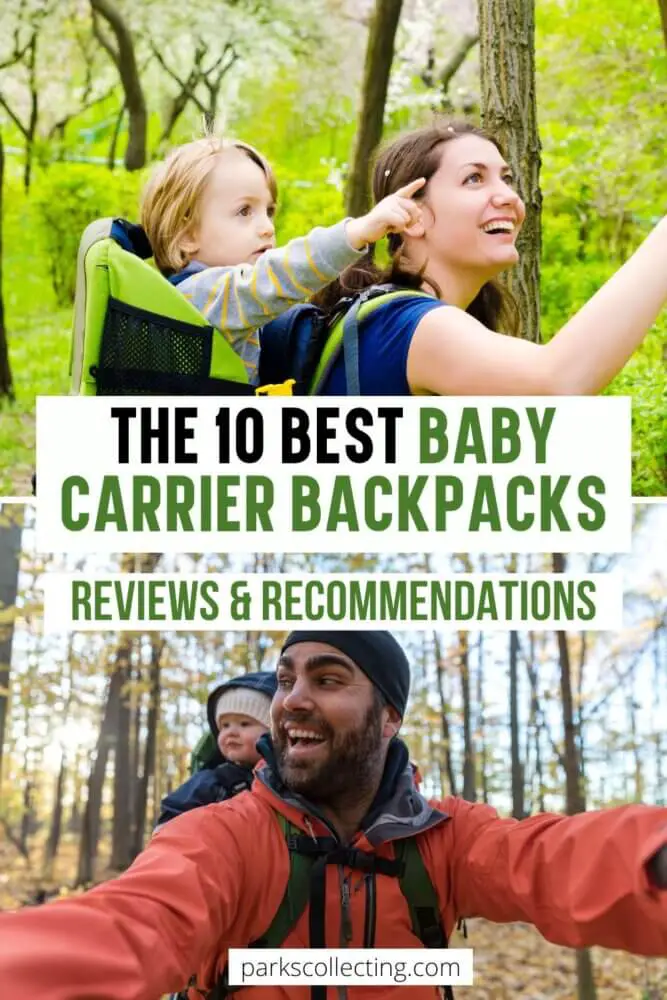 Please note this post may contain affiliate links, which means we may receive a commission, at zero cost to you, if you make a purchase through a link. Please see our full Disclosure for more information. If you have any questions, please contact me.
Our pick for overall best backpack carrier for baby  
If you're in a hurry, check out our number one pick among all the best baby carrier backpacks. The Deuter Kid Comfort Pro has so many features, including a very handy detachable daypack. 
Why buy the Deuter Kid Comfort Pro? 
We list this as our top pick for dads, but why should men have all the fun? This Deuter product is simply the best baby backpack carrier for hiking overall. As the name suggests, it has a range of ergonomic features, as well as an airflow back. A built-in sun roof, water repellent coating, soft pillow and mirror ensure this is pretty much the best hiking backpack baby carrier for anyone. 
>> BUY THE DEUTER KID COMFORT PRO
---
Best baby backpack for hiking Comparison Guide  
Compare all the top features on each baby back carrier for hiking right here. This helpful table lists all the best baby hiking backpack carrier options to help you decide. Our score and a price range guide are included, as well as whether or not it includes a backpack. 
If you are reading this on a mobile device, you might need to swipe to scroll across each listing. 
---
Baby back carrier for hiking categories 
All of the hiking backpack baby carrier options we list are ideal for any parent, but to help narrow down the most popular searches we have also listed the best hiking carrier for several separate categories, as follows. 
The best baby carrier for dads 
Find out why we list a Deuter baby carrier as the best option for dads in this category.  
Jump straight to the best baby carrier for dads
The best baby carrier for a petite mom 
Discover why a Kelty product is the best baby backpack carrier for hiking moms here. 
Jump straight to the best baby carrier for petite moms
The best baby carrier for newborns 
It's not that easy to find a newborn baby carrier for hiking, yet we've found a great option for you.  
Jump straight to the best baby carrier for newborns
---
Finding the best carrier for hiking – Frequently Asked Questions 
How much will a decent backpack baby carrier for hiking cost? 
We know that new parents often have to stick to a budget, which is exactly why we've listed a number of great budget options in this guide. You can spend as much as or as little as you like, really. How often will you use the carrier? How long for? Where do you plan to go? Who is bearing the load? Do you need to carry other kit with you? These are the sort of questions to think about when making up your mind. 
How do I carry all our other gear? 
Some of the best hiking carriers listed here have detachable backpacks included, which are ideal for those with a lot to carry. Even those that don't have good storage pockets included, in place like under the seat, to the sides and even on the hip belt. This means you may not even need to take an extra bag with you. 
What other extras should I look for? 
The extras you might really find useful might well depend on where you're going. A rain cover or sun shade can be very helpful in wet or hot climates, for instance. Be sure to look for a good ergonomic design if you and your child want to stay comfortable all day. Some of the baby hiking carriers listed here include features like a drool pad, rear view mirror or soft pillow. 
Are different carriers better suited to some parents than others? 
There will always be a baby carrier hiking pack that suits each parent best – and outdoor companies know this. For this reason, most of the carriers listed here can be adjusted to fit each user perfectly. Some can even be altered while you're on the move. 
---
Our top 10 picks for the best hiking baby carrier 
Luvdbaby Premium 
This Luvdbaby backpack carrier is a very affordable baby carrier hiking backpack. The company behind is owned by three Irish brothers who love the outdoor lifestyle, and are dedicated to making it simpler for parents to get their kids outside.
Thoughtful features are therefore included on this product, making it one of the best backpack baby carrier options out there. A foldable changing pad, multiple storage pockets and removable sun shade are genuinely helpful features for parents on the go. With strong ripstop fabric and a robust aluminum frame, this hiking backpack for baby is built to last.
An ergonomic design protects each parent's back and the weight is evenly spread thanks to a load bearing belt. 
BUY THE LUVDBABY PREMIUM ON AMAZON
---
Deuter Kid Comfort 
Deuter is one of the most respected outdoor brands worldwide, and the Deuter Kid Comfort has been designed to meet the needs of adults and small children.
Deuter's high quality baby hiking backpacks are specifically designed for use on the trails rather than in the city. An 'Aircomfort' mesh layer ensures airflow to keep everyone cool, and it works by creating a ventilation gap between parent and child. A secure fit is assured by a sternum belt and adjustable shoulder straps, and these as well as the frame also ensure even weight distribution. T here are also flexible hip fins and a padded hip belt.
For nap time, a soft pillow is built into this baby carrier backpack for hiking, and the storage pouch provides space for toys, drinks, clothing or snacks. To cap it all, the Deuter 'Vari Slide' back system makes the length adjustable for each parent. 
---
Chicco Smart Support 
Safe for babies from 17 lbs upwards, the Chicco Smart Support comes from a company well known for their top quality baby buggies. Their expertise has been put to good use here, making the Smart Support one of the best baby hiking backpack options around.
This is also a great budget option. The carrier comprises a strong yet lightweight aluminum frame, a built-in kickstand and lots of padding to the seat, lumbar region, waist and shoulder straps.
A brushed fabric finish also ensures it feels soft against delicate baby skin. 
BUY THE CHICCO SMART SUPPORT ON AMAZON
---
Osprey Poco Child Carrier 
Like baby carriers for hiking from other outdoor brands, the Osprey Poco can be adjusted to ensure a perfect fit for either parent.
This particular model has a lightweight aluminum frame and adjustable torso. A breathable back panel also contributes to parent and child comfort.
Other useful features of this carrier include easy access hip belt storage pockets, an ergonomic seat with adjustable foot stirrups, a lower zippered compartment and external hydration sleeve, and a built-in sunshade for UPF 50+ UV protection.   
---
ClevrPlus Cross Country 
The ClevrPlus Cross Country is certainly one of the best baby carriers for hiking for anyone on a budget. Not least because it has been specifically designed for outdoor use.
As this product weighs less than some of the other carriers listed, it is great for those who wish to lighten the load as much as possible. This framed hiking backpack carrier is recommended for use with kids who are 9 months old or more, and it can be used up to age 4.
It has plenty of padding to the hip belt, shoulder straps and lumbar area, and also comes with rain cover, sun shade and even a washable, detachable drool pad.  
BUY THE CLEVRPLUS CROSS COUNTRY ON AMAZON 
---
Osprey Poco Plus 
The Osprey Poco Plus child carrier is another premium example among this type of outdoor product.
A particular feature of this hiking pack for baby is the amount of on-board storage – this makes it a great investment if you have a lot to carry when hiking.  There is a sizeable, zipped lower compartment plus hip belt and mesh side pockets.
A deluxe child compartment includes a sunshade and fully adjustable fastenings. The torso length is also fully adjustable to ensure the ideal fit. 
BUY THE OSPREY POCO PLUS ON AMAZON 
---
Luvdbaby Premium with detachable backpack 
Like the sound of the Luvdbaby hiking backpack detailed above, but looking for a little more storage? If that describes you, then this is one of the best hiking baby carriers for anyone seeking great value for money.
This Luvdbaby model comes with that useful detachable backpack, and there are lots of storage pockets too.
This one has been designed to protect the back by spreading the load evenly, and it also comes with a changing mat and sun shade. With a sturdy aluminum frame, the Luvdbaby Premium is made from strong ripstop polyester.  
---
The Best Baby Carrier For Dad  
Deuter Kid Comfort Pro 
As you might expect, this is similar to the standard Deuter model – the Kid Comfort, but also offers a removable daypack.
It is the best baby carrier for big dads because it has all the features that father figure needs in one handy package. Tall people with long torsos can be more prone to back pain, but the Deuter Kid Comfort Pro has that covered with a range of ergonomic features including flexible hip fins, sternum and hip belts, and load adjustment straps.
A strong steel frame is also designed to ensure even load distribution. The airflow back also maximizes ventilation while reducing perspiration – ideal for those carrying a heavy load.
Other useful features include Deuter's Durable Water Repellent coating, a rearview mirror, sun roof and a soft pillow. 
BUY THE DEUTER KID COMFORT PRO ON AMAZON 
---
The Best Baby Carrier For a Petite Mom 
Kelty Journey PerfectFit 
This Kelty kids backpack carrier can be used once your baby reaches 16 lbs in weight, and can cope with up to 40 lbs, too.
Slightly more affordable than Osprey and Deuter models, the compact size also makes this ideal for a smaller parent.
Another feature making this one a top pick for mom is the PerfectFit suspension which helps to take the strain out of carrying your child. There are a couple of easily accessed mesh side storage pockets, and the built-in grab handles are really handy. A sunshade is not included, but you can purchase one separately if you like. 
BUY THE KELTY JOURNEY PERFECTFIT ON AMAZON 
---
The Best Baby Carrier For a Newborn 
Ergobaby Ergonomic Carrier 
It can be tricky to find a carrier that is suitable from birth, but we have you covered with the best baby carrier for a newborn from Ergobaby.
This one can be used between 7 lb and 45 lbs, so it will last from the baby stage right up to age 4. A choice of carrying positions is offered, including back or hip carry.
Your child can also be carried on the front in inward or outward facing positions. The shoulder straps can also be crossed over if required, or used as standard. Lumbar padding, a removable storage pouch, airflow mesh and a baby sun hood are very practical features on this soft carrier.
It is also machine washable – another feature placing this among the best baby carriers hiking backpacks for newborn babies. 
BUY THE ERGOBABY ERGONOMIC CARRIER 
---
Which is the best hiking backpack baby carrier for you? 
We hope this guide helps when choosing between baby carrier hiking packs for your outdoor adventure. Whichever you pick, investing in the best baby carrier for hiking can open up a whole new world of family fun.  If you have a toddler, there are also great carriers for toddlers that you can use hiking.
Happy hiking!  
Do you have any other top picks for the best baby backpacks for hiking?  Join my private Facebook group National Parks Collectors and comment and let me know.
If you liked this post, pin it to your hiking board!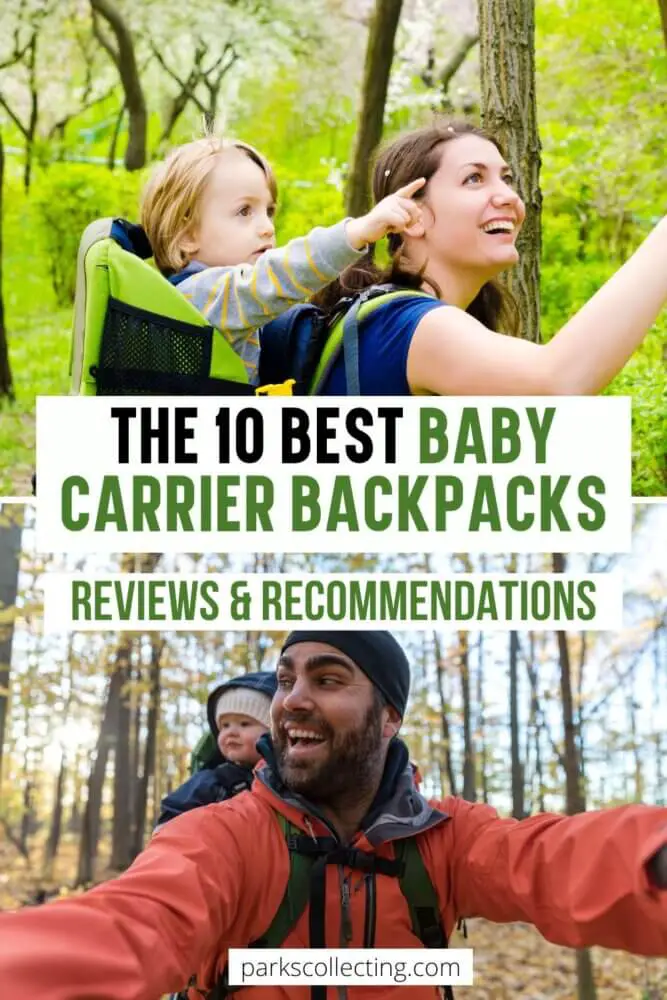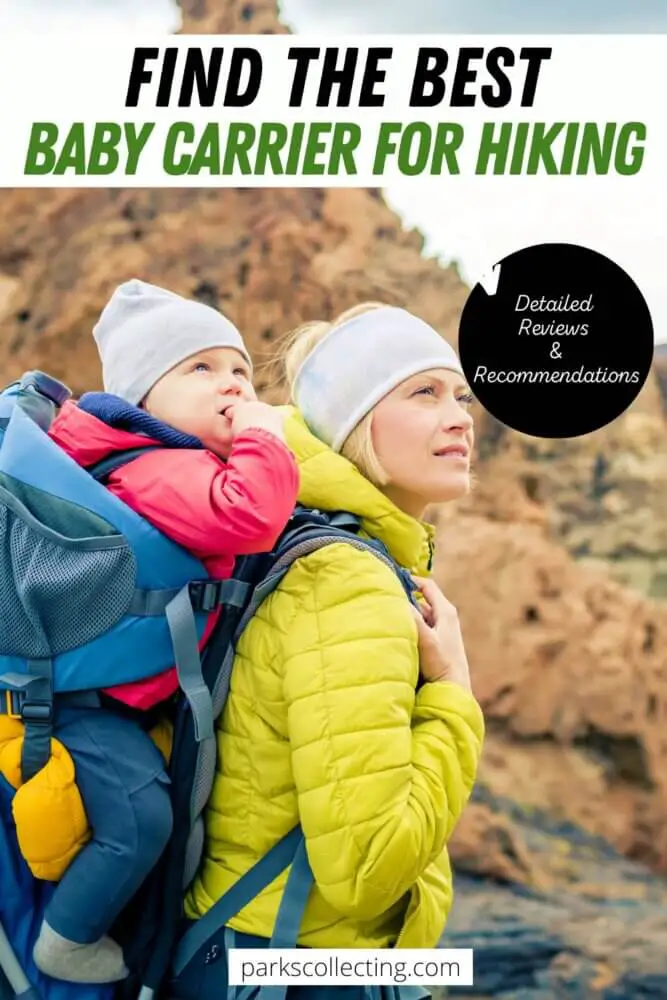 ---
Read more travel product reviews
Hiking
---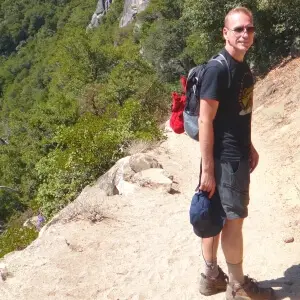 James Ian has dedicated his life to travel and has traveled to 82 countries and all 7 continents.  He's visited all of the main national parks in the United States, as well as many national monuments and state parks.
As a national park expert, James has contributed to many publications, including Time Business News, Savoteur, and Wired. He also has several published detailed itineraries in addition to many free online guides.
James has rafted through the Grand Canyon; rappelled down slot canyons near Zion and Arches; hiked among the hoodoos in Bryce and the enormous trees in Sequoia; admired the waterfalls in Yosemite and the colored hot springs in Yellowstone; seen moose in Grand Tetons and seals in the Channel Islands, and much more.
---
Parks Collecting is a participant in the Amazon.com Services LLC Associates Program, an affiliate advertising program designed to provide a means for sites to earn advertising fees by advertising and linking to amazon.com. Amazon and the Amazon logo are trademarks of Amazon.com, Inc. or its affiliates. As an Amazon Associate I earn from qualifying purchases.