If someone you know is into visiting our National Parks, then check out this guide to the best gifts for National Parks lovers. From a National Park pass gift to all sorts of National Park themed gifts, this guide is packed with ideas.
Whether you choose a wearable present, a homeware gift, something practical for the RV or a map or guidebook to help them find their way, there's all this and much more in the following National Parks gift guide.
No time right now to get the best gifts for national park lovers?  Pin It and save it for later: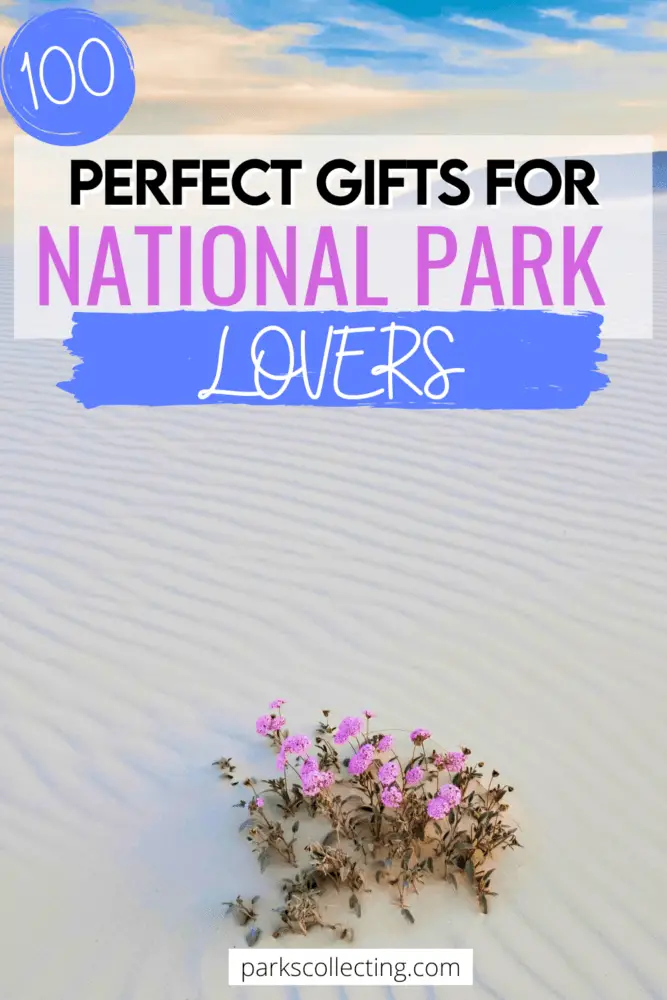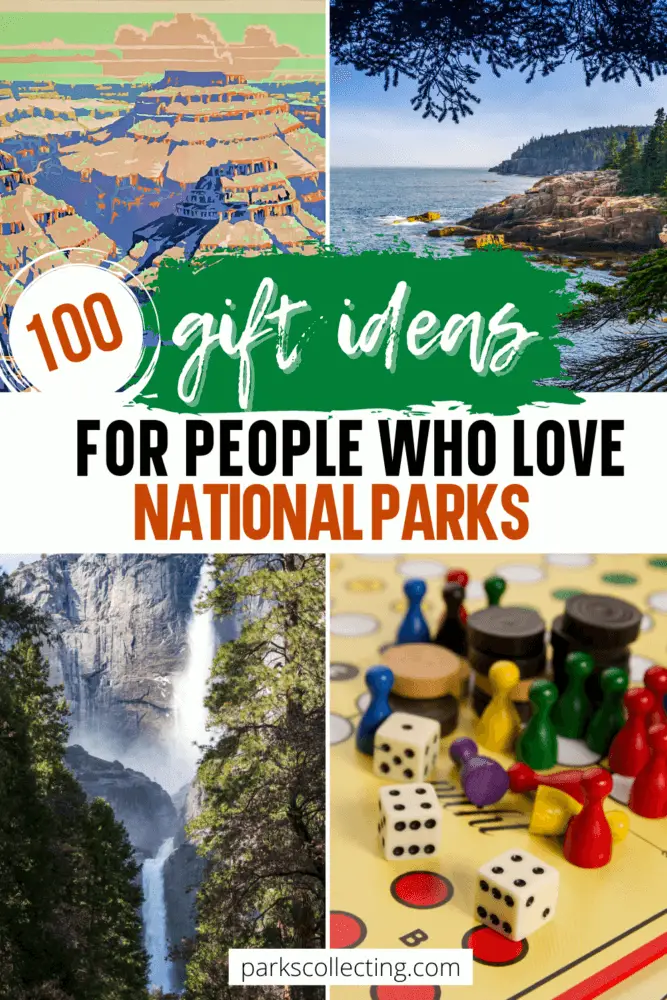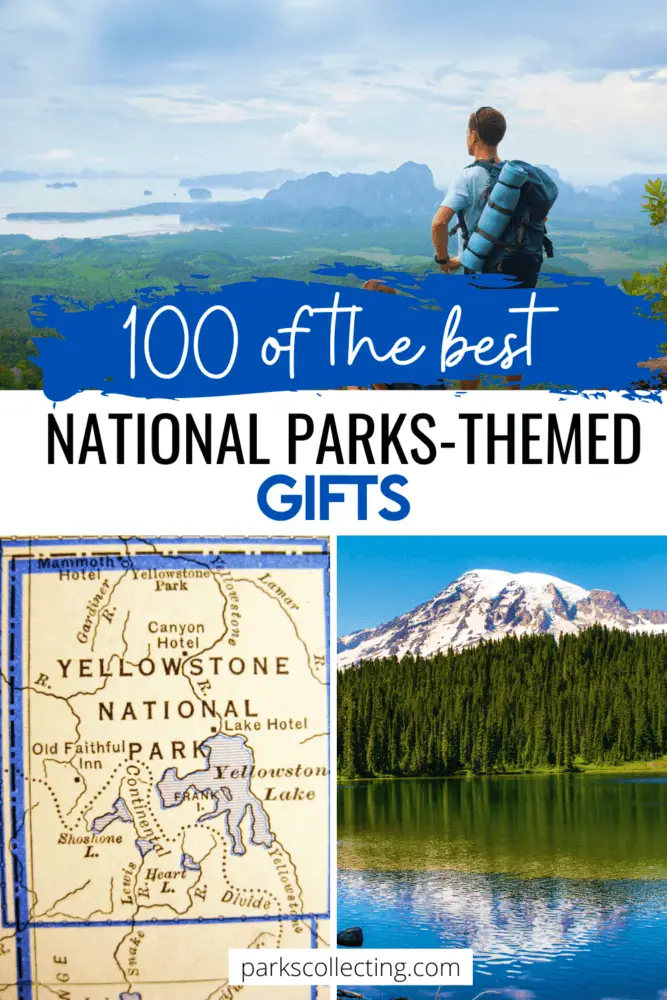 ---
Please note this post may contain affiliate links, which means we may receive a commission, at zero cost to you, if you make a purchase through a link. Please see our full Disclosure for more information. If you have any questions, please contact me.
1-3. National Parks T-Shirts
T-shirts make great gifts for National Parks lovers. What better way to show the world you love the great outdoors than by wearing an appropriate t-shirt? It may even help to inspire others to take a trip of their own, out there into the American wilderness.
4-6. National Parks Hats
Whether it's a cap proclaiming their love for Yosemite or the National Parks Service, or a woolly NPS beanie, National Parks hats make great gift ideas for national park lovers. Keeping them looking cool and feeling warm, all at the same time.
7-9. National Parks Socks
Continuing with the clothing theme, a pair of themed socks is surely among the best US national parks gifts. Socks are an affordable gift for both men and women, and they're also practical. This is therefore one present that is guaranteed not to sit at the back of a closet – or be re-gifted.
10-15. National Parks Jewelry
Necklaces, Rings, Bracelets, Charms and Cufflinks
Jewelry is perhaps not so obvious, but is ideal among national park lover gift ideas.  It's the perfect way to feed their passion for national parks throughout the year.  Choose between stylish items like a picture pendant or ring, map necklaces, bracelets or cufflinks, or charms to add to their existing collection.
16-18. National Parks Books
Books are one of the top national park themed gifts for those who wish to explore every frontier. If you know someone who is always planning their next trip, then an atlas, guide or ideas book should help. It may even introduce them to a national park that wasn't previously on their radar.
19-21. National Parks Books for Kids
National park books aren't just for grown-ups. Get them started before they are old enough for a National Park pass gift by getting them a book so they can read all about America's vast outdoor landscapes – as well as the flora and fauna they may find there. If they're a little young for that, then the activity book with poster and stickers should go down well.
22-24. National Parks Journals
Even when having the best time visiting a national park, those memories can soon fade. Give them a helping hand towards creating a lifelong reminder by buying a national park journal as a gift. Journals allow them to record their visits in as much detail as they'd like, and they may also be able to collect stamps and other mementoes to complement their stories.
25-30. National Parks Games
Ward off boredom, when it's not national park weather, by giving a themed board game to play. These are great for families who love the outdoors, and there is lots of choice. Whether you opt for classic Monopoly or Yahtzee, or prefer to get their grey matter ticking with a trivia quiz, hours of fun are guaranteed.
31-33. National Parks Jigsaw Puzzles
Another great rainy day activity comes in the form of a jigsaw puzzle. These are also great for winter vacation. With 500 or 1,000 pieces each, the following options include a map of the USA, complete with parks, and a design featuring old-fashioned National Park stickers.
34-36. National Parks Postcards
National park postcard gifts have multiple uses. The recipient can choose their favorites to frame and display, for example, or they can use them to write or send messages to others. Of course, they may simply prefer to keep the set as it is – an attractive collection of national parks memorabilia.
37-39. National Parks Wall Maps
Pin It Maps, Scratch It Maps and Framed Maps
All sorts of national park wall maps are available to buy. There are scratch off wall maps, pushpin maps and even smart, framed maps to create a permanent display. The map can then be used by the owner to show exactly where they've been – or to plan their next park visit.
40-42. National Parks Stickers
Buy them a pack of stickers – and again, it's theirs to do with as they please. National park stickers are great for scrapbooking, or adding to that journal you got them as a previous or additional gift. Children would also enjoy using them to create their own unique pieces of artwork.
43-45. National Parks Playing Cards
A pack of playing cards is a great item to take anywhere. There are so many games to play, whether it's a contest between two or ten people. National park playing cards are a great gift idea for fans, as they're easy to pop into a pocket when they head out on their next adventure.
46-48. National Parks Candles
Whether it's to light up the dark when camping or to brighten up the home, a national park candle is a welcome gift that is also practical. Choose wisely and it may also perfume their house with fragrance for weeks – or even months – to come.
49-51. National Parks Mugs
Who wouldn't be pleased to receive a new mug? An affordable gift that is also useful, a mug can be decorative as well as being used for holding hot drinks. If it's deemed too good for daily use, then they could use it to hold small items like pens, or display it on a shelf, instead.
52-54. National Parks Coasters
Coasters are a must when it comes to protecting wood furniture from unsightly drip marks or coffee rings. A pretty set of coasters also helps to make the house look welcoming – and interesting. Pick a pack of national park coasters if they're a fan, and it's a gift that will be enjoyed daily.
55-57. National Parks Calendars
Every home needs a calendar, so why not make it one that they'll love to display? Whether it's keeping track of the date and noting social or work engagements, a national parks calendar is a reminder of fun times past – as well as more to come in the future.
58-60. National Parks Fridge Magnets
Another one that can be displayed as well as having a purpose. It can be used to hold the kids' academic or sporting certificates in pride of place, or simply shown off as part of a collection. If they're always losing small items like tickets or business cards, then a fridge magnet or two is a must.
61-63. National Parks Tote Bags
Every home and car should have a tote bag or two hung by the door or stashed in the trunk, ready for those last-minute shopping trips or outings. Why not make it a national parks themed tote bag? It might just brighten up their day at the same time. Even when they're dashing to the car in the rain, with a bagful of groceries.
64-66. National Parks Prints and Posters
Whether it's a map of Grand Teton, a classic Yellowstone or a set of four prints, a poster can be used to add interest to any room. Display it in the basement to make the place more homely, or it could take pride of place above the work desk in their home office.
67-69. National Parks Glassware
Like a mug, a piece of well-chosen glassware has the potential to be used on a daily basis – or perhaps they'd prefer to save it for special occasions. Choose between bear or Acadia printed pint glasses for beer, or select a Rocky Mountains tumbler for topping up on water.
70-72. National Parks Cutting Boards
Why not take the national parks into the kitchen, too? A wooden or tempered glass cutting board is always an incredibly useful item, and could be used to hold snacks as well as for slicing up bread or vegetables. You can choose their favorite National Park, whether that's Sequoia or Acadia – or opt for a wooden map of Wyoming.
73-75. National Parks Keychains
Pick between a range of national park keychains – including an unusual, retro motel-style one – and again you have a practical gift that they can use daily. A keychain of a decent size not only makes a set of keys look cool, it also makes them easier to find. Whether they've fallen to the bottom of a bag or are lying around the house somewhere.
76-78. National Parks Blankets and Throws
Can a home ever have too many throws or blankets? As they can be used to decorate a dull sofa, armchair or bed or for snuggling up in, the answer, surely, must be no. Then there's the trunk of the car or their RV. Choose a Zion map, a White Sands theme and a variety of national parks to brighten up their day.
79-81. National Parks Towels
An attractive towel is something that people rarely treat themselves to – making it a very welcome and practical gift. Pick a hand towel for everyday use, or pick between national park beach towel designs for an item that can be used for sports, yoga, picnics or swimming.
82-84. National Parks Kitchen Towels
Ensure they always have a clean dish towel to hand with a national park dish towel. It's ideal for use in the home, the RV or when camping. Options include a classic oil painting collage featuring several national parks, a distressed cotton tea towel of Grand Teton, and a classic poster of Yosemite.  Other national parks are also available.
85-87. National Parks Pillows and Cushions
Whether it's an arty, image of Yellowstone on a cozy cushion, a four posters print pillow or a cushion bearing a photo, a throw pillow is always useful around the house, campsite, car or RV. It makes the place look homey, too.
88-90. National Parks Tree Ornaments
A special tree ornament makes a great gift, really standing out from the standard boxed tree ornaments that most households own. Pick between a national parks badge design, an attractive Arches circular image or a glass blown Grand Canyon holiday ornament.
91-93. National Parks Shower Curtains
Assuming their home does not have a screen in every bathroom, a shower curtain allows them to be reminded of National Park life when washing every day. A pleasant, outdoor image can really breathe new life into any bathroom, whether it's a desert panorama or a lush green landscape.
94-96. National Parks Navigation Maps
Trail Maps and Atlases
A navigation map is essential when negotiating the landscape of any sizeable National Park. If you know they're planning – or dreaming of – a particular trip, then the appropriate map makes a perfect gift. There are National Geographic maps for every US park, so you can click on the Moab link to view any of those. You can also buy map sets, or the gift of a road atlas and park guide in one.
97-99. National Parks Water Bottles
Bottles, Stickers and Water Bottle Cups
The number one tip all park visitors should remember is to stay hydrated. Especially when visiting those national parks in warmer states. Ensure they stay topped up with a Zion water bottle or a Hydro Flask to take into national parks. If they already have one, opt for a set of water bottle stickers instead so they can decorate theirs.
100. National Parks Annual Pass
America the Beautiful Pass 2023-2024
Looking for a National Park Pass gift? Search no further than this 'America the Beautiful' pass.
It's good for a whole year, and gives the bearer entry to over 2,000 sites, including all National Parks. They can also visit sites run by the Fish and Wildlife or Forest Services or the Bureaus of Land Management and Reclamation or Army Corps of Engineers. For sites that charge per vehicle, a car, driver and passenger are covered. Up to 4 adults can enter sites on foot, with 15-year-olds and under getting in for free.
When you buy someone this pass, 10% of sale proceeds are donated to the National Parks Foundation, too.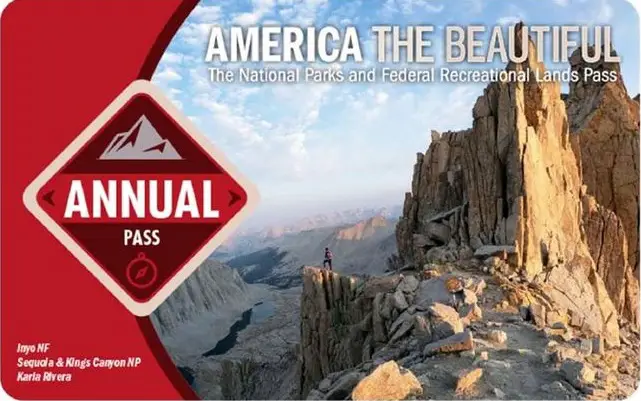 ---
More Gift Ideas
I hope your national parks lover enjoys their gifts!
Do you have any other recommended gifts for national park lovers? I'd love to hear what they are. Join my private Facebook group National Parks Collectors and comment and let me know.
If you liked this post, please share the love and Pin it!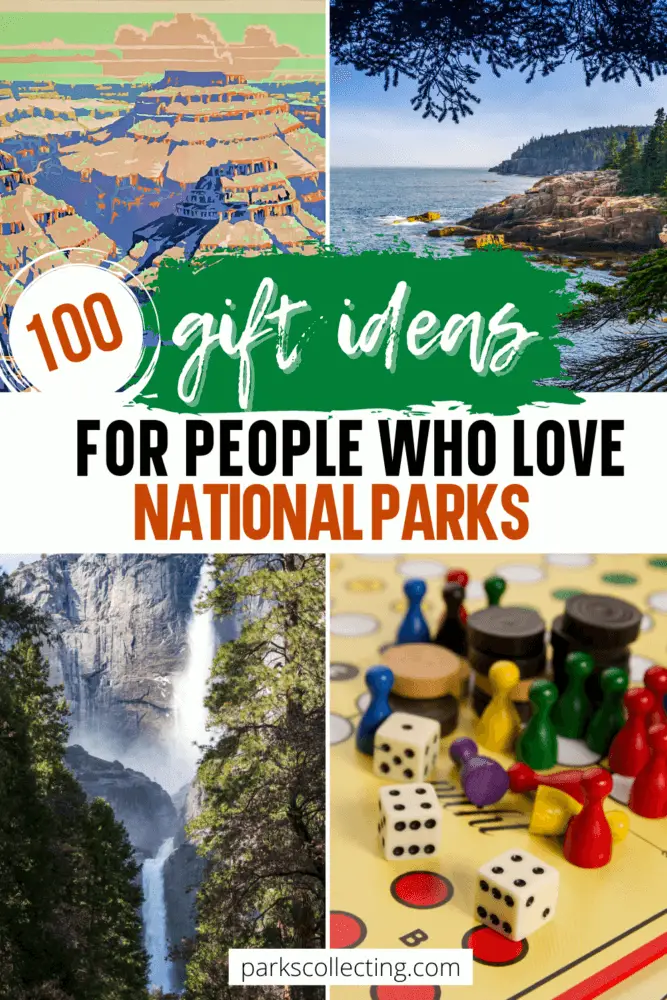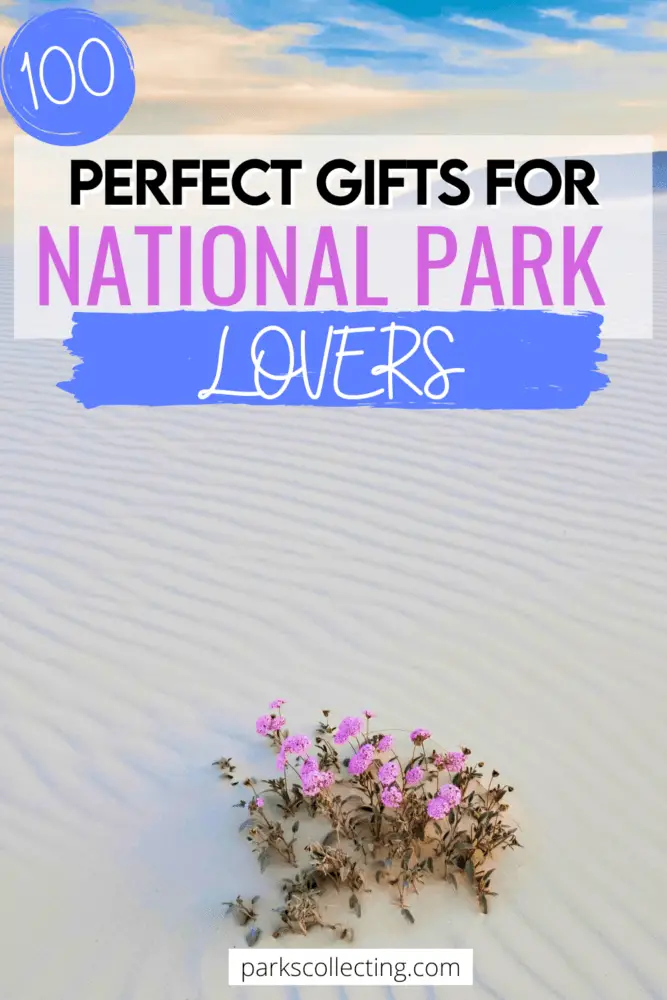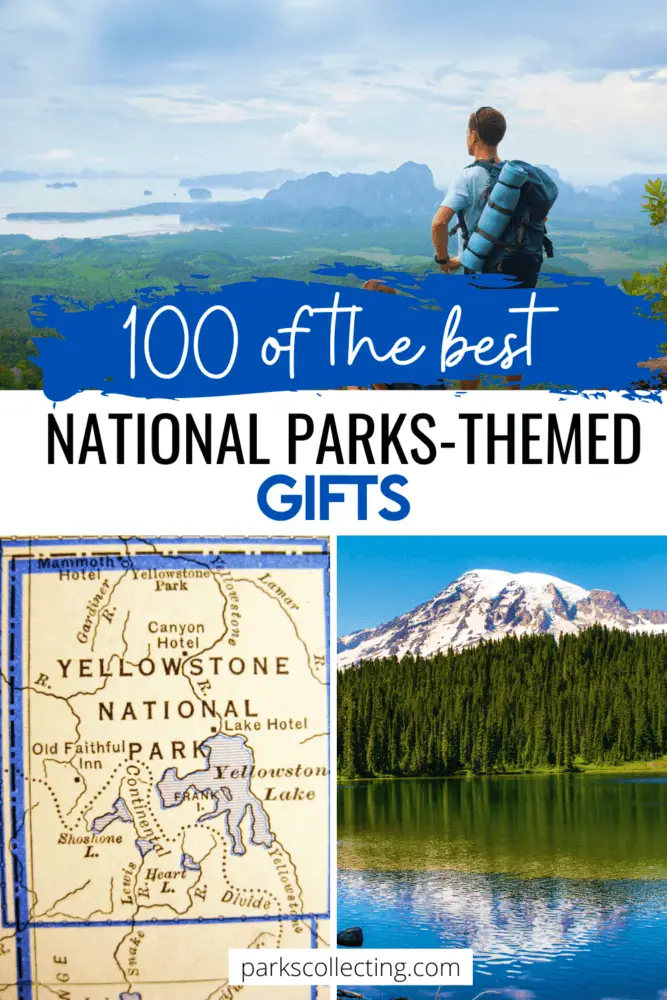 ---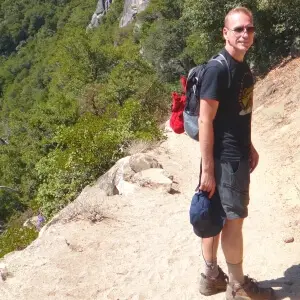 James Ian is a national park, camping and hiking expert.
He has dedicated his life to travel, visiting more than 80 countries, all 7 continents and all of the main national parks in the United States. With over 35 years experience in the travel industry, James has worked on cruise ships, at resorts and hotels, and as a travel planner who's helped hundreds of people plan successful trips to US national parks. 
Based on his experience visiting our national parks multiple times, in-depth research and expertise as a travel planner, James has published detailed itineraries for most of the major national parks in the US. These itineraries, as well as in-depth park guides, comprehensive camping and hiking gear reviews and buying guides, and helpful packing lists and gift guides will help you have your own incredible trip to US national parks without stress and hassle.
As a national park expert, James has contributed to many publications, including Time Business News, Savoteur, Best Trip, and Wired.
---
Parks Collecting is a participant in the Amazon.com Services LLC Associates Program, an affiliate advertising program designed to provide a means for sites to earn advertising fees by advertising and linking to amazon.com. Amazon and the Amazon logo are trademarks of Amazon.com, Inc. or its affiliates. As an Amazon Associate I earn from qualifying purchases.