If you are wondering if there is a hotel at bottom of Grand Canyon or even just what's at the bottom of the Grand Canyon, then the answer is yes, "Phantom Ranch" – the lodge at the bottom of Grand Canyon. 
If you're expecting an upscale Grand Canyon Ranch resort, then you will be disappointed, as Phantom Ranch is actually a collection of rustic cabins and dorms, with camping also available nearby.  However, if staying at the bottom of the Grand Canyon is on your bucket list and you are willing to rough it a little, then you will love it!
---
No time to read this guide to making reservations for Phantom Ranch now? Pin It for later: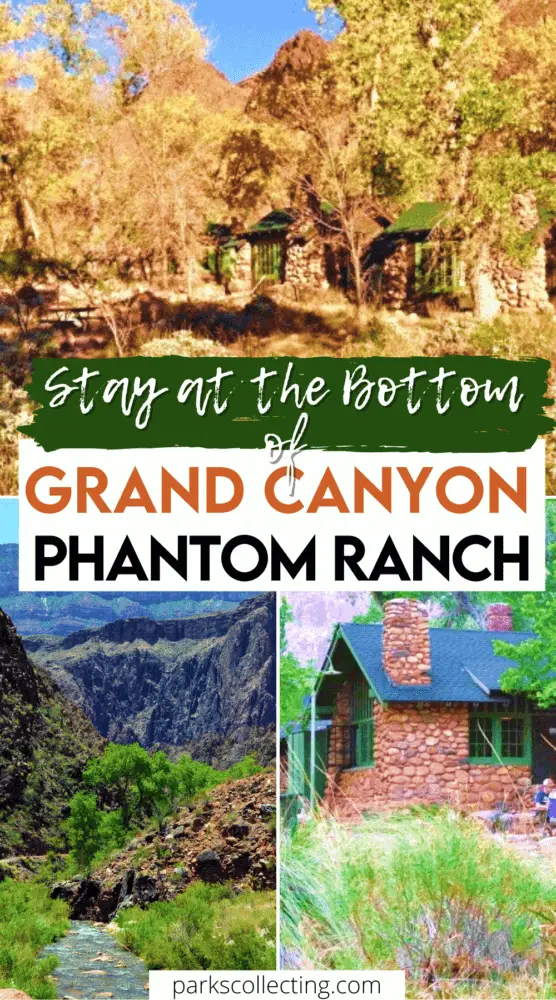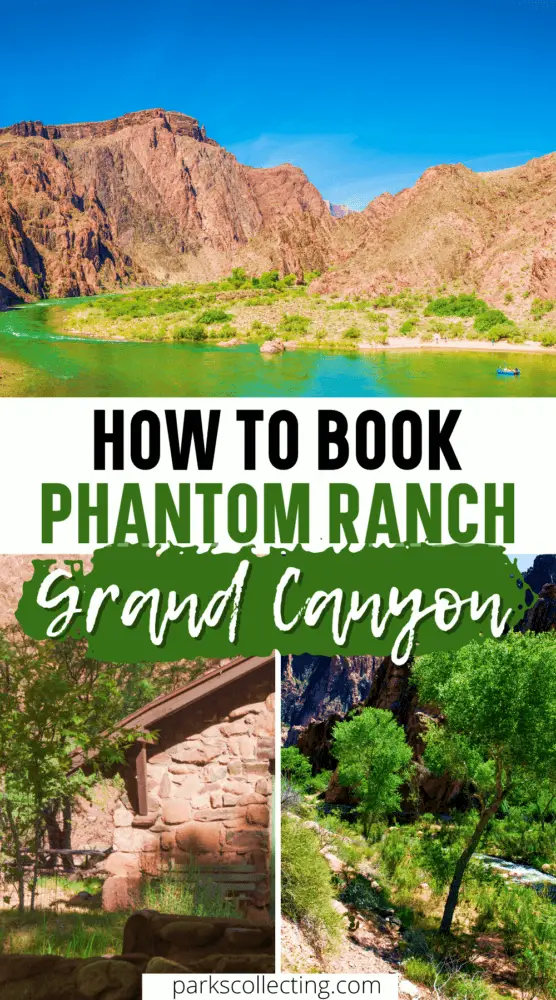 If you are planning to visit Grand Canyon National Park, make your planning easy and stress free with a detailed itinerary. I have 1-, 2-, and 3-day itineraries for the South Rim of Grand Canyon that include all the park highlights, give you choices based on your preferred activity level, and take all the stress out of planning your trip. 
The downside is that there are not actually many Grand Canyon cabins at the bottom, so there is very limited availability at Grand Canyon Phantom Ranch.  At the same time, lots of people want to stay at the bottom of the Grand Canyon.  The result is that making reservations for it is not easy.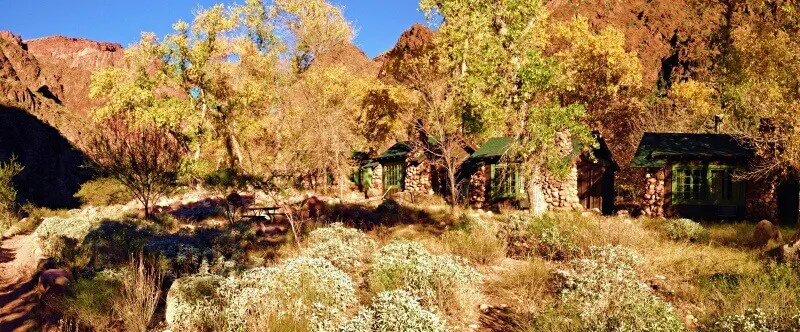 How to Make Reservations at Phantom Ranch, Grand Canyon
Grand Canyon Phantom Ranch reservations are very hard to get if you are not part of a river boat group, so if you are hiking down and then back out again, you will need to plan far in advance. 
In fact, the "ranch at bottom of Grand Canyon" is so popular that Phantom Ranch Grand Canyon reservations can now only be made through a lottery system.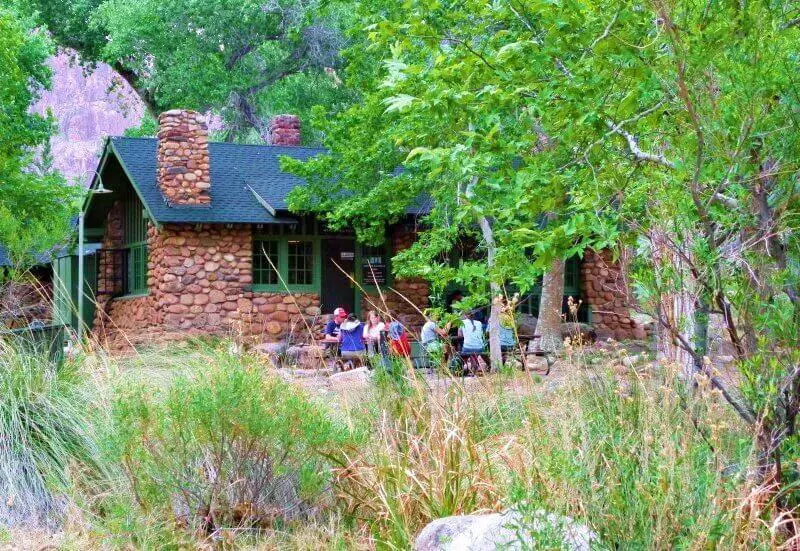 Phantom Ranch Lottery
In the 15th month before you want to stay (yes, 15 months!), you enter a lottery online for a Phantom Ranch booking.  This applies to any date in the month you intend to stay.  You can enter the lottery any day from the 1st to the 25th of the month.  There is no advantage to entering on the 1st rather than later in the month; all entries go into the same lottery.  Then you will be notified of the results in the following month (the 14th month before your intended stay). 
There are two rounds of notifications for Phantom Ranch Grand Canyon reservations.  The first round is notified on the 4th of the month and they have until the 13th to confirm.  Any unconfirmed bookings then go into another drawing that happens on the 17th.  They have until the 26th to confirm. 
Any spaces unconfirmed after that will go on general sale on the first of the following month (13 months before the month of the intended stay).
This sounds complicated, so this table hopefully makes it easier to understand.
Overview of Grand Canyon Reservations, Phantom Ranch
Month of Stay
Lottery Submission
Lottery Processing and
Notification
Unsold Inventory Released for
General Sale
February 2023
December 1-25, 2021
January 2022
February 1, 2022
March 2023
January 1-25, 2022
February 2022
March 1, 2022
April 2023
February 1-25, 2022
March 2022
April 1, 2022
May 2023
March 1-25, 2022
April 2022
May 1, 2022
June 2023
April 1-25, 2022
May 2022
June 1, 2022
July 2023
May 1-25, 2022
June 2022
July 1, 2022
August 2023
June 1-25, 2022
July 2022
August 1, 2022
September 2023
July 1-25, 2022
August 2022
September 1, 2022
October 2023
August 1-25, 20202
September 2022
October 1, 2022
November 2023
September 1-25, 2022
October 2020
November 1, 2022
December 2023
October 1-25, 2022
November 2022
December 1, 2022
January 2024
November 1 – 25, 2022
December 2022
January 1, 2023
February 2024
December 1 – 25, 2022
January 2023
February 1, 2023
March 2024
January 1 -25, 2023
February 2023
March 1, 2023
April 2024
February 1 -25, 2023
March 2023
April 1, 2023
May 2024
March 1 -25, 2023
April 2023
May 1, 2023
June 2024
April 1 -25, 2023
May 2023
Jun1, 2023
Phantom Ranch, like all of the lodges, is run by Grand Canyon Lodges (the parent company is Xanterra).  Their website is here.   
For a full list of FAQs and additional Phantom Ranch reservation tips, click here.
To enter the Phantom Ranch lottery, check general availability or the Phantom Ranch cost, visit their website here.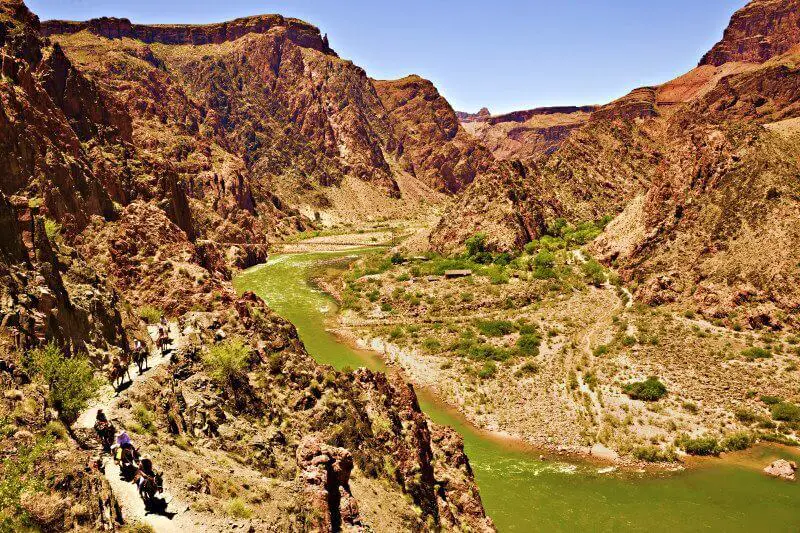 How to get to Phantom Ranch
There are three ways to get to Phantom Ranch.
1. Phantom Ranch Hike
The Grand Canyon trails to bottom are not for the unfit, and you can't safely hike to Phantom Ranch in one day and make it back to the rim in the same day.  This makes staying at the bottom essential if you want to make it from the rim to the river.  There is actually more than one trail to Phantom Ranch.
The Bright Angel Trail to Phantom Ranch is the most famous Grand Canyon South Rim hike to bottom. The trail is about 9.9 miles/ 16 km long.  Read my Complete Guide to Hiking Bright Angel to Phantom Ranch here.
The South Kaibab Trail to Phantom Ranch is the other south rim Grand Canyon hike to the bottom.  The South Kaibab to Phantom Ranch is less famous than the Bright Angel to Phantom Ranch, and starts at a different trailhead, but ends at the same point.  The South Kaibab starts at a higher elevation, but is shorter (6.7 miles/ 10.8 km) because it is steeper and more direct.  
There is a shuttle bus from the main South Rim area to the trailhead.  A popular combination is to hike down South Kaibab and then hike up Bright Angel. 
The only trail from the north rim to Phantom Ranch is the North Kaibab Trail.  To Phantom Ranch from the North Rim is about 14 miles/ 22.5 km.  It's possible to do a Rim to Rim hike, starting at either the South or the North Rim and hiking to the other.
If you do this, you can take a Trans-Canyon Shuttle daily May 15 – November 30 between the North and South Rims.  You can make a reservation (required) online or  928-638-2820.  The shuttle takes about 4.5 hours each way.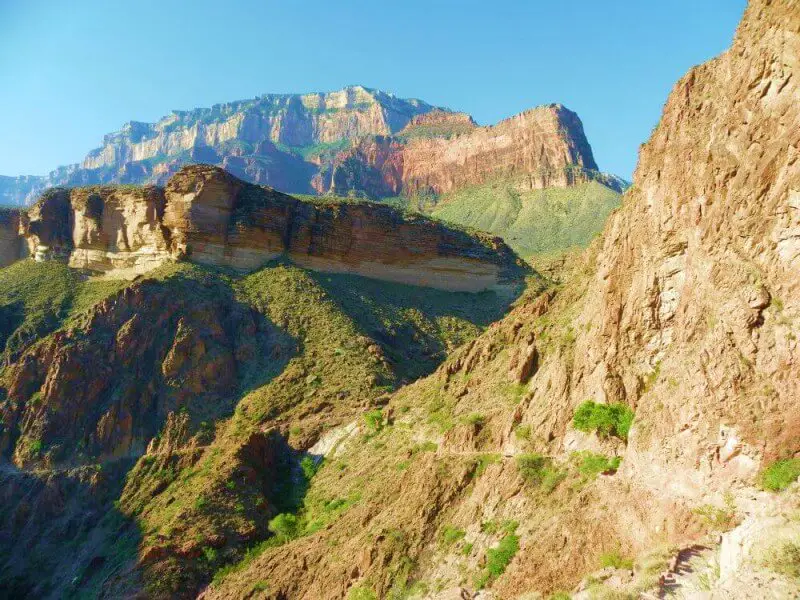 Hiking Tips
For some hiking resources, check out:
Duffel Service to Phantom Ranch
There is a duffel service available on the Bright Angel Trail.  You can pay for a mule to carry your luggage while you just hike with a small day pack.  The service costs $70 each way at the time of writing and can be arranged when you make your reservation.  There is a strict weight and size restriction.  I did this and it was worth every cent.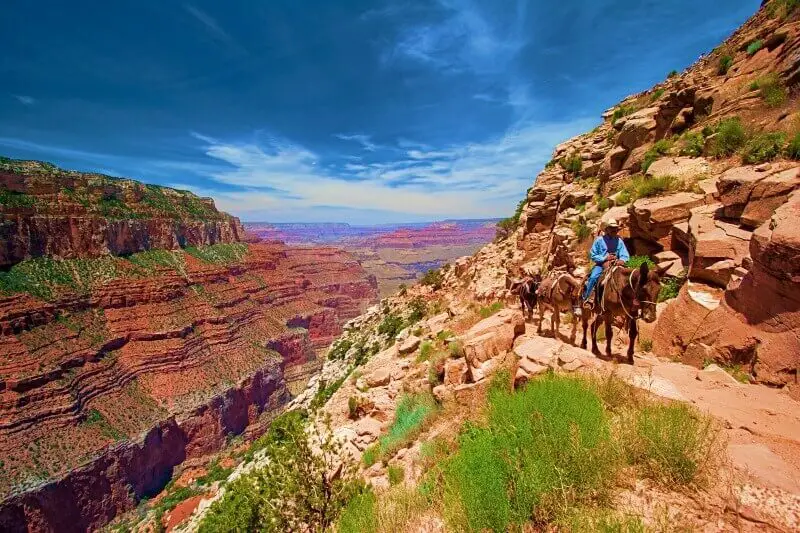 2. Phantom Ranch Mule Ride
Yes, mule rides to Phantom Ranch from the South Rim are an option.  It means you don't need to hike, but unless you are used to riding a horse (or mule), it is worth knowing that a mule trip to Phantom Ranch can actually be much more uncomfortable than hiking.  I took a three-hour mule-ride just at the top of the canyon, on flat ground, and long before the end of it, I was in so much pain I wouldn't have done anything to get off the damn mule.  Riding requires a whole set of muscles that I have NOT developed.   
An alternative to the mule trips to Phantom Ranch is to hike but use the mules to carry your luggage (see above).
3. Rafting to Phantom Ranch
The only way to avoid the lottery is to take a rafting trip from the start of the canyon to the half-way point (Phantom Ranch).  Trips often spend their last night with a stay at Phantom Ranch, organized by the rafting company.  Then you hike the Bright Angel Trail out of the canyon up to the South Rim.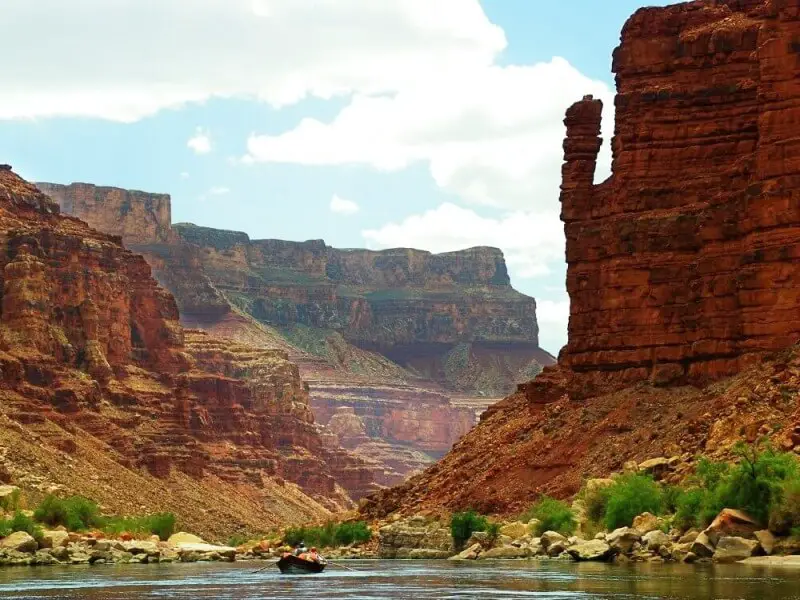 Read my post on Rafting through the Grand Canyon for full details.
What to Expect at Phantom Ranch
Phantom Ranch amenities
There are rustic cabins and dorms and a large central hall for dining, a shop, reception and a post office.  You can buy postcards and send them from there – they are carried out by mule and are stamped with this, which is pretty cool.   
There are free ranger talks held throughout the day and evening.  I attended an interesting talk in the afternoon on rattle snakes and an evening of stories about early Colorado River runners.
Cabins at Phantom Ranch
Staying at Phantom Ranch is all about being at the bottom of the Grand Canyon, rather than comfort.  Cabins and dorms are rustic, with bunk beds crowded into small rooms.  However, the cabins are clean and each cabin is set amongst trees, so it is a lovely setting.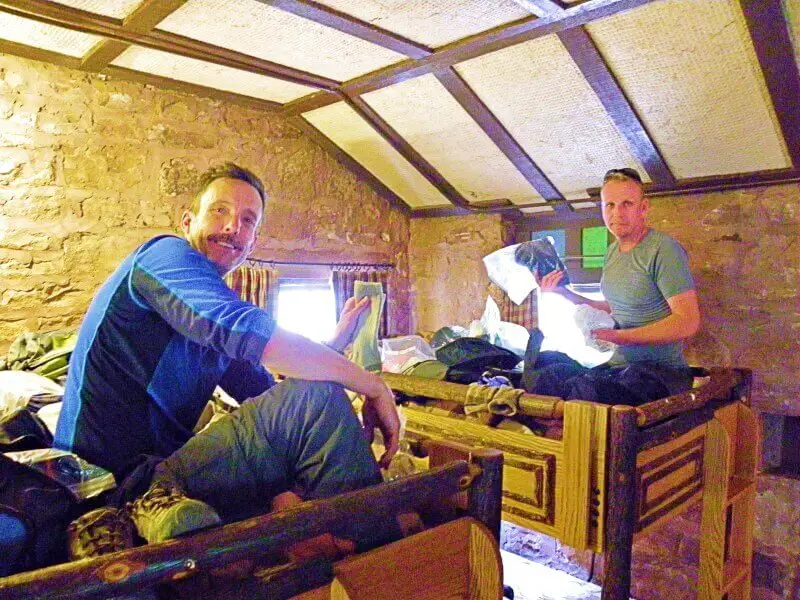 Phantom Ranch Canteen
The Phantom Ranch restaurant is a rustic room with shared tables and simple meals.  Phantom Ranch dinner reservations for main meals need to be pre-ordered when you book your accommodations.  Dinner is simple family-style fare – stew, cornbread and salad. It's possible to book a meal if you are camping, though people staying at Phantom Ranch take precedence.
Views
Take some time at the Colorado River to soak in the views. Both the Silver Bridge (Bright Angel Trail) and Black Bridge (South Kaibab Trail) are popular viewpoints inside Grand Canyon.
Camping at the Bottom of the Grand Canyon
Phantom Ranch camping is actually at the nearby (1/2 mile away) Bright Angel Campground.  This is sometimes called the Phantom Ranch camp, but is technically Bright Angel.  It is the only option for camping at the bottom of Grand Canyon. It is located 9.9 miles from the South Rim and 14 miles from the North Rim.
The other two campgrounds inside the canyon are Indian Garden Campground (on the Bright Angel Trail 4.8 miles below the South Rim) and Cottonwood Campground (on the North Kaibab Trail 6.8 miles below the North Rim).
Phantom Ranch Campground Reservations
Reservations for all three of the above campgrounds need to be made directly with the National Park Services.  They require a back-country permit and are made through the Backcountry Information Center.  Check out their website for full details, which involve sending a written request at certain times of the month.
There are also a small number of walk-up permits given out in person at the South Rim and/or North Rim Backcountry Information Centers for the next day.  It's possible to get a waitlist number the day before to help you get further ahead in the line. 
Camping is limited to two nights (consecutive or non-consecutive) per campsite or campground per hike (four nights maximum November 15 – February 28).
More Information
For more information about visiting Grand Canyon National Park, check out my Grand Canyon Guide.
If you are planning to visit Grand Canyon National Park, make your planning easy and stress free with a detailed itinerary. I have 1-, 2-, and 3-day itineraries for the South Rim of Grand Canyon that include all the park highlights, give you choices based on your preferred activity level, and take all the stress out of planning your trip. 
---
Staying at the bottom of Grand Canyon is an incredible experience.  Good luck with getting a reservation.  Phantom Ranch is worth the hassle!
For more things to do, check out my guide: 30 Things To Do at the Grand Canyon
Do you have any stories about or tips for staying at Phantom Ranch? I'd love to hear them. Join my private Facebook group National Parks Collectors and comment and let me know.
---
If you liked this post, please share the love and Pin It to your National Parks or Grand Canyon boards!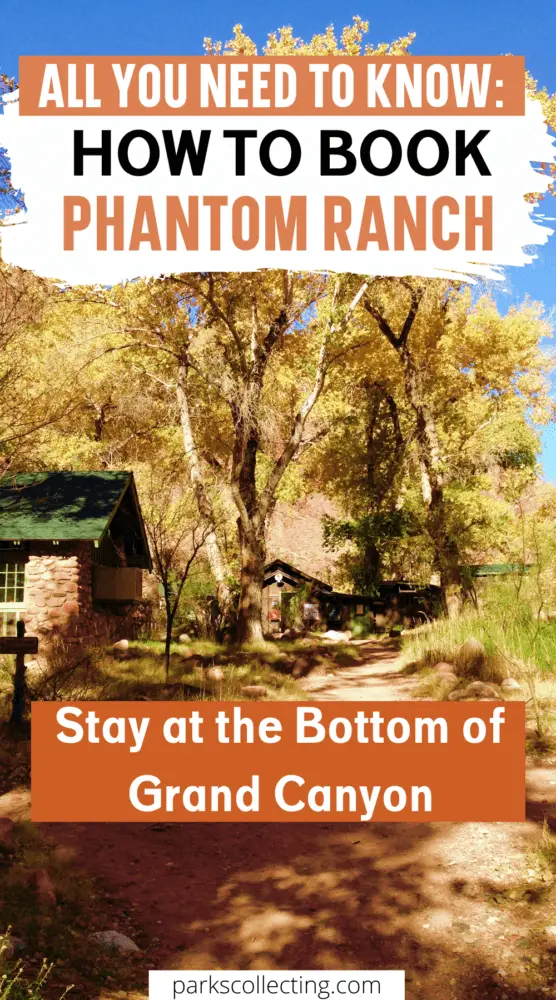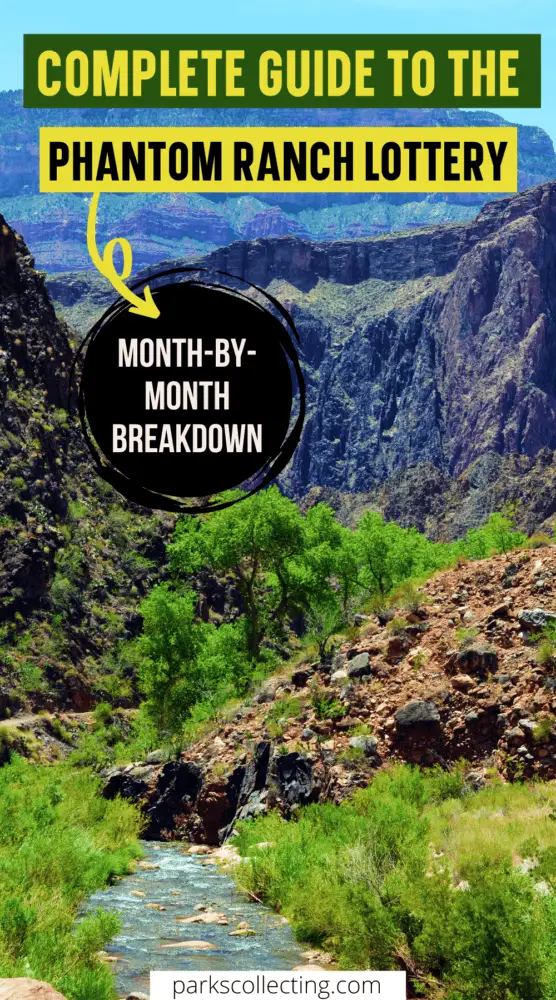 ---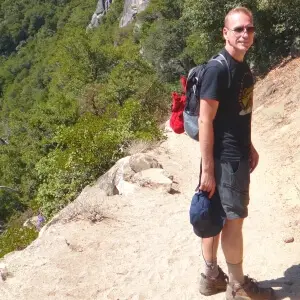 James Ian has traveled to 82 countries and all 7 continents.  He has visited all of the main national parks in the United States, as well as many national monuments and state parks.
He has rafted through the Grand Canyon; rappelled down slot canyons near Zion and Arches; hiked among the hoodoos in Bryce and the enormous trees in Sequoia; admired the waterfalls in Yosemite and the colored hot springs in Yellowstone; seen moose in Grand Tetons and seals in the Channel Islands, and much more.
---
Parks Collecting is a participant in the Amazon.com Services LLC Associates Program, an affiliate advertising program designed to provide a means for sites to earn advertising fees by advertising and linking to amazon.com. Amazon and the Amazon logo are trademarks of Amazon.com, Inc. or its affiliates. As an Amazon Associate I earn from qualifying purchases.