Acadia National Park is an incredible national park in Maine, in the far northeastern corner of the country. Spread over a large part of Mount Desert Island, the nearby Schoodic Peninsula, the tiny Isle Au Haut, and several other tiny islands in the area, it's famous for its pink granite coast, wooded hills, and sparkling seas. 
With miles of hiking trails, historic carriage roads, and scenic drives, it is easy to see why this is considered one of the richest jewels in the National Park system. 
Want to learn more about Acadia? Let's take a look at some interesting facts about Acadia National Park.
No time right now to read these fun facts about Acadia National Park? Pin It and save it for later:
Please note this post may contain affiliate links, which means we may receive a commission, at zero cost to you, if you make a purchase through a link. Please see our full Disclosure for more information. If you have any questions, please contact me.
If you are planning to visit Acadia National Park in spring, summer or fall, make your planning easy and stress free with a detailed itinerary. I have 1-, 2-, 3-, and 4-day itineraries for Acadia National Park that include all the park highlights, give you choices based on your preferred activity level, and take all the stress out of planning your trip. 
Basic Acadia National Park Facts
Location: Maine
Size: Acadia National Park encompasses more than 48,000 acres on Mount Desert Island, Schoodic Peninsula, Isle Au Haut, and many smaller coastal islands.
Number of Visitors each Year: Acadia had 3,970,260 visitors in 2022
Annual Rainfall: Annual rainfall in Acadia is 48 inches
Highest Elevation: The highest peak in Acadia is Cadillac Mountain (1,528 feet above sea level)
Lowest Elevation: The lowest elevation is sea level (0 feet)
When was Acadia National Park established? In 1919, President Wilson signed the act establishing Lafayette National Park. Before this, it was Sieur de Monts National Monument (established July 8, 1916).
Its name was changed to Acadia National Park on January 19, 1929 when the Schoodic Peninsula was added to the park.
---
Fun Facts About Acadia National Park
1. Acadia National Park was the first National Park created entirely by private donations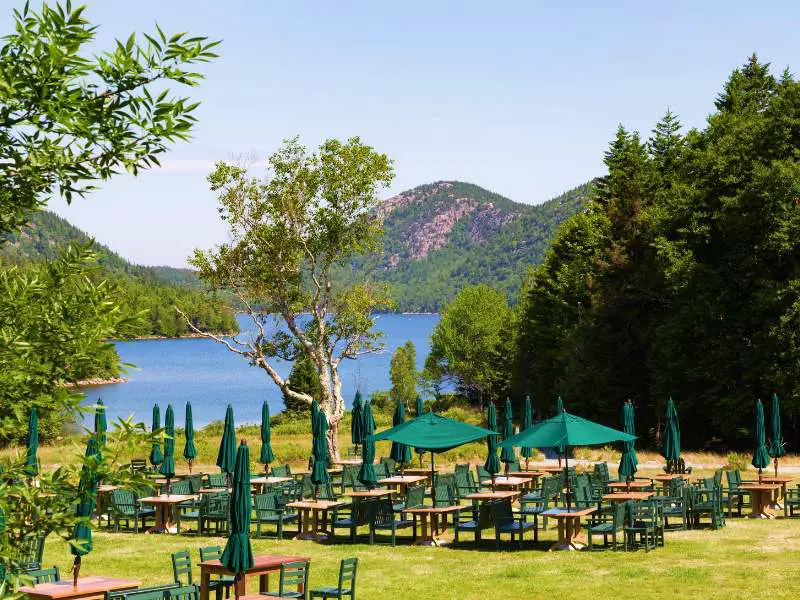 We can thank three rich men for Acadia National Park: George B. Dorr, Charles W. ELiot, and John D. Rockefeller.
George Dorr is widely considered the "father of Acadia".  He grew up in a wealthy Boston family and traveled widely as a young man. In 1869, he visited Mount Desert Island and fell in love with the natural beauty of the area.  He decided to move there, but wanted to do much more than that. 
Charles W. Eliot, the President of Harvard and our second hero, together with Dorr and others, created the Hancock County Trustees of Public Reservations for the purpose of "…acquiring, owning and holding lands and other property in Hancock County for free public use."  Charles W. Eliot called the first meeting.
Dorr bought up land and donated his own land and encouraged others to do the same – or to donate money to the Hancock County Trustees of Public Reservations so they could buy land with it. 
After winning a fight with the Maine state government, he realized that he needed additional measures to ensure the safety of the land in the area, so in 1916, he presented 5,000 acres of land to the federal government. President Woodrow Wilson used this land to create the Sieur de Monts National Monument.  Dorr was appointed superintendent of the national monument. 
Three years later, in 1919, after Dorr managed to donate even more land, President Wilson changed the area's status and created Lafayette National Park. Dorr became the national park's first superintendent. 
Enter the third rich man in our story, John D. Rockefeller Jr., the only son of the founder of Standard Oil and one of the richest men in the world at the time.
Rockefeller also fell in love with this area and in 1910 bought a summer home in nearby Seal Harbor.  Between 1913 and 1945, Rockefeller purchased land and designed a comprehensive system of carriage roads.  He donated more than 11,000 acres to the park.
READ MORE: 
Creating Acadia National Park: The Biography of George Bucknam Dorr by Ronald H. Epp.
A Contribution to the Heritage of every American: The Conservation Activities of John D. Rockefeller, Jr. by Nancy Newhall
---
2. You can find Rockefeller's Teeth in Acadia National Park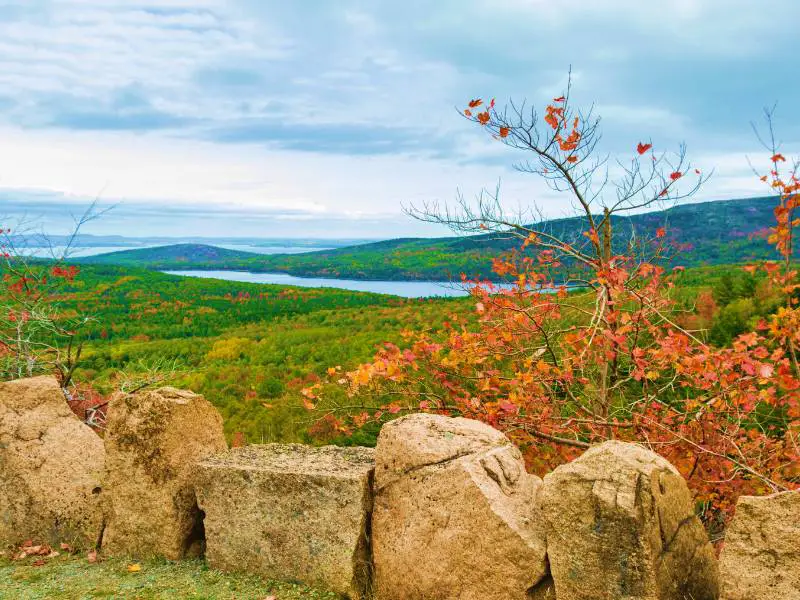 Rockefeller not only donated land to Acadia National Park, as a summer resident and aficionado of the area, he was very aware of the potential impact of traffic and the need for organized transportation in the area.  To that end, with the help of the famous landscape architect Frederick Law Olmsted Jr. (who designed Central Park in NYC), he designed and arranged to have built 45 miles of carriage roads.  
Construction started in 1927 and, while it was funded by Rockefeller, much of the hard labor was done by the Civilian Conservation Corps (CCC).
As part of the carriage road system, Rockefeller built 16 bridges (a 17th was added by the NPS in 1941).  The first – and perhaps the most famous – is the Cobblestone Bridge, built, as the name suggests, of rounded river stones. 
So, how does all this connect to Rockefeller's Teeth? Well, large coping stones were added along the carriage roads to serve as guardrails. These huge, irregular-shaped granite rocks are nicknamed "Rockefeller's Teeth" because of their shape. 
These roads still exist today, and are popular ways to hike, bike and ride through the park.
READ MORE: How to Plan a Trip to Acadia National Park
If you'd like to read more about Rockefeller's carriage roads, pick up a copy of Acadia's Carriage Roads by Robert A. Thayer
---
3. You can see the first sunrise in the U.S.A. from the highest peak on the east coast in Acadia National Park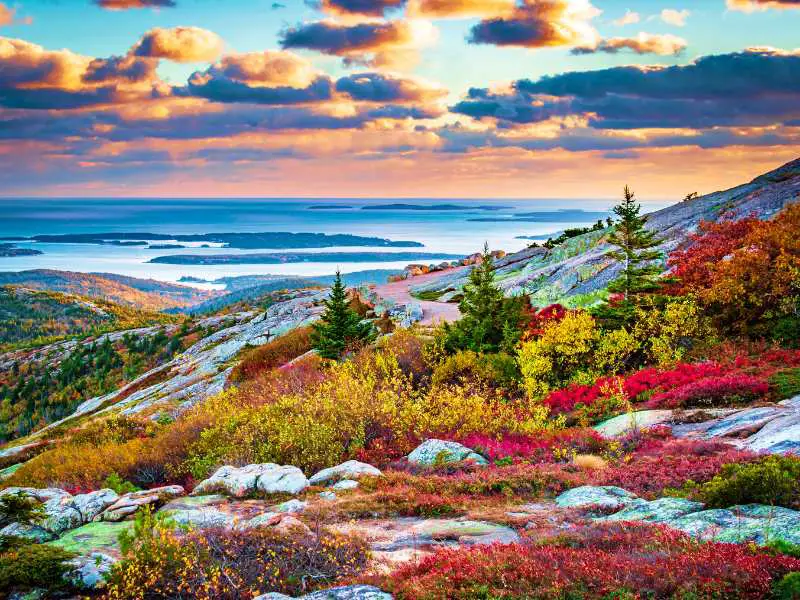 Cadillac Mountain is not only the highest mountain in Acadia National Park, at 1,532 feet, it is the highest peak on the east coast of the U.S. At the top are stunning views over the surrounding area, and it's a great place for bird watching.  
From mid-April to late November, you can drive up to the summit (there are also hiking trails). The road is closed from December to mid-April.  Reservations are required from late May to late October.
A fun fact: Between the second week in October and the first week of March, the summit of Cadillac Mountain is where you'll see the first sunrise in the United States (the rest of the year, that honor goes to Mars Hill, a 1,748-foot mountain near the Canadian border). Even if you aren't here for the first sun in the U.S., the sunrises are still spectacular throughout the year. 
Another fun fact: Cadillac Mountain is named after French explorer Antoine de La Mothe, sieur de Cadillac, who was a Governor of Louisiana and founded the city of Detroit!
READ MORE: Guide to Cadillac Mountain Reservation System
---
4. Acadia National Park has more than 150 miles of hiking trails
The hiking trails in Acadia National Park are legendary.  Perhaps most famous are the 'iron rung' trails. 
These are steep trails that involve climbing up iron rungs that have been embedded into the side of the mountains, as well as clambering up the occasional ladder, scrambling over rocks, and walking along narrow ledges with steep drop-offs on one side.  Definitely not for the faint-of-heart, but a thrill, for sure. 
At the top are spectacular views over the wooded hills and surrounding island-dotted seas.  Some of the most famous are the Beehive and the Precipice Trails. 
Many of these summits do have easier trails to the same point for those with a fear of heights. There are also flat and easy trails like the iconic Ocean Path and flat Jordan Pond Loop.
READ MORE: Best Hikes in Acadia National Park
Get a National Geographic topographic map of the hiking trails in Acadia National Park
---
5. There are 26 mountains in Acadia National Park
Some of the highlights include:
Cadillac Mountain is the highest peak in Acadia (1,530 feet).
Flying Mountain is the lowest peak in Acadia (284 feet).
Acadia Mountain is on the only mountain ridge in the park that runs east to west (all the others are north to south).
Beech Mountain has the only fire tower in Acadia National Park.
Champlain Mountain is the site of one of the scariest trails in the park, the Precipice.
READ MORE: How Many days to Spend in Acadia National Park
---
6. Acadia was the first National Park east of the Mississippi River and is the only national park in the Northeast of the U.S.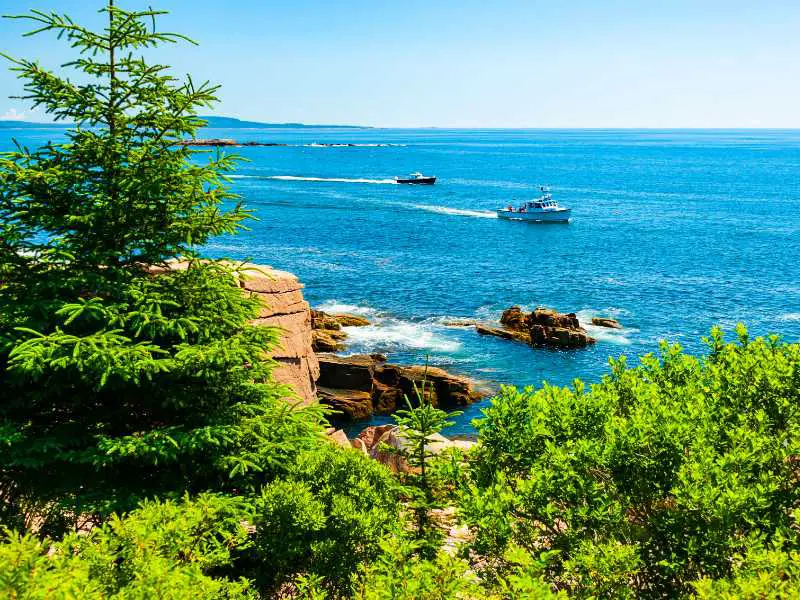 When was Acadia National Park founded? 
Acadia National Park started as Sieur de Monts National Monument in 1916.  3 years later, it became the first national east of the Mississippi River when it was upgraded to Lafayette National Park. It gained the Schoodic Peninsula and took on its current name ten years later on January 19, 1929. 
In all this time, it has remained the only National Park in the northeast!
READ MORE: Acadia National Park Travel Guide
---
7. The park's name has an interesting history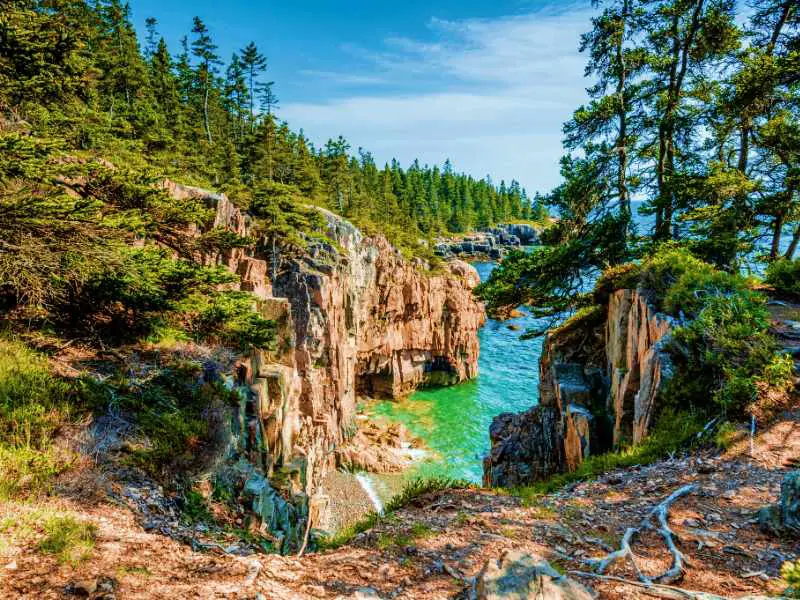 Acadia National Park is named after the parts of North America that are historically associated with the lands and culture of the former colony of New France, Acadie, namely New Brunswick, Nova Scotia, the Magdalen Islands and Prince Edward Island in Canada, and Maine in the U.S.  
Fun Fact: Did you know that the word cajun in Louisiana was a (mispronounced) version of Acadian even though they are not technically Acadians, but a separate group of French Americans? 
Another fun fact: The name Acadia comes from either the Arcadia district in Greece, which means "refuge" or "idyllic place" OR after the indigenous Canadian Miꞌkmaq language word for "fertile land", Cadie. Whichever is correct, Acadia National Park is definitely an idyllic refuge and a fertile land. 😊
READ MORE: If you're into history and would like to learn more about Acadia, check out  The History of Acadia: From Its First Discovery to Its Surrender to England By the Treaty of Paris (Classic Reprint) by H.E. Jacobs
---
8. Acadia National Park has one of the most photographed lighthouses in the U.S.
Bass Harbor Head Light Station is found in the southwest corner of Mount Desert Island.  Sitting on the edge of a rocky cliff, it is extremely picturesque anytime of the day, but is most specular at sunset.  
The lighthouse, which dates from 1858, served as a Coast Guard residence from 1974 until 2012. The site includes an original Keeper's Dwelling, an 1897 Bell House, a 1900's Oil House, and a 1905 garage.  
You can't go inside, but there are two paths to explore.  The short path to the right of the parking lot takes you to the lighthouse itself.  To get the classic photo, you'll need to take the longer path to the left of the parking lot and then climb over rocks – which can be slippery and dangerous when wet. 
Bear in mind that the parking area at the lighthouse is very small, so if you plan to be there for sunset photography, get there very early.  
READ MORE:  Bass Harbor Head Lighthouse: Complete Guide
If you're into photography, a great resource is The Photographer's Guide to Acadia National Park: Where to Find Perfect Shots and How to Take Them by Jerry and Marcy Monkman
---
9. Acadia Is the 5th smallest National Park in the U.S. – and the 5th most popular!
Although it is spread over almost half of Mount Desert Island, the Schoodic Peninsula, Isle au Haut, and several other small islands, Acadia National Park is only 49,000 acres (35,332 acres owned by the NPS and 12,416 acres of privately owned land protected by the national park designation). This makes it the fifth smallest national park in the US. 
However, don't be fooled by its size.  With miles of hiking trails, rugged coastlines, scenic drives, and historic carriage roads, it packs a punch!  Come here for sailing, bird watching, hiking, eating popovers, sailing, kayaking, or just relaxing on the beach.  There is truly something for everyone.  And because it is small, it is very accessible. 
Which is why it's also the 5th most popular national park in the US!  Around four million people visit it each year.
READ MORE: 
Best Things to Do in Acadia National Park
When is the Best Time to Visit Acadia National Park
---
10.    Acadia National Park is a birds-of-prey-watcher's paradise
Acadia National Park is a bird watcher's paradise. In fall (approximately late August to mid-October), thousands of birds of prey fly over Cadillac Mountain on their annual migration.  You can participate in the Cadillac Mountain Hawkwatch and help with counting and logging them.  
More than 71,000 birds of prey have been recorded in the past 25 years.  Keep an eye out for eagles, vultures, owls, falcons, and osprey.  
Just a few decades ago, peregrine falcons and bald eagles were almost extinct, victim of commercial pesticides that softened their eggs.  The last known nesting pair of peregrine falcons in the park was reported in 1956.  In 1984, Acadia began taking part in a falcon restoration program (and since, pesticides have changed).  Today, the bald eagle and the peregrine falcon are no longer considered endangered, though they are still protected species.
To protect the birds during their nesting season, any hiking trails near a nesting pair of peregrine falcons are closed from March to August. These typically include the Jordan Cliffs Trail, Precipice Trail, Valley Cove Trail, and part of the Orange & Black Path.  
READ MORE: 
If you like bird watching, grab a copy of Best Easy Bird Guide Acadia National Park: A Field Guide to the Birds of Acadia National Park by Randi and Nic Minetor
If you are just starting to get into this and are looking to buy some binoculars, read my Guide to Buying the Best Binoculars for the Money
---
11. James Bond (yes, 007) has a connection to the birds of Acadia
Did you know that the famous fictional spy is named after a real person?  Ian Fleming, who wrote the James Bond books that the movies are based on, was searching for a "natural-sounding name" for his protagonist when he recalled reading a book Birds of the West Indies, written in 1936 by an ornithologist called James Bond. He liked the author's name so much that he stole his name for his hero.
The Acadia connection?  James Bond (the ornithologist who wrote about birds of the feathered kind, not the womanizing secret agent interested in other kinds of 'birds') spent summers on Mount Desert Island with his uncle, and the area inspired him to become an ornithologist!  So, without Acadia National Park to inspire him to study birds and write a book that Ian Fleming read and was in turn inspired by his name, 007 may have been called … David Smith??? John White??? Mike Jones???
To strengthen his connection even more, James Bond also wrote The Birds of Mt. Desert Island, Acadia National Park, Maine with Carroll Tyson.   
READ MORE: You can pick up a leather-bound edition of The Birds of Mt. Desert Island, Acadia National Park, Maine by James Bond and Carroll Tyson
---
12. Acadia rose from the ashes (better than ever)
On October 17, 1947, a fire started in a nearby cranberry bog and quickly took hold.  It grew into a blazing inferno that consumed almost the entire eastern side of Mount Desert Island. 
A total of 17,188 acres were burned, including more than 10,000 in Acadia National Park.  Five people died and more than $23 million (in 1947!) of property was destroyed, including many of the enormous 'cottages' that were summer homes for the wealthy 'elite'.
But Acadia National Park rose like a phoenix from the ashes!  The forest now has greater diversity – the ubiquitous fir and spruce trees have been partially replaced by sun-loving aspen, birch and maple trees (helping make the fall colors especially stunning). 
And the mansions on Millionaires' Row were replaced in part with motels, helping make the area more accessible to the millions of middle-class Americans and international visitors who still enjoy it today. 
READ MORE: for more history of the national park, get a copy of Historic Acadia National Park: The Stories Behind One of America's Great Treasures by Catherine Schmitt
---
More Information About Acadia National Park
Are you feeling inspired to visit Acadia National Park?  Start planning your trip now with these guides:
---
Do you have any other Acadia National Park Fun Facts to share?  I'd love to hear them.  Join my private Facebook group National Parks Collectors and comment and let me know (you can also pick up extra planning tips, share your photos and stories with other national park lovers and more)
If you liked this post, please share the love and Pin It to your Acadia National Park board!
---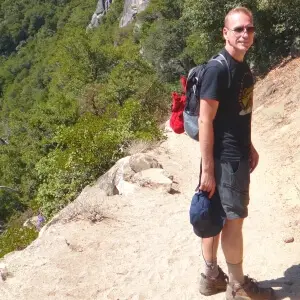 James Ian has traveled to 82 countries and all 7 continents.  He has visited all of the main national parks in the United States, as well as many national monuments and state parks.
He has rafted through the Grand Canyon; rappelled down slot canyons near Zion and Arches; hiked among the hoodoos in Bryce and the enormous trees in Sequoia; admired the waterfalls in Yosemite and the colored hot springs in Yellowstone; seen moose in Grand Tetons and seals in the Channel Islands, and much more.
---
Parks Collecting is a participant in the Amazon.com Services LLC Associates Program, an affiliate advertising program designed to provide a means for sites to earn advertising fees by advertising and linking to amazon.com. Amazon and the Amazon logo are trademarks of Amazon.com, Inc. or its affiliates. As an Amazon Associate I earn from qualifying purchases.