So, you are going to visit Acadia National Park, Maine? You are going to have an awesome time. But it does take a little time and effort to plan your Acadia trip.  That's where this Acadia vacation planner comes in.  You will learn how to travel to Acadia National Park, where to stay and what to do there.  
No time to read about planning a trip to Acadia National Park now?  Pin It and save it for later: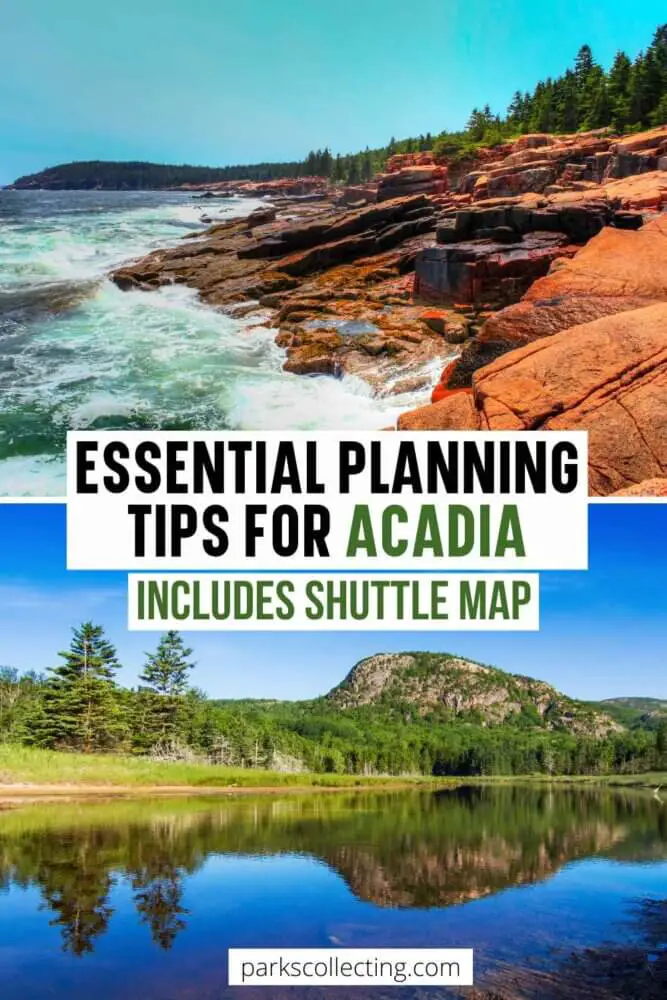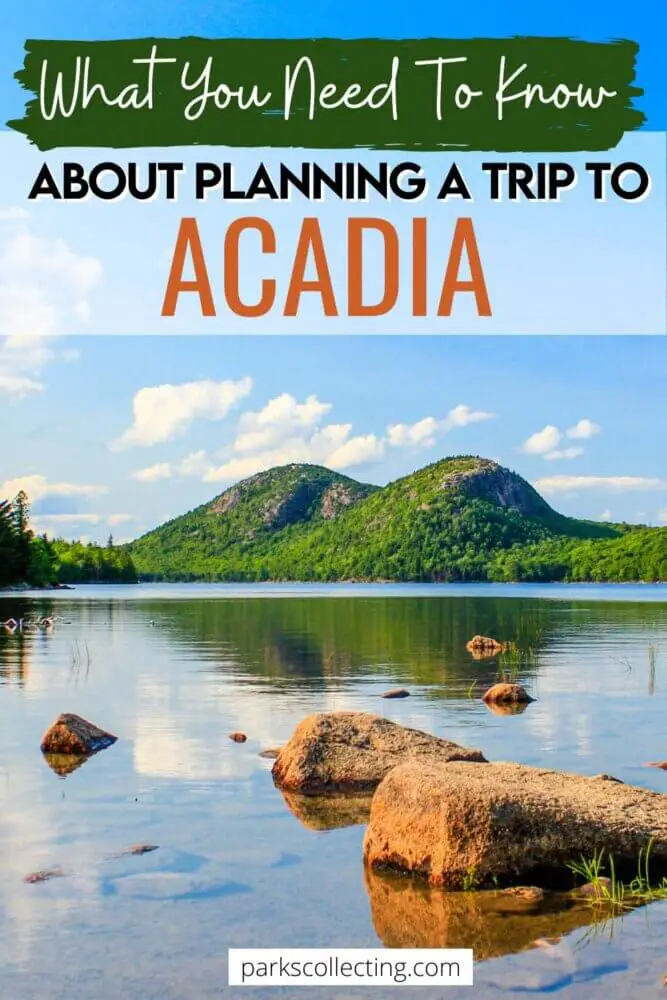 Please note that some of the links below may be affiliate links.  At no additional cost to you I earn a small commission if you make a purchase.  Read my Disclosure for more information. If you have any questions or have other resources you love, please comment below.
Before we get into the planning process, one essential question:
Where is Acadia National Park?
Acadia National Park is in the state of Maine, in the far northeastern corner of the United States.  Acadia National Park is spread over three main areas.  Most of it is on Mount Desert Island, though not all of Mount Desert Island is the national park. 
You can drive to Mount Desert Island, as it is separated from the mainland by a narrow channel only.  The main town here is Bar Harbor, and this is the main service town to the national park.  There are a lot of accommodation options, restaurants and stores.
The other two areas that contain some of Acadia National Park are the Schoodic Peninsula, slightly northeast of Mount Desert Island, and the small Isle au Haut southeast of Mount Desert Island.  These two areas are much less visited.
OK. Now let's start planning:
1. Choose when to visit Acadia National Park
When is the best time to visit Acadia National Park?
The best season to visit Acadia is fairly small.  We were there in July and were lucky and had perfect weather the whole time.  I really loved Acadia, but if the weather was miserable, I probably wouldn't have loved it as much, as so much is about the outdoors and the water.
While the weather in summer (June-August) is lovely, this is also when the park is most crowded.  To avoid the crowds, September and early October are probably the best time to visit Acadia National Park.  Early September is also when the annual Night Sky Festival is held.  Acadia has almost no light pollution, so is great for star gazing.  In early October, the park is ablaze with fabulous fall foliage, and this is also a great time for hiking.  Spring (March-May) can be rainy and foggy.
2. Decide how long to visit Acadia National Park
How many days to spend in Acadia National Park depends on what time you have available and what you like to do. If you only have a weekend, then you will still have an amazing time, focusing on the highlights. However, assuming you have some time available, I would recommend at least a week for your Acadia trip.
Things to do in Acadia National Park and things to do in Bar Harbor
There are plenty of things to do in and around Acadia National Park, including:
Hiking. The hikes in Acadia are legendary, culminating in viewpoints looking out over the surrounding seas and islands. Several have some very technical elements that are not for the faint-hearted. However, the good news is that there are easier routes to the same lookouts! Here are the top hikes in Acadia National Park.
Eating fresh lobster. This is the center of Maine's lobster industry and lobster shacks are everywhere.  You may never have cheaper or fresher lobster.
Eating popovers. These eggy pastries are a local specialty.  Cover them in jam and butter.  Mmm…  Jordan Pond House is a classic place to have them.
Cycling the trails. John D. Rockefeller had miles of carriage trails built in the area, and they make great (albeit a little rocky) cycle paths. Rent an e-bike in Bar Harbor here.
Kayaking around the shoreline. The seas are calm and the shorelines filled with pebbly beaches and woods to explore, making this whole area ideal for kayaking. You can take a tour or bring your own kayaks. You can get an inflatable kayak for a very reasonable price and take it easily with you wherever you go on vacation. Read my guide to the best inflatable kayaks to help you decide which one to get.
Sailing on a tall ship. Taking a sunset sail around the islands is the perfect way to end your day's adventures. Book a 2-hour sunset tall ship cruise here. You can buy beer and wine onboard.
Cruising to the Cranberry Islands. Book a 2.5-hour morning cruise or an afternoon cruise. See mountains, harbor seals and eagles, as you cruise past multiple lobster buoys. Spend time at a 200-year-old lobster fishing village of Little Cranberry Island and (in season) visit the interesting Islesford Historical Museum.
Eating blueberry ice cream in Bar Harbor
Swimming in the ocean (icy) or Echo lake (lovely and refreshing)
Driving. Driving along the Park Loop Road and up to the top of Cadillac Mountain is a great way to see the park. Enhance your experience with a 4-hour self-guided audio-tour. If you want to drive up Cadillac Mountain in summer/ fall, you will need to make a reservation. Read how to make a reservation for Cadillac Mountain here.
Taking a walking tour of Bar Harbor. Learn the history of this lovely north Atlantic coastal town. Book a 2-hour walking tour here.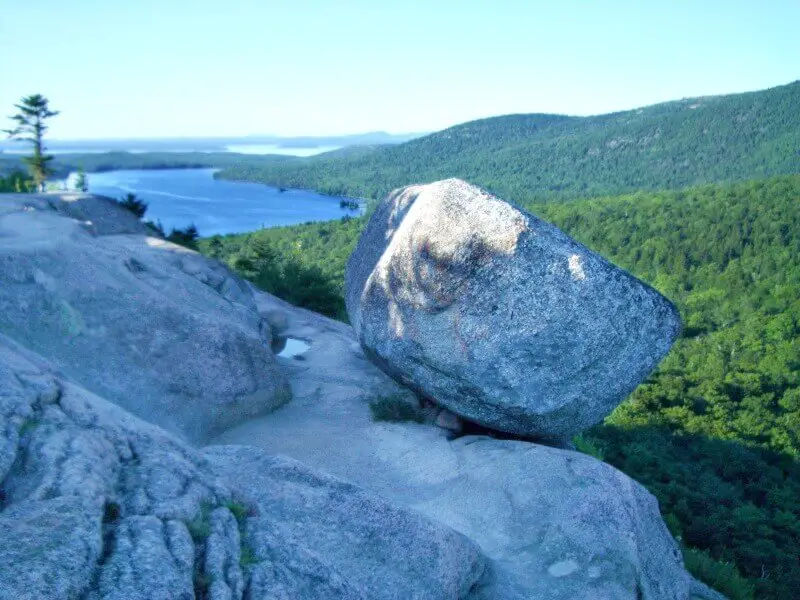 3. Decide how to get to Acadia National Park/ how to get to Bar Harbor
The nearest airport is Hancock County-Bar Harbor Airport (BHB), which is just 13 miles/ 21 km from Bar Harbor, but it is a small regional airport with limited domestic flights.  The closest main airport is Bangor International Airport (BGR), which is 51 miles/ 82km from Bar Harbor.
Check prices on flights to Bar Harbor here.
The easiest way to get Acadia National Park is to drive.  There is no car rental from Bar Harbor Airport, which is tiny, but there is from the larger Bangor Airport.  Rent a car at the Bangor, Maine Airport here. Check out my guide to saving money on rental cars before you book.
You can also take a bus from Bangor to Bar Harbor.  There are a couple of bus companies that offer services from Bangor Airport to Bar Harbor: Down East Transportation and the Bar Harbor Shuttle.
4. Learn how to get around Acadia National Park
If you wondering how to visit Acadia National Park, well you can drive around the park.  To get up the top of Cadillac Mountain (well worth it), you need to make a reservation in the busy season. Reach my guide to Cadillac Mountain reservations for the full low down.
For most of the park, there are free shuttles from Bar Harbor and neighboring villages into Acadia National Park, and for most places on Mount Desert Island, this is the easiest option for exploring Acadia National Park.
Free shuttles around Acadia National Park
Island Explorer offers a free shuttle service in and around Acadia National Park.  It's not actually run by the national park service, but it is a really great way it get around and not have to worry about parking.
They have nine different routes connecting Bar Harbor, Acadia National park and other neighboring villages.  Some of them have bike racks on the front, which is great because there are dozens of cycle trails around the park.  Even better?  The buses stop anywhere (safe) along the route; not just as official bus stops, so wherever you finish a hike, you can flag one down.
The Island Explorer runs seven days a week from late June to Columbus Day (the second Monday in October).  There is a reduced service from late August onward.  Check their website for schedules.
Map of Acadia Island Explorer shuttle routes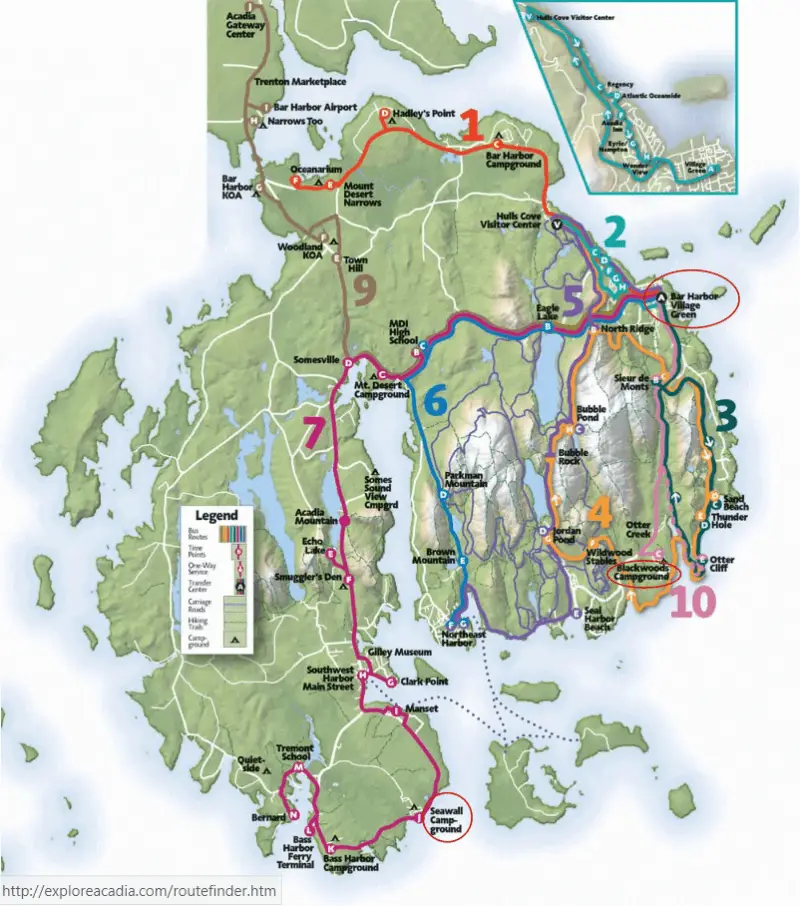 5. Plan your itinerary 
You've already done some rough planning in order to determine how many days to go for, and you may have done this more detailed planning already, but if you haven't, now is the time to plan a day-by-day outline of what you'll do.  Of course, your plans may change with the weather and other unexpected things, but because Acadia can be busy and there is so much to do, I recommend planning out your days and then swapping things around if you need to (and can).  
6. Decide where to stay
Where to stay Bar Harbor
Because Bar Harbor is just outside the park and there is a free shuttle with multiple routes, this is a very comfortable and easy place to stay. 
If you are looking for a vacation rental, I have two detailed guides:
Several other highly-rated options include:
Grand Hotel.  This classic hotel has a Booking.com rating of 9.4.  It has a heated outdoor pool and hot tub and the price includes breakfast.  Book the Bar Harbor Grand Hotel here.
Yellow House Bed and Breakfast.  There are plenty of bed and breakfasts in Bar Harbor to choose from.  The Yellow House has a rating of 9.5 on Booking.com and has a lovely porch with rocking chairs.  The rooms have private bathrooms and there is a hot breakfast.  Check availability for the Yellow House Bed & Breakfast here.
Mosely Cottage Inn & Town Motel. A combination inn and motel, this has a great location only 650 feet/ 200 m from the Village Green, which is the center of town. It also has free parking.  Check prices for Moseley Cottage Inn and The Town Motel here.
For more options, look at other hotels in Bar Harbor here.
Acadia camping
There are several campgrounds inside the national park, as well as many private campgrounds nearby.
Read my Guide to Acadia Camping for more details.
7. Book travel Insurance
You should, of course, always have travel insurance., but especially when doing things like hiking.  You just never know.  Travel insurance also covers things like lost or stolen property, trip cancellation and emergency repatriation. If you want to learn more about all this, check out my Guide to Buying Travel Insurance (on my other blog) before getting your insurance.
A great insurance option is World Nomads.   They cover many adventure activities including hiking as long as you are following standard hiking routes below 19,685 feet.  Check their website or get a quote right here: 
8. Decide what to pack for Acadia National Park
What to take to Acadia National Park will depend somewhat on when you go.  However, some of the essential things to bring to Acadia National Park include a guidebook. Buy The Complete Guide: Acadia National Park & Mount Desert Island here and buy the Acadia National Park Moon guide here.  I used both of these to help plan my trip.
When you are ready for your trip, check out my Essential Packing List.
If you are camping, check that you have all you need on this eco-friendly camping gear packing list.
For the hikes, make sure you have everything on my Day Hike Packing List and my Essential Hiking Gear list.
One last thing:
Acadia National Park Entrance Fee
It costs $30 per vehicle or $15 per person for seven days. However, if you plan to visit more than a couple of parks in a year (or the same park more than twice), then look at getting the America the Beautiful Pass.   It gives you unlimited access for a year (from date of purchase) to over 2,000 federal recreation sites including all U.S. national parks plus national forest and BLM lands.  It includes admission for one vehicle or four people (for places that charge per person).
Buy the America the Beautiful Pass here
---
Enjoy your trip to Acadia! Do you have any other tips for visiting Acadia National Park? I'd love to hear them. Comment below.  
If you liked this post, please share the love and Pin it to your Acadia National Park board!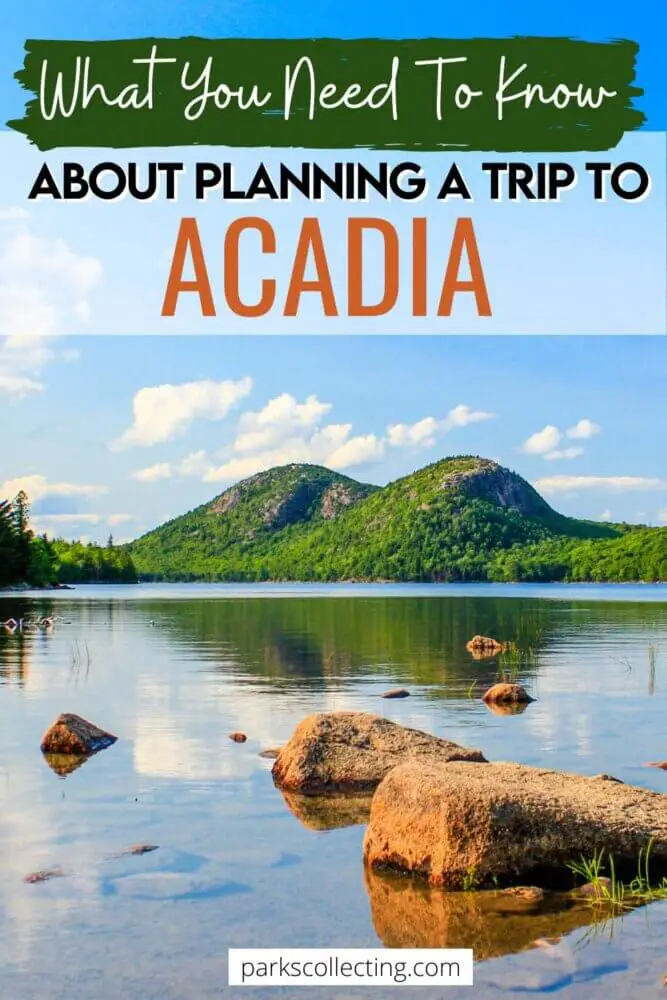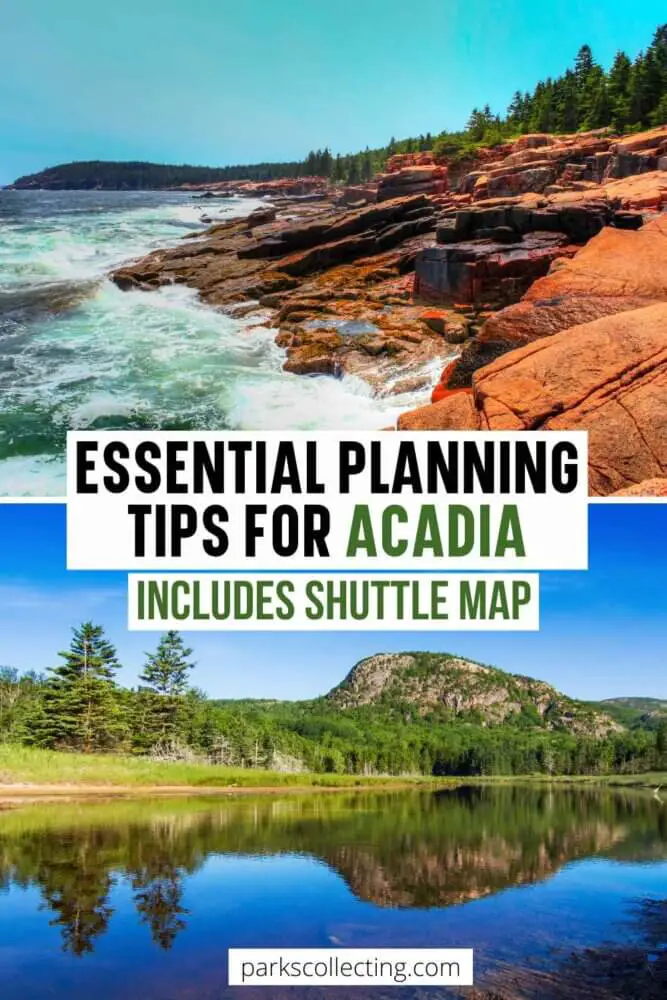 ---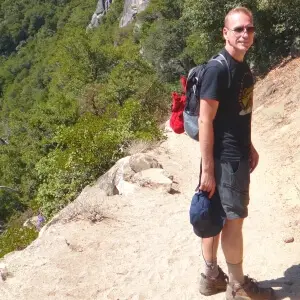 James Ian has traveled to 82 countries and all 7 continents.  He has visited all of the main national parks in the United States, as well as many national monuments and state parks.
He has rafted through the Grand Canyon; rappelled down slot canyons near Zion and Arches; hiked among the hoodoos in Bryce and the enormous trees in Sequoia; admired the waterfalls in Yosemite and the colored hot springs in Yellowstone; seen moose in Grand Tetons and seals in the Channel Islands, and much more.
---
Parks Collecting is a participant in the Amazon.com Services LLC Associates Program, an affiliate advertising program designed to provide a means for sites to earn advertising fees by advertising and linking to amazon.com. Amazon and the Amazon logo are trademarks of Amazon.com, Inc. or its affiliates.