Are you planning to go to Zion, but aren't sure how many days for Zion National Park are best? The park has a lot to offer, but planning a trip there can be overwhelming.  Deciding how many days to spend in Zion National Park is one of the first steps.  
This guide is here to help you decide exactly how much time to spend in Zion National Park to see and do all you want to do. 
No time right now to read about how many days in Zion National Park are best?  Pin It and save it for later: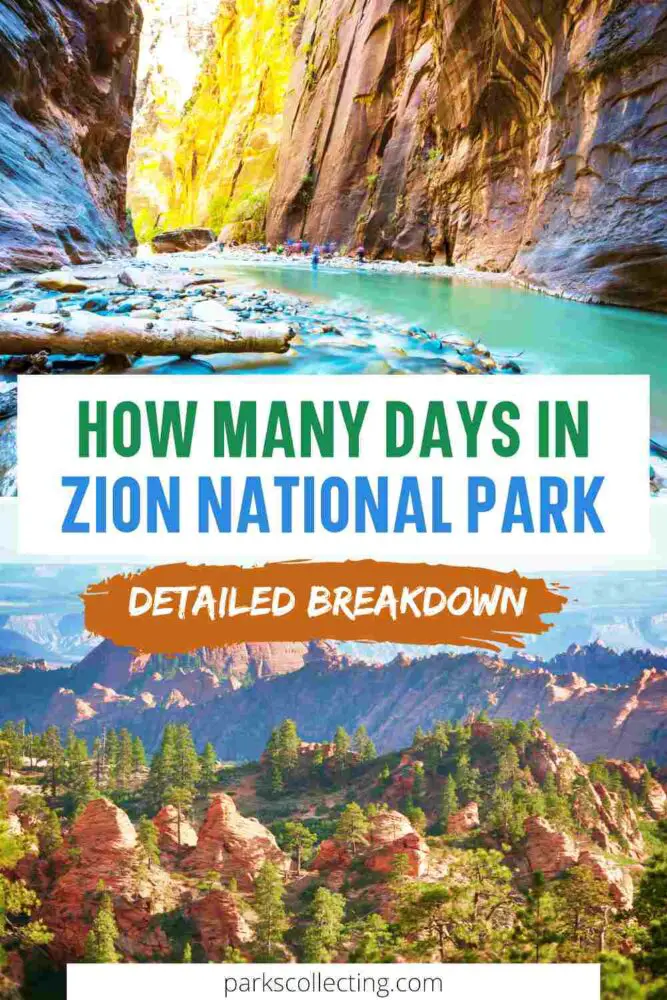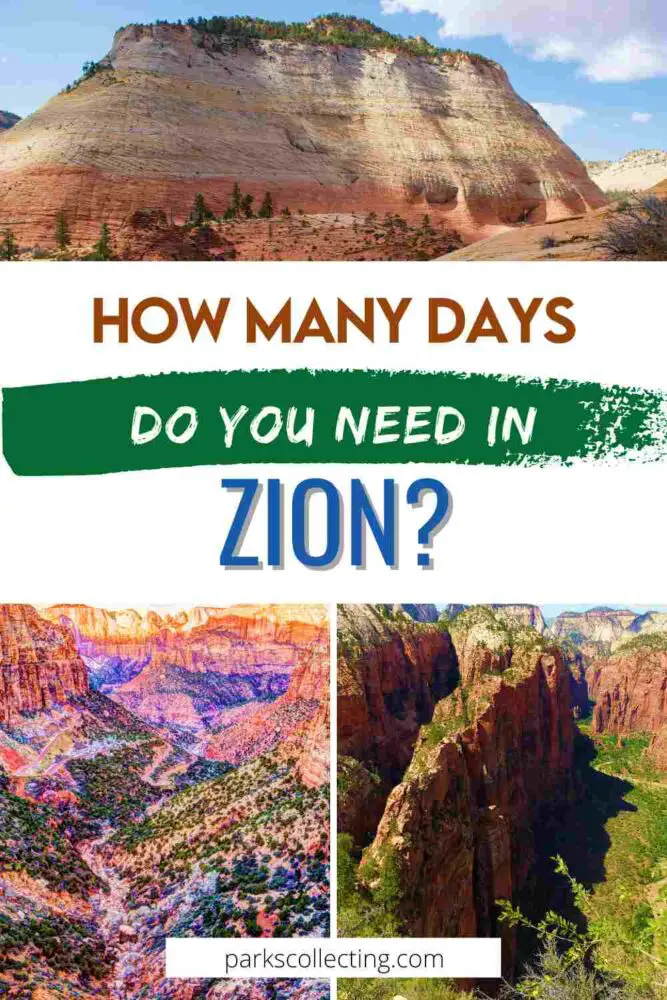 Please note this post may contain affiliate links, which means we may receive a commission, at zero cost to you, if you make a purchase through a link. Please see our full Disclosure for more information. If you have any questions, please contact me.
If you're planning a trip to Zion National Park, you might also want to read:
>> The Best Time of Year to Visit Zion National Park
>> Best Vacation Rentals Near Zion National Park
>> How to Plan a Trip to Zion National Park
>> Best Hikes in Zion National Park
>> How to visit Zion Without Shuttle Tickets
>> Zion Shuttle Guide
>> Best Photo Spots in Zion National Park
>> Best Airports for Zion National Park
>> Fascinating (and Useful) Books About Zion National Park
How many days do you need in Zion National Park? 
How long does it take to see Zion National Park? 
When you're planning your trip to Zion National Park, how many days you decide to spend will depend to some extent on what you like to do and how much time you have available. 
I recommend at least three days to see all of the main highlights. There are plenty of options whether you like to hike or prefer to take it easy. Most people stick to the main section of Zion Canyon, but there is even more to see in the other sections of the park including the East Mesa, Kolob Terrace, and Kolob Canyons.  
Let's take a more detailed look at what is possible for different lengths of time. 
One Day in Zion National Park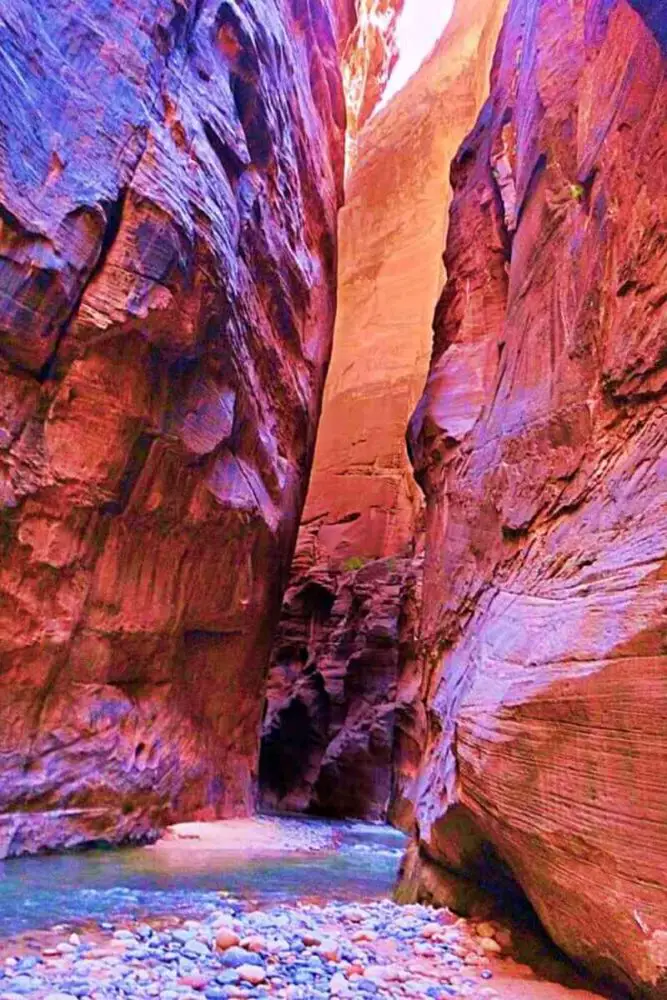 Can you see Zion in one day? It's not ideal because there is just so much to see and do, but if you only have time for a day trip to Zion National Park, you will still be able to see many of the major highlights.  
There are two super famous hikes in Zion National Park – Angel's Landing and The Narrows. If you're trying to decide what to do at Zion National Park in one day, it's hard to go wrong choosing one of these to start the day.
The Angel's Landing trail takes you across a narrow ridge with steep drop offs on both sides, so is not good for those with a fear if heights. The views at the end are sensational. You'll need a permit for Angel's Landing for most of the year (read all about getting Angel's Landing Permits here).
The Narrows is a hike in a river in narrow slot canyon with towering walls on both sides. It's temporarily closed if the water level is too high or there is a danger of flash flooding. Check with the NPS before heading out. Read all about the Narrows hike here.
TIP: If you only have a day in Zion National Park, you should get an early start – to beat the worst of the crowds, but also to maximize your time in the park.  
In the afternoon, it's possible to either do the other of these two hikes or to hike to the beautiful Emerald Pools. This series of interconnected trails goes to beautiful pools and waterfalls and is less challenging than the two major hikes. It's one of the featured best hikes in Zion National Park. 
With just 1 day in Zion National Park, it's really important to have a plan so that you don't waste any time. Get my Zion National Park one day itinerary detailing exactly what to do in Zion National Park in one day. It has a detailed hour-by-hour breakdown, with different options for different activity levels, and includes everything you need to know including driving directions, trail maps and descriptions plus a free bonus shuttle guide. 
The Zion National Park 1 day itinerary also includes trail descriptions and maps for the hikes. 
---
2 Days in Zion National Park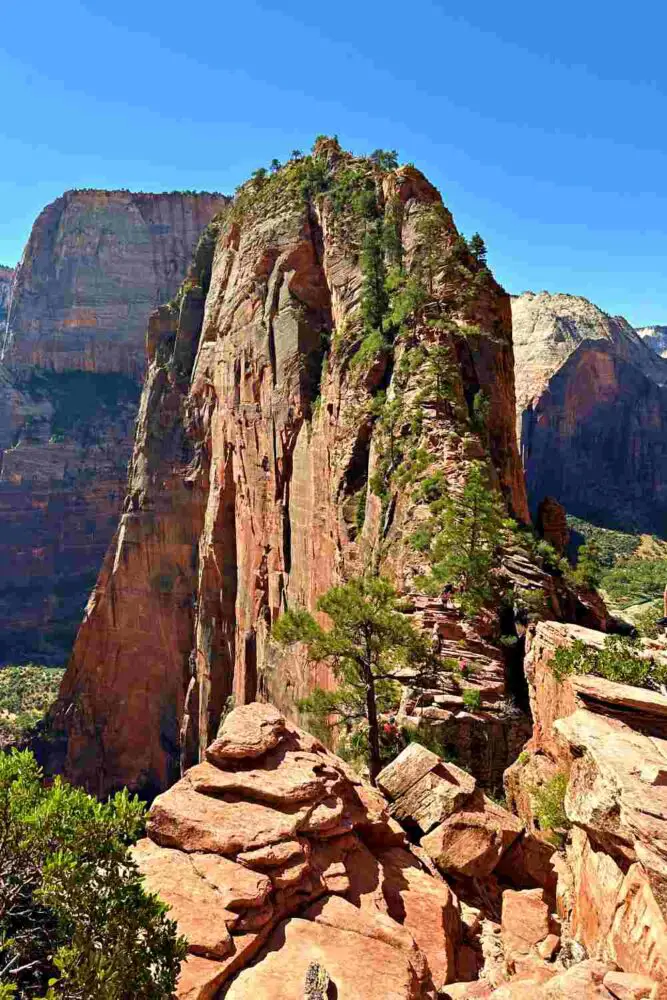 What can you do/ see in Zion National Park in two days? Whether you're squeezing in a Zion National Park weekend trip or spending two days in Zion National Park as part of a longer trip, that extra day definitely makes a difference.  
A Zion National Park 2- day itinerary can include both the Angel's Landing and Narrows trails AND the Emerald Pools hike.  
Plus you can add some other area of the national park into your 2 day Zion itinerary. You will need to choose which one, but options include the East Mesa, where Checkerboard Mesa and the Canyon Overlook Trail beckon (one of the top photo spots in Zion); Kolob Terrace (escape the crowds!); or some other hikes like the Watchman Trail or Pine Creek Waterfall trail.
You'll need to make some hard choices and you'll still have a very packed schedule! 
The best way to see Zion National Park in 2 days is to also have a very clear plan.  Get my detailed itinerary for two days in  Zion National Park to make sure you maximize your time in the park.  If you aren't sure how to have the best 2 days at Zion National Park, this will take all the guess work out of your trip planning. 
---
3 Days in Zion National Park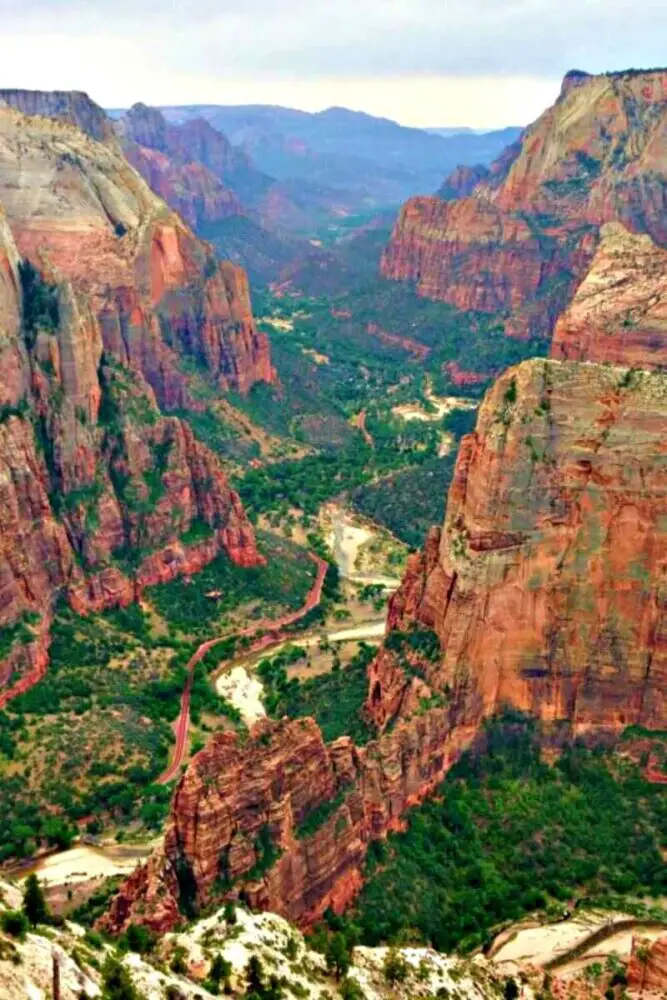 Three days in Zion National Park will give you time to see and do more. This is the minimum amount of time I recommend for a Zion National Park itinerary.
3 days gives you enough time to see and do everything you can do in two days, but you won't need to choose.  You can spend more time on the East Mesa, and hike out to the stunning Observation Point AND visit Kolob Terrace.
You'll also have time to do an optional activity in or around the park.  My top pick is canyoneering through a series of slot canyons in the area. Read a full description of Zion canyoneering here to get a real sense of what it's like.  
There's still a lot to choose from and to coordinate. If you're feeling overwhelmed by planning a Zion National Park 3 day itinerary, I've done the heavy lifting for you.  I've created a detailed, hour-by-hour itinerary (with flexibility built in, of course), to make sure you maximize your time in the park and are in the right place at the right time to avoid the crowds and see the highlights at their best.
Get a detailed 3 day itinerary Zion National Park here. 
---
4 Days in Zion National Park 
An extra day gives you even more choices. With four days, you can do some longer hikes, see things at a less rushed pace, and fit in even more hikes. You can also add in another optional activity around the park.  
Four days may seem a lot, but having a plan (with built in flexibility) will help ensure you get the most out of each day there.  Get a detailed 4 day itinerary Acadia National Park here. 
---
5 Days in Zion National Park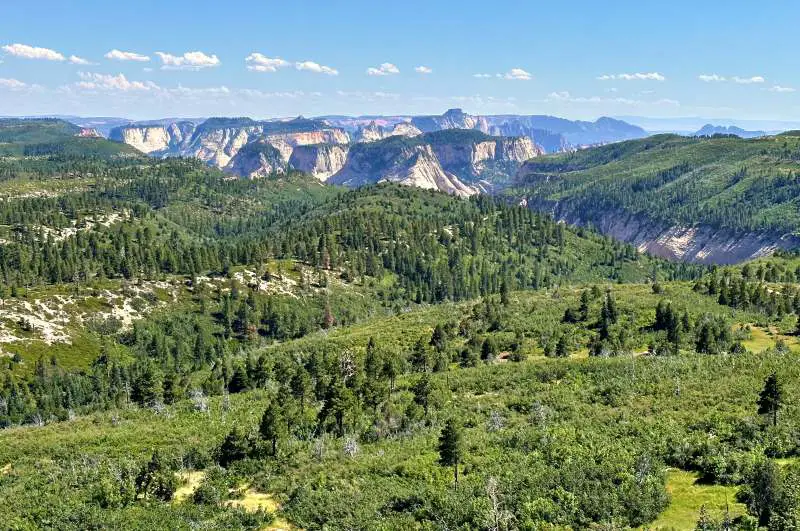 If you have five days to spend in Zion National Park, you are lucky! You can do all the major hikes, take some time to relax in the afternoon, and add in even more activities. There is so much to do, you will never be bored!
Consider visiting the other major area of Zion National Park, Kolob Canyons. There's some great hiking, few people, and beautiful scenery.  
>> CHECK OUT MY ZION ITINERARIES FOR THE NUMBER OF DAYS YOU SPEND IN THE PARK 
---
How many days in Zion and Bryce Canyon?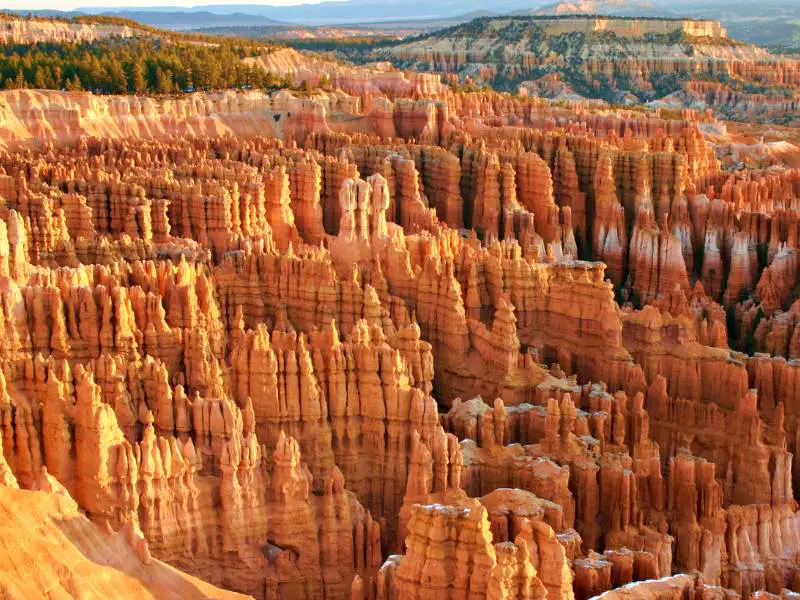 With just an hour and a half-drive between these two showstopper national parks, most people see both of them in the same trip. So, you may be wondering how many days in Bryce and Zion are best.
I recommend at least five days in total – three in Zion and two in Bryce Canyon. This will give you enough time to see all the major highlights (though longer is always better, if you have the time!) 
---
Travel Insurance  
In addition to deciding how long to stay in Zion National Park, you'll also need get travel insurance for your trip.  Whether it is for unexpected trip cancelation, emergency repatriation or medical help, or to replace something lost or stolen, having travel insurance will give you piece of mind and help you when you need it.   
A great insurance option is Travelex.  It has coverage for all you'll need. You can compare Travel Insurance plans here or get a quote right now:
Enjoy Zion!  
How many days at Zion National Park did you choose? I'd love to hear.  Join my private Facebook group National Parks Collectors and comment and let me know (you can also pick up extra planning tips, share your photos and stories with other national park lovers and more).   
If you found this post about how long to visit Zion National Park helpful, please share the love and Pin It to your Zion National Park board!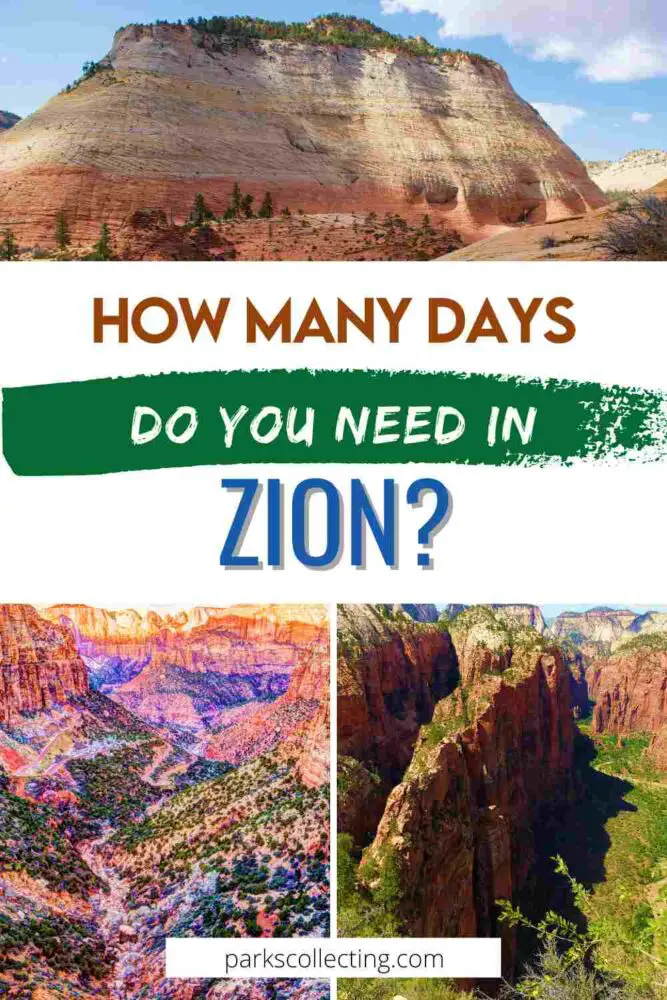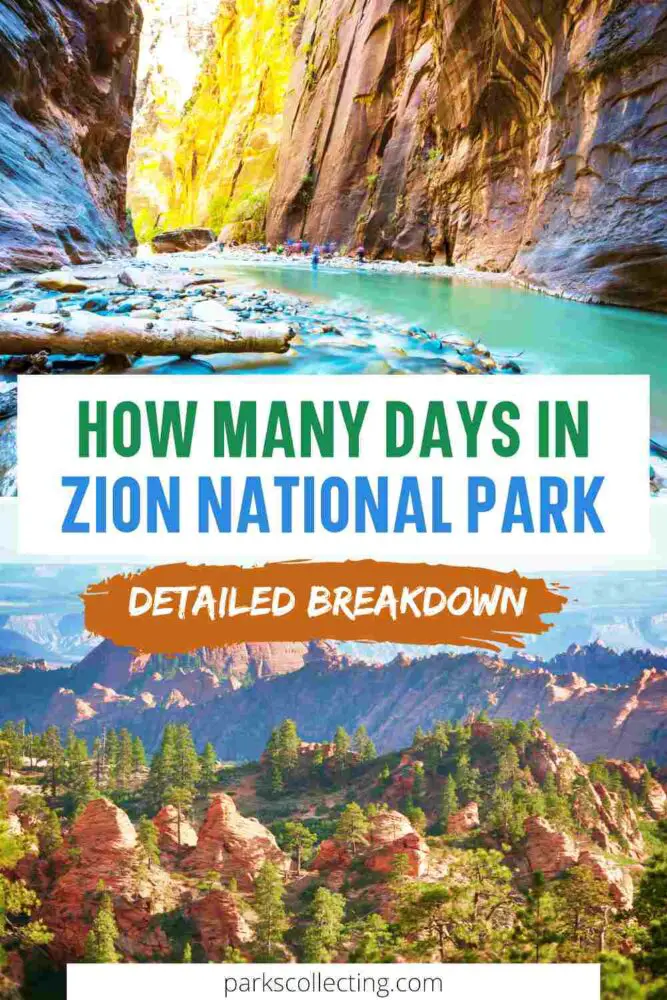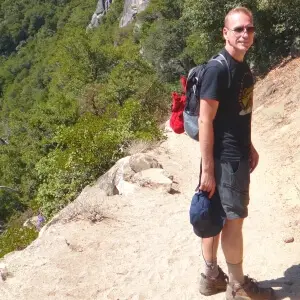 James Ian is a national park, camping and hiking expert.
He has dedicated his life to travel, visiting more than 80 countries, all 7 continents and all of the main national parks in the United States. With over 35 years experience in the travel industry, James has worked on cruise ships, at resorts and hotels, and as a travel planner who's helped hundreds of people plan successful trips to US national parks. 
Based on his experience visiting our national parks multiple times, in-depth research and expertise as a travel planner, James has published detailed itineraries for most of the major national parks in the US. These itineraries, as well as in-depth park guides, comprehensive camping and hiking gear reviews and buying guides, and helpful packing lists and gift guides will help you have your own incredible trip to US national parks without stress and hassle.
As a national park expert, James has contributed to many publications, including Time Business News, Savoteur, Best Trip, and Wired.
---
Parks Collecting is a participant in the Amazon.com Services LLC Associates Program, an affiliate advertising program designed to provide a means for sites to earn advertising fees by advertising and linking to amazon.com. Amazon and the Amazon logo are trademarks of Amazon.com, Inc. or its affiliates. As an Amazon Associate I earn from qualifying purchases.