I plant one foot firmly about a few inches from the edge.  I separate my other leg about two feet away, angled away from the edge.  Then, very carefully, I shift my weight over the foot closest to the edge. 
I crane my neck over the side and peer down.  My nerves hit me all at once.  I feel a little dizzy and worry that I might tip forward off the cliff.  On either side, sheer cliffs drop down about 30 feet to a flat area below.  It looks very, very far down.
TOP TOUR: Book a small group tour now
TOP HOTEL PICK: Check availability now
FIND THE CHEAPEST CAR RENTAL: Search Discover Cars for the best deals
FIND THE CHEAPEST FLIGHTS: Search Skyscanner for the best deals
GET TRAVEL INSURANCE: Get insured with Travelex before you go
No time to read about canyoneering in Zion National Park? Pin it and save it for later: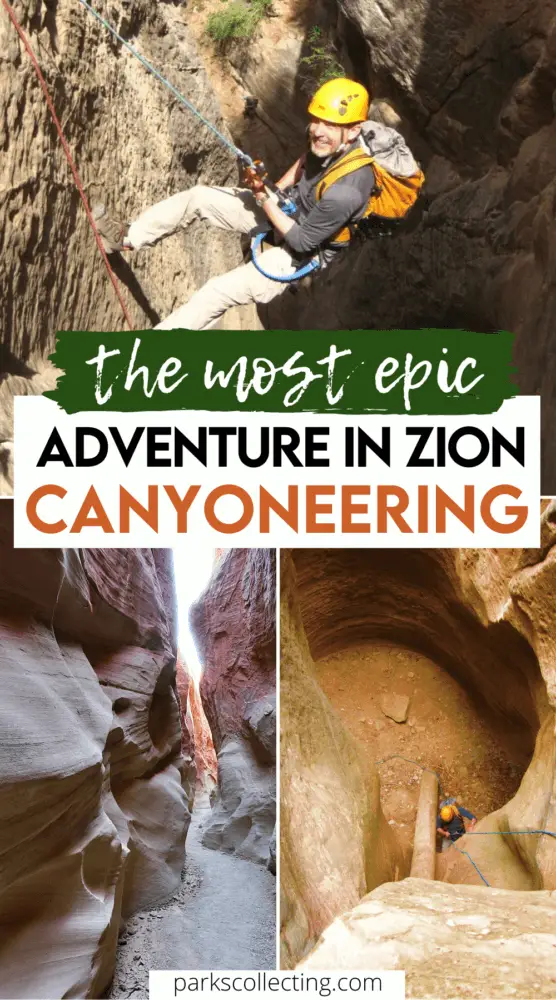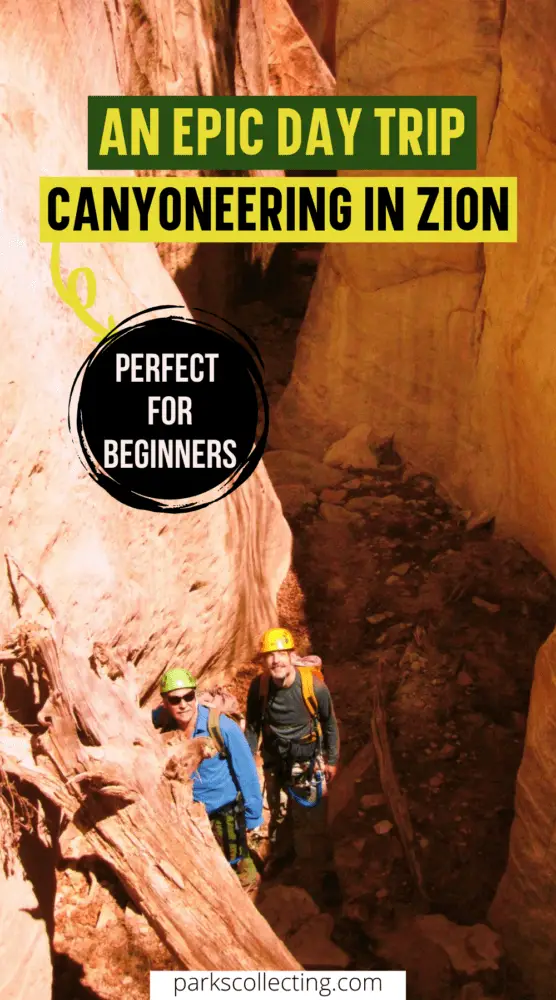 "Go on", I hear.  "You'll be fine."
I am not convinced, but figure I have no one to blame but myself.  I grip the rope in my hands so tightly my fingers turn red and inch forward.  Nearing the edge, I turn my body around, facing away. Not seeing down is definitely better.
The rope stretching from me to the anchor about 10 feet away is taut.  I risk a glance back to judge how far from the edge I am.  Not far.  At all. 
The backs of my feet feel no ground beneath them.  I lean back.  "If the rope or the anchor give way now, I'm dead," I think to myself. 
My head pounds.  Is it too late to turn back?  My legs are jelly.  My stomach churning.
"Go on", I hear.  "You'll be fine."
I jump…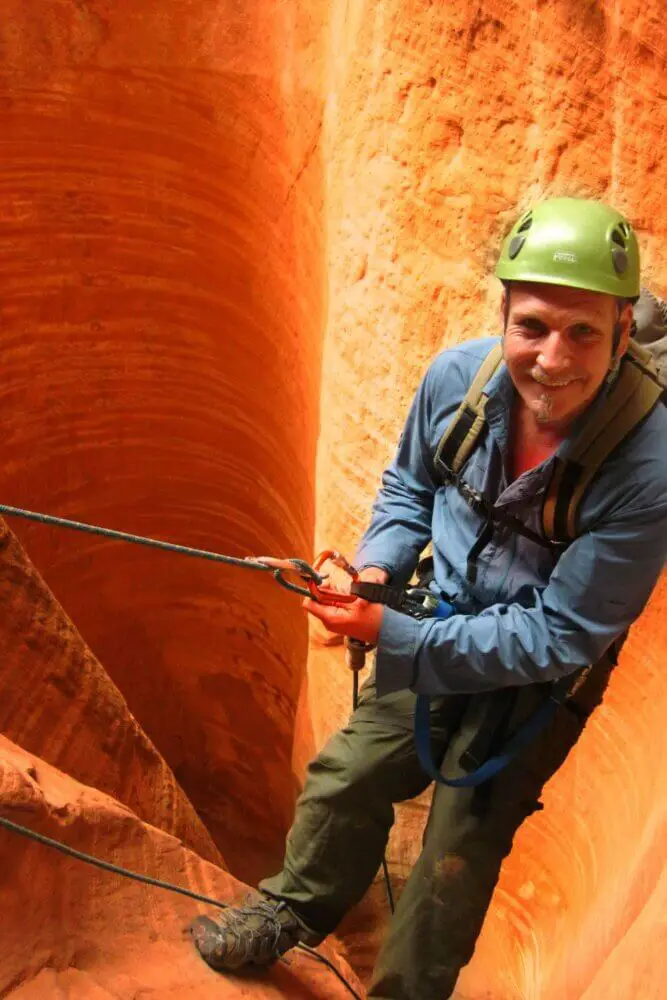 Please note that some of the links below may be affiliate links.  If you make a purchase through these links, I earn a small commission at no additional cost to you. Read my Disclosure for more information.
If you are planning to visit Zion Canyon National Park by yourself, make your planning easy and stress free with a detailed itinerary. I have 1-, 2- and 3-day itineraries for Zion National Park that include all the park highlights, give you choices based on your preferred activity level, and take all the stress out of planning your trip. 
Canyoneering in Zion National Park
This experience rappelling down a series of narrow slot canyons should be on your Zion National Park trip if you have a sense of adventure and not too much of a fear of heights.  It is easy to arrange and surprisingly easy to do, but you do need to have a reasonable level of fitness.
The Experience: Canyoneering Zion National Park
Kevin and I had decided to spend our 10th anniversary in Zion National Park, Utah, USA after being inspired by a fellow traveler on our Grand Canyon river rafting trip the year before.
We discovered in our Internet research that the hills in and around Zion are embossed with a maze of slot canyons – narrow canyons with steep walls close together. Some are stacked in a multi-layered staircase, where the "steps" are 15-150 feet high.
There are lots of really great things to do in Zion Canyon National Park.  You can hike in the river along The Narrows slot canyon, but the only way to experience most of the slot canyons is by canyoneering (or "canyoning" depending on where you're from).  What is "canyoneering"?   
It basically means descending and traversing through canyons. In the narrow slot canyon around Zion, it involves climbing or rappelling (abseiling) down the rock faces on a rope from one layer of the skinny canyon to another.
Canyoning vs canyoneering
You may hear the term 'canyoning'.  They are the same thing.  Canyoning is more common on British English.
Zion National Park canyoneering
Canyoneering Zion is widely considered some of the best canyoneering in Utah.  Canyoneering guides are essential unless you are an experienced rappeller with your own gear. 
You will need to arrange a Zion canyoneering guide to take you on a canyoning and rappelling tour with one of the outfitters based in Springdale, just outside the main entrance to the national park.  We were lucky to find a great one.
The tour operator stated that their guided canyoneering Zion expedition is for people who "are self-sufficient on extended outdoor excursions; can carry a pack up to 35 pounds for 8 – 12 hours; have previous rope handling and rappelling experience or possess rapid technical skill acquisition capabilities; (and) enjoy pushing (themselves) to the limit." 
Well, if by all that they mean someone who is "mid-forties, 30-40 pounds overweight, works out daily by walking to and from the subway, has never rappelled and has a mild fear of heights, but is VERY determined and likes to be adventurous", then I fit the profile perfectly. I decided that my creative interpretation and their ignorance would qualify me and signed up.
Sign up for canyoneering in Zion National Park here.
The canyoneering guide, Zion
We arrived at offices in Springdale around 6:45am. I sucked in my stomach, signed the waivers saying that this was a crazy thing to do and if anything happened it was all my fault, received a bewildering tangle of ropes and metal things and met Bill, our guide. 
Bill was 43, good-looking, rugged, outdoorsy and very friendly.  He welcomed us and instantly made us feel comfortable.
One of my favorite things about experiential travel is meeting local people and learning about their lives and experiences.  Bill talked a LOT. 
As we drove for over an hour to our destination, he regaled us with tales of his adventurous outdoor life, told us about other gay couples he'd guided for, inspired us with the story of his life spent pursuing his passions, shared successes of previous canyoneering newbies, and reassured us with his years of experience and canyoneering highlights. 
He made us feel totally comfortable, that it was OK to be ourselves and express our fears, and that we could do this.  We loved him already.
A long hike uphill from the car followed.  I was hot and out of breath, and bringing up the rear, but keeping up. An hour or so later we arrived at the top of the canyon.
"That's the worst part of the day over", Bill confidently said.  I didn't believe him but appreciated his attempt to make me feel good.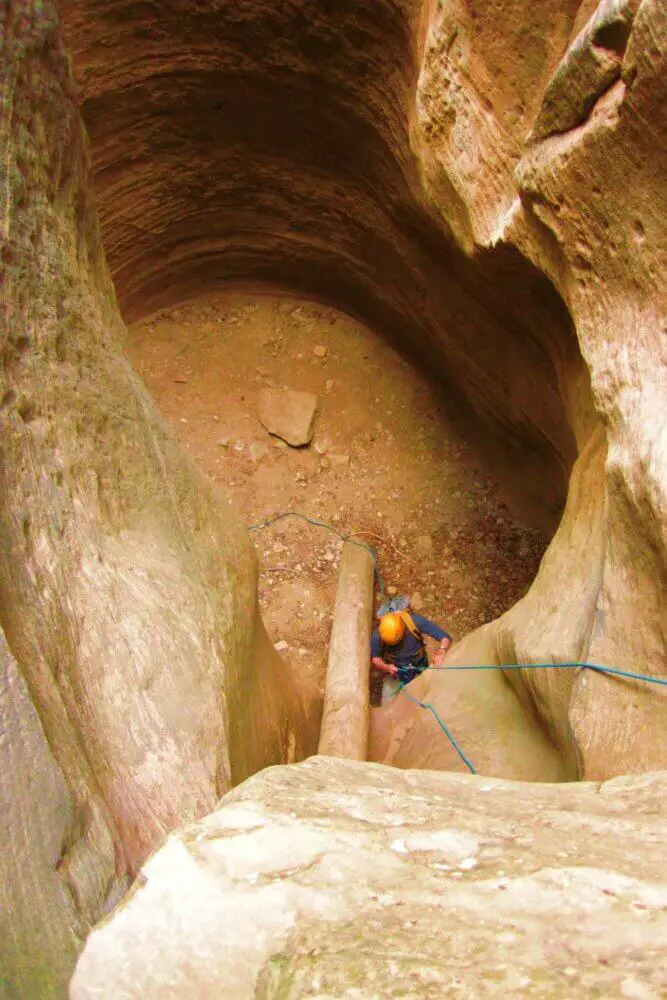 The First Descent
So, there we are, standing at top of the first of 12 slot canyons that we will descend that day.   Nearby is a 30-foot cliff. One of the shortest of the day. 
Bill patiently and methodically gets us into our gear, demonstrates what we will do and goes over the canyoneering basics, answers our questions, checks and double checks everything is in working order and quizzes us to make sure we fully understand everything we need to do.  His thoroughness, obvious expertise and calm manner makes me feel calm and in control.
I peer over the edge and my confidence disappears.   My fear of heights kicks in and I am immediately terrified. 
I try to remind myself why I decided to do this; that it would be an exciting and amazing way to see a part of the world I wouldn't otherwise see, to do something I had never tried before, and to get a unique perspective on this landscape.  Staying at the top will achieve none of these things. 
I don't believe in being held back by fear.  Fear can hold you back from achievement, from excitement, from success.  I refuse to let fear hold me back.
So, I jump.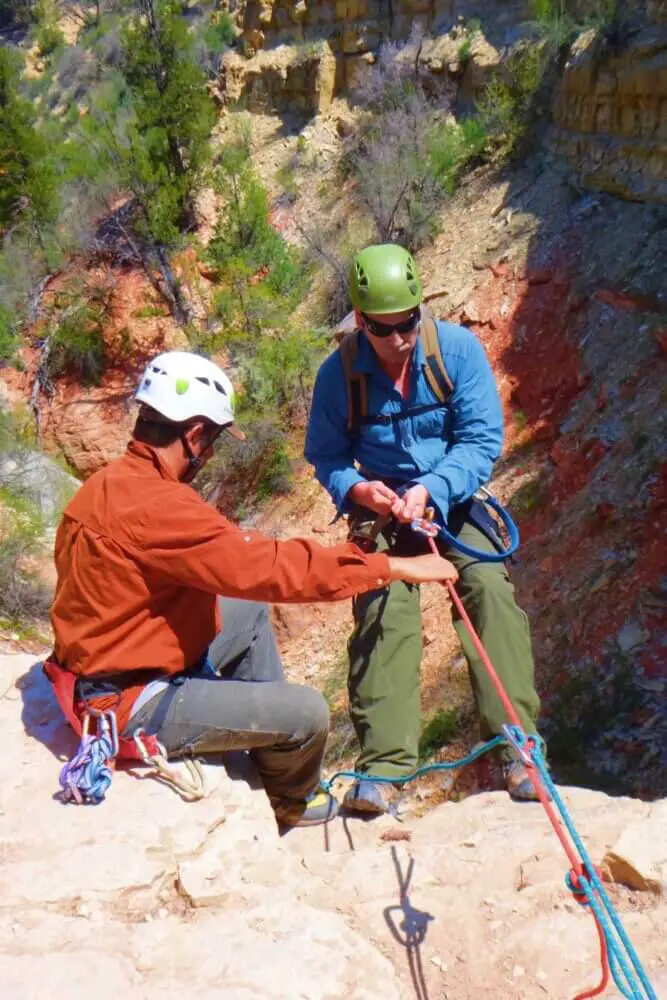 Well, I kind of half jump, half step down the first part of the cliff, releasing a little rope. My controlled descent begins. I am strapped into a harness, tethered securely to an anchor, and tightly gripping a rope in each hand. 
I plant my feet very firmly against the vertical cliff and lean back. It's surprisingly easy. And surprisingly fun.
I focus.  My nerves disappear.  This is awesome! I inch down the cliff.  Suddenly my feet are swinging in the air; the cliff has disappeared.  This is the overhang Bill mentioned was half-way down.  I hang in the air and slowly lower myself down.  I've got this. 
My feet touch the ground.  As I release the ropes and stand up straight, I feel relief and exhilaration.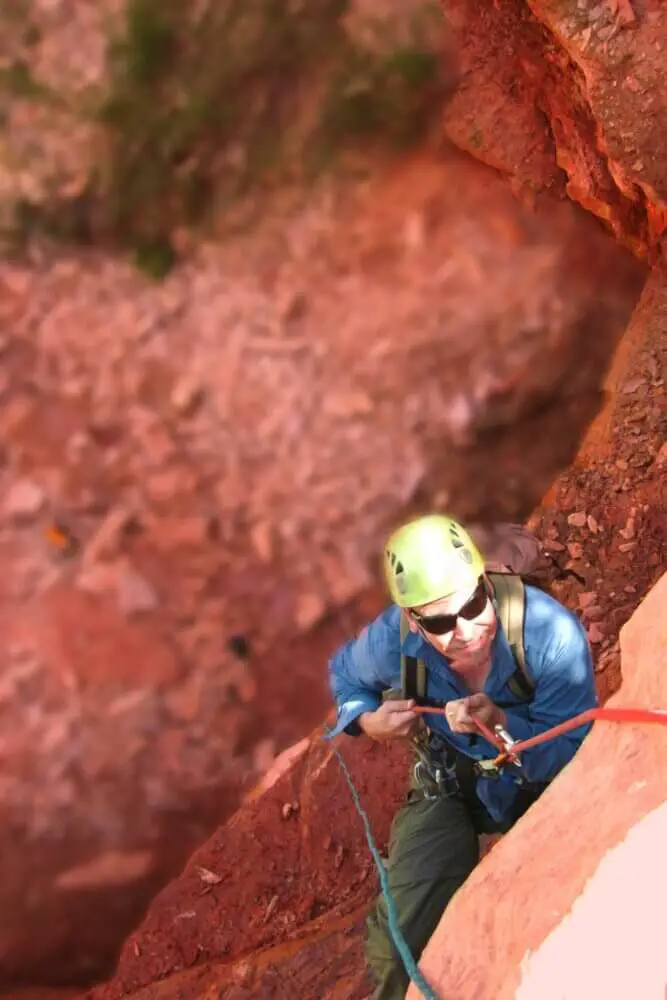 I look up.  Kevin's face peers over the edge, looking slightly disbelieving.
Fear is a funny thing.  Kevin hesitates; but we all have our ways of overcoming fear.  You just need a strong motivator.  Another group of canyoners approaches behind us.  Five men, talking loudly of technical climbing things.   
It turns out that Kevin's fear of embarrassment is stronger than his fear of falling.  The thought of holding them up, of having them all standing around watching him teeter at the edge and judging him is more terrifying to him than risking his life. 
He also jumps.  And makes it to the ground slowly and safely.
1 down.  11 to go.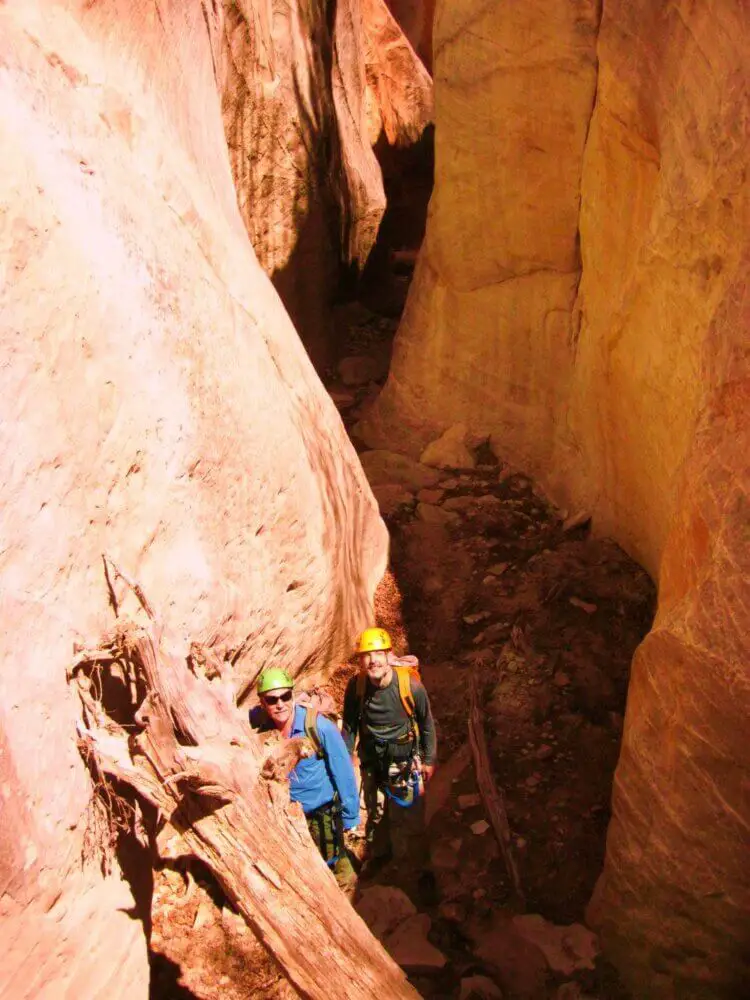 The rest of the day canyoneering in Zion National Park
The first was definitely the worst.  We gain confidence as we slowly descend from one layer of the canyon to the next. 
There is very little walking in between – the "staircase" is steep.  Three canyon cliffs later, we find ourselves peering down a hole, surrounded by smooth waves of marbled sandstone.  The undulating walls towering around us are worn smooth by flash floods.  They glow golden and orange as the sun hits them.  It is magical.   
The hole below us narrows with perspective to a tiny landing 110 feet below us.  110 feet seems exciting.  Kevin descends. I follow. We are having fun.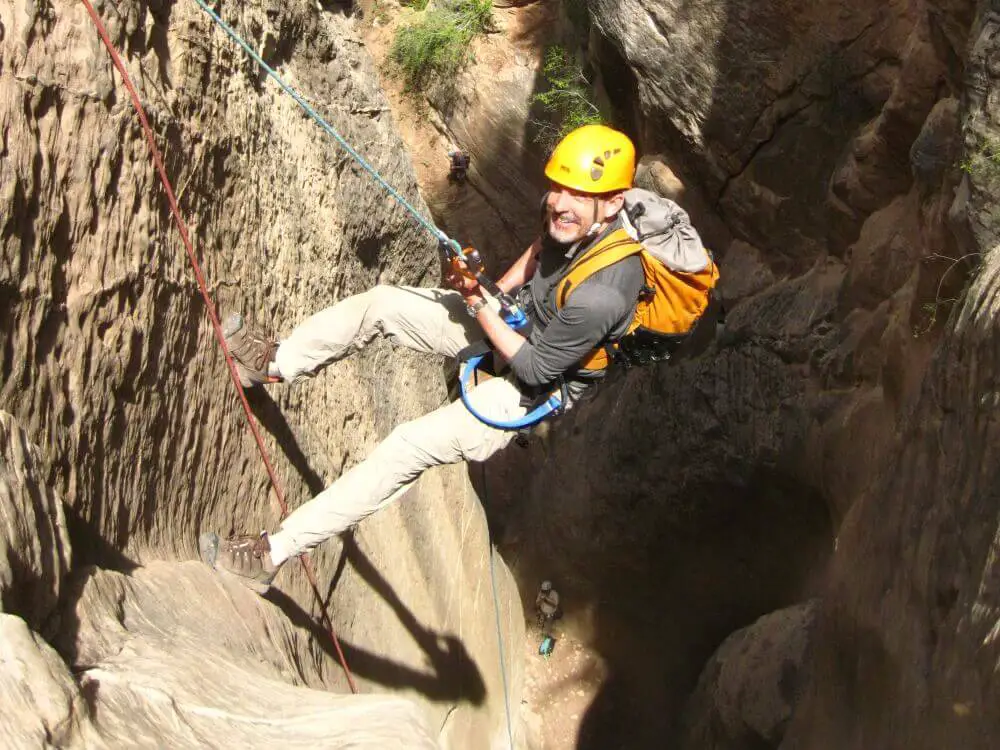 After being passed by that group at the first descent, we are alone all day.
As we descend down one drop after another, we take photos, falling in love with canyoneering and entranced by the adventure and by the beauty of our surroundings. 
The power and intimacy of nature is overwhelming.  It's easy for us to imagine tubes of water gushing down the pipes of the canyons, cascading from one canyon down to the next, carving grooves as it goes.  We feel cocooned in the walls around and above us and thrilled by the drops below.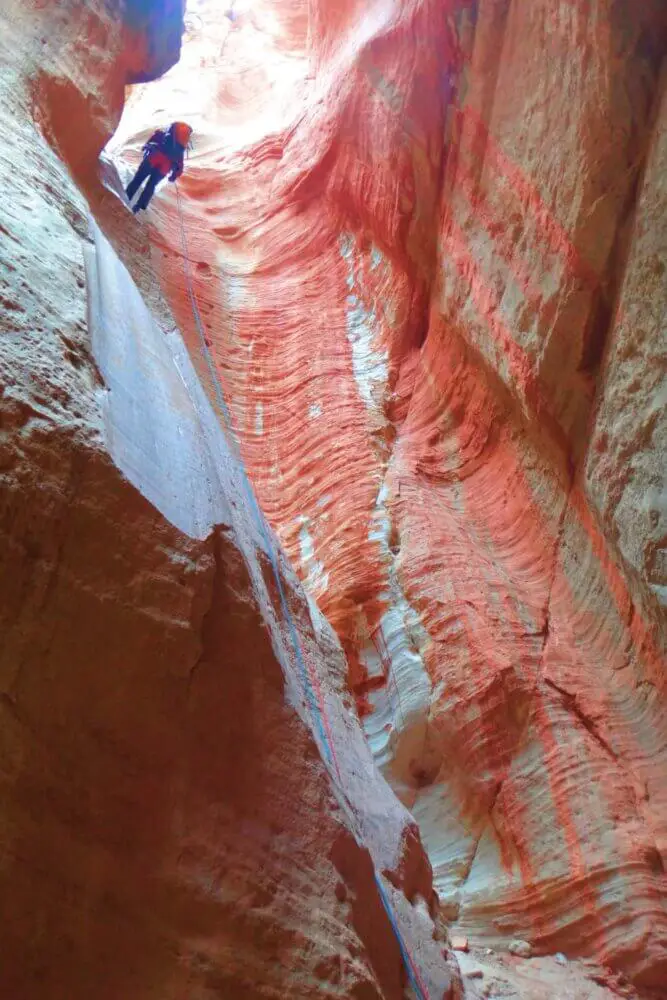 Near the end of the day, we clamber over an enormous driftwood tree trunk, worn smooth by countless floods, wedged in the narrow crevice that is this canyon.
Finally we get the last descent of the day.  Below us, the canyon walls are just 15 feet down and a meter apart. Bill is confident we can get down  this one without a rope.  We clamber down, wedging our legs against one wall and our backs against the other.  We are fearless!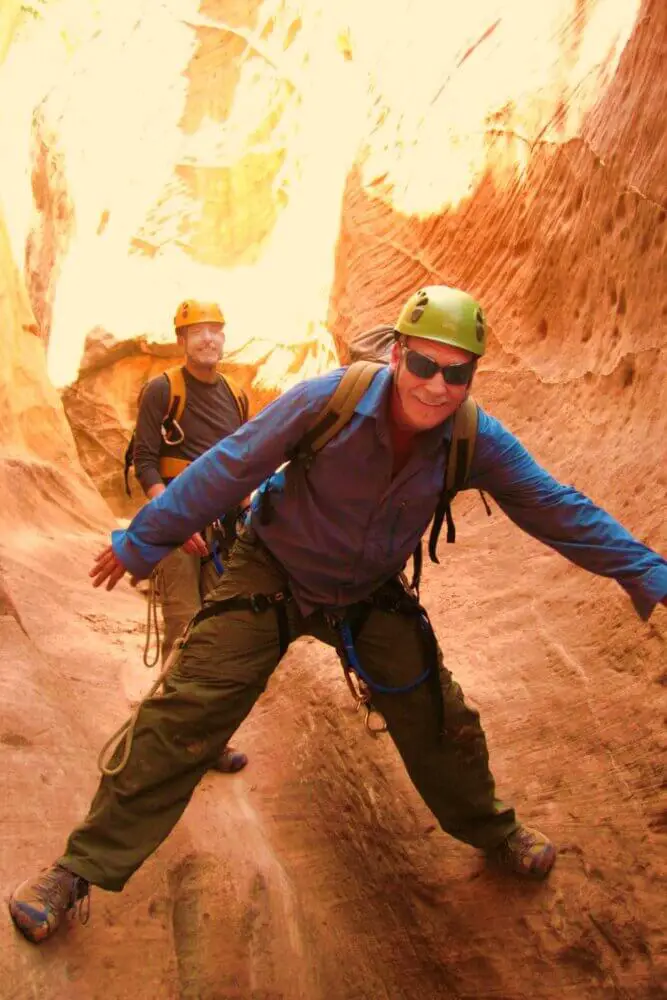 The Verdict: Slot canyoneering near Zion
Would I recommend this Zion guided canyoneering tour?  Absolutely!  Rappelling in Zion was one of the highlights of our trip.
---
Happy canyoneering!
Do you have any stories of canyoneering, rappelling or visiting Zion? I'd love to hear them. Comment below.  
Are you planning a trip to Zion National Park? Read my Zion National Park Guide
If you liked this post, please share the love and Pin It to your National Parks or Adventure boards!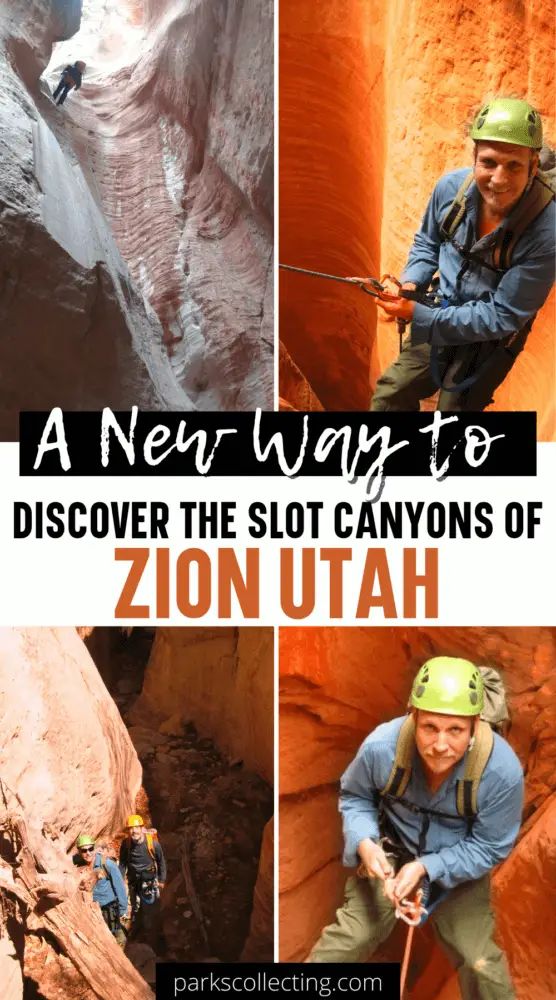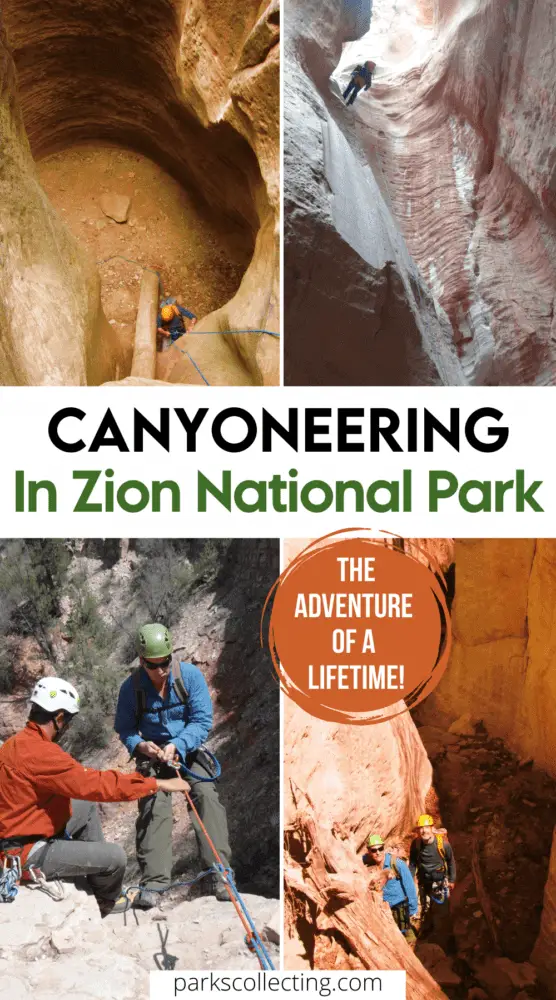 If you are planning to visit Zion Canyon National Park by yourself, make your planning easy and stress free with a detailed itinerary. I have 1-, 2- and 3-day itineraries for Zion National Park that include all the park highlights, give you choices based on your preferred activity level, and take all the stress out of planning your trip. 
For more adventures in the U.S. southwest, read about:
---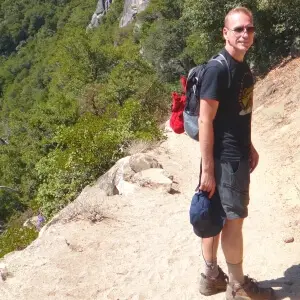 James Ian has dedicated his life to travel and has traveled to 82 countries and all 7 continents.  He's visited all of the main national parks in the United States, as well as many national monuments and state parks.
As a national park expert, James has contributed to many publications, including Time Business News, Savoteur, and Wired. He also has several published detailed itineraries in addition to many free online guides.
James has rafted through the Grand Canyon; rappelled down slot canyons near Zion and Arches; hiked among the hoodoos in Bryce and the enormous trees in Sequoia; admired the waterfalls in Yosemite and the colored hot springs in Yellowstone; seen moose in Grand Tetons and seals in the Channel Islands, and much more.
---
Parks Collecting is a participant in the Amazon.com Services LLC Associates Program, an affiliate advertising program designed to provide a means for sites to earn advertising fees by advertising and linking to amazon.com. Amazon and the Amazon logo are trademarks of Amazon.com, Inc. or its affiliates. As an Amazon Associate I earn from qualifying purchases.