Zion National Park is an incredible place of red rock cliffs, slot canyons, iconic hikes, and much more.  But it's not just beautiful; it's also fascinating!
Want to learn more about Zion? Let's take a look at some interesting facts about Zion National Park.
No time right now to read these fun facts about Zion National Park? Pin It and save it for later:
Please note this post may contain affiliate links, which means we may receive a commission, at zero cost to you, if you make a purchase through a link. Please see our full Disclosure for more information. If you have any questions, please contact me.
If you are planning to visit Zion National Park in spring, summer, or fall, make your planning easy and stress free with a detailed itinerary. I have 1-, 2-, and 3-day itineraries for Zion National Park that include all the park highlights, give you choices based on your preferred activity level, and take all the stress out of planning your trip.
---
Basic Zion National Park Facts
Location: Southwestern Utah, United States
Size: 229 square miles
Number of Visitors each Year: 4,692,417 in 2022, making it the third most popular National Park
Annual Rainfall: The average annual rainfall in Zion National Park is 15.6 inches (1.3 inches/ month)
Highest Elevation: 8,726 feet (the summit of Horse Ranch Mountain)
Lowest Elevation: 4,000 feet
Date it Became a National Park: November 19, 1919
---
12 Fun Facts About Zion National Park
Here are 12 unique things about Zion National Park that you might not know:
1. Zion was Utah's first National Park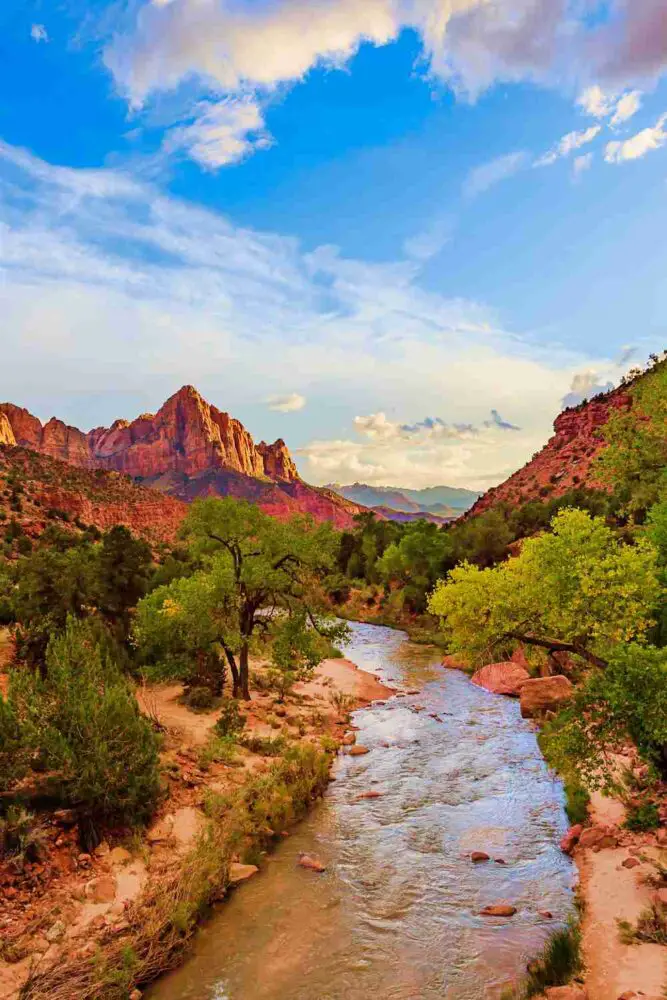 Utah is home to the Mighty Five – five incredible national parks that include Bryce Canyon, Canyonlands, Arches, and Capitol Reef.  However, Zion was the first!
The park started out as Mukuntuweap National Monument, which was created by President William Taft in 1909.  It changed its name to Zion in 1918 and was then upgraded and became Zion National Park on November 19, 1919, when President Woodrow Wilson signed it into being.
The canyon was originally named "Mukuntuweap" by John Wesley Powell, who surveyed the area in 1872.  He named it to honor the Southern Paiute people, who lived there.  The name means "straight canyon" or "straight river" in the Paiute language, though the Southern Paiute actually called the canyon "Ioogoon" ("the arrow quiver"). 
So, why was it changed to "Zion"? Well, although the park is now one of the most popular national parks in the country, that wasn't always the case.  When it was Mukuntuweap National Monument, very few people visited.  The Park Service's acting director, Horace Albright, felt 'Mukuntuweap' was "too difficult to pronounce and really tough to spell" and this deterred prospective visitors.
So, in order to try and attract more visitors, he campaigned for the name to be changed. He succeeded and when more land was added in 1918, the name was changed to Zion National Monument – more about that in fun fact #2.
It worked.  In 1914 only 300 people visited Mukuntuweap. but in 1919, the newly designated Zion National Park had 1,814 visitors.  Numbers have continued to rise and it's now the third most popular park in the United States!
READ MORE: Opening Zion: A Scrapbook of the National Park's First Official Tourists by J Clark and M Clark – a fascinating book based around two albums of photographs and newspaper clippings from1920 that document a trip made by six young women from the University of Utah into the newly formed Zion National Park.
---
2. Zion was named by an early Mormon settler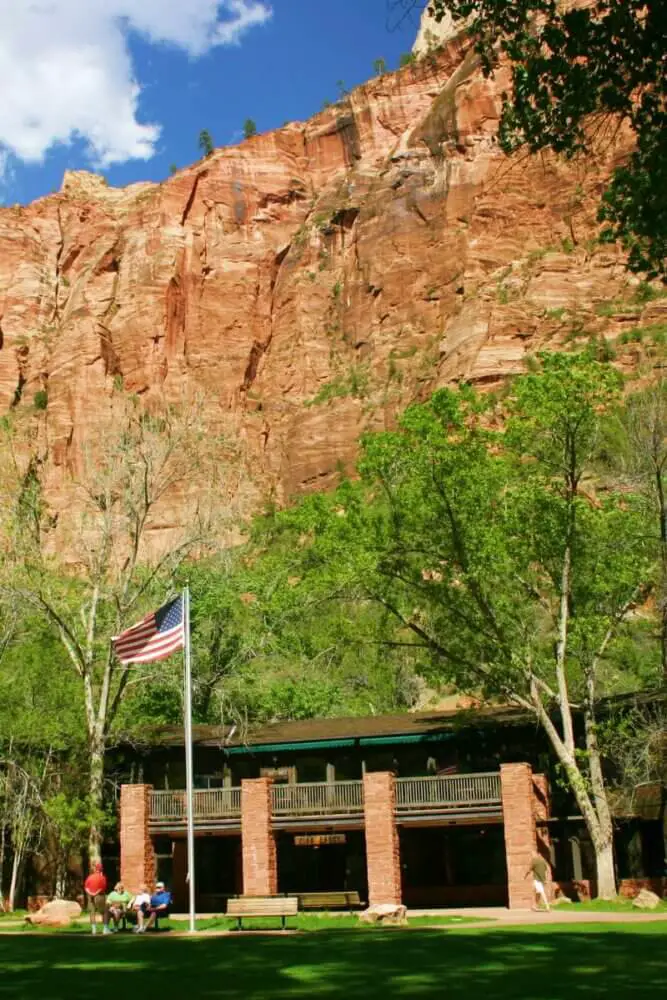 So, how was "Zion" chosen as the name for the National Park?
The word "Zion" is often used by Christians to describe a "holy place" or "kingdom of heaven." This area, like much of Utah, was settled in the 1800's by Mormon pioneers.  One such man was Isaac Behunin who built a tobacco, corn and fruit farm in Zion Canyon in 1863 near today's Zion Lodge.  
As he sat in his yard and gazed at the towering canyon walls around him, he supposedly said, "Here we have natural temples; we can worship as we please. A man can worship God among these great cathedrals as well as he can in any man-made church; this is Zion." Since Salt Lake City had first been envisioned as the "City of Zion", he decided to call the canyon "Little Zion."
He left the area and moved to Kirtland, Ohio soon after but the name stuck and continued to be used by locals. When they were searching for a name to replace "Mukuntuweap", this local name seemed like a logical choice. 
READ MORE: Zion National Park (Images of America) by Tiffany Taylor – an interesting book that focuses on the lives of Zion's early pioneer settlers and chronicles in photos how the park has changed over the past century
---
3. There are four main sections in Zion National Park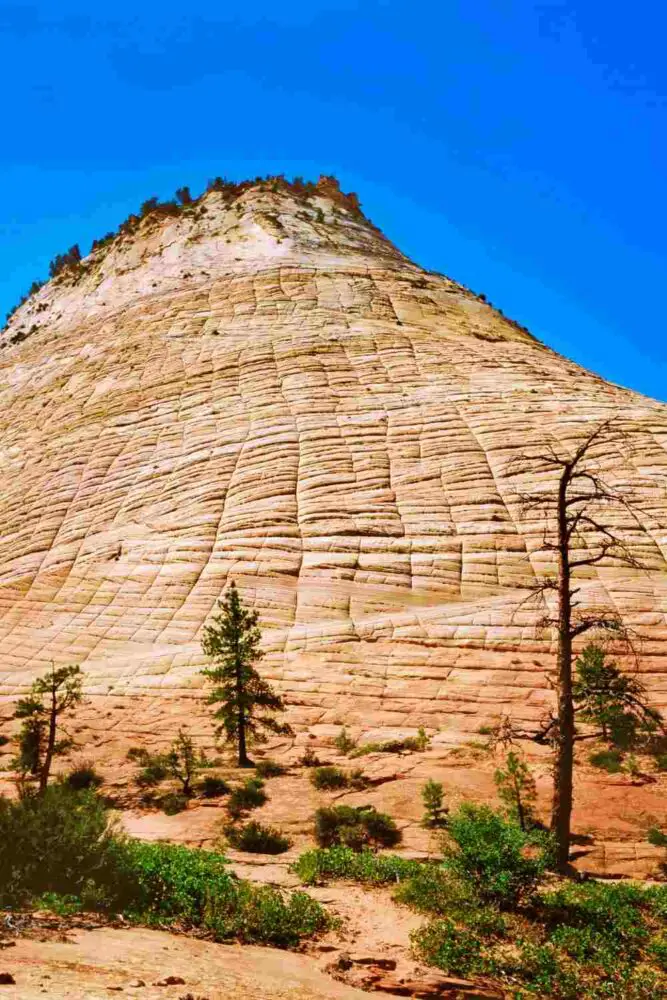 Most people only visit Zion Canyon, which is where the park's most popular attractions are.  However, there are three other sections to the park.  
Kolob Canyons is much less visited.  It's about an hour from Zion Canyon and is accessed through a completely different entrance. It's home to several great hiking trails, a campground and Kolob Arch (see below).
Kolob Terrace lies in the middle of the National Park and is reached by the Kolob Terrace Road. This scenic drive between Virgin and Lava Point has wonderful views and several trails. 
The East Mesa lies along the top of the east rim and also contains several great hikes, as well as unique geographic features like Checkerboard Mesa.  
READ MORE: Planning a Trip to Zion National Park: Complete Guide
---
4.  One of the greatest engineering feats of all time is found in Zion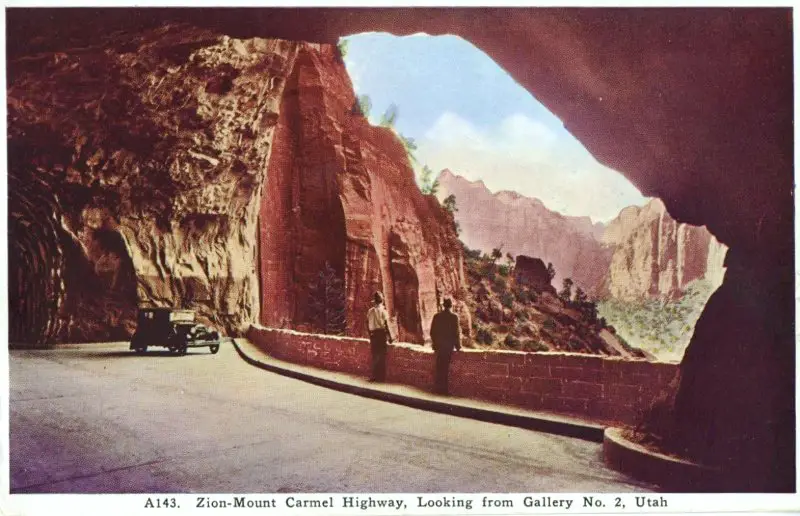 You never used to be able to drive from the East Mesa into Zion Canyon.  But you can now due to one of the world's most incredible feats of engineering. 
The Zion-Mt. Carmel Tunnel was built in 1930 to connect the East Mesa (and Bryce canyon and Grand Canyon) to the floor of Zion Canyon and what is now the main south entrance to the national park.  The 25-mile stretch of road includes an incredible 1.1-mile tunnel that was built in the side of Pine Creek Canyon. 
If you enter the national park from the east entrance, you will soon go into the tunnel.  There are windows off to the right as you descend, that were intentionally built to provide glimpses of the dramatic scenery.  After just over a mile, you'll emerge and prepare to have your breath taken away as the panorama of Zion Canyon is laid out before you.
The construction of the tunnel is one of the most incredible Zion National Park facts.  History books talk of how this was started in 1927 and finished in 1930 and at the time was the longest tunnel of its type. The Zion-Mount Carmel Highway, including the tunnel, cost $1,896,000, which was a huge sum of money at the time.
Construction was not easy.  The galleries, or windows, that were specially built to provide views of Zion Canyon, 'involved the construction of rock walls and arched-masonry culverts.  Add in the seven switchbacks the tunnel goes through, bridges that needed to be built, and the difficulty of working with the soft sandstone and the risk of landslides, and you can start to appreciate just how incredible it is.  
The tunnel wasn't designed for the large vehicle, like RVs and trailers, that exist today.  Consequently, larger vehicles have trouble navigating the narrow lanes and turns in the tunnel.  If your vehicle is 11'4″ or taller or 7'10" or wider, you will need to get a special tunnel permit so that rangers can close the tunnel to two-way traffic and you can drive down the middle of the road. 
READ MORE: The Zion Tunnel: From Slickrock to Switchback by DT Garate – learn more about this incredible feat of engineering.
---
5. Zion contains the fourth largest freestanding arch in the world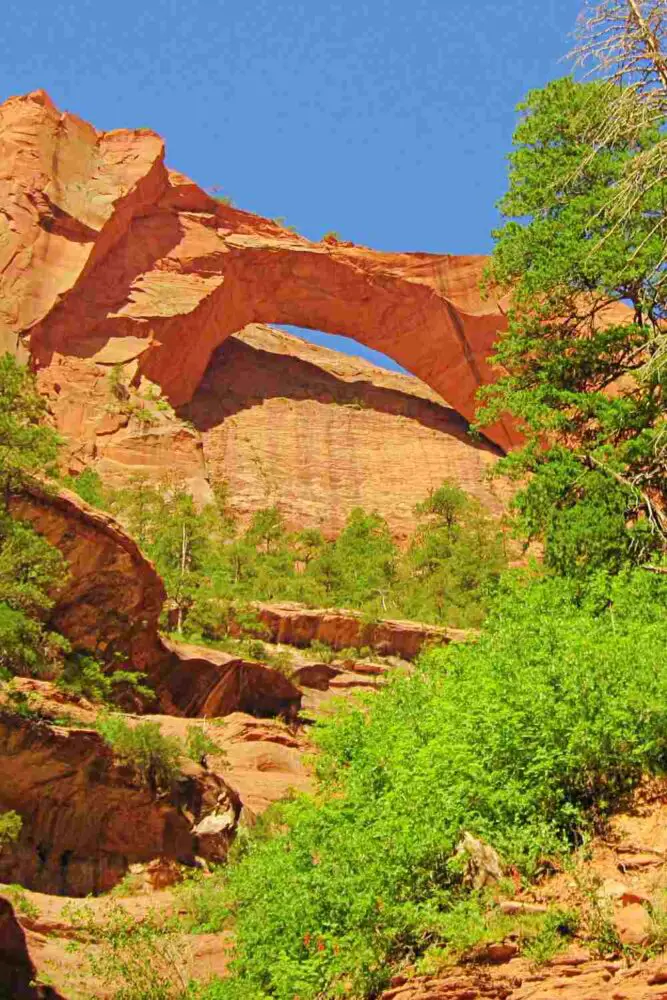 Arches National Park is the U.S. national park most famous for natural arches, but it's not the only park that has them.  In fact, the fourth largest freestanding natural arch in the entire world is in Zion.  The third longest is Landscape Arch in Arches National Park, and the two longest are in China. 
The arch in question is Kolob Arch and it's found in the Kolob Canyons District of the park.  Kolob Arch is 287 feet long, which is just three feet shorter than Landscape Arch.
To see it, you'll need to hike 14 miles roundtrip into the backcountry to a viewpoint.  The arch itself is off limits. 
READ MORE: Zion Canyon: A Storied Land by G Chesher – written by a park ranger who spent over two decades in the park, this goes over a lot of the history, ecology and geography of the park.
---
6. Zion National Park has a Subway and Wall Street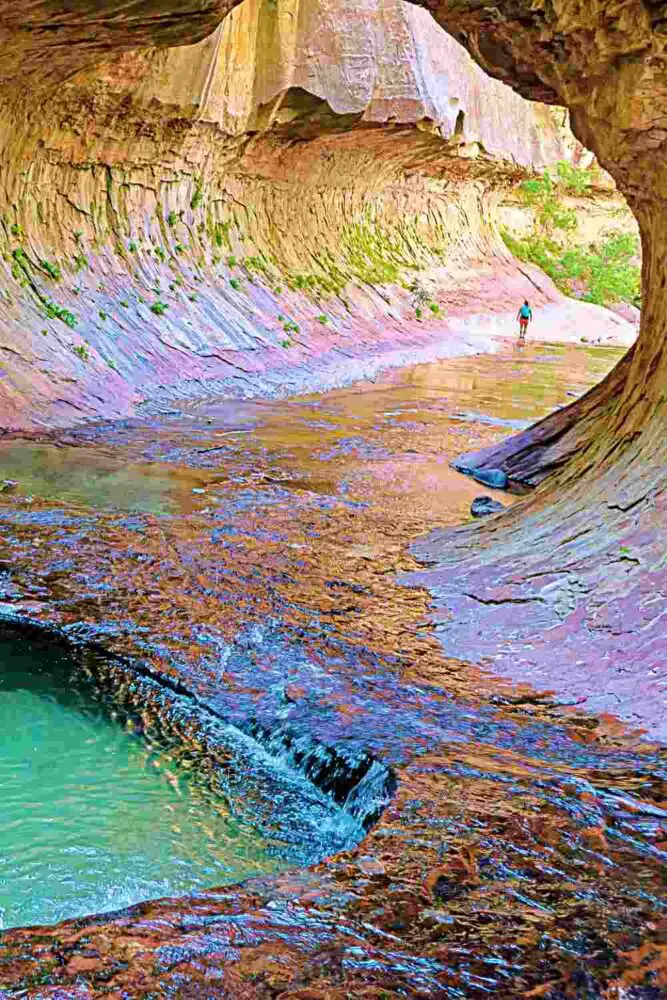 One of the cool facts about Zion National Park is its connection to New York City – at least in the naming of a couple of famous places in the park.  On the surface, this dramatic landscape and a megacity couldn't be more different, but there are two features that were inspired by famous counterparts in NYC.
At its far end, Zion Canyon narrows into a slot canyon that is appropriately called The Narrows.  You can hike this (see Fun Fact #9). 
About 3 miles into this slot canyon, it becomes just a few yards wide.  The cliffs on both sides tower hundreds of feet above.  This stretch reminded people of the skyscrapers of Wall Street, which gave it its name.
Another fun fact: There is also a Wall Street in Bryce Canyon National Park.
Another part of Zion National Park reminded people of the subway tunnels in NYC.  The left fork of North Creek slot canyon, or "The Subway" as most people call it, is a rounded, tunnel-shaped slot canyon in the backcountry of the national park. 
This is an iconic hike that requires route finding (bottom-up approach) and some rappelling (top-down approach).  To get there, you need a special wilderness permit.
READ MORE: Best Hikes in Zion National Park
---
7. Zion is a great place to climb cliffs
The cliffs and canyons in Zion are Navajo sandstone, which was originally formed from sand dunes that then built up in layers some 110 and 270 million years ago and was subsequently shaped by wind and water.  
Today, Zion National Park features enormous 2000-feet sandstone cliffs, including iconic monoliths like the Court of the Patriarchs and Great White Throne, in addition to the canyon walls.  
This makes it a great place for climbing!  The peak season is March to May and September to November, when climbers come from all over to enjoy a variety of climbing routes. There are climbs for all levels – from beginners to experts. 
There are also routes for different kinds of technical climbing, from sports climbing, where climbers use bolts embedded into the rocks, to more challenging traditional climbing with ropes and lots of hand holds. 
If this sounds appealing, you'll need a permit and all the right safety gear.  If you're new to climbing, there are several outfitters in Springdale that offer guided climbs. 
Book an intro to climbing and rappelling experience here
READ MORE: Daniel Stih's Rock Climbing in Zion National Park by D Stih – details on climbing routes with descriptions, photos, maps and drawings.
---
8. Zion is also a great place to jump off cliffs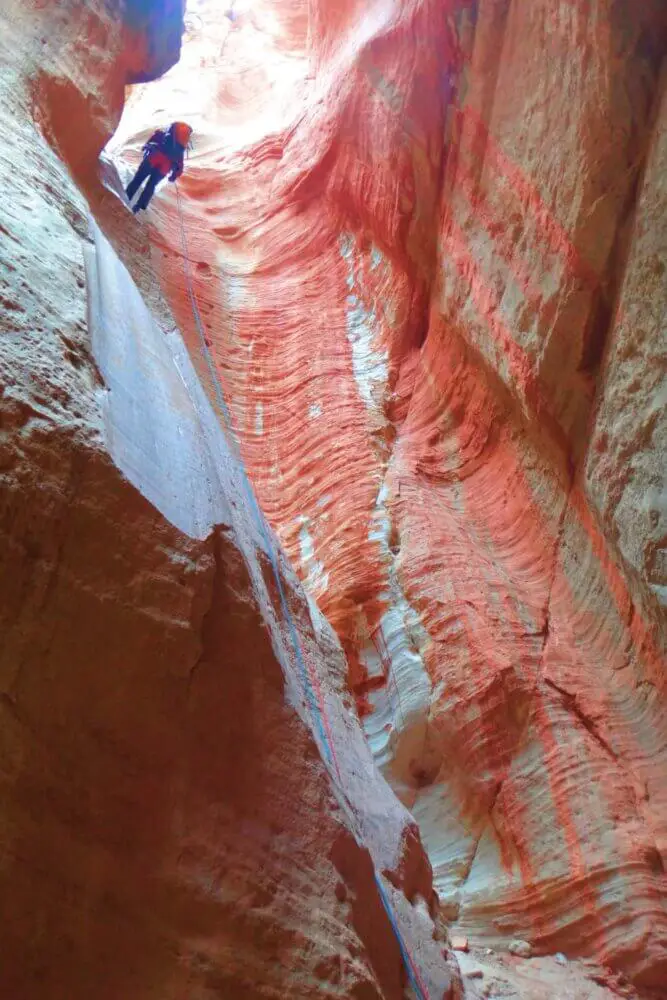 In addition to towering cliffs, Zion and the surrounded area is riddled with narrow slot canyons.  These extremely narrow canyons are formed over thousands of years by water rushing through soft rock. 
There are several places where these canyons descend in 'steps', with drops offs ranging from a few feet to a few hundred feet between each layer. 
These are the perfect place for rappelling – jumping off the edge of each of these drop-offs down into the next layer of the slot canyon.  
READ MORE: If you'd like to learn more about canyoneering in Zion, read my guide to Canyoneering In Zion National Park
Book a half-day canyoneering trip to Coral Sands
---
9. You can hike in a river in Zion National Park
Zion Canyon narrows into a slot canyon at it far end, with the Virgin River flowing through it.  The hike through the Narrows – most of which is done by wading upstream in the river, is one of the most iconic hikes in the country.  
The hike can be done as a through hike (top-down), which is 16 miles and requires camping overnight.  However, most people do it as an out-and-back day hike from the Temple of Sinawava (the last stop on the Zion shuttle) to Wall Street, which is 3 miles each way. 
This is a unique experience I recommend everyone who is physically able to try. However, since most of the hike is actually in the river, the canyon is closed if the water level is too high or if there is a danger of flash flooding. 
READ MORE: For more details about this amazing hike, read my Guide to Hiking The Narrows
---
10. Zion has one of the most dramatic – and dangerous – hikes in the country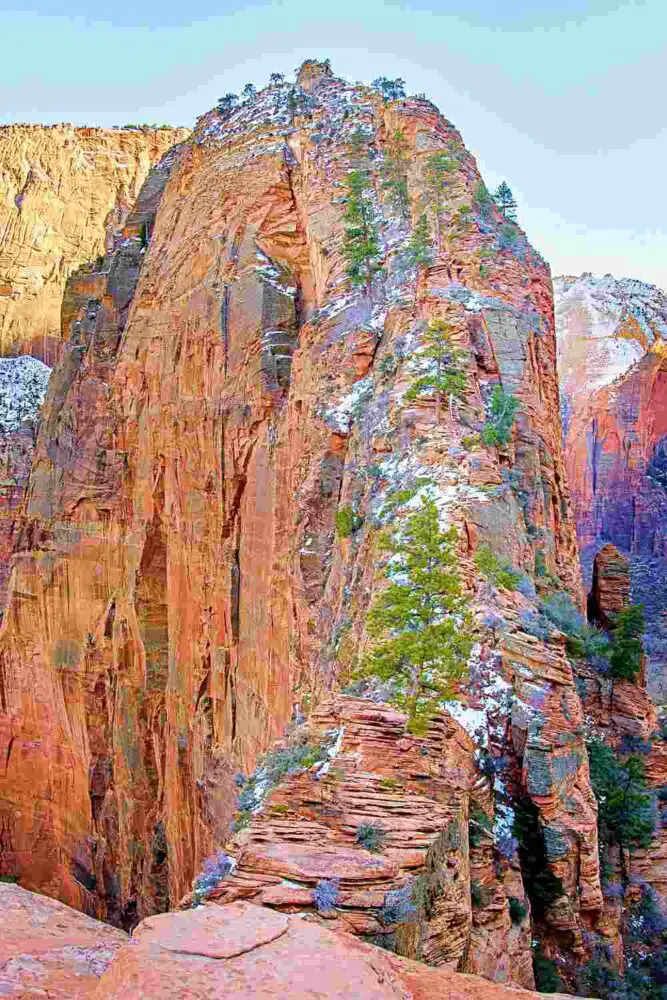 The Narrows isn't the only famous hike in Zion.  Arguably even more famous – and dangerous – is the bone-chilling hike to Angels Landing.
The hike is 5 miles round trip, and gains 1,500 feet mostly by a series of 21 narrow switchbacks called Walter's Wiggle.  That's the easy part, though!
It is the last half a mile that makes the trail so legendary.  From Scouts Lookout at the top of Walter's Wiggles to Angel's Landing, the trail is only about 5 feet wide as it crosses a ridge with sheer drop offs hundreds of feet high on both sides.  There is a chain to hold on to, but it's still a thrilling hike that is definitely not good for those with a fear of hikes. 
The rewards at the end are breathtaking views down the length of Zion Canyon. 
It's also not a hike to take lightly.  This hike has been described as one of the most dangerous hikes in the world; more than 15 people have fallen to their deaths while attempting this hike!
However, if you are sensible and take basic precautions, it's perfectly safe.  Thousands of people hike it every year without incident.
In fact, the hike became so popular that the National Park Service has implemented a lottery system to limit the number of hikers on the trail at any given time.
READ MORE: If you'd like to try this hike, learn How To Get Angels Landing Permits
For stories about deaths on this hikes and other parts of Zion, pick up Death in Zion National Park: Stories of Accidents and Foolhardiness in Utah's Grand Circle by Rando Minetor
---
11. There are archeological sites from people who lived in Zion over 10,000 years ago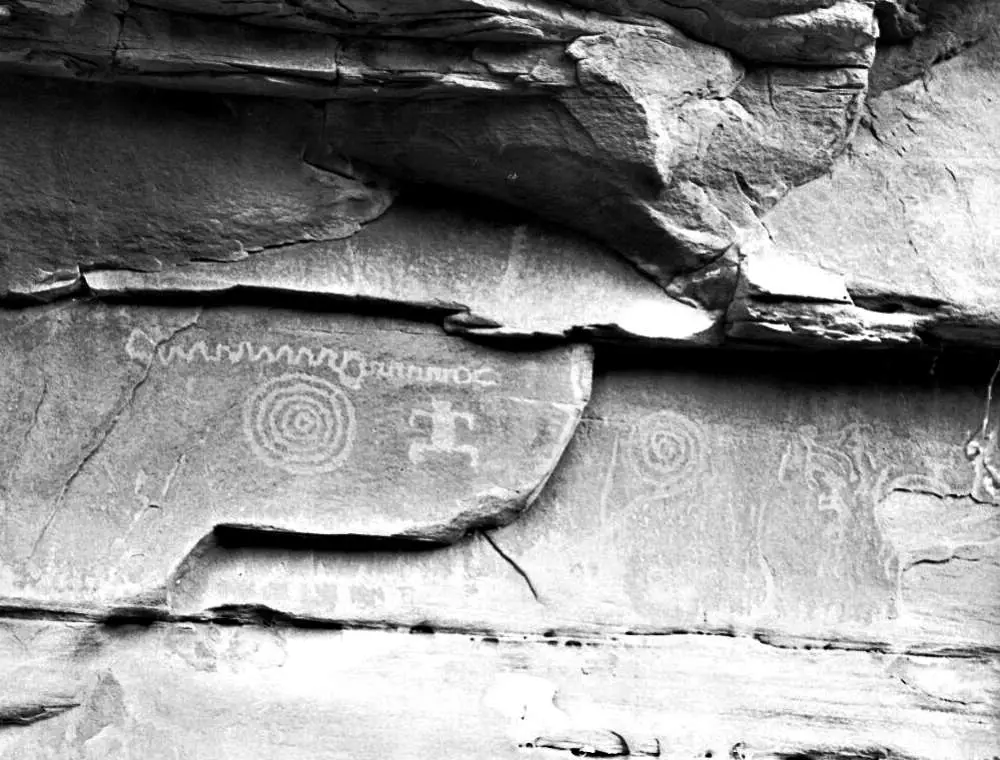 Before Zion became a national park, it was settled by Mormon pioneers in the 1800s.  People lived here long before that, however.  In fact, the area has been inhabited for more than 10,00 years!  
Various small sites in and around the park exist. From petroglyphs (rock carvings) to granaries, the area is filled with evidence of a rich history. 
A great way to learn more about this is to visit the Human History Museum, near the main south entrance to the park. 
READ MORE: Zion Human History Museum
---
12. Zion National Park is part of an active volcano field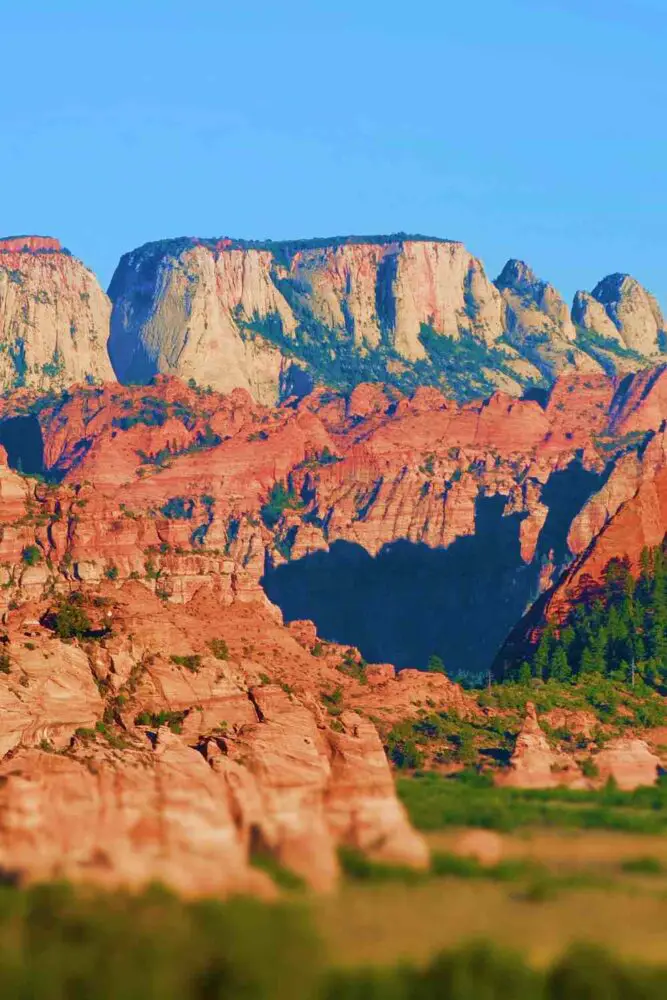 Zion is famous for its canyons, carved by wind and water over thousands of years.  However, it is also part of the Santa Clara volcano field.  Eruptions in this field typically happen every few 10,000 years.  The last was 32,000 years ago (in Snow Canyon State Park), so its due for another – at least in the next 10,000 years or so!
The first major eruption in the area was 1.1 million years ago on the Kolob Plateau near Lava Point in what is now the Kolob Terrace section of the park. This lava flowed all the way down to the Virgin River, possibly damming it and creating a temporary lake.
310,000-220,000 years ago, several eruptions occurred in the Grapevine Wash area. The Kolob Terrace road winds past these lava flows today.
Then 120,000 years ago, Crater Hill erupted just below the West Temple between Rockville and Virgin and the lave again dammed the Virgin River creating a temporary lake.
So, who knows.  Maybe the Virgin River will become a lake yet again some time. 
READ MORE: Water, Rock & Time: The Geologic Story of Zion National Park by R. Eves, R Wheeler, and L Hafen – the story of the formation of Zion Canyon with plenty of photos to accompany the text
---
More Information About Zion National Park
Now that you've learned all about Zion National Park, are you feeling inspired to visit Zion National Park?  Start planning your trip now with these guides:
---
Do you have any other Zion fun facts to share?  I'd love to hear them.  Join my private Facebook group National Parks Collectors and comment and let me know (you can also pick up extra planning tips, share your photos and stories with other national park lovers and more).
If you liked this post about fun facts: Zion National Park, please share the love and Pin It to your Zion National Park board!
---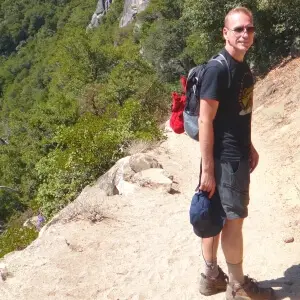 James Ian has traveled to 82 countries and all 7 continents.  He has visited all of the main national parks in the United States, as well as many national monuments and state parks.
He has rafted through the Grand Canyon; rappelled down slot canyons near Zion and Arches; hiked among the hoodoos in Bryce and the enormous trees in Sequoia; admired the waterfalls in Yosemite and the colored hot springs in Yellowstone; seen moose in Grand Tetons and seals in the Channel Islands, and much more.
---
Parks Collecting is a participant in the Amazon.com Services LLC Associates Program, an affiliate advertising program designed to provide a means for sites to earn advertising fees by advertising and linking to amazon.com. Amazon and the Amazon logo are trademarks of Amazon.com, Inc. or its affiliates. As an Amazon Associate I earn from qualifying purchases.