So, you're going to visit Zion National Park but are worried about the long lines for the shuttle.  Don't panic!  There are ways to see Zion National Park without the shuttle!  Read on to discover all you need to know to have an amazing Zion vacation without needing to use the national park shuttle bus.  
TOP TOUR: Book a small group tour now
TOP HOTEL PICK: Check availability now
FIND THE CHEAPEST CAR RENTAL: Search Discover Cars for the best deals
FIND THE CHEAPEST FLIGHTS: Search Skyscanner for the best deals
GET TRAVEL INSURANCE: Get insured with Travelex before you go
No time right now to learn how to visit Zion without shuttle tickets?  Pin It and save it for later: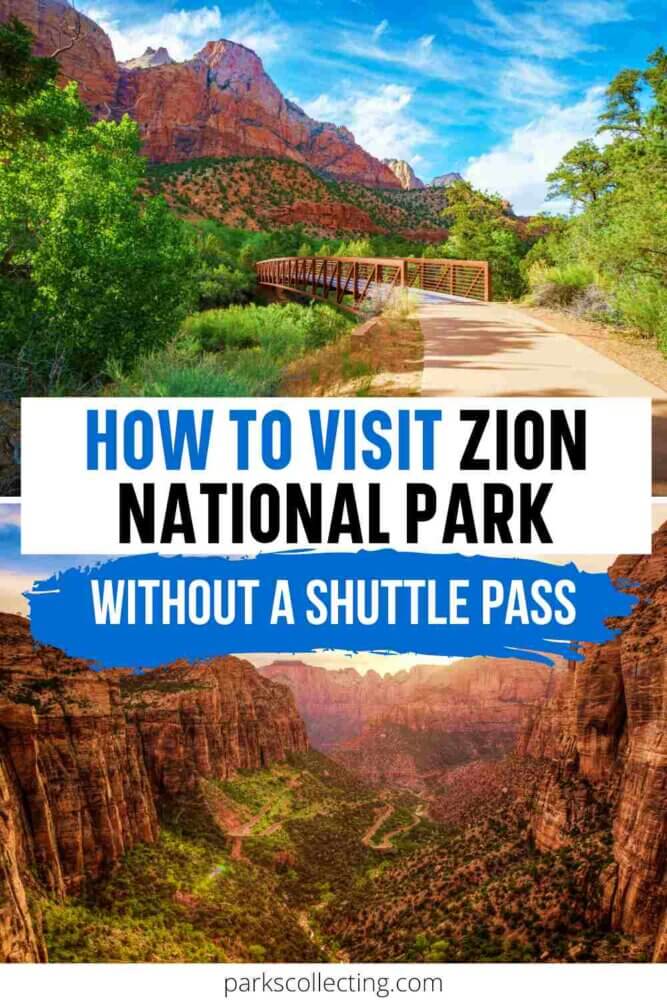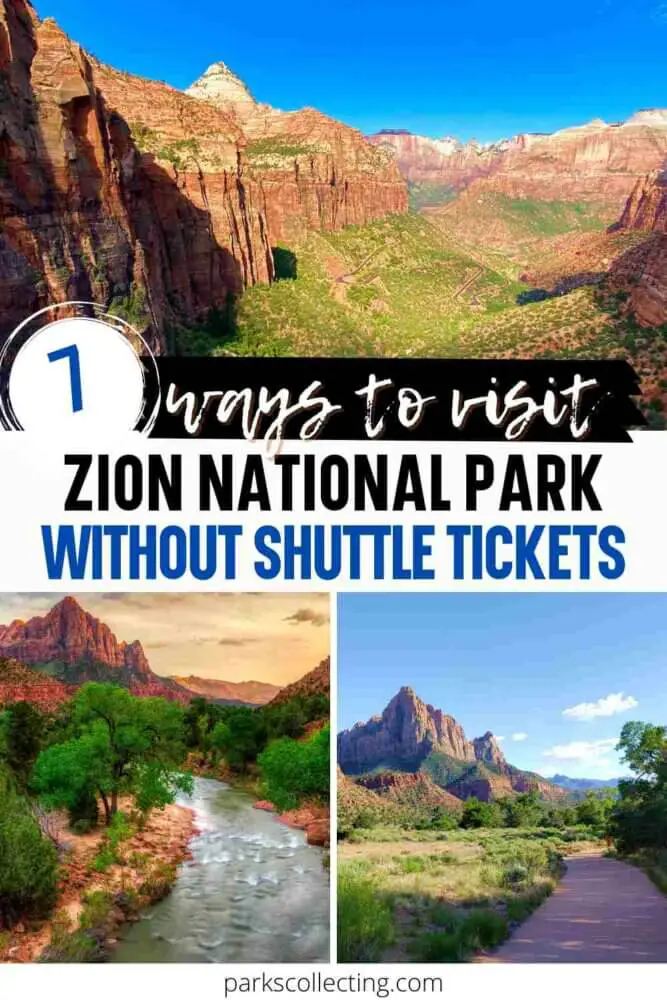 Please note this post may contain affiliate links, which means we may receive a commission, at zero cost to you, if you make a purchase through a link. Please see our full Disclosure for more information. If you have any questions, please contact me.
If you are planning to visit Zion Canyon National Park by yourself, make your planning easy and stress free with a detailed itinerary. I have 1-, 2- and 3-day itineraries for Zion National Park that include all the park highlights, give you choices based on your preferred activity level, and take all the stress out of planning your trip. 
The main section of the Zion National Park, the "scenic drive" section of Zion Canyon, is closed to private vehicles and the only way to get there is on a shuttle bus.  Read my Guide to the Zion Shuttle for full information on the shuttle routes, etc.   
However, Zion is one of the most popular parks in the US and you may find yourself unable to get on the national park shuttle service.  This does not mean that you can't see the park, however. Here are options you have for getting around Zion without the shuttle. 
Additional help with your Zion trip planning:
>> The Best Time of Year to Visit Zion National Park
>> Best Vacation Rentals Near Zion National Park
>> How to Plan a Trip to Zion National Park
>> Best Hikes in Zion National Park
>> Zion Shuttle Guide
>> Best Photo Spots in Zion National Park
>> How Many Days to Spend in Zion National Park
>> Best Airports for Zion National Park
>> Fascinating (and Useful) Books About Zion National Park
---
1. Rent (or buy) a Bike 
From the Visitor Center at the south entrance to the park to the Temple of Sinawava at the far end of Zion Canyon is just 7.5 miles, so if you have a reasonable level of fitness, a wonderful way to visit the Zion Canyon Scenic Drive area is to rent a bike and cycle through the canyon. It's actually nicer than taking the shuttle, I think.   
From the entrance to the end is a slight uphill incline, with some flat areas and small hills.  Which means that the return trip is basically all downhill!  Start on the Pa'Rus Trail until Canyon Junction and then join the Scenic Drive road. 
You can rent an e-bike, which requires less physical effort, but does cost more and, if you aren't used to them, can be more dangerous – they are the most common cause of injury on Zion!  Regular bicycles are also available.   
If you don't want to cycle the full length of the canyon, the Pa'Rus Trail actually has a bike path, and this is a really nice 1-2-hour ride on a flat paved path alongside the Virgin River with multiple bridge crossings.  
There are several outfitters in Springdale where you can rent a bike for full day or half day.  These include: 
Zion Guru 
E-bike rental – $95 full day/ $75 half day 
Zion Outfitter
E-bike rental – $95
Regular bicycle rental – $35 before noon / $25 after noon.  Children $25/ $15. 
Zion Cycles
E-bike rental – $110 full day/ $100 half day
Regular bicycle rental – $50 full day/ $40 half day 
An alternative to renting is to take your own bikes with you. If you're looking to invest in an e-bike, check out e-bike options on REI here.
---
2. Explore the East Area of the Park
You can drive to the East entrance and explore the eastern part of the park.  There is an easy trail to Observation Point, which is, in my opinion, the best view in the entire park. It's an easy flat 6.4-mile round trip hike.  When you get to Observation Point, you'll be rewarded with 270-degree views along the length of the canyon with Angel's Landing far below. 
If you are up for something more challenging, you can hike down (but have to hike back up) the Lower East Rim Trail into Echo Canyon, a beautiful black and white striped slot canyon.  This trail is currently blocked from below due to a rock slide, so few people go there and you will have pretty much to yourself.  
---
3. Do Hikes in Zion Canyon Outside the 'Scenic Drive' Shuttle Area 
Can you hike Zion without shuttle access? Yes. There are several other trails that made it on to my list of the Best Hikes in Zion National Park that you can do without needing a shuttle bus. 
These include: 
(a) Observation Point 
Described above 
(b)  Canyon Overlook 
This easy 1.0-mile roundtrip trail leaves from near the east entrance of the Zion-Mount Carmel Tunnel, which you can drive to.  Along the trail, you can see window holes from the tunnel in the canyon walls off to the left.  At the end, are stunning views of Echo Canyon. 
(c) Watchman Trail 
This kid-friendly 3.1-mile roundtrip trail starts just north of Watchman Campground near the Visitor Center Parking Lot.  It's one of the best trails in Zion, passing below the towering Watchman cliff, through stretches of gorgeous wildflowers, and ending with wonderful views from Watchman Viewpoint of the Zion valley and Springdale. 
(d) Pa'Rus Trail 
This is another family-friendly walk leaving from the Visitor Center.  The 3.5-mile roundtrip trail wanders alongside the Virgin River through fields of wildflowers and ends at Canyon Junction Bridge, where you can get a famous shot of the Watchman and the Virgin River. 
---
4. Visit Kolob Canyons and Kolob Terrace
Zion Canyon isn't the only part of Zion National Park.
Located in the northwest corner of Zion National Park, the Kolob Canyons are narrow parallel box canyons with soaring Navajo sandstone peaks, towering 2,000 cliffs and beautiful waterfalls.  Not only is this part of the park incredibly beautiful, it is also a lot less crowded than the more well-known Zion Canyon area. 
The Kolob Canyons entrance is 40 miles north of Zion Canyon, at Exit 40 on Interstate 15.  It's 17 miles south of Cedar City. 
Hikes in the Kolob Canyons include: 
(a) Timber Creek Overlook Trail 
The easy 1.0-mile roundtrip trail traverses fields of seasonal wildflowers as it passes along a narrow ridge before reaching stunning views of the Kolob Canyons, Kolob Terrace, and the Pine Valley Mountains. 
(b) Taylor Creek Trail 
The moderate 5.0-mile roundtrip trail goes into a narrow box canyon past Double Arch Alcove alongside Taylor Creek before reaching two historic homesteads.  
(c) La Verkin Creek Trail 
For something more challenging, this 14.0-mile roundtrip trail heads deep into the Zion wilderness, and has breathtaking views of the Kolob Canyons before ending with a view of the incredible Kolob Arch, one of the longest single span natural arches in the world.  
(d) The Subway 
You can only do this hike with a special permit that you need to enter a lottery to get. Apply here at least three months in advance.  It's a 6-8-hour one-way combination hike/ canyoneering experience through one of the most incredible slot canyon formations in the park.  
Kolob Terrace is another section is Zion that has a separate entrance. A 22-mile scenic drive start at Virgin, just 1- minutes from Springdale, and goes to Lava Point Overlook, a beautiful viewpoint. It then turns into a dirt road and continues all the way to SR-14 near Cedar City.
A popular and easy hike in the area is 4-mile Northgate Peaks Trail, suitable for the whole family.
Kolob Terrace Road is usually only plowed for the first 14 miles in winter. The rest of the road is usually closed from November – June for snow and is open to winter activities like snowshoeing and cross-country skiing. The drive isn't recommended for RVs or trailers. Vehicles over 19 feet aren't permitted on Kolob Terrace Road.
You can visit Kolob Canyons on one of my 2- and 3-day Zion Canyon National Park detailed itineraries. I have 1-, 2- and 3-day itineraries for Zion National Park that include all the park highlights, give you choices based on your preferred activity level, and take all the stress out of planning your trip. 
---
5. Enjoy Activities and Attractions Outside the National Park 
There are actually a lot of really cool things to do near Zion. These include: 
(a) Go Canyoneering 
I did a Zion canyoneering trip on which I rappelled down 12 drops in a narrow tubular slot canyon and it was one of the most fun things I have ever done!  It was just outside the park boundaries.  There are a couple of different trips to choose from: 
A 4.5-hour trip that includes several rappels as tall as 100-feet.  Suitable for beginners with a sense of adventure.  Book the half-day canyoneering experience here 
A 4-hour trip that takes you in an off-road ATV to Red Cave Slot Canyon where you will do 6 to 7 rappels into the slot canyon. Book the 4-hour canyoneering trip here 
(b) Take a jeep tour 
Head on to rough dirt roads just outside the park boundaries for an adventure with spectacular views and knowledgeable guide to teach all about the ecology and geology of the area. Book a 4-hour jeep tour here 
(c) Explore Peekaboo Canyon 
Take a 3-hour morning or afternoon trip to Peekaboo Canyon into this beautiful hidden gem that rivals the more famous – and crowded – Antelope Canyon for its beauty.  Book a 3-hour tour in Peekaboo Canyon here 
(d) Visit the White Sand Cave, Kanab 
Take a four-hour trip to the breathtaking White Sand Cave, another of Utah's hidden gems.  Book a four-hour tour with guide here 
 (e) Enjoy the animals at the Best Friends Animal Sanctuary, Kanab 
Kids and adults alike will love seeing all the rescued animals at this animal sanctuary.  There are about 1,600 rescued cats, dogs, and rabbits; horses, potbellied pigs, and other farm animals; as well as birds and other wildlife.  You can either volunteer to take care of the animals for the day or take a free tour. Book either online here 
---
6. Visit in Winter 
This isn't very helpful if you are planning a summer vacation, but if your plans are flexible, Zion is a great national park to visit in winter. In winter, the entire park, including the Scenic Drive, is open to private vehicular traffic.  The period when the shuttle does not run is typically late December to mid-March, though this can vary from year to year.  
---
Have a great trip to Zion! 
Do you have any other tips for visiting Zion without using the shuttle?  Join my private Facebook group National Parks Collectors and comment and let me know.   
If you liked this post, please share the love and Pin It to your Zion National Park board!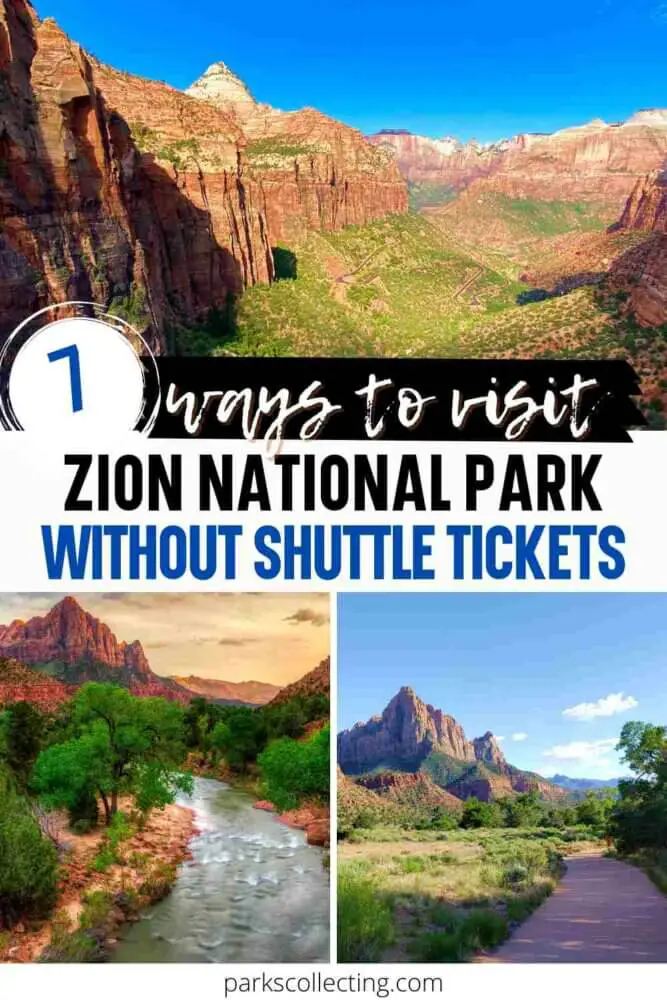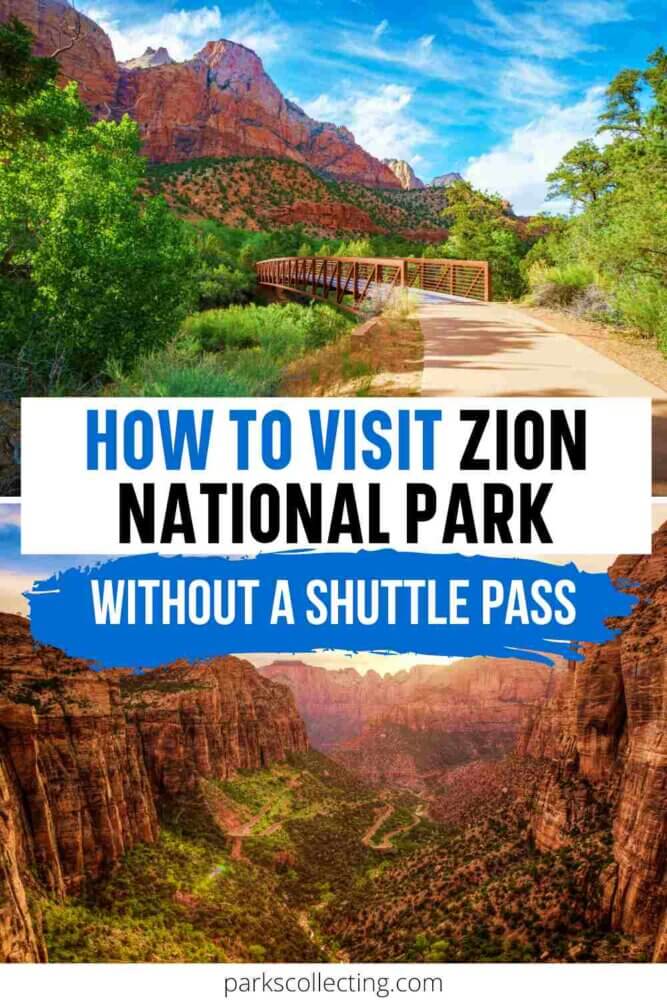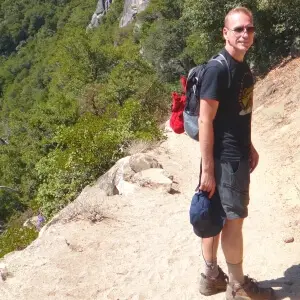 James Ian has dedicated his life to travel and has traveled to 82 countries and all 7 continents.  He's visited all of the main national parks in the United States, as well as many national monuments and state parks.
As a national park expert, James has contributed to many publications, including Time Business News, Savoteur, and Wired. He also has several published detailed itineraries in addition to many free online guides.
James has rafted through the Grand Canyon; rappelled down slot canyons near Zion and Arches; hiked among the hoodoos in Bryce and the enormous trees in Sequoia; admired the waterfalls in Yosemite and the colored hot springs in Yellowstone; seen moose in Grand Tetons and seals in the Channel Islands, and much more.
---
Parks Collecting is a participant in the Amazon.com Services LLC Associates Program, an affiliate advertising program designed to provide a means for sites to earn advertising fees by advertising and linking to amazon.com. Amazon and the Amazon logo are trademarks of Amazon.com, Inc. or its affiliates. As an Amazon Associate I earn from qualifying purchases.