Yellowstone National Park has animals, geysers, brightly colored hot springs, spectacular waterfalls, an enormous lake, and much, much more. It's a land of superlatives – with a fascinating history, unusual geology, and incredible wildlife diversity.
Would you like to learn more about this wonderful park?  Let's take a look at some interesting facts about Yellowstone National Park.
Here are 10 facts about Yellowstone National Park that you never knew you needed to know!
No time right now to read these fun facts about Yellowstone National Park? Pin It and save it for later:
Please note this post may contain affiliate links, which means we may receive a commission, at zero cost to you, if you make a purchase through a link. Please see our full Disclosure for more information. If you have any questions, please contact me.
If you are planning to visit Yellowstone National Park in spring, summer or fall, make your planning easy and stress free with a detailed itinerary. I have 1-, 2-, 3- and 4-day itineraries for Yellowstone National Park that include all the park highlights, give you choices based on your preferred activity level, and take all the stress out of planning your trip. 
Basic Yellowstone National Park Interesting Facts
Location: Idaho, Montana & Wyoming
Size: 3,472 square miles
Number of Visitors each Year: 4,860,537 visitors in 2021, its busiest year
Annual Rainfall: 20.38 inches (much of which is in winter as snow)
Highest Elevation: 11,372 feet (Eagle Peak)
Lowest Elevation: 5,282 feet (Reese Creek)
Date it Became a National Park: March 1, 1872
---
10 Fun Facts about Yellowstone National Park
Here are 10 interesting facts about Yellowstone National Park to discover:
1. Yellowstone is a Super Volcano
Yellowstone National Park is home to one of the world's largest active volcanic systems.  The entire national park sits atop a supervolcano known as the Yellowstone Caldera, capable of a magnitude 8 eruption. 
Long before it became Yellowstone National Park, the area was the site of three massive eruptions: 2.1 million years ago, 1.3 million years ago, and 640,000 years ago.
The massive volcanic explosion that occurred some two million years ago ejected material from the earth equivalent to 6,000 times greater than the Mount St. Helens eruption in 1980, covering more than 5,790 square miles with ash.  It may well have been the greatest volcanic eruption of all time, creating a vast caldera in the park's central region.
If another large, caldera-forming eruption were to occur at Yellowstone, its effects would be felt worldwide. Montana, Idaho, and Wyoming would be covered in lava, much of the rest of the U.S. would experience falling ash, and the changes to global climate patterns would last decades.
The supervolcano is still active, but it's been about 70,000 years since the last lava flow.  Fortunately, although another eruption will almost certainly happen at some time in the future, the odds of this happening in the next several thousand years are extremely small. 
So, you can relax and enjoy the gushing geysers, hissing fumaroles, bubbling mud pots, and colorful hot springs that have resulted from all this geothermal activity.
READ MORE: For a fun, fictional account of what could happen if the supervolcano erupts, read Ashfall by M Mullin
---
2. Yellowstone also has the largest concentration of geysers and hot springs in the U.S.
One of the most unique things about Yellowstone National Park is the geothermal activity. In fact, half of the world's hydrothermal features (more than 10,000) are found in the national park.
The park is home to five types of hydrothermal features: 
Hot springs – pools of hydrothermally heated water
Geysers – hot springs with constrictions in their plumbing, which causes them to periodically erupt to release the pressure that builds up.
Mudpots – hot springs that are acidic enough to dissolve the surrounding rock and typically lack water in their systems.
Fumaroles (steam vents) – lack water in their system
Travertine terraces – hot springs that rise up through limestone, dissolve the calcium carbonate, and deposit the calcite that makes the travertine terraces. They are mostly found in the Mammoth Hot Springs area in Yellowstone.
Source: NPS website
Geysers
There are over 500 geysers (60 percent of the world's geysers) in Yellowstone.  The largest active geyser field on the planet is the Upper Geyser Basin.  
There, you'll find the most famous geyser in the world, Old Faithful, so named for the reliability, predictability, and frequency of its eruptions. Some geysers only erupt once a year.  Old Faithful averages an eruption every 90 minutes!  Its eruptions have gotten further apart in recent decades, so one day its name may be a misnomer, but for now it erupts on average 17 times every day.
Hot Springs
Other popular geothermal features are the colorful hot springs.  Microorganisms called thermophiles, meaning "heat loving", live in the often-scalding hot waters, giving them brilliant colors.  
The granddaddy of them all is Grand Prismatic Spring. Yellowstone's largest hot spring, the sun-like spring is 200-330 feet in diameter and more than 121 feet deep.  It's located in Midway Geyser Basin, but best seen from a nearby overlook.
READ MORE: You can learn more about Yellowstone's thermal features in Yellowstone's Geysers, Hot Springs and Fumaroles (Field Guide) by C Schreier
---
3. Yellowstone has the largest concentration of wildlife in contiguous U.S.
Yellowstone National Park is often called the "Serengeti of America".
With an estimated 67 species of mammals, 300 species of birds, 16 species of fish, five species of amphibians, and six species of reptiles, the park is one of the world's leading wildlife reserves. 
Animals commonly seen include bighorn sheep, bison, elk, moose, mountain goats, mule deer, pronghorn, and white-tailed deer. Visitors to the park can also see black bears, Canada lynx, coyotes, grizzly bears, mountain lions, wolverines, and wolves.
This diversity of wildlife makes it a must-visit destination for nature enthusiasts. It also makes Yellowstone National Park an essential part of the preservation of many of these species. 
In the 1500's, it's estimated that 30 – 60 million bison roamed the Great Plains of North America.  As early settlers expanded west, the bison were slaughtered, in large part to remove the main source of food and shelter for the native Americans. 
By 1884, there were only 325 wild bison left in the United States, including 24 in Yellowstone.
Today, Yellowstone is home to the largest free-roaming wild bison herd in the world, with nearly 5,000 bison.
Another fun fact: bison have the right of way in Yellowstone.  And they often prefer to take the easier route of walking along a paved road rather than trekking over rough ground.  Who can blame them. 
So, there is a good chance you'll find yourself stuck in a famous Yellowstone traffic jam, waiting for a small herd of bison to leisurely make their way along the road.  Always allow more time than you think you'll need to get around the park!
Another success story is the wolves.  Prevalent in the area in the 1800's, wolves were intentionally exterminated in the park and by the 1970's, there were no wolves left in the park. 
In 1995, wolves were intentionally reintroduced.  There are about 150 wolves today – not many, but enough to change the course of a river!
Yellowstone National Park is also home to one of the largest elk herds in North America and one of few grizzly populations in contiguous United States.
If you're a bird watcher, there are almost 300 species of birds, including raptors, songbirds, shorebirds, and waterfowl. Many of these birds are migratory species, so depending on which season you visit, you'll see different birds.
The best places to see wildlife in Yellowstone are the Hayden Valley and Lamar Valley. You can often see elk around Mammoth.
READ MORE:  
The Yellowstone Lamar Valley Scenic Drive: A Complete Guide
If you're interested in the wolves of Yellowstone, check out When the Wolves Returned: Restoring Nature's Balance in Yellowstone by DH Patent and D Hartman.
If you'd like to learn more about the bison in Yellowstone, take a look at To Save the Wild Bison: Life on the Edge in Yellowstone by MA Franke
---
4. Yellowstone was the first national park in the world
Yellowstone National Park is not only a natural wonder, but it also holds a special place in history.  One of my favorite Yellowstone fun facts is that Yellowstone is not only the oldest national park in the United States – it was the first national park ever!  
The park was established by the Organic Act and signed into law by President Ulysses S. Grant on March 1, 1872. The Roosevelt Arch, which stands at the north entrance to the park, is inscribed with a quote from the act that established the park: "For the Benefit and Enjoyment of the People".
Yellowstone was groundbreaking, but its path was a little rocky (no pun intended). 
Just ten years after it was established, a contract between the Department of the Interior and the Yellowstone Park Improvement Company gave the company the right to "rent" the park out to private parties. These groups could do whatever they wished, including hunting and killing the park's animals.
George Bird Grinnell, the editor and publisher of Forest and Stream magazine, used his platform to write scathing editorials and became an early member of the conservationist movement.
His advocacy worked, and in 1894 the Yellowstone National Park Protection Act protected the wildlife in Yellowstone National Park and served as a model for future national parks. The act also punished crimes committed in the park.
An act of congress wasn't enough to protect the park, however.  The National Park Service didn't exist and people being people, there was a need to physically protect the place. 
So, from 1891 to 1914, Yellowstone, along with Yosemite, Sequoia & General Grant (today Kings Canyon) National Parks were under the protection of the U.S. Army. You can visit the Fort Yellowstone Historic District to learn more about the army settlement that was there. 
President Woodrow Wilson created the National Park Service in 1916.
READ MORE: Learn more about the history of Yellowstone in Historic Yellowstone National Park: The Stories behind the World's First National Park by B Gourley
---
5. It's easy to get high in Yellowstone 
I'm talking about high altitude.  What did you think I meant?
The lowest point in the park is 5,282 feet above sea level.  And many points are much higher than that. 
The main high point most people go to is Dunraven Pass. This mountain pass on the Grand Loop Road between Canyon Village and Tower Junction is at an elevation of 8,878 feet above sea level. 
Dunraven Pass is one of the most scenic drives in Yellowstone, but it's closed from October until the end of May. In fact, I've been there in early September and it was closed temporarily due to snowfall. 
Eagle Peak is the highest point in Yellowstone at 11,372 feet. The mountain is a popular spot with climbers in Yellowstone, but it's quite difficult to access. It involves a long hike through the wilderness to reach the top, so not many people get there.
Although these are interesting facts about Yellowstone Park, the high elevations do have some downsides. 
Altitude sickness is possible – drink plenty of water, avoid alcohol, and take time to acclimate to the higher elevation. It also means that temperatures and weather can vary wildly.  Bring clothes for both warm and cold weather, even in summer. 
Winters in Yellowstone are bitter – but also incredibly beautiful.  The Mammoth Hot Springs area and Lamar Valley remain open year-round.  The rest of the park is closed to regular vehicular traffic in winter and open to oversnow travel such as snow mobiles and snow busses. 
Winter in Yellowstone is a magical experience but does require a lot of extra planning.
READ MORE: How to Visit Yellowstone in Winter
---
6. Yellowstone is old – REALLY old
Yellowstone isn't only high, it's also old. Some of the more interesting facts about the Yellowstone National Park relate to the age of its rocks and civilizations. 
Some of the rocks in the northern mountains between Mammoth and the Lamar Valley are around 2.5 billion years old.  That makes them some of the oldest rocks on the planet! Rocks like these form the very foundation of the entire North American continent!
Fast forward a couple of billions of years (give or take) and humans enter the story.  People have lived in the area for more than 11,000 years.  That's not long when it comes to geology, but a long time when it comes to human history. 
More than 1,850 archaeological sites have been found in the area.  The most well-known group of Native Americans are the Tukudika (a.k.a. Sheep Eaters) but many other tribes and bands lived in and traveled through the region.
European Americans were relatively late arrivals.  Early explorers didn't arrive until the early 1800s.
READ MORE: If you'd like to learn more Yellowstone National Park facts and history of the native Americans who lived in the Yellowstone area, Restoring a Presence: American Indians and Yellowstone National Park by P Nabokov and L Loendorf is a good resource
---
7. Yellowstone is larger than two U.S. states combined
One of my favorite Yellowstone Park fun facts relates to its size. Yellowstone is not only old, it's also big.  So big, in fact, that it's bigger than the states of Delaware and Rhode Island combined. 
Granted they are both small states, but one national park that's bigger than two states is still impressive. 
OK, so it's only the 8th biggest national park in the US, but at 3,472 square miles (2,221,766 acres), that's still impressive.  I'm impressed, anyways, 
What national parks are bigger than Yellowstone, you ask? Six of the seven largest US national parks are in Alaska.  They are: 
Wrangell-St. Elias, Alaska (8,323,146.48 acres)
Gates of the Arctic, Alaska (7,523,897.45 acres)
Denali, Alaska (4,740,911.16 acres)
Katmai, Alaska (3,674,529.33 acres)
Death Valley, NOT Alaska – California/Nevada (3,408,406.73)
Glacier Bay, Alaska (3,222,383.43 acres)
Lake Clark, Alaska (2,619,816.49 acres)
Oh, and #9 is also Alaska – Kobuk Valley (1,750,716.16 acres)
If you're into "top ten" lists, rounding out the list is #10 Everglades, Florida (1,508,938.57 acres).
READ MORE: All the US National Parks
---
8. Yellowstone has its own Grand Canyon
When you hear the words "Grand Canyon", you probably think of Grand Canyon National Park in Arizona.
But did you know there is another Grand Canyon in Yellowstone National Park – and it's called The Grand Canyon of the Yellowstone.  
The canyon is 20 miles long, more than 1,000 feet deep, and 1,500–4,000 feet wide.  Now compared with the other Grand Canyon, which is 278 miles long, 1 mile deep, and up to 18 miles wide, that may not seem that big, but by any other standards, it's pretty impressive.
"How was the canyon formed?", you ask. Well, we've already learned that there was a huge volcanic eruption about 640,000 years ago. 
The eruption emptied a large underground cavern that had been filled with molten rock.  The collapsed cavern formed a giant caldera (hole in the ground) 30 miles across and 45 miles long. Over the course of hundreds of thousands of years, the caldera began to fill with lava and sediments. 
Hydrothermal activity altered and weakened the rhyolite, making the rocks that contained rhyolite softer. Not all the rock contained rhyolite, though, so now we have some rock that's harder than other rock.
The Yellowstone River flowed through the area and eroded these weakened rocks to deepen and widen the canyon, a process that continues today. 
Rocks deeper in the canyon are more resistant to erosion, so these have eroded more quickly, helping form the Lower and Upper Falls. 
The current canyon begins at Lower Falls and ends downstream from Tower Fall.
One of the best places to see the canyon is from Artist's Point at the end of the north rim drive.  This provides a panoramic view of the canyon and the Lower Falls.  You'll immediately notice that canyon is a multi-colored palette of beige, pink, dark orange, brown, and green.  These result from the hydrothermally altered rhyolite and sediments.
READ MORE:
Best Hikes in Yellowstone National Park
The Best Yellowstone Scenic Drives
---
9. There are about 300 waterfalls in Yellowstone National Park
When finding facts on Yellowstone National Park, it's hard to miss the waterfalls.  With around 300 to choose form, you can spend days chasing waterfalls in Yellowstone.  
Of the 300 or so, about 45 are named. The most famous, of course, are the Upper and Lower Yellowstone Falls. 
These incredible waterfalls are split in two and due to a bend in the river between them, you can't actually see them together.  They are no less impressive for it, though.  At 308 feet, the Lower Falls are almost twice as tall as Niagara Falls! 
You can soak in a panoramic view of the Lower Falls from Artist's Point, stare in awe at the river thundering over the edge from the Brink of the Falls, or get down into the canyon, and see them from below at Red Rock Point.
Whether you like to hike deep into the backcountry or prefer to see waterfalls from the side of the road, there are waterfalls in Yellowstone just for you.
READ MORE: 10 Best Waterfalls in Yellowstone National Park
---
10. Yellowstone is the best place to see 'parkitecture'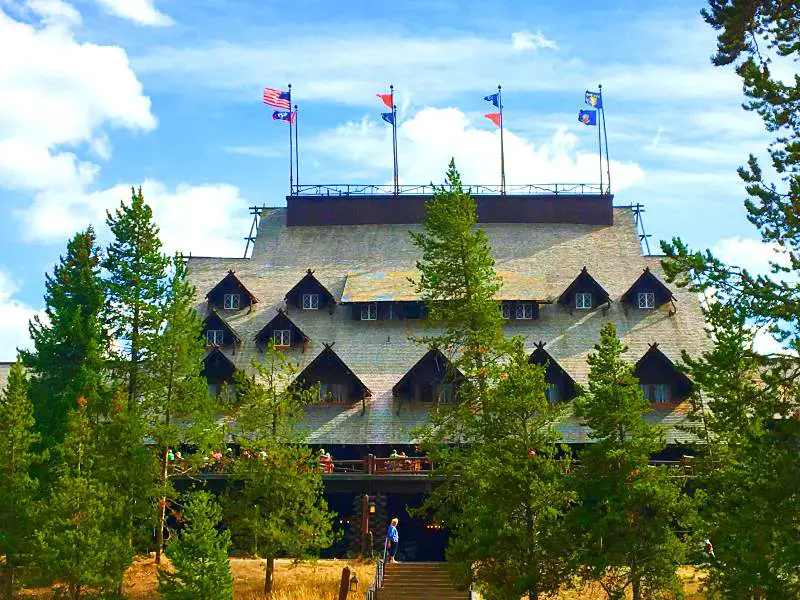 'Parkitecture', or National Park Service Rustic as it is more formally called, is a style of architecture unique to many US national parks.
The style, featuring buildings made from native materials, natural whole logs and rocks, and built by hand (or meant to look as if they were), defines many of the classic buildings in national parks around the U.S.  Nowhere, however, is it more iconic than Yellowstone.
As someone who's married to an architect, this is one of my favorite fun facts.
Yellowstone National Park has several incredible examples of parkitecture.  The most famous is, of course, Old Faithful Inn. Built in 1904 from local logs and stone, the seven-story building is the largest log structure in the world! Don't miss the enormous stone fireplace and the hand-made copper clock. 
Insider tip: You can watch Old Faithful erupt, cocktail in hand, for the second-floor balcony of Old Faithful Inn.
The other parkitecture buildings in Yellowstone that I love are the Trailside Museums.
A series of rustic buildings were built in the 1930s to be "small local museums".  There are three remaining, and all are National Historic Landmarks.
Fishing Bridge Museum (1932)
This is now the Fishing Bridge Visitor Center. It was originally designed so that visitors approaching from the parking lot could see through it to Yellowstone Lake, where stone steps lead down to the shore. Antlers, rams' horns, and bighorn sheep skulls still decorate the two wrought-iron chandeliers.
Norris Museum (1930)
The open foyer through the middle of the Norris Museum still functions as the visitor's gateway to the Norris Geyser Basin. One of the two rooms on either side of the foyer originally contained bird specimens; both now have exhibits explaining geothermal activity and life in thermal areas.
Madison Museum (1930)
Overlooking a meadow near where the Gibbon and Firehole rivers join to form the Madison River, the Madison Museum was intended to focus on park history. The smallest of the three remaining trailside museums, it's now the Madison Information Station.
READ MORE: The Best National Parks Lodges to Stay In
---
Read more Fun Facts about other US National Parks
---
More Information about Yellowstone National Park
Now that you've discovered 10 fun facts about Yellowstone National Park, are you feeling inspired to visit Yellowstone National Park?  
Start planning your trip now with these Yellowstone National Park information guides:
---
Do you have any other fun facts about Yellowstone Park to share?  I'd love to hear them.  Join my private Facebook group National Parks Collectors and comment and let me know (you can also pick up extra planning tips, share your photos and stories with other national park lovers and more). 
If you liked these fun facts: Yellowstone National Park, please share the love and Pin It to your Yellowstone National Park board!
---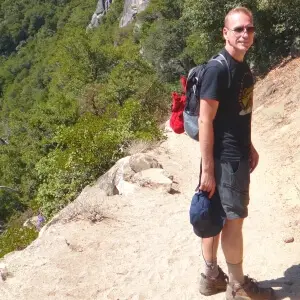 James Ian has traveled to 82 countries and all 7 continents.  He has visited all of the main national parks in the United States, as well as many national monuments and state parks.
He has rafted through the Grand Canyon; rappelled down slot canyons near Zion and Arches; hiked among the hoodoos in Bryce and the enormous trees in Sequoia; admired the waterfalls in Yosemite and the colored hot springs in Yellowstone; seen moose in Grand Tetons and seals in the Channel Islands, and much more.
---
Parks Collecting is a participant in the Amazon.com Services LLC Associates Program, an affiliate advertising program designed to provide a means for sites to earn advertising fees by advertising and linking to amazon.com. Amazon and the Amazon logo are trademarks of Amazon.com, Inc. or its affiliates. As an Amazon Associate I earn from qualifying purchases.