Are you looking for a Dutch oven for the campfire? If you want to enjoy home-style hot meals when camping, using a Dutch oven for cooking when camping allows you to do just that. A freshly prepared, healthful hot meal can help make sure you get all the nutrients you need for exploring. It can also warm you up from the inside when camping during colder or wetter weather.
All the best Dutch oven cookware is listed right here, so stay with us to find your ideal outdoor Dutch oven.
No time to read about best Dutch oven for camping now?  Pin It and save it for later: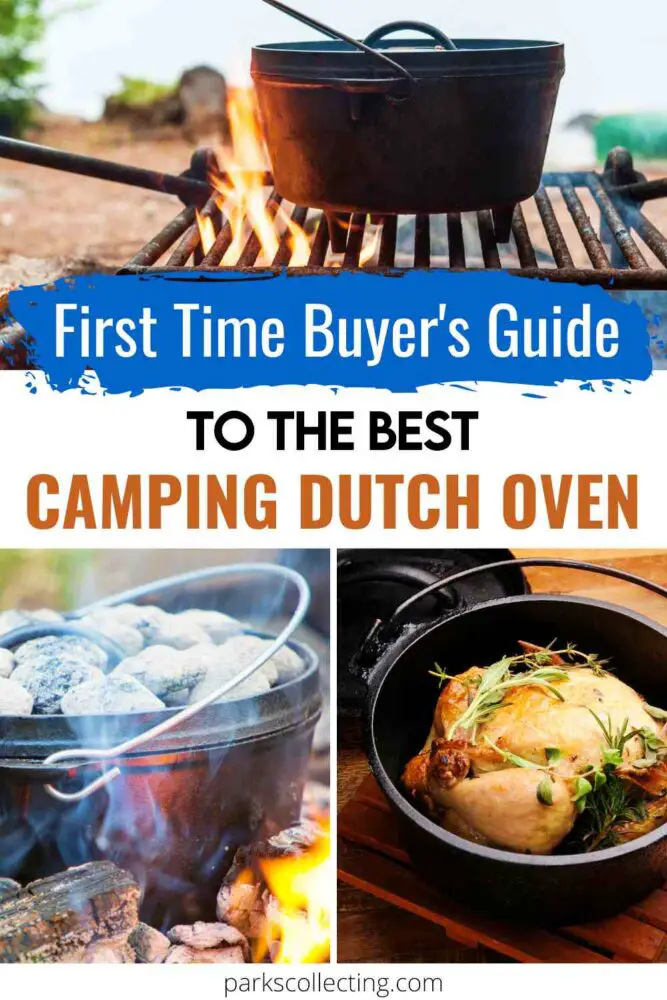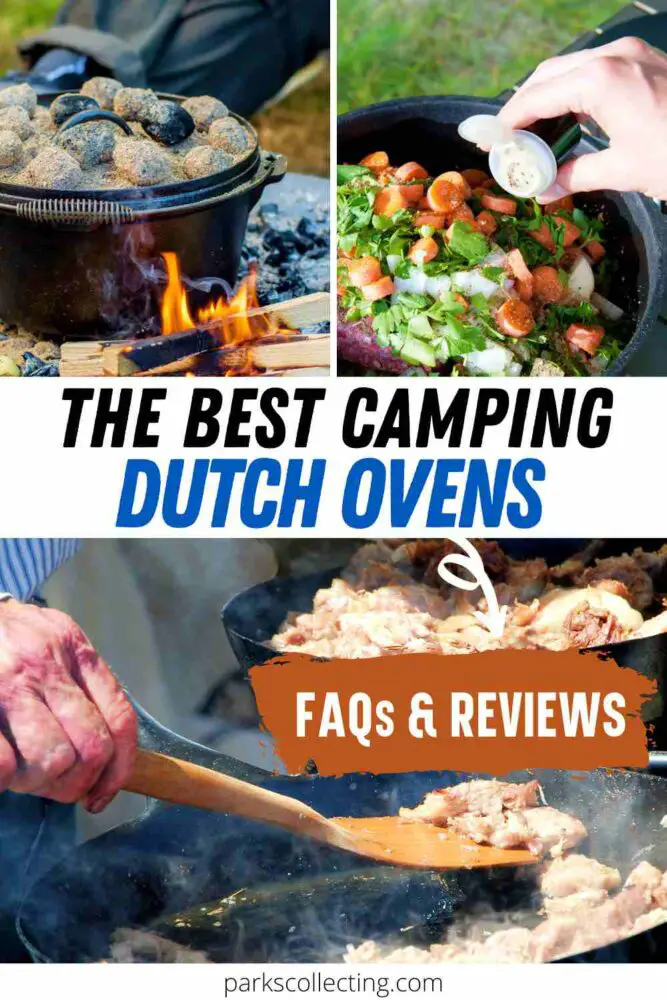 Please note this post may contain affiliate links, which means we may receive a commission, at zero cost to you, if you make a purchase through a link. Please see our full Disclosure for more information. If you have any questions, please contact me.
See the top rated Dutch oven for camping here
Our top pick as best cast iron Dutch oven for camping overall is the Lodge deep Dutch oven. With an 8 quart capacity, this can feed the whole family and should last a lifetime.
Why buy the Lodge 8 quart Dutch oven?
Made by an American company, this high quality cast iron cooking pot is extremely durable as well as versatile. Its design is simple yet very effective. This pre-seasoned cookware even improves with age, and the lid can be flipped for use as a griddle – or used to hold hot coals.
>> Click here to see the best Dutch oven for camping
Best Dutch oven pot for camping comparison guide
This Dutch oven comparison table allows you to see the key features of each product at a glance, including key benefits, capacity, our score and the price range.
If you are reading this on a mobile device, you might need to swipe to scroll across. 
Finding the best campfire Dutch oven –  Frequently Asked Questions
What is a Dutch oven?
A Dutch oven is best described as an all-purpose cooking pot for camping. Like a cast iron casserole pot you might have in your home, it is used for outdoor baking, braising, frying, roasting and simmering food. In short, it lets you cook good homemade food while away on camping trips.
What is cooking with a Dutch oven all about?
Cooking over a campfire with a Dutch oven means you can sear, bake, fry and roast with ease. Dutch oven owners can enjoy proper, nutritious homemade meals, even when camping. It can also be a social occasion, sitting around the campfire exchanging stories while a delicious dinner cooks.
Does a Dutch oven require much maintenance?
One used, a few simple steps can help keep your campfire oven in great condition. Make sure it is dried thoroughly after cleaning to prevent rust. While it's still warm, apply a thin coat of any cooking oil inside the pot before wiping away the excess. This will keep your Dutch oven in good condition for many future camping trips.
Can't I just use my regular home Dutch oven for camping?
If you have an item like a Le Creuset or Crock Pot Dutch oven at home, you may be tempted to take that with you when camping. However, pots like this are designed to perform on the stove or in the oven, and to look good on the dinner table. They're not the best camp ovens. By contrast, a specially designed camping cast iron pot will stand up to many years of outdoor use.
What are useful features to look for?
A Dutch oven with legs lets you cook directly over the campfire without the need for any further equipment. Some are also designed so the lid can be turned over for use as a frying pan. Also look at the type of handles the pot has. If you want to use it at home as well, make sure it's suitable for use with a grill, stove or oven. As for materials, cast iron for camping is the best choice, but check out the second-to-last listing if you'd like to see a lightweight aluminum option.
---
The best Dutch camping oven recommendations
Overmont cast iron Dutch oven for camping
This Dutch oven made from cast iron is one of the bestselling products in this category. It comes pre-seasoned so you can get cooking right away and is a very versatile piece of cast iron camping gear.
Three built-in legs mean it can be suspended over a campfire. This is a Dutch oven and skillet in one, as the lid can be turned over and used as a frying pan. An integral lid lifter and long handle also help make this a practical choice.
If you want to sauté, roast, sear and bake, this could be the cast iron oven for you.
---
Overmont double Dutch oven cast iron pot
Why a double Dutch oven? Like some of the other great products listed, this one features a lid that can be used as a skillet. Hence the 'double'.
This cast iron camp Dutch oven offers even cooking and comes with a small stand. This one can also be used on the stove or in the home oven, and you can even serve meals straight from the lid.
Coping with high temperatures, this highly rated Dutch oven for camp cooking is a great buy.
---
Lodge camping cast iron Dutch oven
This Lodge Dutch oven is another top quality piece of camping cast iron cookware. It also comes pre-seasoned, and has a 5 quart capacity.
There are 2 loop handles, one on each side, providing stable control. This particular Lodge cast iron Dutch oven can be used at home as well, as its compatible with ovens, grills and stoves. Again the lid can be used as a cooking skillet.
Great heat retention and even cooking are a key feature of this pot that can be used for simmering, baking, frying, baking, braising and more.
---
Lodge large cast iron Dutch oven
Looking for a large Dutch oven? Holding up to 8 quarts, this Lodge one has a bigger capacity than most.
There are built-in legs for suspending over the campfire, while the lid can be used as a griddle or to hold hot coals. As a Tennessee-based company, Lodge are serious about the outdoor life and even include a 'Cooking 101' cookbook with this premium product. This durable cast iron Dutch oven cooking pot also comes pre-seasoned for immediate use.
---
Camp Chef large Dutch oven
This Camp Chef Dutch oven offers another option for anyone after a bigger cast iron camp oven.  With an impressive 12 quart capacity, this one's great for families or groups.
The lid also has integral legs so it can be used as a skillet or griddle. A lid lifter and thermometer notch are also included, as is a booklet containing seasoning advice. This product is built to last and comes fully seasoned.
>> Click here to see this Camp Chef cast iron pot for camping
---
Prasacco cast iron Dutch oven
Larger than many, this Prasacco campfire cooking pot is also crafted from cast iron. It's ideal for use on the campfire when you're feeding a group or larger family. This robust pot has a wire handle for simple lifting and a tight-fitting lid to keep food hot and moist. The lid can also be turned over and used as a skillet or griddle. With a 9 quart capacity, this heavy duty pot should provide hot dinners – and freshly baked bread – for many years to come.
---
Femor camp oven cooking pot
This Femor Dutch oven is built to last a lifetime, and to withstand the demanding conditions of outdoor living.
With a 7.8 quart capacity, this pot is deeper than many. It is designed to cook as quickly and evenly as possible. You can place charcoal or briquettes beneath it if you like instead of lighting a campfire – ideal in windy conditions. There is a lid lifter as well as a long wire handle, and the lid can be used as a frying pan if required.
---
Mighty Hand cast iron Dutch oven
Another highly rated option is offered here in the form of the Mighty Hand 6 quart outdoor cooking pot.
With the capacity to feed a family of up to five, it's a great all-rounder at a good value price. It has integral legs and the lid can be flipped over for use as a sauté pan or skillet. This comes pre-seasoned with soybean oil. It comes with the back-up of a one year, US company backed warranty too.
---
Uno Casa cast iron camping oven
This Uno Casa Dutch oven is another great camping companion. It cooks evenly and effectively, ensuring you can serve up warming hot meals to 4 or 5 people.
Hot coals can be placed on the lid if required, or this can be flipped for use as a griddle. Some useful extras are included with this product – a heavy duty, PVC backed tote bag and even a downloadable recipe book. This cast iron camping cooking pot is another great two in one option.
---
GSI Outdoors aluminum Dutch oven
What if your camping trips are not taken by car and thus you cannot carry a cast iron pot?
This GSI Outdoors Dutch oven is made from aluminum, so weighs around 66% less than a cast iron equivalent. Aluminum is a great heat conductor, and is also durable, rust-resistant and easy to clean.
You can choose between a 2 or a 5 quart model; the former also being ideal for anyone seeking a small Dutch oven. Such as those camping solo or as a couple.
---
You might also need: The best Dutch oven tripod stand
Stansport cast iron Dutch oven stand
Invest in a camping tripod for cooking and you will always have a way of hanging your Dutch oven over the campfire.
The stable, 3-legged design and sturdy steel build of this one is highly reliable. The strong chain ends in an S-hook for suspending a tea or coffee pot – or even a lantern. You could even use this for drying wet clothing. It's safe and easy to set up and use and weighs just 13 lbs.
---
Which of these Dutch camping ovens is best for you?
Whether you want a Dutch oven for hiking or a heavier pot to feed the whole family, we hope this guide is helpful when deciding on the right campfire oven.
Happy camping!    
Do you have another pick for the best Dutch oven for camping?  I'd love to know what it is.  Join my private Facebook group National Parks Collectors and comment and let me know.
If you found this review of the best camping Dutch ovens helpful but are not quite ready to buy yet, Pin It so you can find it easily!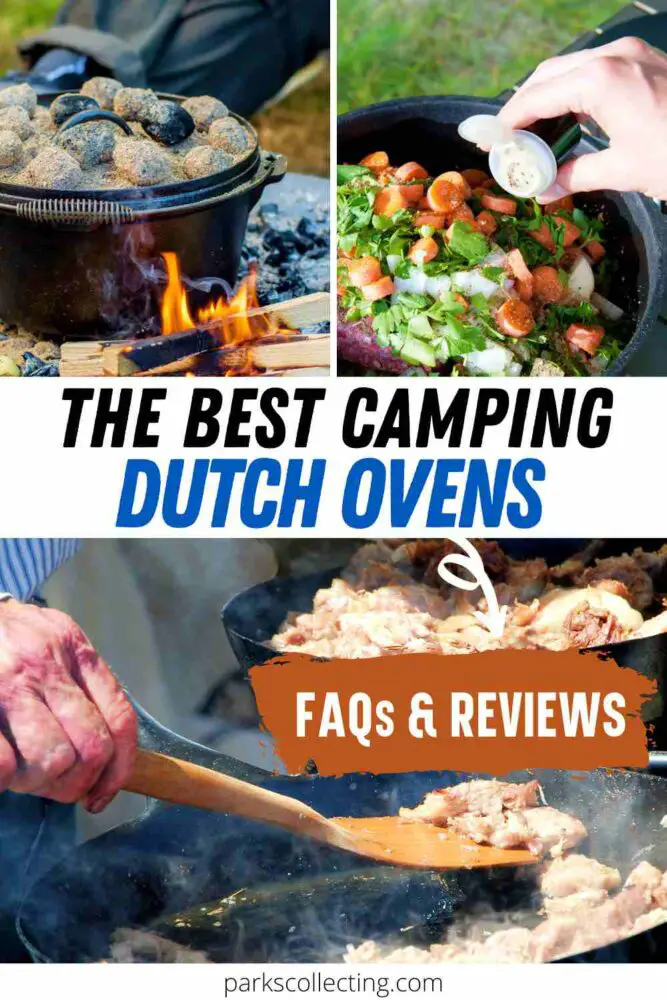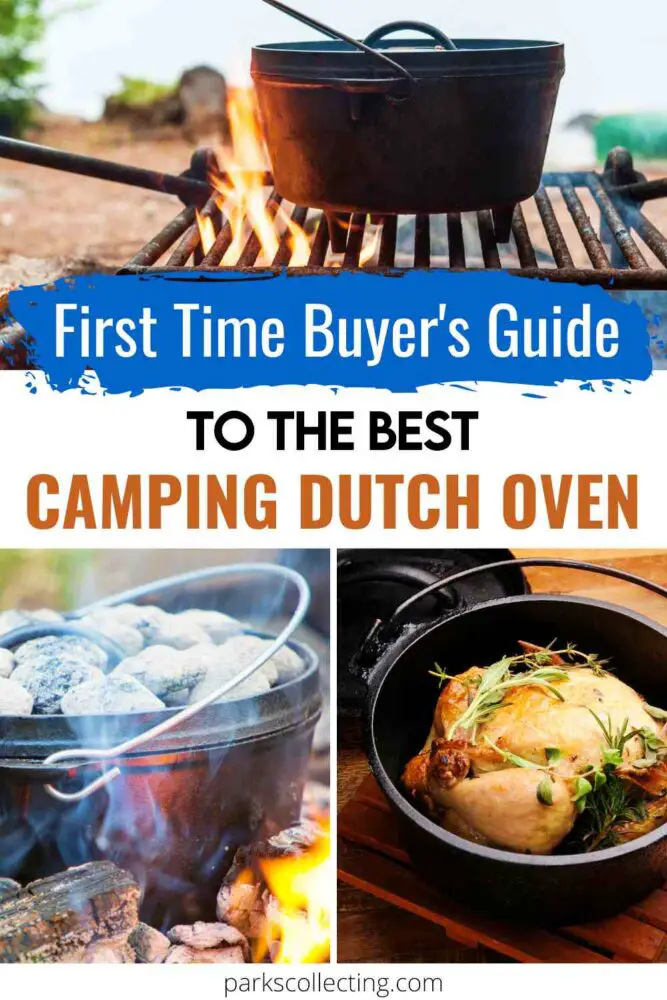 Read more travel product reviews  
Camping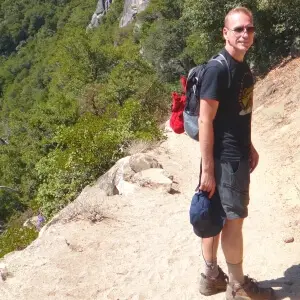 James Ian has traveled to 82 countries and all 7 continents.  He has visited all of the main national parks in the United States, as well as many national monuments and state parks.
He has rafted through the Grand Canyon; rappelled down slot canyons near Zion and Arches; hiked among the hoodoos in Bryce and the enormous trees in Sequoia; admired the waterfalls in Yosemite and the colored hot springs in Yellowstone; seen moose in Grand Tetons and seals in the Channel Islands, and much more.
---
Parks Collecting is a participant in the Amazon.com Services LLC Associates Program, an affiliate advertising program designed to provide a means for sites to earn advertising fees by advertising and linking to amazon.com. Amazon and the Amazon logo are trademarks of Amazon.com, Inc. or its affiliates. As an Amazon Associate I earn from qualifying purchases.