Olympic National Park takes up a huge part of the Olympic Peninsula in Washington state, including 65 miles of dramatic beaches.  These are quintessential Pacific Northwest scenery – rugged, windswept, dramatic and incredibly beautiful.  Craggy sea stacks erupt from the sea nearby; steep cliffs and headlands frame hidden coves; enormous driftwood is strewn over stretches of sand; intimate rockpools beg to be explored…   
With the help of fellow travel experts, I have curated a hand-picked list of the best beaches in Olympic National Park.  Most of these beaches can only be accessed on foot, so unpack your hiking shoes and get ready for the some of the most breathtaking beaches in the country.   
No time to read about the best Olympic National Park beaches now?  Pin It and save it for later: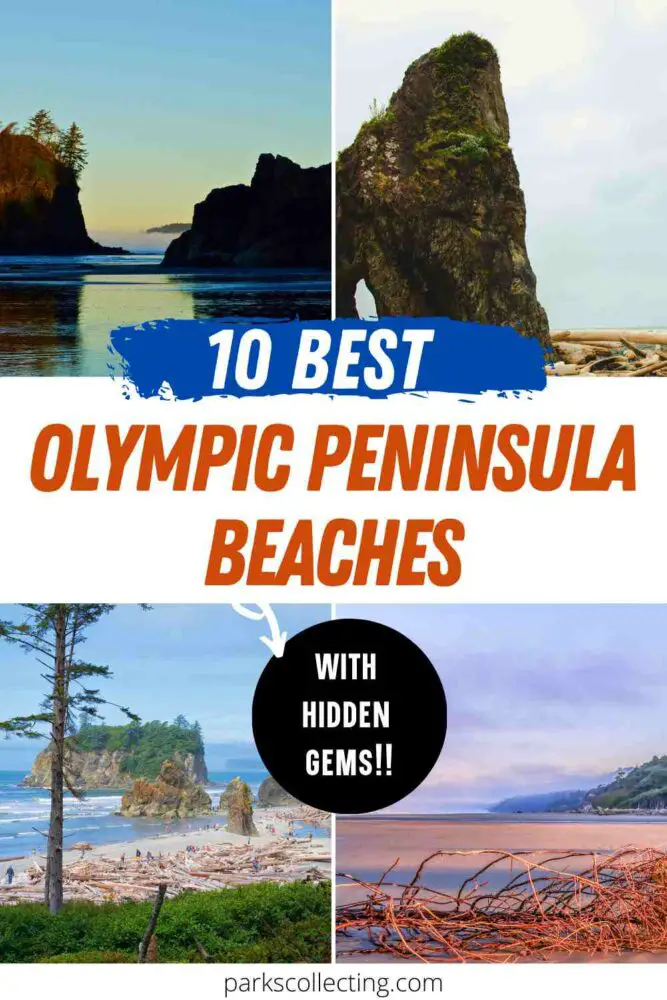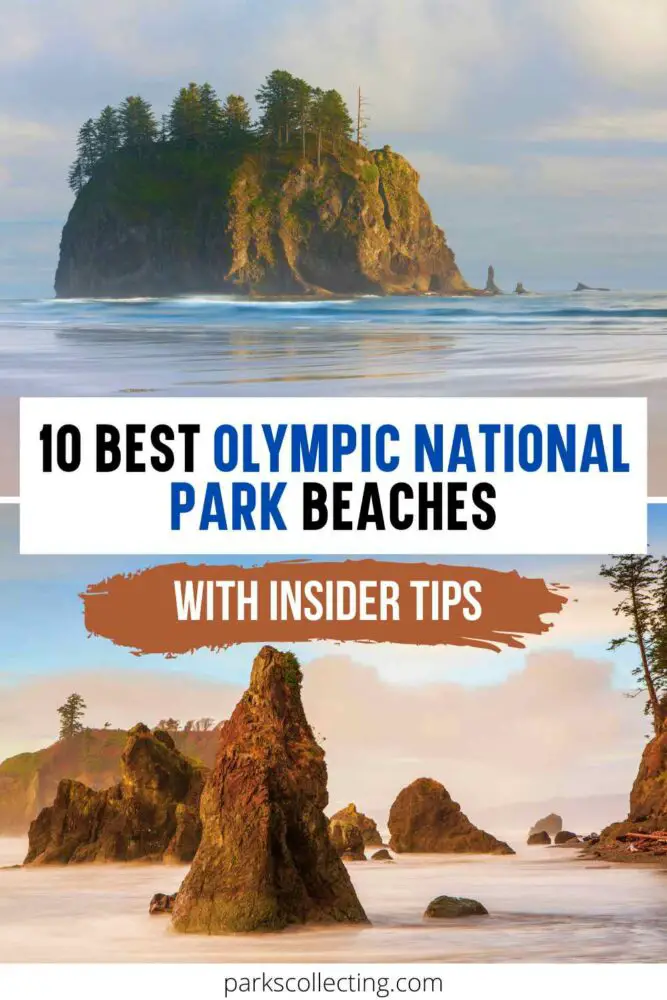 Please note this post may contain affiliate links, which means we may receive a commission, at zero cost to you, if you make a purchase through a link. Please see our full Disclosure for more information. If you have any questions, please contact me.
A caveat: I'm being a little loose with the definition of "Olympic National Park" here.  All of these beaches are on the Olympic Peninsula, but in addition the national park, some of them are actually in Pacific Beach State Park, Quileute Indian Reservation and Dungeness National Wildlife Refuge.    
READ MORE:
If you're going beach camping, get your free downloadable beach camping packing list
When planning your trip, discover the best airports for Olympic National Park
---
First Beach | La Push Beach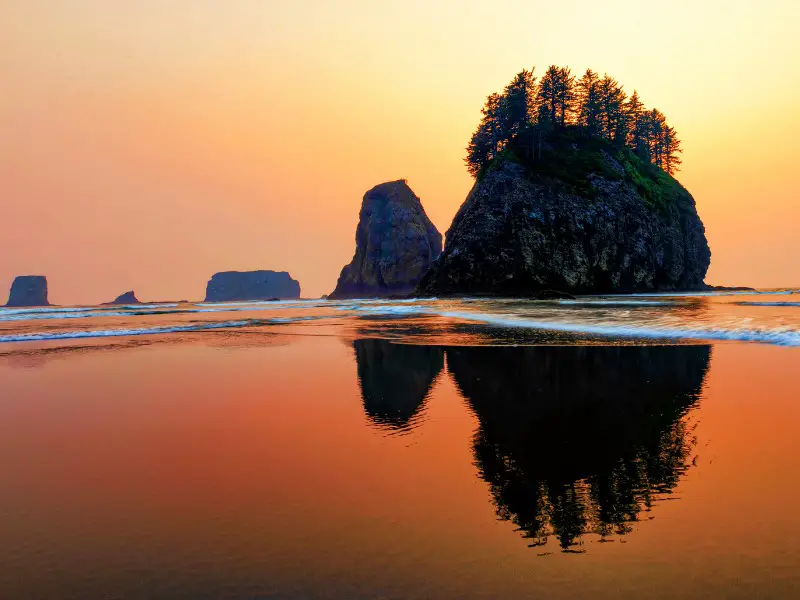 First Beach is, well, the first beach of three near the town of La Push.  In fact, it is also called La Push Beach.  It's a picture-perfect introduction to the Olympic National Park beaches.  Washington is famous for its dramatic shorelines and it doesn't get much better than this.  It's also close to town, so unlike many of the beaches on Olympic Peninsula, you don't need to hike to get there.  In fact, you can even stay right on the beach at the Quileute Oceanside Resort. 
The beach is rocky but has a wide sandy stretch and has enormous sun-bleached tree-sized driftwood "logs" scattered along its length.  There are several sea stacks off shore, as well as further out to sea.  The scenery is so evocative that it was the setting for the popular Twilight series about teenage vampires (which you can buy right here if you want to get in the mood)! 
First Beach is technically not inside Olympic National Park – it is part of the Quileute Indian Reservation – but is widely considered one of the best beaches Olympic Peninsula has. 
 Insider Tip:
Parking is available at the Quileute Oceanside Resort, even for non-guests, for a small fee. 
---
Second Beach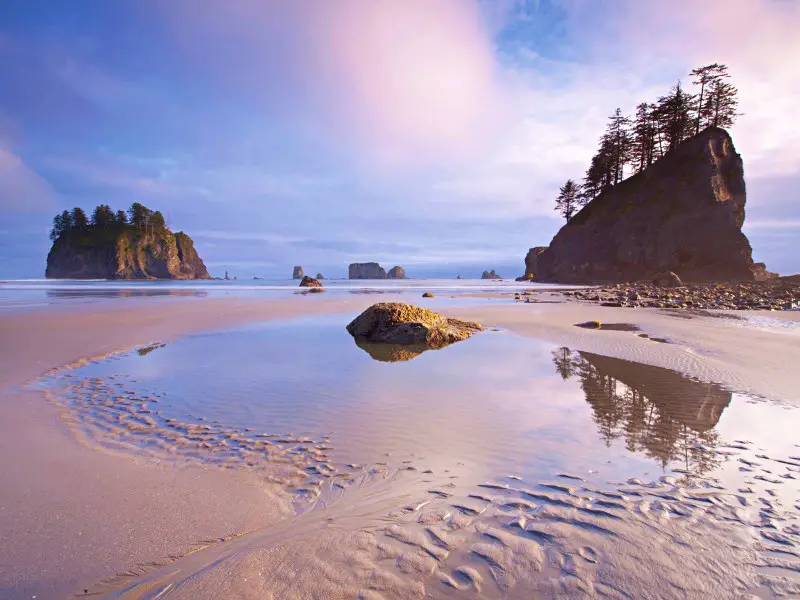 Often considered the best of the Olympic National Park beaches, Second Beach offers some of the greatest seascapes in the area.  Towering sea stacks accent the shore, providing the perfect blend of rugged coastline alongside sweeping, sandy beach.  This dramatic contrast in features is what makes it one of the best locations for photography in Olympic National Park.
Second Beach is a popular place to camp overnight and is highly recommended if you have the time. If you're going beach camping, get your free downloadable beach camping packing list.
However, it also makes for an excellent day trip.  Whether you decide to visit just for the day or overnight, it is well worth planning to be here for sunset when the beach transforms into a postcard-perfect scene.  Just remember to bring a flashlight if you'll be leaving after dark. 
With over two miles of beach, you're guaranteed to find the perfect spot to enjoy some of the Olympic Peninsula's most impressive scenery.
Insider Tips:
The beach has a designated parking area just outside of La Push from which you can reach the beach via a short 0.7 mile forested hike. 
If you do decide to camp on the beach, you will require a wilderness camping permit which can be obtained from the Olympic National Park Visitors Center in Port Angeles.
Recommended by Sophie and Adam from We Dream of Travel
---
Ruby Beach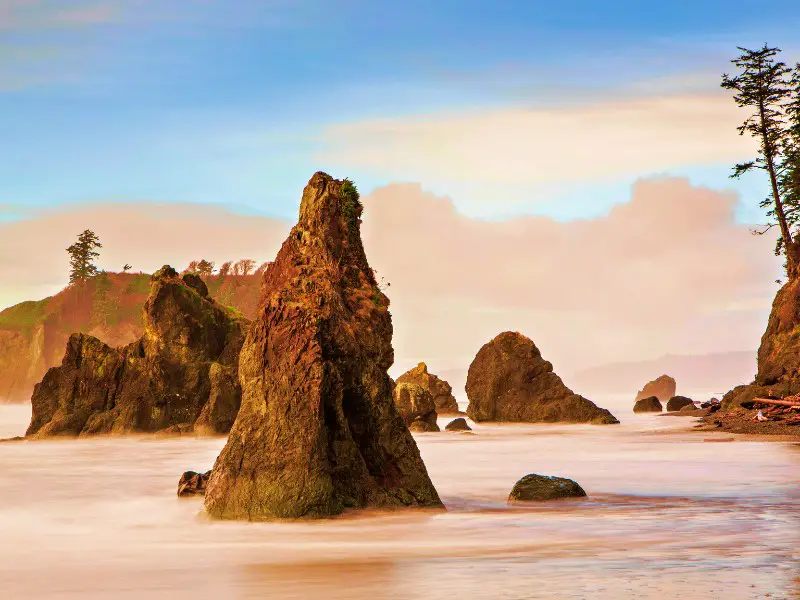 Ruby Beach is the jewel of Olympic National Park. It is one of the most popular and highly anticipated beaches to visit along the Olympic coastline. With tremendous amounts of sun-bleached driftwood, sea stacks, natural arches, and tree-lined cliffs, Ruby Beach is breathtaking. It has all the beauty and charm of a rugged Pacific Northwest beach. You will find wonderful tidepools to explore around the bases of the sea stacks.
Ruby Beach, so-called for the ruby-like crystals you can find in the beach sand, is the northernmost of the southern beaches along the coastal section of Olympic National Park. To get there, take Highway 101, the same road that runs by the popular accommodations at Kalaloch Lodge. 
From the parking lot, you will have to take a short and easy hike (0.5 miles, roundtrip) down to the beach. To enter the beach, you will have to climb over some driftwood. As you make your way to the beach, take some time to enjoy the views peeking out from behind the trees.
Insider Tips:
Check the tide chart so you can explore this beach at low tide.
You will want to wear some beach-friendly footwear, as Ruby Beach is a rocky beach, not a sandy beach.
Recommended by Debbie Fettback from WorldAdventurists.com
---
Rialto Beach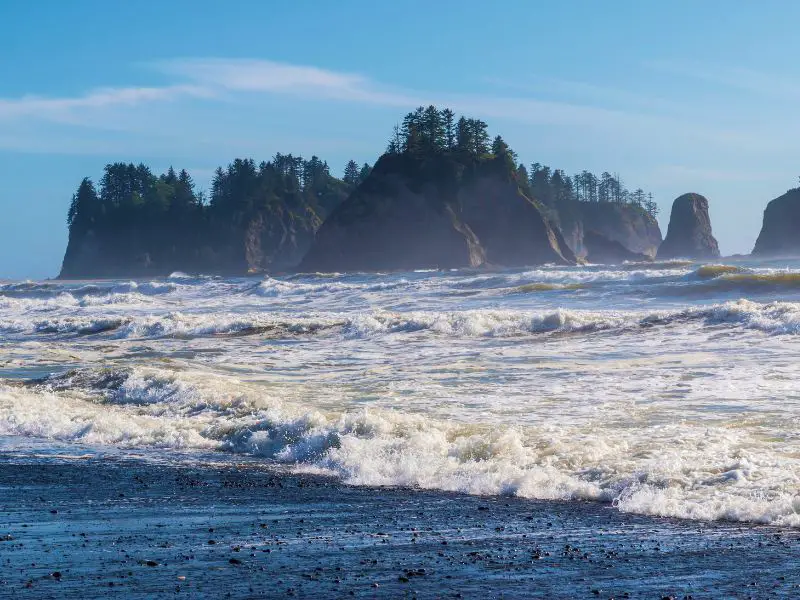 Rialto Beach is one of the most beautiful and unique beaches in Olympic National Park. Situated on the western shore of the Olympic Peninsula, it's a beautiful rock beach filled with multi-color stones, huge driftwood logs, and incredible views of sea stacks and the Pacific Ocean. It's located on one of the best stretches of Washington's wild coast and is an awesome place to hang out at for a few hours or to watch the sunset. 
While walking along the beach, you'll have the opportunity to see a variety of different wildlife including whales, seals, bald eagles and brown pelicans, as well as other coastal species depending on the time of year.
Rialto Beach is one of the most easily accessible beaches in Olympic National Park with a short 165-feet / 50-meter access trail right off of the parking lot. It's a great stop to include on a road trip around the Olympic Peninsula or a traditional vacation in the area. From the nearest town of Forks, it's about a 20 minute drive or 1.5 hours from Port Angeles.
Insider Tip:
If you're feeling adventurous and visit during low tide, you're able to walk along the shore about 2 miles to the Hole-in-the-Wall, one of the most photographed sea stacks and tide pools in Washington.
Recommended by Stephanie Lange from Travanie Travels
---
Beach 4
Grab your camera, tide chart, and hiking boots to visit one of the most interesting and beautiful beaches in the park, Kalaloch Beach Four. The beach boasts a large sandy crescent beach, abundant sea creatures, and dramatic geologic formations. 
Beach Four is located midway between Kalaloch Lodge and Ruby Beach, making it an ideal stop for beach hopping in this section of the park. It has a large parking lot with vault toilets and there is an inspiring accessible viewpoint.
Many with mobility issues will want to skip this beach and the steep trail to the beach. Those who do take the trail are rewarded with much to explore and photograph. 
This beach is known for amazing tide pooling. You'll be treated to large gooseneck barnacles creating mesmerizing patterns on the rocks; stunning giant green anemones whose vibrant color comes from algae living within it; and aggregating anemones that often reproduce by cloning. You will delight in discovering many other creatures at Beach Four.
You'll find fascinating features on a grander scale here too. The rock formations tell the astounding story of the deep time of the area. You'll see the eroding bluff creating sediment, evidence of that sediment becoming rock, and then the sedimentary rock uplifted into vertical formations by the powerful plate tectonic movement in the area. This profound view is just one of many delights you will enjoy at Beach Four. 
Insider Tip:
Wear waterproof shoes with good traction since you'll be doing a little rock scrambling to see everything.
Recommended by Erica from Trip Scholars
---
Shi Shi Beach
Shi Shi Beach is widely considered one of the most beautiful places in Washington and frequently earns the prize for the best beach in Olympic National Park.   
The beach is not easy to get to; it's an (often muddy) eight-mile roundtrip hike through forest.  When you get there, you'll be rewarded with breathtaking views of multiple sea stacks and headlands just off shore, as well as various rock formations that form tidal pools that are fascinating to explore.   
Insider tip:  
The Parking lot at the trailhead is outside the national park on Makah tribal land, so you'll have to buy a Makah Recreation Pass in Neah Bay so you can park at the trailhead. 
---
Pacific Beach
This is technically in Pacific Beach State Park, not Olympic National Park, but it's so great we included it anyway!
Pacific Beach is a beautiful stretch of coastline along the Olympic Peninsula that has over 2,300 feet of shoreline to explore. Located just 90 miles from Seattle, it's a great weekend getaway for those wanting to spend time at a beach. The 17-acre park is small compared to some in Washington, but it has plenty for visitors to do. 
There are 64 sites available for camping in the park, along with showers and restrooms. Day passes are also permitted for those only wanting to spend the day at the beach. 
The wide open beach is one of the most beautiful beaches near Olympic National Park. It's the perfect place for campfires, watching the sunset and stargazing. Other popular activities include bike riding, beach combing and collecting sea shells. Windsurfing, kiteboarding, and sea kayaking are great options for those comfortable in the water. 
Insider Tip:
Pacific Beach also hosts an annual Kite Flying Contest as well as the Sandcastle Contest each year. For visitors wanting to stay overnight for these events, reservations are recommended since these are particularly busy weekends.
Recommended by Karee from Our Woven Journey
---
Kalaloch Beach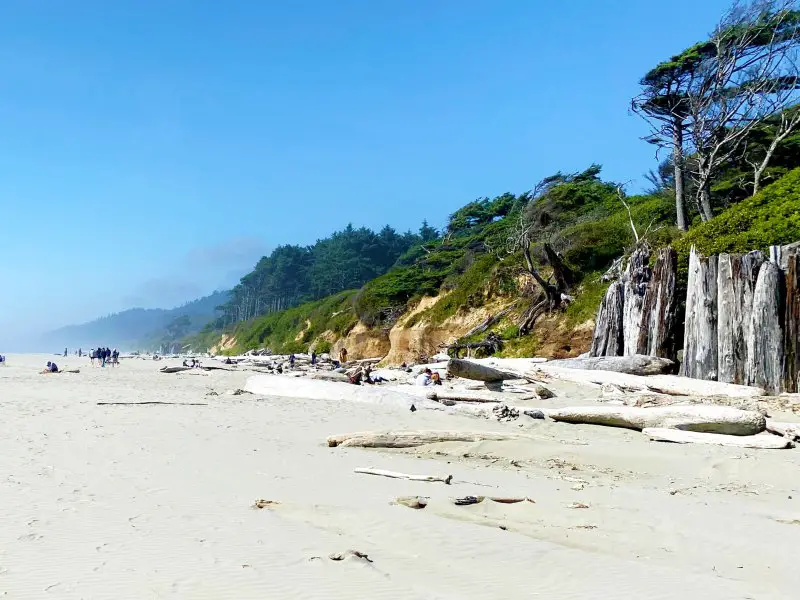 Kalaloch Beach is one of the best beaches Olympic National Park has! All of the beaches are beautiful and unique, but what makes Kalaloch special is the wide sandy open beach! 
Kalaloch Beach is about 15 miles of beach that stretches along the Pacific Ocean.  There are many short trails right off Highway 101 that allow access to the beach.  You can also stay at Kalaloch Lodge, which offers cabins and rooms that look out over this magnificent beach (check availability for Kalaloch Lodge here).  
The most popular and easy way to walk down to Kalaloch beach is from the parking lot of the Kalaloch Campgrounds.  Parking here is free, and it is just a short walk to the beach.  Once you get to the beach be sure and look to the right, along the cliff edge you'll see the famous Olympic National Park Tree of Life, it is definitely worth a quick visit! 
After you have enough pictures of the tree, you'll have no trouble spreading out from others and finding your own piece of sand to spend the day.  Kalaloch Beach is a wonderful beach to watch incredible sunsets. 
Insider Tip:
Whales that pass by here during April-May or October- November. If you visit in these months, keep an eye out for them – you may get lucky and see one of the whales that pass by here then .
Recommended by Chantelle Kincy from Flannels or Flipflops
---
Cape Alava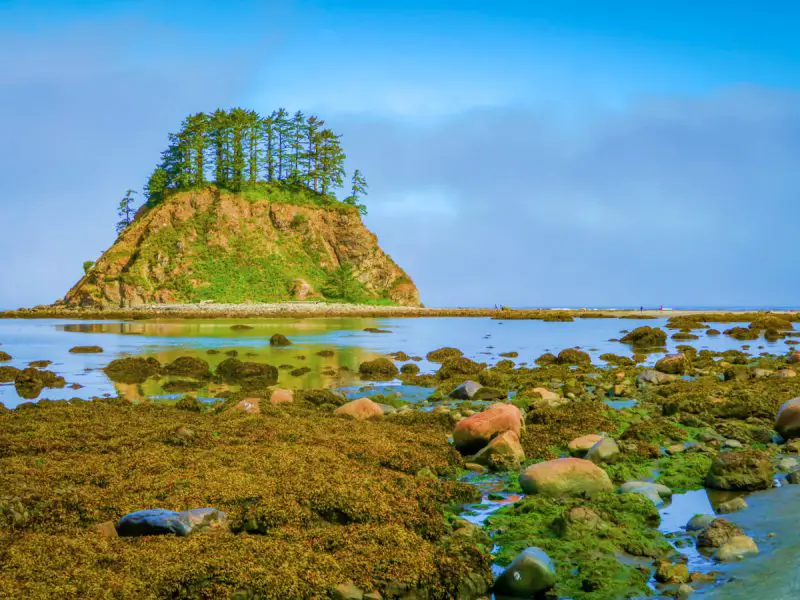 A spectacular destination along Olympic National Park's rugged shoreline, Cape Alava is also one of the park's most distinctive beaches. At Cape Alava, the rocky shoreline gives way to a sandy spit of land which connects to Tskawahyah Island – the westernmost point in the contiguous United States.
Accessing Cape Alava requires a bit of effort, however. Hiking a forested 3-mile trail is required to reach the beach – for a roundtrip total of six miles. Visitors with more time should consider hiking the 9.4-mile Ozette Triangle Loop Trail. This path leads to Cape Alava along a series of wooden boardwalks and heads south on the beach for three miles before returning to the trailhead through the woods. (If you need good hiking footwear, read my Guide to the Best Hiking Shoes & Boots here ~ James).
Parking for the Cape Alava Trail is located at Lake Ozette, about 1 hour and 15 minutes north of Forks. Pit toilets and a campground are located at Cape Alava for those with wilderness backpacking permits. 
Insider Tips:
The area north of Cape Alava Campground is part of the Ozette Indian Reservation which is currently closed to the public due to the COVID-19 pandemic.
Tskawahyah Island is always closed to the public.
Recommended by Katy Shaw from A Rambling Unicorn
---
Dungeness Spit
Also not inside Olympic National Park, this is on the northern end of Olympic Peninsula and is too cool not to include. It's part of Dungeness National Wildlife Refuge and is definitely one of the best beaches on Olympic Peninsula.
The Dungeness Spit is a five-mile-long sand spit, the longest natural sand spit in the United States. It is growing by about 13 feet each year. Along the beach, you will find stunning views, marine history, and a richness of wildlife.  
A popular activity is hiking the 11 miles to the lighthouse near the end of the spit. A $3 entry fee covers groups up to four people. Be sure to pack food and water and check the tides before you go. The first half-mile is a paved trail that takes you down to the beach. You can either spend your time at the beach here or continue on to the lighthouse. The lighthouse is one of the oldest lighthouses in the Northwest. There are guided tours daily and you can climb to the top.
Another popular activity in the area is birding. The Dungeness Wildlife Refuge is home to over 250 species of birds. The area is also home to 49 different species of land mammals and marine mammals.
Insider Tip:
Recommended by Candice from CS Ginger
---
Enjoy the beach! 
Do you have another favorite beach on the Olympic Peninsula?  I'd love to hear about it.  Join my private Facebook group National Parks Collectors and comment and let me know. 
If you liked this post, please share the love and Pin it to your Olympic National Parks board!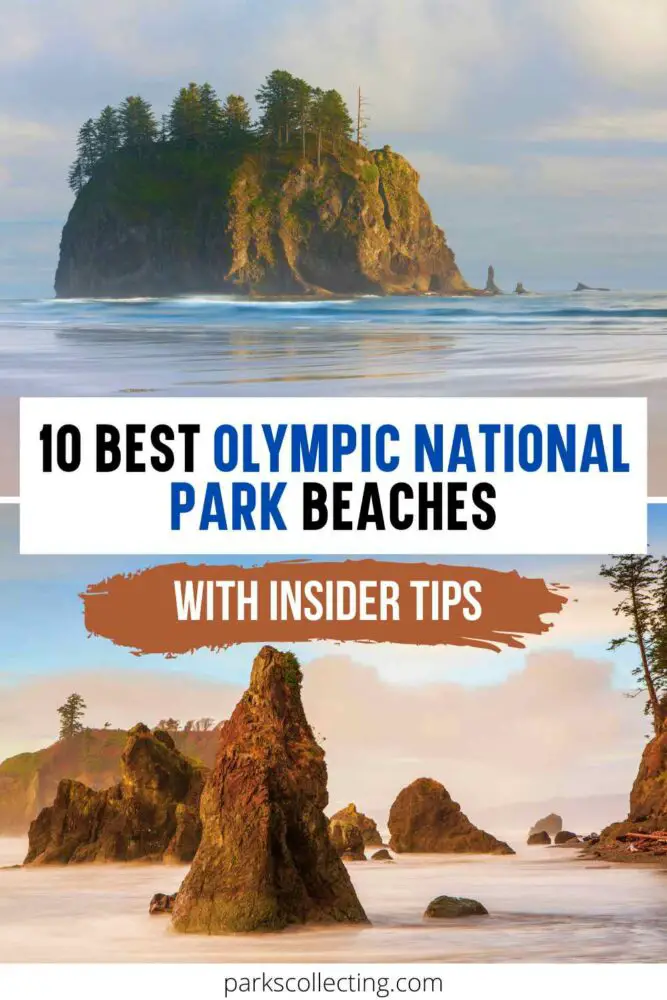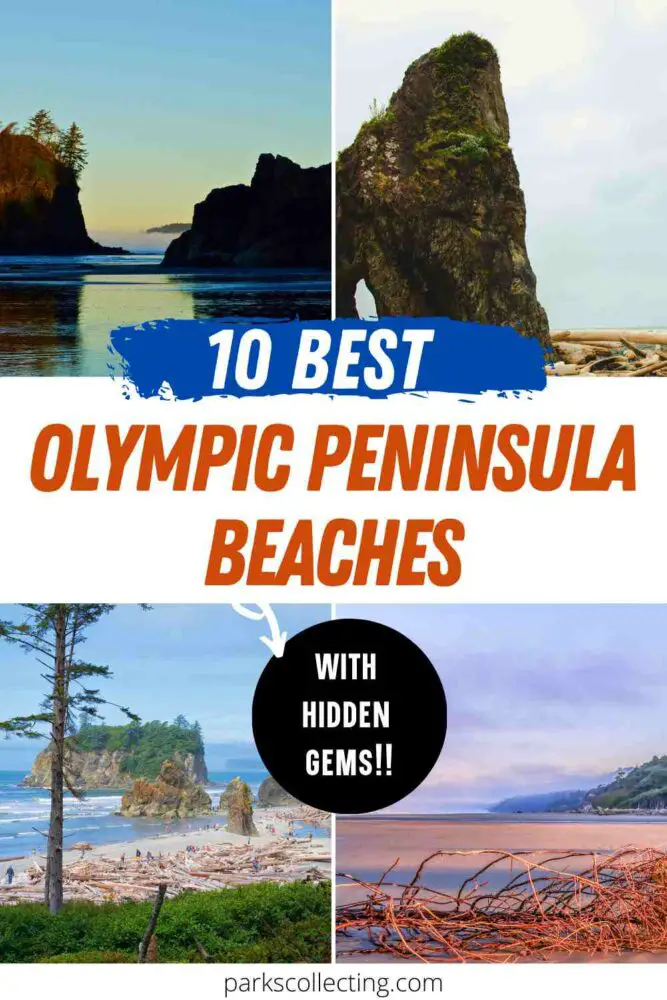 You might also like:
---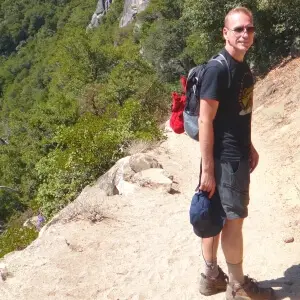 James Ian has traveled to 82 countries and all 7 continents.  He has visited all of the main national parks in the United States, as well as many national monuments and state parks.
He has rafted through the Grand Canyon; rappelled down slot canyons near Zion and Arches; hiked among the hoodoos in Bryce and the enormous trees in Sequoia; admired the waterfalls in Yosemite and the colored hot springs in Yellowstone; seen moose in Grand Tetons and seals in the Channel Islands, and much more.
---
Parks Collecting is a participant in the Amazon.com Services LLC Associates Program, an affiliate advertising program designed to provide a means for sites to earn advertising fees by advertising and linking to amazon.com. Amazon and the Amazon logo are trademarks of Amazon.com, Inc. or its affiliates. As an Amazon Associate I earn from qualifying purchases.