Olympic National Park is home to fantastical mossy rainforests; beaches with oversized driftwood, craggy sea stacks and fascinating tide pools; snow-capped mountain ranges; gushing rivers and waterfalls; and towering forest of gigantic conifers.  It's a magical place that can take days to explore.
Would you like to learn more about this wonderful park?  Let's take a look at some Olympic National Park interesting facts.
Here are 10 facts about Olympic National Park in Washington that you never knew you needed to know!
No time right now to discover these fun facts about Olympic National Park? Pin It and save it for later:
Please note this post may contain affiliate links, which means we may receive a commission, at zero cost to you, if you make a purchase through a link. Please see our full Disclosure for more information. If you have any questions, please contact me.
Basic Olympic National Park Facts
Location: Washington
Size: 1,442 square miles | 3,734 square km | almost a million acres
Number of Visitors each Year: 2.43 million visitors in 2022
Annual Rainfall: The rain varies considerably depending where in the park you are.  The coast gets about 100 inches of rain each year while the rainforest gets about 140 inches (almost 12 feet) of rain annually – most of it in the winter months. Mount Olympus receives about 50 feet of snow each year.
Highest Elevation: Mount Olympus (7,983 feet)
Lowest Elevation: The beaches (0 feet – though negative tides are frequent)
Date it Became a National Park: First established as Olympus National Monument in 1909, it became Olympic National Park in 1938.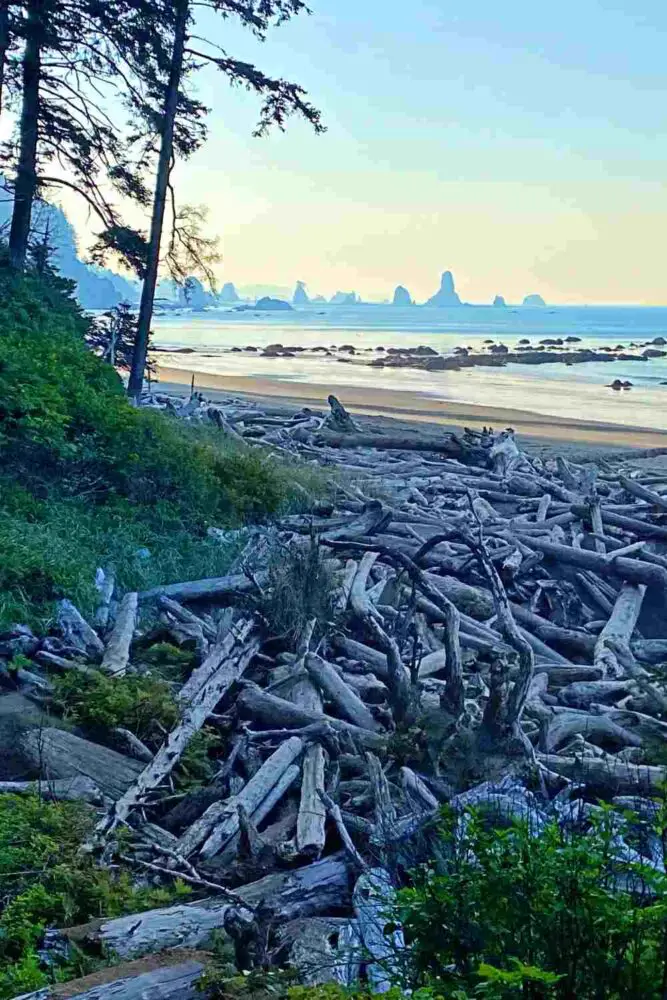 ---
10 Fun Facts About Olympic National Park
1. There are four distinct ecosystems in Olympic National Park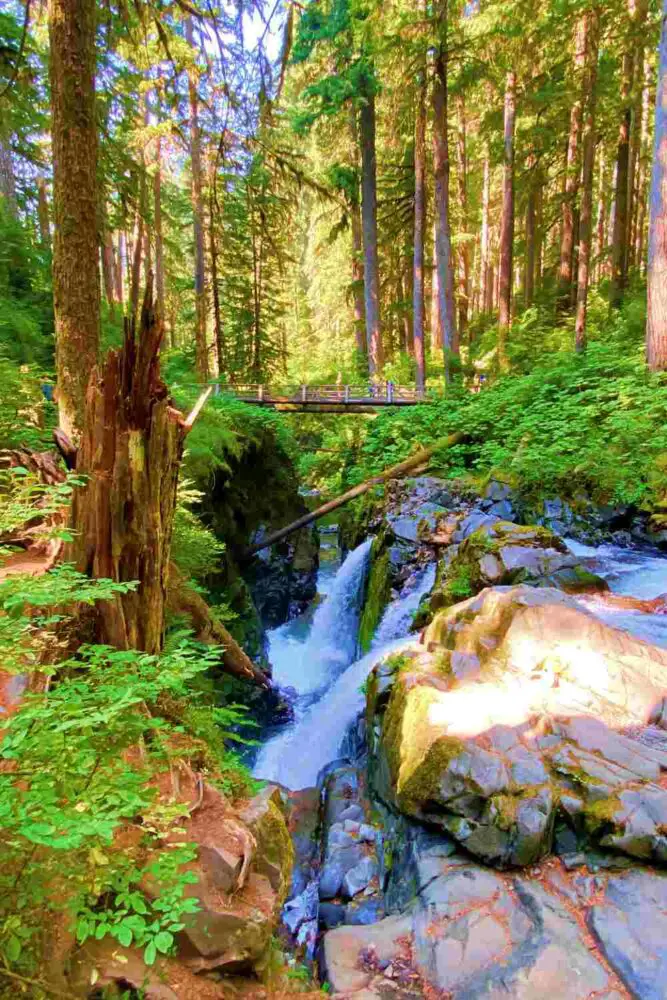 Olympic National Park is one of the most diverse areas in the entire country.  The four ecosystems are:
The coast
The Pacific Northwest beaches are stormy and often misty. Sea stacks – somewhere between a large rock and a small island – sit off shore.  Tree-sized driftwood stacks up along the edge of the beach.  At low tide, rocks are exposed and there are fascinating tide pools to explore.
READ MORE: Best Beaches in Olympic National Park
Temperate rain forest
There are several pockets of rainforest in the national park.  Bigleaf maple trees twist into fantastical shapes.  About 200 varieties of moss cover trunks and drape over limbs.  Enormous ferns stand under foot.  Ancient conifer trees like Sitka spruce, Douglas fir, western hemlock, and western redcedar tower more than 250 feet in the air.
READ MORE: Best Hoh Rain Forest Hikes | Best Quinault Rain Forest Hikes
Lowland forest
In the valleys between the mountains, rivers gush, waterfalls cascade and lakes glimmer in the sunshine.  Lush forests surround them.
READ MORE: Best Sol Duc Hikes | Best Lake Crescent Hikes | Best Waterfalls in Olympic National Park
The mountains
The Olympic Mountains form a large part of the Olympic Peninsula and the national park.  There are peaks covered in permanent snow and glaciers, as well as alpine and subalpine meadows that burst into bloom in summer.  Between the snowy peaks, fields of flowers and endless views, this area of the park is stunning.  Hurricane Ridge is the main area to visit.
READ MORE: Best Hurricane Ridge Hikes
---
2. You can watch salmon jump up a gushing waterfall in Olympic National Park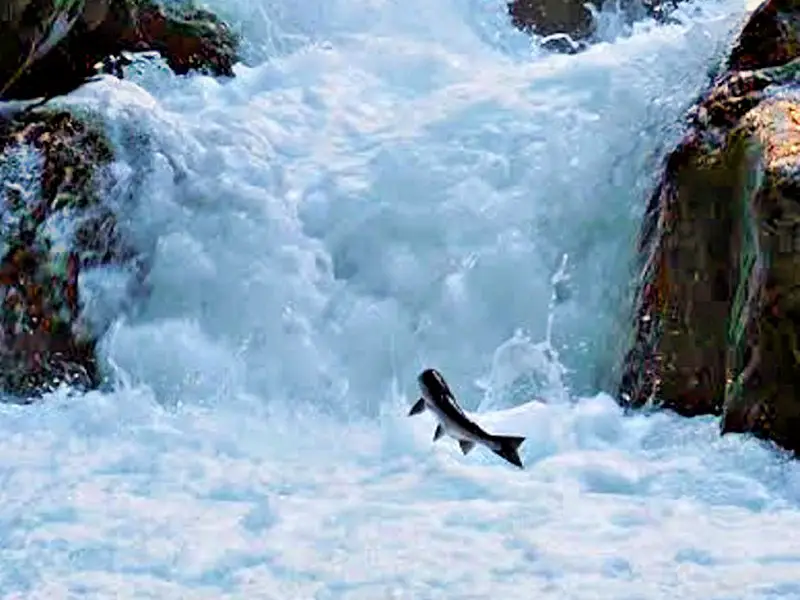 Salmon are anadromous fish, which means that they live in both fresh and salt water.  The ones in Olympic National Park are born in the Sol Duc River, just below Sol Duc Falls.  The juvenile salmon swim 70 miles down the river to the sea and then spend most of the lives roaming up and down the coast. 
When they're ready to spawn, they find their way back to the mouth of the Sol Duc River and then use river scents to return to their birthplace upriver.
The thing is that there is an 11-foot waterfall between the coast and their spawning ground. 
If you visit Salmon Cascades late summer to early fall you can see schools of salmon gathering strength below the falls and then watch them jump up the gushing waterfall to the next level of the river.  It's really seeing nature at its most incredible!
READ MORE: Guide to Salmon Cascades
---
3. Many of the trees in Olympic National Park are more than 1,000 years old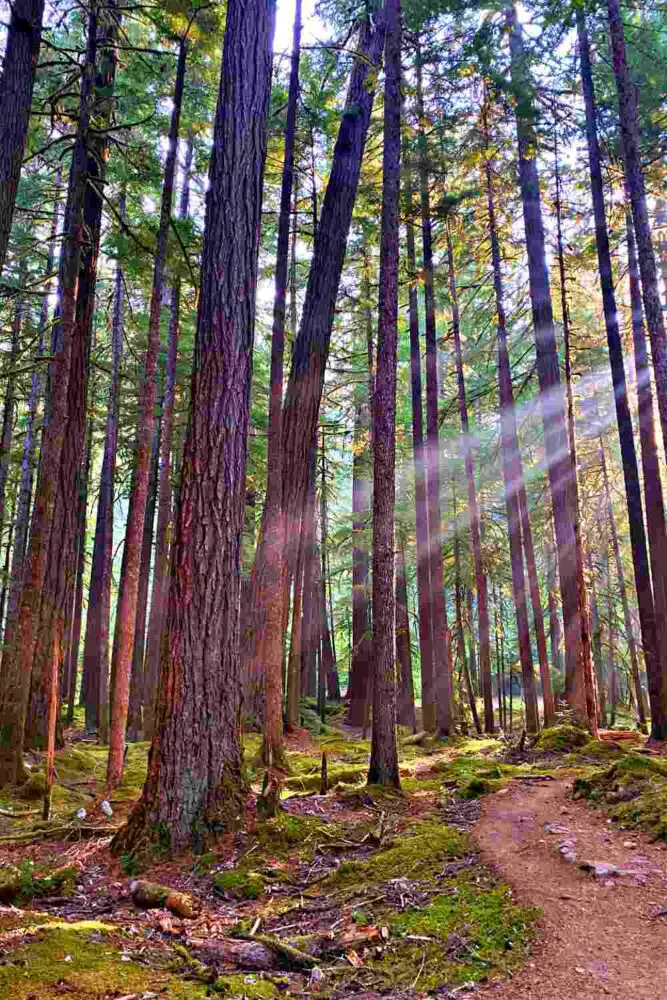 Olympic National Park has the largest old-growth forest in the Pacific Northwest.  "Old growth" means forests that have had no or minimal disturbance from humans over the years.  Without logging or other interference, the trees have grown to their maximum size and the forest regenerates naturally.  
In the temperate rainforest and lowland forests, you can walk between towering Douglas fir, Sitka spruce and western hemlock trees that were alive when across the Atlantic Ocean from what is the United States today, Vikings raided villages in Northern Europe, serfs farmed fields under a feudal system, and William the Conqueror hadn't even arrived in England!
To walk through these ancient groves and feel their age and power is a truly awe-inspiring experience.
READ MORE:  Ancient Groves Nature Trail Guide | Hoh River Trail Guide | Maple Glade Trail Guide
---
4. It rains a lot in the Hoh Rainforest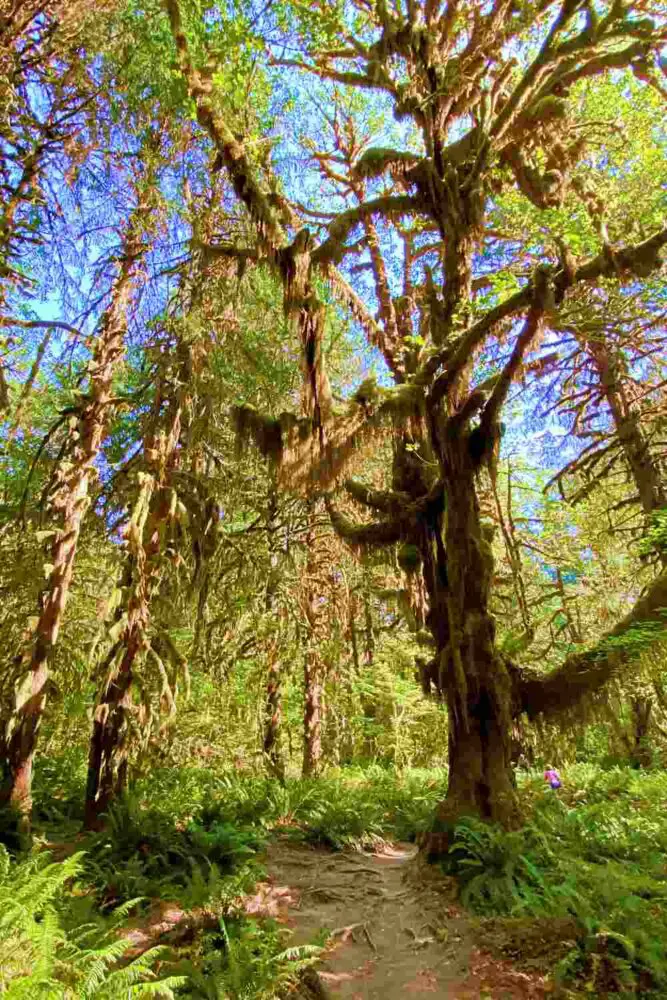 Well, perhaps that isn't very surprising.  It wouldn't be called a rain forest if it didn't rain a lot in the forest.  But how much does it rain?  Well, the Hoh Rain Forest alone gets a whopping 12 feet of rain every year! 
It's the wettest forest in the lower 48 states.
Which creates the perfect conditions for the 200 varieties of moss that grow over tree trunks, drape over branches, and blanket the forest floor.  Ferns also love the rain – and many of them grow as tall as you are.
That's a lot of rain, but the good news is that most of it happens in the winter.  In fact, there's only about 2 inches of rain on average in July. 
So, May – September are definitely the best months to visit if you prefer not to be permanently drenched (though even then, you should be prepared for rain at any time).
READ MORE: Hoh Rainforest Hall of Mosses Trail Guide
---
5. The world's largest dam removal took place in Olympic National Park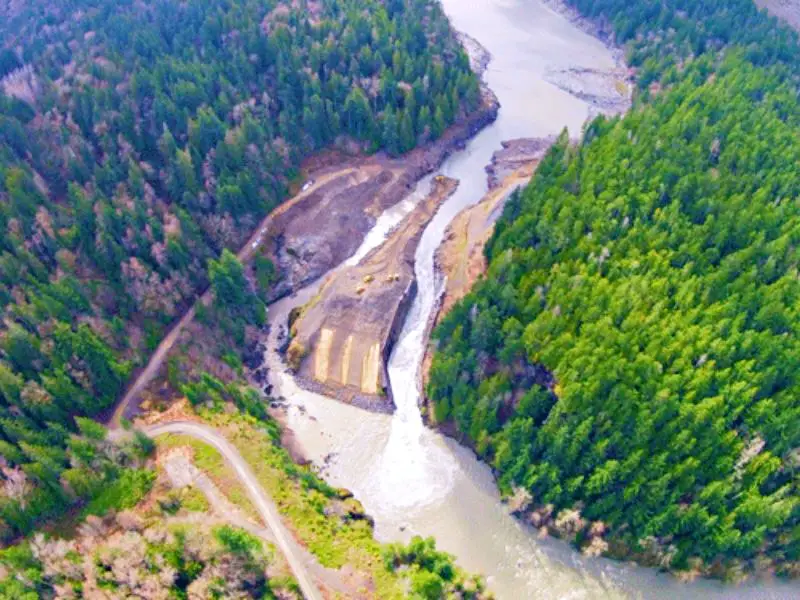 One of the unique things about Olympic National Park is that it was home to the largest dam removal project ever.
In the early 1900's the Elwha and Glines Canyon dams were built in the Elwha Valley, damming the Elwha River.   This generated hydroelectricity for nearby Port Angeles and helped generate economic growth in the area. 
However, it also blocked the migration of salmon upstream, disrupted the flow of sediment downstream, and flooded the historic homelands and cultural sites of the Lower Elwha Klallam Tribe.
In 1992, the US Congress passed the Elwha River Ecosystem and Fisheries Restoration Act to remove the dams and restore the ecosystem to the valley.
It wasn't until two decades later, in 2011-2014 that the 210-foot-high Glines Canyons Dam and 108-foot-high Elwha Dam were finally removed, making it the world's largest dam removal project.  The Elwha River could once again flow freely from the Olympic Mountains to the Strait of Juan de Fuca.
Since then, thousands of fish returned to the area, and the original ecosystem has gradually reestablished.
READ MORE: Learn more about this fascinating reversal in Elwha: A River Reborn by L Mapes and S Ringman
---
6. You can adopt a fish in Olympic National Park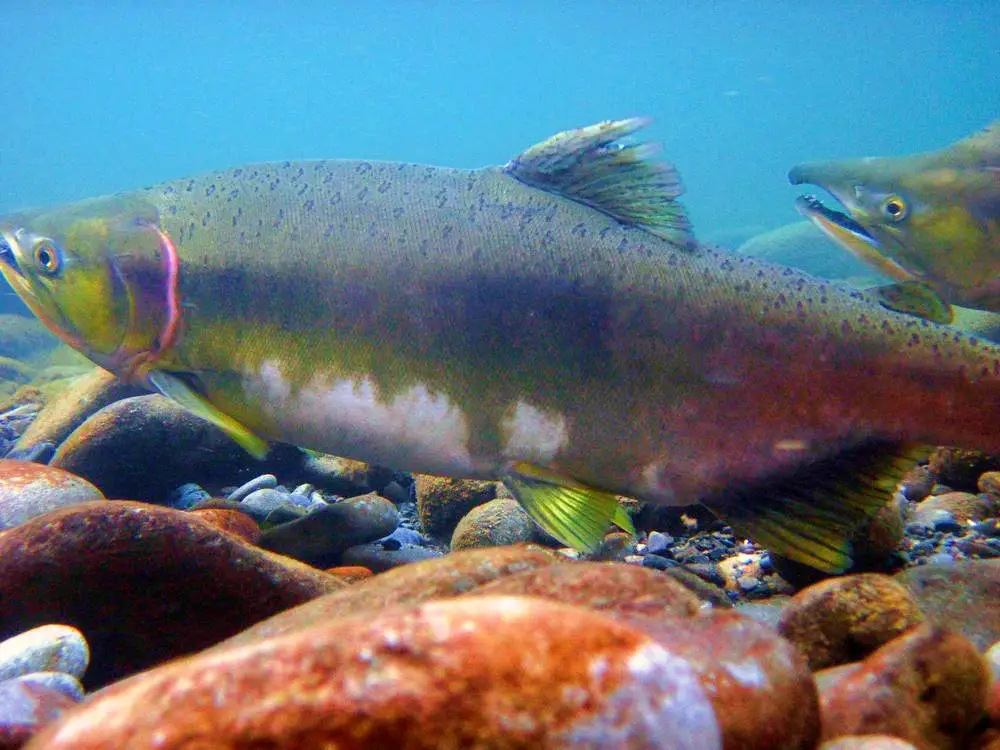 As part of the efforts to restore the ecosystem in the Elwha River valley after the removal of the dams, an Adopt-A-Fish radio-tracking program was established.
The goal of the project was "to track the movements of anadromous fish in the Elwha watershed and help understand how far, how fast, and where the first salmon recolonizers go after dam removal".
The program helps introduce the public and students to radio telemetry techniques, scientific process, methods of tracking, and fish migrations.
Fish are caught in the lower river by fisheries biologists, radio tagged, and then released near their point of capture in the river. Their movements are then tracked as they journey through the river system.
The program is run by biologists from the park, the Lower Elwha Klallam Tribe, and the U.S. Fish and Wildlife Service. 
READ MORE: Elwha River Fish Restoration Plan (Fish Stories) by National Oceanic and Atmospheric Administration
---
7. The Quinault Valley (AKA Valley of the Giants) has five champion conifer trees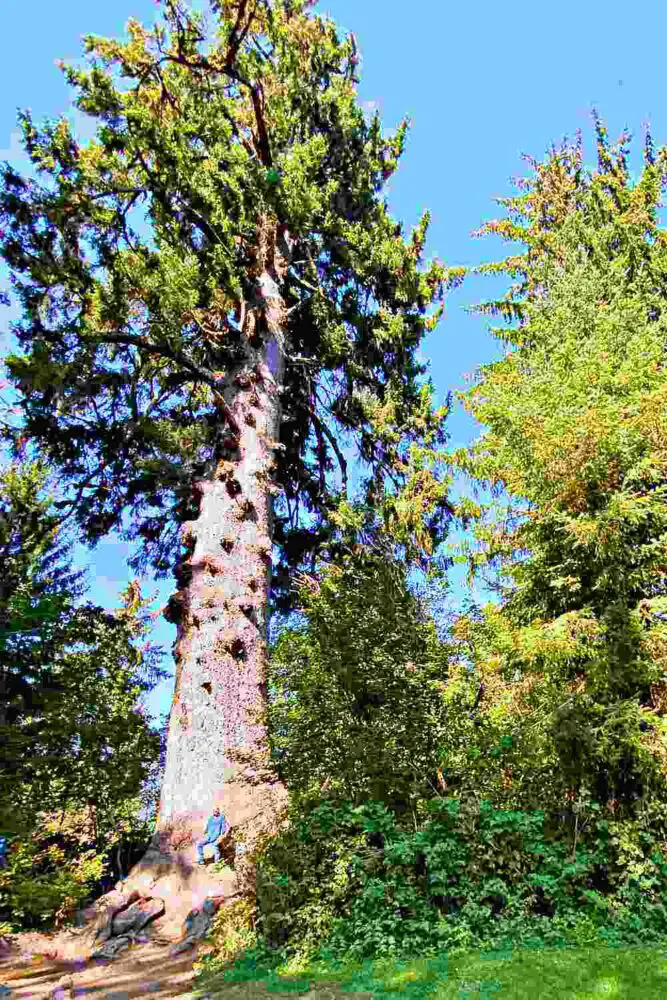 The Quinault Valley is often called the Valley of the Giants because of the size of the trees that grow there.  These trees are not only old, they are national and world champions when it comes to size. 
Redwoods and sequoias grow bigger, but the Quinault Giants are still very impressive!
The five champion trees are:
Largest Sitka Spruce in the World
This is the third largest tree in Washington state. It's an impressive 191 feet tall | 55 feet 7 inches circumference | 17.68 feet diameter.  It's very accessible and you can walk right up to it on a short trail from a parking lot near Rain Forest Resort Village on South Shore Road.
Largest Douglas Fir in the World
This is even more impressive, coming in at an incredible 302 feet tall | 40 feet 10 inches circumference | 13 feet diameter.  Unfortunately, it's located away from developed trails in the Quinault Research Natural Area.
Largest Yellow Cedar in the U.S.
This giant is 129 feet tall | 37 feet 7 inches circumference | 11.96 feet diameter.  You can get to it on an 8-mile hike near Three Lakes and the Big Creek Trail.
NOTE: The Valley of the Giants used to also have the Largest Western Red Cedar in the World, but unfortunately it toppled over in a storm in 2016.  Today, the trail is closed and the tree is slowly returning to the forest.
Largest Western Hemlock in the U.S.
A behemoth tree towering 171 feet | 27 feet 11 inches circumference | 8.89 feet diameter, it's located about 14 miles into the Enchanted Valley.
Largest Mountain Hemlock in the U.S.
The largest Mountain Hemlock by volume, it's 152 feet tall | 6 feet Diameter and is found 13 miles up trail at the head of the Enchanted Valley.
READ MORE: Lake Quinault Loop Drive Guide
---
8. Mount Olympus, the park's highest peak, can't be seen from most of the park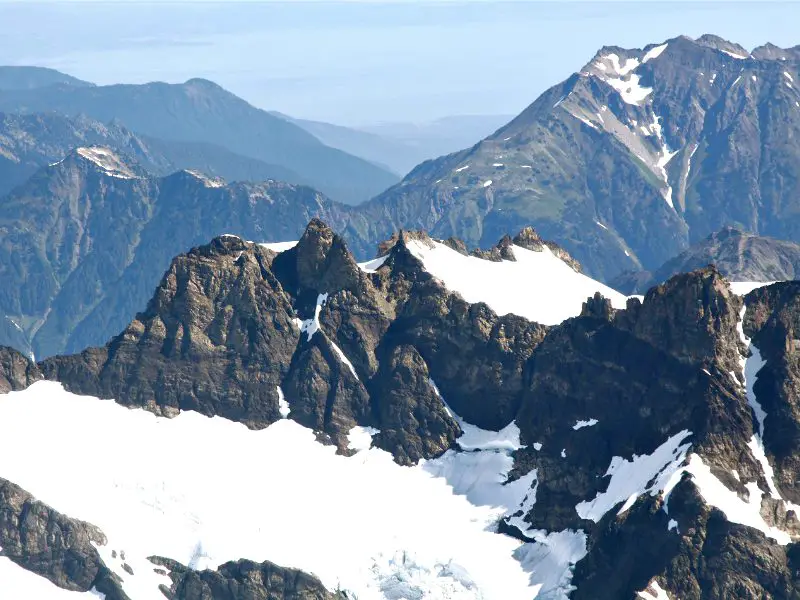 The centerpiece of Olympic National Park is Olympus Mountain.  It was named in 1778 by Captain John Meares who felt that this place was suitable for the gods.  Remembering that Olympus Mountain that was home to the Ancient Greek gods, he gave the peak the same name.
The mountain has several peaks and glaciers including White Glacier, Blue Glacier, and Hoh Glacier. Some of them end below 4,000 feet, making them the lowest elevation glaciers at this latitude on earth.
All of which may have you wondering how to see the mountain. You'd think that being the tallest and all, it would be easy to see from pretty much anywhere. Not so much.
Olympus Mountain is, in fact, the third most isolated peak in Washington State and is obscured by other peaks in the mountain range from many places.  You can't see it from most cities in the Puget Sound area including Seattle, Tacoma, Olympia, Sequim, and Port Angeles or from most places in the national park.
Not all is lost, however.  There are clear views of the east side of the mountain from Hurricane Ridge, and this is easily accessible on a 45-minute drive from Port Angeles. 
There are also several backcountry hikes with great views of the peak, including the multi-day hike on the Hoh River Trail to Blue Glacier.  If you're interested in doing a five-day guided hike to Blue Glacier, you can book one here.
READ MORE: Guide to Visiting Hurricane Ridge
---
9. The tidepools in Olympic National Park are legendary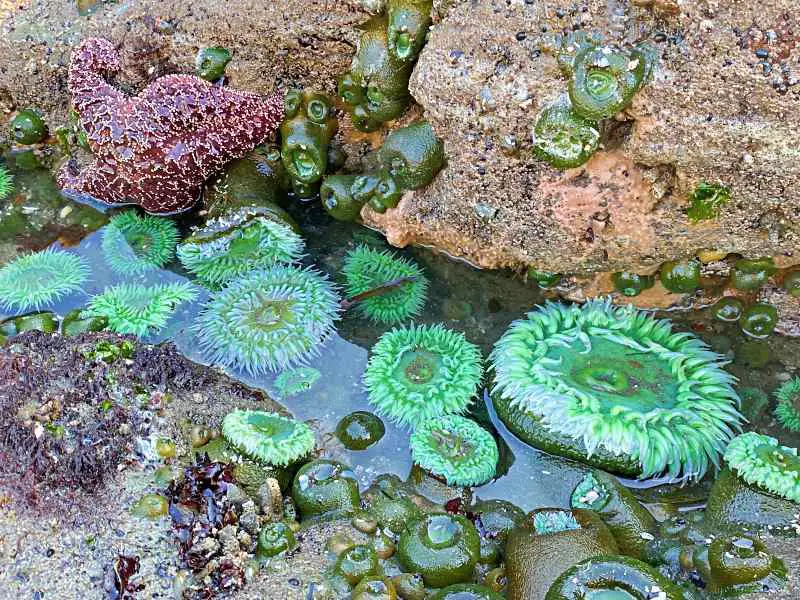 A whole hidden world awaits in Olympic National Park.  Tide pools are pools of water left trapped in between rocks as the tide recedes.  There is a surprising whole other world living in these tide pools and at low tide, you can explore them. 
Many of the creatures there, such as mollusks and barnacles attach themselves permanently to the rocks. 
Giant Green Anemones, waving beautiful fronds in the water to catch unsuspecting passers-by are some of the most beautiful creatures in the tide pools. 
Other creatures have suction pads that they use to hold on to the rocks, but they still move around. Purple, orange and dark red Ochre Seastars are a common sight.
Not all animals want to be there.  Some, like small fish and octopi get trapped in the tide pools as the tide pools retreat, and when the tide comes back in, they will wash back out into the ocean. 
Popular beaches for tide pooling include Kalaloch Beach 4, Ruby Beach and Rialto Beach, but see my guide below for more details.
READ MORE: Best Tide Pools in Olympic National Park
---
10. 3,000 Schoolchildren helped convince President Roosevelt to create Olympic National Park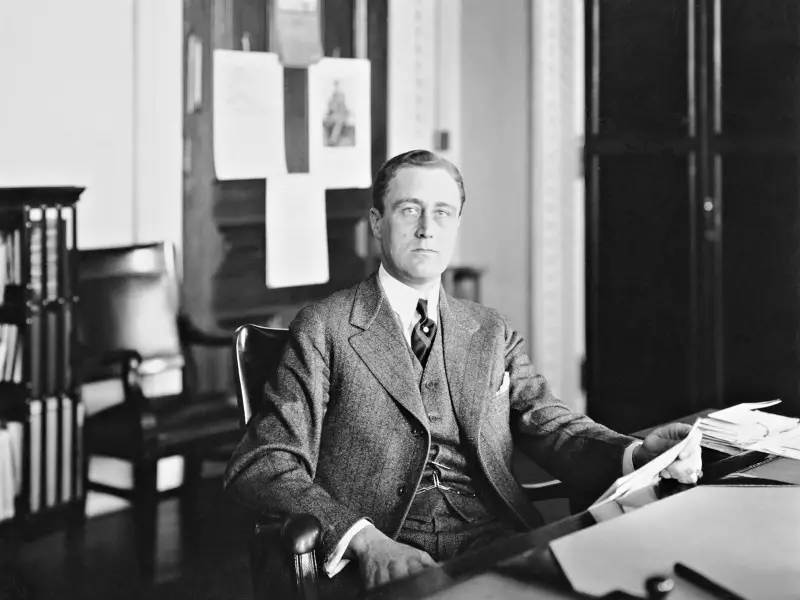 This is one of my favorite Olympic fun facts for kids. 
Back in 1937 competing forces argued about creating a comprehensive national park on the Olympic Peninsula.  Conservationists pushed for it, but the timber industry vehemently opposed it.
President Franklin Roosevelt decided to visit the area to see for himself what all the fuss was about.
When he arrived in Port Angeles, he was met by over 3,000 local schoolchildren holding a banner that said, "Please Mr. President, we children need your help. Give us our Olympic National Park."
Who says grass-roots advocacy doesn't work, sometimes?
Roosevelt was deeply moved by the sentiment expressed by the children and decided then and there to create a large national park, with more forests included than the current Olympus National Monument contained.
On June 29, 1938, he signed the bill creating Olympic National Park.
READ MORE: Learn more about the history of the national park in Olympic Battleground: Creating And Defending Olympic National Park by Carsten Lien.
---
More Information About Olympic National Park
Are you feeling inspired to visit Olympic National Park?  Start planning your trip now with these guides:
>> Olympic National Park Travel Guide
>> The Best Olympic National Park Beaches 
>> Rialto Beach – Hole In The Wall
>> Best Lake Quinault Rainforest Hikes
>> Best Hoh Rainforest Hikes 
>> Best Sol Duc Hikes 
>> Best Lake Crescent Hikes 
>> Best Hurricane Ridge Hikes 
>> Guide to Visiting Hurricane Ridge
>> Best Waterfalls in Olympic National Park
>> 10 Best Views In Olympic National Park
Do you have any other fun facts about Olympic National Park to share?  I'd love to hear them. Join my private Facebook group National Parks Collectors and comment and let me know (you can also pick up extra planning tips, share your photos and stories with other national park lovers and more).
If you liked these Olympic fun facts, please share the love and Pin It to your Olympic National Park board!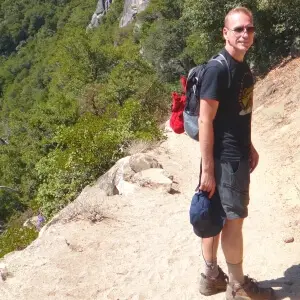 James Ian has dedicated his life to travel and has traveled to 82 countries and all 7 continents.  He's visited all of the main national parks in the United States, as well as many national monuments and state parks.
As a national park expert, James has contributed to many publications, including Time Business News, Savoteur, and Wired. He also has several published detailed itineraries in addition to many free online guides.
James has rafted through the Grand Canyon; rappelled down slot canyons near Zion and Arches; hiked among the hoodoos in Bryce and the enormous trees in Sequoia; admired the waterfalls in Yosemite and the colored hot springs in Yellowstone; seen moose in Grand Tetons and seals in the Channel Islands, and much more.
---
Parks Collecting is a participant in the Amazon.com Services LLC Associates Program, an affiliate advertising program designed to provide a means for sites to earn advertising fees by advertising and linking to amazon.com. Amazon and the Amazon logo are trademarks of Amazon.com, Inc. or its affiliates. As an Amazon Associate I earn from qualifying purchases.