Moss. Towering trees. Ferns. Elk. River views. Check, check, and check. The Hoh River has it all! In fact, it's my favorite hike in Hoh Rainforest.  
This guide to the Hoh River Trail in Olympic National Park has everything you need to know before setting out on this trail for a day hike. It includes full trail details, a detailed description, tips, a map, what to take and wear, and more.
TOP TOUR: Book a small group tour now
TOP HOTEL IN NEARBY FORKS: Check availability now
TOP HOTEL IN PORT ANGELES: Check availability now
FIND THE CHEAPEST CAR RENTAL: Search Discover Cars for the best deals
FIND THE CHEAPEST FLIGHTS: Search Skyscanner for the best deals
GET TRAVEL INSURANCE: Get insured with Travelex before you go
No time right now to read about hiking the Hoh River Trail? Pin It and save it for later: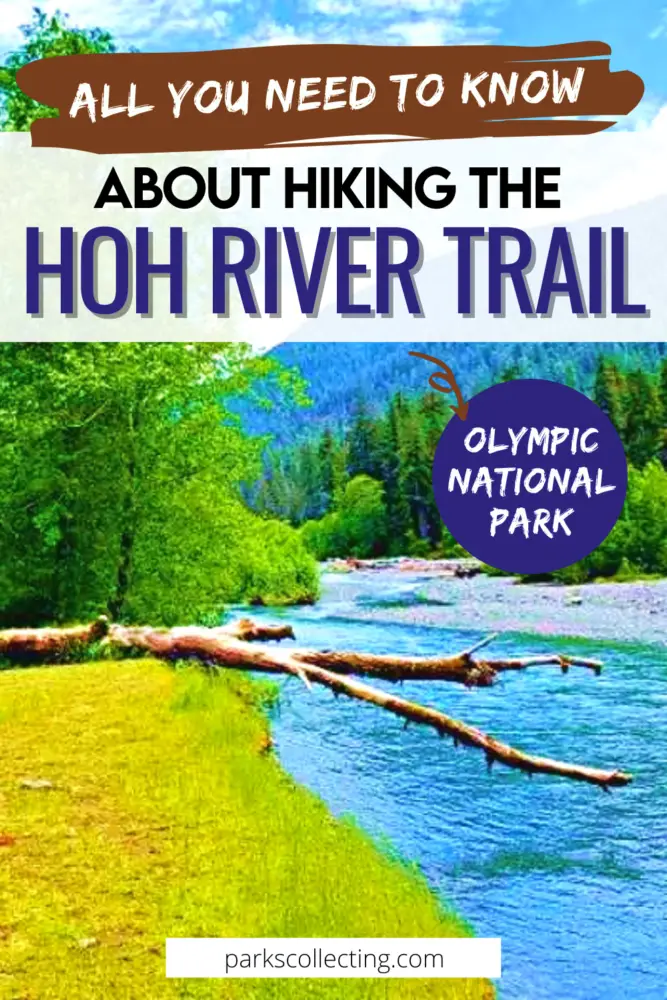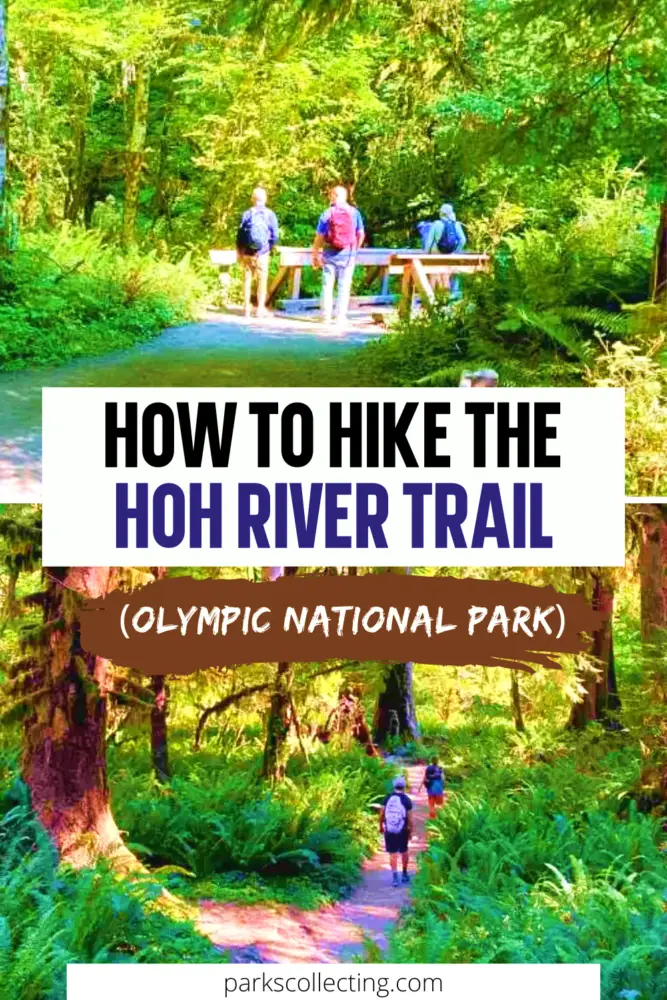 Please note this post may contain affiliate links, which means we may receive a commission, at zero cost to you, if you make a purchase through a link. Please see our full Disclosure for more information. If you have any questions, please contact me.
FREE DOWNLOAD
Subscribe to regular updates with tips for planning, travel inspiration and trip ideas and get instant access to the free PDF of this
Hoh River Trail
You might also like: 
Best Hoh Rainforest Hikes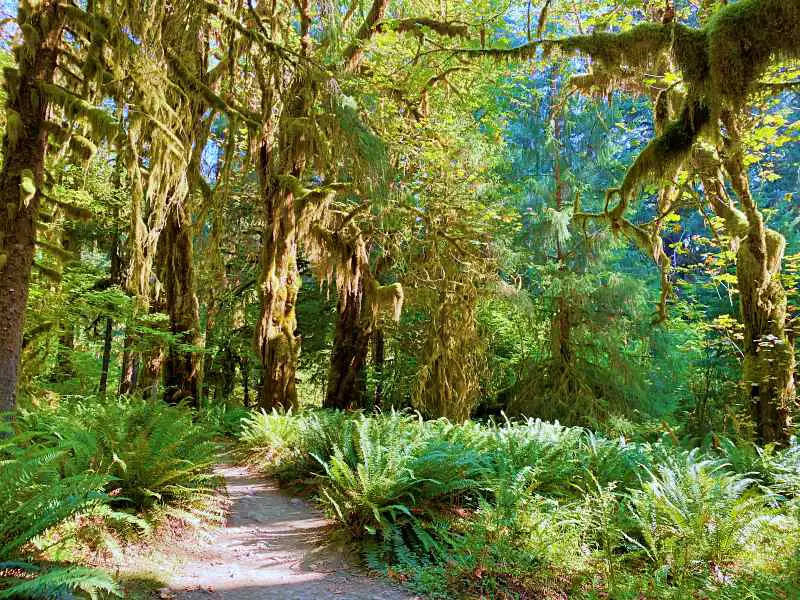 ---
 Guided Tours of the Hoh River Trail 
You can definitely do this hike by yourself, but if you're not able to drive or if you just want an expert guide to share tips and information about the area with you, there are a couple of day tours that include this hike.
Small Group Tour to Hoh Rainforest and Kalaloch Beaches
This small group (maximum eight people) leaves from the Kalaloch Campground, so you get to spend more time in the park and less time in the bus.  In addition to the Tree of Life and Ruby Beach, you'll hike 2 miles each way along the Hoh River Trail.
BOOK THIS SMALL GROUP TOUR TO HOH RAINFOREST AND KALALOCH BEACHES
Private Hiking Tour to Hoh Rainforest and Kalaloch Beaches
A private tour means you get the guide all to yourself – and have more flexibility in what you do.  An expert naturalist guide can point out all the features of what you're seeing and give you extra information that will enhance your hikes.
You get picked up at Kalaloch Beach 4 and spend some time at Ruby Beach as well as the Hoh Rainforest.  Choose this hike in the Hoh and you won't be disappointed!
BOOK THIS PRIVATE TOUR TO HOH RAINFOREST AND KALALOCH BEACHES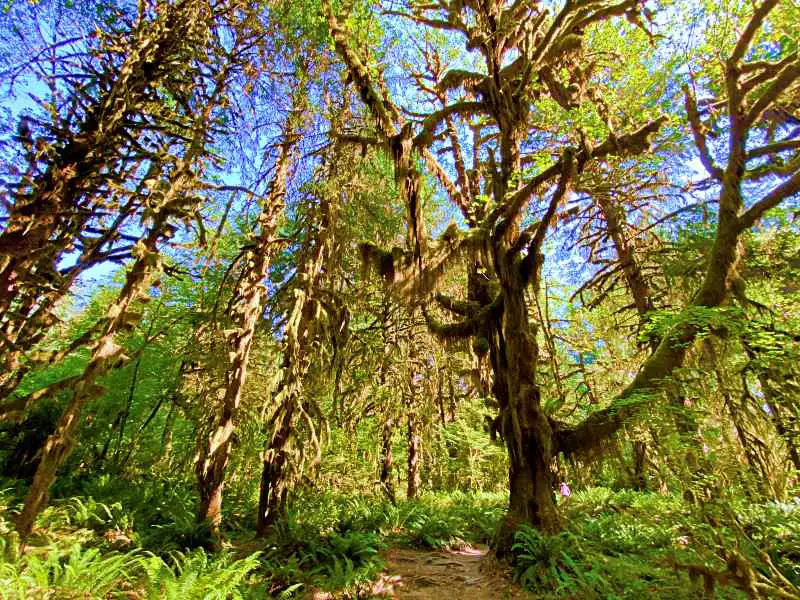 ---
 What You Need To Take/ Wear on The Hoh River Hike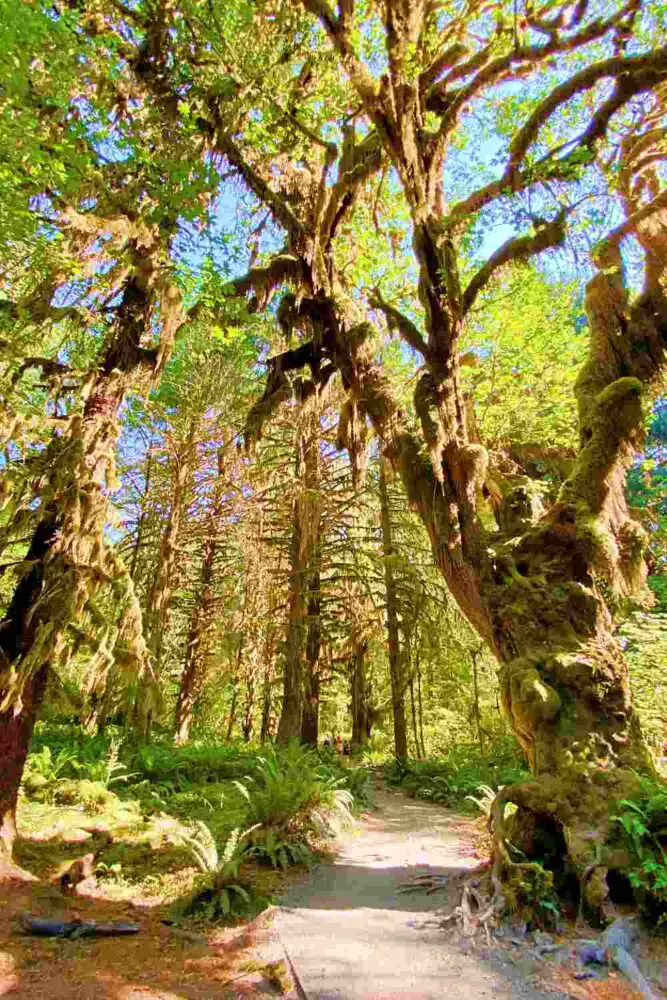 ---
Tips for Hiking the Hoh River trail Day Hike
Get to the Hoh Rain Forest before 8:00AM if you're visiting in the busy summer months.  This is a very popular part of the park and when there is no more parking available, the rangers hold traffic at the entrance station and only let a vehicle enter when another one leaves. 
If you find yourself stuck at the entrance, there is a restroom just before the entrance, so if you need to go, you can walk along the side of the road from your vehicle.  There are also restrooms at the Visitor Center and a basic drop toilet at Five Mile Island (and other campgrounds along the trail if you're hiking farther). 
There's a parking lot right next to the trailhead and Visitor Center, which is where you should try to park. If it's full, there are other lots around the campsite area where you can park. You are also permitted to park on the side of the road in the vicinity of the Visitor Center.
The light is best for photography early in the morning.  When the early morning sun hits the moss, turning it into a golden glow, it is truly magical. 
The trail can be muddy in spring.  If you're hiking then, or after it has rained, a good pair of hiking shoes or boots will come in handy. If you need to get some, take a look at my Guide to Buying the Best Hiking Shoes/ Boots to help you know what to look for and get some recommendations.  
The trail can be snowy in winter.  Microspikes may not be strictly necessary, but will make you safer.  Read my guides to The Best Microspikes for Hiking and The Best Snowshoes for Beginners if you need to buy some.
Because most of the annual precipitation is in winter, the rain forest can be a little dry looking by early fall.  There's not much you can do about this other than to adjust your expectations or the timing of your trip.  Though even in September, it's stunning. 
The Hoh Rain Forest can be very crowded in summer. However, the further you go along the trail, the fewer people you'll encounter. 
You'll sometimes come to splits in the trail.  Heading out from the Visitor Center, take the left trails.  The ones to the right sometimes rejoin the trail, but sometimes they dead end at the river.
Check current road conditions before you set out. Trees sometimes fall down and block the road for a few hours.
There are often ranger talks at the Hoh Rain Forest Visitor Center and guided walks.  These are a great introduction to the temperate rain forest.  Check for ranger programs for the dates of your visit.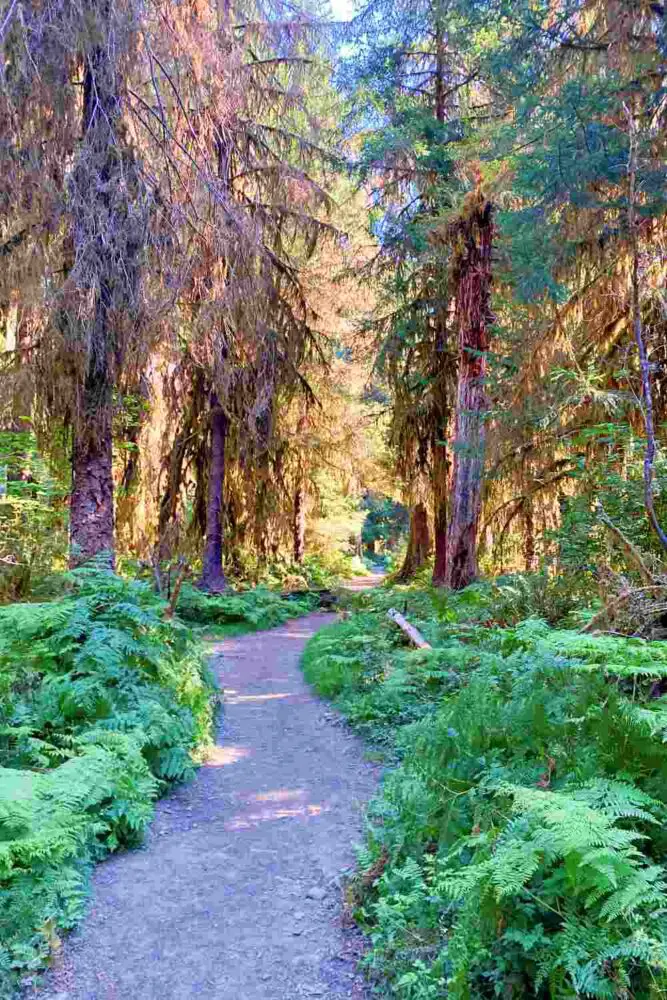 ---
Hoh River Trail Details
Distance:

First River Access: 0.9 miles each way | 1.8 miles total
Mineral Creek Falls: 2.7 miles each way | 5.4 miles total
Cedar Grove: 4.0 miles each way | 8.0 miles total
Five Mile Island: 5 miles each way | 10.0 miles return
Glacier Meadows: 17.3 miles each way | 34.6 miles return

Type: Out-and-back
Elevation change: 300 feet
Time: 4-5 hours to Five Mile Island and back
Difficulty: Moderate to Five Mile Island, due to its length, not elevation gain, as it mostly flat. Easy if you turn back sooner.
Hoh River Trailhead: Hoh Rain Forest Visitor Center
Highlights: Temperate rain forest; moss; waterfall; river views
Fee: There is no special trail fee but you do need to pay the Olympic National Park entrance fee.
Buy it online or, if you are planning to visit more than just Olympic National Park this year (Mount Rainier National Park and North Cascades National Park are both close), it can be great value to purchase an America The Beautiful pass.
Open: Open year-round, but there can be snow on the trail in winter.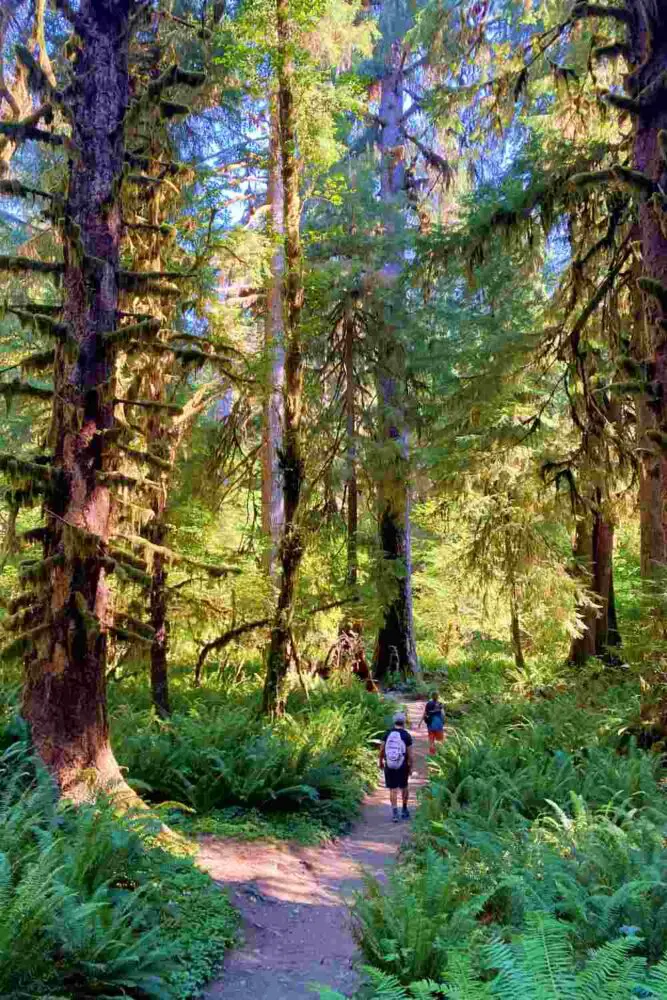 ---
Hoh River Trail Map
Use this map of Hoh River Trail or buy a National geographic topographical map of the hiking trails in Olympic National Park if you're planning to do several hikes.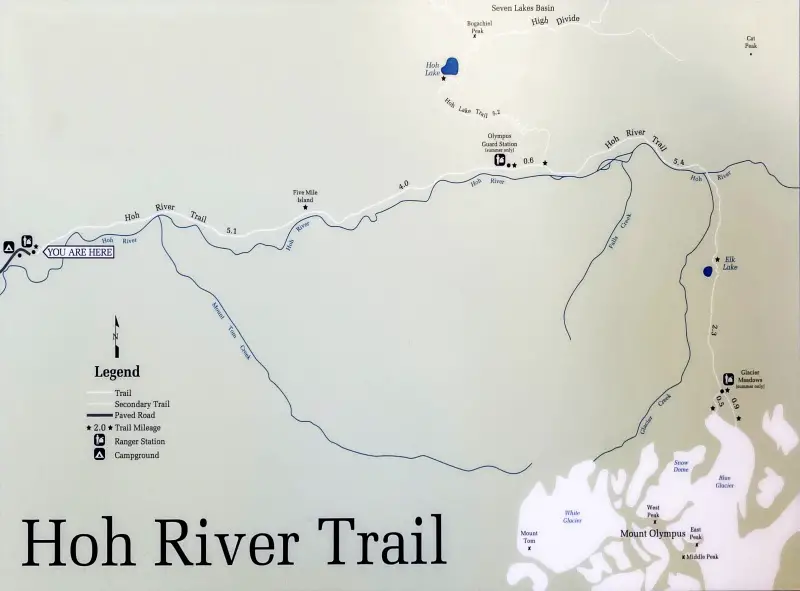 ---
Description of the Hoh River Trail to 5 Mile Island
The Hoh River trail follows the river as it flows through the Hoh River Valley.
There are several common places to turn back, so this hike can be as short or as long as you want.  In fact, you can hike over 18 miles (each way) to see Blue Glacier, though what I'm focusing on here is the Hoh River day hike options. Typically, the farthest place to turn back on a day hike is Five Mile camp.
Hoh River Trail to First River Access
0.9 miles each way | 1.8 miles total
The trail starts at the Visitor Center. There are several trails all winding around the area, but there are also plenty of signs.  You'll see the main trail notice board and a wide trail beyond.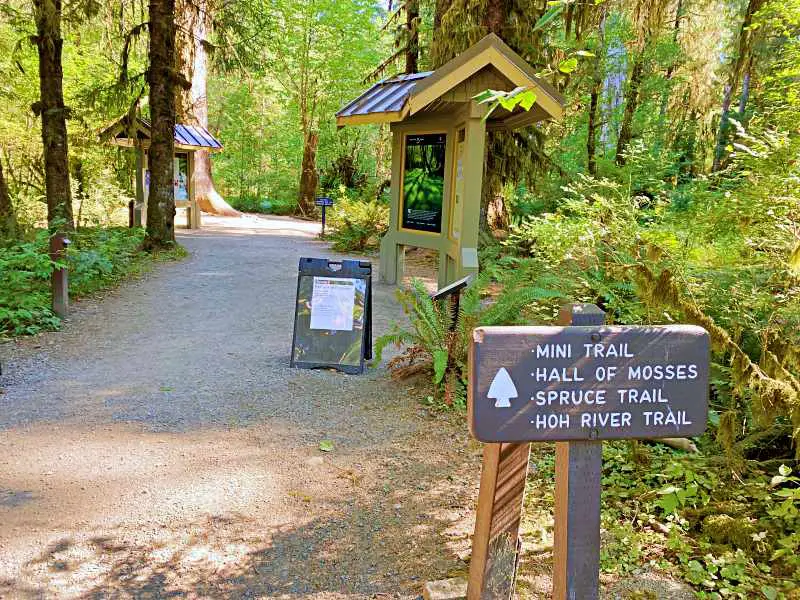 You'll soon see a small bridge off to your right.  Go over the bridge.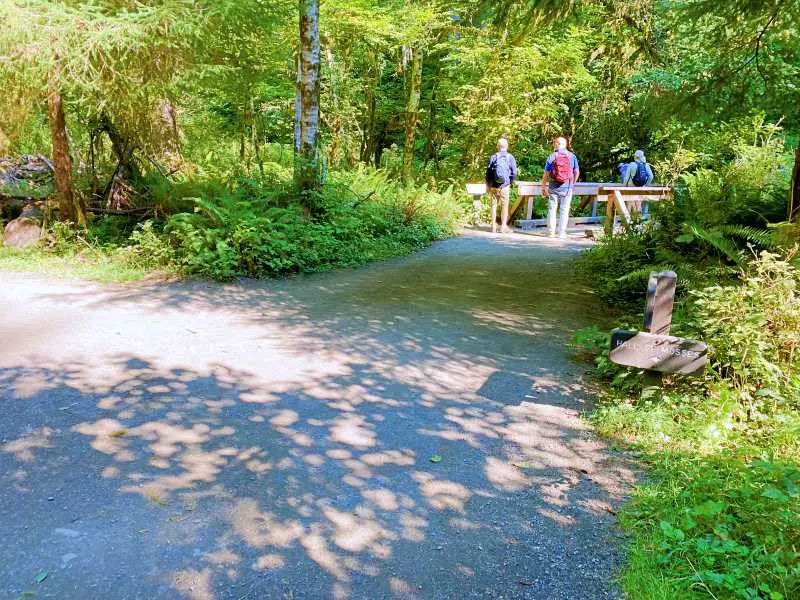 Keep following the signs for the Hoh River Trail.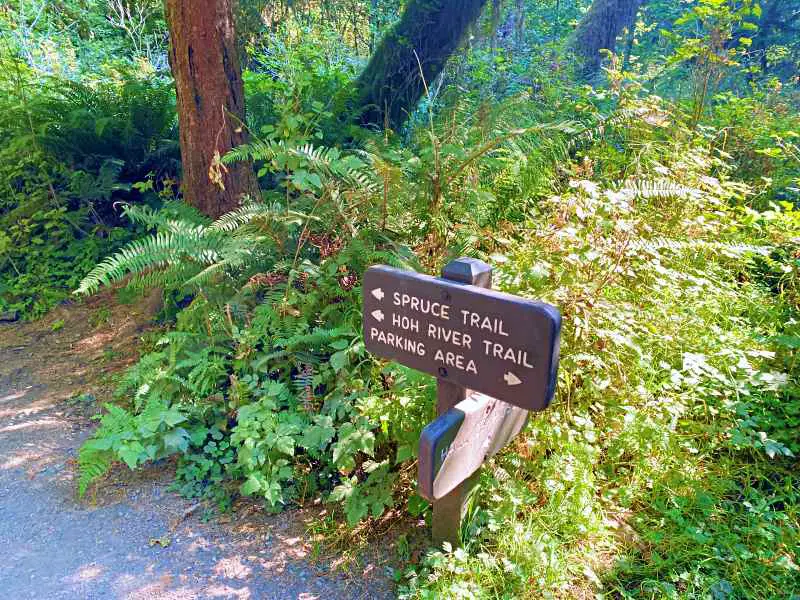 Look down into the creek.  You may see salmon and/ or river otters in season.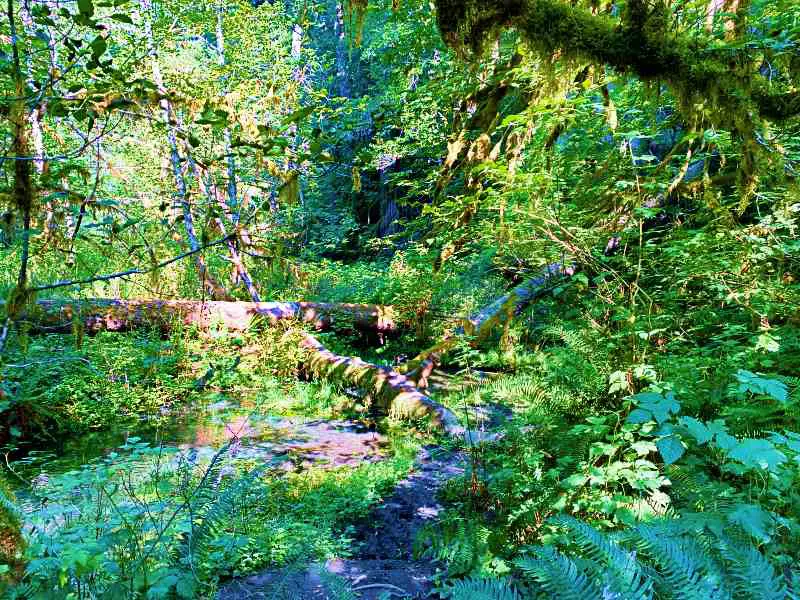 You'll pass a sign for the Spruce Nature Trail to the right – stay on the main trail.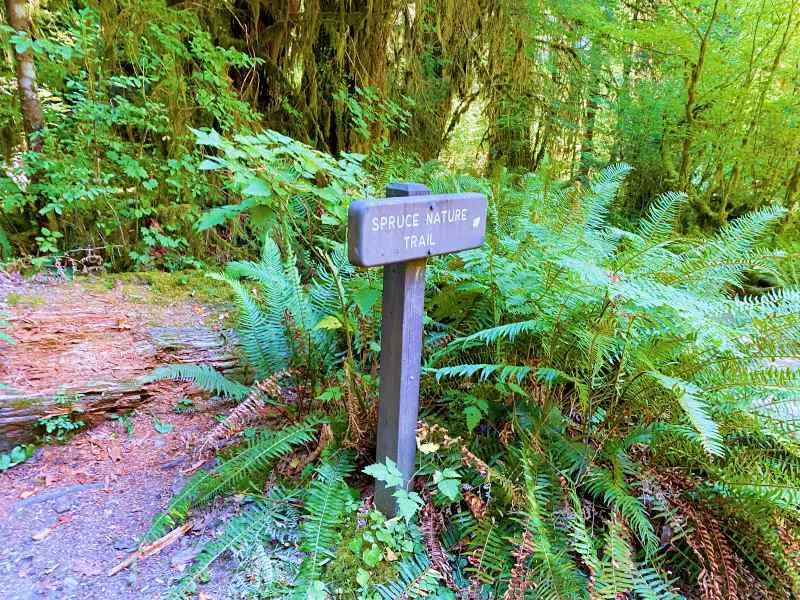 Then soon after is another small sign and then the main sign indicating that you are now on the Hoh River Trail. The sign shows distances to key places on the trail, though these are mostly relevant for hikers doing a multi-day trek to Blue Glacier, not day hikers.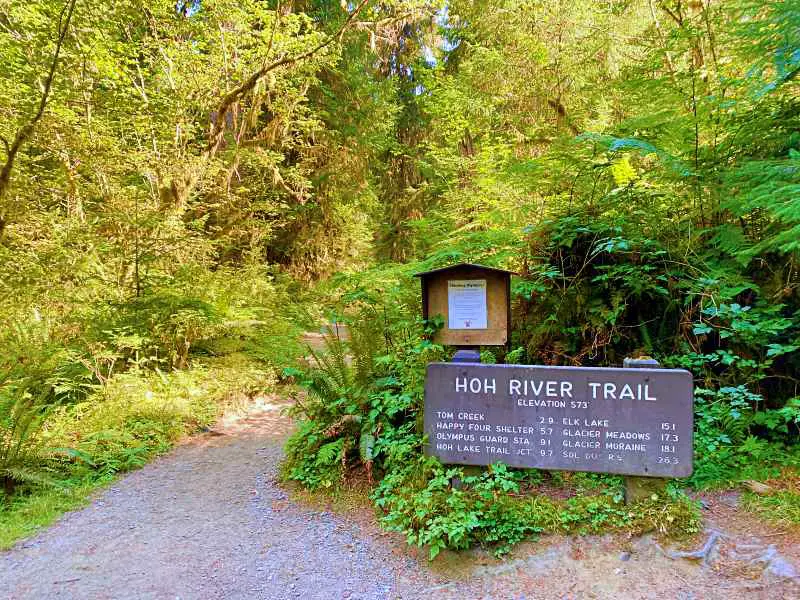 The trail heads straight into a series of groves of fern-covered trees with enormous ferns immediately around you.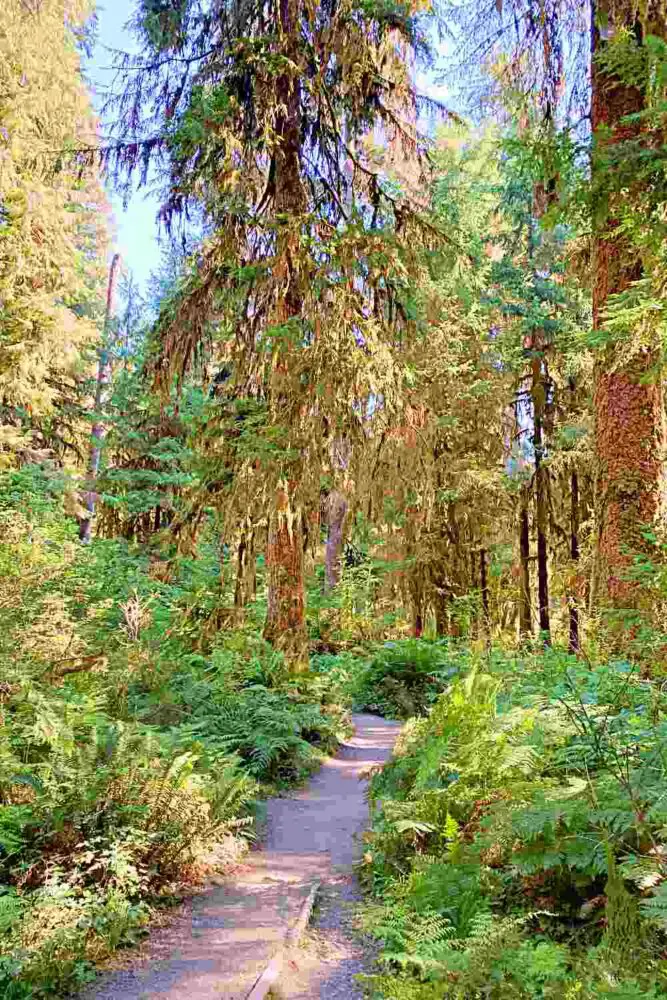 The further you go, the fewer people you'll see and you may soon find yourself alone in the magic forest.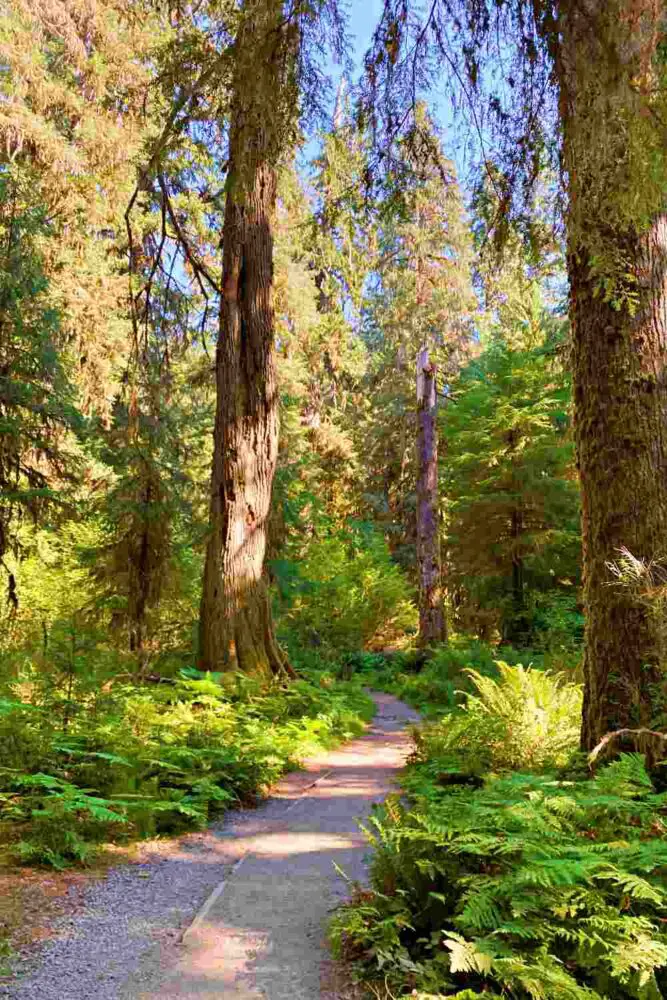 Many of these giant trees are over 200 feet tall. The conifer trees are a mix of Douglas-fir, western hemlock, cedar, and Sitka spruce trees.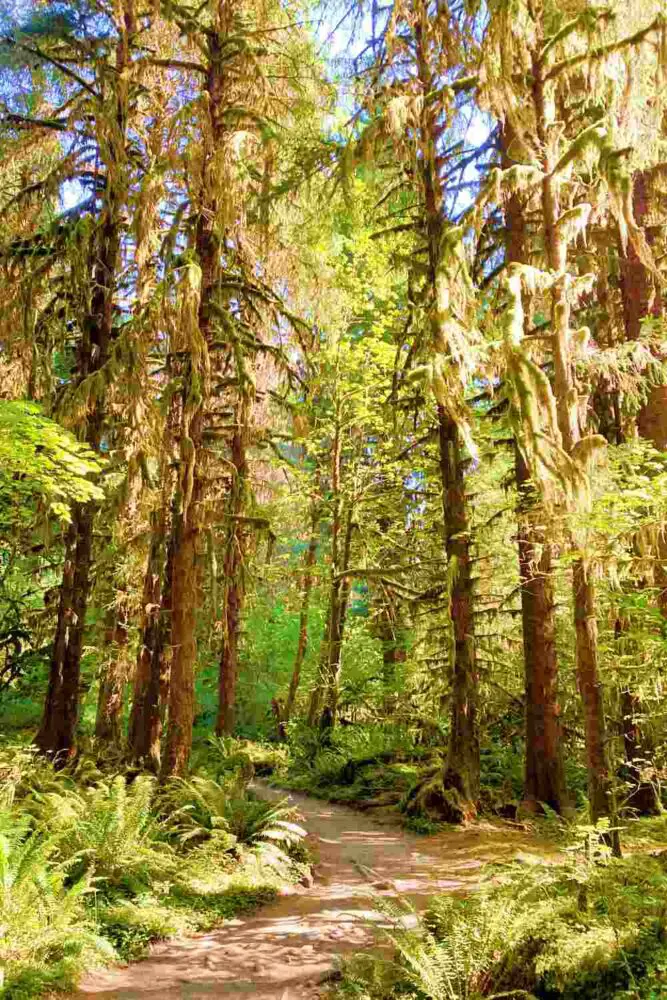 There are literally hundreds of different varieties of moss in the Hoh Rain Forest. Moss is interesting – unlike the ferns that you'll also see growing everywhere along this trail, moss doesn't have leaves, stems or roots!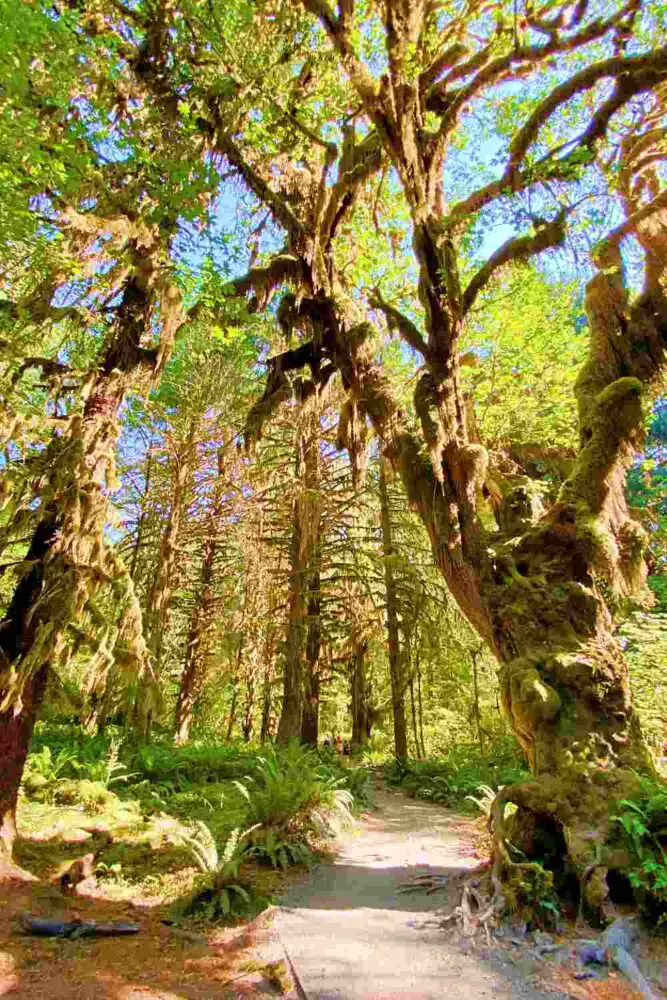 Not all moss is actually moss.  Most of the 'hanging' moss is actually lichen, which are a combination of fungi and green algae.  They have a symbiotic relationship, as the fungus provides the structure and the algae uses photosynthesis to provide nutrition.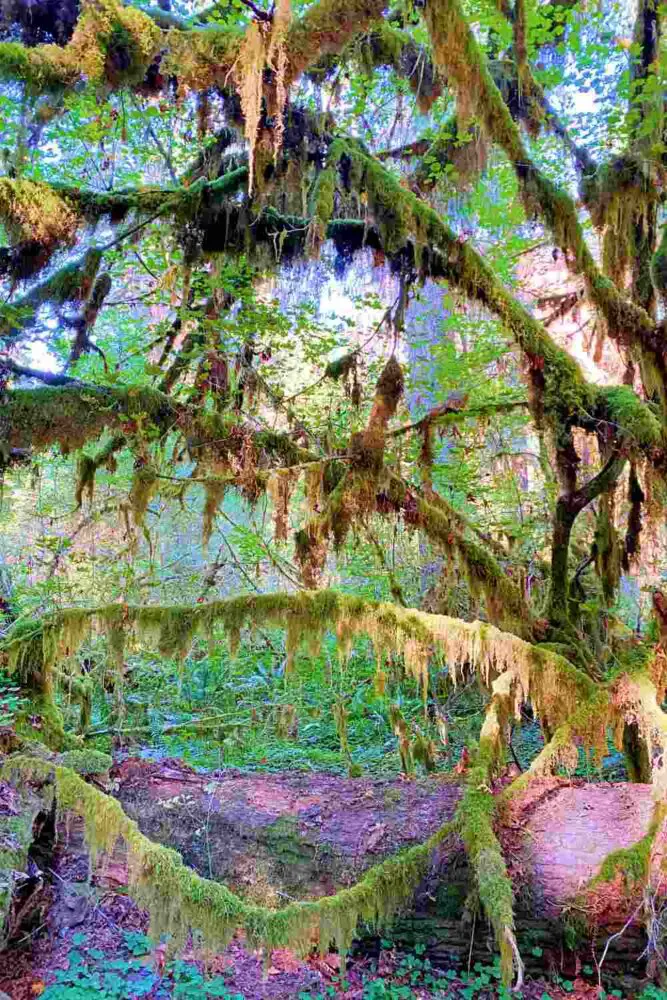 Many of these gnarly tress, wrapped in strange shapes and covered in moss, look like something from a Dr. Seuss book.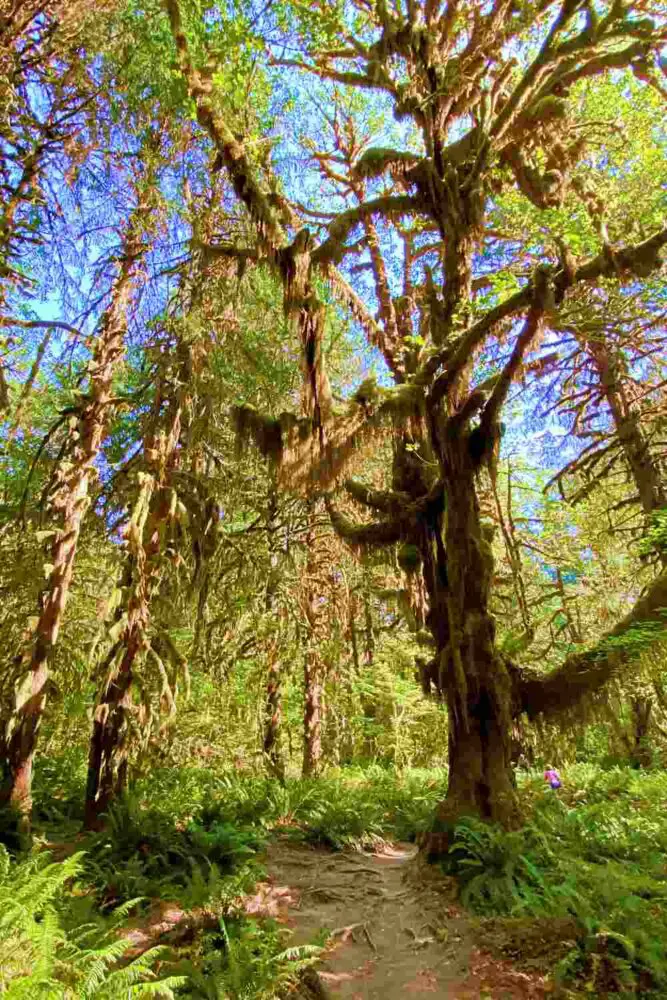 Keep an eye for snags.  They are the broken stumps of trees that have fallen over.  They are a source of food for bears that search for bugs in the soft wood, and homes for birds and small mammals.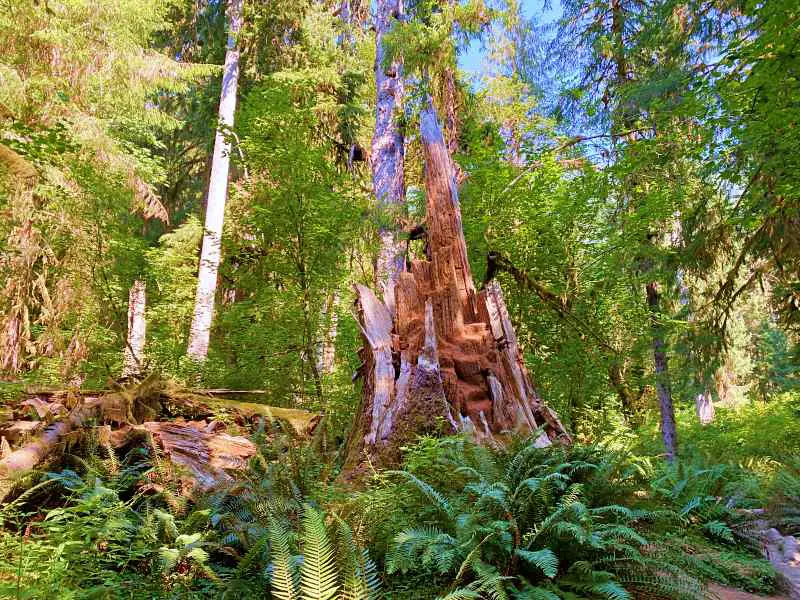 About an hour after you set out, you'll come to a path off to your right.  This is the first point on the trail that you can get access to see the Hoh River.  
If this is as far as you'll be going, then take this side trail and enjoy the views of the river.  If you're going further, you'll have more opportunities to see the river, so you can choose to go straight ahead if you want to shave off a little bit of hiking.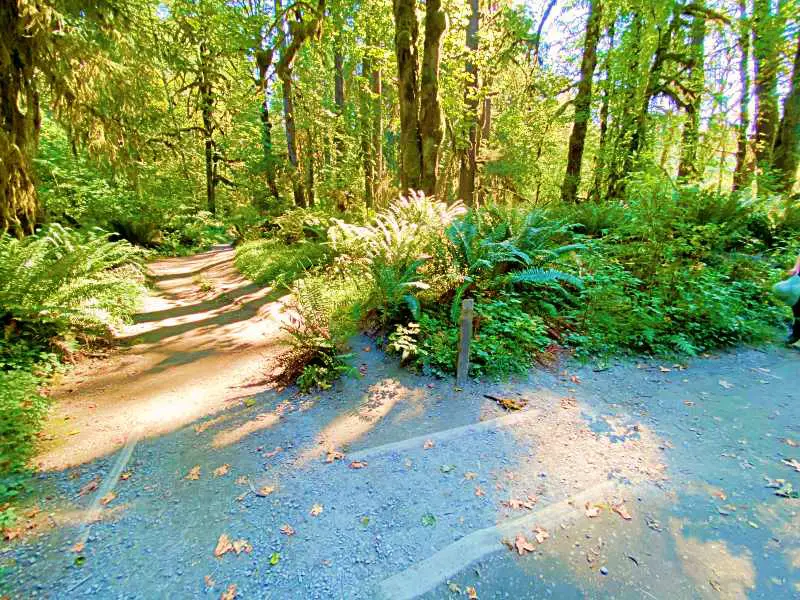 Hoh River Trail to Mineral Creek Falls
2.7 miles each way | 5.4 miles total
The trail continues through the rain forest.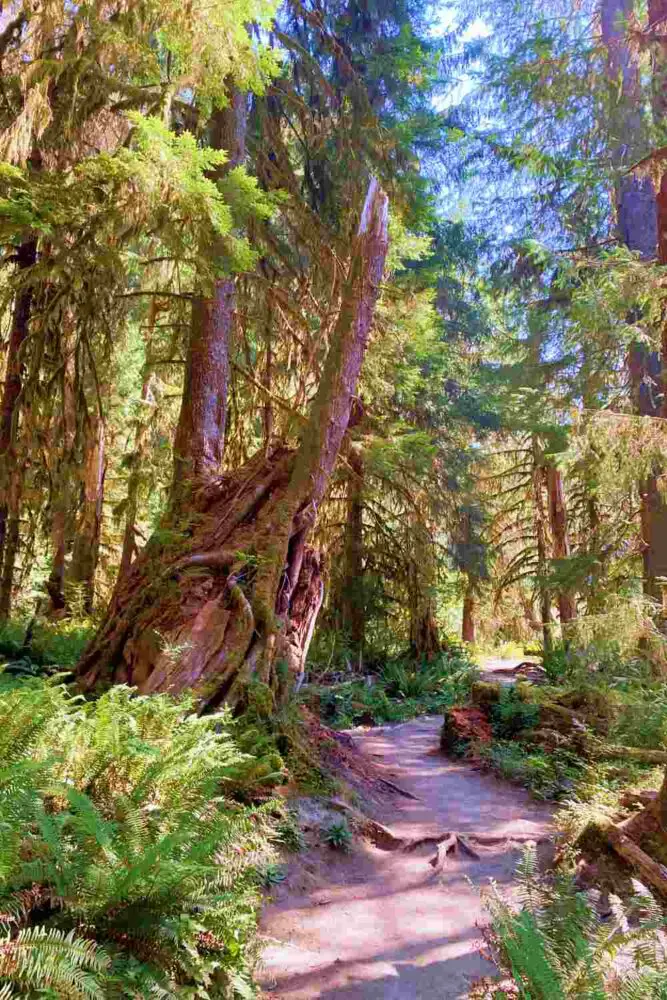 While the National Park Service does a great job of maintaining trails, you may come to a section where a tree has fallen across the path and the NPS haven't cleared it yet. It's generally possible to climb over, but if this is too challenging, then you will need to turn around at this point.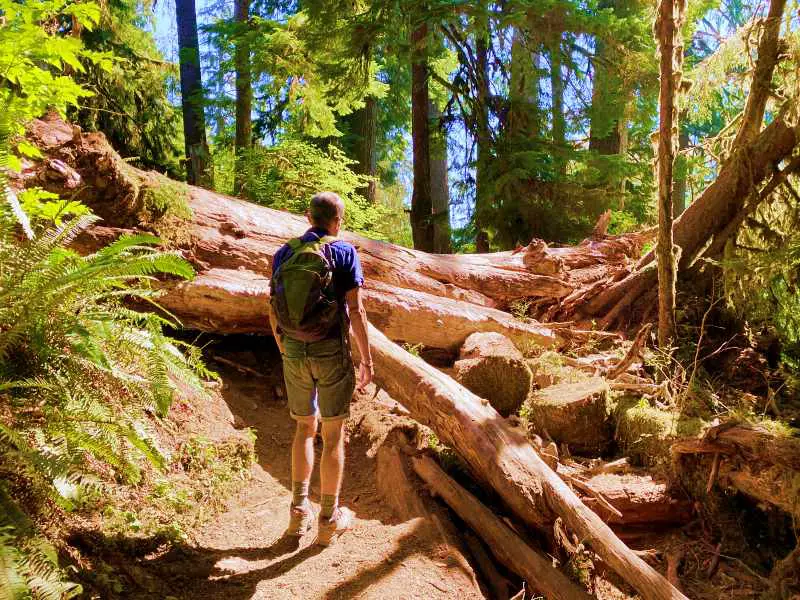 The trail is mostly flat, but there is some up and down and at one point the trail skirts along the top rim of a gully, with the river below.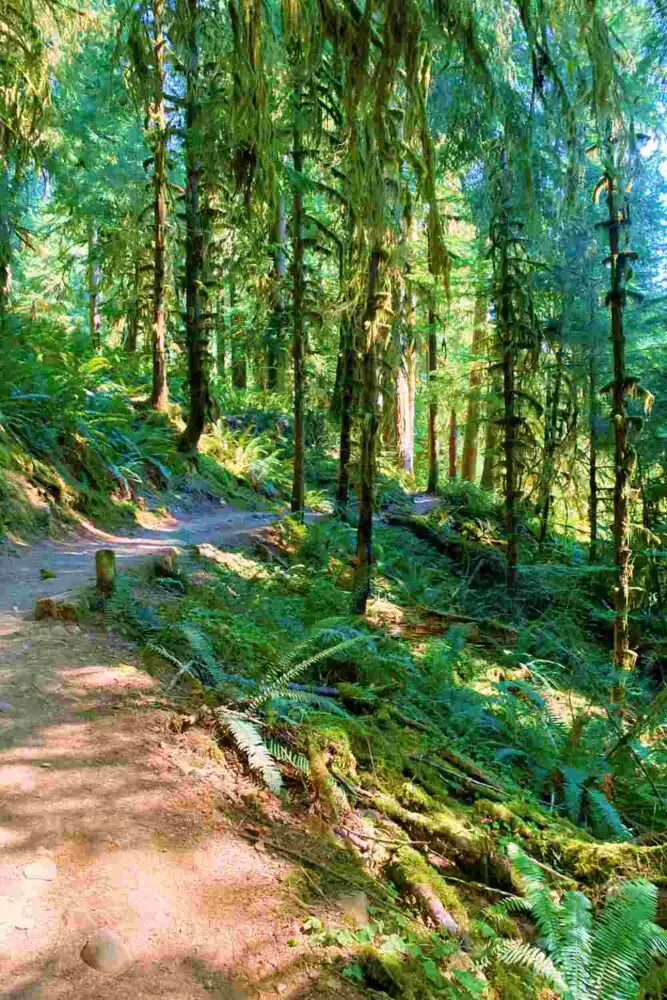 Keep an eye out on your right for glimpses of the Hoh River through the trees.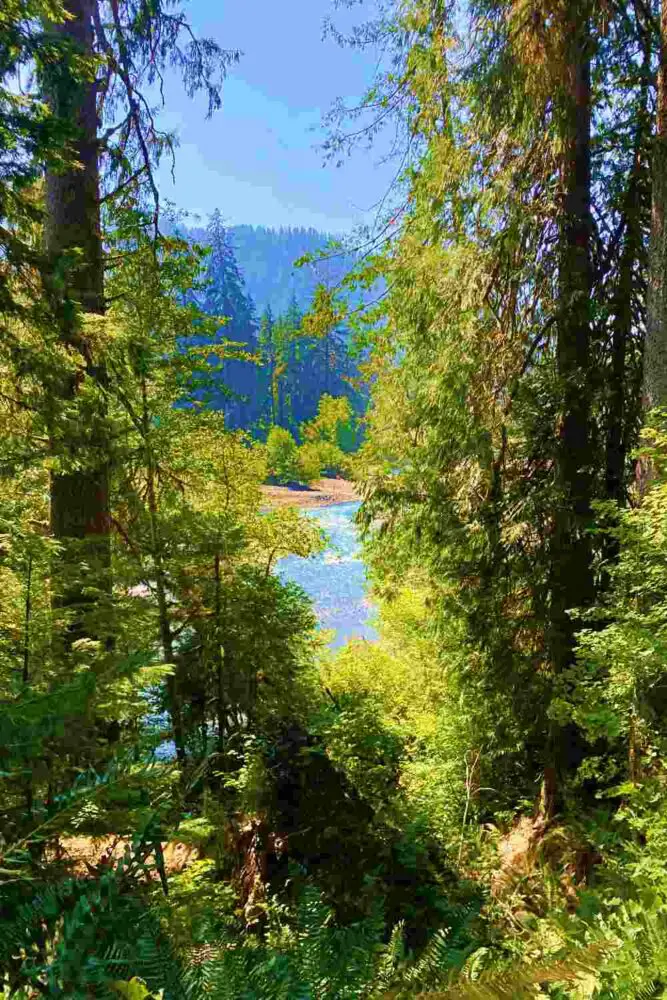 After about an hour and a half, you'll cross a wooden footbridge that spans Mineral Creek.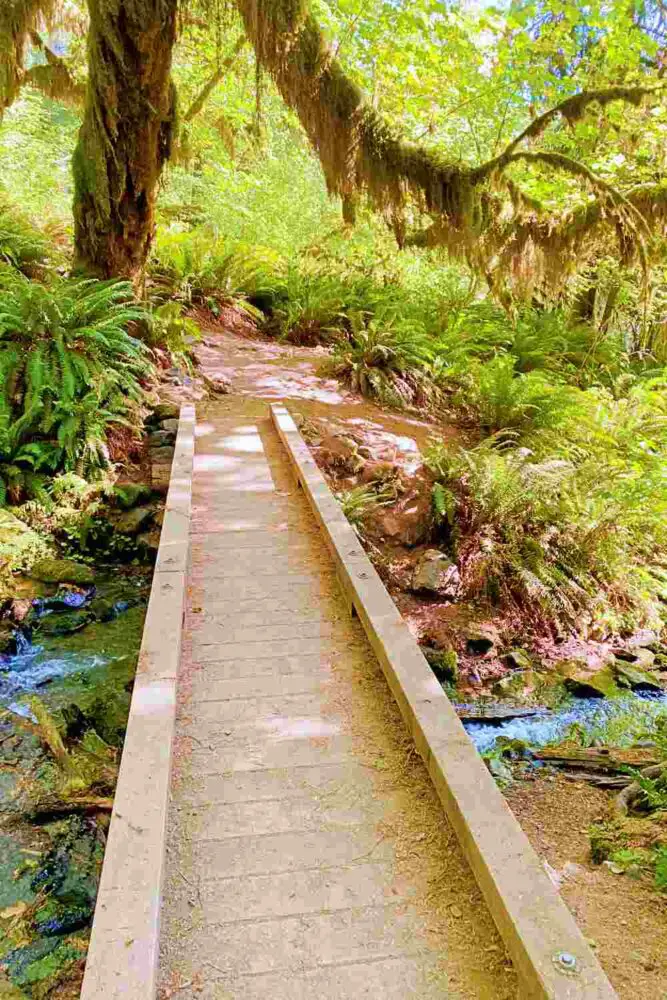 Mineral Creek Falls is to the left and uphill.  You'll catch glimpses through the trees.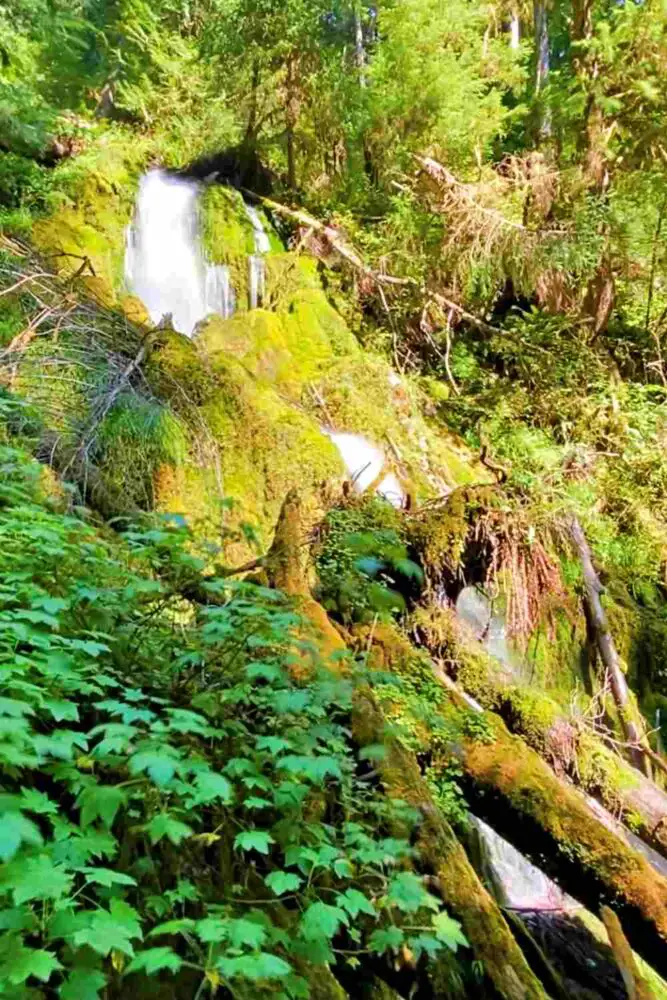 This is a particularly lush area and a common turning back point.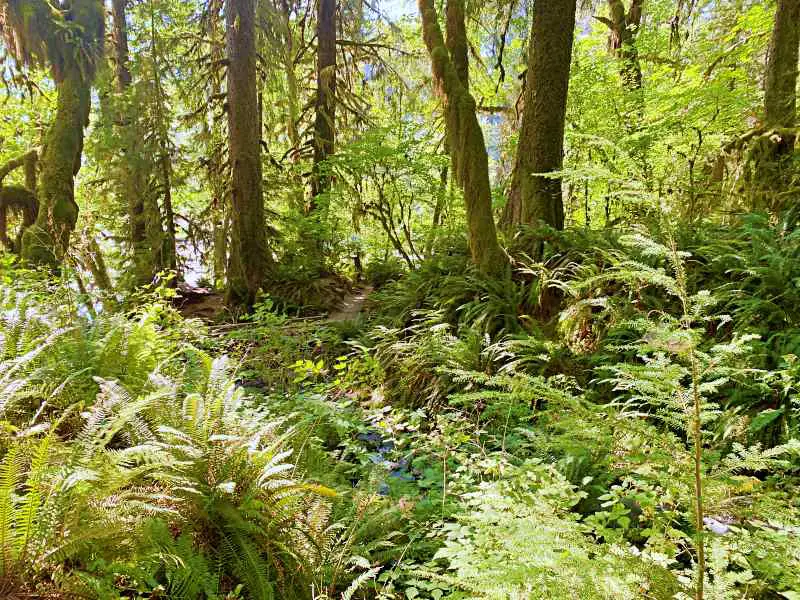 It definitely makes a great place to stop and have a snack.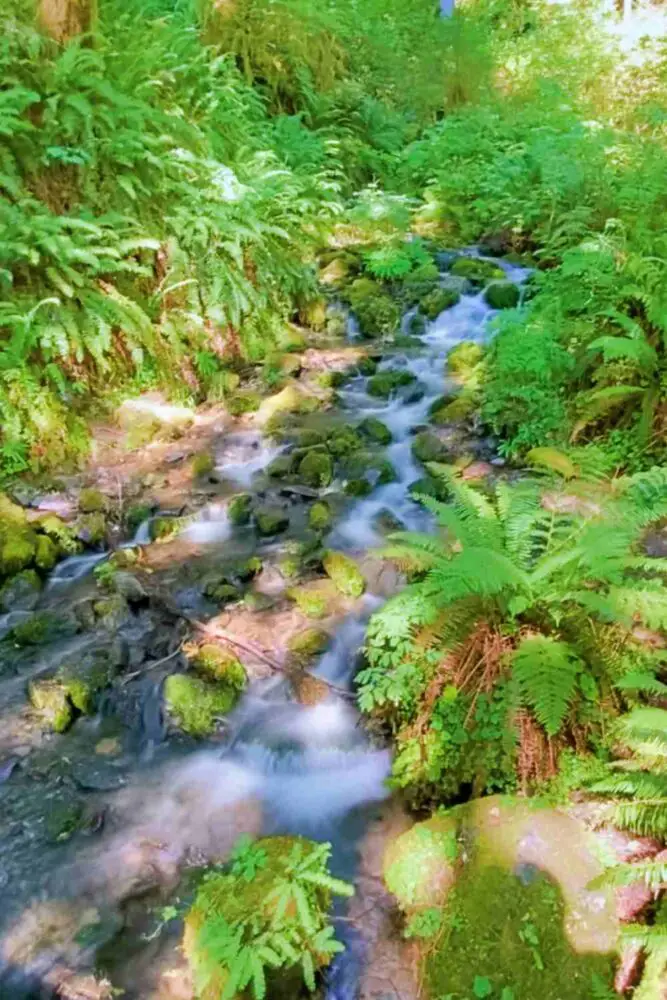 There is a short primitive side trail off to the left that goes up to the falls.  This is steep and narrow and only take it if you feel very confident.  It gets you closer to the falls, though the distant view from the main trail is good enough if you don't want to do this.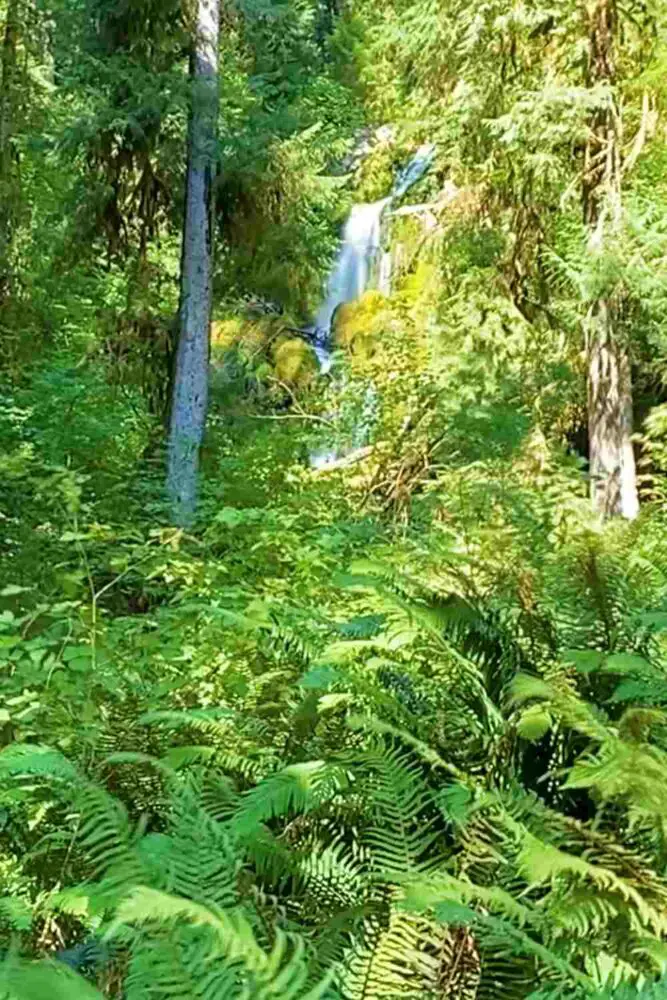 Hoh River Trail to Cedar Grove
4.0 miles each way | 8.0 miles total
Another 0.2 miles past the falls, you'll come to Mt Tom Creek.  There is a basic campground here. This is another place you can turn back, or keep going to Cedar Grove.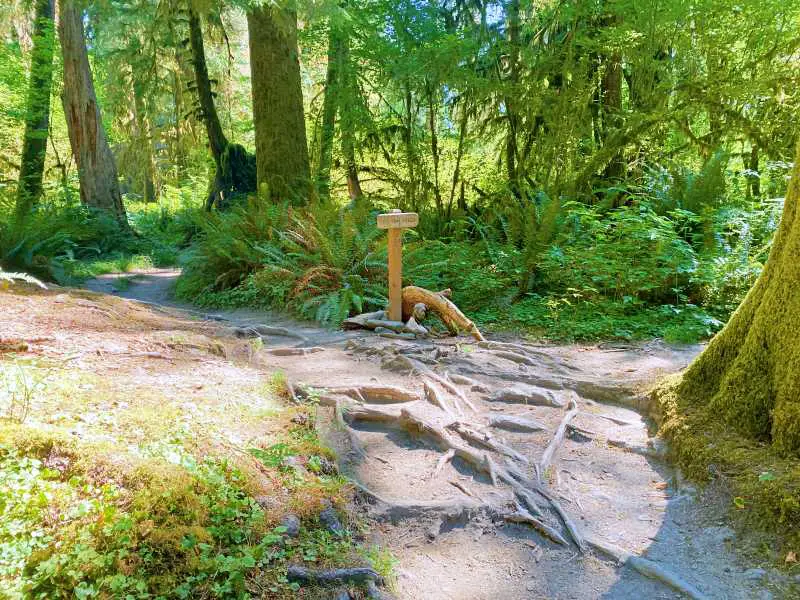 It's a little hard to know when you've arrived at Cedar Grove – there are cedar trees the whole way, but keep an eye out for a grove of trees that look very similar.  If you miss it, the worst that can happen is you end up at Five Mile Creek 😊.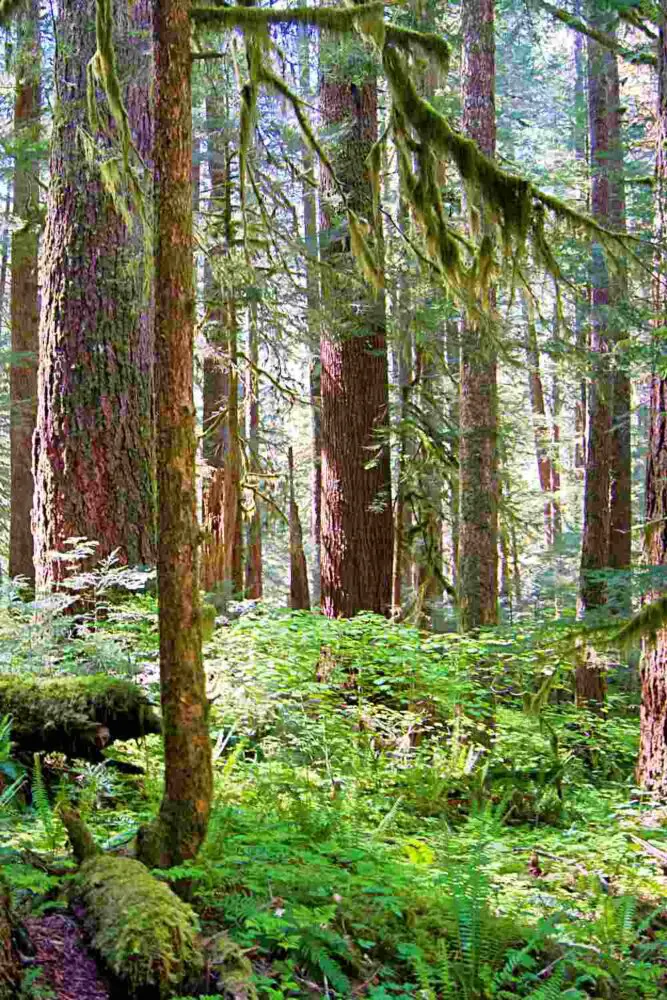 Hoh River Trail to Five Mile Island
5 miles each way | 10.0 miles return
The trail continues through the woods until you arrive at Five Mile Island/ 5 Mile Camp. There is an open grassy section here, with access to the river.  There's also a campground here, with toilets that day hikers can use (BYO toilet paper). You can see the top of Bogachiel Peak peaking over top of the nearer hills.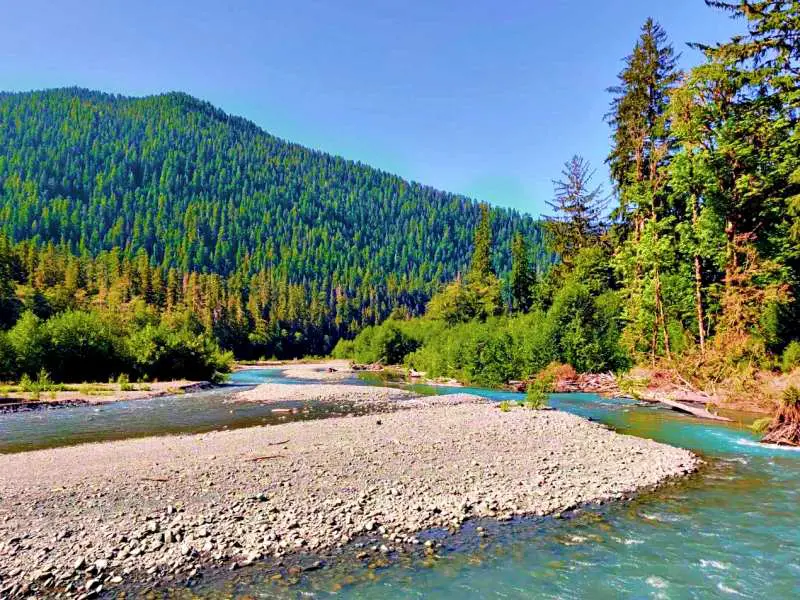 You may well see deer, Roosevelt Elk or black bears anywhere along this trail, but Five Mile Island is a particularly good spot to see them, as deer and elk often graze in the area and go down to the river to drink, and bears forage for food in the area.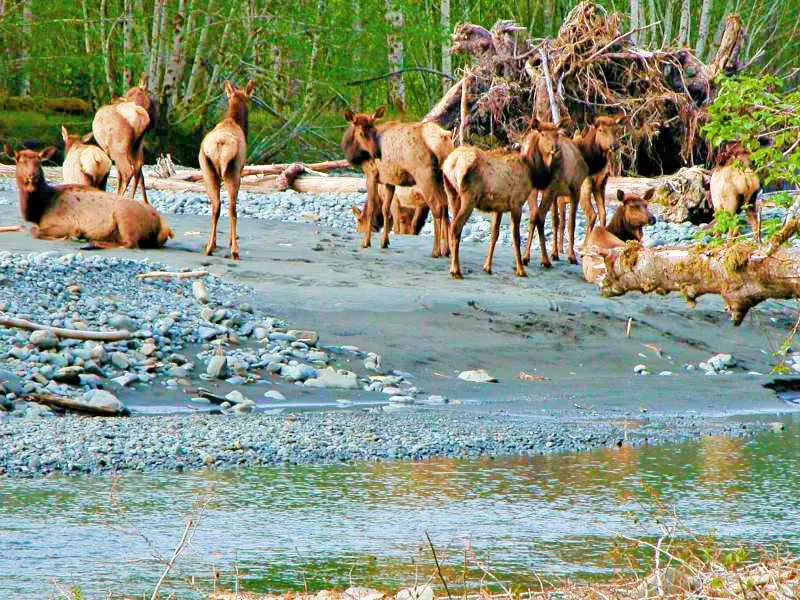 This is a great spot for lunch and to relax and enjoy the views before heading back.  Most day hikers turn back here, though the trail does continue on for many more miles to Blue Glacier.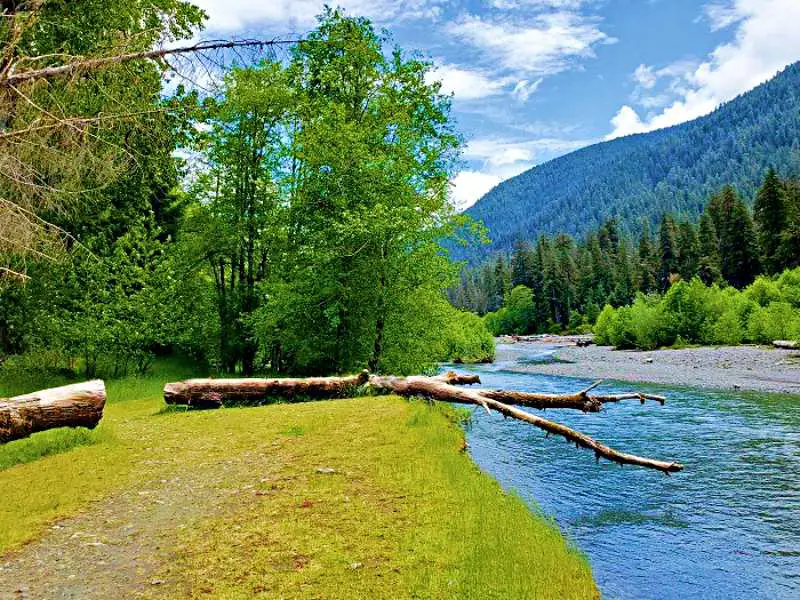 Blue Glacier Hike, Olympic National Park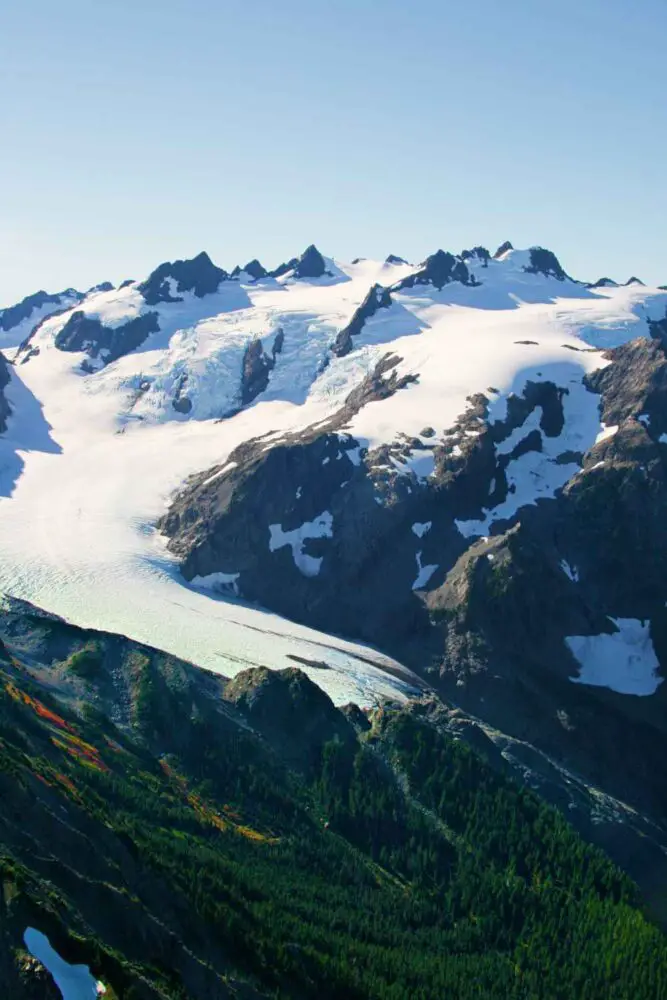 If you're interested in more than a day hike, it is possible to hike the Hoh River Trail to Blue Glacier at Mount Olympus. This is a multi-day trip that can only be done in summer when the upper trail is passable. 
The entire trek is 17.3 miles each way to Glacier Meadows, with an elevation change of 3,700 feet.  The last push to see Blue Glacier is an additional 0.9 miles / 700 feet elevation gain to a viewpoint overlooking the glacier. If you'd like to do this, you'll need to book wilderness camping sites.  
There are several campgrounds along the way and booking sites will automatically give you a wilderness camping permit. The campgrounds are:
Mt Tom Creek 
Five Mile Island 
Happy Four Shelter
Olympus Guard Station 
Lewis Meadow 
Martin Creek – no open fires 
Elk Lake – no open fires 
Glacier Meadows – no open fires
Wear layers, take trekking poles for the frequent water crossings, and be prepared for mud.
About 0.25 miles before reaching Glacier Meadows, you'll need to climb down the Jemrod Gully Ladder – a 100-foot rustic ladder down a very steep gully that is not for the faint-of-heart!
It's possible to do this hike in 2 days, but 3 or 4 are more comfortable.
If you'd like to do it but are feeling a little intimidated, you can book a guided trip.
Hoh River Trail Backpacking Trip to Blue Glacier
Go with an expert guide on a five-day (4-night) backpacking trip along the Hoh River Trail all the way to Blue Glacier. This is a major trip and going with a guide will definitely make things easier, so you avid the worst of the mud and have help descending the Jemrod Gully Ladder.
BOOK 5-DAY HOH RIVER HIKING TRIP TO BLUE GLACIER
---
FAQS about Hoh River Trail
How long does it take to do the Hoh River Trail?
To hike the full trail takes 2-4 days.  A day hike to Five Mile Island and back typically takes about four hours.
How many miles is the Hoh River Trail?
It's 17.3 miles each way to Glacier Meadows.  It's five miles each way to Five Mile Island, which is a common place to turn back for a day hike.
---
Travel Insurance for the Hoh Rainforest Trail
You should definitely get travel insurance before setting out on this hike.  It's not an especially difficult hike (unless you're going all the way to Blue Glacier), but things can happen.  Good travel insurance can protect you against medical and emergency repatriation, as well as cover things like trip cancellation, loss and/ or theft of property, etc.  
A great insurance option is Travelex.  It has coverage for all you'll need. You can choose the best travel insurance plan for your trip here or get a quote right now:
Enjoy the Hoh River Rainforest Trail!
Do you have any tips for or questions about hiking the Hoh Rain Forest trail?  I'd love to hear about them.  Join my private Facebook group National Parks Collectors and comment and let me know (you can also pick up extra planning tips, share your photos and stories with other national park lovers and more). 
FREE DOWNLOAD
Subscribe to regular updates with tips for planning, travel inspiration and trip ideas and get instant access to the free PDF of this
Hoh River Trail
If you liked this post, please share the love and Pin It to your Olympic National Park board!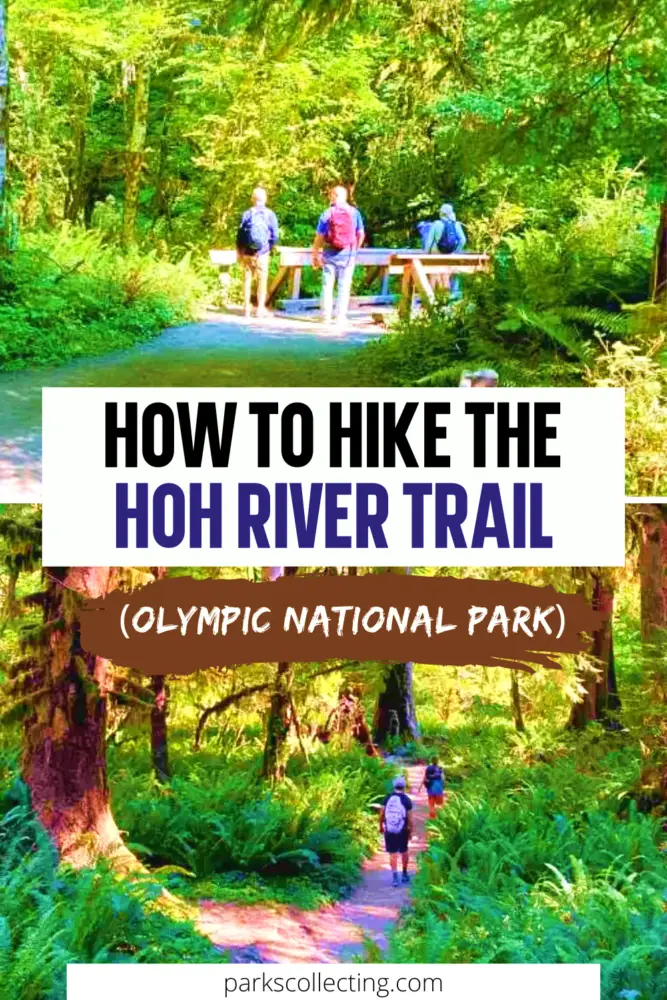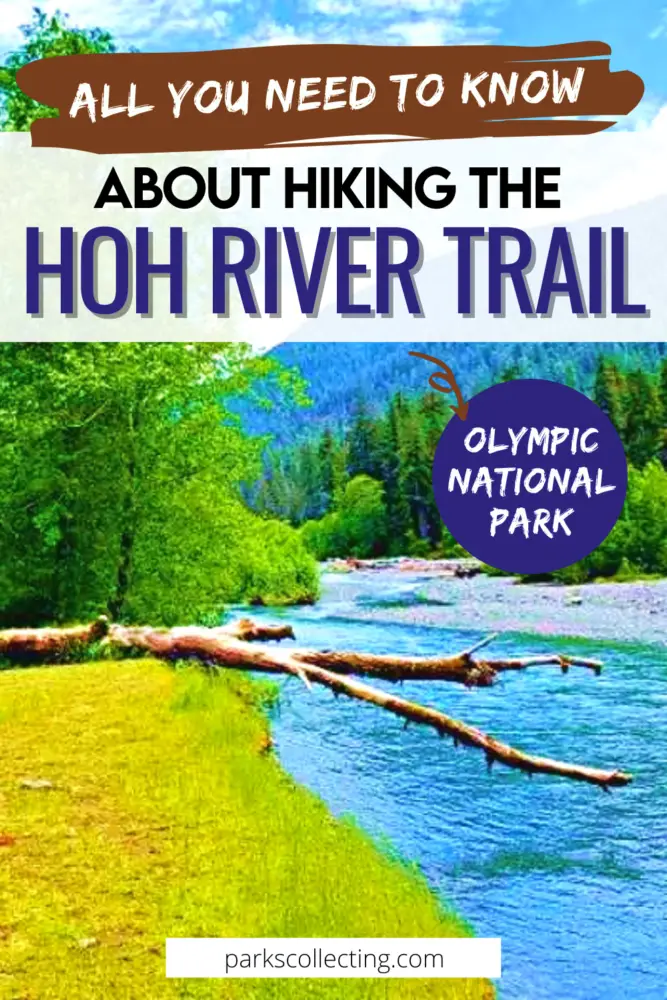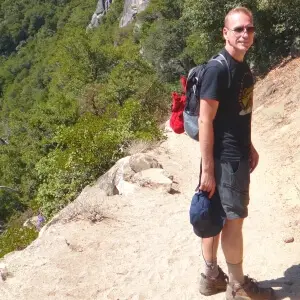 James Ian is a national park, camping and hiking expert.
He has dedicated his life to travel, visiting more than 80 countries, all 7 continents and all of the main national parks in the United States. With over 35 years experience in the travel industry, James has worked on cruise ships, at resorts and hotels, and as a travel planner who's helped hundreds of people plan successful trips to US national parks. 
Based on his experience visiting our national parks multiple times, in-depth research and expertise as a travel planner, James has published detailed itineraries for most of the major national parks in the US. These itineraries, as well as in-depth park guides, comprehensive camping and hiking gear reviews and buying guides, and helpful packing lists and gift guides will help you have your own incredible trip to US national parks without stress and hassle.
As a national park expert, James has contributed to many publications, including Time Business News, Savoteur, Best Trip, and Wired.
---
Parks Collecting is a participant in the Amazon.com Services LLC Associates Program, an affiliate advertising program designed to provide a means for sites to earn advertising fees by advertising and linking to amazon.com. Amazon and the Amazon logo are trademarks of Amazon.com, Inc. or its affiliates. As an Amazon Associate I earn from qualifying purchases.