Just because it's winter doesn't mean you can't go hiking!  Hiking in winter is great fun. 
Whether that's hiking on snow in a winter wonderland or hitting the trails in areas that are too hot in summer but delightful in winter, there are plenty of trails that not only can be hiked in winter, but are actually better in winter than any other time of year. 
With the help of some fellow travel experts, I have compiled a hand-selected list of all the best winter national parks hikes. These are broken into snowy winter hikes and warm weather hikes that are much nicer in cooler weather. 
No time right now to read about the best winter hikes in the US national parks?  Pin It and save it for later: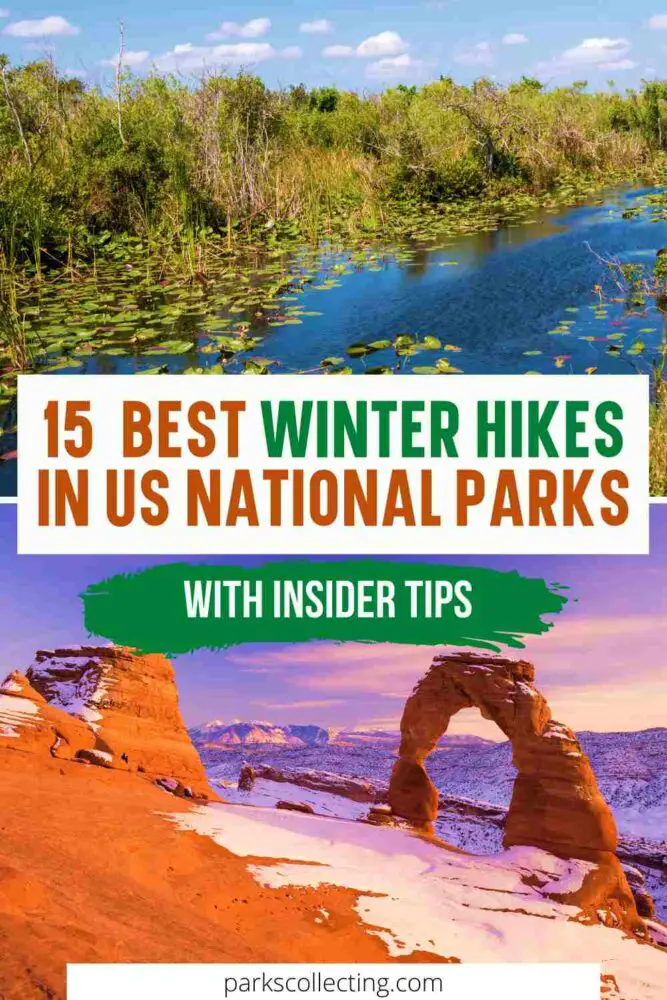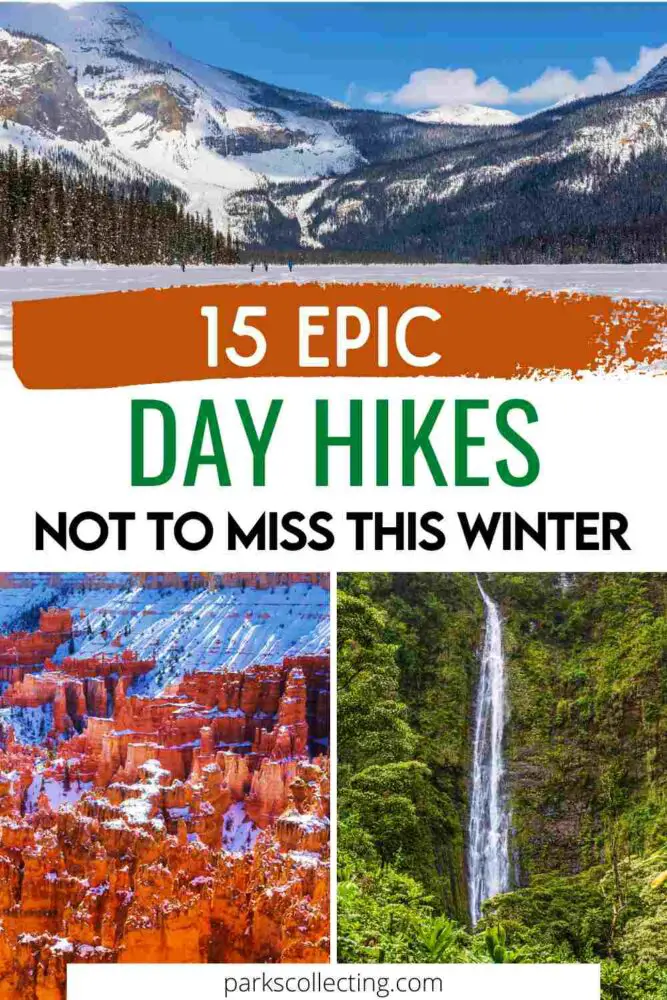 Please note this post may contain affiliate links, which means we may receive a commission, at zero cost to you, if you make a purchase through a link. Please see our full Disclosure for more information. If you have any questions, please contact me.
Before we get into the best winter hikes in US national parks, let's take a quick look at some winter hiking gear. The most important thing when hiking in winter weather is to be prepared and have the right equipment. 
Be sure to check my Winter Hiking Gear Essentials to make sure you have everything you need.   
Some of these trails can be done hiking or alternatively, by snowshoeing. 
Hiking 
If you choose to hike, you will want to make sure you have good winter hiking boots and Microspikes or crampons. If you are looking for hiking boots, be sure to read my Guide to the Best Hiking Shoes/ Boots.  You can find the Best Winter Hiking Boots for Men (Reviews and Recommendations) and the Best Winter Hiking Boots for Women (Reviews and Recommendations). 
Microspikes or crampons are sharp spikes that you put over the bottom of your hiking boots.  They grip into the ice or packed snow and give you the traction you need to safely walk on otherwise slippery surfaces. 
I used to hate winter hiking because I was always afraid of slipping over.  As soon as I bought some Microspikes, that changed completely.  Now I love hiking in winter – and feel safe doing so.  
Read my Guide to the Best Hiking Microspikes.
Buy my favorite Microspikes (the Kahtoola MICROspikes) here  
Snowshoeing 
Some of these hikes can be done on snowshoes.  This is a fun winter alternative to hiking.  Read my Guide to the Best Snowshoes for Beginners for tips on what to look for and reviews and recommendations.  Or check out my top pick, the TSL Symbioz Access snowshoes. 
My other recommendation when hiking is to always take binoculars.  You never know when you'll spot some winter wildlife in the distance.  I think they're so important that I wrote a Guide to Finding the Best Binoculars For the Money.  Be sure to check it out. 
Read more winter gear reviews here 
The Best Winter Hiking Trails in Cold Weather National Parks 
Taggart Lake, Grand Teton National Park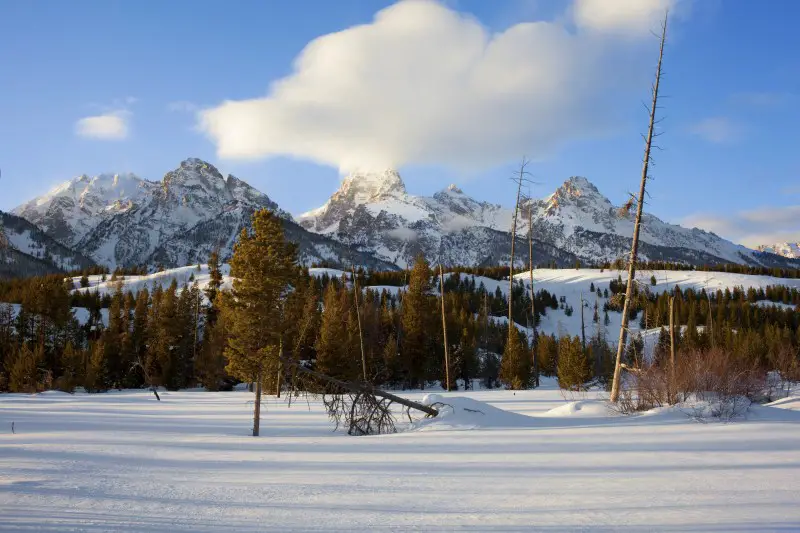 The trail to Taggart Lake is an easy trail that is groomed for snowshoeing and skiing in winter. The first part of the trail from the parking area is flat, wide and easy to follow.  After crossing a narrow bridge over Taggart Creek, the trail narrows and follows the creek, ascending slightly, with small ups and downs.   
You exit the trees after about a mile and are wowed with unsurpassed views of the snow-covered Teton mountains.  You soon arrive at Taggart Lake, which is frozen throughout the winter months. 
With the jaw-dropping scenery and snowshoeing fun, you can immediately see why this is one of the best winter hikes Grand Teton offers. 
Why Winter?
The trail to Taggart Lake is one of the best winter hikes in Jackson Hole for several reasons.  You can drive to the trailhead as it is open year-round. The trail is groomed about three times a week for snowshoeing and cross-country skiing.   
The frozen lake is perfectly located with stunning views of the snow-covered Grand Teton range. 
Insider Tips: 
The lake is frozen and people walk on it, but don't hike on it if you are alone, just in case you fall through.  The ice should be at least 4 inches thick – if in doubt, stay on the shore. 
You can hike or ski this trail, but it's an especially fun trail to snowshoe. Check my Guide to the Best Snowshoes for Beginners here. 
Highlights: 
Frozen lake 
Stunning mountain views 
Snowshoeing fun 
READ MORE: Winter Guide to Grand Teton National Park and Best Things to Do in Grand Teton National Park in Winter 
---
Delicate Arch, Arches National Park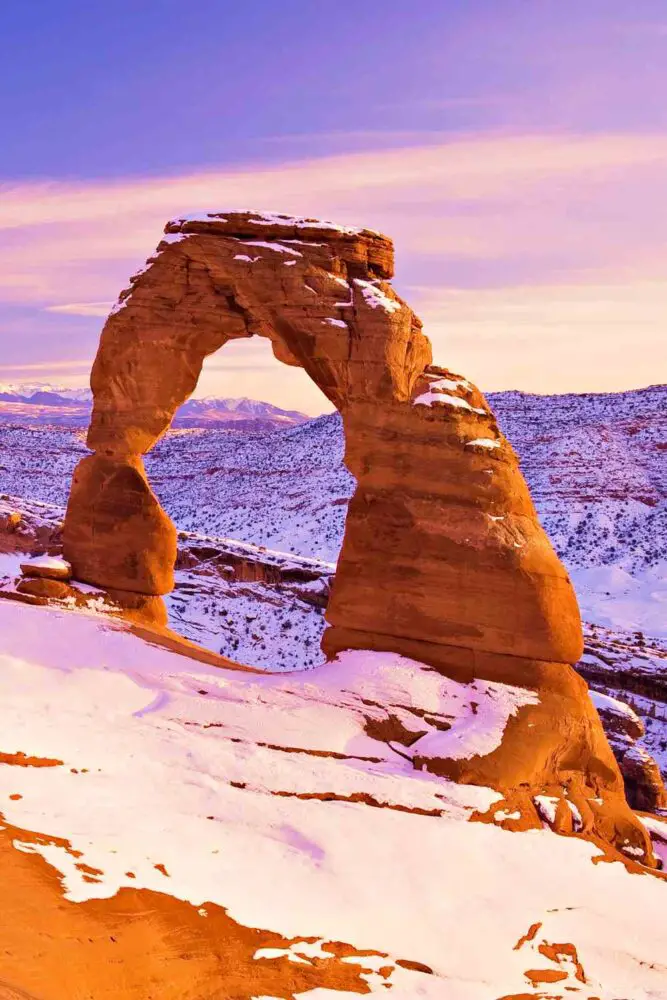 Location: Utah 
Length: 3 miles round trip 
Difficulty: Moderate 
Trailhead: Delicate Arch trailhead/ Wolf Ranch on a road off the scenic drive 
The Delicate Arch trail is one of the most iconic hikes in Utah and my top pick of all the best winter hikes in Arches National Park.  The arch is on the state license plate, after all.  It's a must-do on any trip to Arches National Park and it's worth any effort needed to get there. 
There trail starts off with a small set of switchbacks before crossing a massive open slickrock section.  This is the worst part since it's steep and feels like it goes on forever.  Once you get to the top of that, there is one more flat section then a small part with a bit of a drop off on the left before rounding the corner to be greeted by the iconic free-standing arch.   
Why Winter?
This is a great trail to do in the winter when crowds are smaller (it's still busy, but much less than summer) and temperatures are dramatically lower than the peak summer months.  You may even catch the arch and surrounding rock dusted in snow and the La Sal Mountains in the background buried in it. 
Insider Tips:  
Highlights: 
The historic Wolfe Ranch 
The Wolfe Ranch petroglyphs 
Delicate Arch at the end, of course! 
Recommended by Megan Johnson from Red Around the World 
READ MORE: Arches National Park Guide and Best Hikes in Arches National Park 
---
Panorama Point Trail, Mount Rainier National Park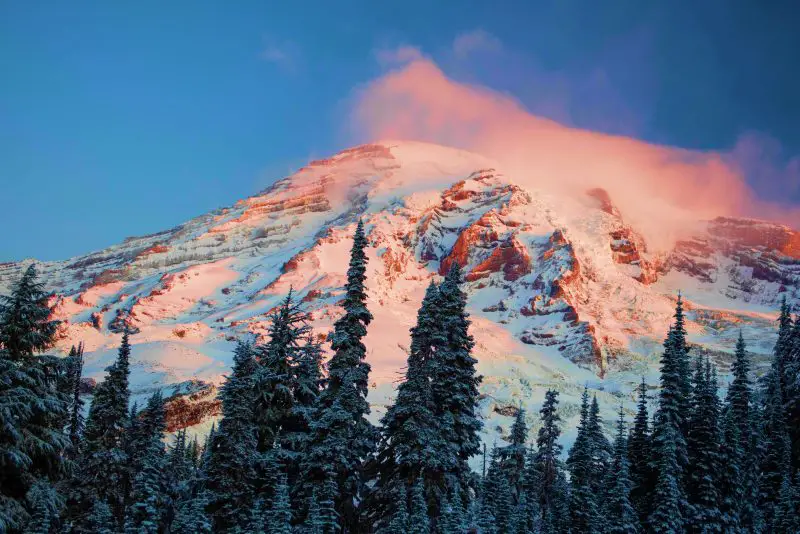 Panorama Point is one of the best trails in Rainier in any season, winter included!  
On a clear day, snow-covered Mount Rainier will tower above, and the Cascade Mountains will surround you for jaw-dropping views the majority of the trail.   
Why winter? In summer, this trail connects to the much longer Skyline Trail, but in winter, the area becomes a winter wonderland that can make a great snowshoeing adventure when the conditions are right.   
Insider Tips: 
When hiking and snowshoeing in winter, make sure to research trail conditions and be aware of avalanche safety. Mount Rainier National Park's website has webcams of the Paradise and Longmire areas, making it easy to check the weather conditions and visibility. 
Check for road closures and tire chain requirements (required November 1 to May 1) before visiting, as conditions can change quickly in the mountains.   
If the road to Paradise is closed, there are several lower elevation hikes in the Longmire section of the park, right before Paradise. One is Rampart Ridge, a 4.5-mile, moderate hike. This trail will lead you through the trees to some overlooks of the snowy mountains. 
Highlights: 
Panoramic views of Mount Rainier 
Snowy covered pines 
Recommended by Val Pope from Voyages with Val 
READ MORE: Legendary Inns and Lodges in US National Parks 
---
Navajo Loop Trail, Bryce Canyon National Park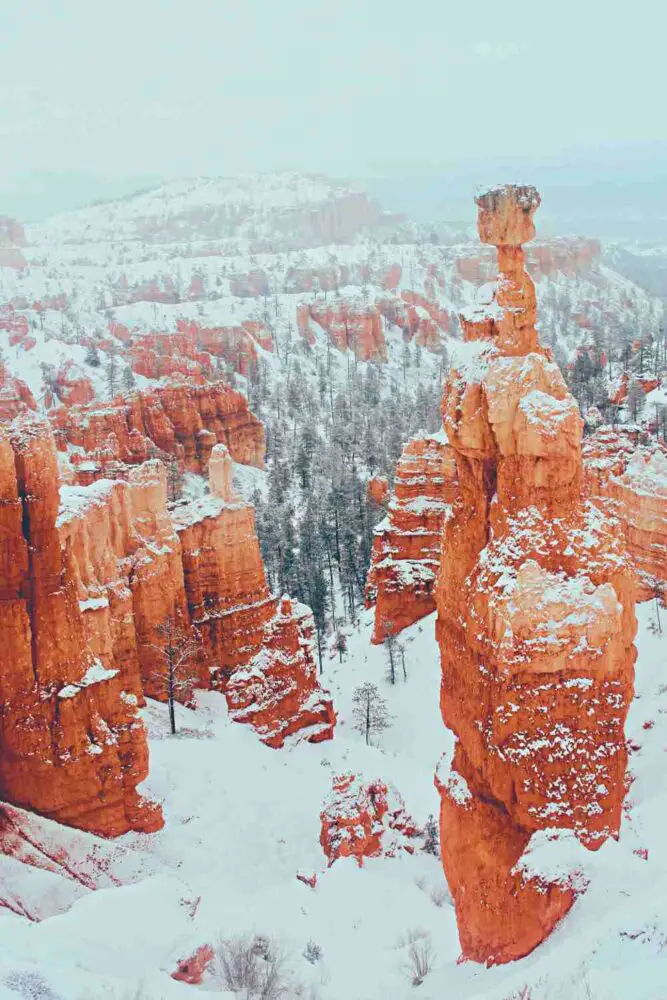 Location: Utah 
Length: 1.2 miles out and back 
Difficulty: Moderate 
Trailhead: Sunset Point 
Bryce Canyon National Park in winter is an amazing park to visit because of the unique experience of seeing huge red, limestone hoodoos covered in snow. One of the best winter hikes in Bryce Canyon to experience the snow and hoodoos, is the Navajo Loop Trail.  
Navajo Loop Trail begins at a beautiful scenic viewpoint and descends down switchbacks to be among the hoodoos.
In the summer, this trail forms a loop with the Queen's Garden Trail; however, during most of the winter, part of the loop is closed for safety reasons, making it a down-and-back hike. In the summer this can be a very hot and sweaty hike yet in the winter it feels like you are descending into a magical winter wonderland.  
Why Winter?
The orange hoodoos in Bryce Canyon are especially beautiful when covered with and surrounded by snow. 
Insider Tips: 
One important thing to note is that the trail will most likely be covered in packed snow. This can make the switchbacks very icy and slippery and almost impossible to hike if you don't have incredibly good hiking boots. Slip-on traction devices (Microspikes or crampons) are highly recommended by the rangers in order to have a safe hike.  (You can buy Kahtoola MIcrospikes right here.  These are the ones I use and they're great! They slip right over your regular hiking boots and take away the danger – and fear – of slipping on ice. ~ James) 
Highlights: 
Take in a beautiful view of a huge valley of colorful hoodoos 
Hike past Thor's Hammer, Bryce Canyon's tallest hoodoo 
Get up close and personal with the beautiful hoodoos rather than only seeing them from viewpoints 
Recommended by Jenessa from Destination Daydreamer 
READ MORE: Guide to Bryce Canyon National Park 
---
Emerald Lake, Rocky Mountain National Park 
Location: Colorado 
Length: 3.6 miles out-and-back (round-trip) 
Difficulty: Easy to Moderate 
Trailhead: Bear Lake Trailhead 
A true gem of a trail – see what I did there? 😉 –  the Emerald Lake hike is one of the best winter hikes Rocky Mountain National Park has.  It's one of the most popular hikes in Colorado for all the right reasons. Not only is it a relatively easy hike that is accessible to everyone, but the stunning views of three picture-perfect alpine lakes backdropped by dreamy mountain scenery make it one of the most scenic spots in Rocky Mountains.  
Another reason this is one of the best winter hikes in Rocky Mountain National Park is that it's actually four hikes in one. Aside from the three main lakes along the trail (Nymph Lake, Dream Lake, and Emerald Lake), you can also continue onwards to Lake Hayiaha. This adds two miles (round-trip) into your itinerary, but it's well worth it if you're still keen to relish more gorgeous alpine scenery. 
Why Winter?
Even though Rocky Mountain National Park is most visited during the summer months, the Emerald Lake hike can be a lovely experience in winter if you come prepared. The frozen lakes create a dreamy, snow-filled landscape that you'll get to have pretty much all to yourself! 
Insider Tips: 
Bring a GPS if hiking during the winter. There are a lot of adventures branching from these trails (backcountry skiing, mountaineering, etc.). Social trails are common in winter, so be sure to check your location while you hike. 
To do this hike and any of the other best winter hikes in Estes Park area of the Rockies, you should either wear Microspikes/ crampons or snowshoes. (Buy my favorite Microspikes here  or  check out my top pick for snowshoes for beginners here ~ James)
Highlights: 
Beautiful frozen lakes covered in snow 
Snowy mountain scenery 
Recommended by Dani Ramos from Fox in The Forest 
READ MORE: Guide to Rocky Mountain National Park  
---
Black Sand Basin Trail, Yellowstone National Park 
Winter in Yellowstone National Park is truly a wonderland. Due to deep snow, winter hiking or snowshoeing is one of the best winter activities.  
The Black Sand Basin Trail is a beautiful hike in the Old Faithful area in the park's interior. It offers spectacular views of geysers exploding from under the fresh snow.  
The trail starts in front of the Old Faithful Visitor Center and takes the Upper Geyser Basin Trail past Castle Geyser. The well-marked trail is an easy 4 miles (6.4 km) round trip hike, which takes you from the Upper Geyser Basin to Black Sand Basin.  
In addition to geysers, it is possible to spot bison looking for grass under the snow. It's one of the most scenic winter hikes on the ski and snowshoe trail in the Old Faithful area.  
Due to the heavy snowfall in Yellowstone during winter, this trail can be a little tiring and can take approximately 3 hours.  Which is why the best option is to go on cross-country skis or snowshoes. The trail is prepared for both and is good for all skill levels. 
Why Winter?
The whole area is especially beautiful when the ground is covered in snow.  Seeing the brightly-colored hot springs surrounded by white snow, with geysers erupting and bison foraging for food, all while snowshoeing, snow hiking or skiing, is a magical experience.  
Insider Tips: 
Winter in Yellowstone is freezing, so dress in layers. Be sure to wear thermal underwear with long sleeves, a warm jacket, a hat, and gloves. Hand warmers and foot warmers are a great idea.
Take high-energy snacks because when you're hiking in snow, your body needs much more energy.
The Old Faithful area is only accessible by snowmobile or snowcoach in winter. The road is closed to regular vehicles, so book your winter transportation in advance. 
Highlights: 
Geysers, including Old Faithful 
Brightly colored hot springs 
Bison 
Recommended by Agnes from The Van Escape 
READ MORE: Yellowstone National Park Guide 
---
The Best Warm Winter Hikes US National Parks 
Some of the best winter hikes (USA) are actually in warm areas that can be unbearably hot in summer, but are pleasant in the cooler winter months.  No one wants to hike in the humid Everglades or scorching Death Valley in summer.  But winter is a whole other story. 
Before setting out on these hikes, there are some essential things you should have. 
First up, check that you have everything on my Day Hike Packing List to make sure you don't end up on a hike without the essentials.  
Take plenty of water and snacks. If you need a water bottle, I love the Hydroflasks (which you can get here on Amazon). 
If you're hiking with a baby, you can carry them in a baby hiking carrier. 
Make sure you have comfortable footwear.  You can choose from shoes, boots or sandals. You can read my Guide to the Best Hiking Shoes/ Boots and Guide to the Best Hiking Sandals for tips, reviews and recommendations. 
And, as with my recommendations under the cold weather hikes above, take binoculars.  Read my Guide to Finding the Best Binoculars For the Money if you're thinking of buying some. 
Darwin Falls, Death Valley National Park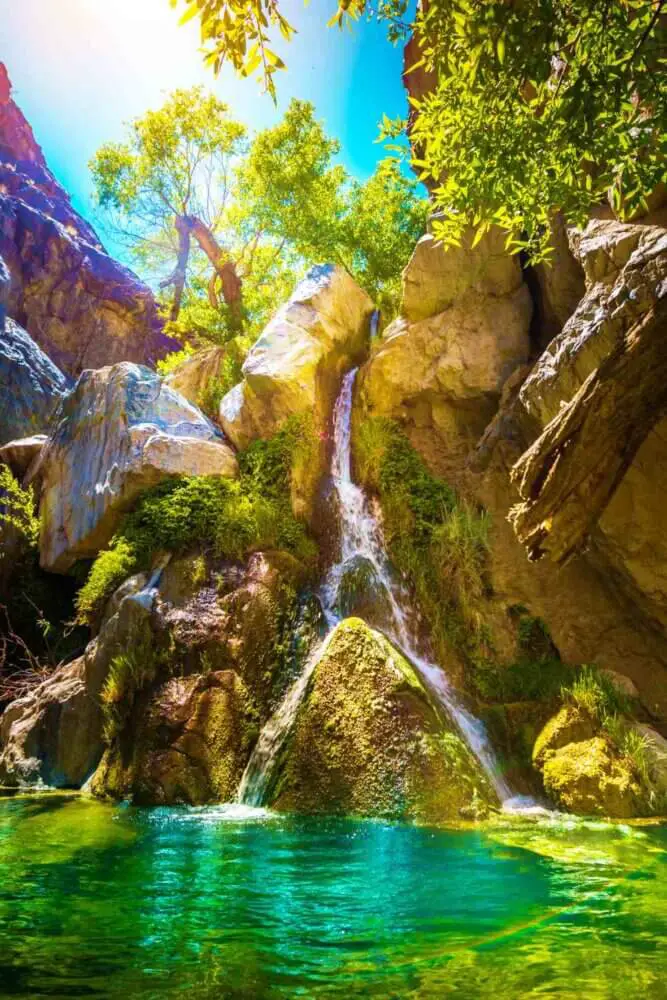 Location: California 
Length: 2 miles | 3.2 km out and back 
Difficulty: Moderate 
Trailhead: The turnoff to Darwin Falls Road is 1.2 miles / 2 km west of Panamint Springs on CA-190. The trailhead is 2.5 miles/ 4 km down the road. A 4WD vehicle is recommended, but a regular vehicle can usually make it, too. 
The trail to Darwin Falls is one of the best winter hikes in Death Valley. When you think of Death Valley, you probably think of the heat, salt flats, sand dunes and badlands.  But one of favorite California winter hikes is to this hidden oasis.  The waterfall cascades over rocks and ferns into a green pool of water. 
To reach this secret oasis, from the trailhead, pass the gate and follow the wash through a narrow canyon.  The unmarked trail will have you dodging past scrubby bushes, scrambling over rocks and even crossing a stream.  The adventure ends in a small oasis with the beautiful waterfall in front of you. 
Why Winter?
Darwin Falls are beautiful and Death Valley is a fascinating national park to explore.  However, it is also the hottest place on the planet!  You do not want to be there when the temperature regularly exceeds 120°F!  Winter temperatures are actually pleasant, and this is the high season for Death Valley. 
Insider Tips:
Although you may be tempted to swim, there is actually no swimming allowed in order to protect the environment. 
Highlights:  
Hidden oasis 
A fun interactive hike 
Beautiful waterfall 
READ MORE:  Guide to Death Valley National Park and Best Hikes in Death Valley 
---
Hall of Mosses, Olympic National Park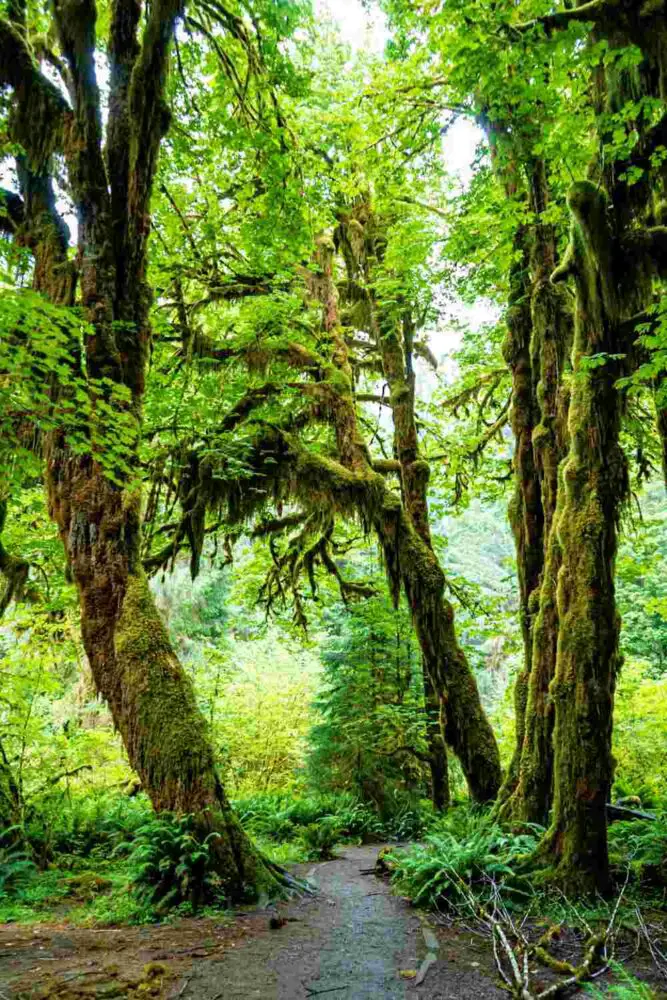 If you've never been to the rainforests of Washington before, the best winter hikes Olympic National Park has are there.  And the Hall of Mosses is an excellent chance to take in its grand trees, hanging mosses, and fecund plant life in the Hoh Rainforest, a UNESCO Biosphere Reserve.   
The trail focuses more on exploring your beautiful surroundings, rather than traversing challenging terrain, and as such, is perfect for hikers of all varieties, including kids.  
Be sure to keep a lookout for wildlife on the trail – Roosevelt elk are especially common along the nearby Elwa River.  
Why Winter?
Winter is an excellent time to explore this area – the crowds of summer have thinned, the winter rains of the Pacific Northwest have the forest looking green and lush, and the forest's location by the coastline and the Olympic Mountains ensures that, while the weather may be cool, it's rarely freezing. 
Insider Tips:  
The Pacific Northwest frequently has misty weather in the wintertime, so come prepared with a waterproof jacket and boots you don't mind getting a bit muddy.  
While winter is the quietest time in Olympic, Hall of Mosses is one of the best winter hikes in Olympic National Park and the Hoh Rainforest is one of the most popular stops in the park. So, if you'd like the trail all to yourself, consider showing up early or later in the afternoon to enjoy the forest in solitude. 
Highlights: 
Don't miss the short branch off to Maple Grove, a collection of moss-covered maple leaf trees, towering overhead. 
Recommended by Jessica Schmidt from Uprooted Traveler 
READ MORE: Olympic National Park Guide 
---
Shark Valley Trail, Everglades National Park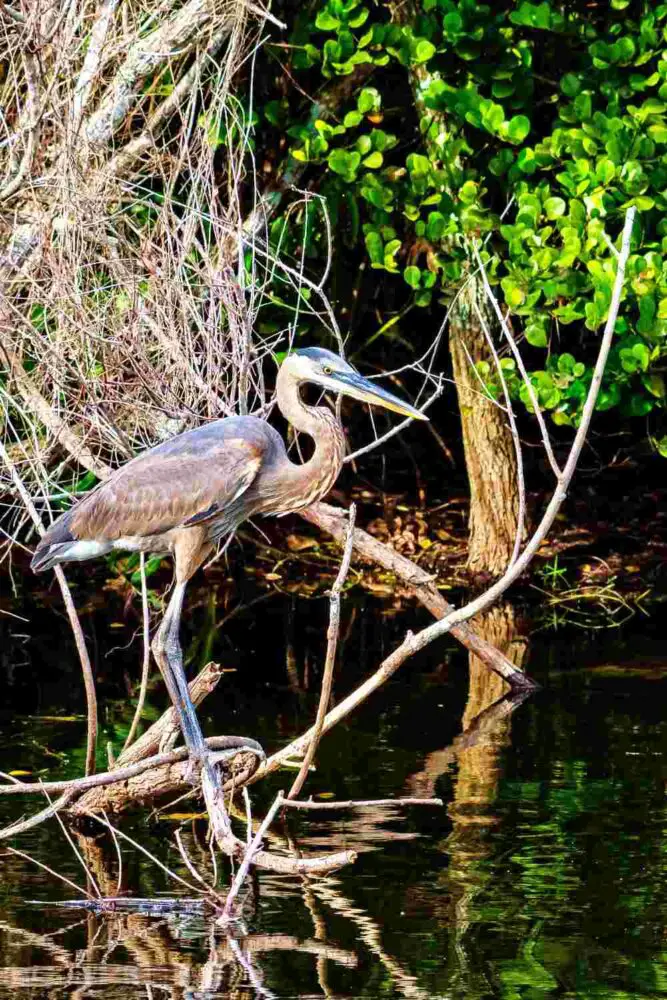 Shark Valley Trail is a beautiful hike located in the heart of the Everglades. The trail is a loop so you can easily park and return to your car via a different route.  
While you can hike the trail many people choose to go by bike since the path is wide and paved in most parts.
Keep an eye out for birds and other wildlife. The highlight of the trail is definitely the Observation Tower which provides stunning views over the nearby national park. 
Why Winter?
Wintertime is the perfect time to visit the Everglades as the humidity is low, there is little rain, and temperatures are comfortable. It can get a bit cooler during this time but if you're hiking this will be a lot less exhausting. 
Insider Tips:
Bring plenty of water and appropriate hiking gear. The hike may not be difficult but it is quite long, so always come prepared. 
Visit in the early morning and during the week as the trail gets quite crowded on the weekends.  
Highlights:  
Mangrove Forests 
Observation Tower 
Recommended by Victoria Heinz from Guide Your Travel 
READ MORE: Best National Parks to Visit in Winter 
---
Pu'u Loa Trail, Volcanoes National Park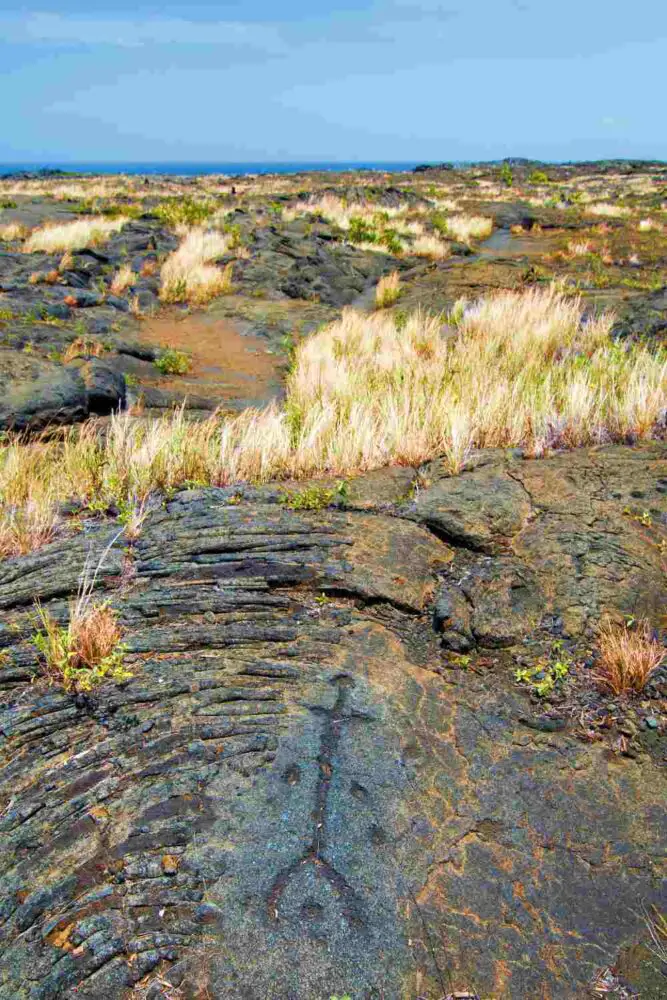 Location: Hawaii (Big Island) 
Length: 1.4 miles roundtrip 
Difficulty: Easy 
Trailhead: Located in the lower section of the park . Driving on the Chain of Craters road about 20 miles south, follow the sign to the parking area of Pu'u Loa and you will find the trailhead just to the left side of the parking area. 
One of the best national parks to visit in Hawaii is on the Big Island at Volcanoes National Park. The hiking trail at Pu'u Loa is both historic and unique. The trail crosses through a lava field and ends at an area where there are thousands of petroglyphs.  
The area has great historic and cultural significance for Hawaiians, who have always traveled from around the island to visit Pu'u Loa to bring their newborn child's umbilical cord to bury under these petroglyph carvings.  Pu'u Loa means "Long Life" in Hawaiian and this traditional rite of passage ensures the child's healthy growth and a long life for their newborn child. This connection to family and land in this spiritual part of the island is a ritual that still occurs today.
It is an amazing sight to see thousands of these shallow petroglyphs that were dug up to perform this ritual. 
Much of the trail is on an elevated boardwalk, which helps protects the fragile environment and keeps visitors from wandering off to other locations in this remote part of the park.  
Why Winter?
Winter time is a great time to visit the national park with cooler temperatures, less crowds and the ease of visiting the park and surrounding area.
Insider Tips:
Winter time has relatively mild weather on the Big Island and is even cooler in the Volcano area, but it changes daily so wearing layers is always key in the park. 
The trail is exposed with no trees, so during sunny days, bring hats and coverings even in winter. 
Highlights:  
Recommended by Noel Morata from This Hawaii Life 
---
Pa-Hay-Okee Trail, Everglades National Park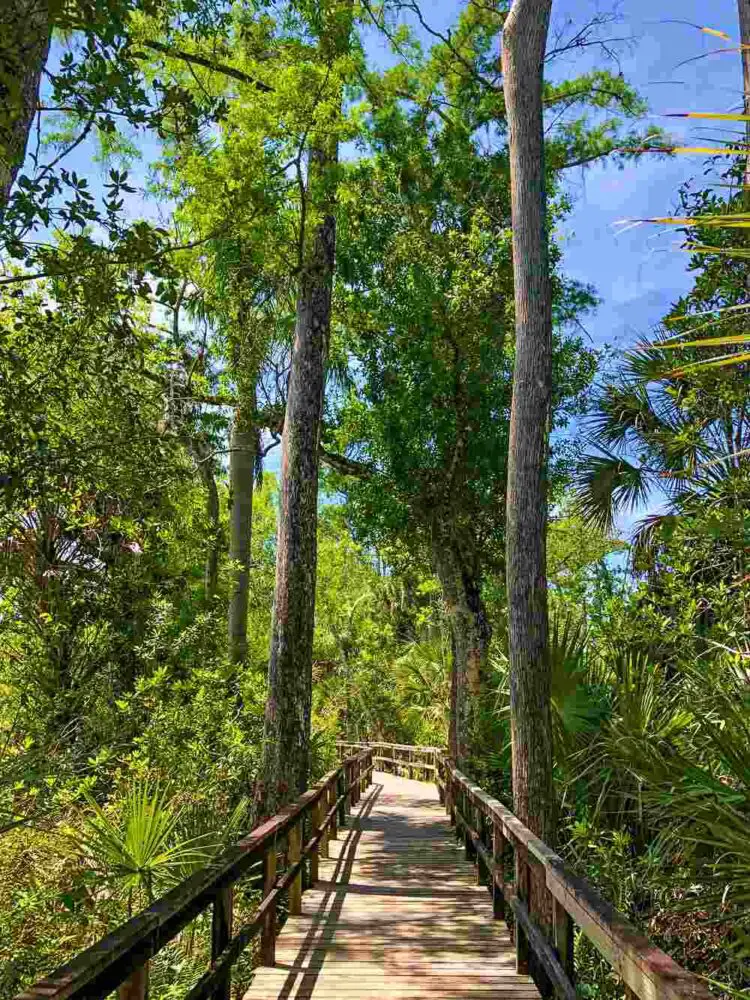 Location: Florida  
Length: 0.5 miles 
Difficulty: Easy 
Trailhead: To get to the trail enter the Park at the Ernest F. Coe Visitors Center near Homestead. After entering the park, drive 13 miles on the only road there is to reach the trailhead which is well-marked on the north side of the road.   
There are several national parks with trails that are ideal for hiking in the winter and the Pa-Hay-okee Overlook Trail in Florida's Everglades National Park is one of them – and ideal for families with young children to visit.  
The loop trail itself is very short and the elevated boardwalk keeps hikers dry during the wet season. The primary attraction here is that it is one of the only places to observe local migratory and nesting birds in the area year round. 
The view from the observation deck is stunning, giving you an appreciation for this part of the Everglades. 
Why Winter?
This is the marshy part of the Everglades and a great example of the slow-moving Everglades river of grass. Hiking here during the winter months has the advantage of lower temperatures and humidity – so, fewer bothersome insects and no blazing hot sun or afternoon thunderstorms. 
Insider Tips:
The loop is wheelchair accessible but there are no restrooms. Be sure to bring water, bug spray, binoculars, and a camera. 
Highlights: 
Great panoramic view from the elevated observation deck 
The boardwalk keeps your feet dry and out of the mud 
Perfect for families with small children 
Recommended by Lori Sorrentino from Travlinmad.com 
---
Pipiwai Trail, Haleakala National Park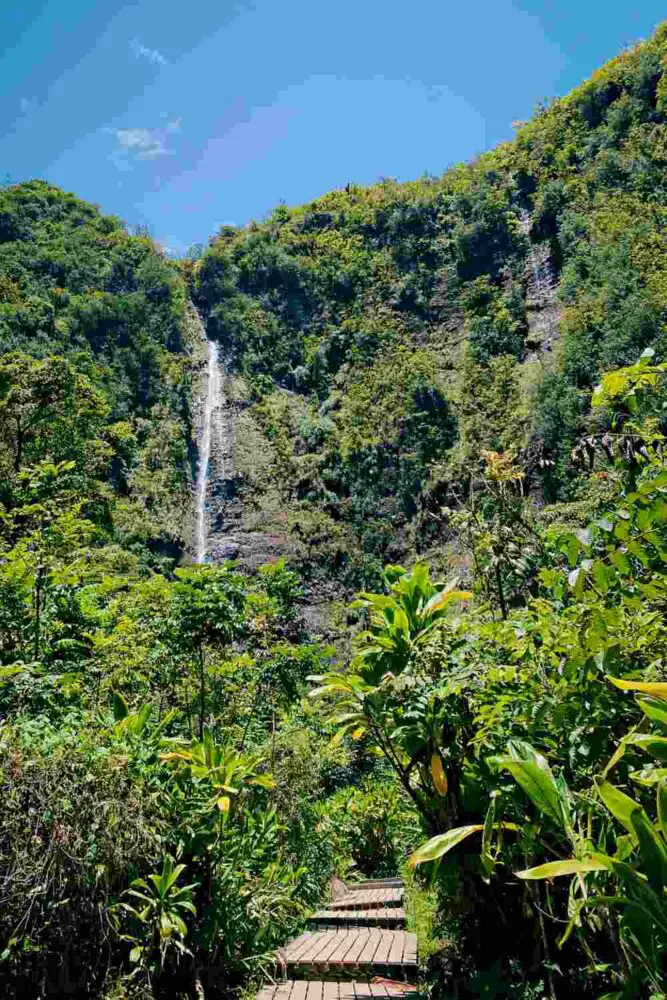 Location: Hawaii (Maui)  
Length: 3.8 miles 
Difficulty: Moderate 
This out-and-back trail in Maui's Haleakala National Park is the perfect winter hike for those looking for a tropical getaway!  
The Pipiwai Trail is the highlight of the east side of Haleakala National Park! You'll begin the hike near sea level and climb about 800 feet of elevation through a tropical forest.  
Along the trail you'll pass waterfalls, a giant bonsai tree, and a serene bamboo forest before culminating your hike at the stunning Waimoku Falls. This waterfall flows over 400 feet of sheer lava rock down to a clearing below. Pack some snacks or your lunch and enjoy the views of the falls before packing up and hiking back out.  
If you have energy at the end of the hike, add on the 0.5-mile Kuloa Point Trail, which shares a trailhead with the Pipiwai Trail. Kuloa Point will take you past the famous Oheo Pools (also known as the Seven Sacred Pools), several Hawaiian cultural sites, and along the ocean shoreline.  
Why Winter?
Due to Maui's temperate climate, the weather is warm and mild year-round, so you can enjoy this hike no matter the time of year. 
Insider Tips:  
Arrive early to beat the crowds! This is a popular hike (for good reason) and the nearby parking lots will begin to fill up by mid-morning, even in winter. 
Highlights:  
Bonsai tree (0.6 miles in) 
Bamboo forest (1.0 miles in) 
Waimoku falls (1.9 miles in) 
Recommended by Jen Bourbon from Glasses and Boarding Passes 
READ MORE: Most Scenic Drives in US National Parks 
---
Ram Head Trail, Virgin Islands National Park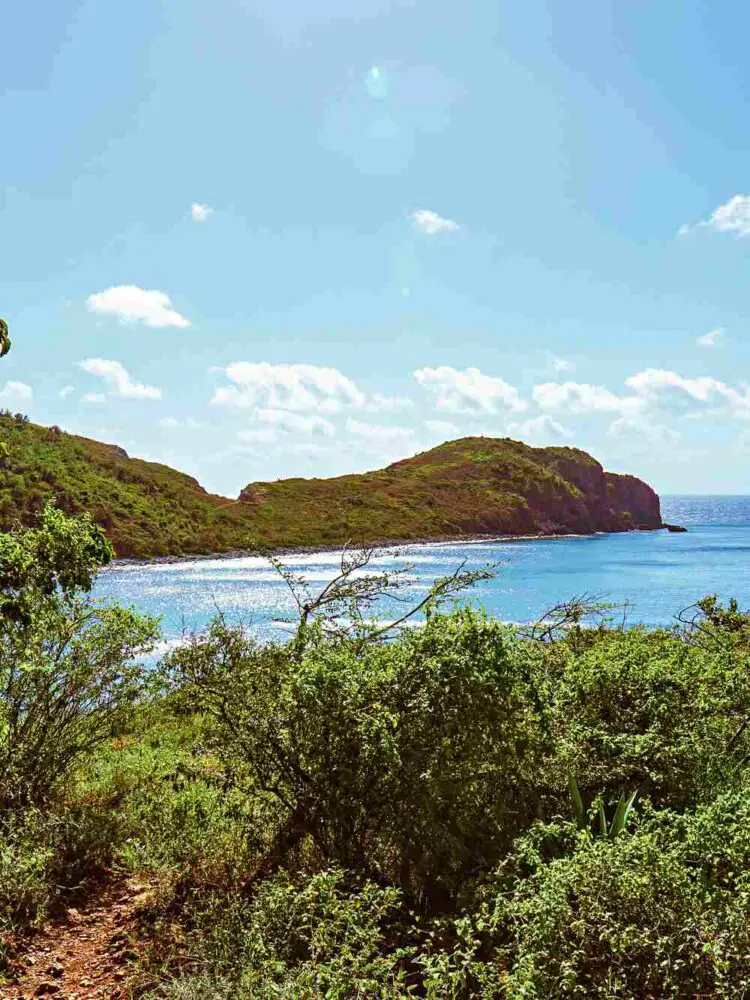 Ram Head is an out and back trail with elevation gains of 314 feet.  This hike is considered moderate due to the rocky, cliff-laden terrain, dry conditions, and some inclines. 
Since the Ram Head Trail is located in the Caribbean, there is warm weather for this hike year-round.  However, winter brings cooler breezes and the sun isn't as strong as it is during the summer months.  If you are willing to wake up early in the morning, not only will the temperatures be more comfortable, but you'll see lovely sunrise views from the trail. 
Why Winter?
Being located on the tropical island of St. John in the Caribbean, it's the perfect winter hike for escaping the cold weather of the northern US states.   
Insider Tips: 
For ultimate comfort and enjoyment on the Ram Head Trail, bring plenty of water, sunscreen, a hat, and sunglasses.  As the trail is rocky, be sure to wear sturdy shoes and avoid sandals and flip flops. 
Highlights: 
Sweeping views of the Caribbean Sea from a cliff at the end of Ram Head Trail, from which you can see the shadow of St. Croix on a clear day. 
Beautiful view of Salt Pond Beach and St. John's south coast on return trip. 
As this trail is on a peninsula, there are stunning ocean views on either side for much of the hike. 
Recommended by Theresa from Fueled By Wanderlust 
READ MORE: Most Beautiful Beaches in US National Parks 
---
Point Reyes Lighthouse & Chimney Rock, Point Reyes National Seashore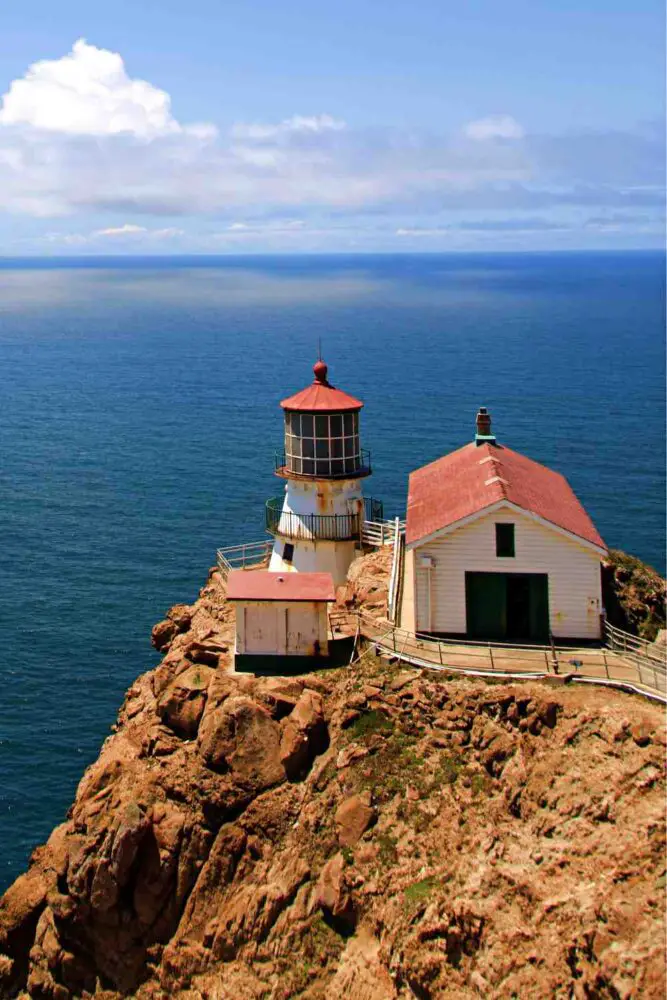 Location: California  
Length: 0.4 miles & 0.9 miles respectively 
Difficulty: Moderate & Easy 
Trailhead: Lighthouse Visitor Center and Point Reyes Station, CA 94956 
Both of these trails are relatively short and will take you through meadows before you arrive at the coastline where you'll find the rocky cliffs plunging into the ocean. You'll also have a bird's eye view of the beaches below. 
The Point Reyes Lighthouse Trail leads you to the lighthouse that was constructed in 1870. At the end of the trail, you can descend 300 stairs to the lighthouse itself. On certain days/times you can enter and check out the exhibit on lighthouse history plus the original lens. Check the website for hours. 
Chimney Rock gives you many of the same views, but there is also an elephant seal overlook as an offshoot that is just 0.2 miles from the main trail.  
Why Winter?  
Winter is the best time for wildlife viewing. There is a breeding colony of elephant seals that you can watch from here. In the spring/summer you'll find beautiful wildflowers as well. 
During the winter, the Lighthouse trail is very popular for watching gray whales as they migrate down toward Mexico. It's one of the best places to hike near San Francisco! 
Insider Tips:  
Gray whale migration is from January through early May and elephant seal breeding is from December to March.
On weekends when wildlife viewing traffic is heavy, they typically close Sir Francis Drake Boulevard to vehicles and you must ride a shuttle bus in.
Check the weather – it can be very different inland than on the coast! 
Highlights: 
California's rocky coastline & beaches 
Gray whale migration & elephant seal breeding 
Recommended by Chelsey from Chelsey Explores 
READ MORE: Best Beaches in US National Parks 
---
49 Palms Oasis Trail, Joshua Tree National Park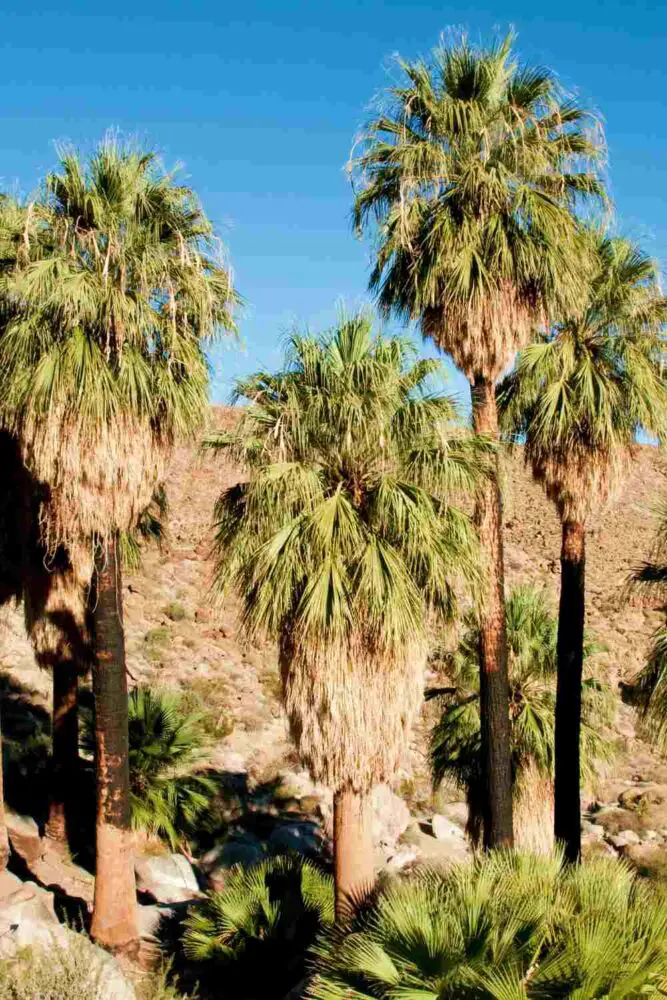 Location: California  
Length: 3 miles   
Difficulty: Moderate to Hard  
Trailhead: Fortynine Palms Trailhead on Fortnine Palms Canyon Road 
The 49 Palms Oasis Trail is my pick of the best winter hikes in Joshua Tree National Park.   
The park spans both the Mojave and Colorado deserts, so hikers can experience completely different landscapes within one day in Joshua Tree. The Mojave Desert is home to the iconic yuccas and giant rock formations, while the Colorado Desert is hotter, drier, and full of cacti.   
The 49 Palms Oasis Trail is found in the northern section of the park, close to many other trails and campgrounds. It is a well-marked out and back style trail that takes hikers over rugged hills and ultimately leads to a surprise – a shady and secluded oasis with towering palm trees overhead.   
Why Winter? 
Because summer temperatures are routinely in the triple digits, hiking in Joshua Tree National Park is best in winter.
Insider Tips:  
Hikers can climb down under the trees to enjoy the water and shade, but tread carefully – it can be slippery!   
If you have never experienced a trek in the desert before, make sure you bring all of the desert hiking essentials.  That includes plenty of water and sunscreen, proper clothing and shoes.  Start early, even in the winter.  
Highlights:  
The lush green oasis!  
Joshua Trees you will see along the way.  
The sweeping views of the valley below.  
 Recommended by Monica from This Rare Earth 
READ MORE: Guide to Joshua Tree National Park and Best Hikes in Joshua Tree National Park 
Happy hiking!  
What are your favorite winter park hikes?  I'd love to hear about them.  Join my private Facebook group National Parks Collectors and comment and let me know.  
If you liked this post, please share the love and Pin it to your US National Parks and Hikes boards!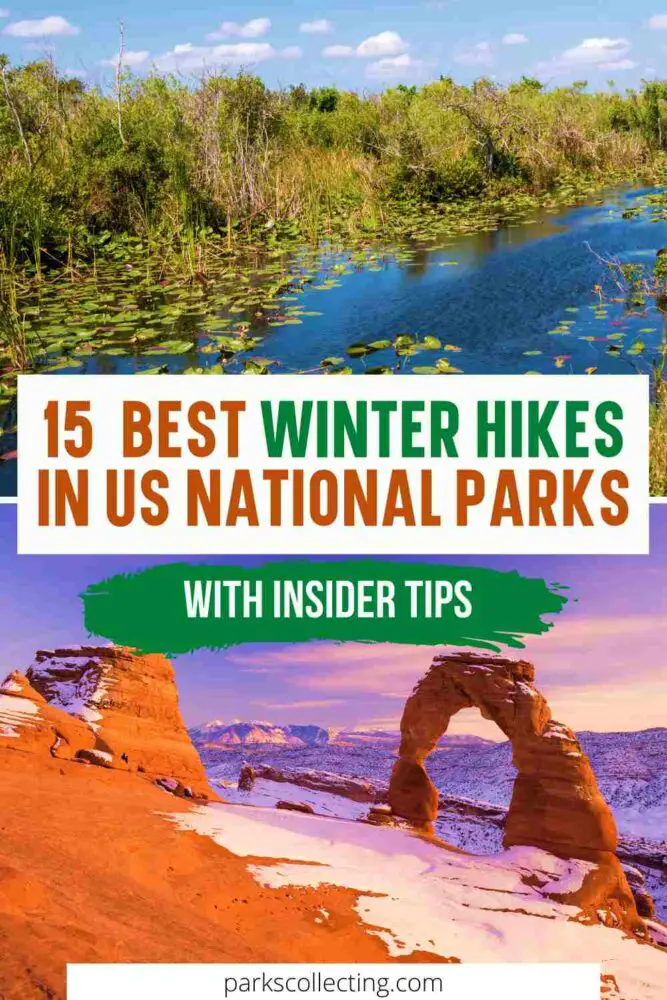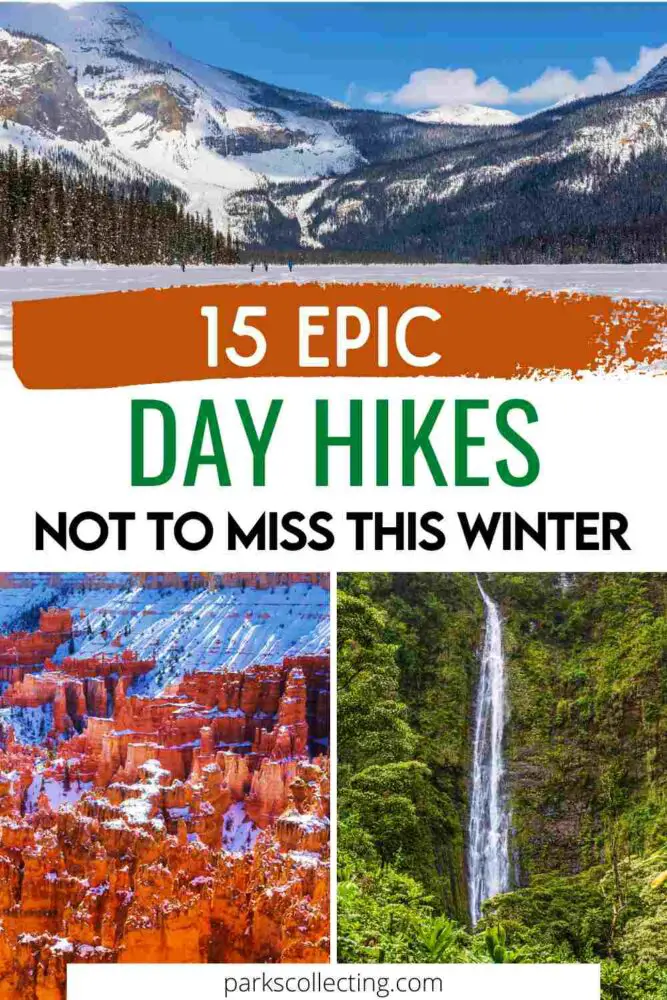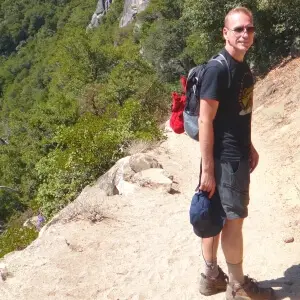 James Ian has dedicated his life to travel and has traveled to 82 countries and all 7 continents.  He's visited all of the main national parks in the United States, as well as many national monuments and state parks.
As a national park expert, James has contributed to many publications, including Time Business News, Savoteur, and Wired. He also has several published detailed itineraries in addition to many free online guides.
James has rafted through the Grand Canyon; rappelled down slot canyons near Zion and Arches; hiked among the hoodoos in Bryce and the enormous trees in Sequoia; admired the waterfalls in Yosemite and the colored hot springs in Yellowstone; seen moose in Grand Tetons and seals in the Channel Islands, and much more.
---
Parks Collecting is a participant in the Amazon.com Services LLC Associates Program, an affiliate advertising program designed to provide a means for sites to earn advertising fees by advertising and linking to amazon.com. Amazon and the Amazon logo are trademarks of Amazon.com, Inc. or its affiliates. As an Amazon Associate I earn from qualifying purchases.