Death Valley offers an incredible diversity of amazing desert landscapes and micro-environments within a relatively small area.  There is nowhere else I've seen (and I've traveled to 82 countries!) that I've been able to see slot canyons, sand dunes, badlands, colored rocks, salt flats, a lush oasis, natural arches, and volcanic craters all within an hour or two drive of each and every place.   
No time to read about the best hikes in Death Valley National Park now?  Pin It and save it for later: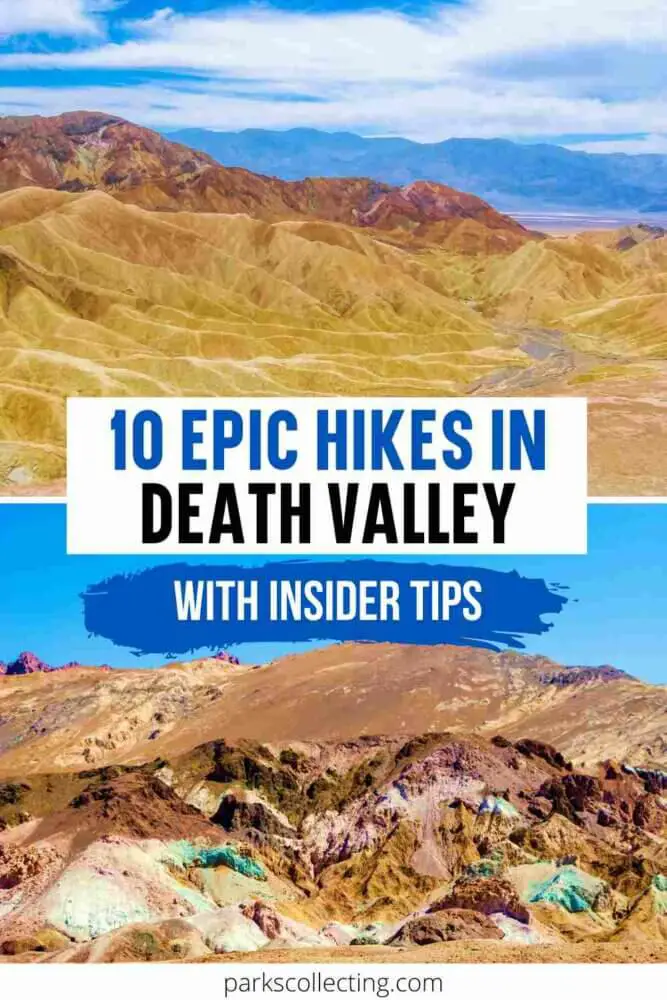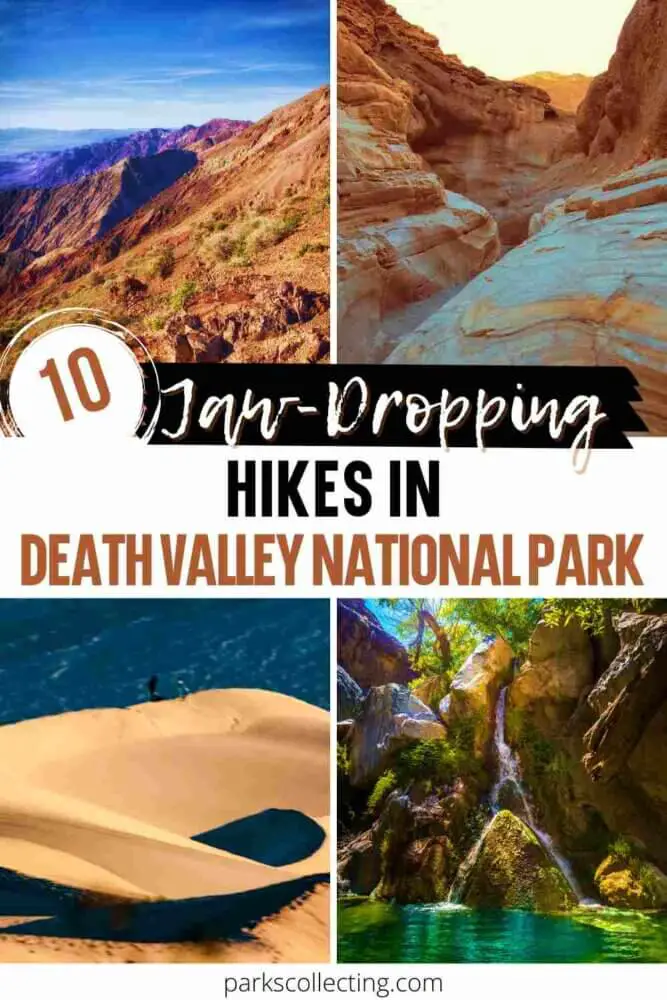 Please note this post may contain affiliate links, which means we may receive a commission, at zero cost to you, if you make a purchase through a link. Please see our full Disclosure for more information. If you have any questions, please contact me.
The best way to see these awesome (and awe-inspiring) places is to get out and hike. Death Valley trails range from easy strolls from a paved parking lot to more challenging adventures scrambling over rocks or climbing sand dunes.  There is something for everyone. 
With the help of some other travel experts, I have compiled a list of the best hikes Death Valley National Park has to offer. 
Death Valley Hiking Tips 
Before we dive into the best trails in Death Valley, let's take a quick look at some tips to make sure you have the best experience possible: 
The best time to visit Death Valley is October to April.  The average temperature in July is 116°F!  Hiking in that is not only unpleasant, but downright dangerous. In December, on the other hand, it's a much more pleasant 65°F. 
The best time to hike is early in the morning before it gets too hot, especially if you are visiting Death Valley in a warmer month. 
Some of the trailheads are accessed on dirt roads and may need high clearance vehicles. Most can be done in a regular vehicle if you are careful, but a 4WD is a good idea. 
Take water, and then more water, and then even more water than you think you'll need.  Have extra water in your vehicle just in case you break down.  This is the desert, the hottest place on the planet, and dehydration is no joke. 
Make sure you have everything you need.  Check my Day Hike Packing List to make sure you don't end up on a hike without the essentials. This includes a sunhat and sunscreen. If you're hiking with a baby, you can carry them in a baby hiking carrier.
Don't rely on cell service; it is very patchy in the park.  Download or have a printed Death Valley hiking map. National Geographic has a set of topographic trail maps you can buy here. 
Wear sturdy hiking boots or shoes.  The terrain is often uneven and solid hiking shoes/ boots make a huge difference.  If you need to get some, be sure to read my Guide to the Best Hiking Shoes/ Boots. 
Take binoculars.  I always take binoculars when I'm hiking.  You never know when you'll see birds, animals or geographic features in the distance that are interesting to see in more detail. I think they're so important that I wrote a Guide to Finding the Best Binoculars For the Money.  Be sure to check it out. 
If you are in Las Vegas and looking to visit Death Valley on a day trip, you can definitely do one that gives you time for some of these shorter hikes.  Book a one-day trip to Death Valley from Las Vegas here. 
---
The Best Hikes In Death Valley National Park
1. Zabriskie Point, Death Valley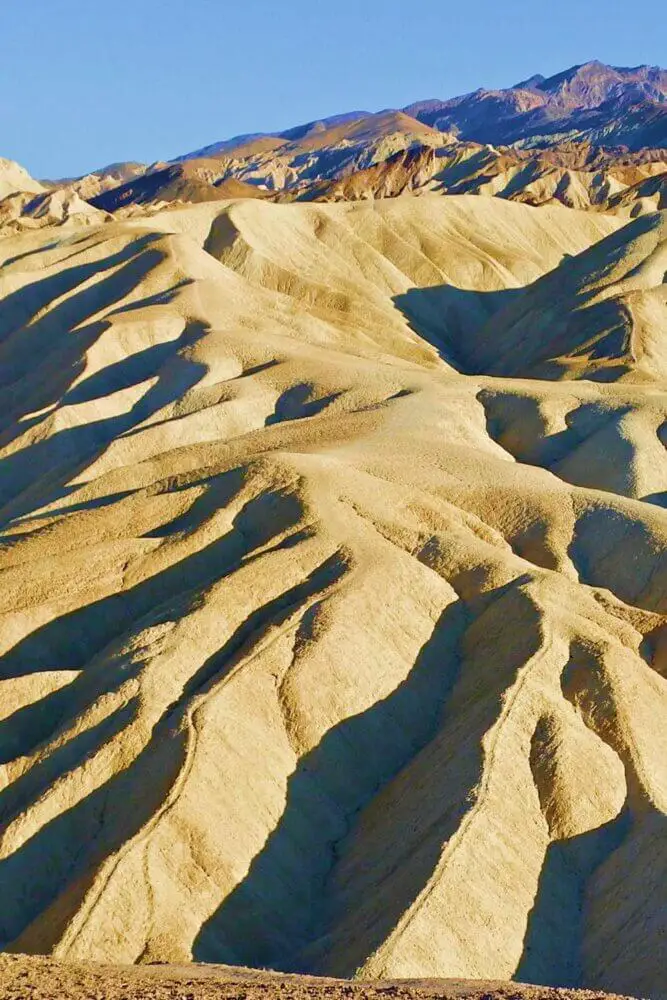 Length: 0.6 miles | 965 m
Difficulty: Easy
Trailhead: Zabriskie Point parking lot
The Trail: If you've seen one photo of Death Valley, then chances are that it was a shot of the badlands at Zabriskie Point.  This is not only a truly iconic Death Valley view, it is one of the easiest Death Valley National Park hikes.  The overlook is just a short 0.3-mile walk from the parking lot.   
This is one of THE places to be at sunrise, though sunset is also popular.  Most people don't make it any further than the overlook, but you can actually continue down and walk among the badlands.   
You can also reach them from the Golden Canyon trail (see below). 
Insider Tips: If you are going there for the sunrise, get there early, as it gets very crowded and you want a prime position for photos.
Highlights: The golden badlands
---
2. Badwater Basin, Death Valley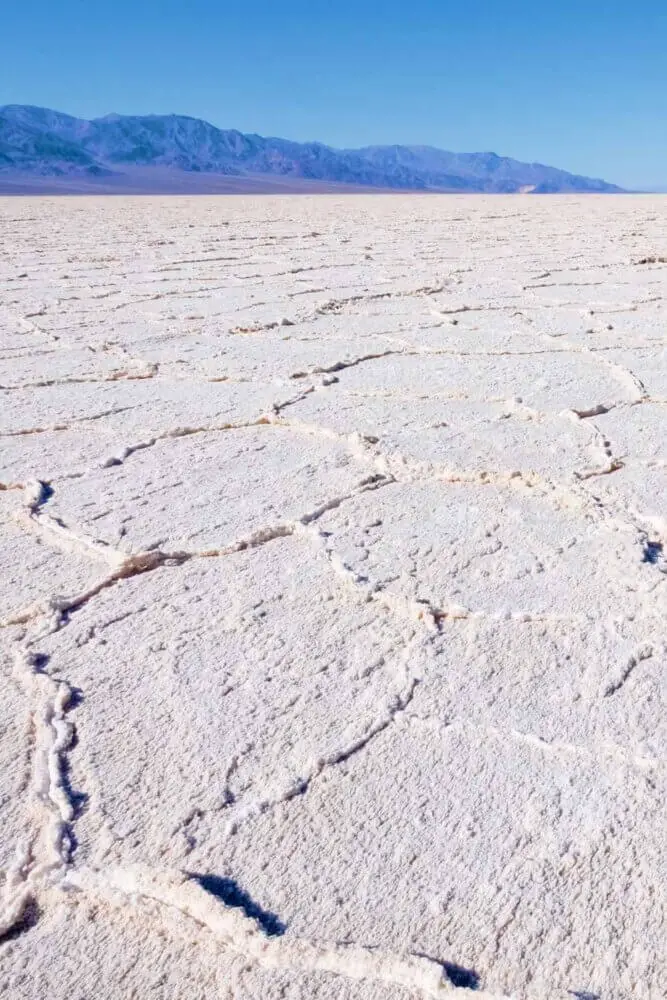 Length: 1 mile | 1.6km out and back to edge of salt flat. 5 miles | 8 km each way to the other side
Difficulty: Easy to edge of salt flat (up to difficult for longer length). No elevation change.
Trailhead: Park Area on Badwater Road 17 miles | 27km south of Furnace Creek
The Trail: Badwater Basin is the lowest place in North America (279 feet below sea level).  There are over 200 square miles of crystalized salt forming picturesque hexagons stretching to the horizon.   
There is a short (0.5 miles) wooden boardwalk that takes you out into the salt flats, which is a great option if you just want a very easy Death Valley hiking trail.  Feel free to stop there – or step off the boardwalk and stand in a hollow in the ground to get even lower for your photos.   
However, you don't need to stop there.  You can keep walking out into the salt flats (there is no marked trail).  It is 5 miles to the other side and you can walk the whole way there and back if you like.   
Insider Tips: It is completely flat (no surprise, given its name), but there is no shade and no trail, so take plenty of water and keep an eye on where you left, so you find your way back to the same point easily.
Highlights: Standing at the lowest place in North America; the incredible salt crystal formations.
---
3. Darwin Falls, Death Valley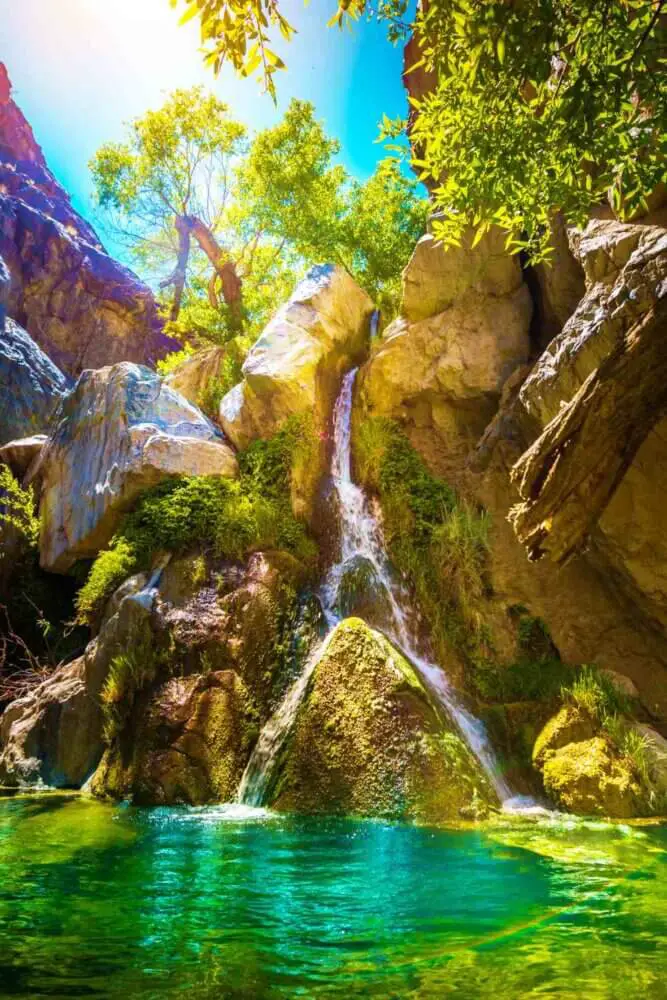 Length: 2 miles | 3.2 km out and back
Difficulty: Moderate
Trailhead: To reach the trailhead, take the turnoff to Darwin Falls Road 1.2 miles \ 2 km west of Panamint Springs on CA-190). The trailhead is 2.5 miles/ 4lkm down the unpaved Darwin Falls Road. A 4WD is recommended, but a regular vehicle is generally possible on this section of the road (but not the section that continues on to Darwin).
The Trail: This may seem a little strange, but yes, there is a verdant waterfall in the middle of Death Valley!  Darwin Falls is a must see for all first-time visitors and perhaps the most unexpected Death Valley hike.  
The trail is unmarked, but head along the wash past the gate and you'll be on the trail.  It starts through a dry and dusty canyon before reaching a hidden oasis.  You will need to dodge bushes and trees, clamber over rocks and cross a stream to get there, but the reward is worth it.  A lush oasis with a beautiful waterfall cascading down a rock face.  And shade! 
Insider Tips: The water looks inviting, but no swimming is permitted (in order to protect the environment)
Highlights: On the Darwin Falls trail, Death Valley offers up an oasis, a fun hike, and a waterfall
---
4. Mesquite Flat Sand Dunes, Death Valley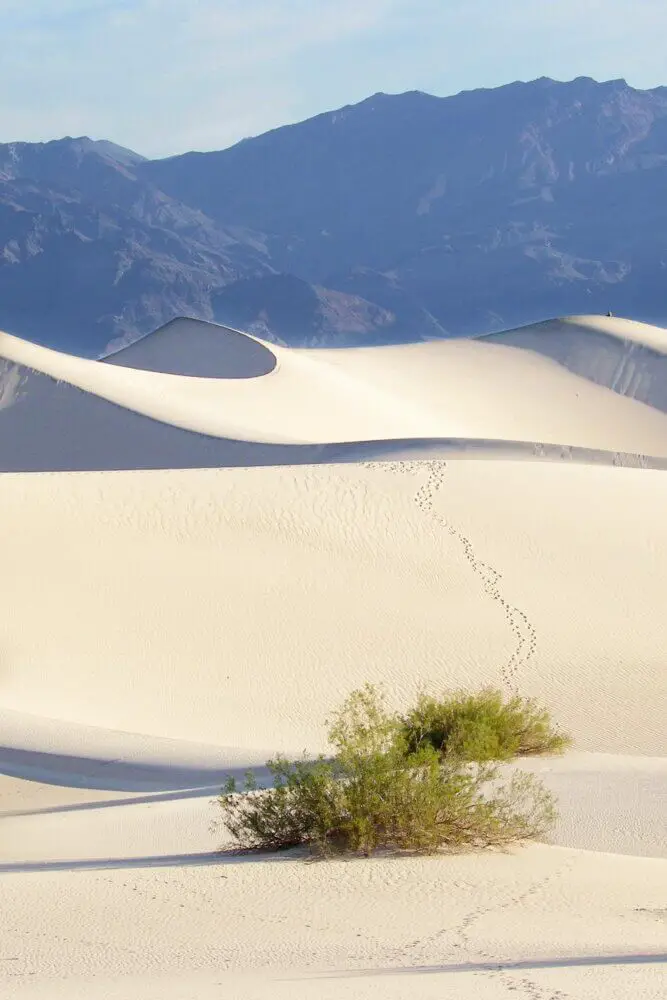 Length: 2 miles | 3.2 km out and back
Difficulty: Easy to moderate
Trailhead: Parking lot near Stovepipe Wells Village
The Trail: There is no defined trail here; just head from the parking lot towards the dunes.  Mesquite Flat sand dunes are not the only sand dunes in Death Valley (there are seven), but they are the most accessible.  
You need to walk on soft sand, which can require physical exertion, but you can go as far or as a short a distance as you like. The further you go, the fewer people there are and the more uninterrupted views of huge white dunes, framed by the distance edges of the valley, you will see. The summit of the highest dune is one mile from the park lot. 
Insider Tips: I recommend getting there early in the morning for the sunrise.  Having the dunes to yourself is an almost mystical experience.
Highlights: Sand dunes
---
5. Mosaic Canyon, Death Valley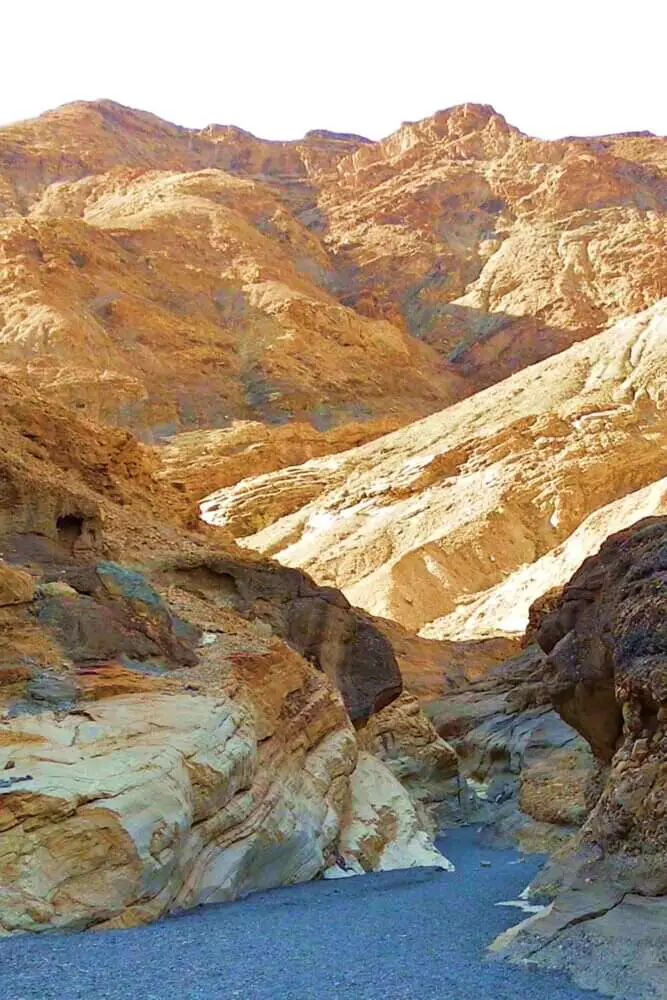 Length: 4 miles | 6.4 km out and back
Difficulty: Moderate to difficult
Trailhead: To reach the entrance to the canyon, drive 2.3 miles | 3.7 km along the unpaved road Mosaic Canyon Road from Stovepipe Wells Village (across from Stovepipe Wells Campground). The road is bumpy, but is generally OK for regular vehicles (I did it in an RV and took it very slow and managed it OK).
The Trail: Perhaps the most famous of Death Valley canyon hikes is Mosaic Canyon trail.  Death Valley has several narrow slot canyons around its edges, and they are cool in both senses of the word.   
After about 0.25 miles, the canyon narrows and you are surrounded by striped Noonday Dolomite marbled rock, worn smooth by flash floods over the eons.  As you wander through the narrow crack between the canyon walls, reach out and touch the stone – it is cool to touch.  Keep an eye out for the rock formations that give the canyon its name – it looks like mosaic tiles in the rock wall. 
After another mile, you will come to a section where huge boulders have fallen and seem to block the path.  This is a popular place to turn around, but there is a way through if you want to keep going.   Look for a section to the left where you can clamber over the boulders.  You will then enter a second section of the narrow slot canyon.  
When you come to another blockage – a sloped striped wall – don't give up.  There is way through.  Backtrack about 180 feet and look for a path on the right that goes up the sloped wall.  This takes you up and then back down into the canyon. The trail ends in an awesome amphitheater. 
Insider Tips: At the second blockage, don't try to climb up the wall in front if you.  The detour path is a little hard to spot, but it is there. It will take you safely up and around.  But don't do this if you are afraid of heights.
Highlights: Narrow slot canyon, marbled rock, mosaic rock, cool(er) temperatures
---
6. Ubehebe Crater Loop, Death Valley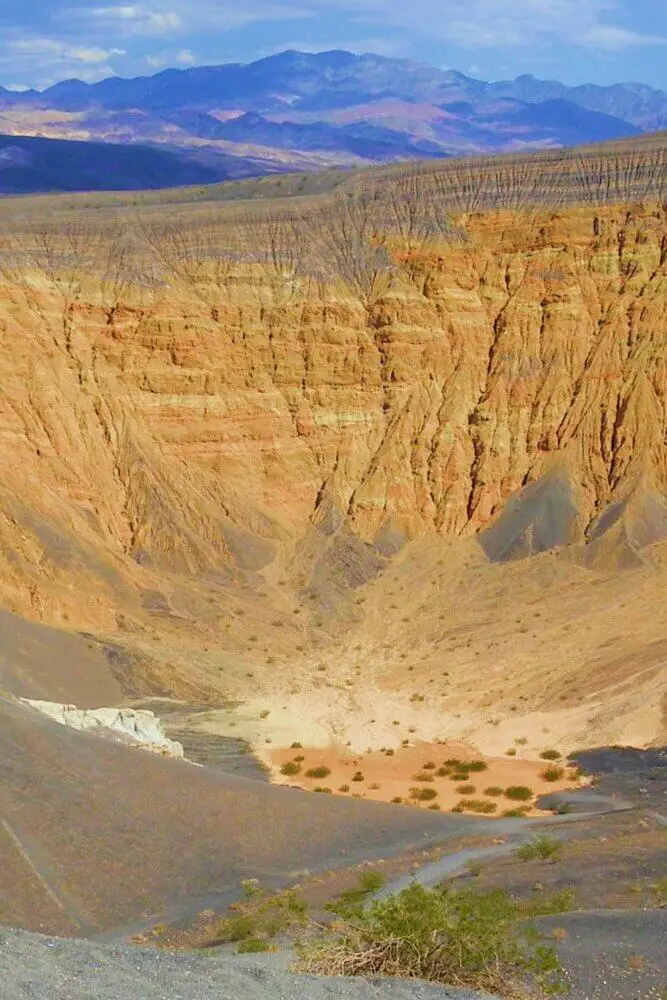 Length: 1.5 miles | 2.4 km loop
Difficulty: Moderate
Trailhead: Parking area overlooking the crater
The Trail: There are actually three Death Valley hiking trails to choose from here: You can hike into Ubehebe Crater, hike the loop around Ubehebe Crater or hike to Little Hebe Crater.  About 0.5 miles into the loop trail, you can see Litte Hebe Crater.  If you are looking for a shorter hike, head there. Otherwise, continue on the loop around the crater. 
Insider Tips: It is best to do the hike in a counter clockwise direction.  That way, you do the uphill section first and then cruise downhill at the end.
Highlights: Volcanic craters
---
7. Artist's Palette, Death Valley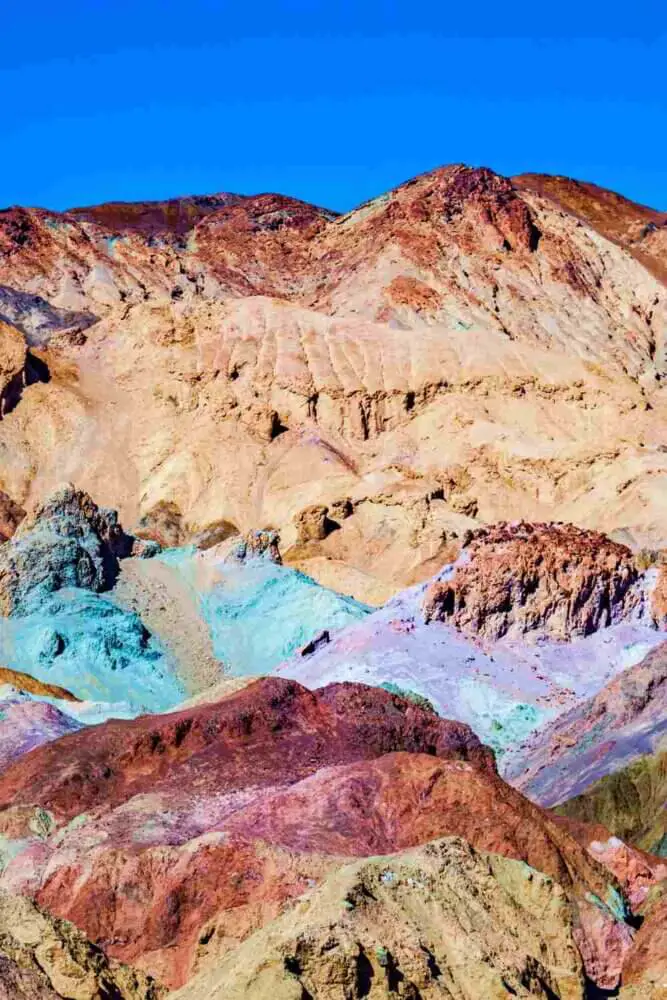 Length: Variable, depending on how much you explore
Difficulty: Varies from easy to moderately difficult depending on where you explore
Trailhead: Parking lot at Artist's Palette, about 5 miles into the Artist's Drive Scenic Loop
The Trail: Death Valley National Park is a desert national park, but its landscapes are anything but bland. And one of the best examples of Death Valley's colorful rock landscapes can be found at the Artist's Palette viewpoint along the Artist's Drive.
For this free-flowing hike, step down into the wash from the official parking lot for Artist's Palette, and follow one of the washes right up to where the colorful mineral deposits start. You can get up close to the different colored deposits, which range from green and blue to mauve, red, yellow, and orange.
Once you get closer to the rock formations, you will see other passageways you can explore. Some of the colorful hills are small enough that you can scramble to the top for photos and for views from a different perspective.
You will not really get lost, because from anywhere further into the deposits, you can just follow any wash downwards, which will take you to the main wash, from where you can return to the parking lot.
Insider Tips:
Carry plenty of water, to stay hydrated.
Cloudy days produce the best photos of the multi-colored mineral deposits.
There is an overlook before the official parking lot for Artist's Palette, where you can climb down into a ravine and back up the opposite side for a great distant view of the Artist's Palette.
Highlights:
This hike allows you to get really close to the most colorful mineral deposits in Death Valley. You can even walk over the colored rock.
The hike can be as short as 0.25 mile for excellent views of the deposits, if you are pressed for time.
Recommended by Dhara from Roadtripping California
---
8. Golden Canyon, Death Valley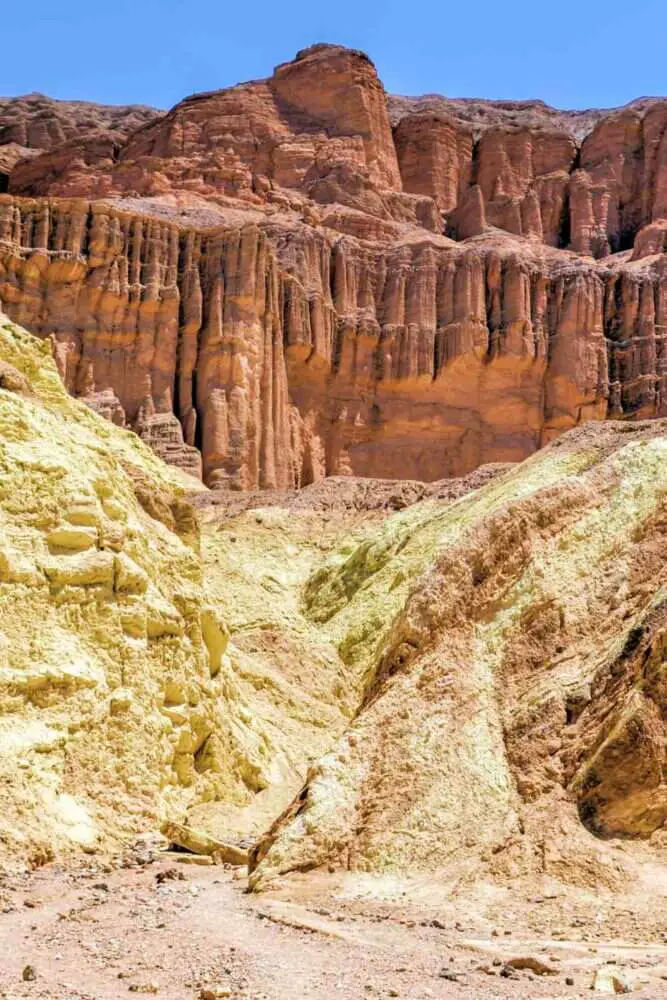 Length:
Golden Canyon to Red Cathedral: 2.8 miles | 4.5 km
Gower Gulch Loop: 4.5 miles | 7.2 km
Zabriskie Point to Golden Canyon: 1.7 miles | 2.7 km one way
Difficulty: Easy to moderate 
Trailhead: To begin your hike through Golden Canyon, drive on CA-190 and make a turn south on Badwater Basin Road. Drive for about 2 miles, before you reach the parking lot near the trail. 
The Trail: Golden Canyon is one of the most beautiful places in Death Valley that has a network interconnected trails inside the maze of the canyons. Among the most beautiful hikes in Golden Canyon are the Red Cathedral hike, Zabriskie Point to Golden Canyon hike and Gower Gulch Loop. 
Insider Tips:
Bring enough water, sunscreen and hat. Death Valley National Park has very dry conditions and you can dehydrated very quickly, even if you hike during winter and early spring. In addition, the sun here can be very strong and with little to no shade, you can quickly get a sunburn, if you don't put on enough sunscreen. 
If you are looking for a spectacular hike that will give you good exercise and panoramic views of Death Valley, I recommend doing Gower Gulch Loop. This gorgeous hike will treat you to sprawling views of Death Valley and the surrounding canyon walls colored by oxidation. 
Highlights:
One of the highlights of this hike is Zabriskie Point, a spectacular vista from where you can see the colorful badlands frames by the dark mountains. Here you can also learn some history of borax mining in the region that put Death Valley on the map in the 1800s.  (You can also reach this on a shorter hike)
Another highlight is Red Cathedral, an alien-like landscape with eroded badlands. In a clear day, these brown-golden hills create an amazing contrast with the blue sky. 
Recommended by Daria Bachmann from The Discovery Nut
---
9. Dante's View | Dante's Peak, Death Valley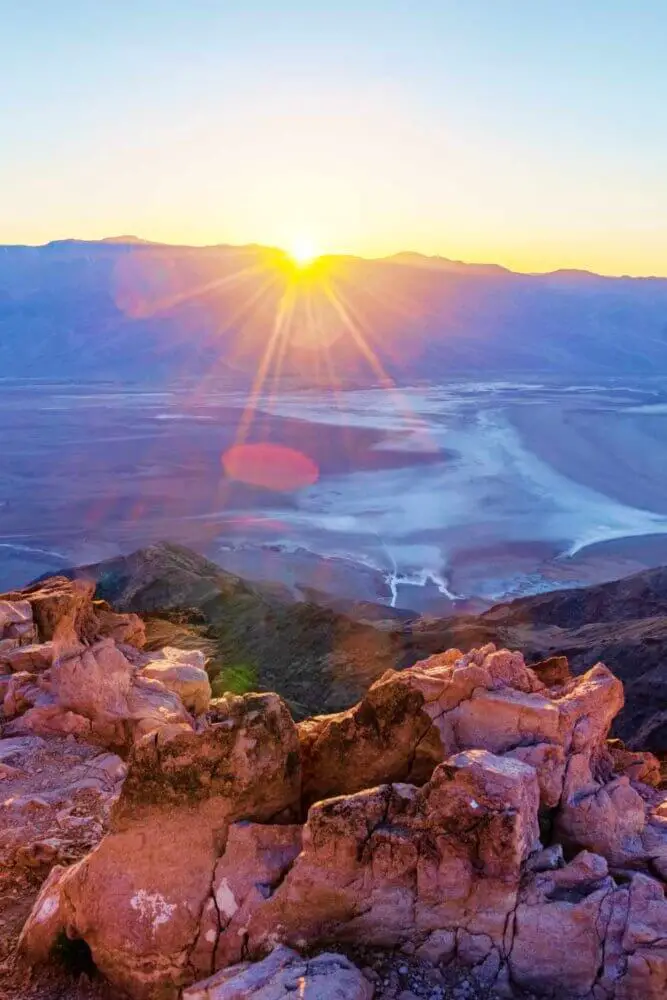 Length: 1 mile | 1.6 km
Difficulty: Easy to moderate
Trailhead: You will find the trail located on the right side of the parking lot facing Dante's View.
The Trail: Another of the best Death Valley day hikes, this is a short hike up a ridge to the summit of Dante's Peak from the main Dante's View viewpoint, providing absolutely spectacular panoramic views of Badwater Basin some 5,450 feet below and the surrounding Panamin Mountain Range. The view is so otherworldly, in fact, it was actually used as a filming location for the 1977 Star Wars!
The trail starts off fairly steep but quickly levels off as you cut across the west face of the mountain. You'll continue along the trail until you reach the summit, where two small peaklets of almost equal heights await you. The western one has a benchmark that reads "Dante" and is actually the higher viewpoint by just a few inches!
Insider Tips:
While this hike is short, the terrain is quite rocky (and you definitely don't want to stumble off the ridge)- so be sure to wear sturdy hiking boots on this climb. (If you need boots, be sure to read my Guide to the Best Hiking Boots and Shoes ~ James)
If you're looking for one of the best sunsets in the park, the view from the summit cannot be beat while the sun sinks beneath Telescope Peak, the highest mountain in Death Valley. Alternatively, Dante's Peak offers some of the best stargazing opportunities in the United States. 
Highlights: On a really clear day, keep a look out- you'll be able to see both Mount Whitney, the tallest mountain in the contiguous United States, as well as Badwater Basin, the lowest spot in the country!
Recommended by Jessica Schmit from Uprooted Traveler
---
10. Natural Bridge, Death Valley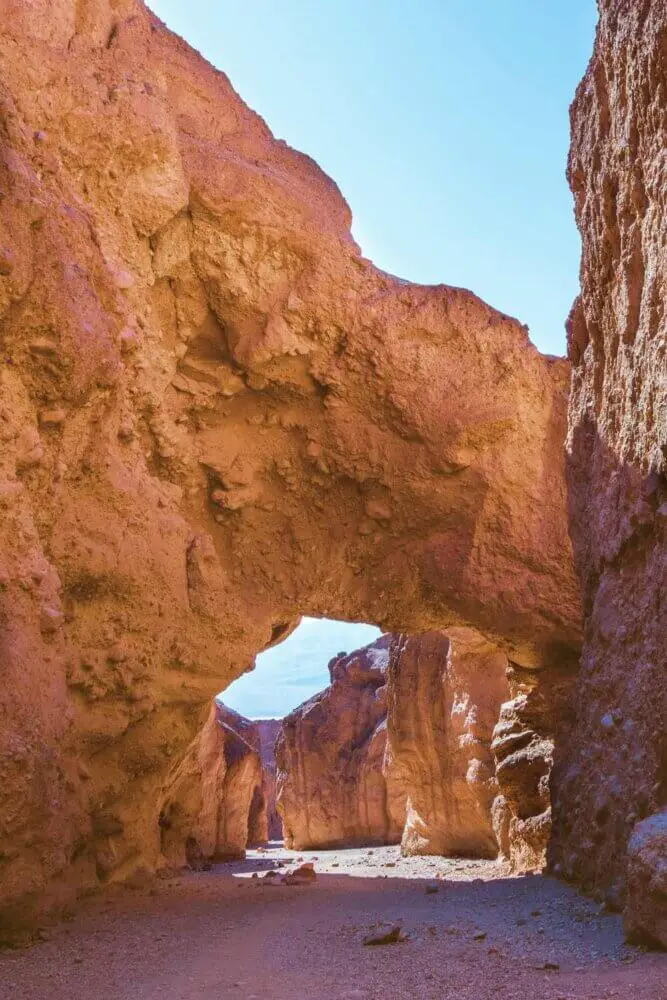 Length: 1 mile | 3.2km out and back round trip
Difficulty: Fairly easy and flat
Trailhead: Drive from the main Badwater road going towards the south entrance and turn left on the Natural Bridge Road which is mostly a dirt road that goes about a mile towards the mountain area. Follow the road to the parking lot and trail start which is easy to spot and the trail is mostly dirt and gravel and easy to do.
The Trail: The trail starts at the mouth of the canyon so you are basically walking inside the canyon with tall walls on each side that are changing and undulating with many rock outcrops and formations that you can stop and take pictures with anything striking that comes across your way. 
About half a mile into the hike the trail starts to narrow and ahead you'll start seeing the natural bridge spanning the canyon. The bridge is about 50 feet in height and it gets more impressive when you finally arrive there and walk through the opening to the other side.
There is no access to walking on top because the canyon walls at this point are very sheer and impossible to climb and also illegal. You can continue on the canyon and see remnants of ancient streams that flowed into the canyon until it abruptly ends and you turn around and walk all the way back to the parking lot.
It is a good and easy hike with lots of interesting details around the canyon to enjoy and photograph.
Insider Tip: I would do this early in the morning or late afternoon to avoid the intense heat in the valley during the daytime.
Highlights: The natural arch/ bridge; walking in a narrow canyon
Recommended by Noel Morata from Visit California and Beyond
Happy hiking!  
Do you have another favorite Death Valley hike?  I'd love to hear about it.  Join my private Facebook group National Parks Collectors and comment and let me know.
If you liked this post, please share the love and Pin it to your Death Valley and National Parks boards!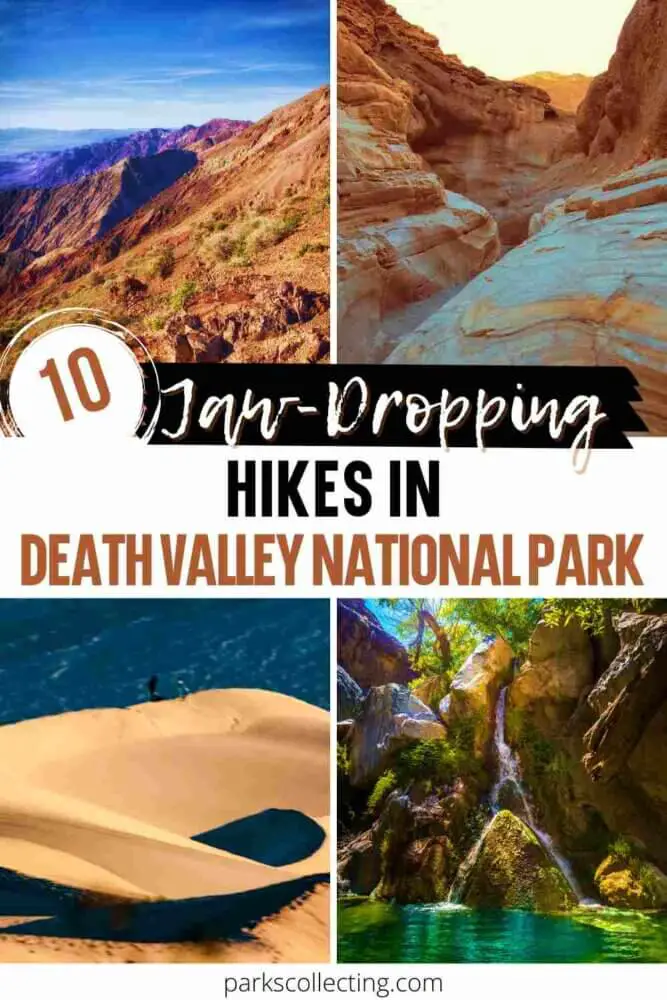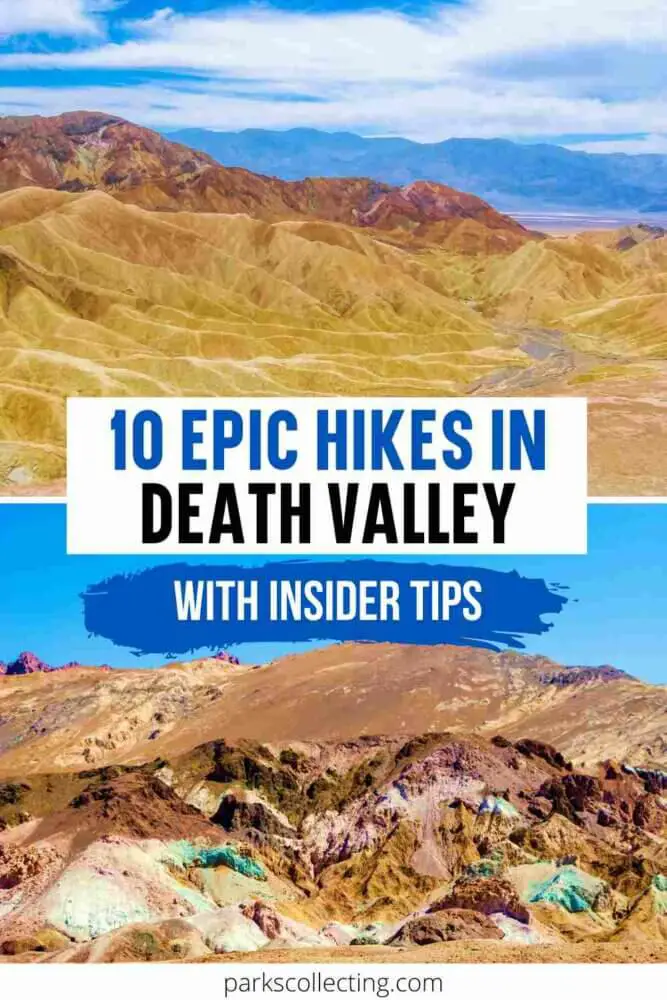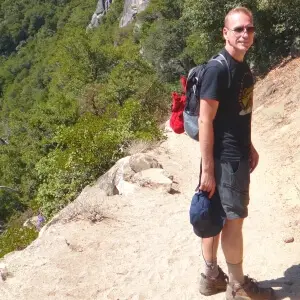 James Ian has traveled to 82 countries and all 7 continents.  He has visited all of the main national parks in the United States, as well as many national monuments and state parks.
He has rafted through the Grand Canyon; rappelled down slot canyons near Zion and Arches; hiked among the hoodoos in Bryce and the enormous trees in Sequoia; admired the waterfalls in Yosemite and the colored hot springs in Yellowstone; seen moose in Grand Tetons and seals in the Channel Islands, and much more.
---
Parks Collecting is a participant in the Amazon.com Services LLC Associates Program, an affiliate advertising program designed to provide a means for sites to earn advertising fees by advertising and linking to amazon.com. Amazon and the Amazon logo are trademarks of Amazon.com, Inc. or its affiliates. As an Amazon Associate I earn from qualifying purchases.