Death Valley doesn't sound very appealing.  But the reality couldn't be further from the truth and it's actually one of my favorite parks. There are so many different landscapes and places to discover in this national park.
Do you want to learn more about Death Valley? Let's take a look at some interesting facts about Death Valley, California.

No time right now to discover these fun facts about Death Valley National Park? Pin It and save it for later:
Please note this post may contain affiliate links, which means we may receive a commission, at zero cost to you, if you make a purchase through a link. Please see our full Disclosure for more information. If you have any questions, please contact me.
---
Basic Death Valley National Park Facts
Location: Death Valley National Park straddles both California and Nevada. Most of the park lies in California, but a small portion is in Nevada.
Size: 5,270 square miles | 3,373,063 acres
Number of Visitors each Year: 1,128,862 people visited Death Valley National Park in 2022.
Annual Rainfall: Death Valley typically gets 2.20 inches of rainfall annually.
Highest Elevation: Telescope Peak is the highest point in Death Valley National Park (11,049 feet above sea level)
Lowest Elevation: The lowest point in Death Valley National Park is Badwater Basin (282 feet below sea level)
Date it Became a National Park: Death Valley became a national park on October 31, 1994.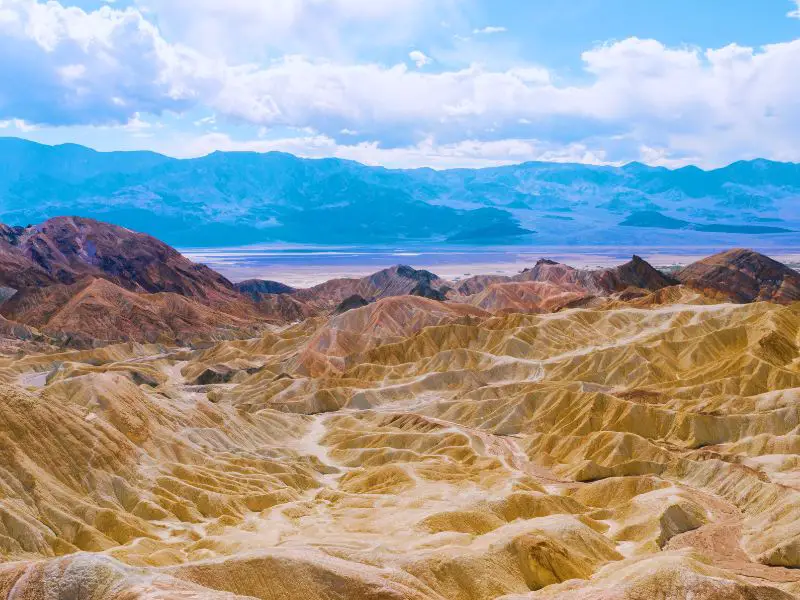 ---
10 Fun Facts About Death Valley National Park
Here are 10 facts about Death Valley National Park that you may not know.
1. Death Valley has the lowest elevation in the United States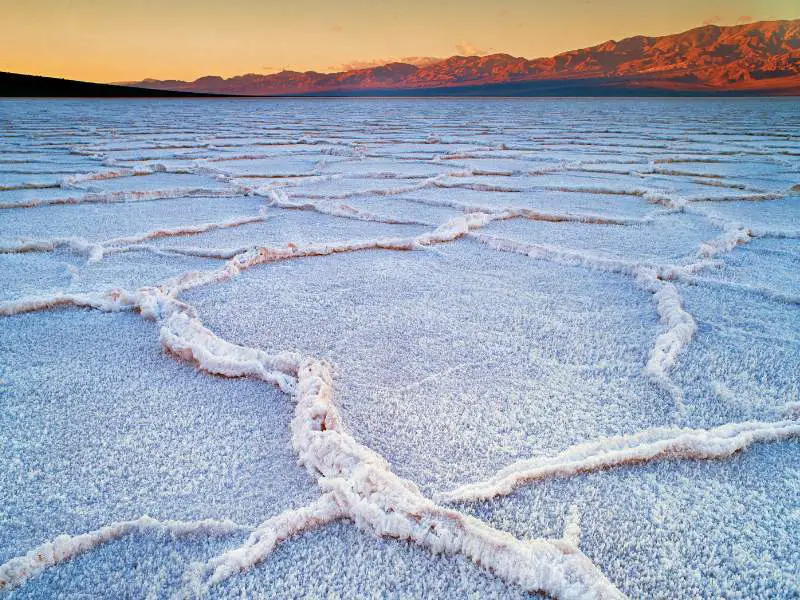 Death Valley is a land of superlatives. 
Badwater Basin lies 282 feet BELOW sea level.  It's not only the lowest point in California, but also has the lowest elevation in US.  In fact, it's also the lowest point in the entire North American continent.
Badwater Basin is a salt flat.  It looks like a field covered in snow, but is, in fact, a flat basin created by salt crystals. 
Many, many years ago, the basin was an inland lake.   Minerals dissolved from rocks and drained into the lake.  The minerals concentrated until salt remained. These salt deposits built up over time and when the original lake dried up, it left layers of salt crystals behind.  
Even today, after heavy rain, it turns into a lake before evaporating in the desert sun.
Badwater Basin is located 17 miles south of Furnace Creek on Badwater Road.
Another fun fact: The highest point in the contiguous United States is Mount Whitney, which is 14,505 feet tall.  Badwater Basin and Mount Whitney are just 88 miles apart!
READ MORE: The most beautiful lakes in US national parks
---
2. Death Valley is the hottest place on Earth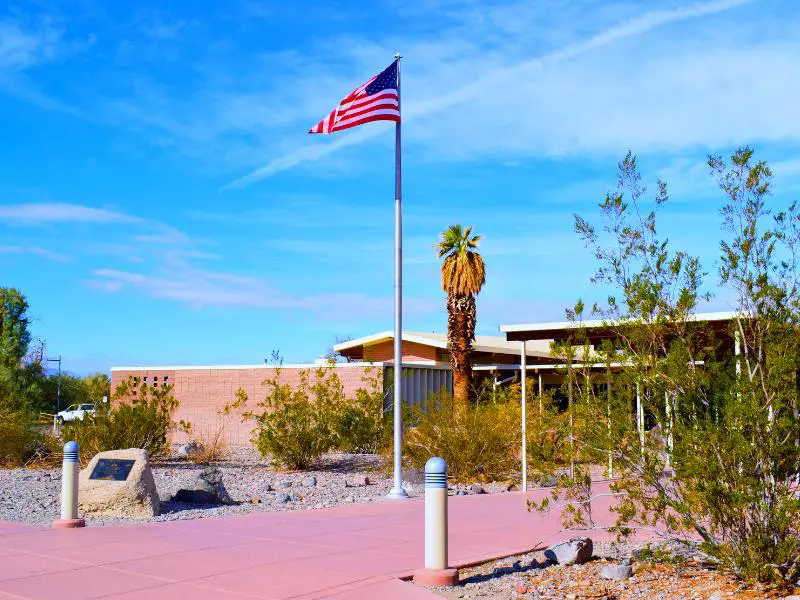 Another superlative?  Death Valley is not just hot.  It's the hottest place on the planet! 
There is a little contention in meteorological circles about this, but it's widely recognized that the hottest temperature ever recorded was 134°F (56.7°C) at Furnace Creek in Death Valley on July 10, 1913.  The contention is about the reliability of this measurement all the way back in 1913, but nonetheless, the record still officially stands.  
Want more recent temperatures? 
June 30, 2013 = 129°F (53.9°C)
August 16, 2020 = 130°F (54.4°C)
Now these are the most extreme temperatures, but they are pretty accurate reflection of summer in Death Valley.
The average highs in Death Valley in July are 116°F (46.7°C) and the average lows are still a sizzling 88°F (31.1°C). August isn't very different, just 2°F cooler.
If you do decide to visit in summer (not recommended), some tips are:
stay in well-traveled areas of the park, so that other people can help if your vehicle breaks down.
drink plenty of water (and have extra in your vehicle).
limit outdoor activities and only venture outside in the early morning and late afternoon.
visit the higher, cooler areas of the park.
Even better?  Visit Death Valley November – March when the weather is actually very pleasant.
READ MORE: The Best Time to Visit Death Valley National Park
---
3. Death Valley is the largest national park in the contiguous US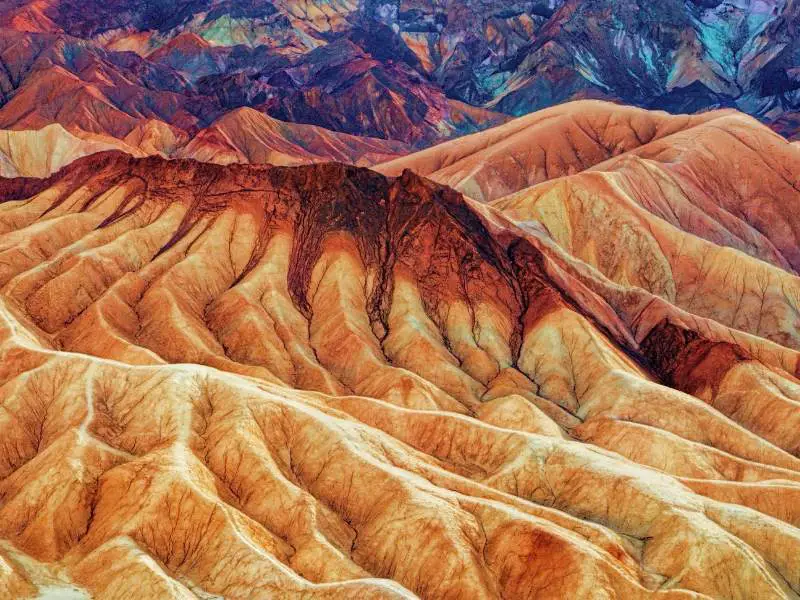 Death Valley National Park is 5,270 square miles. Although there are a few national parks in Alaska that are larger, this makes it the biggest national park in the lower 48 states. 
There are more than 300 miles of paved roads, 300 miles of improved dirt roads, and several hundred miles of unmaintained 4WD roads in Death Valley National Park.  These roads help visitors go between a variety of stunning desert landscapes.
There are sand dunes, salt flats, badlands, colored sands, mountain ranges, marble canyons, and much more!
READ MORE: Best Hikes in Death Valley National Park
---
4. Death Valley has one of the tallest sand dunes in North America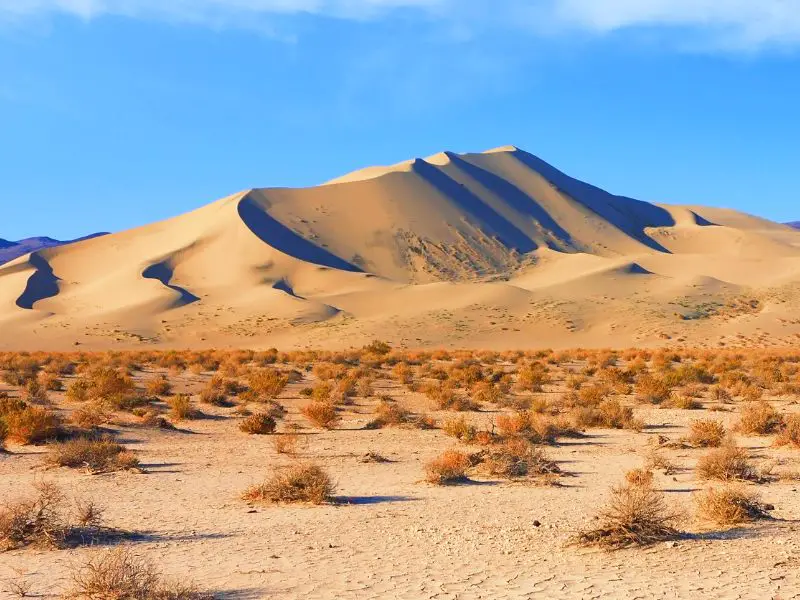 While it's true that Great Sand Dunes National Park has most of the tallest and widest sand dunes in North America, Death Valley isn't too far behind.  
The tallest sand dunes in California are the Eureka Dunes. They lie in the remote Eureka Valley, about 3,000 feet above sea level in the northwest part of the national park.  
The dunes are only a mile wide and about 3 miles long, but they rise more than 650 feet above the dry lakebed at their base.  Compare them to the tallest sand dune in Great Sand Dunes National Park, the 750-foot-tall Star Dune, and they aren't much shorter.
Eureka Dunes are kind of hard to get to, but they aren't the only sand dunes in the national park. Other dunes include Saline Valley Dunes, Panamint Dunes, and Ibex Dunes.  
By the most popular, however, are the Mesquite Flat Sand Dunes, which lie right next to the road near Stovepipe Wells, less than half an hour from Furnace Creek. 
READ MORE: A Grande Guide to Death Valley National Park for Kids by S del Grande
---
5. The world's rarest fish lives in Death Valley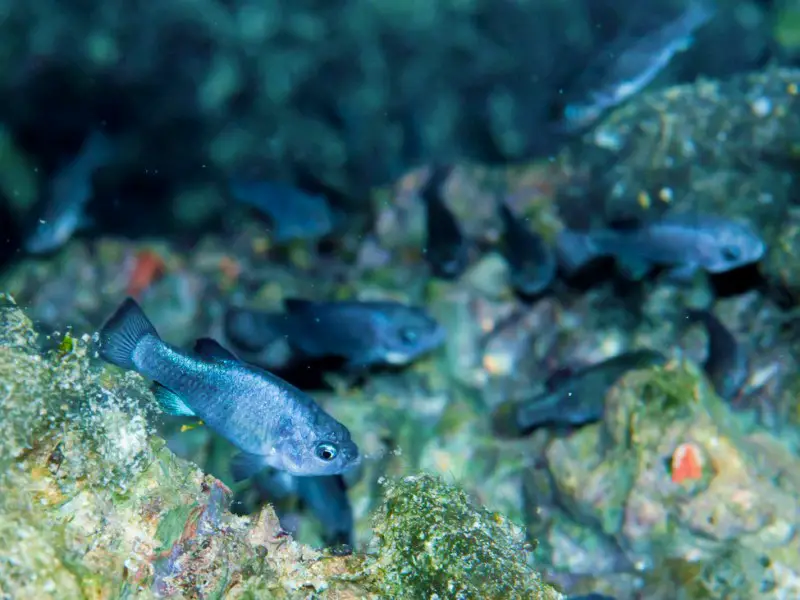 Yes, another superlative!  Who knew that any fish lived in the desert, but there are actually five types of pupfish that live in various waterholes in the valley. 
They are each considered a different species, which makes the Devils Hole Pupfish the rarest fish in the world.  
These fish live in Devils Hole, a water-filled cavern cut into the side of a hill. The cavern is over 500 feet (152 m) deep and the bottom has never been mapped. 
Devils Hole became isolated 10,000 to 20,000 years ago, but the fish living there have managed to survive due in part to the constant temperature (92°F) and salinity.
In 2022, scientists counted 263 Devils Hole Pupfish – the highest count in 19 years.  So, their population is small, but growing.  Who knows.  One day they may no longer be the rarest.
READ MORE: Learn more about these fascinating fish in Devils Hole Pupfish: The Unexpected Survival of an Endangered Species in the Modern American West by KC Brown
---
6. Wildflowers bloom in Death Valley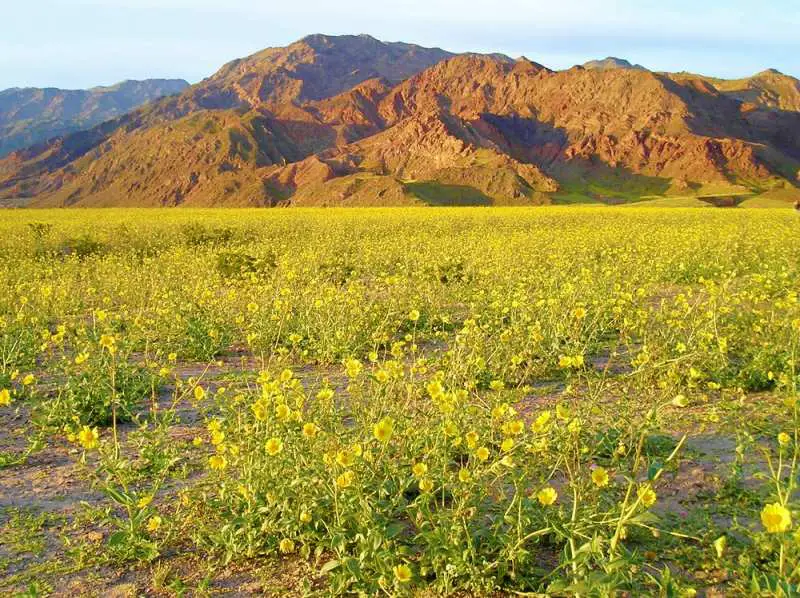 Death Valley is the driest place in North America. That doesn't mean it doesn't rain at all, though.  In the summer of 2022, an unusual deluge caused widespread flash flooding and washed out so many roads that the park was actually closed for a few days.  
Equally dramatic in a different way are the 'super bloom' wildflowers that often follow heavy rains in Death Valley. Although 1.7 inches of rain (almost the average annual rainfall of 2 inches) fell in one morning in August 2022, there was no superbloom that year.  In addition to rain, other conditions like "sufficient warmth from the sun" and a "lack of drying winds" are needed.
Although rare, the wildflowers super bloom does happen about once a decade when all the conditions are just right.  The last one was in early 2016. 
When it happens, it is truly spectacular.  The desert bursts into bloom and gold, purple, pink and white flowers carpet the land. 
READ MORE: If you get to visit when wildflowers are blooming (or are just interested), check out Death Valley Wildflowers: A Visitor's Guide to the Wildflowers, Shrubs and Trees of Death Valley National Park by SW Chadde, RS Ferris and JR Janish
---
7. There's a castle in Death Valley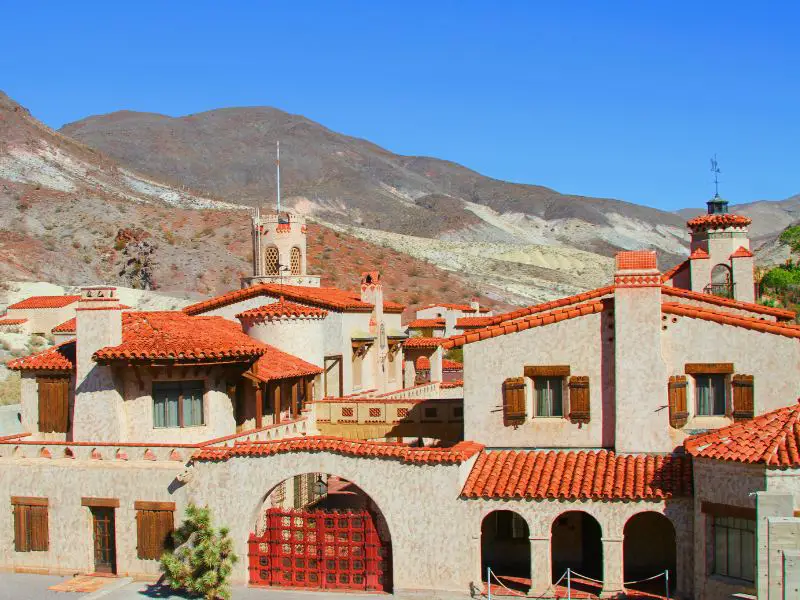 Scotty's Castle lies hidden in the green oasis of Grapevine Canyon in the far northern part of Death Valley.  It's usually referred to as "Scotty's Castle", despite being officially called Death Valley Ranch, and despite the fact that Walter Scott did not, in fact build it or even own it.
The complex was built in the 1920s by Albert Mussey Johnson, a well-respected and religious Chicago insurance magnate, as a vacation getaway for himself and his wife Bessie.
Walter Scott, on the other hand, was a shady character who held a variety of jobs including one as a roughrider for "Buffalo Bill" Cody's Wild West Show. 
Scotty claimed to have struck it rich in a secret Death Valley gold mine and convinced Johnson to invest in the mine. For several years a series of unfortunate events prevented Scotty from showing any actual gold to Johnson, at least according to Scotty. 
Eventually, Johnson decided to go and take a look at the mine himself.  After several grueling days in the Death Valley desert, they still didn't find the non-existent mine (not surprisingly).  However, Johnson's health improved, he fell in love with the desert, and he didn't seem to mind that he'd been swindled (surprisingly). 
He bought property, built his Death Valley Ranch vacation home in the 1920's, and then let Scotty live there full time. 
Even weirder? Scotty told everyone that he was building the two-million-dollar home with profits from his gold mine. And for some reason known only to himself, when asked by reporters, Johnson agreed that Scotty owned the place, and simply said that he was "Scotty's banker."
Scotty's Castle is now owned and operated by the National Park Service and has been a part of Death Valley National Park since 1970.
In 2015, a flood caused severe damage to the castle and it has been closed ever since while repair efforts are underway.  It will eventually be reopened and tours of the castle will resume.
READ MORE: If you'd like to learn more about Scotty's Castle: Death Valley's Scotty's Castle: The Story Behind the Scenery by SW Paher and F Hirschmann
---
8. There are volcanic craters in Death Valley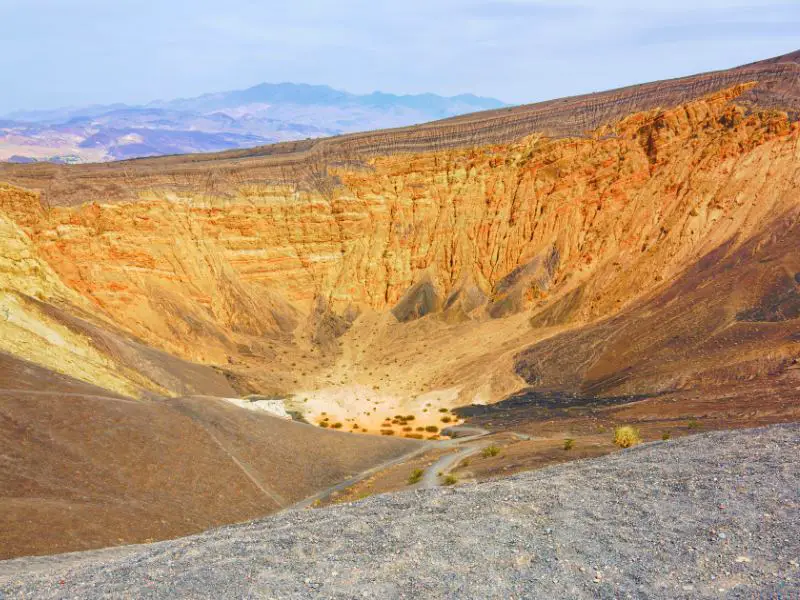 In addition to sand dunes, badlands, salt flats and a castle, Death Valley also has a volcanic crater!
Ubehebe Crater is half a mile wide and over 600 feet deep. It looks like a meteorite landed there, but in fact it is the youngest volcanic crater in California. 
It formed about 2,100 years ago (a blink of eye in geological time) but the most recent explosion might have happened as recently as 300 years ago.  
Local Native Americans called the crater "Tem-pin-tta- Wo'sah," meaning Coyote's Basket. However, the technical name for this type of crater is a maar.  A maar is a wide volcanic crater resulting from an explosion caused by groundwater coming into contact with hot lava or magma.
Ubehebe Crater is located about 56 miles north of Furnace Creek. 
You can see the entire crater from the parking lot on its rim.  However, it's worth hiking the loop around the crater.  The walk around the rim of Ubehebe Crater is about 1½ mile round-trip and leads past several smaller craters, including Little Hebe. 
READ MORE: Learn more about the geology of Death Valley in Geology Underfoot in Death Valley and Eastern California by Allen F. Glazner, Arthur Gibbs Sylvester, Robert P. Sharp
---
9. A lost and bitter gold digger gave Death Valley its name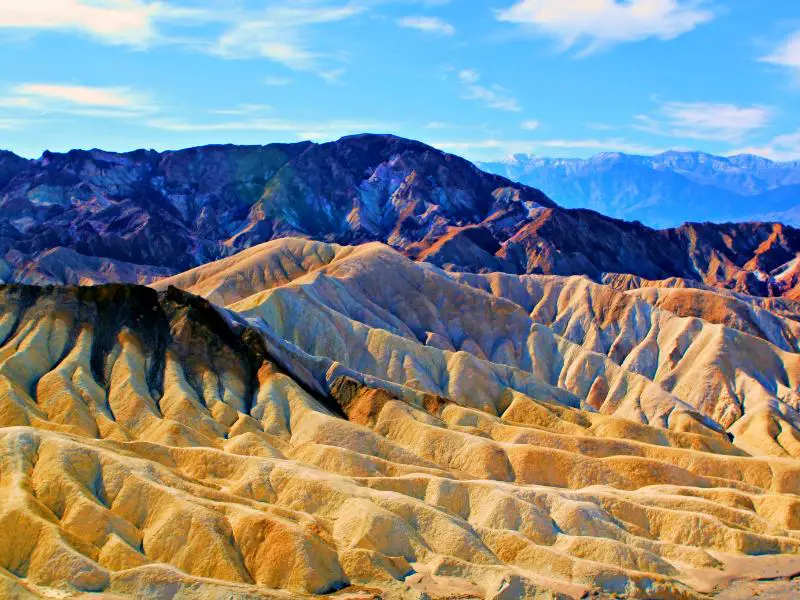 How did Death Valley get its name? The answer is one of the more interesting Death Valley history facts.
It starts with the discovery of gold in California in 1848 that then caused the Californian gold rush.  People from all over the US headed to California seeking their fortune. 
One such group, part of the Lost 49'ers (since they got lost in 1849), ended up lost and stranded in what is now known as Death Valley.  They were rescued by two young men in their party, William Lewis Manly and John Rogers, who had gone to get help, learned to be scouts, and returned to help them find a way out.
In fact, only one person in their party died (though the same can't be said for other people who set out from Salt Lake City with them and split off to take different routes).  This didn't stop someone in their party turning around as they climbed out of the valley, looking back, and uttering the famous words "Goodbye, Death Valley".  
READ MORE: Learn more about the Lost 49'ers in The Lost Death Valley Forty-Niner Journal of Louis Nusbaumer by G. Koenig
---
10. Death Valley is Tatooine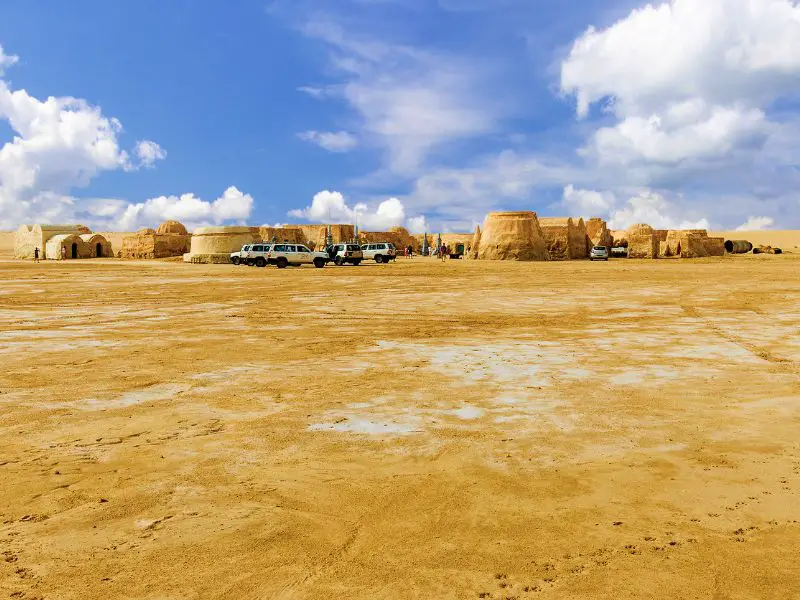 Let's move from the past to the future.
If you've ever watched a Stars Wars film, you'll probably recognize the name of the desert planet, Tatooine. 
In the opening scenes of the original 1977 Stars Wars movie, Luke Skywalker zips across his desert planet home in a skyhopper, and the Jawas traveled across the desert landscape in huge mobile fortresses called sandcrawlers.  
The alien landscape you're watching is in fact Death Valley, where these scenes were filmed!
Star Wars is perhaps the most famous movie filmed in Death Valley, but it's definitely not the only one.  Other movies include Return of the Jedi, Greatest Story Ever Told, Robinson Crusoe On Mars, Spartacus, Tarzan, and Zabriskie Point.
I guess because it's a rugged desert landscape that's not too far from Hollywood, it makes sense.
READ MORE: The Making of Star Wars: The Definitive Story Behind the Original Film by JW Rinzler
---
More Death Valley Facts and Information
Are you feeling inspired to visit Death Valley National Park?  Start planning your trip now with these guides:
---
Do you have any other Death Valley fun facts to share?  I'd love to hear them.  Join my private Facebook group National Parks Collectors and comment and let me know (you can also pick up extra planning tips, share your photos and stories with other national park lovers and more).
If you liked this post of facts about the Death Valley, please share the love and Pin It to your Death Valley National Park board!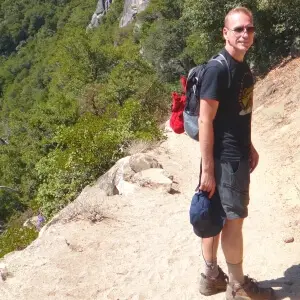 James Ian has dedicated his life to travel and has traveled to 82 countries and all 7 continents.  He's visited all of the main national parks in the United States, as well as many national monuments and state parks.
As a national park expert, James has contributed to many publications, including Time Business News, Savoteur, and Wired. He also has several published detailed itineraries in addition to many free online guides.
James has rafted through the Grand Canyon; rappelled down slot canyons near Zion and Arches; hiked among the hoodoos in Bryce and the enormous trees in Sequoia; admired the waterfalls in Yosemite and the colored hot springs in Yellowstone; seen moose in Grand Tetons and seals in the Channel Islands, and much more.
---
Parks Collecting is a participant in the Amazon.com Services LLC Associates Program, an affiliate advertising program designed to provide a means for sites to earn advertising fees by advertising and linking to amazon.com. Amazon and the Amazon logo are trademarks of Amazon.com, Inc. or its affiliates. As an Amazon Associate I earn from qualifying purchases.