Rocky Mountain National Park is a wonderland of snow-capped mountain peaks, waterfalls and beautiful lakes. Hiking the Rockies is a total bucket list item – the park is a hiker's paradise, and there are dozens of trails to choose from. Which can be a bit overwhelming.
So, to help you find the best hiking in Rocky Mountain National Park, I have, with the help of some other travel experts, compiled a shortlist of the best trails in Rocky Mountain National Park.
They range from very easy to challenging, but all are incredibly beautiful. You may see lakes, waterfalls, peaks or all three!
TOP TOUR: Book a small group tour from Denver now
TOP HOTEL PICK: Check availability now
FIND THE CHEAPEST CAR RENTAL: Search Discover Cars for the best deals
FIND THE CHEAPEST FLIGHTS: Search Skyscanner for the best deals
GET TRAVEL INSURANCE: Get insured with Travelex before you go
No time to read about the best hikes in Rocky Mountain National Park now?  Pin It and save it for later: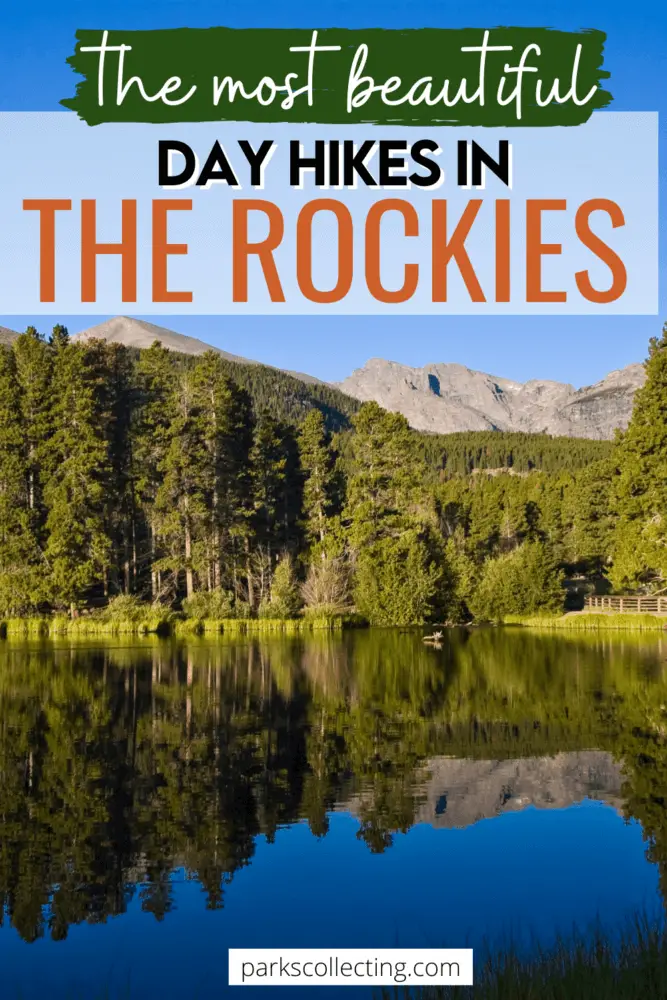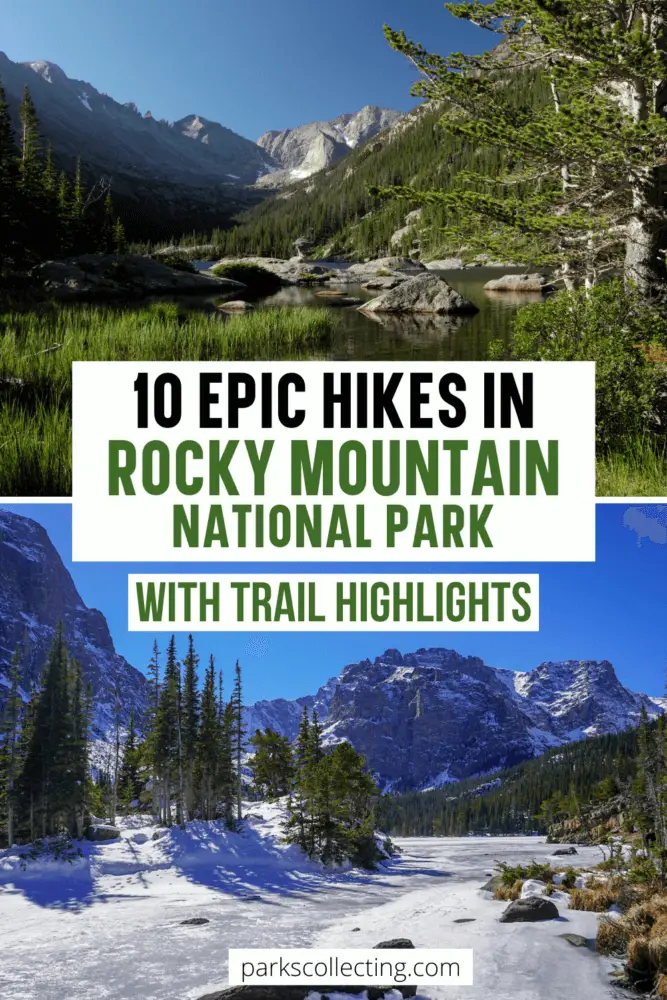 Essential Hiking Gear
Before you set out on these hikes, you will want to make sure you have the right gear.
Many of these hikes can also be done in winter – either hiking with Microspikes for traction or snowshoes. Read my Guide to the Best Things to do in the Rockies in Winter for more ideas if you're planning a winter trip.
---
The Best Hikes in Rocky Mountain National Park
Sprague Lake, Rocky Mountain National Park
Length: Approximately 1 mile | 1.6 km
Difficulty:  Easy
Trailhead: Sprague Lake Trailhead off Bear Lake Road.
The 1-mile Sprague Lake Loop is one of the best easy hikes in Rocky Mountain National Park. It's a scenic trail that meanders along the lake and offers amazing views of the mountains. There are several benches along the loop where you can sit, relax and soak in the incredible beauty of the lake and surrounding mountain peaks.
Insider Tips:
Arrive early, as it is a popular hike and it quickly gets crowded. This especially makes sense if you want to take photos of the mountains reflecting in the waters of the lake.
If you are visiting this lake during the peak season, consider taking a free shuttle, as it might be difficult to find a parking spot.
If you are visiting in summer, you will need to get a timed entry ticket to drive into the park (learn how here).
While summer is always busy here, consider visiting in spring when the lake is still covered by ice, or in fall to see the Aspen trees change their color. If you decide to visit Sprague Lake during spring, make sure to wear crampons or microspikes, as there will be plenty of ice.
I recently invested in the Kahtoola Microspikes and they make such a huge difference for hiking in the snow and ice. I highly recommend them! ~ James Get the Kahtoola MICROspokes here
Highlights:
The lake is incredibly beautiful, of course. But, one of the best aspects of visiting this lake is that you can see tons of wildlife from a very close distance. For example, I was once able to spot a moose who stood in the middle of the lake while eating grass!  It was a really cool encounter. Your chances to see some of the residents of the Rocky Mountain National Park will be higher, if you come here early morning.
Recommended by Daria B. from The Discovery Nut
---
Bear Lake, Rocky Mountain National Park
Length: 0.8 miles | 1.3 km
Difficulty: Easy
Trailhead: Bear Lake parking lot 
The Bear Lake nature trail is located at the end of Bear Lake Road. Another of the best easy hikes Rocky Mountain National Park has, it's famous for its beautiful views of the mirror-like lake and incredible blue color. The drive from Estes Park to the lake in itself is also a huge treat.
The hike is an easy walk around the lake with some small ups and downs with an elevation gain of merely 113 feet/ 34.4 m. Whether you're planning a 1, 2, or 3 day trip to Rocky Mountain National Park in summer, this is one of the most popular hikes in the park because for very little effort, your rewards are very high. Also, during winter when much of the park and trail ridge road is closed because of snow, the Bear Lake area is open for visitors. In winter and spring, the trail is covered with snow so it may be closed for walking.
Insider Tips:
Be sure to visit the lakes area first thing in the morning before the crowds get to lake so you can enjoy it in peace. 
This is one of the easy hikes in Estes Park, but there are many lakes in this part of the national park, so be sure to take time to stop at additional lakes. At the very least, stop at beautiful Sprague Lake, which is also a short walk. 
Highlights:
Serene and calming Bear Lake views 
Panoramic views of the Rocky Mountains 
Mirror-like reflection on the lake 
It's the starting point for many other hikes (1-10 – miles) for every level, such as Dream Lake.
Recommended by Jyoti Baid from Story At Every Corner
---
Sky Pond, Rocky Mountain National Park
Length: 9.5 miles | 15.3 km
Difficulty: Challenging
Trailhead location: Glacier Gorge Trailhead
If you are interested in hiking Rocky Mountain National Park to see all its beauty in one trail, this is it – several glassine lakes, pristine waterfalls, and jaw-dropping mountain views.
To start, you'll need to get to the Glacier Gorge Trailhead (note that parking here can be quite a challenge in and of itself) and follow the signs to Sky Pond. After about 0.7 miles, you'll reach Alberta Falls, a scenic 30-foot waterfall, to your right. Continue for an additional 0.7 miles where you'll reach a fork in the trail and continue on to the right towards Loch Vale. Keep climbing for another 0.5 miles to the next trail junction, where you'll continue down the middle fork to eventually reach the Loch, another glacial lake; and to Timberline Falls.
Here, climbers have to scramble up a section to the right side of the waterfall, which can be extremely slick and icy in colder months. Past Timberline Falls, you'll reach Lake of Glass, a smaller lake with its own waterfall, and finally, 0.5 miles from the top of the falls, you'll reach Sky Pond. Sky Pond is surrounded by columbines and other wildflowers and provides breathtaking panoramic views of the surrounding mountains.
Insider Tips:
Given how challenging parking near the Glacier Gorge trailhead can be, consider instead taking the park's shuttle from a less popular area.
The rock scramble up Timberline Falls is steep and narrow, only allowing one hiker to pass at a time in several sections. Because of this, bringing along good footwear (find a detailed guide to the Best Hiking Shoes here) and patience is a must. Plus, remember that it's always more challenging to scramble down something rather than up!
Highlights: Alberta Falls, The Loch, Timberline Falls, Lake of Glass, Sky Pond, and all those mountain views!
Recommended by Jessica Schmit from Uprooted Traveler
---
Dream Lake, Rocky Mountain National Park
(and Nymph Lake, Rocky Mountain Park)
Length: 2.2 miles | 3.5 km
Difficulty:  Easy
Trailhead: Bear Lake Trailhead
Dream Lake in Rocky Mountain National Park is definitely one of the best day hikes in Rocky Mountain National Park – you can see three lakes in about two miles! The fairly easy trail is beautiful in the summer, fall or winter.
The trail starts at the Bear Lake trailhead, and heads left soon after. The fork to the right goes to nearby Bear Lake, and you will probably want to stop there first (it's a very short diversion and well worth it). The Dream Lake trail, mostly paved at this point, climbs steadily towards Nymph Lake. Stop and enjoy this lovely lake and its lilies.
Then continue past Nymph Lake to Dream Lake. There is a short fairly steep section that has great views of Longs Peak and, a little higher up, Hallett Peak. About 1.1. miles into the hike, there is another junction. Take the right fork to Dream Lake.
Dream Lake is a dream. It opens up to vast views of the peaks above. In the winter, it's a winter wonderland! The lake freezes over but if the wind blows off the snow, you can see bubbles trapped in the ice.
Insider Tips:
You also have the option of extending this hike to be 3.8 miles by continuing on to Emerald Lake, Rocky Mountain Park.
In the winter, this is a great trail to snow hike, snowshoe, or backcountry ski. Just make sure if you're planning on going in the winter, you wear appropriate footwear and a traction device like snowshoes or microspikes.
As noted above, I LOVE the Kahtoola Microspikes. They are a total game changer if you are into (or want to get into) winter hiking! ~ James Get the Kahtoola MICROspokes here.
Highlights: Bear Lake; Nymph Lake, Dream Lake; Emerald Lake (with the extension); mountain peaks
Recommended by Jenny Kotlyar from Limitless Hiker
---
Alpine Ridge, Rocky Mountain National Park
Length: Alpine Ridge Trail is one of the shorter hikes in Rocky Mountain National Park at 0.6 miles | 965 m
Difficulty: Easy – due to the short distance. But one thing to note, the trail is steep and high in elevation. It's best suited for those able to climb the steps up to the top.
Trailhead: The Alpine Visitor Center parking lot
It may be one of the shortest Rocky Mountain hikes, but this hike packs a punch. Its high elevation means you'll have incredible views at the top. Drive up to the Alpine Visitor Center (the drive offers some of the most beautiful views across the country). It's not for the faint of heart as Trail Ridge Road is a bit twisty and closes in the winter for safety reasons.
Once you reach the Alpine Visitor Center, you'll immediately see the trail. The elevation starts at 11,796 feet and you'll gain another 209 feet walking up. There are interesting facts to read on the way. Once you climb the steps and make your way to the top, you'll be greeted with breathtaking views. And you'll officially be standing on a 12,000 foot peak. There's even a sign where you can take your picture and commemorate your walk up.
While the hike isn't particularly long, we recommend it for the views. If you're bringing kids, it's a great, easy hike for even younger ages. It won't take a full day, so you will have plenty of time to visit the Alpine Visitor Center after your hike for all kinds of RMNP gifts.
Insider Tips:
It's best to take your time hiking up as the altitude can affect some people who aren't used to it.
Plan your visit in the months when Trail Ridge Road is open (usually May – October)
Highlights: Some of the best views in Rocky Mountain National Park
Recommended by Brittany from Family On Standby
---
Mills Lake, Rocky Mountain National Park
Length: 5.3 miles | 8.5 km
Difficulty:  Moderate
Trailhead:  Glacier Gorge Rocky Mountain National Park Trailhead
A short distance into the hike, there is an intersection. Go left at the fork. After about 0.8 miles, you will reach the 30-foot Alberta Falls. At the 1.6-mile mark, there is another junction (with the North Longs Peak Trail). Go right here. 0.5 miles further on, is the three-way junction with a trail that goes to The Loch and Sky Pond (straight) and Lake Haiyaha (right). Turn left and soon after you will cross Vale Brook and enter into Glacier Gorge.
2.4 miles into the hike is Glacier Creek where a poorly marked trail on the right goes a short distance to the small Glacier Falls. Back on the main trail, Mills Lake is just another 0.2 miles further on. Continue around to the east shore of the lake for the best views.
Insider Tips:
If you have a little steam left, Jewel Lake is just another 0.5 miles on an easy trail and is worth the extra effort.
As with most of the Rocky Mountains hiking trails, it is best to get there early, as the parking lots fill up quickly. Consider taking the free park shuttle.
Highlights: The beautiful lake; Alberta Falls; Glacier Falls, Glacier Gorge
---
The Loch, Rocky Mountain National Park
Length: 5.7 miles | 9.2 km
Difficulty:  Moderate
Trailhead: Glacier Gorge Trailhead
Hiking in Rocky Mountains often involves going over a series of interwoven trails, and this one is no exception. The trail starts the same as the Mills Lake trail. 1.6 miles into the hike, instead of going left to Mills Lake, go straight ahead. You will soon start ascending some steep, short switchbacks. Icy Brook is on your left. 2.8 miles into the hike, you will come to The Loch lake (Loch Vale). Across the lake is Taylor Peak and Taylor Glacier.
Insider Tip: If you go around the north side of the lake, you will start to see Powell Peak.
Highlights: The lake and surrounding mountain scenery
---
Cub Lake, Rocky Mountain National Park
Length: 4.8 miles | 7.7 km
Difficulty: Moderate
Trailhead: Cub Lake Trailhead, Moraine Park area
The trail crosses the Big Thompson River and skirts along the west side of Moraine Park. Keep an eye out for elk, especially in the fall. After 0.5 miles, turn right at the junction and follow Cub Creek past several small lakes (Beaver Ponds) on your left. 1.9 miles in, the trail begins to ascend over rocky terrain through an aspen forest. About 0.4 miles later, you will pass the junction to a campground and then soon after, reach the lake. The lake is usually covered with water lilies in the summer, and you may even see moose here.
Insider Tip: The parking area is small, so I recommend taking the free hiker shuttle from the Moraine Park Visitor Center
Highlights: The lily-filled lake; chances of seeing elk and moose
---
Ouzel Falls, Rocky Mountain National Park
Length: 5.4 miles | 8.7 km
Difficulty: Moderate
Trailhead: Wild Basin Trailhead. This is near Meeker Park and Allenspark in the southeast corner of the national park.
On this Rocky Mountains trail you can see three waterfalls in less than three miles!
0.3 miles into the hike, you will come to lower Copeland Falls. Upper Copeland Falls are a short 0.1 miles further on. A side trail visits both falls and then rejoins the main trail. 1.6 miles into the hike, you will pass a small unnamed waterfall and then 0.2 miles past that are the 200-foot high (long?) Calypso Cascades. It's another 0.9 miles further on are the 40-foot high Ouzel Falls.
Insider Tip: The falls are best seen in spring when the snowmelt turns them into a thundering spectacle. You can see the falls from the footbridge, but there is a better view if you go off trail just a bit.
Highlights: Copeland Falls; Calypso Cascades; Ouzel Falls
---
Coyote Valley Colorado River, Rocky Mountain National Park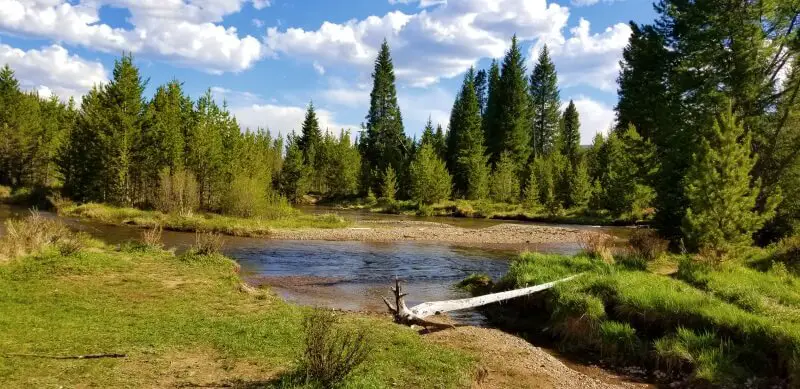 Length: 2.2 miles / 3.5 miles round trip
Difficulty: Easy
Trailhead: Coyote Valley Trailhead, 5 miles north of the Kawuneeche Visitor Center
If you are looking for a leisurely hike in Rocky Mountain National Park, then Coyote Valley Colorado River Trail is just the hike for you. It's one of the park's most accessible trails perfect for any skill level and especially great for kids or seniors.
The 1.1-mile trail includes a bridge to cross the river and several benches to stop and rest or simply take in the beautiful surroundings. The path is stamped gravel so it's truly an easy hike.
The trail goes along the river so the rushing water is a soothing sound which really connects you with the natural beauty of Rocky Mountain National Park. With a relatively flat area near the river, wildlife are commonly seen during this hike. Elk, moose, fox and deer are just some of the wildlife you may run into.
Whether you're spending a lot of time hiking in Rocky Mountain National Park, or you are combining this park in a larger Colorado Road Trip, this short hike will be well worth your time.
Insider Tips:
Don't forget to pack the bear spray and bug spray for this hike in summer!
Get bear spray here or a bear bell here.
You can get bug spray with DEET, which is stronger, but is pretty bad for your skin and the environment, and without DEET. For the Rockies, you should be fine without DEET. Buy organic, non-DEET spray here
If you are feeling adventurous, hike beyond the trail end about another 0.5 miles on a dirt trail. An easy path alongside the river leads you to a clearing where RMNP's majestic peaks open to jaw-dropping scenery. 
Highlights:
Scenic river trail with plenty of spots to rest and soak in the views
Near the west side of the park common for wildlife sightings 
Easy trail, perfect for young families or an addition to other day hikes
Recommended by Nikki from She Saves She Travels
---
Map of the best Rocky Mountain National Park hiking trails
Here is an overview of these Rocky Mountain trails, so you can see where in the park they are. For a more detailed map of the best Rocky Mountain National Park hikes, pick up the Rocky Mountain National Park trail map by National Geographic.
Read More: Best airports near Rocky Mountain National Park
---
Happy hiking!  
Do you have any other favorite Rocky Mountain National Park trails?  I'd love to hear about it.  Join my private Facebook group National Parks Collectors and comment and let me know.
If you liked this post about the best Rocky Mountain hiking trails, please share the love and Pin It to your National Parks or Hikes board!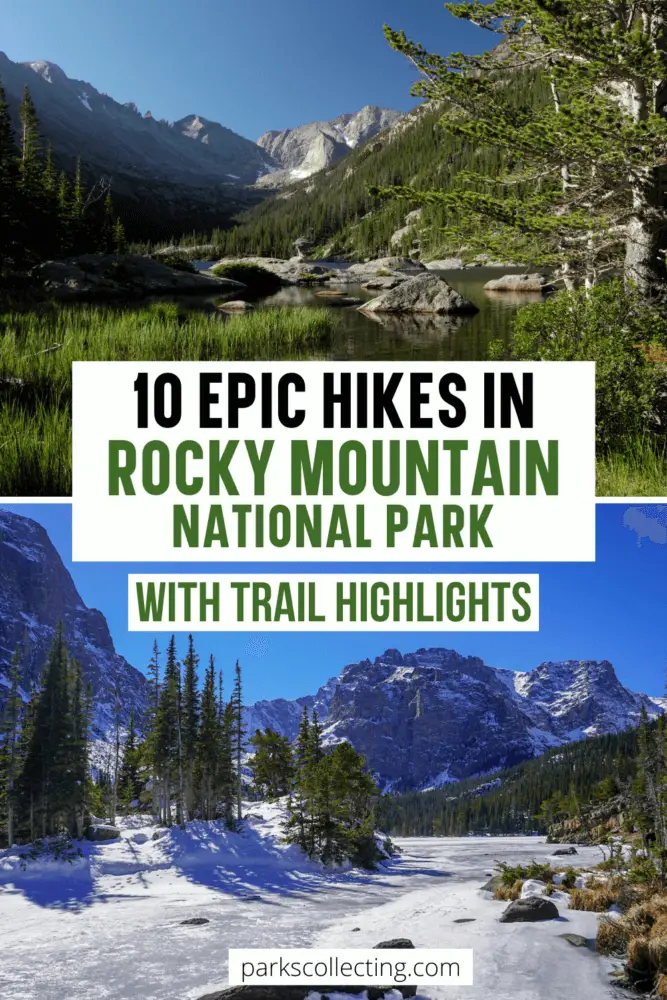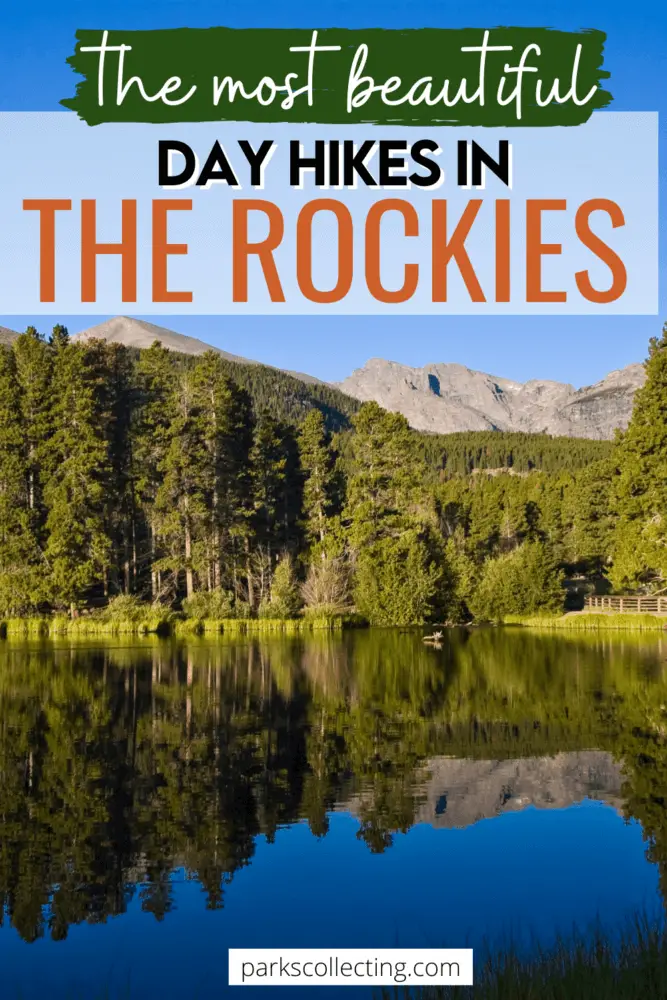 ---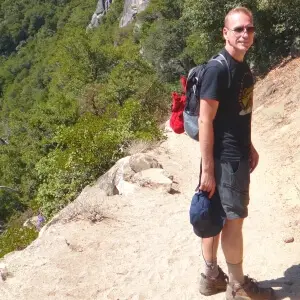 James Ian is a national park, camping and hiking expert.
He has dedicated his life to travel, visiting more than 80 countries, all 7 continents and all of the main national parks in the United States. With over 35 years experience in the travel industry, James has worked on cruise ships, at resorts and hotels, and as a travel planner who's helped hundreds of people plan successful trips to US national parks. 
Based on his experience visiting our national parks multiple times, in-depth research and expertise as a travel planner, James has published detailed itineraries for most of the major national parks in the US. These itineraries, as well as in-depth park guides, comprehensive camping and hiking gear reviews and buying guides, and helpful packing lists and gift guides will help you have your own incredible trip to US national parks without stress and hassle.
As a national park expert, James has contributed to many publications, including Time Business News, Savoteur, Best Trip, and Wired.
---
Parks Collecting is a participant in the Amazon.com Services LLC Associates Program, an affiliate advertising program designed to provide a means for sites to earn advertising fees by advertising and linking to amazon.com. Amazon and the Amazon logo are trademarks of Amazon.com, Inc. or its affiliates. As an Amazon Associate I earn from qualifying purchases.