So, you are planning to take a vacation this Winter.  Rocky Mountain National Park is a great option.  There are so many wonderful things to do in winter in Rocky Mountain National Park that you will want to stay even longer! 
From fun winter activities for the whole family to winter wildlife and more adventurous activities for adults, there is something for everyone. 
No time right now to read about the fun things to do in Rocky Mountain National Park in winter?  Pin It and save it for later: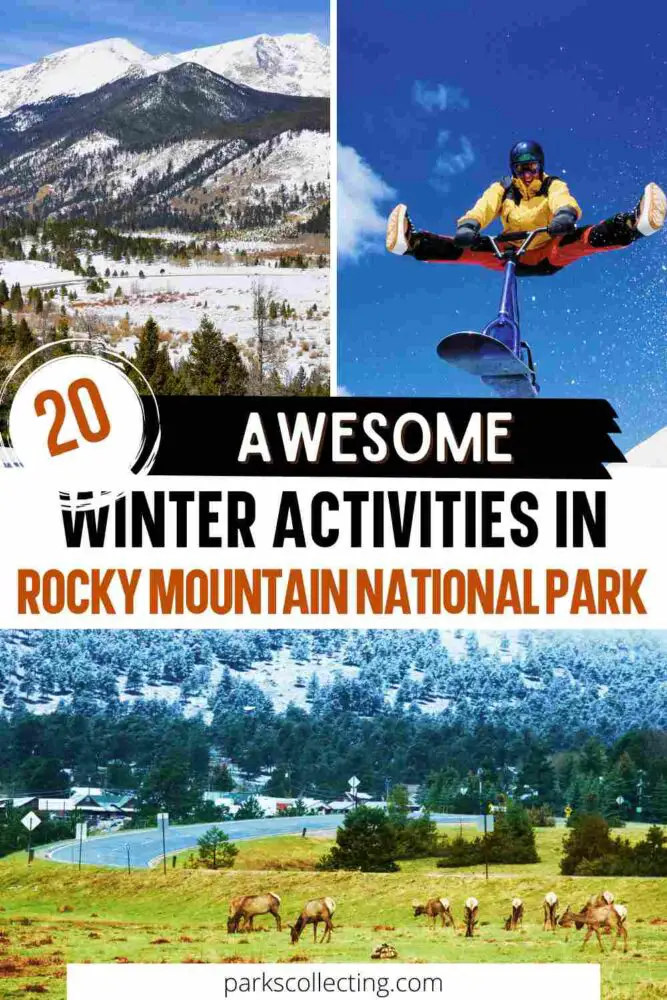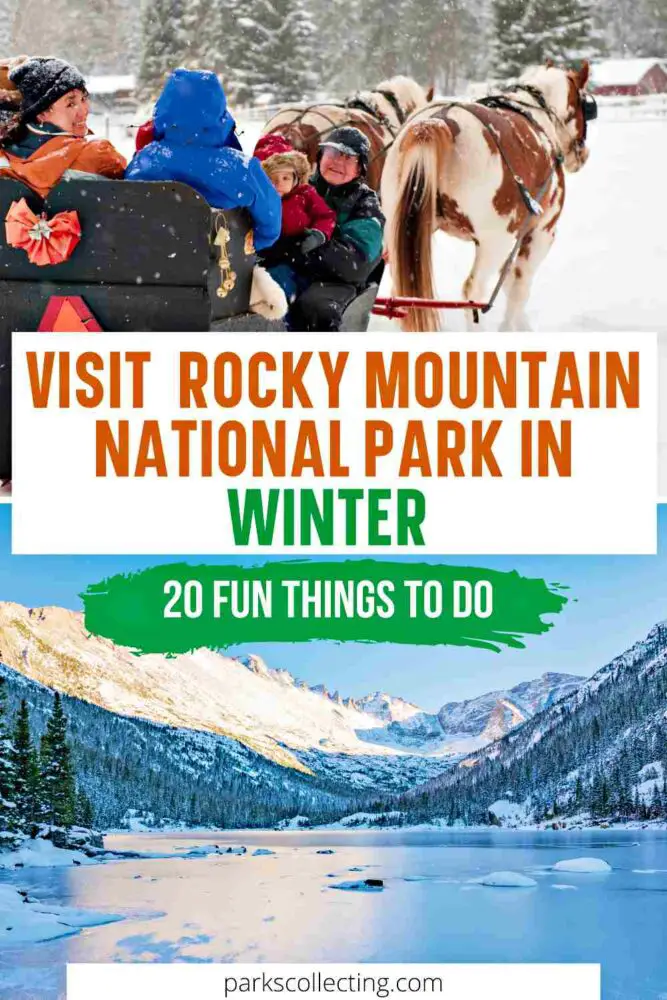 Please note this post may contain affiliate links, which means we may receive a commission, at zero cost to you, if you make a purchase through a link. Please see our full Disclosure for more information. If you have any questions, please contact me.
1. Go Sledding in Hidden Valley 
Hidden Valley is a former ski resort that is now the premier place for sledding in Rocky Mountain National Park.  Since it is well and truly inside the national park, the ski resort was closed back in 1992. Today, the lower slopes are designated specifically for sledding.  This is wonderful winter fun for the whole family! 
It's open from 10:00am to 4:00pm daily. There is a warming hut open on weekends and holidays and bathrooms every day.   
You will need to take your own sled (note that sleds with metal runners are not allowed).  You can buy a sled here or rent one in Estes Park. 
Another option is to take a tour.  A three-hour tour includes sled rental and a guide who will provide you with commentary and information about the park as well. 
Book a 3-hour sledding Rocky Mountain National Park tour right here 
---
2. Be Wowed by the Winter Wildlife  
Winter is a great time to see elk, as they migrate down from the higher levels to the warmer lower ground.  There is a good chance to see herds of elk gathered in meadows, framed by snowy peaks behind them.   
Places where you have a good chance of seeing elk in winter include Moraine Park, Upper Beaver Meadows, Horseshoe Park, Bear Lake Road, and the Fall River entrance to the park. Devil's Gulch and even on the streets of Estes Park are other places you may see winter wildlife in Rocky Mountain National Park.   
The elk start calving in late April, so this is a great time to see baby elk! 
Although elk are the most common winter animals to see, you may also see moose (Kawuneeche Valley on the west side of the park is a good place to look) and even bighorn sheep. 
---
3. Go Cross Country Skiing 
If you like – or would like to try – cross country skiing, Rocky Mountain National Park is your place. Both sides of the park offer great opportunities for skiing. 
On the west side, the Tonahutu Creek Trail to Grand Lake is a popular place for skiing.  On the east side, head to the Bierstadt Lake Trail from Bear Lake Road. 
There is also skiing near Rocky Mountain National Park in the Brainard Lake Recreation Area, through the trails there are ungroomed.  If you'd prefer easier groomed trails, then Devils Thumb Ranch is a good option.   
There are several ski rental shops in Estes Park and Grand Lake.   
---
4. Try Snowshoeing 
There is great snowshoeing in Rocky Mountain National Park.  There are frozen lakes, snow covered mountains and gorgeous alpine scenery.   
Many of the best snowshoe trails Rocky Mountain National Park has are in the Bear Lake Road corridor on the east side of the park.  Popular destinations include the Bear Lake Loop, Glacier Gorge, and Club Lake and Mills Lake.  
If you're new to snowshoeing, read my Guide to The Best Snowshoes for Beginners before buying snowshoes.  You can also rent them in Estes Park. 
The mountain scenery helps make this area some of the best snowshoeing. Rocky Mountain National Park can have avalanches, though, so if you're heading up into the mountains, always check avalanche conditions before you go. 
---
5. Go Winter Hiking in Rocky Mountain National Park 
If you like winter hiking, Rocky Mountain National Park is a dreamland. There are easy trails like the short walk to Bear Lake, as well as longer trails.  Old Fall River Road and Upper Beaver Meadows Road on the east side of the park are both closed to vehicles in the winter and are great places for hiking. 
If you plan to hike, I strongly recommend investing in a good pair of Microspikes.  These spikes slip over the bottom of your hiking boots to give you traction on ice and compacted snow.  Read my Guide to the Best Microspikes so you know what to look for and for some recommendations.  
I also recommend buying a set of the National Geographic Rocky Mountain topographical maps here before you go. 
Book a guided winter hiking tour to the best photo spots in Rocky Mountain NP here
---
6. Explore Rocky Mountain National Park with a Ranger 
Ranger-led snowshoe hikes are offered January – March on both sides of the park.  This is a great chance to see some of the scenery while learning more about the park at the same time.  Reservations are required. 
---
7. Take a Winter Tour 
A tour is another great way to see and learn more about this incredible national park.  
There is a three-hour informational tour of the park from Estes Park to the Alpine Visitors Center taking in the most popular areas within the park. The guides will share lots of information about the park, making this a more meaningful and enjoyable experience than just driving through the park yourself. You get your own two-way radios to communicate with the guide clearly and easily throughout the tour as you drive in your own vehicle.  Book the 3-hour winter tour in Rocky Mountain National Park here. 
Another great three-hour tour, this photographic tour from Estes Park includes a short stop at the Stanley Hotel and then goes into the national park so you can take stunning winter photos.  Stops include Sheep Lakes, the partially frozen Alluvial Fan waterfall, Sprague Lake and part of the Trail Ridge Road. Photography tips are provided as well. Book the three-hour photography tour in Rocky Mountain National Park here. 
---
8. Have Fun Snow Tubing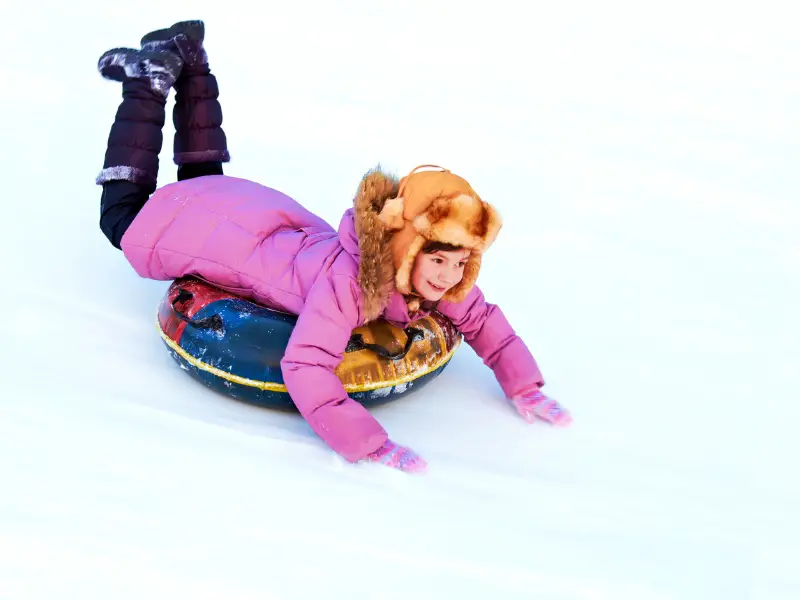 There are plenty of places where you can go snow tubing in and around the park.  Sliding down a snowy slope in an inner tube is great fun for the whole family. 
Hidden Valley inside the park is a great place for tubing as well as sledding.  BYO tube, which you can rent in Estes Park. 
On the west side of the park, the Grand Lake Nordic Center has a sledding and tubing hill.  Bring your own tube or share one of ten they provide.  Another option on the west side is the Fraser Tubing Hill, where tube rentals are available.  
---
9. Go Downhill Skiing or Snowboarding 
There are 32 world class ski resorts in Colorado.  Several of them are close to Rocky Mountain National Park, so if you like to downhill ski or snowboard, you can easily combine a ski trip with your visit to the national park.   
The closest ski resort to Estes Park is the Eldora Ski Resort, about 47 miles away and on the west side of the park, Winter Park Resort is just 35 miles from Grand Lake.  Both of them have a range of ski runs suitable for all experience levels, and offer lessons if you are new to the sport.  
---
10. Try Ski Biking 
For something a bit different, if you're an experienced skier or snowboarder, try a ski bike!  Basically a bicycle or tricycle on skis, this is a real thrill!  Guided trips are available at Winter Park Resort on the west side of the Rocky Mountains.  There are also two-hour trips offered at Vail Ski Resort.  
Note that you do need to be an intermediate level skier or snowboarder to participate. 
---
11. Get Lucky Ice Fishing  
Anglers will love Rocky Mountain National Park in winter.  You can catch trout through a hole in the ice AND be surrounded by breathtaking alpine scenery.  Ice fishing is allowed on all open-fishing lakes and ponds in the park, on both sides. Check the national park's fishing page to see which areas are closed to fishing, but most of the lakes are open. 
Note that because no mechanical equipment is allowed in the wilderness, you need to use hand augers.  A valid Colorado fishing license is required if you're 16 or older. 
---
12. Try Ice Climbing  
Imagine climbing a frozen waterfall or a steep icy slope.  Use ice picks and crampons to grip to a sheer or very steep frozen surface!  Welcome to ice climbing – a thrilling, and perhaps a little scary – winter adventure sport.  Rocky Mountain National Park and nearby Vail are prime destinations. 
Professional guides teach beginners the basic skills and take you on safe guided climbs.  Or, if you have done this before, you can take your skills to the next level with more advanced techniques and climbs. 
Colorado Mountain School is based in Boulder but do trips into the national park, and the Kent Mountain Adventure Center is in Estes Park.  
---
13. Watch Skijoring in Leadville 
Skijoring (or Ski Joring) is a winter sport that is found around the world in various forms.  Sometimes it involves sled dogs pulling skiers behind them, but the Rockies' tradition is a crazy event in which skiers are pulled by a horse and rider around a timed obstacle course with jumps, rings and gates. 
The skijoring event has been happening in Leadville, a couple of hours south of Grand Lake, on the first full weekend in March since 1949. 
---
14. Get Festive at a Winter Festival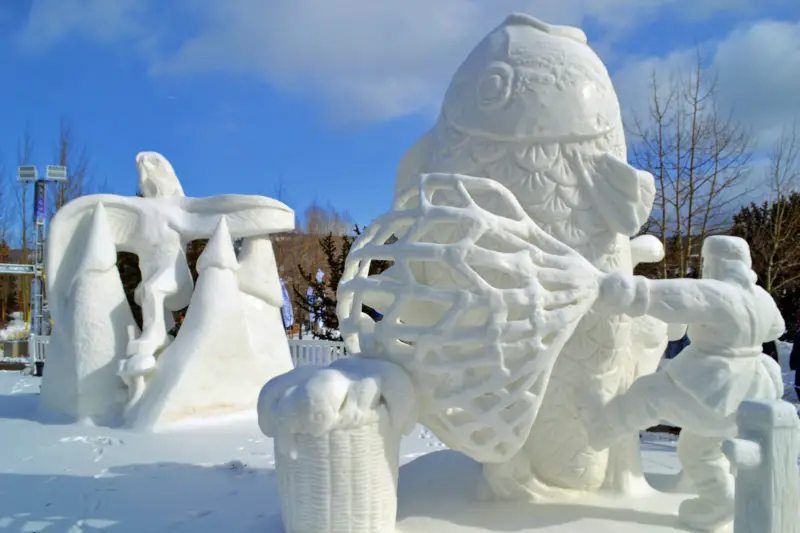 There are several winter festivals in the Rockies and if you time your visit right, you can enjoy the seasonal festivities.  Just some of the winter festivals around Rocky Mountain National Park are: 
---
15. Spend a Spooky Night in a Legendary Hotel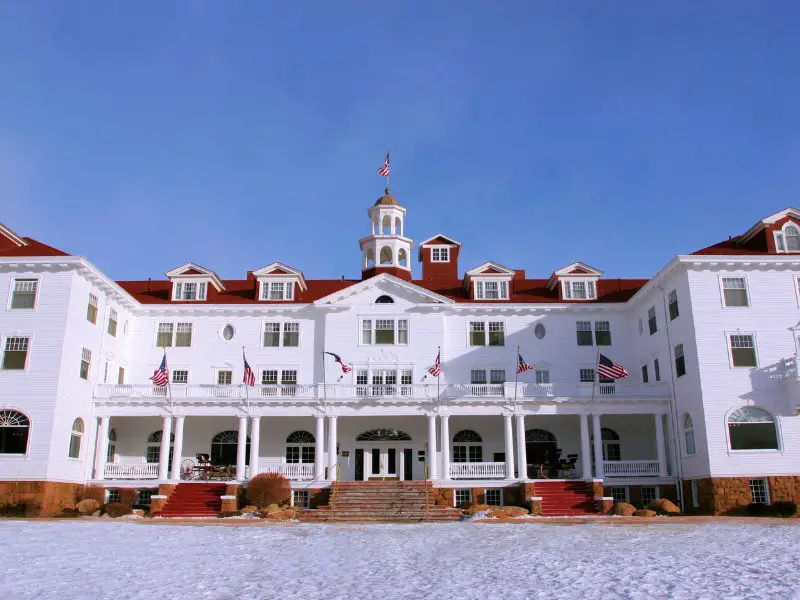 The Stanley Hotel is one of the most famous hotels in or near US national parks.  Located in Estes Park, The Stanley Hotel is most famous for featuring in The Shining.   
There are several 'spirited' rooms that have high paranormal activity.  You can share your room with the ghost of Lord Dunraven (room 407); watch spectral children play (room 418), become a Ghost Hunter (room 401); or follow in Stephen King's footsteps (room 217).   
Winter nights are long and dark … just saying… 
---
16. Go Snowmobiling in Rocky Mountain National Park 
If you like snowmobiling, Rocky Mountain National Park is the place to be. 
The best (and safest) snowmobiling is on the west side of the park in Grand County.  There are hundreds of miles of good snowmobiling trails in the relatively flat area just west of the national park itself.  
You can rent snowmobiles in Grand Lake, Granby and Winter Park.  The surrounding wood and meadows are great places, and rental places can give you tips on local spots and trails to go. 
If you are new to snowmobiling, you might prefer to take a snowmobiling tour.  A guide can give you driving tips and make sure you are always in a great area within your comfort zone. Grand Adventures is one of several outfitters that offer guided and unguided snowmobiling experiences. 
The season last from mid-December through to April.   
---
17. Soak In a Hot Spring 
There is little better in life than soaking in warm thermal waters outside in the middle of winter.  On the west side of the park, the Hot Sulphur Springs Resort in the small town of the same name, has outdoor natural hot water spring pools that you can book, along with a massage, in two-hour time slots.  It is just 30 minutes from Grand Lake.   
A little further afield is Strawberry Park Hot Springs near Steamboat Springs (pictured).  The open-air hot water springs are a more natural experience, surrounded by a snow-covered forest. They're open from 10:00 am to 10:00 pm daily.  
---
18. Soak Up the Scenery 
There are all sorts of ways you can take in the breathtaking scenery on Rocky Mountain National Park.  But it's worth taking a break from snowshoeing, skiing, hiking, or touring and just stop and soak it all in. 
This is one of the most beautiful national parks in the entire country and it is especially beautiful when the trees are covered in gorgeous alpine snow, the waterfalls and lakes are frozen, and the mountains are jagged rocks popping out from under their blankets of snow. 
---
19. Enjoy a Spa Day 
Whether you're escaping indoors on a snowy day, recovering after a day out in wilderness, or just treating yourself to all you deserve, a massage or spa treatment is the perfect balance to all the winter activities.  Get a relaxing Swedish massage or a rejuvenating deep tissue massage, or try other treatments like hot stone therapy, reflexology, cupping, or aromatherapy.   
There are several spas in the areas just outside the national park including Affinity Massage and On the River Massage in Estes Park and  Mountain Soul Wellness in Grand Lake 
---
20. Take a Sleigh Ride 
On the west side of the park, Dashing Through the Snow in Fraser offers rides in a sleigh pulled by enormous draft horses. 
Live out your Jingle Bells fantasy by snuggling under a warm blanket and enjoying the winter scenery while listening the jingle of the sleigh's bells.  Warm up afterwards with a cup of hot cocoa and some roasted marshmallows.   
Sligh rides are also available in Estes Park. 
Read More: Best airports near Rocky Mountain National Park
---
Have a wonderful winter trip to the Rockies!  
Do you have any other winter activities in the Rocky Mountains that you recommend?  I'd love to hear them.  Join my private Facebook group National Parks Collectors and comment and let me know.
If you liked this post, please share the love and Pin It to your Rocky Mountain National Park board!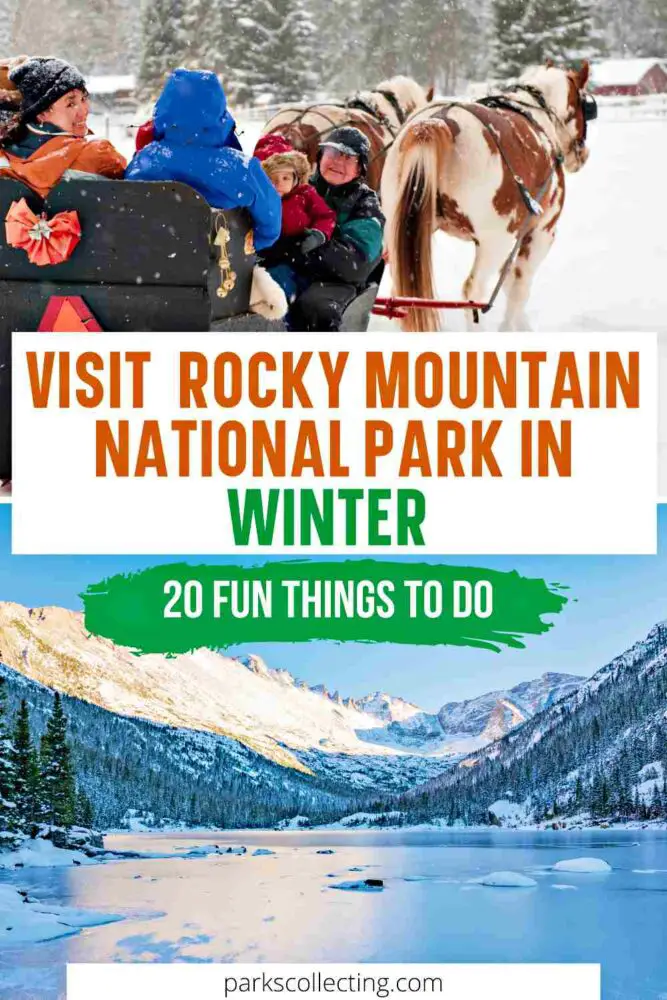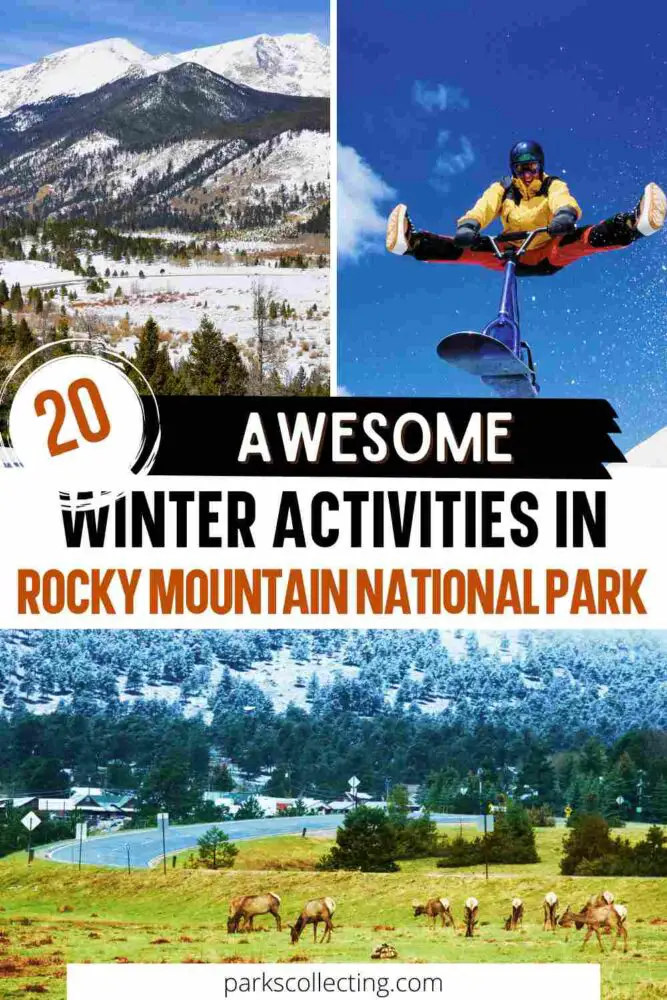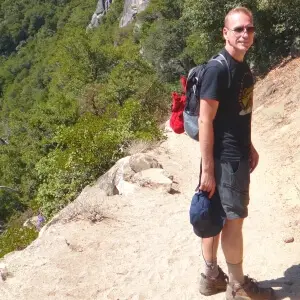 James Ian has traveled to 82 countries and all 7 continents.  He has visited all of the main national parks in the United States, as well as many national monuments and state parks.
He has rafted through the Grand Canyon; rappelled down slot canyons near Zion and Arches; hiked among the hoodoos in Bryce and the enormous trees in Sequoia; admired the waterfalls in Yosemite and the colored hot springs in Yellowstone; seen moose in Grand Tetons and seals in the Channel Islands, and much more.
---
Parks Collecting is a participant in the Amazon.com Services LLC Associates Program, an affiliate advertising program designed to provide a means for sites to earn advertising fees by advertising and linking to amazon.com. Amazon and the Amazon logo are trademarks of Amazon.com, Inc. or its affiliates. As an Amazon Associate I earn from qualifying purchases.