Winter is a great time to visit Grand Teton National Park.  Jackson Hole gets a lot of snow in the winter, which makes it an ideal destination for winter activities. From snowshoeing to snow tubing and wildlife viewing to dog sledding, there are so many fun things to do.  
I am a national parks expert.  In this guide, I have listed all the best Grand Teton winter activities.  Read on for plenty of great ideas that will help you plan your winter trip to Grand Teton National Park and Jackson Hole. 
TOP TOUR: Book a 4-day winter tour now
TOP HOTEL PICK: Check availability now
FIND THE CHEAPEST CAR RENTAL: Search Discover Cars for the best deals
FIND THE CHEAPEST FLIGHTS: Search Skyscanner for the best deals
GET TRAVEL INSURANCE: Get insured with Travelex before you go
No time right now to read about the best things to do in Grand Teton National Park in winter?  Pin It and save it for later: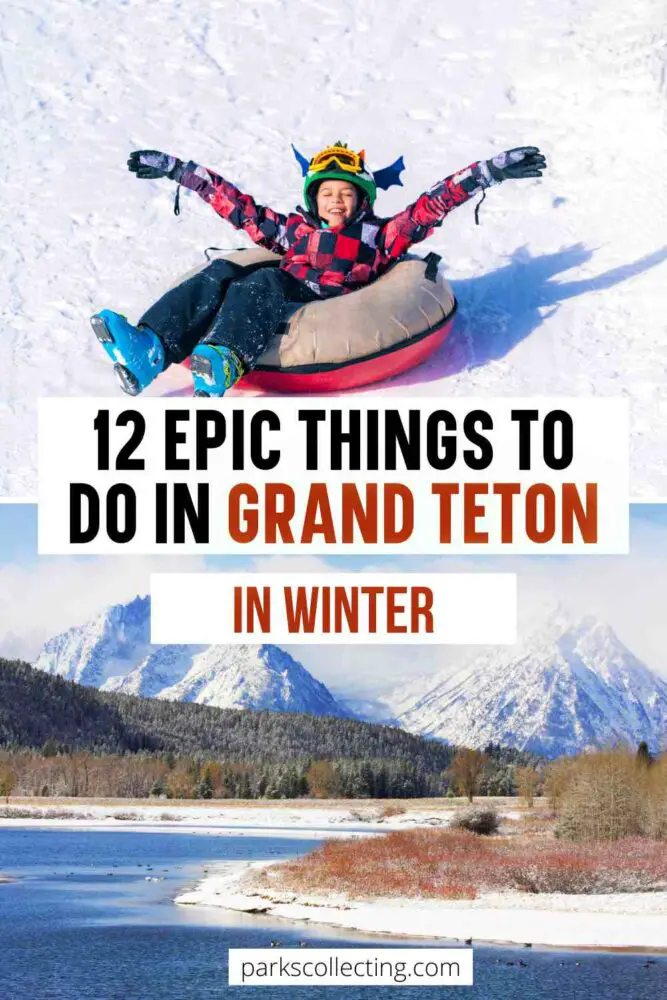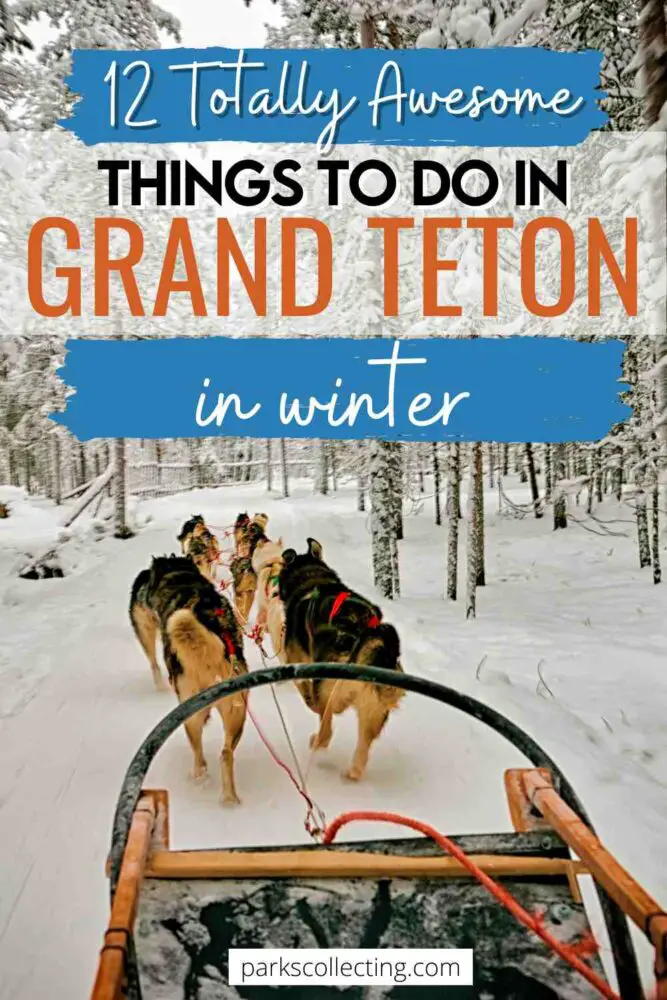 Please note this post may contain affiliate links, which means we may receive a commission, at zero cost to you, if you make a purchase through a link. Please see our full Disclosure for more information. If you have any questions, please contact me.
1. Go Snowshoeing 
Grand Teton National Park is stunning any time of year, but there is something especially magical when it is covered in snow.  Snow shoeing is like hiking – the perfect way to get out into nature and enjoy it in surround-sound, Cinescope realness.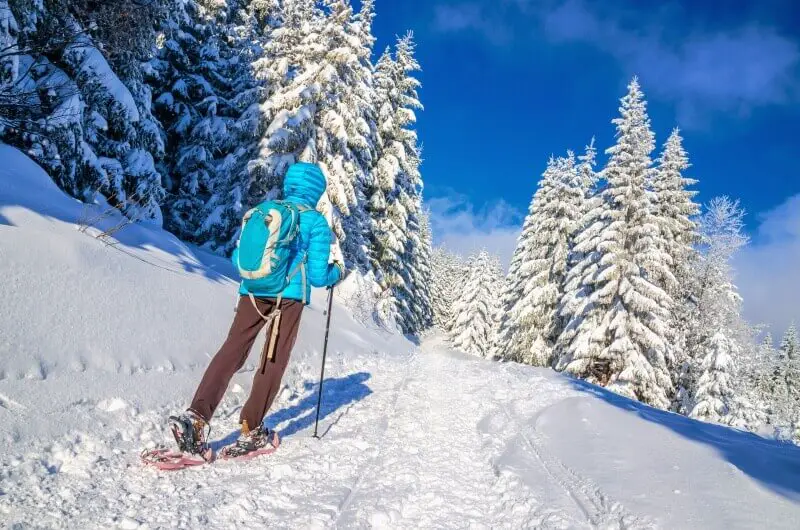 There are a few options for snowshoeing Jackson Hole.  If you are new to snowshoeing or new to the area, then going on a guided snowshoeing tour is a good idea.  There are a few options: 
4-hour easy snow shoeing guided hike 
If time is limited, you have never snow shoed before, or you aren't sure of your fitness level, then this is the best choice. 
The trails chosen are easy, an experienced guide will share tips and techniques, and the pace is leisurely.  All equipment, including snow shoes, trekking poles and even binoculars, are provided.  Maximum 7 participants.  Morning and afternoon trips are available. 
Book a 4-hour snow shoeing hike here 
Full day snow shoeing and wildlife experience 
This trip is a brilliant winter day trip. 
Spend the morning snowshoeing in Grand Teton National Park and the afternoon on a driving safari through the National Elk Refuge to see elk and possibly moose, bighorn sheep, foxes, and trumpeter swans. Snow shoeing equipment, binoculars, lunch in a local restaurant and hotel pickup are all included. 
Book a full day snowshoeing and National Elk Refuge safari here 
If you are feeling more confident and have your own snowshoes, then you can also go snowshoeing independently.  
If you need snowshoes, be sure to read my Guide to the Best Snowshoes for Beginners!
Teton Park Road is groomed for snowshoeing and skiing from mid-December to mid-March.  This is the best place for Grand Teton snowshoeing.   
Other places in Jackson Hole that are open for snowshoeing in winter include: 
Cunningham Cabin 
Moose – Wilson Road  
Grassy Lake Road 
Snowshoeing Etiquette 
When snowshoeing, there are some basic rules of etiquette that you should follow. 
The groomed trails are shared with cross country skiers, but if you walk where people are skiing, you will ruin the ski tracks.  So avoid snowshoeing on the ski trails. You should snowshoe parallel to the ski track. 
If you want to take a break, step aside out of the way so that anyone behind you can keep going through easily without having to detour around you. 
---
2. Go Cross-Country Skiing 
If you like skiing, Grand Teton is the perfect winter destination for you. There is both downhill and cross-country skiing.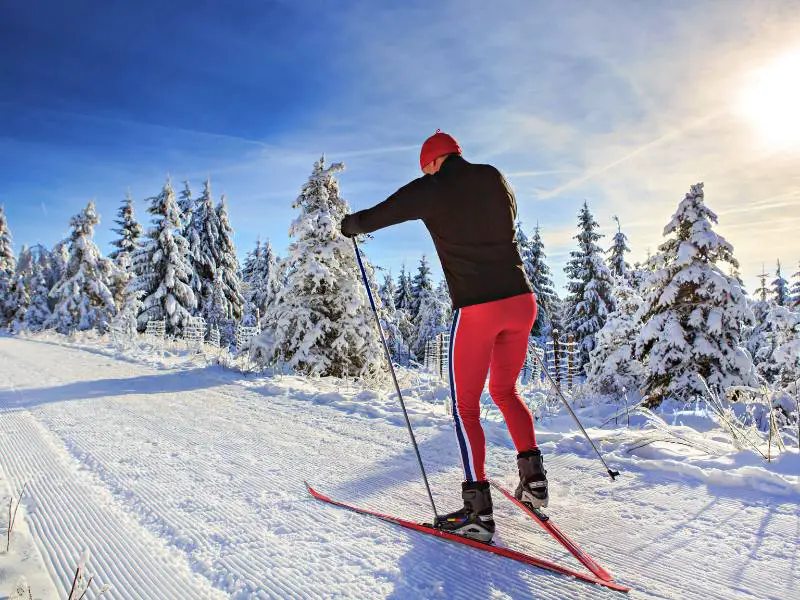 Grand Teton National Park is a great place for cross country skiing.  If you've never done it before, this is a great place to start.  There are several places with groomed trails, and, of course, the ever present snow-covered Grand Teton mountains as a stunning backdrop. 
In Grand Teton, skiing is easy because there are over 14 miles/ 22.5 kilometers of groomed Nordic/ cross country skiing trails.  
Teton Park Road is closed to traffic all winter between Taggart Lake Trailhead and Signal Mountain Lodge.  It is especially groomed to provide a packed surface for skiing from mid-December to mid-March.  
Outside the park in nearby Jackson Hole, cross country skiing is also possible at Antelope Flats Road, Flagg Ranch and Moose-Wilson Road.  For Moose-Wilson Road, which is also groomed for skiing in winter, you can park at the junction to the Death Canyon Road or the Granite Canyon Trailhead. 
If you'd prefer to take a guided tour, there is a four-hour cross-country skiing trip in Grand Teton National Park Tour.  This has easy skiing that is ideal for beginners. There is a certified professional ski Instructor/ naturalist guide who will give you a quick lesson on what to do, and round out you're the trip with information about the wildlife in the area. 
>> BOOK THE 4-HOUR GRAND TETON CROSS-COUNTRY SKIING TOUR 
Skiing Etiquette 
When skiing, there are some basic rules of etiquette that you should follow. Always stay on the ski trails, but yield to faster skiers so that you don't hold them up.  Step off the track if you want to take a break so that other skiers don't need to detour around you.  
If there are some steep sections, you should ideally leave your skis on and side-step down the steep bits (or go around if that's possible/ easier).  
---
3. Ski the Slopes 
Jackson Hole is one of the most famous downhill ski / snowboard destinations in the US.  The most popular places for downhill skiing / snowboarding are Jackson Hole Mountain Resort, near Teton Village, and Snow King Resort in Jackson.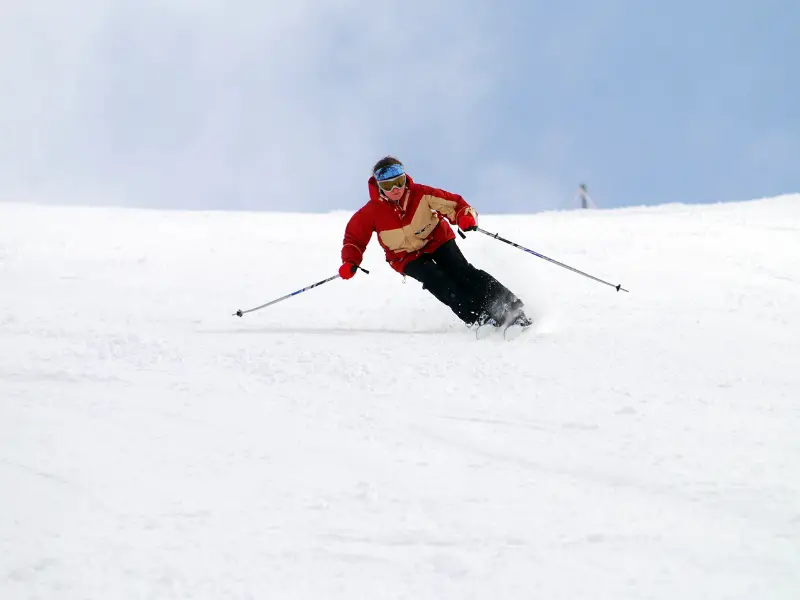 Jackson Hole Mountain Resort 
There are two steep mountains, dozens of runs of varying levels of difficulty and about 450 inches/ 11.5 meters of snow each year.  
Find a hotel in and around Teton Village here 
Snow King Mountain Resort 
This is a ski-in/ ski-out resort with 3 lifts and 32 named runs of varying difficulty level. It's on the outskirts of Jackson, so is super convenient.  They also have other activities such as a roller coaster and snow tubing. 
Check availability and prices for Snow King Resort 
If you'd prefer to stay in an Airbnb, check out my Guide to the Best Airbnbs in Jackson Hole (which includes a selection from Teton Village). 
---
4. Enjoy winter hiking 
Grand Teton National Park winter hiking options are more limited than in summer, but that doesn't mean you can't get out and hike.  All of the groomed trails listed above for snowshoeing and skiing are also suitable for hiking.
Popular Grand Teton winter hikes include Taggart Lake and Bradley Lake (both from the Taggart Lake Trailhead). 
I actually love hiking in winter.   
Snowshoeing is fun for a while, but I find hiking less exhausting and more enjoyable in the long term.  As long as a trail is packed down and as long as you have Microspikes or crampons to give you traction, then you can just as (more) easily hike the trails. 
Microspikes are key though!  I never used to like hiking in winter much because I was always afraid of slipping over, but as soon as I got Microspikes, that all changed.  I have – and love – the Kahtoola MICROspikes, which fit over my hiking boots.  
Read my Guide to the Best Microspikes for FAQs, reviews and recommendations.
Learn more about the Kahtoola MICROspikes and see prices here 
Also, be sure to check my Essential Winter Hiking Gear list to make sure you have everything you need. 
---
5. Go snowmobiling 
Grand Teton Snowmobiling is a great way to explore when everything is covered in snow!  You can take your own, rent a snowmobile and trailer locally or go on a guided trip.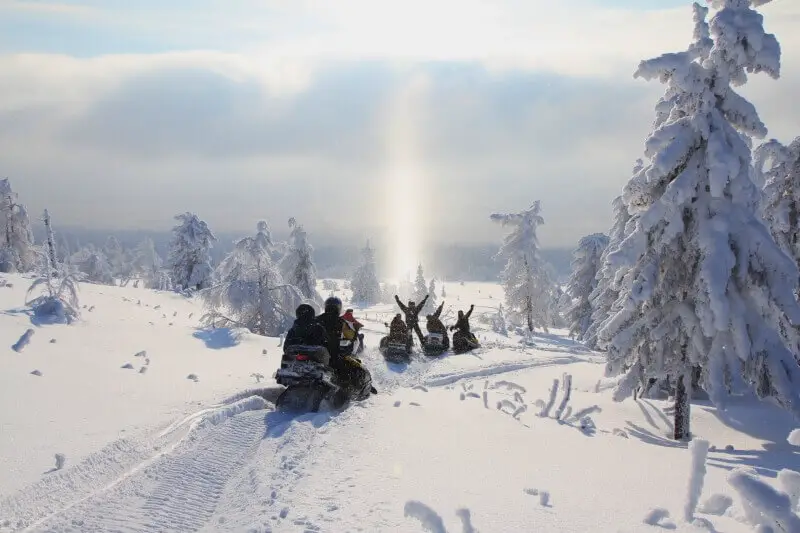 If you are new to snowmobiling or the area, you I recommend taking a guided snowmobiling tour from the Heart Six Ranch. The full day trip from Jackson includes a half day out on the snow, as well as some time at the Heart Six dude ranch.  
Check current prices and availability for the Snowmobile guided tour 
Can you snowmobile in Grand Teton?  
If you want to snowmobile independently, the only place inside Grand Teton National Park that you can snowmobile is the Colter Bay Swim Beach area of the frozen Jackson Lake, and this is only for ice fishing.  A Best Available Technology (BAT) snowmobile is required. 
Where can I snowmobile in Jackson Hole Wyoming? 
There are plenty of places in Jackson Hole just outside Grand Teton National Park where you can snowmobile independently.  These include:  
Grassy Lake Road  
The Grassy Lake Road section of the Rockefeller Parkway is open for snowmobiling in the winter months (BAT snowmobiles are not require), 
Granite Hot Springs 
You can snowmobile to Granite Hot Springs (in Hoback Canyon south of Jackson) and then soak in the hot water to make a full day trip! 
Gros Ventre Mountains 
The Gros Ventre Mountain Range form the eastern edge of the Jackson Hole valley.  With amazing views of the Teton mountain range and frequent wildlife spotting, they are a great place for snowmobiling.   
Togwotee Pass 
There is an area with trails groomed for snowmobiles as well as plenty of wide open snow-covered spaces near the top of Togwotee Pass.   
---
6.  Ride a dog sled 
Live your winter western fantasy and go dog sledding in Jackson Hole, Wyoming.  You will sit snug and warm on a sled pulled by a team of huskies.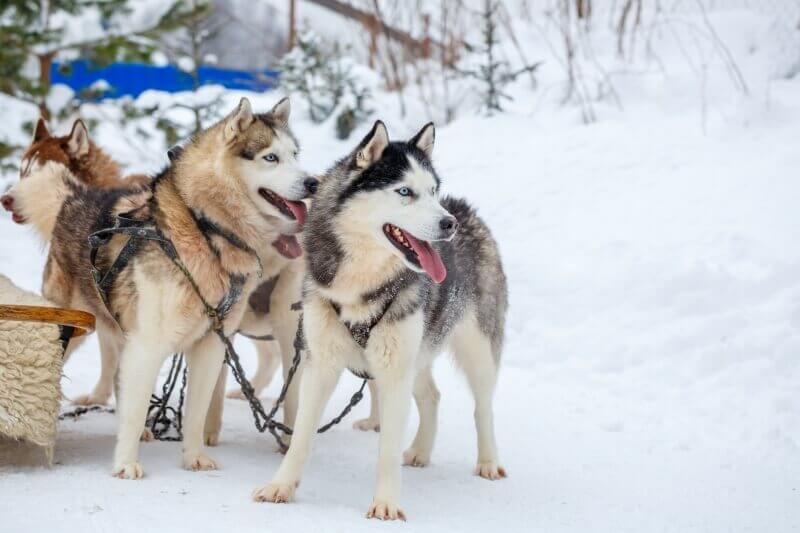 When I did dog sledding, I was a little worried about dogs pulling all that weight, but I was reassured by my professional guide that huskies are working dogs – they are happiest when they are working and are never asked to pull more than they can comfortably do. 
Being pulled behind a team of dogs in the snow is an awesome experience.  There is a two-hour Jackson Hole dog sledding experience along the Buffalo Fork River through the river valley.     
Book your dog sledding experience here 
---
7. Take a sleigh ride through the National Elk Refuge, Jackson Hole 
The 25,000-acre National Elk Refuge is just northeast of Jackson. In summer, it's a bare grassy field.  However, in winter (mid-December – late March), it is home to about 7,500 elk.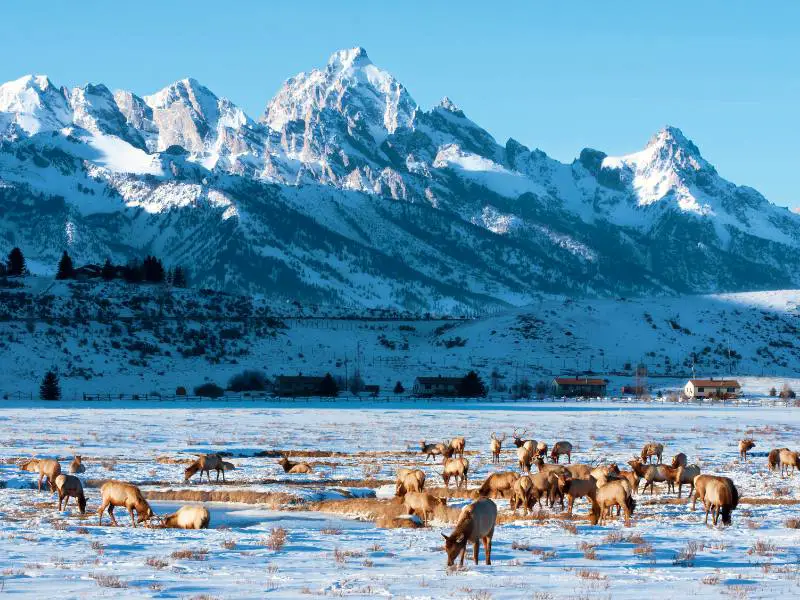 The elk come down from the higher elevations to stay warm and they congregate in the area of the refuge. You may also see bison for the same reason. 
The best way to see the elk is to take a horse-drawn sleigh ride in the National Elk Refuge. Jackson Hole sleigh rides include a guide who explains all about the elk and their migration.   
You can actually take a full day tour that includes half a day inside Grand Teton National Park looking for wildlife and then an afternoon sleigh ride through the elk refuge.  
>> BOOK THE 8-HOUR GRAND TETON AND ELK REFUGE TOUR 
---
8. View winter wildlife 
While winter is not the best time to see bears, since they hibernate in winter, it is a good opportunity to see other wildlife, including elk (see above).  
Other Grand Tetons wildlife you can see in winter are: 
Wolves 
Wolves follow game, so you can often see them in the National Elk Refuge.  Another area wolves are commonly seen in winter is the Willow Flats Overlook, which is near Jackson Lake Lodge off Highway 191.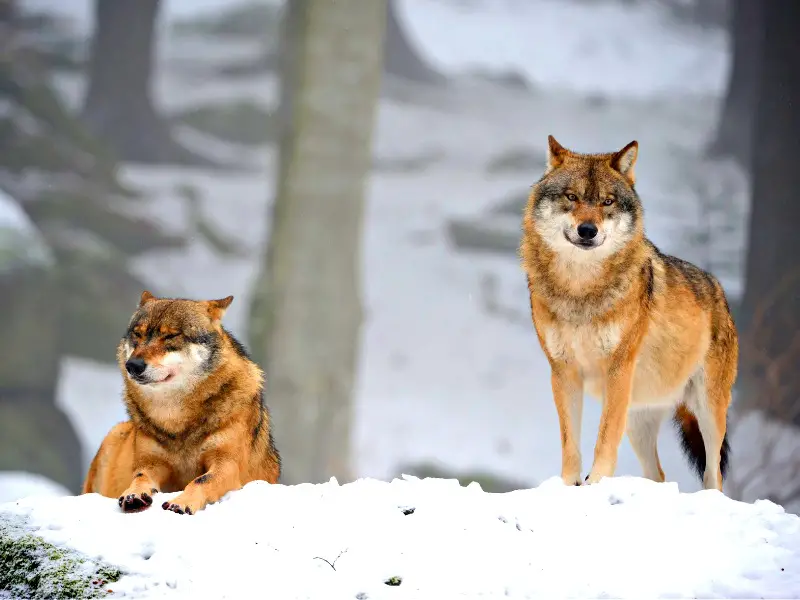 Bighorn Sheep 
Did you know that Bighorn Sheep are the largest wild sheep in North America?  Easily identified by their long curly horns, Bighorn Sheep are often seen around Millers Butte in the National Elk Refuge in late November – December.
You should also not miss a trip to the National Bighorn Sheep Center in Dubois, Wyoming, where you can learn all about Rocky Mountain bighorns.   
There is a full-day tour that spends the morning in Grand Teton looking for Bighorn Sheep, plus a visit to the National Bighorn Sheep Center and a stop to see native American petroglyphs. 
>> BOOK THE 8-HOUR GRAND TETON BIGHORN SHEEP AND PETROGLYPH TOUR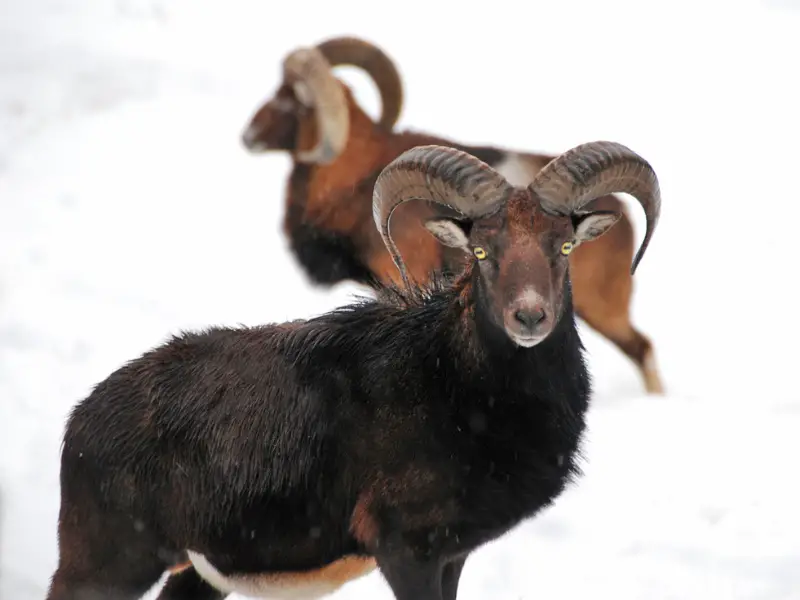 Trumpeter Swans 
Trumpeter Swans migrate through the Jackson Hole valley in early winter.  Flat Creek is a good spot to see them.  
Moose 
A good place to see moose in early winter are the flats north of Kelly. 
Another tour option is a full-day trip that includes half a day snowshoeing and half a day looking for wildlife.  It includes a visit to the National Elk Refuge and you are accompanied by a naturalist guide. 
>> BOOK A PRIVATE 8-HOUR GRAND TETON WILDIFE AND SHOWSHOE TOUR
Binoculars 
In order to see the animals in detail, you will need a good pair of binoculars, as you will rarely get that close to them. 
If you are planning to visit other national parks in the future and hope to see wildlife on this and other trips, owning a pair of binoculars is totally worth the money.  While you can certainly buy some super strong (and expensive) ones, you can also get a pair that are reasonably priced and adequate for vacation wildlife viewing.  
Buying binoculars can be a little overwhelming at first – there are several things to you need to know about, including magnification, field of view and materials used. To help you make the best decision, I have written several detailed guides with useful tips, what to look for and the best options in different categories. 
If you just want to know the top pick for best value binoculars, they are the Vortex Optics Diamondback 10×42 Roof Prism Binoculars, which you can pick up on Amazon here. 
---
9. Take a scenic drive 
I have written a detailed guide to the 42-mile scenic loop drive in Grand Teton National Park.  This works for summer when all of the roads are open; however, although a section of the inner road, Teton Park Road, is closed in winter, that doesn't mean you can't do a large part of the Grand Teton Scenic Drive in winter.  The scenery is especially stunning in winter when everything is covered in snow.   
There are two sections of Teton Park Road (the inner road of the loop) that are open.  You can drive from Moose to Taggart Lake Trailhead in the south and from Jackson Lake Junction to Signal Mountain Lodge in the north.   
The entire outer road (Highway 191) is open and regular plowed. 
Highlights that you can see on the open sections of the Grand Teton Scenic Loop Drive in winter include: 
Snake River Overlook.  This is open all year 
Oxbow Bend. This is open all year 
Cunningham Cabin. The pullout is usually open, but the road from the pullout down to the cabin is usually unplowed and you would need to hike in. 
Moose. Moose is open all year, though you will need to hike/ snow shoe/ ski into the Chapel of the Transfiguration 
Antelope Flats and the Momon Barns. This is open until it gets snowed in, which is usually around mid-December, so if you are visiting early in the winter, you may still be able to visit here.  
Schwabacher Landing. Schwabacher Landing winter access is similar to Antelope Flats.  It closes around mid-December as soon as the snow blocks it.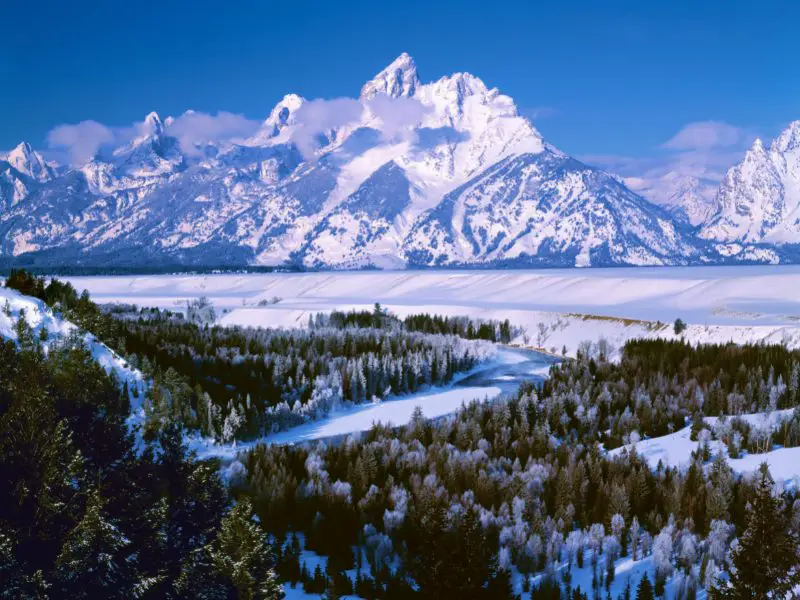 In addition to the main scenic drive, other roads that are open provide stunning views and opportunities to see wildlife.  Read my Winter Grand Tetons Guide for more information on winter road closings/ openings in the Jackson Hole area. 
---
10. See petroglyphs 
You can take a winter tour to see prehistoric petroglyphs carved by the Shoshone Indians. Petroglyphs are drawings carved into rock or stone. A guide explains their spiritual significance to the Eastern Shoshone people of the Wind River Reservation east of Jackson.
The tour also includes a visit to the National Bighorn Sheep Center in Dubois.
>> BOOK THE 8-HOUR GRAND TETON BIGHORN SHEEP AND PETROGLYPH TOUR 
---
11. Catch a cable car (Jackson Hole Aerial Tram) 
In Teton Village, at the Jackson Hole Mountain Resort, there are two different types of cable cars that go up the mountains. Even if you don't downhill ski or snowboard, it's fun to take one or both of them up the mountain for stunning views from the top. 
The Bridger Gondola ascends 2,700 vertical feet/ 823 m.  There are multiple small private gondolas and there is plenty to do at the top, including three restaurants.  It's free to ride after 5:00 pm.   
The "Big Red Box" aerial tram is different.  It's one enormous 'box' that holds up to 100 people at a time.  It goes even higher than the gondola, ascending 4,139 vertical feet (1.26 km) to the summit of Rendezvous Mountain in just 9 minutes.  At the top, you can enjoy the views and freshly-made waffles at Corbet's Cabin. 
The stations for both of them at the bottom of the mountain in Teton Village are almost next to each other. 
---
12. Go snow tubing 
A cross between river tubing and tobogganing, snow tubing involves sitting on a large inner tube and hurtling down a snowy mountain!  Snow King Mountain has tubes for rent as well as three smooth groomed lanes and a "Magic Carpet" to take you to the top of the hill.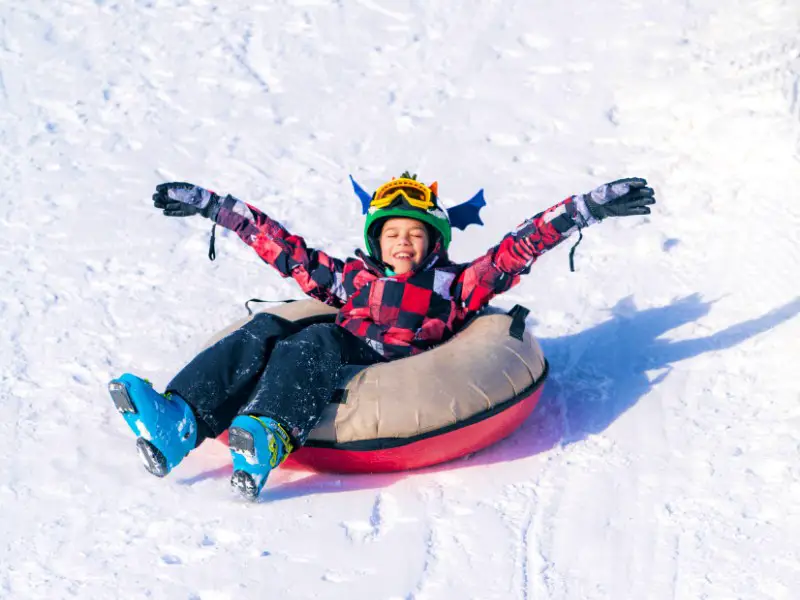 You can get a season pass for Snow King Mountain Resort that includes snow tubing as well as a roller coaster and ski pass. 
>> Buy a Big Kings All Activities Season Pass here 
---
Have an amazing winter trip to Grand Teton National Park! 
Do you have any other tips for visiting Grand Teton National Park in winter?  I'd love to hear them.  Join my private Facebook group National Parks Collectors and comment and let me know.    
If you liked this post, please share the love and Pin it to your Grand Teton National Park board!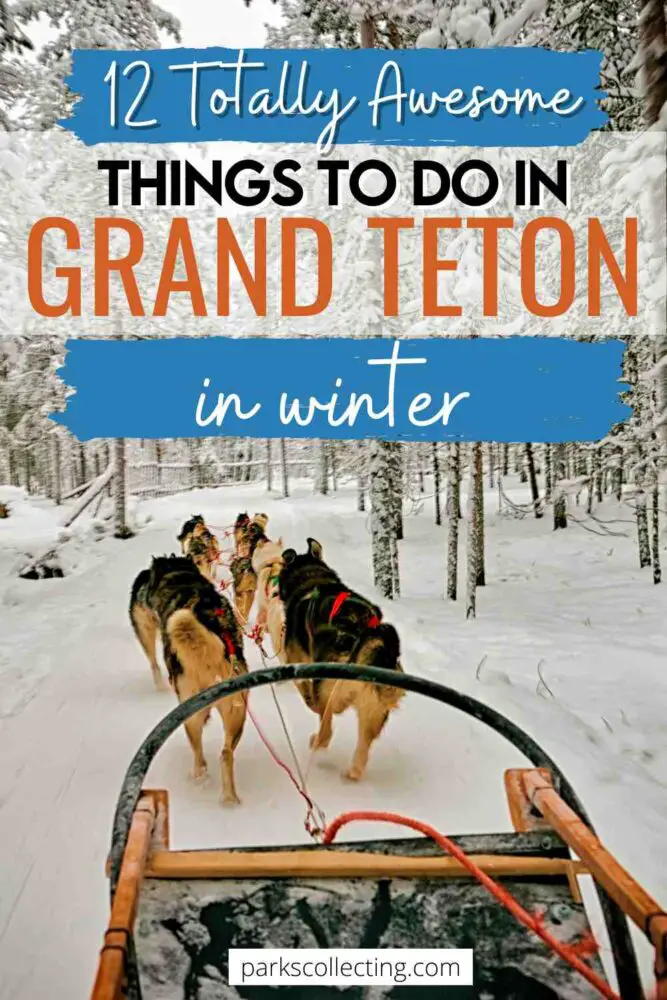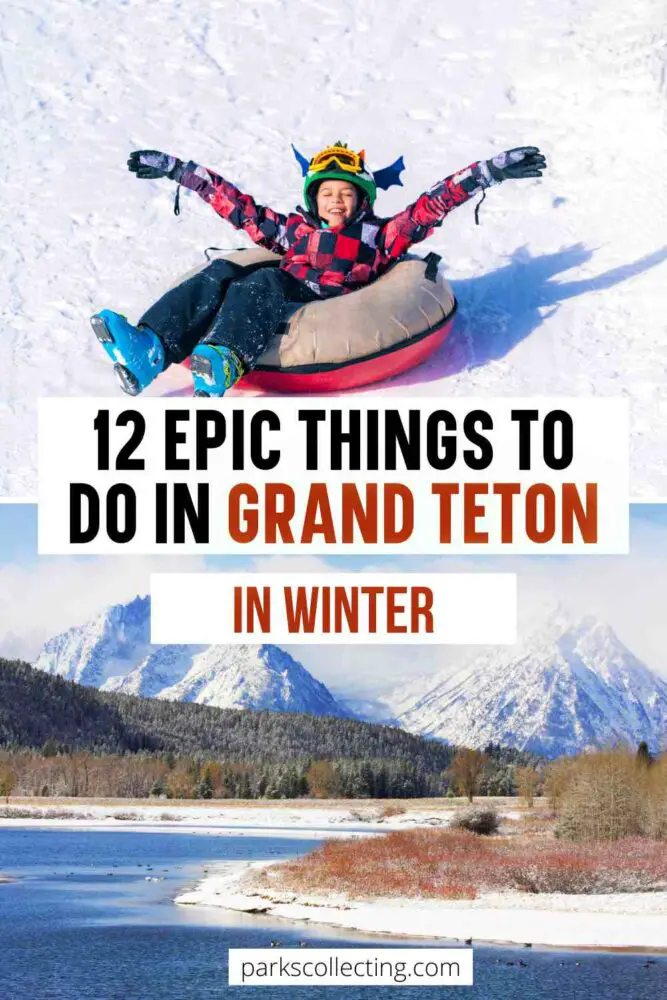 If you decide to visit Grand Teton in the warmer months instead (or as well), pick up my Grand Teton itinerary to make your planning easy.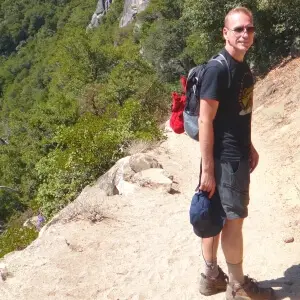 James Ian is a national park, camping and hiking expert.
He has dedicated his life to travel, visiting more than 80 countries, all 7 continents and all of the main national parks in the United States. With over 35 years experience in the travel industry, James has worked on cruise ships, at resorts and hotels, and as a travel planner who's helped hundreds of people plan successful trips to US national parks. 
Based on his experience visiting our national parks multiple times, in-depth research and expertise as a travel planner, James has published detailed itineraries for most of the major national parks in the US. These itineraries, as well as in-depth park guides, comprehensive camping and hiking gear reviews and buying guides, and helpful packing lists and gift guides will help you have your own incredible trip to US national parks without stress and hassle.
As a national park expert, James has contributed to many publications, including Time Business News, Savoteur, Best Trip, and Wired.
---
Parks Collecting is a participant in the Amazon.com Services LLC Associates Program, an affiliate advertising program designed to provide a means for sites to earn advertising fees by advertising and linking to amazon.com. Amazon and the Amazon logo are trademarks of Amazon.com, Inc. or its affiliates. As an Amazon Associate I earn from qualifying purchases.