Are you headed to Grand Teton National Park, but don't know "Where is the best view of the Grand Tetons?" The national park is all about the Grand Teton views, so knowing all the best photo spots in Grand Teton National Park will make your trip better (and easier). That's what this guide is here for! Read on to discover all the best views…
TOP TOUR: Book a full day tour now
TOP HOTEL PICK: Check availability now
FIND THE CHEAPEST CAR RENTAL: Search Discover Cars for the best deals
FIND THE CHEAPEST FLIGHTS: Search Skyscanner for the best deals
GET TRAVEL INSURANCE:Get insured with Travelex before you go
No time right now to discover the best Grand Teton viewpoints?  Pin it and save it for later: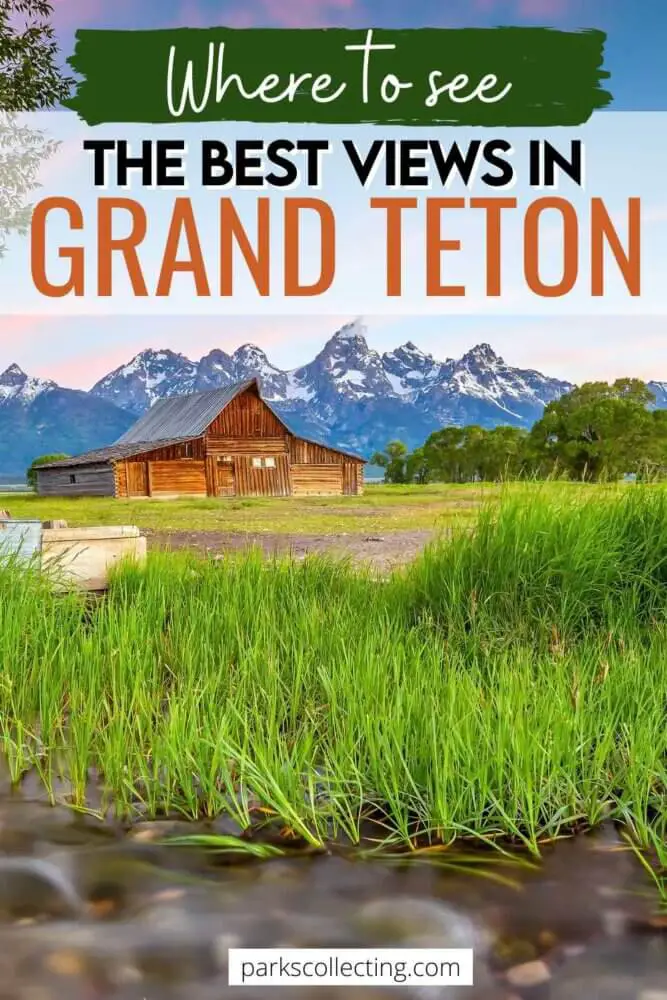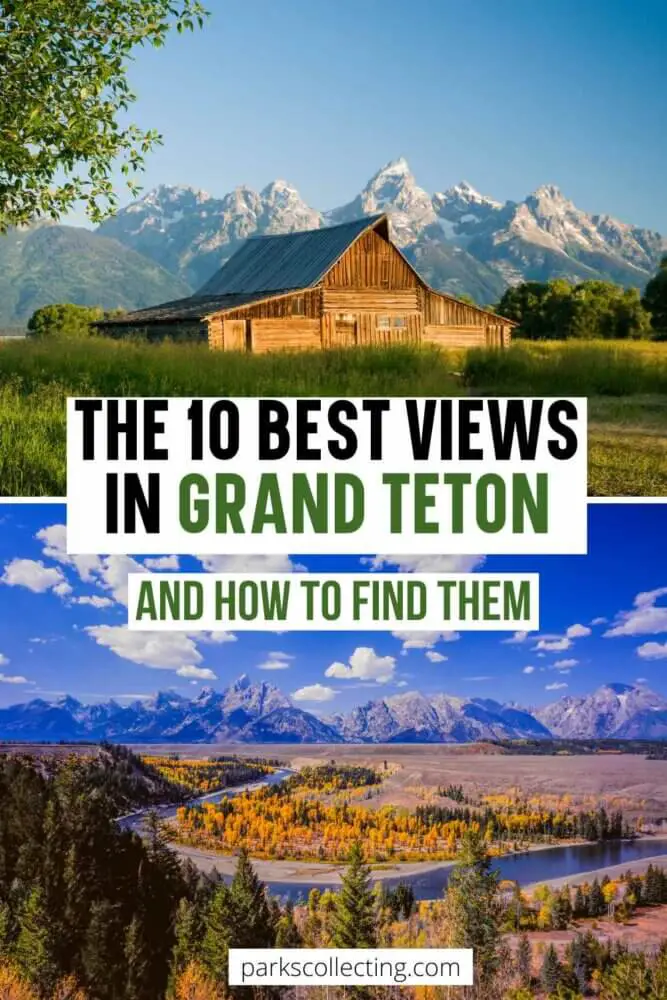 Please note that some of the links below may be affiliate links.  If you make a purchase through these links, I earn a small commission at no additional cost to you. Read my Disclosure for more information.
Oxbow Bend is just one of the Grand Teton National Park best views. 
The viewpoints on this list are the best of the Tetons – the most iconic, the most spectacular, the most Instagram worthy scenes in and around this incredible national park. They are all included on my Grand Teton itinerary!
Before we get started, most of these viewpoints are inside the national park. It costs $35 per vehicle for 7 days to enter the park. However, if you plan to visit more than a couple of parks in a year (or the same park more than twice), then look at getting the America the Beautiful Pass.  
It gives you unlimited access for a year (from date of purchase) to over 2,000 federal recreation sites including all U.S. national parks plus national forest and BLM lands.  It includes admission for one vehicle or four people (for places that charge per person).
Buy the America the Beautiful Pass here
FREE DOWNLOAD
Subscribe to monthly updates with tips for planning, travel inspiration and trip ideas and get instant access to the free PDF of this
10 Best Grand Teton Viewpoints
Read More: How to Get to Grand Teton National Park
Note that these Grand Teton view point locations are described for spring – fall. If you visit Grand Teton National Park in winter, read about the best things to do in winter and use my Winter Grand Tetons Guide to plan your trip.
If you are planning to visit Grand Teton National Park in spring, summer or fall, make your planning easy and stress free with a detailed itinerary. I have 1-, 2-, and 3-day itineraries for Grand Teton that include all the park highlights, give you choices based on your preferred activity level and take all the stress out of planning your trip.
Best Sunrise Spots, Grand Tetons
Because you face the mountains from the east, the best views in Grand Teton National Park are typically early in the morning.  In fact, all of the viewpoints below are great places to see a Grand Teton sunrise.
Keep in mind when thinking about the best sunrise spots Grand Tetons has, that the sun rises in the opposite direction, so you won't actually see the sunrise. Grand Tetons are roughly north-south in orientation. 
However, as the sun, having risen over the opposite Gros Centre Mountains, hits the peaks of the mountains, their tips glow a brilliant orange color.  I was also lucky enough to witness pink rays of color bursting from the mountains soon after the sunrise – it was truly breathtaking.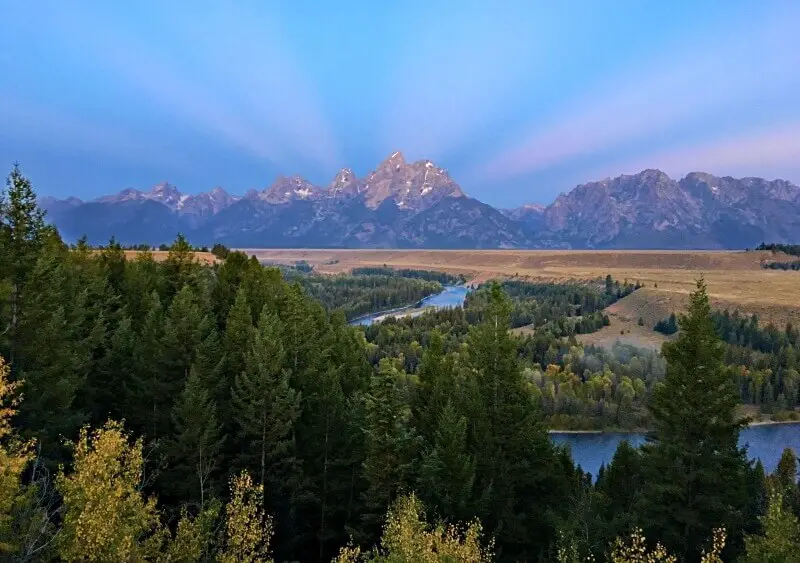 Where to See a Grand Teton Sunset
What's the best place to see sunset in Grand Teton National Park? All of the viewpoints are also great for sunsets, but the best sunset spots Grand Tetons has are those a substantial foreground and space for you set up your tripod.  
In general, seeing the mountains in the afternoon is not the best, especially for photography, as the light is behind them.  However, if you wait until AFTER the sun has set, the clouds often turn fantastical pinks, oranges and reds, framing the mountains' silhouettes beautifully. 
Photography Tip
For sunrise and sunset photography, you will need a tripod, since the light is dim and your exposures need to be long. 
I don't like to lug lots of equipment around with me, so I love the Gorillapod tripod.  It has flexible legs that you can bend for different surfaces and even around a pole.  It's small and light, so it fits easily in my day pack.  You can get them for regular cameras and cell phones.  Check out prices for regular camera Gorillapods here and for cell phone Gorillapods here.
What's the best way to see the Grand Teton best views?
Most, but not all, of these viewpoints are along the famous 42-mile scenic loop drive around Grand Teton National park.  Read a full description of the loop drive, including tips and all the best places to stop.  To get to most of these viewpoints, therefore, you will need to either drive a car or take a tour. 
If you don't drive your own car there, you can rent a car in Jackson.  You can search for the best rental car for you right here. Read my guide on How to Save Money on Car Rental before you book so you can be sure you aren't paying too much!
If you prefer not to drive, you can take a 4.5-5 – hour private tour for up to four people visits Mormon Row, Oxbow Bend, Jackson Lake Overlook from Summit Mountain and Jenny Lake.  Check prices and all their safety features here.  This is a morning tour, which is when the views are best.  It doesn't have quite the same flexibility as driving, but does have the advantage of a guide, who can show you all the best spots for photos as well as giving you interesting background information.
Check how many days you'll need in Grand Teton to see which views you can realistically see for varying numbers of days.
Map of the best views of Grand Tetons
The 10 Best Grand Teton Viewpoints  
1. Mormon Row, Grand Teton National Park
Mormon Row, Wyoming, with its picturesque barns and other historical buildings, is an essential stop on any trip to the area and one of the best places in Grand Teton National Park for panoramic photographs.
Mormons, or members of The Church of Jesus Christ of Latter-day Saints, moved in to settle the area in the 1890s at the behest of their church.  Unlike most settlers at the time, rather than setting up isolated homesteads, they created a community. 
There were 27 houses at its peak, along with barns, sheds and a complex system of irrigation channels that they dig themselves.  The entire site was added to the National Register of Historic Places as an Historic District in 1997.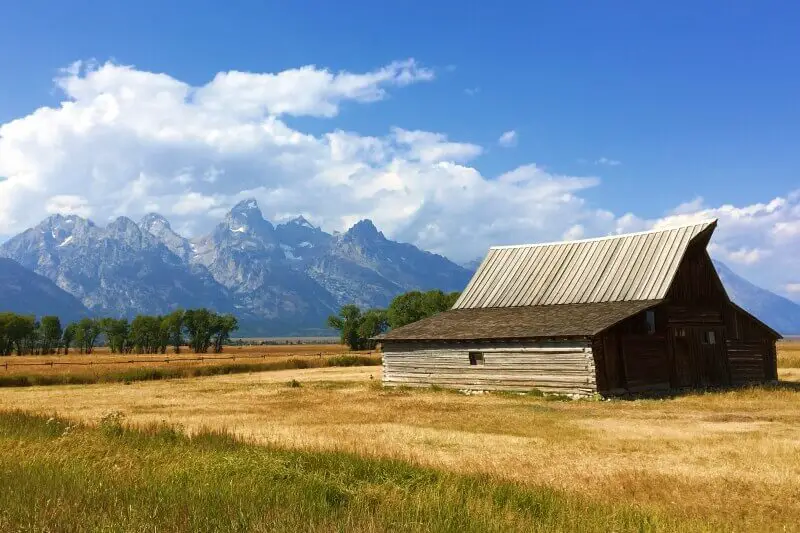 The history is interesting, but the area is most famous for two picturesque barns and most people come here to take their own version of the classic Grand Teton barn photo. 
The most famous Mormon Row barns are the T.A. Moulton Barn, which is the most photographed barn in America, and the John Moulton Barn.  The T.A. Moulton Barn, the Grand Tetons barn, has the lopsided point on the roof and the John Moulton Barn, also beautiful, is more symmetrical.
For the best Mormon Row barn photos, go in the morning.  There is a spot in front of the T.A. Moulton barn, a little off the left near the fence, where the grass is worn.  That is where the classic shot is taken. 
2. Snake River Overlook, Grand Teton NP
Very little has changed since Ansel Adams took his famous Snake River photo in 1942, other than the fact that more trees have grown, which block part of the river.  Even with the trees, the view is stunning. This is one of the best spots in Grand Teton National park for sunrise and sunset.
The Grand Teton Snake River Overlook looks down on the river which, true to its name, snakes around several bends.  In the foreground are some aspen trees which were already turning a golden color when I was there in the first week of September!  Below them are evergreens around the river and the Teton range stretches along the horizon.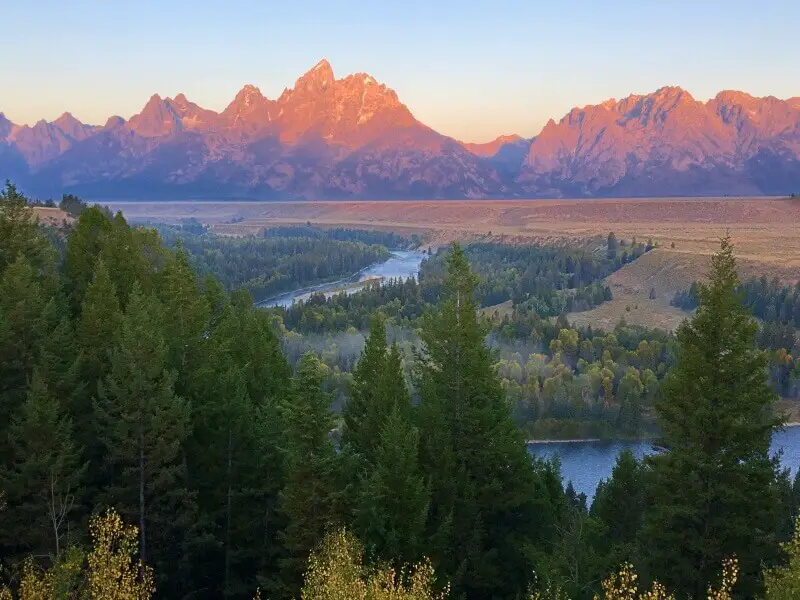 Photography Tips
This is a good place for a wide-angle lens. I am not a professional photographer – in fact I use my iPhone for most of my travel photos – but I do try to capture the grandeur of the scenery as best I can.  I love the new wide-angle feature on the new iPhone, but I still like to supplement it with an additional optical lens. 
You can get a set of lenses that not only has a 0.45x wide-angle lens, but also includes a 15x macro lens for close ups.  It's compatible with all single and dual-camera phones including all iPhone models, Samsung Galaxy and Note, Google Pixel, Huawei and more. Check prices on Amazon here.
For better pictures, though, you will need a real camera. A great option is the Sony A6000 camera (check it out on Amazon). To go with this camera, choose the best travel lenses for it here.
This is arguably the best place for sunset in Grand Teton National Park. Most people pack up and leave as soon as the sun has set behind the mountains at Snake River Overlook.  Sunset is best, however, after the sun has actually set, as this is when the clouds and the sky turn brilliant colors.  So be sure to stay until the color show has ended, and be prepared to drive back to your hotel or campground in the dark.
3. Signal Mountain, Grand Teton National Park
For an even more panoramic view, it is hard to beat another of the most beautiful places in Grand Teton National Park, Signal Mountain. Tetons stretch out on the horizon, of course, but the mountain gives also you stunning views of Jackson Lake in the foreground.  Signal Mountain isn't super high, but it is high enough for an aerial perspective of the scenery. 
There are two ways to get to the top of Signal Mountain. Summit Road winds up the mountain if you have a car or are taking a tour, but you can also hike up (read details of this and other hikes in the Grand Tetons here).
The lookout at the very top of the mountain doesn't actually look out at Grand Teton National Park. Signal Mountain Overlook at the summit looks out the other way over Antelope Flats and the Gros Ventre Mountains.  This is still a lovely view and anywhere else, you would be taking a million photos.  Here, it does suffer from comparison with the dramatic Teton range.  Nonetheless, if you are there in the afternoon, the light is especially lovely on this direction.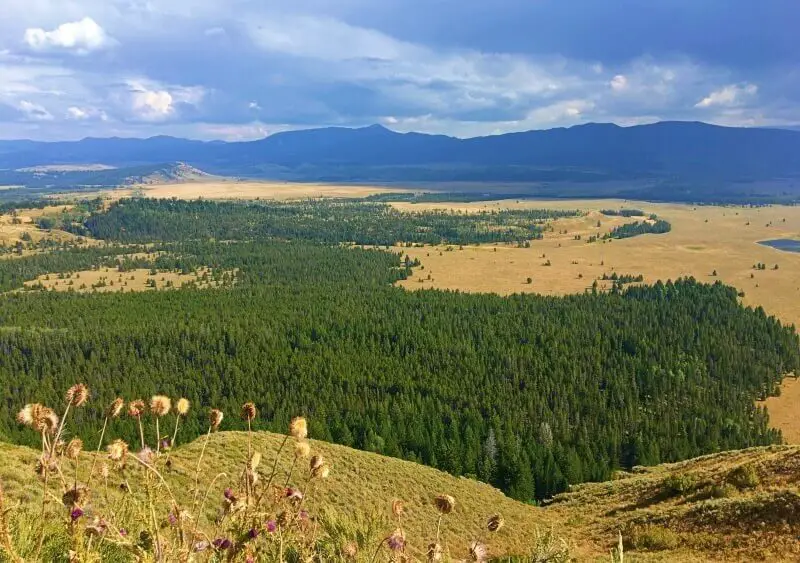 For views of the Tetons, you actually want to stop at the Jackson Lake Overview, about 0.8 miles/ 1.3 km before the summit. 
At sunrise, Grand Teton glows a bright orange.  You can watch the light creep from the top peak down the side of the mountain, bathing them in a beautiful early morning glow. With Jackson Lake and its islands between the mountains and the evergreens in the foreground, it is well worth getting up in the dark and being there for the sunrise show.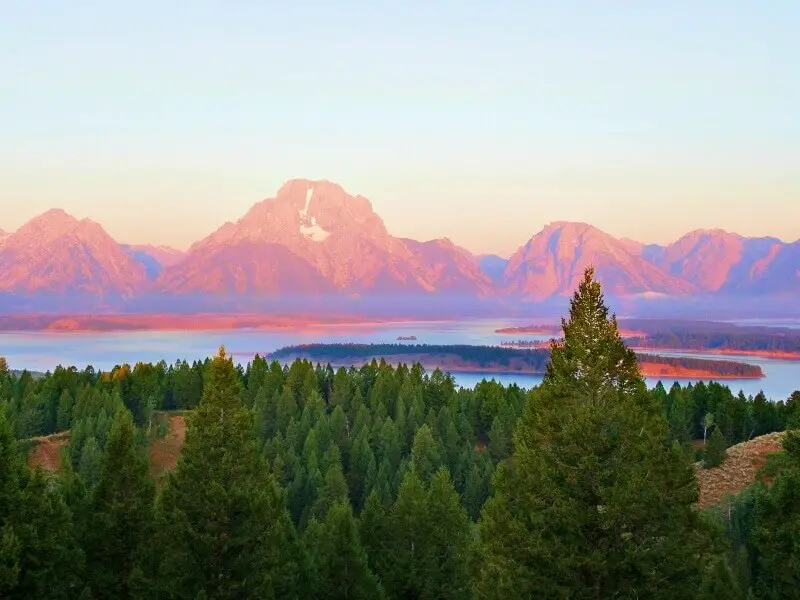 4. Jackson Lake, Grand Teton National Park
Jackson Lake, Wyoming is the largest Teton lake.  It is almost 15 miles long and has more than 15 islands dotted along its length.  Interestingly, although it is a natural lake, it was made much larger when it was dammed in the early 1900's. 
Its western shore ends at the start of the mountains and can only be accessed by boat.  However, there are several small settlements along its eastern shore including Signal Mountain and Colter Bay.  The lake is popular for boating, fishing, swimming and other water sports. 
Jackson Lake is another of my favorite places to see in Grand Teton National Park. Because of its location right on the edge of the mountains, anywhere along its length provides fabulous views, though the southern half is better, because the mountains start to peter out the further north you go.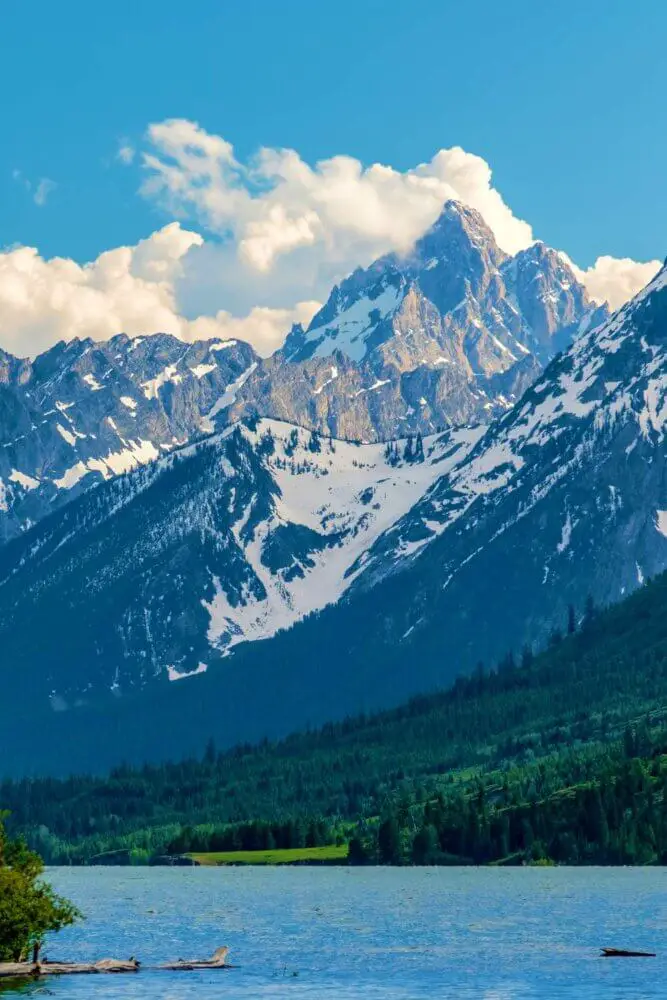 You can take your own boat or rent a boat and enjoy a lazy day on the water enjoying the views; rent a kayak and spend a more energetic time rowing around surrounded by incredible scenery; laze on one of the beaches and go swimming while gazing at the mountains; take a cruise to really soak it all in, or take a fishing trip and have a photo snapped of you and the catch of the day in front of the mountains.
Or, just spend a relaxed afternoon and evening on the porch or a window-side table at Trapper Grill or Peaks Restaurant at the Signal Mountain settlement.
FREE DOWNLOAD
Subscribe to monthly updates with tips for planning, travel inspiration and trip ideas and get instant access to the free PDF of this
10 Best Grand Teton Viewpoints
5. Oxbow Bend, Grand Teton National Park
Oxbow Bend, WY is a U-shaped bend in the Snake River.  At Oxbow Bend, Snake River is wide and slow and in calm weather, especially early in the morning, it is often like a mirror, reflecting Mount Moran perfectly.  I visited in the afternoon and it was beautiful – there are plenty of birds, including herons and (although I didn't see any) pelicans. 
However, at Oxbow Bend, sunrise is especially beautiful and I was lucky enough to be there to see a perfect reflection.  It is, in a word, stunning.  Which is why it is one of the most photographed views of the Grand Tetons.  Oxbow Bend is also a popular place to witness and photograph the sunset.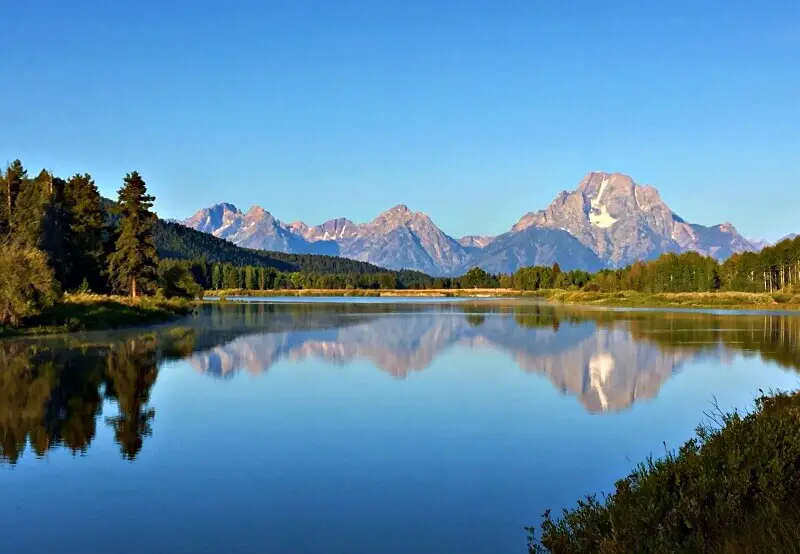 Oxbow Bend is one of the top Grand Teton attractions not only for the views. This is also a popular place for wildlife and it is possible to see moose, river otters, black bears and even grizzly bear there.
To see the famous views, stop at Oxbow Bend Overlook, which is reached via the Oxbow Bend turnout, on Highway 89/ 191 between Moran Junction to the south and Jackson Lake Junction to the north/ west.
6. Jenny Lake, Grand Teton National Park
Jenny Lake, WY is the second largest lake in the park.  Highlights include hiking around the lake on the Jenny Lake Loop Trail and taking the Jenny Lake boat either as a shuttle to one of the many trails or on a scenic cruise. On calm days, the lake perfectly reflects the mountains, making this another of the best viewpoints in the park.
If you're trying to decide what to see in Grand Teton National Park and you just have one day, make sure Jenny Lake is on your list.
The lake, sometimes mistakenly called Lake Jenny, is a glacial lake over 12,000 years old. It is right at the base of the mountains, so this is a different view from some of the other places, such as Signal Mountain, Schwabacher Landing and Snake River Overlook, which are more distant.  Here, you are up close and personal with the mountains.  They are right here in front of you!
There is a visitor center, a campground and a large parking lot (though this is a very popular place and the parking lot does fill by mid-morning in summer, so get there early).  Even if you see nothing else in Grand Teton National Park, Jenny Lake is a 'do not miss' place.
Where is Jenny Lake, Wyoming?
Jenny Lake is 20.5 miles/ 33 km north of Jackson (about a 30-minute drive).
7. Turnouts on the Jenny Lake Loop Drive
The Jenny Lake scenic drive is a 4-mile one-way road that has several turnouts with some of the best views of the Grand Tetons.
A highlight is the Cathedral Group Turnout, from where you can clearly see the Cathedral Group of peaks across the plains.  This group of classic pyramid-like, glacier-topped alpine mountains contains the tallest peaks in the range, including Grand Teton, Mount Owen, Middle Teton, South Teton, and Teewinot Mountain.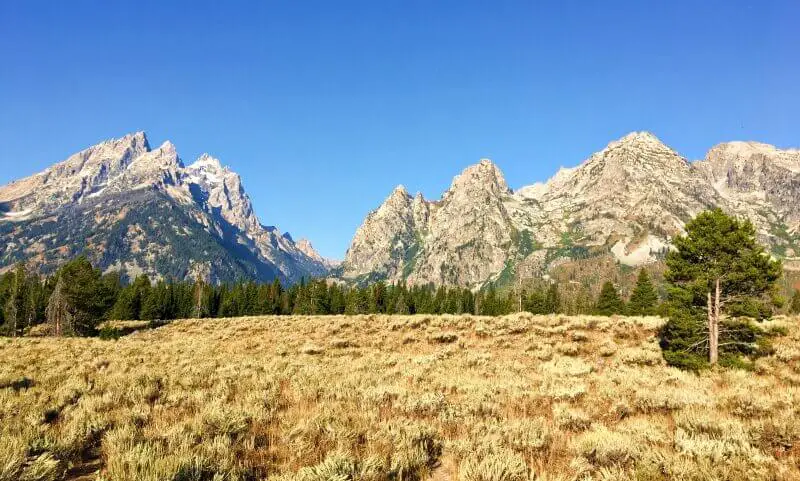 You also pass the trailhead to String Lake.  It is worth getting out and seeing String Lake and the mountains behind it.  I recommend doing the String Lake Loop Trail (see Best Hikes in Grand Teton NP for hike details). You also pass Jenny Lake Lodge, which is the grandest of the lodges in the park. 
You will come to Jenny Lake Overlook, from where there are stunning views of Cascade Canyon and the Cathedral Group across the lake.  As with other viewpoints, go in the morning for the best photos.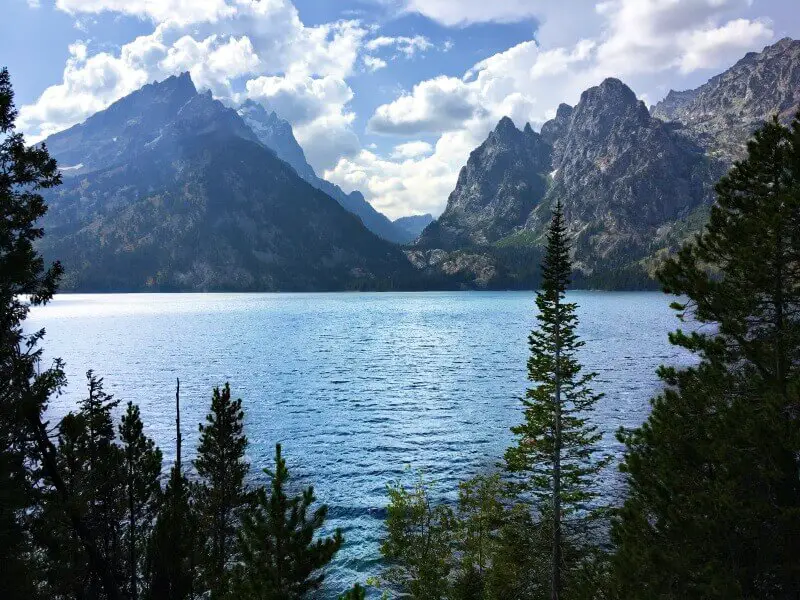 8. Schwabacher Landing, Grand Teton National Park
Almost directly east of Grand Teton, Schwabacher Landing is a part of the Snake River where the surrounding area is flat enough to have a boat and raft launch.  As you turn off the main highway, follow a short dirt road to a parking area at the end. From there, there are several easy walks along the river. 
There is a beaver dam and abundant bird life.  Moose are also often seen around Schwabacher Landing, Wyoming in the early morning and late afternoon feeding on the water grasses.  One of the reasons why this is considered one of the best places to see in Grand Teton National Park is that, if you are lucky, you may just well get the most iconic Grand Tetons photo of a bull moose with water dripping from its mouth and the Grand Teton peak behind it. 
On a calm day, this is another place where you can see the mountains reflected in the still waters of the slow-moving Snake River.
Wildlife Viewing and Photography Tips
This is a great place to have binoculars! I saw a mother moose and her calf as well as a blue heron here which I had a great view of through binoculars, but they were a bit too far away to see well without them.  I really recommend taking binoculars with you to Grand Teton National Park.  
I have done a lot of research into binoculars and written several guides. The best binoculars for the money (and the best binoculars under $300 are the Vortex Optics Diamondback 10×42 Roof Prism Binoculars. You can buy them on Amazon here. You can also read my detailed guides to compare them to other top notch binoculars and also to see cheaper options:
For photographing wildlife from a distance, the digital zoom on my phone camera is terrible.  It looks good on the phone, but when I look at the photos later, the animals and birds are just a blurry blob.  This is why I prefer to use an optical zoom. 
There is a 28x telephoto lens that works on the front and rear cameras for both single-camera and multi-camera phones including iPhones, Samsung Galaxies, Edges, Google Pixels,  HUAWEI and more. Check out prices on Amazon here.
9. Moose Wilson Road WY
Moose Wilson Rd is an eight-mile scenic road between the tiny towns of Moose and Wilson.  The road is narrow and windy, following the Snake River, but incredibly scenic. 
Although there are turnouts to see the Tetons, this is not so much about the mountains as about different natural environments and the wildlife. You will pass marsh areas where beavers make dams and pelicans and blue herons are often seen.  This is also a good place to see moose in the wetlands, bears in the woods and bison in the fields as you pass by.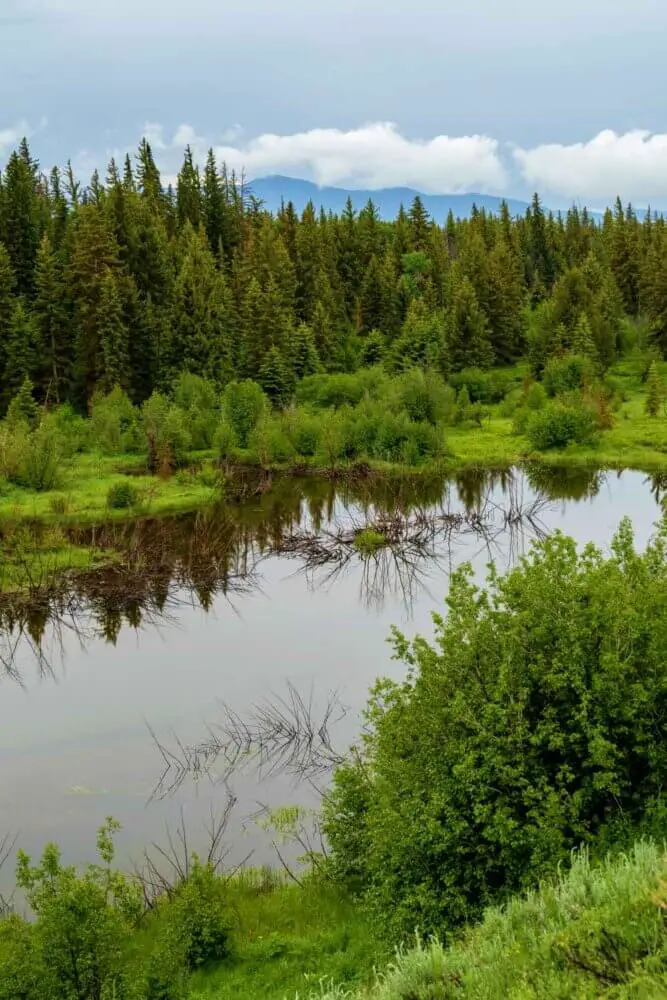 The road is closed between November and mid-May and may also be closed for grizzly bears at other times of the year. 
10. The trails
The other viewpoints in this list are accessible by road.  However, just sticking to the roads means you are missing out on so many other spectacular views.  To get a different perspective you have to get in amongst the peaks.  Hike into Cascade Canyon or any of the other incredible hikes in Grand Teton National park, such as Paintbrush Canyon; around String, Jenny or Taggart Lakes; and many more. 
On these hikes, you can see waterfalls cascading down the sides of steep canyon walls, secret alpine lakes nestled at the bottom of steep cliffs topped with year-round glaciers, mirror-like reflections of craggy peaks in picture-perfect lakes, and have great chances of seeing moose and other wildlife framed by these majestic mountains.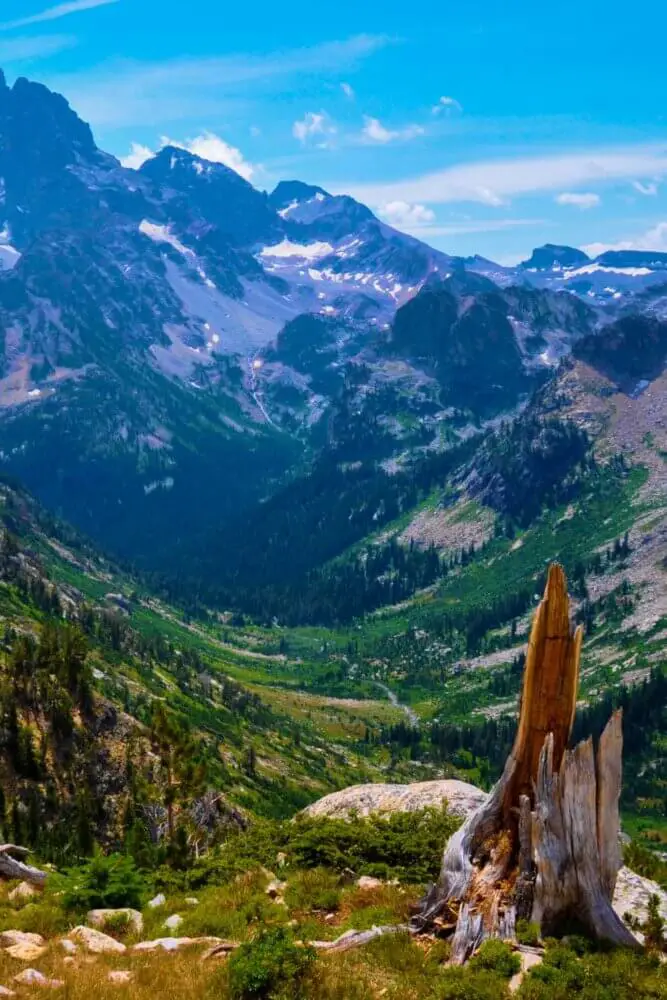 Read my post of the 10 Best Hikes in the Grand Tetons for full details.
FREE DOWNLOAD
Subscribe to monthly updates with tips for planning, travel inspiration and trip ideas and get instant access to the free PDF of this
10 Best Grand Teton Viewpoints
---
Enjoy the views!
Do you have any favorite views in Grand Teton National Park? I'd love to hear them. Join my private Facebook group National Parks Collectors and comment and let me know.
If you are also adding on a trip to Yellowstone, read my Yellowstone National Park Guide and get a Yellowstone itinerary.
If you liked this post, please share the love and Pin it to your National Parks board!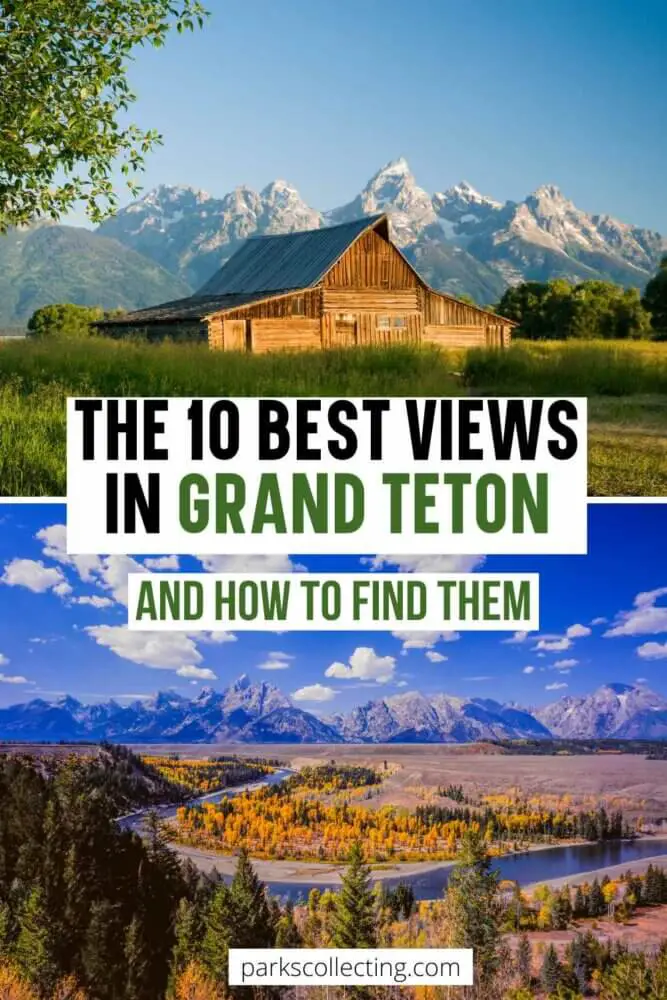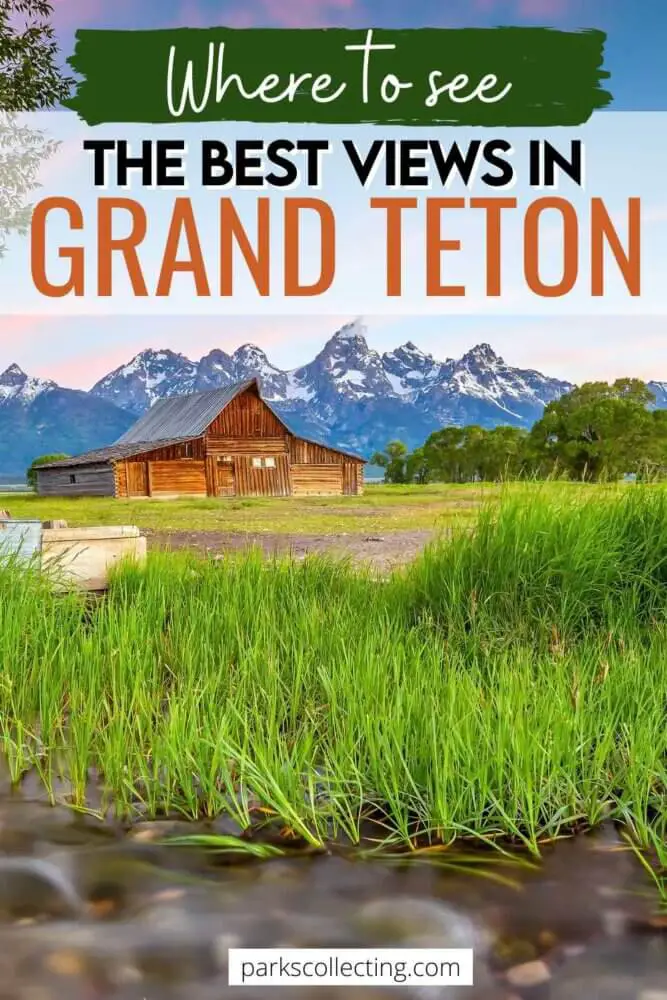 ---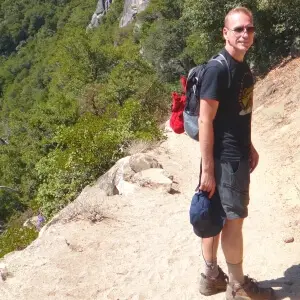 James Ian has dedicated his life to travel and has traveled to 82 countries and all 7 continents.  He's visited all of the main national parks in the United States, as well as many national monuments and state parks.
As a national park expert, James has contributed to many publications, including Time Business News, Savoteur, and Wired. He also has several published detailed itineraries in addition to many free online guides.
James has rafted through the Grand Canyon; rappelled down slot canyons near Zion and Arches; hiked among the hoodoos in Bryce and the enormous trees in Sequoia; admired the waterfalls in Yosemite and the colored hot springs in Yellowstone; seen moose in Grand Tetons and seals in the Channel Islands, and much more.
---
Parks Collecting is a participant in the Amazon.com Services LLC Associates Program, an affiliate advertising program designed to provide a means for sites to earn advertising fees by advertising and linking to amazon.com. Amazon and the Amazon logo are trademarks of Amazon.com, Inc. or its affiliates. As an Amazon Associate I earn from qualifying purchases.