Whether you are driving the scenic loop, hiking dep into canyons, paddling a kayak or even flying overhead in a hot air balloon, there are so many ways to enjoy the Grand Tetons and so many things to do in and around Grand Teton National Park.
I am a national parks expert and have compiled a comprehensive list of all the best things to do in Grand Teton National Park. Read on to get ideas for your own Grand Tetons trip.
TOP TOUR: Book a half day tour now
TOP HOTEL PICK: Check availability now
FIND THE CHEAPEST CAR RENTAL: Search Discover Cars for the best deals
FIND THE CHEAPEST FLIGHTS: Search Skyscanner for the best deals
GET TRAVEL INSURANCE:Get insured with Travelex before you go
No time right now to read about all the amazing things do in Grand Teton National Park?  Pin it and save it for later: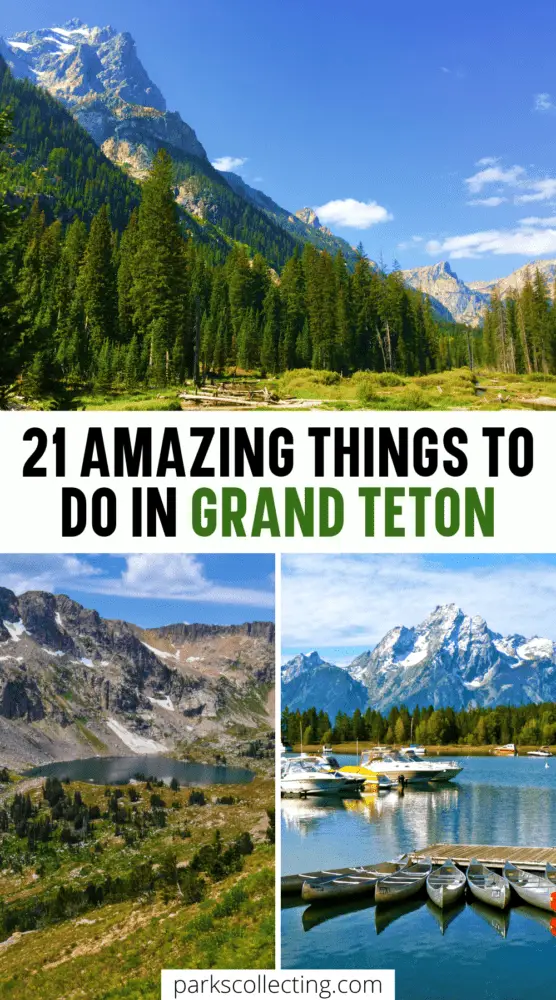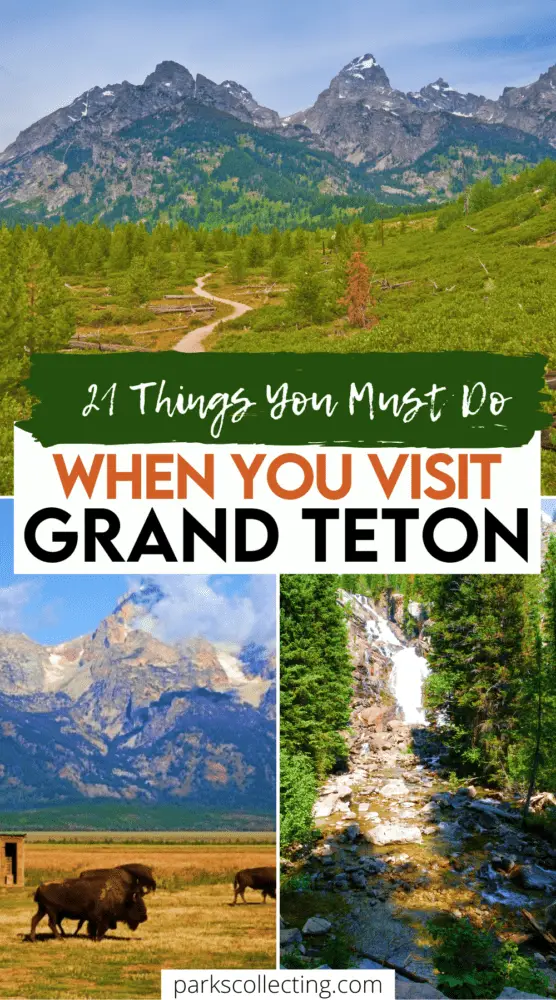 Please note that some of the links below may be affiliate links.  If you make a purchase through these links, I earn a small commission at no additional cost to you. Read my Disclosure for more information.
What is there to do in Grand Teton National Park?  Well, it turns out – a lot! In fact, Grand Teton makes it on my list of the best U.S. national parks in part because there are so many amazing things to do.
If you are planning to visit Grand Teton National Park in spring, summer or fall, make your planning easy and stress free with a detailed itinerary. I have 1-, 2-, and 3-day itineraries for Grand Teton that include all the park highlights, give you choices based on your preferred activity level and take all the stress out of planning your trip.
The 21 Best Things to Do in Grand Teton National Park
Before we start, a quick word in getting into the park. It costs $35/ week for vehicles, $30/ week for motorbikes and $20/ week for individuals (hikers/ cyclists). However, if you plan to visit more than a couple of parks in a year (or the same park more than twice), then look at getting the America the Beautiful Pass.  
It gives you unlimited access for a year (from date of purchase) to over 2,000 federal recreation sites including all U.S. national parks plus national forest and BLM lands.  It includes admission for one vehicle or four people (for places that charge per person).
Buy the America the Beautiful Pass here
Note that these activities are all in the warmer months. If you are visiting Grand Teton National Park in winter, read my guide to the 12 Best Things to Do in Grand Teton and Jackson Hole in Winter.
1. Hiking
If you are wondering what to do in Grand Teton National Park and you like being outdoors, then hit the trails!  There are dozens of incredible places to go hiking in Grand Teton National Park.  
From simple strolls, to longer day hikes and even multi-day / multi-mile treks, there is something for everyone.  Many of the best places to visit in Grand Teton National Park are only accessible from the trails.
There are hikes around lakes, which often provide mirror-like reflections of the surrounding mountains, especially in the mornings; hikes to see wildlife such as moose, black bears and river otters; hikes deep into canyons topped with glaciers and laced with waterfalls; hikes past secluded alpine lakes; hikes to hidden waterfalls; and many more. 
Check out my list and descriptions of the best hikes in Grand Teton National Park.
---
2. Driving the Scenic Loop Drive
Asking yourself what to see in Grand Teton National Park?  A 42-mile loop takes you around virtually all of the Park's most popular scenic attractions.  This is one of America's most iconic drives.
Highlights include:
Jenny Lake loop drive.  With frequent turnouts for views of the mountains, this is one of my favorite places to see in Grand Teton National Park.
Jackson Lake Overlook. The lookout near the top of Signal Mountain has breathtaking vistas of the lake and mountains.
Oxbow Bend.  The early morning mirror-perfect reflections of the mountains in a large, slow-moving bend of the river is a view you must see. Grand Teton National Park really puts on a show here.
Snake River Overlook.  Where Ansel Adams took his most famous photographs of the Teton range is one of the most beautiful places to see in Grand Teton National Park
Schwabacher Landing.  It is one of the top things to see in Grand Teton National Park because there are good chances of seeing moose drinking in the shallow water, framed by stunning mountain views.
Mormon Row.  The Moulton Barns are probably the most famous things to see at Grand Teton National Park.  The historic barns with the mountains behind are truly iconic.
For full description and FAQs on the drive, read my Complete Guide to the Grand Tetons Loop Drive.  This includes a map and a downloadable guide.
The full loop road is open May 1 – October 31.  You can:
No matter how many days you are in Grand Teton, you should do this drive!
---
3. Enjoying the views
Whether you wish to walk in the footsteps of Ansel Adams or just want to gaze at some of the most stunning views in the United Sates, there are plenty incredibly beautiful things to see in Teton National Park. 
Read my Guide to the Top 10 Viewpoints in Grand Teton National Park so you know where and when to get the best views and take the best photos. 
To get to these viewpoints, either drive a car (your own or rent a car in Jackson) or take a sunrise tour.  If you need a rental, search for the best rental car for you right here. Save money on your car rental by following the tips in my Car rental Guide.
Note that the views are generally best in the morning.  A 4.5-5 – hour private tour for up to four people visits Mormon Row, Oxbow Bend, Jackson Lake Overlook from Summit Mountain and Jenny Lake.  Check prices and all their safety features here.
---
4. Wildlife viewing
Grand Teton National Park is a great place to see wildlife.  When I visited, I had two bucket list items on my things to do in Teton National Park list – to see moose and to see bison – and I saw them both here. 
Common animals to see in Grand Teton National Park
There are a lot of moose in Grand Teton National Park.  In fact, Grand Teton is a much better place to see moose than nearby Yellowstone. I saw moose at Schwabacher Landing, at Moose Pond (where a bull moose was eating water grass in the pond) and on the Cascade Canyon hike.
Yellowstone has better bison viewing in general, but there are still good chances of seeing bison in and around Grand Teton National Park, especially in the Antelope Flats area (which is technically outside the National Park, but is in the same area).  This is where I saw them for the first time.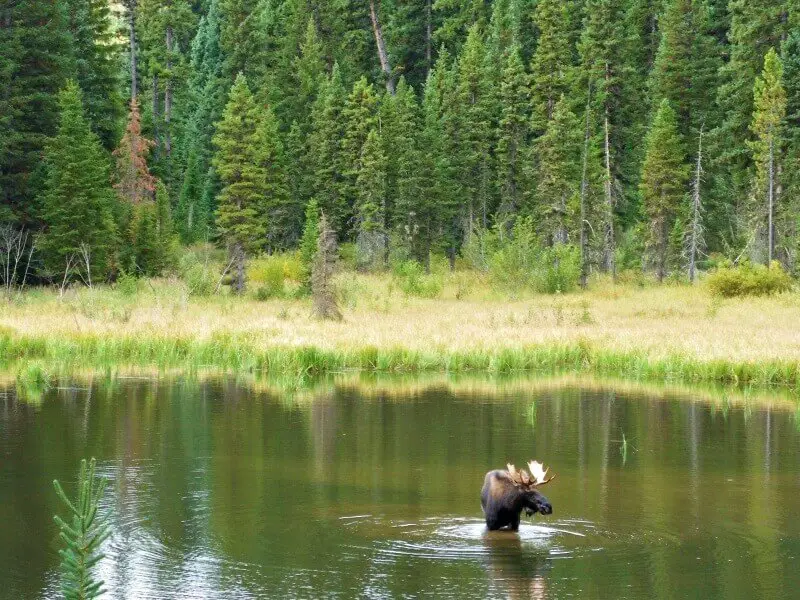 The 25,000-acre National Elk Refuge, northeast of Jackson, is a great place to see elk. Grand Teton National Park south to Jackson is home to 7,500 elk in the winter (mid-December – late March) when they come down out of the hills to keep warm and congregate in the area of the refuge.  They are one of the Grand Teton top attractions in winter.  In the other months they are much harder to see, as they head up into cooler areas. 
Black and grizzly bears are common, and I saw black bears at dusk here.  Bears are cool to see, but they are also potentially dangerous, so it is recommended to take a bear bell or bear spray with you if you are hiking in Grand Teton National Park.  Get bear spray on Amazon here and a bear bell here.
Other animals you may see include pronghorn antelope, bighorn sheep, mule deer, foxes, coyotes and wolves.
Binoculars
In order to see the animals in detail, you will need a good pair of binoculars, as you will rarely get that close to them – and in fact it is usually dangerous to do so.  On many of the wildlife tours, binoculars are provided for you to use. 
However, if you are likely to visit other national parks and hope to see wildlife on this and other trips, owning a pair of binoculars is a worthwhile investment.  They can be very expensive (and very powerful), but it is also possible to get some that are reasonably priced and adequate for vacation wildlife viewing. 
Buying binoculars can be a little overwhelming at first – there are several things to consider including magnification, field of view and materials used. To help you make the best decision, I have created several comprehensive guides with helpful tips, what to look for and the best selection in different categories.
If you just want to know the top pick for best value binoculars, they are the Vortex Optics Diamondback 10×42 Roof Prism Binoculars, which you can pick up on Amazon here.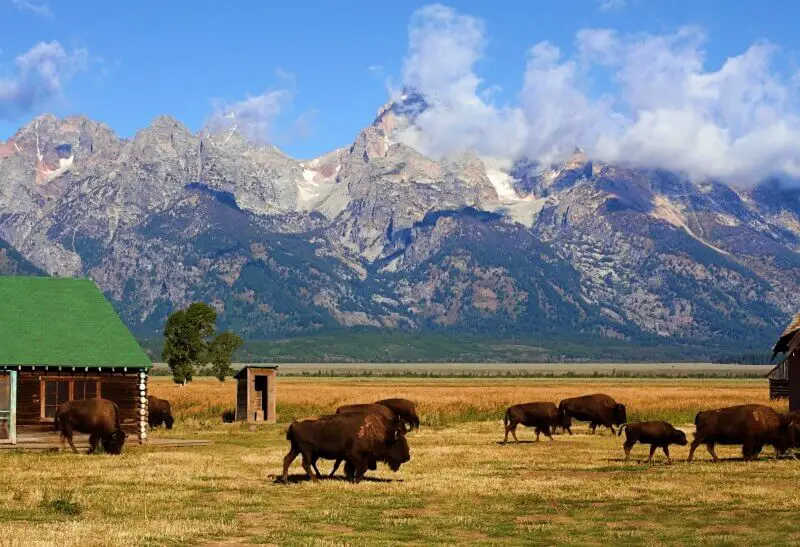 Wildlife Photography Tips
There are two things you need in addition to a camera to take decent wildlife photos – a tripod and a zoom lens.
If you are a serious wildlife photographer, you will have huge zoom lenses and a large tripod that you carry with you. I, on the other hand, tend to take most photos with my iPhone or small camera. I'm not going to win any prizes for wildlife photography, but it is nonetheless possible to take some good quality keepsake photos. 
For a tripod, I like the Gorillapod.  These are tiny and flexible, but can be used almost anywhere and can even wrap around poles.  They are available for cell phones and for regular cameras.  Check out prices for regular camera Gorillapods here and for cell phone Gorillapods here.
For photographing wildlife from a distance, the digital zoom on my phone camera is terrible.  It looks good on the phone, but when I look at the photos later, the animals and birds are just a blurry blob.  This is why I prefer to use an optical zoom.  There is a 28x telephoto lens that works on the front and rear cameras for both single-camera and multi-camera phones including iPhones, Samsung Galaxies, Edges, Google Pixels, HUAWEI and more. Check out prices on Amazon here.
Wildlife Tours in Grand Teton National Park
Taking a tour has the advantage that you have a guide, who knows the best places to look for wildlife. 
8-hour private 4WD wildlife tour
Take a private full-day 4WD tour from Jackson.  It includes hotel pickup and a picnic lunch.  In addition, binoculars are supplied.
Book the 8-hour private wildlife tour here
5-hour sunrise tour
The best time to see wildlife is early morning and late afternoon/ early evening.  This tour gets an early 7:00am start so you have the best chance of seeing wildlife.  Stops include Mormon Row, Oxbow Bend, Jackson Lake, Signal Mountain, and Jenny and String Lakes.  Strict safety protocols are observed. Maximum 16 travelers.
Book the 5-hour sunrise tour here
5-hour sunset tour
If you prefer not to get up at the crack of dawn, then a sunset tour is the other best time to see wildlife in Grand Teton National Park.  Places visited include Mormon Row, Oxbow Bend, Jackson Lake, Jenny Lake and Schwabacher Landing.  Includes hotel pickup in the late afternoon and dinner.  Binoculars are provided.
Book the 5-hour sunset tour here
---
5. Birdwatching
With more than 300 species of birds including bald eagles, blue herons, white pelicans, osprey and trumpeter swans, Grand Teton National Park is a bird watcher's paradise.  You don't have to be an ornithologist to appreciate these beautiful creatures. 
Popular spots for bird watching include Oxbow Bend (herons and pelicans are frequently seen here), Two Ocean Lake (for waterfowl), Schwabacher Landing (herons) and Antelope Flats (where eagles are commonly seen).
Binoculars are essential.   You can buy some here or rent them here.
---
6. Boating
There are six main lakes in Grand Teton National Park, so if you like being out on the water, there are several options for you in Grand Teton National Park.
a. Bring your own boat
If you bring your own boat, your best bet is Jackson Lake, which at 15 miles/ 24 km long, is by far the largest lake in the Park.  The west side is wild with elk, bears and no roads, so the only way to see it is by boat.  The east side has four boat launches – at Colter Bay, Signal Mountain, Leek's Marina (1 mile north of Colter Bay) and Spalding Bay.  The lake is large, but even so, it does get crowded in summer. You can rent buoys or skips at Colter Bay and Signal Mountain.
Jenny Lake is smaller, and 10 horsepower is the maximum allowed. The best ramp is on the south shore at the end of the unpaved Lupine Meadows road.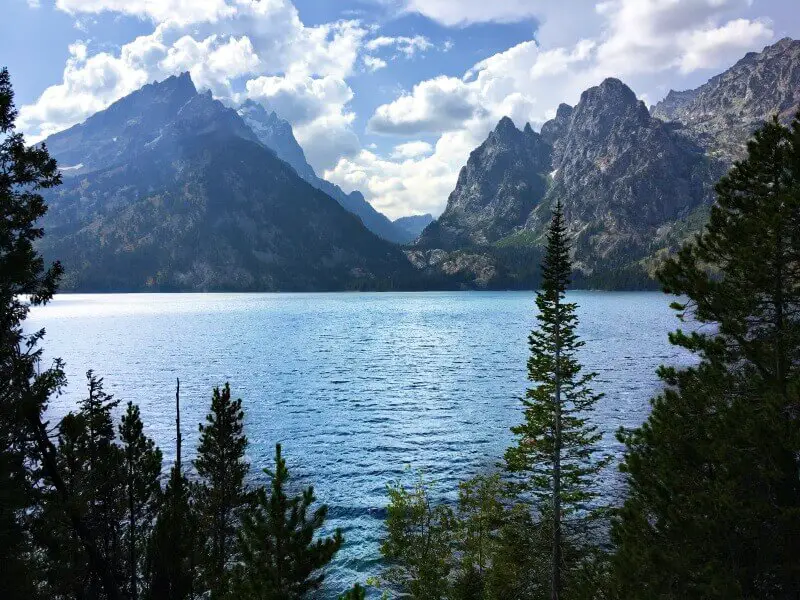 b. Rent a boat
If you don't have your own boat, but want to get out on the water, it is not problem – you can easily rent a boat.  The best selection is at Signal Mountain (they have pontoons, runabouts and deck cruisers).   You can also rent motorboats at Colter Bay.
c. Take a guided boat cruise
There are boat cruises available on Jackson and Jenny Lakes.
(i) Jackson Lake
Colter Bay Marina offers 1.5-hour interpretative cruises on Jackson Lake.  They sail around Elk Island, the largest of the lake islands and include a guided commentary. 
Breakfast and dinner cruises are also available.  The meals are served on Elk Island and there is time for a short hike on the island as well.  It's a stunning setting for a meal!  The Jackson Lake cruises leave from Colter Bay.
(ii) Jenny Lake
The Jenny Lake Boating Company provides a boat shuttle to the other side of the lake, where many of the best hikes in Grand Teton National Park leave from.  The trip across the lake takes about 20 minutes and they depart every 15 minutes or so.  However, they also offer 60-minute scenic cruises around the lake with a guide.  The dock is near visitor center.
---
7. Attending a National Park Ranger Program
The national park service has great ranger-led programs in all of their parks, and Grand Teton is no exception.  They are informative and entertaining and you will have a chance to ask questions.  Topics include the wildlife, plant life, geology, the ancient peoples, the history of the park and more.   Check their website for the latest schedule.
---
8. Grand Teton Rafting
Floating down the Snake River has to be one of the most fun things to do in Grand Tetons in summer.  There are actually two main types ofrafting in Grand Teton National Park:
a. Grand Teton Scenic Float Trips
The stretch of the Snake River in Grand Teton National Park between Deadman's Bar near Snake River Overlook and Moose is fast and incredibly scenic – and there are good chances of seeing moose.  There aren't actually many rapids though. 
So, if you actually want to go rafting in Grand Teton National Park on this section of the Snake River, you will technically be going on a Grand Teton float trip rather than a whitewater rafting trip.  What it lacks in the thrills of careening down rapids it more than makes up for in the thrill of the breathtaking scenery zipping past.  You can sit back, relax and enjoy the views as your guide does the paddling.
Book a 3.5-hour Grand Teton scenic float trip here
b. White water rafting near Grand Teton National Park
For white water rafting, Grand Teton National Park itself is actually not the best location because of the lack of rapids.  Instead, for white water, trips head south of Jackson and traverse an eight-mile/ 13-km stretch of the Snake River through Snake River Canyon, which is more commonly called the Grand Canyon of Snake River.  Rapids are Class I-III.  The water is higher and faster in spring, as the winter snow melts, engorging the river. 
Book a 3-hour trip white water rafting Snake River, Grand Teton NP here
---
9. Horseback riding in Grand Teton National Park
Wyoming is cowboy country.  Nothing quite conjures up the romance of this part of the United States like riding a horse through the incredible natural beauty, which is why horseback riding in this amazing part of the planet is easily one of the most iconic things to do in the Grand Tetons.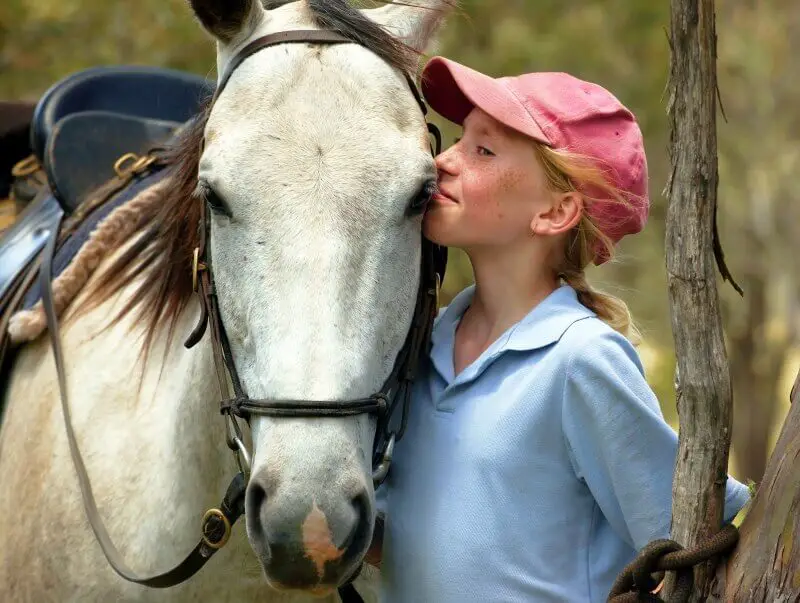 You can easily join in and have this experience.  There is excellent horse riding in nearby Bridger-Teton National Forest. 
You don't need to be an expert rider.  However, bear in mind that horse riding uses muscles you never even knew you had, so if you have never – or seldom – sat on a horse, I recommend (and I speak from experience) to do a shorter trip.  A half day riding is a perfect way to experience this incredibly beautiful part of the country.
Book a guided horseback riding trip to Bridger-Teton National Forest here.
---
10. Fly Fishing in Grand Teton National Park
Another top pick for the best things to do in Teton National Park is fishing.  In fact, the area is home to its own trout species, the Snake River Fine-spotted Cutthroat.  There are two main options: fishing in the lakes and float or fly fishing Snake River.  
Grand Teton water levels rise in the spring with the snow melt and float fishing in the river is popular after the main spring runoff.  Other nearby rivers also offer opportunities for fly fishing Grand Teton National Park.  Jackson National Fish Hatchery, just west of the National Elk Refuge is also good for fly fishing.
Most lakes are open all year round, though Jackson lake is closed October 1-31.
You will need a Wyoming state fishing license, which you can purchase in the park at the Colter Bay Marina, Signal Mountain Lodge and Dornan's Fly Shop.  There are seasonal closures – check the national park website for details.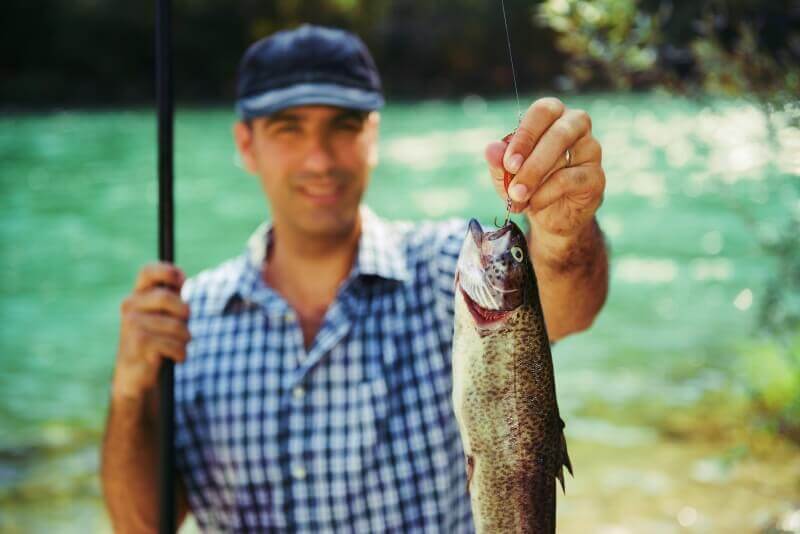 An alternative to booking a fishing trip is to go out with your own fishing kayak. You can pick up an inflatable fishing kayak (easy to take with you!) right here.
---
11. Biking
Biking is another of the top things to do in Grand Teton National Park because the roads are fairly flat and the scenery is stunning. 
Cycling Trails and Bicycle Rental
There is a cycling trail parallel to Teton Park Road, Moose-Wilson Road and US 26/89/191 south of Moose, plus a spur from Moose Junction to Antelope Flats Road. 
Another great place for cycling is the 15-mile/ 24-km gravel road that mostly follows the Snake River:  Cottonwood Creek Road – River Road – Bar B C Road.  It is mostly flat, though there are a few small hills, and the views are amazing. 
You can also book an e-bike for Grand Teton here.
If you prefer to have your own, check out e-bike options to buy on REI here.
Mountain Biking
For Grand Teton mountain biking, head to Shadow Mountain east of Antelope Flats.  There are steep climbs and some single-track routes, suitable for experienced riders.  Or visit the Mountain Bike Park at Jackson Hole Mountain Resort, where there are several specially designed mountain biking tracks.
---
12. Kayaking in Grand Teton National Park 
Jackson Lake is the most popular place for kayaking or canoeing in Grand Teton National Park.  Most people stay close to the east shore, but there are actually some paddle-in only campsites on the west shore. Wilcox Point campsite below Moose Mountain is a stunning placed to spend the night.  It's a long day from Coulter Bay, but possible. 
You can rent kayaks and canoes at Signal Mountain Marina early June to mid-September and at Colter Bay Marina late May to mid-September.  No reservations are taken – they are all first come, first served, and they do get busy.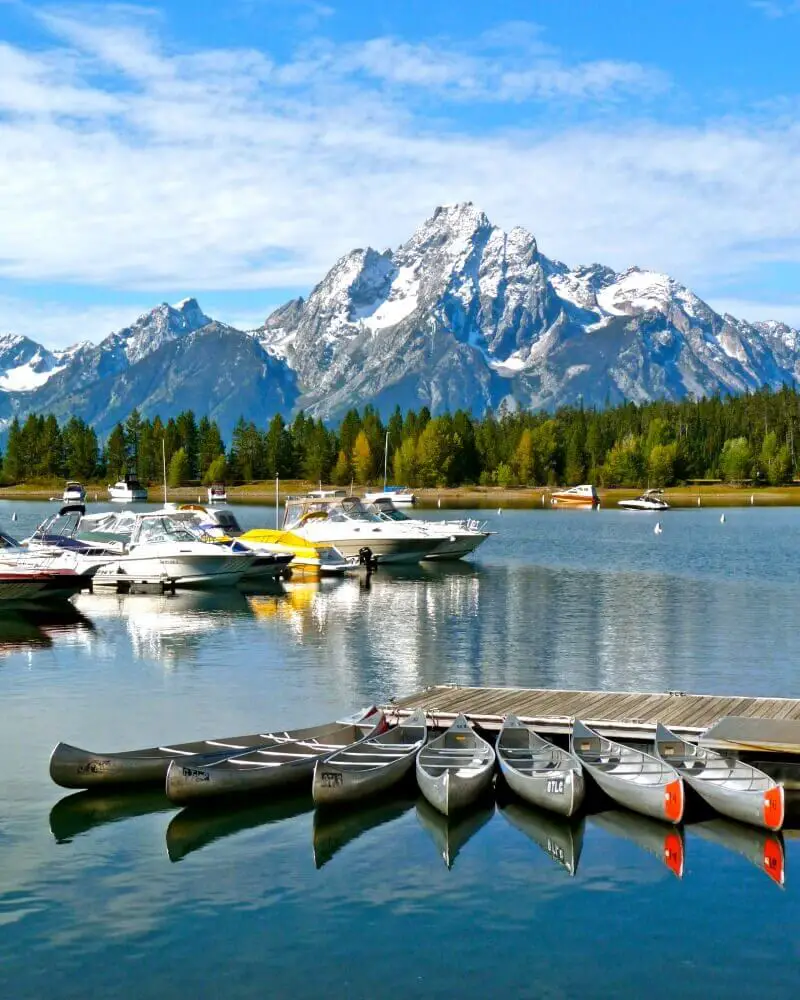 Dornan's in Moose also rents kayaks and canoes.  They are at the south end of the park, so that is the best choice for Jenny Lake and Leigh Lake, which has a short porterage from String Lake and amazing views of Mount Moran.
If you are interested in kayaking Snake River, Grand Teton National Park, just south of Jackson Lake is the calmest section.  Note that the kayak rental places only allow you go on still water (the lakes), not Snake River.
A great alternative to renting a kayak is to buy one. You can get great deals on inflatable kayaks, which are light and super easy to carry with you. Read my Guide to the Best Inflatable Kayaks here for what to look for, and the best inflatable kayaks in several different categories. The top pick is the Intex Excursion Pro Kayak. Check prices here.
---
13. Swimming in Grand Teton National Park
Swimming is one of the many things to do in Grand Teton National Park in summer. The water is chilly, but you can swim in the lakes.  The best place to swim in Grand Teton National Park is probably String Lake.  The water at the String Lake picnic area is quite shallow, so it is slightly warmer than other lakes and the bottom is sandy.
 Another popular spot is Jumping Rock at Phelps Lake.  This is a large 30-foot/ 9-meter boulder that you can jump or dive off into deep water.  It's at the opposite end of Phelps Lake from the trailhead, below Death Canyon.  It's a 2-mile/ 3.2-km hike to get there (heading in a counter clockwise direction around the lake).  After a swim, you can continue the loop around Phelps's Lake (another 2.3 miles/ 3.7 km) back to the trailhead, or return the way you came.
Another popular place to swim is Kelly Warm Springs.  The large natural spring is really only warm in summer, but has lovely views of Jackson Hole and the Tetons.  It's on Gros Ventre Rd, 2 miles west of the park.
---
14. Dining Out
Not all of the best things to do Grand Teton National Park are outdoors or involve expending lots of energy.   There are surprising number of great places to enjoy a meal and a drink in and around Grand Teton National Park, many with sensational views of the mountains.  Top picks include:
Blue Heron Lounge (Jackson Lodge): A nice bar with casual dining, including an outdoor grill.
Mural Room (Jackson Lake Lodge):  The lodge's flagship dining room.  Floor to ceiling windows with views of the mountains.
Dornan's Chuckwagon (Moose):  Authentic western fare served outdoors and under cover, including ribs, baked beans, and mashed potatoes.  Open summer only.
Dornan's Pizza and Pasta Company (Moose):  Indoors and an outdoor patio.  Slightly longer season than the Chuckwagon.
The Dining Room (Jenny Lake Lodge):  Super fancy, gourmet meals, silver service, reservations required.
Peaks Restaurant (Signal Mountain Lodge):  Reasonably priced bistro with an outdoor patio and large windows providing beautiful views of the mountains.
Trapper Grill (Signal Mountain Lodge):  Sandwiches, burgers and nachos.
Million Dollar Cowboy Bar (Jackson):  Iconic western bar that also serves meals.
---
15. Staying at a Dude Ranch, Grand Teton
If you want to experience the wild, wild west in true fashion, then stay at a dude ranch. A dude ranch is a ranch or farm that caters to guests.  You can stay and experience various ranch typical activities such as horse riding and play at being a cowboy for a weekend.
Heart Six Ranch in Moran is one of the oldest dude ranches in America.  Located at the north of Grand Teton National, the historic ranch has a lodge, a saloon and a café.  You can go horse riding, fishing and hunting in summer and snowmobiling and dog sledding in winter. Rooms are modern with a rustic feel.
Check availability at the Heart Six Ranch here
---
16. Buying elk antlers at the annual auction
About 7,500 elk descend from the mountains in winter and congregate on the area that has been designated as the National Elk Refuge.  Elk shed their antlers each year and then grow a whole new set each spring. 
This means that at the end of winter, there are literally thousands of antlers strewn across the elk refuge – and since the elk shed them naturally, it is completely harmless to them.  Boy scouts collect them in April after the elk leave for the-warmer months. 
They are then sold in the Town Square in Jackson at an auction held during the annual Elkfest.  A set of antlers makes a great souvenir.  The event is held the weekend before Memorial Day.  In addition to the auction, there are picnics and concerts throughout the weekend. 
The Town Square has huge arches that were built in 1960 from leftover elk antlers that year, and is worth a visit even if you can't make it to the elk antler auction.
---
17. Climbing
The Grand Tetons are famous for mountaineering.  The Mountain Guides offer guided peak climbs with varying levels of difficulty, as well as climbing classes.
Rock climbing also popular, especially in Boulder City, which is about half a mile north of the Cathedral Group Overlook on Jenny Lake Road.
---
Best Things to Do in the Air Near Grand Teton National Park
Not everything is on the land or in the water.
18. Taking a scenic flight over the mountains
I always love seeing mountains from the air.  The views from above are so incredible!  Take a flight in a small plane (maximum 7 passengers and all with a window seat) over the highest peaks in the Teton range.  The pilot will give you a mini lesson in aerial photography so you take the best photos, as well a guided commentary during the flight.  60- and 90-minute flights are available. The 90-minute flight also flies over the Gros Ventre Range and Sheep Mountain.
Get more information about scenic flights here
---
19. Hot air ballooning
Obviously, this is not going to be cheap, but if you are visiting Grand Teton National Park to celebrate a special occasion, then this is the ultimate treat and absolutely worth it.  The one-hour sunrise flight includes pickup from your hotel to the balloon airfield.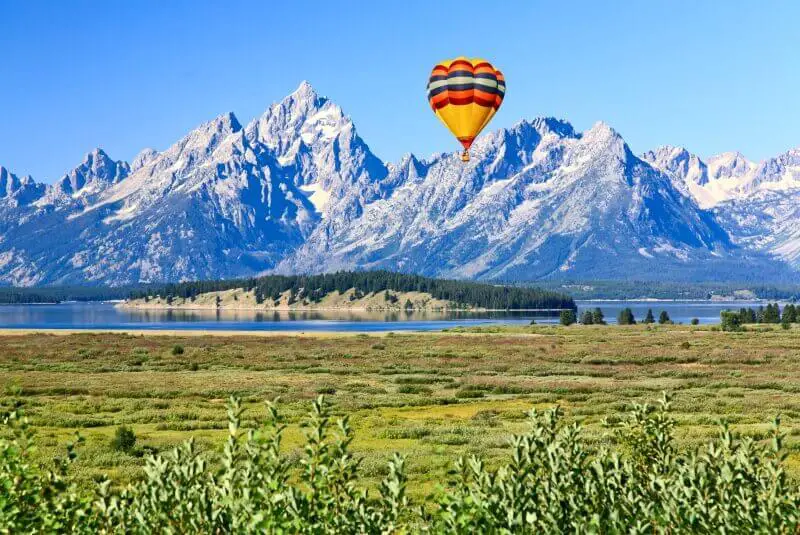 There are plenty of things to see in Grand Teton National Park. From the balloon, you will have mind blowing views of the Grand Tetons, Jackson Hole, Bridger-Teton National Forest, Snake River, the Jackson Hole Mountain Resort and the Yellowstone Plateau.  You may even see herds of elk, mule deer, and moose.  Make the morning even more special with a glass of champagne (or orange juice) upon landing.
Book the hot air balloon sunrise flight over Jackson Hole here
---
20. Catching the cable car (Jackson Hole Aerial Tram)
From Jackson Hole Mountain resort, there are two ways to go up into the mountains. The bottom stations for both of them are close to each other.  Both provide incredible views of Jackson Hole below.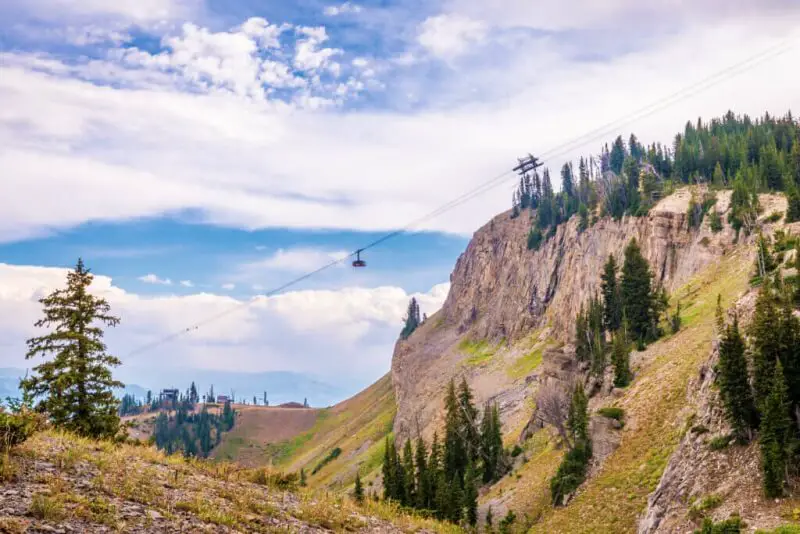 The "Big Red Box" aerial tram is enormous – it holds 100 people at full capacity.  It takes just 9 minutes to ascend 4,139 vertical feet (1.26 km) to the summit of Rendezvous Mountain, where you can enjoy freshly made waffles at Corbet's Cabin.
The Bridger Gondola doesn't go as high; it ascends 2,700 vertical feet/ 823 m, which is still plenty high.  There are multiple small private gondolas and there is more to do at the top, including three restaurants and an outdoor terrace.  Plus, it is free to ride after 5:00pm.  
Get your Jackson Hole Aerial Tram admission ticket here
---
21. Paragliding
Paragliding is available from the top of the Bridger Gondola.  You can book a tandem flight (where you are strapped to a professional guide who steers for you), so you don't need to be experienced to be safe.   It's an adventurous way to enjoy the views.
---
Have an amazing stay in Grand Teton National Park!
Do you have any favorite things to do in Grand Teton National Park? I'd love to hear about them. Join my private Facebook group National Parks Collectors and comment and let me know.
If you liked this post, Pin It to your Grand Tetons or National Parks boards!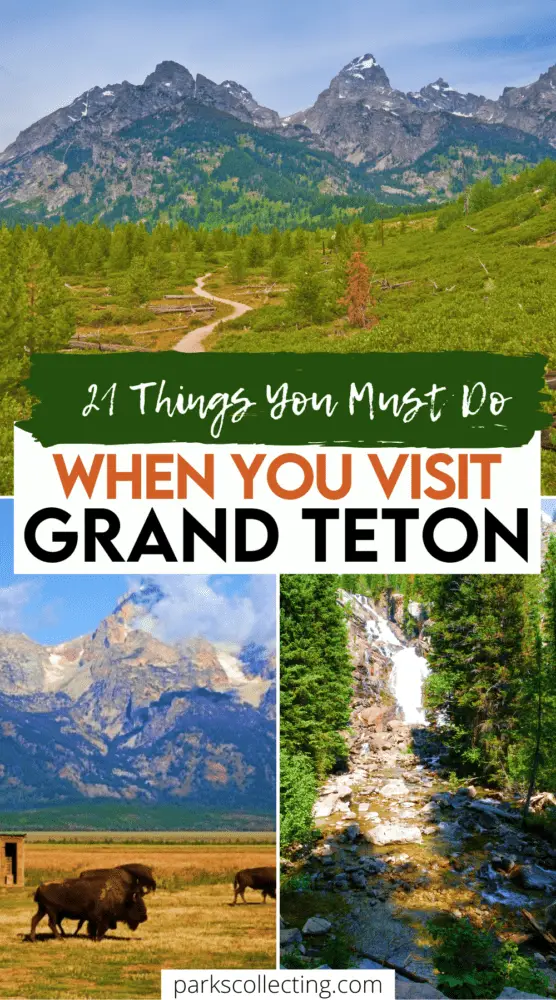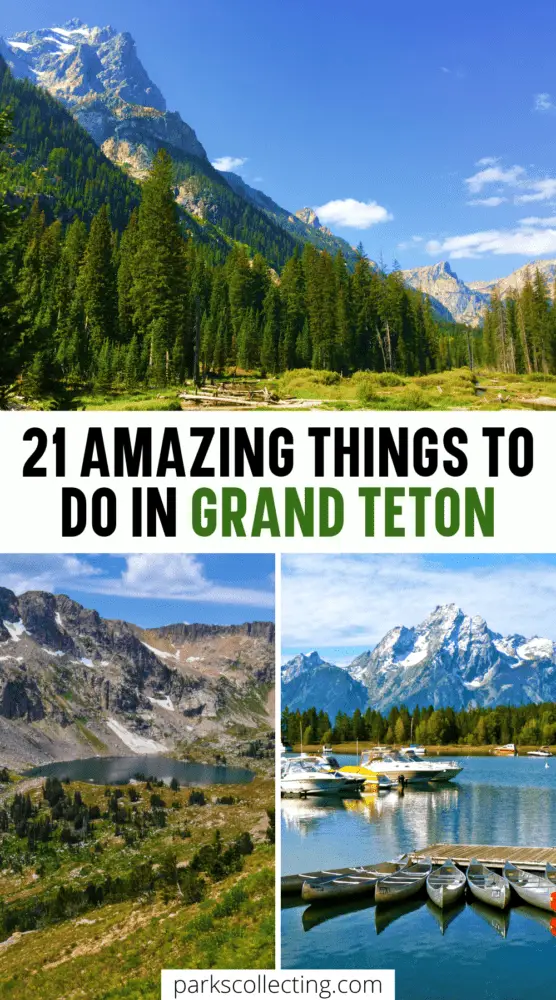 Are you planning a trip to Grand Teton National Park? Read my Grand Tetons Guide and detailed itineraries.
If you are also adding on Yellowstone National Park, read my Yellowstone Guide and detailed Yellowstone Itineraries.
---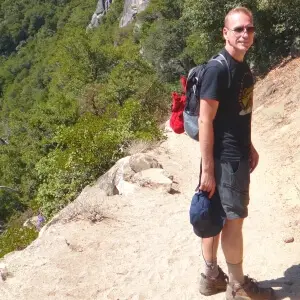 James Ian has traveled to 82 countries and all 7 continents.  He has visited all of the main national parks in the United States, as well as many national monuments and state parks.
He has rafted through the Grand Canyon; rappelled down slot canyons near Zion and Arches; hiked among the hoodoos in Bryce and the enormous trees in Sequoia; admired the waterfalls in Yosemite and the colored hot springs in Yellowstone; seen moose in Grand Tetons and seals in the Channel Islands, and much more.
---
Parks Collecting is a participant in the Amazon.com Services LLC Associates Program, an affiliate advertising program designed to provide a means for sites to earn advertising fees by advertising and linking to amazon.com. Amazon and the Amazon logo are trademarks of Amazon.com, Inc. or its affiliates. As an Amazon Associate I earn from qualifying purchases.