Grand Teton National Park is home to towering mountains, cascading waterfalls, lakes and islands, woods and plains. You may be hoping to see moose, bison or elk; to go hiking, boating or fishing; to go snowshoeing or cross-country skiing; to enjoy fall color, summer sunshine or winter snow… All of these are possible.  Depending on when you go. 
No time right now to find out when is the best time to visit Grand Teton National Park?  Pin It and save it for later: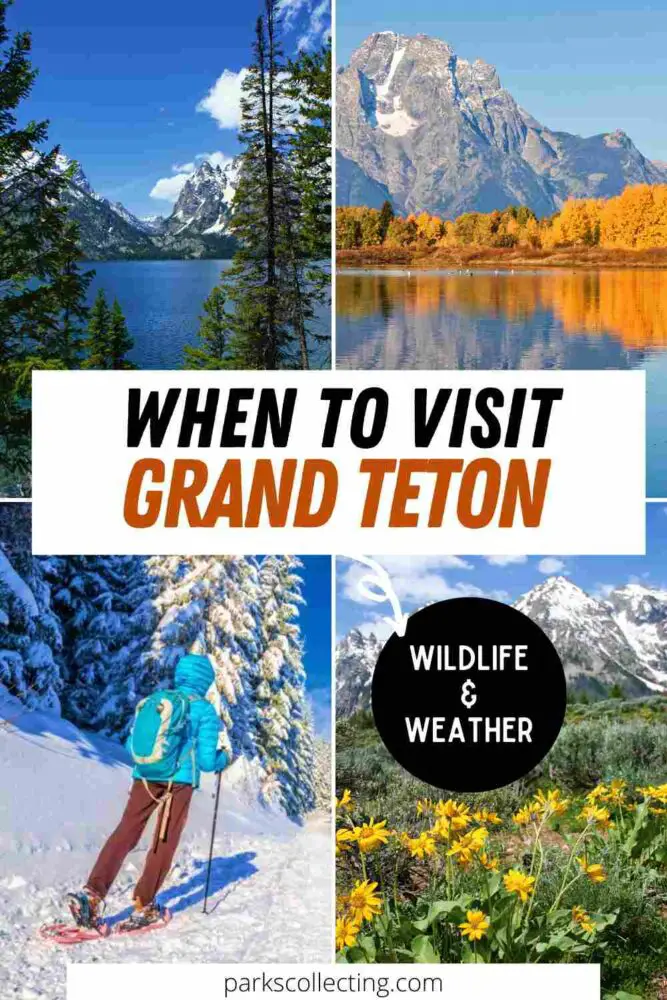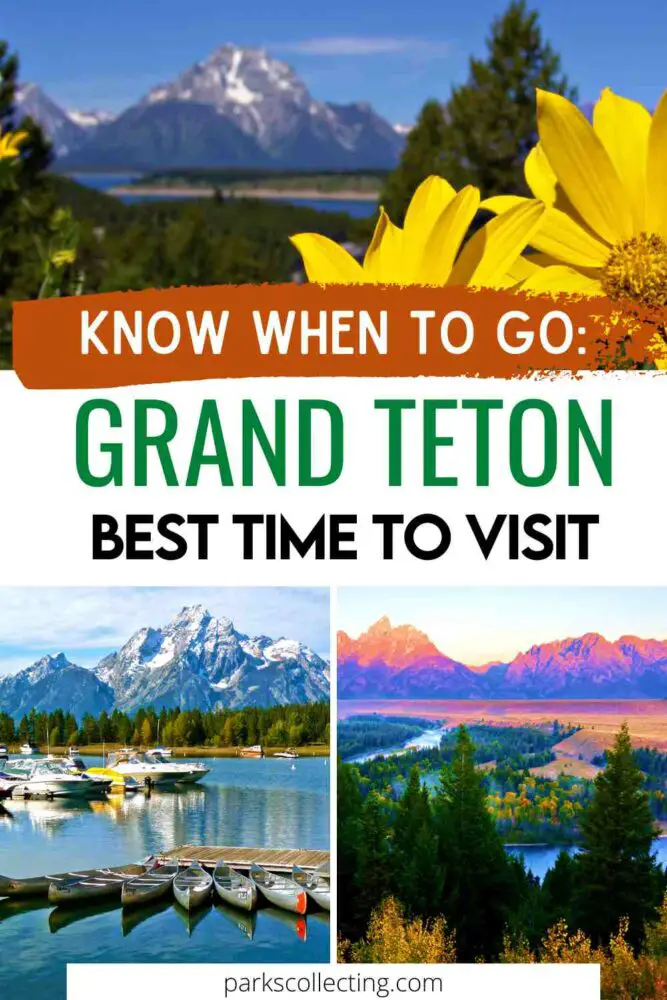 Please note this post may contain affiliate links, which means we may receive a commission, at zero cost to you, if you make a purchase through a link. Please see our full Disclosure for more information. If you have any questions, please contact me.
So, you are trying to decide when to visit Grand Teton National Park.  Grand Teton National Park is technically open all year, though not all roads are.  The best time to go to Grand Teton National Park depends on what you want to do. Let's take a look at the main seasons of the year. 
What is the best time of year to visit Grand Teton National Park?
Grand Teton in Spring (May) 
Because winter is so long, spring is extraordinarily short. May sees things start to open up, the weather starts to warm up and the snow start to melt.  But this is very much a transitional period and things may not be open or accessible.   
The inner Teton Park Road usually opens May 1 but other roads in the area that you may want to access such as Antelope Flats, Moose-Wilson Road and Signal Mountain Summit don't usually open until mid-May at the earliest.   
The campgrounds and hotels in the park open mid-May and they usually have lower rates at this time of year. 
There is still lots of snow on the ground and what you are able to do will be somewhat limited.  The average high is usually in the low 60s F / mid-teens C.  
Visiting Grand Tetons in May/ spring is (together with fall) the best time to see wildlife, as the animals are becoming more active.
This is also when the annual antler auction is usually held in Jackson's Town Square.  Thousands of elk antlers are collected from the neighboring areas (the elk shed them) and they are sold by the Scouts.  
Read More: How to Get to Grand Teton National Park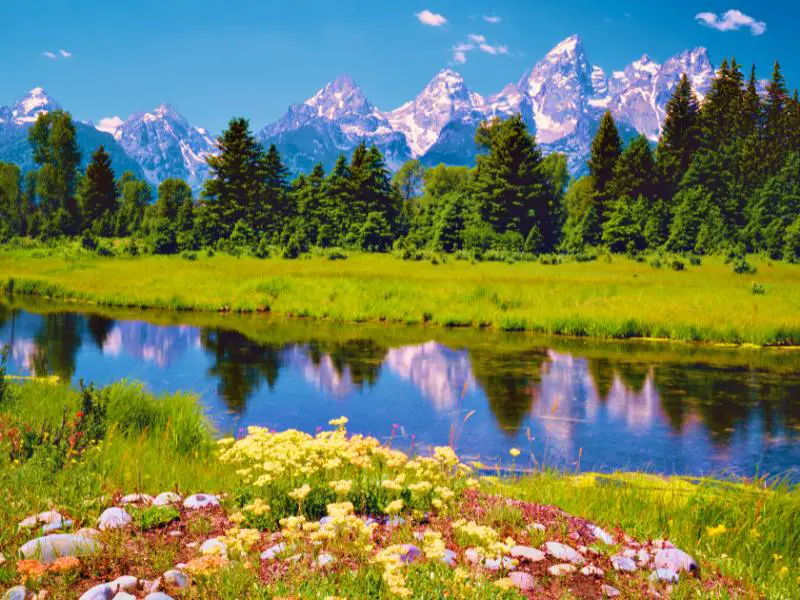 Grand Teton in Summer (June-August) 
By June, the snow has usually melted from most areas, though it can still be on the ground in the back country until well into July.   
These are the warmest and driest months and it is possible to enjoy hiking, boating, fishing, wild water rafting, kayaking, cycling and even swimming in summer.
The weather in Grand Tetons in August is especially lovely, with temperatures often in the low 80s F/ mid-late 20s C.  Everything is open and there is lots to do. 
However, the downside to these months is that they coincide with school summer holidays, so they are also the most crowded and expensive.  July – August especially can see clogged roads, crowded trails and expensive accommodations. 
If you plan to visit then, check out my one-day, two-day and three-day itineraries, to help with your planning. 
If you are planning to visit Grand Teton National Park in spring, summer or fall, make your planning easy and stress free with a detailed itinerary. I have 1-, 2-, and 3-day itineraries for Grand Teton that include all the park highlights, give you choices based on your preferred activity level and take all the stress out of planning your trip.
Although these are the driest months, afternoon thunderstorms are common in July and August, so consider packing rain gear (find a rain jacket on Amazon here). 
Alternatively, there may well be wildfires in the area, with smoke and some areas closed.   
That being said, these are definitely the most popular months to visit Grand Teton National Park. 
Check out my guide on How Long to Spend in Grand Teton National Park to help you decide if you aren't sure.
Grand Teton in Fall (September-October) 
The campgrounds and lodgings in Grand Teton National Park remain open for most of September (but at cheaper prices than the summer), the roads and hiking trails are still open (but less crowded), and the weather is cooler (but still typically in the late 70s F / mid-20s C). 
Fall is also when the wildlife is more active, making this a good time to see animals like moose and bison. 
The aspens in the park turn a blaze of yellow, usually peaking the 3rd week of September. 
All of this makes September, in my opinion, the best time of year to visit Grand Teton National Park. 
However, the weather can be changeable, and it is possible to experience all four seasons in a day or week.  The campgrounds, lodges, restaurants and activities close throughout September and by the start of October, winter is coming.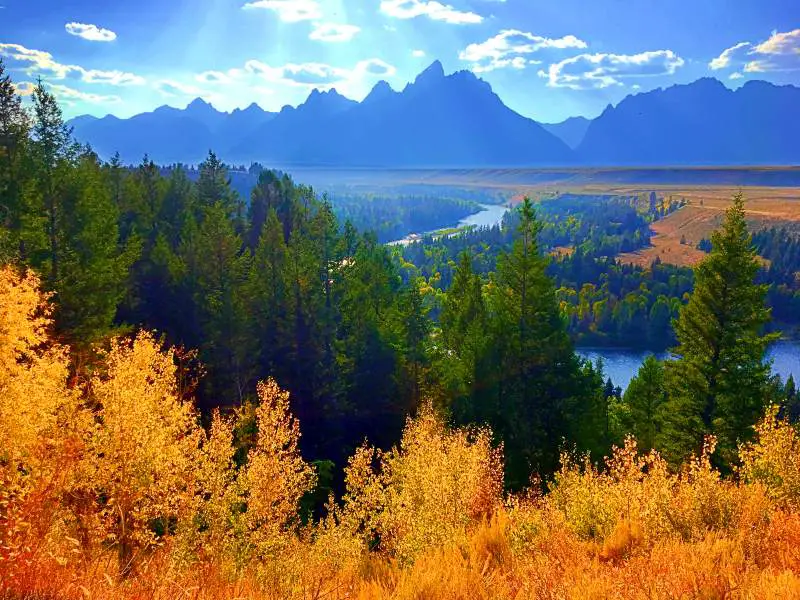 Grand Teton in Winter (November – April)  
There is a LOT of snow in winter; there can often be as much as 14 feet of snow at Moose, the southern part of the park. 
Temperatures are very cold, averaging between 2°F / -16.5°C and 28°F / -2°C in December through February. 
Most of the park is shut down, including all of the lodges and campgrounds inside the park.  The inner Teton Park Road is closed to traffic November to May, although the outer road (highway 191) is open all year. 
This does not mean that you cannot – or should not – visit during the winter months.  The park and surrounding areas are a winter wonderland and this is the best time to visit Teton National Park if you love winter activities. 
The inner road may be closed to traffic, but it is groomed frequently for cross country skiing and snow shoeing. 
The nearby towns of Jackson and Teton Village are downhill ski centers, so are especially busy in the winter months. 
You can also do dog sledding and snow mobiling in winter.
In addition, this is a great time to see elk in the National Elk Refuge just south of the national park, and you can even take a sleigh ride through the refuge to see elk.  About 7,500 elk congregate there in winter.  Book a sleigh ride tour here.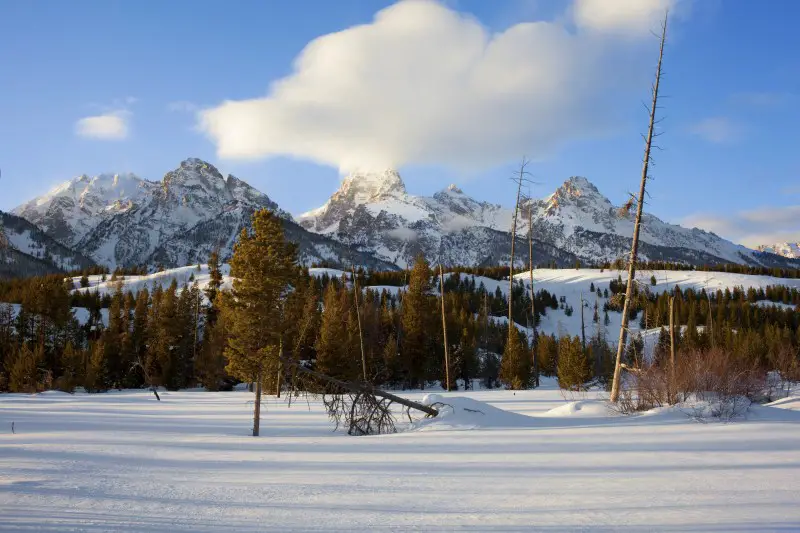 Tips for visiting Grand Teton National Park and Jackson Hole in winter:   
1. Book winter activities in advance
You can book them here: 
2. Dress appropriately 
If you are looking for new gear, read by detailed guides to the best: 
5. Pack appropriately
Check you have everything on my: 
---
When is the best time to visit Grand Teton National Park? 
The best time to visit Tetons to see wildlife: Mid-late May or September 
The best time to avoid the crowds when everything is still open:  September 
The best time to travel in summer: June 
The best time to see the fall color in Grand Teton National Park: 3rd week of September 
The best time to travel on a budget: May, September, October 
The best time to have a winter adventure in Grand Teton National Park: December – February 
---
Enjoy Grand Teton National Park whenever you go! 
What do you think is the best month to visit Grand Teton National Park?  Join my private Facebook group National Parks Collectors and comment and let me know.
If you liked this post about Grand Teton (best time to visit), please share the love and Pin It to your Grand Teton National Park board: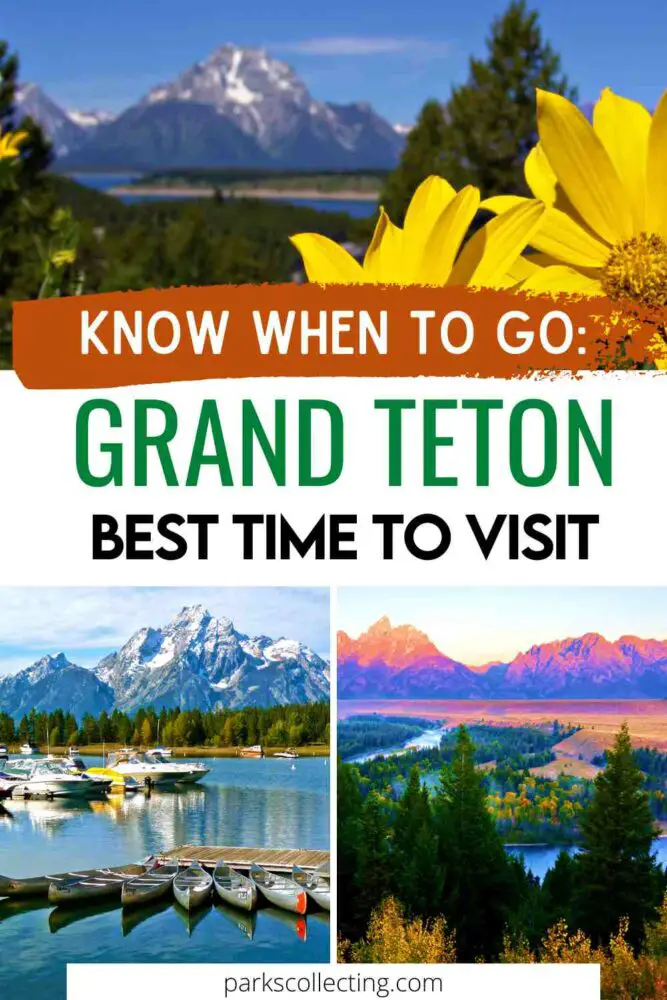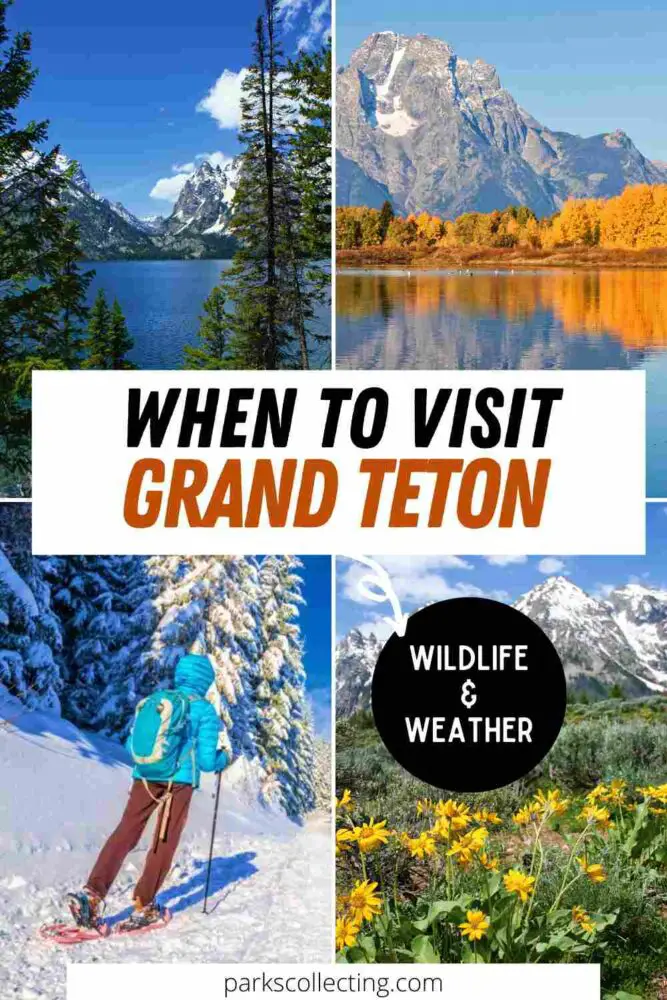 If you are also planning to visit Yellowstone in the same trip, read my Yellowstone National Park Guide and detailed Yellowstone itineraries.
---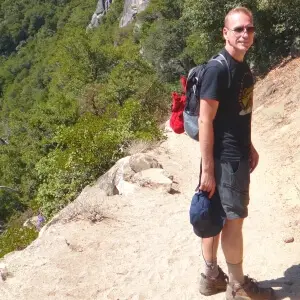 James Ian has traveled to 82 countries and all 7 continents.  He has visited all of the main national parks in the United States, as well as many national monuments and state parks.
He has rafted through the Grand Canyon; rappelled down slot canyons near Zion and Arches; hiked among the hoodoos in Bryce and the enormous trees in Sequoia; admired the waterfalls in Yosemite and the colored hot springs in Yellowstone; seen moose in Grand Tetons and seals in the Channel Islands, and much more.
---
Parks Collecting is a participant in the Amazon.com Services LLC Associates Program, an affiliate advertising program designed to provide a means for sites to earn advertising fees by advertising and linking to amazon.com. Amazon and the Amazon logo are trademarks of Amazon.com, Inc. or its affiliates. As an Amazon Associate I earn from qualifying purchases.