A dramatic mountain range rising straight up out of the valley floor, a chain of lakes scattered like jewels at its feet, and a scenic river snaking its way in front – this is the breathtaking Grand Teton National Park.
Want to learn more about this incredible place? Let's take a look at some interesting facts about Grand Teton National Park.
No time right now to read these fun facts about Grand Teton National Park? Pin It and save it for later: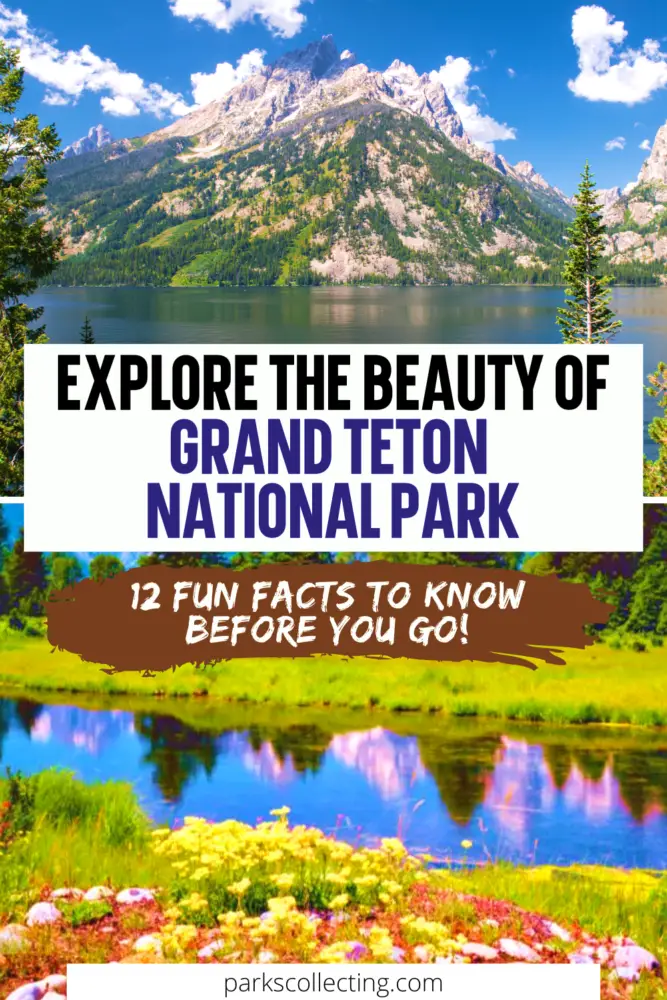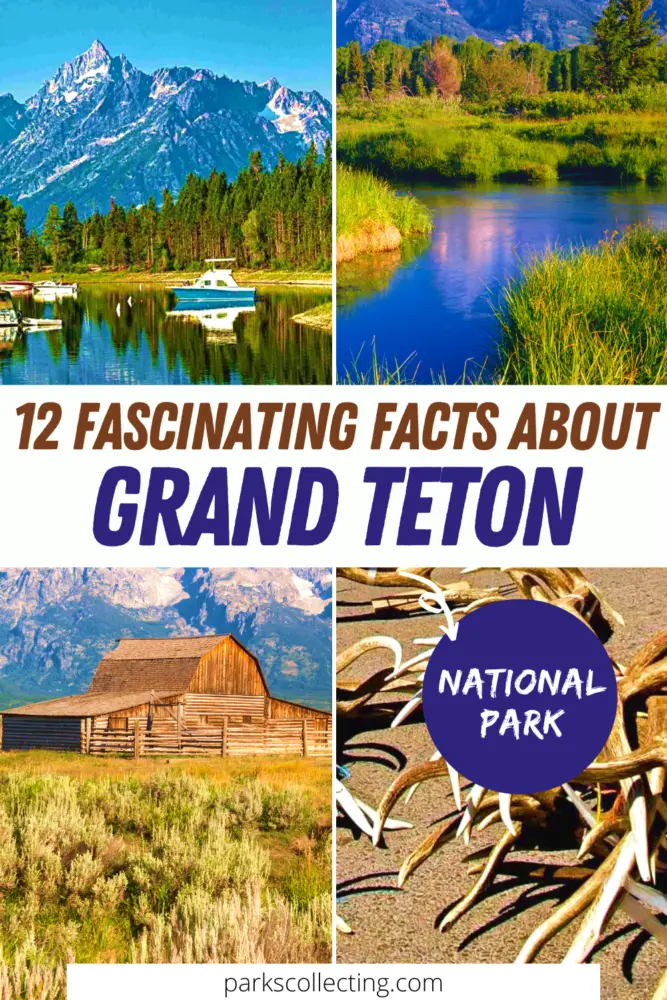 Please note this post may contain affiliate links, which means we may receive a commission, at zero cost to you, if you make a purchase through a link. Please see our full Disclosure for more information. If you have any questions, please contact me.
If you are planning to visit Grand Teton National Park in spring, summer or fall, make your planning easy and stress free with a detailed itinerary. I have 1-, 2-, and 3-day itineraries for Grand Teton National Park that include all the park highlights, give you choices based on your preferred activity level, and take all the stress out of planning your trip. 
---
Basic Grand Teton National Park Facts
Location: Wyoming
Size: 485 square miles
Number of Visitors each Year: 3,885,230 in 2021, its busiest year
Annual Rainfall: An average of 21 inches of precipitation each year, but half of that is snow in winter.
Highest Elevation: Grand Teton (13,775 feet)
Lowest Elevation: Fish Creek at the south boundary (6,320 feet)
Date it Became a National Park: Grand Teton National Park was established in 1929.  Jackson Hole National Monument was created in 1943. The two were combined to become the current Grand Teton National Park in 1950.
---
12 Fun Facts about Grand Teton National Park
Here are some interesting things that you may not know about this beautiful national park.
1. The Grand Teton Mountains are the youngest range in the Rocky Mountains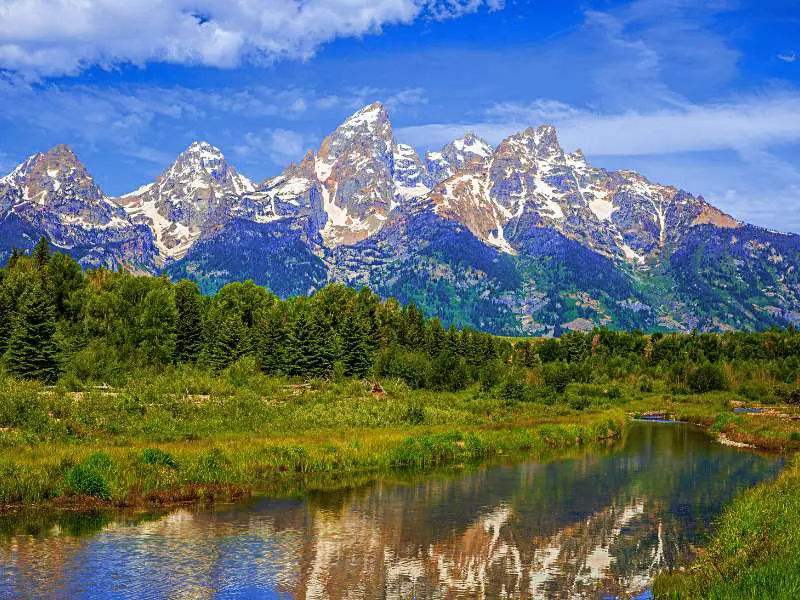 The main focus in Grand Teton National Park is the 40-mile Teton Range.  Unlike most mountain ranges, there are no foothills.  This is in part because of the way the range formed.  
The mountains were created by a series of earthquakes along a fault line.  Over a period of about 13 million years, a series of earthquakes caused the land on the west side (the Teton Range) to slide up and the east side (Jackson Hole valley) to slide down. 
This happened about 775 million years ago – which seems a long time.  But in fact, the Tetons are still the youngest range in the Rocky Mountains – and some of the youngest mountains in the world. 
READ MORE: Learn more about this incredible landscape in Geology of Grand Teton National Park by C Craigshead and H Holdsworth
---
2. Grand Teton has some of the oldest rocks on the planet
Although it's one of the youngest mountain ranges in the world, that doesn't mean that the rock itself is young.  In fact, the rock in the Tetons is some of the oldest rock on the planet! 
A quick geology lesson: metamorphic rock is a kind of rock formed from another kind of rock that transforms as a result of heat, pressure, or some other force.
A lot of the Tetons are made of a Precambrian metamorphic rock called gneiss. This rock, sometimes called 'basement rock' because it's so old that it forms the foundation of the American continent, is about 2.7 billion years old!  That means that the rocks you see as you gaze at the Tetons has been there for about 7/8 of the entire existence of our planet!  Now THAT is old!
READ MORE: Learn more about the geology of this entire region in Interpreting the Landscape: Recent and Ongoing Geology of Grand Teton and Yellowstone National Parks by J. M. M. Good
---
3. Grand Teton National Park has been occupied for about 11,000 years
Humans first started living in this area about 11,000 years ago.  There is evidence that they were nomadic people who lived there in the warmer months (spring to fall), hunting, fishing and gathering seasonal fruits and berries. 
They were part of a group of Nomadic Paleo-Indians who spoke the Athabaskan language.  There is evidence of fire pits, tipi rings and fishing tools along the shores of Jackson Lake.
What there is no evidence of is why they left.  This is a mystery that's never been solved, but a likely reason is that were forced out of the area by a newer – and stronger – group.
Enter the Shoshonean-speaking people.  It's thought that they moved there in the 1500s and 1600s and basically pushed the Athabaskan-speaking people out.
By the time Europeans arrived, multiple tribes visited the area for hunting and fishing, including the Shoshone, Grow, Gros Ventre, Bannock, Blackfoot and Nez Perce peoples. 
READ MORE: Along the Ramparts of the Tetons: The Saga of Jackson Hole, Wyoming by R.B. Betts for a fascinating history of Jackson Hole
---
4. America's first Mountain Man "discovered" the Tetons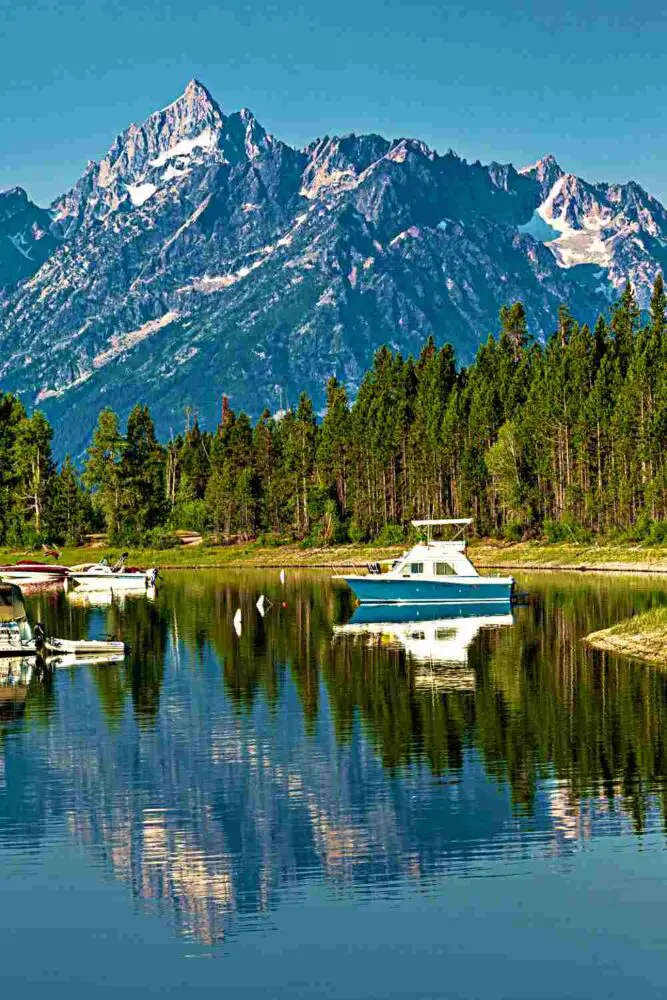 As we know, native Americans lived in the region for thousands of years, so the mountains were 'discovered' many centuries ago.  But the first person of European descent to reach this area is widely considered America's first "Mountain Man".
His name was John Colter – yes, the same Colter who has a bay on Jackson Lake named after him.
Before he came to the Tetons, Colter was a member of the famous Lewis & Clark Expedition in 1806.
However, it was in 1807-8 that he became the first white person to enter the area that is now Yellowstone and Grand Teton National parks – and entered history in the process.
Like the disappearance of the first Indians, Colter's disappearance is also a mystery.  No one knows what happened to him – his body has never been found.  No one knows either, where exactly he went on his explorations of the area.  One possibility is that he went via the Togowtee Pass.
However, in 1933, a rhyolite stone carved in the shape of a human head was found Tetonia, Idaho.  The stone is engraved with "John Colter" on one side and "1808" on the other.  This suggests that Colter actually traveled through the Teton Pass instead.
Although Colter's Stone is on display in a museum in Grand Teton National Park, the stone has never been authenticated, so it's still conjecture. 
READ MORE: The Mystery of John Colter: The Man Who Discovered Yellowstone by R Anglin & L Morris
---
5. Yes, the mountains are named after women's breast
Although Colter was the first Mountain Man, he wasn't the last. The "Mountain Men' were French-Canadian trappers who moved into the region around the Grand Tetons to trap and kill beaver, whose fur was very fashionable in Europe at the time.  
When the trappers were mapping the area in the late 1700s, with a vivid imagination and perhaps a degree of isolation, they were inspired by the shape of the mountains to name them "tetons" which means "breasts" in French.  "Grand" is French for "big", so …. you get it.  The Tetons were the Dolly Parton of the day. 
Looking at the mountains today, it's not really very easy to see the shapes as they saw them, but they were the ones drew the maps and their name for the mountains somehow stuck.
---
6. The first documented ascent of Grand Teton was in 1898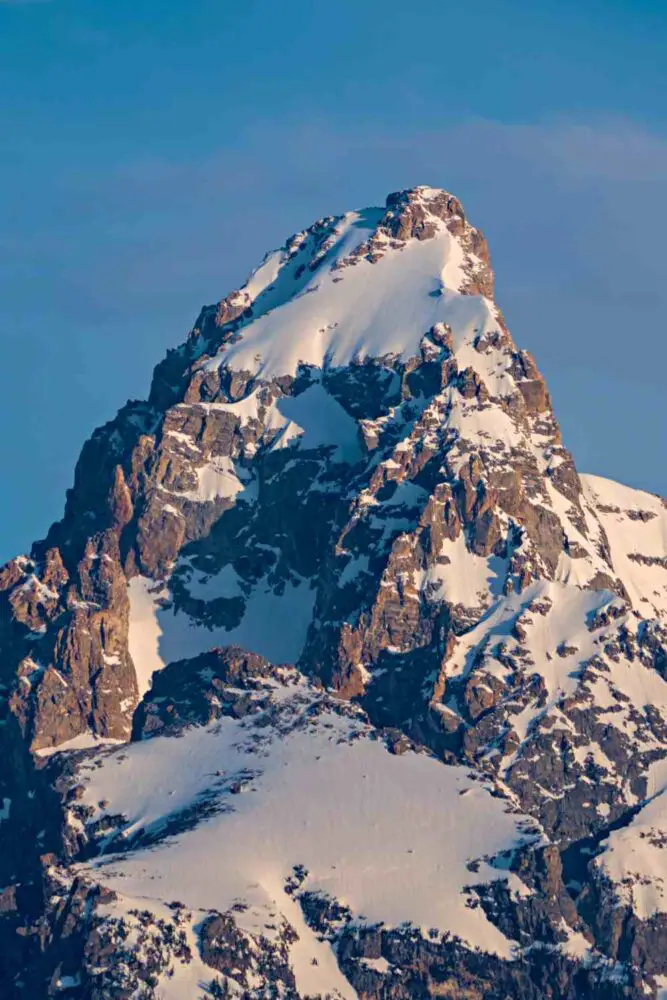 While Jackson Hole was used for fishing, hunting, gathering and trapping, the mountain peaks themselves were left unreached until the end of the 19th century.
It's possible that there were undocumented earlier ascents – either by native Americans or Europeans, but the first documented ascent of Grand Teton, the highest peak in the Teton Range, was by Franklin Spencer Spalding and his party in 1898.  
It took Spalding, Petersen, and Shive 11 hours, but they made it – and documented it by building a cairn and chiseling their names in a boulder at the summit, ensuring their place in the history books. 
Now, it you were Nathaniel P. Langford and James Stevenson, who claim they reached the summit 26 years earlier in 1872, you might have something to say about that.
---
7. J.D. Rockefeller secretly helped create Grand Teton National Park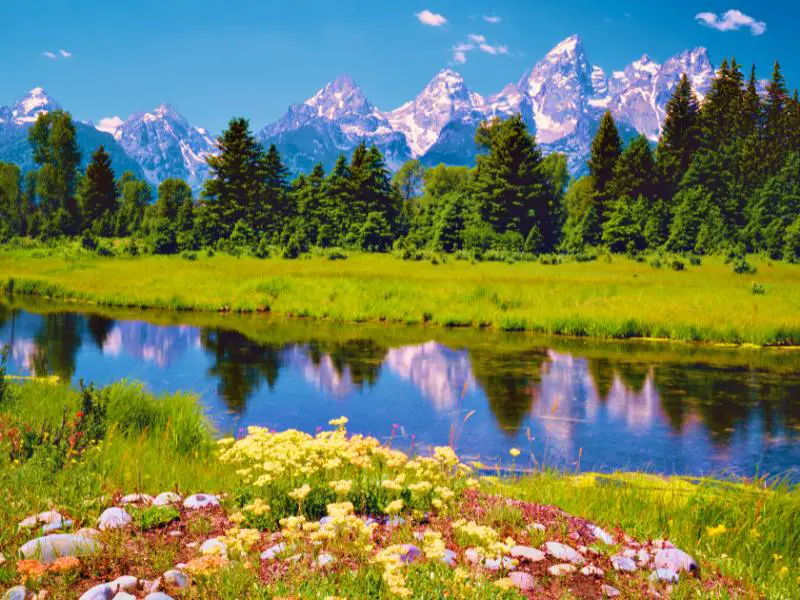 John D. Rockefeller, Jr., one of the richest men in the world at the time, visited Wyoming and fell in love with the area. 
He decided to buy up land in Jackson Hole. In order to do so, he created the Snake River Land Company and over the next two decades bought 35,000 acres of land in their name.  This way people didn't know it was him buying the land so they didn't jack up the price for him and didn't balk at selling land to him.
When locals discovered that Rockefeller has bought all that land with the intention of giving it to the government, they weren't happy, as it would mean a decrease in local tax revenue if the federal government owned the land instead of a private person or company.
Fortunately, they didn't manage to stop him (though it did take a Congressional hearing to resolve).
Grand Teton National Park came into being in several instalments.
Grand Teton National Park was established in 1929, but this only included the actual mountain range and a few lakes at the base of the mountains. 
In 1943, some of the land in the nearby valley became Jackson Hole National Monument.
Then in 1949, John D. Rockefeller, Jr. Was managed to successfully donate the land that the Snake River Land Company had purchased to the government.
A year later, in 1950, the original park, the national monument, and the Rockefeller lands were combined into what is Grand Teton National Park today.
Then in 1972, the John D. Rockefeller, Jr. Memorial Parkway was created in honor Rockefeller's philanthropy and commitment to the National Park System to connect Grand Teton and Yellowstone National Parks.
Another fun fact: JD Rockefeller kept a 3,100-acre area of land that used to be a dude ranch called the JY Ranch. The Rockefellers used this as a family retreat until Laurance S. Rockefeller donated the final 1,100 acres in 2001 to create the Laurance S. Rockefeller (LSR) Preserve, which lies next to the National Park on the Moose-Wilson Road.
READ MORE: Crucible for Conservation by R Righter provides a fascinating insight into the struggle over these lands between cowboys, farmers, forest rangers, National Park Service, Wyoming officials, New Dealers, Easterners, and more. 
---
8. Grand Teton National Park is the only national park with an airport inside it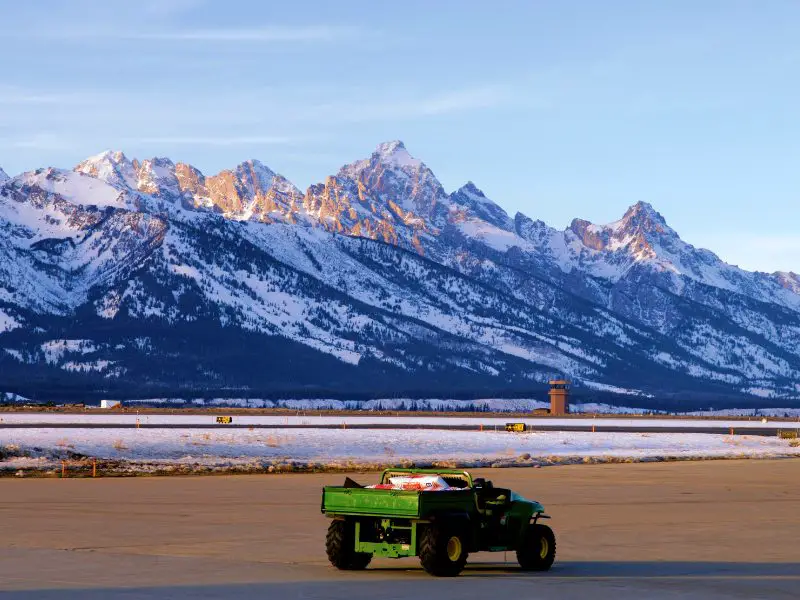 Jackson Hole Airport is the only commercial airport in the United States that is located entirely inside a National Park.
This airport was established in the 1930s and when the area all around it became designated as the Jackson Hole National Monument in 1943, the airport was allowed to remain.  
So, when you land at Jackson Hole Airport, you have flown right into the national park!
READ MORE: All the main airports near (and in) Grand Teton National Park
---
9. There are several famous buildings in Grand Teton National Park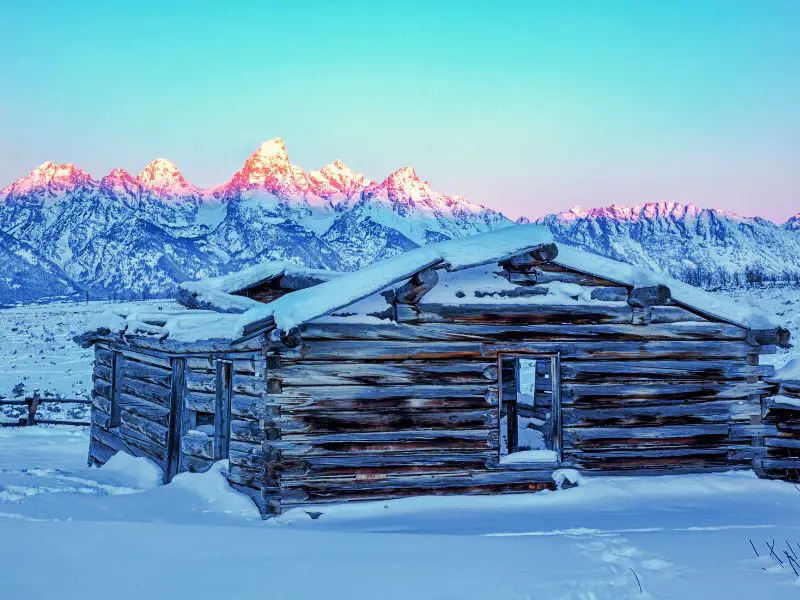 The two most photographed barns in America are in Grand Teton National Park.  Between 1896 and 1937 a group of Mormon settlers built a community of farms, homesteads, barns and irrigations ditches in what is known today as Mormon Row.  
Two picturesque barns – the John Moulton Barn and the TA Moulton Barn – make for great photographs, with the Teton mountains behind them, and today, they are the most photographed barns in the country. 
The dramatic scenery isn't only perfect for photos and postcards, though.  This scenery is what movies are made of – and many movies have taken advantage of the dramatic peaks as a backdrop for their scenes.
Classic movies that have been filmed here include The Big Trail (1930)- John Wayne's debut feature; The Big Sky (1952); Shane (1953); Spencer's Mountain (1963); Rocky IV (1985); and Brokeback Mountain (2005).
If you're a fan of Shane (1953), then you might want to try and find the Ernie Wright Cabin – or "The Shane Cabin" as it was called in the film.  The cabin is still standing (barely) and is tricky to find, but the Luther Taylor Cabi and Homestead as it is really called is located nearby Kelly.  Head north from Kelly about a mile, then turn right and about a mile along you can see the cabin on your left. 
If you're still in the mood for old cabins, there is one more to visit.  The J.P. Cunningham Cabin was built in 1888, and in 1892 was the site of a full-on gun fight. It's located on Highway 191, part of the scenic loop drive through the national park.
READ MORE: Guide to the 42-Mile Scenic Loop Drive Through Grand Teton National Park
---
10. Grand Teton National Park has the fastest land mammal in the western hemisphere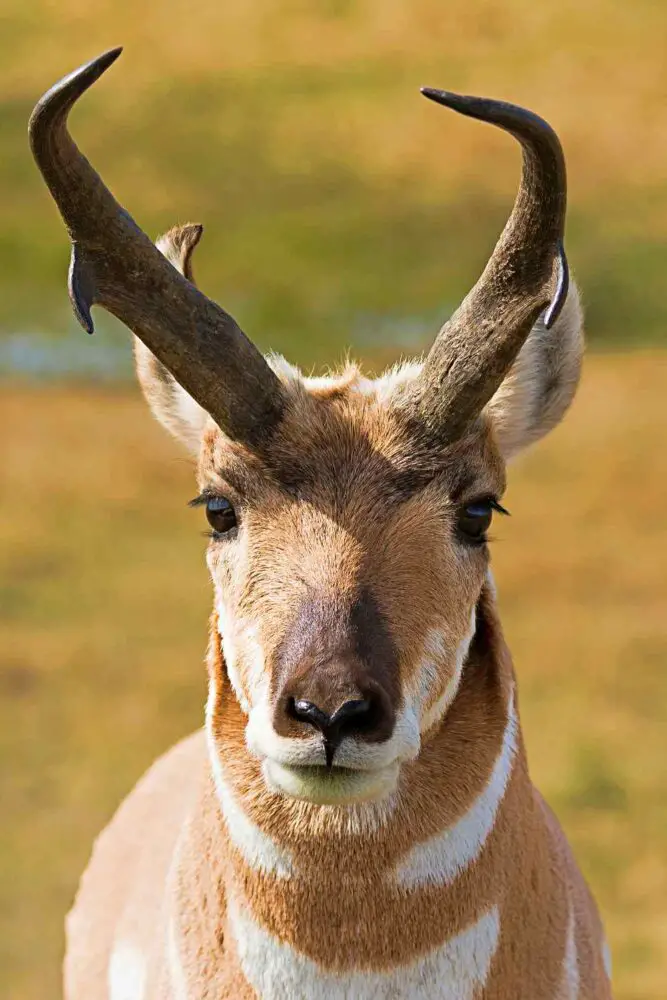 Did you know that the fastest land mammal in the western hemisphere is the pronghorn?  They can run as fast as 70 mph! (Apparently, they don't like to jump fences, so I guess they have to rely on running away instead of jumping to safety.)
Pronghorns may be the fastest, but they are by no means the only animals you can find in Grand Teton national park.  In addition to the spectacular mountain scenery and scenic lakes and river, this is a great place to see wildlife. 
You can often see bison on Antelope Flats; moose in the rivers and lakes (Moose Pond and Schwabacher's Landing are good places to see them); and black bears foraging in the bushes around lakes and near trails. You may also see grizzly bears, elk, wolves, coyotes, bighorn sheep yellow marmots and beavers.  
READ MORE: Get a copy of A Field Guide to Yellowstone and Grand Teton National Parks by K.F. Johnson to help you identify the animals you see while visiting the park
---
11. The park also has the smallest bird in North America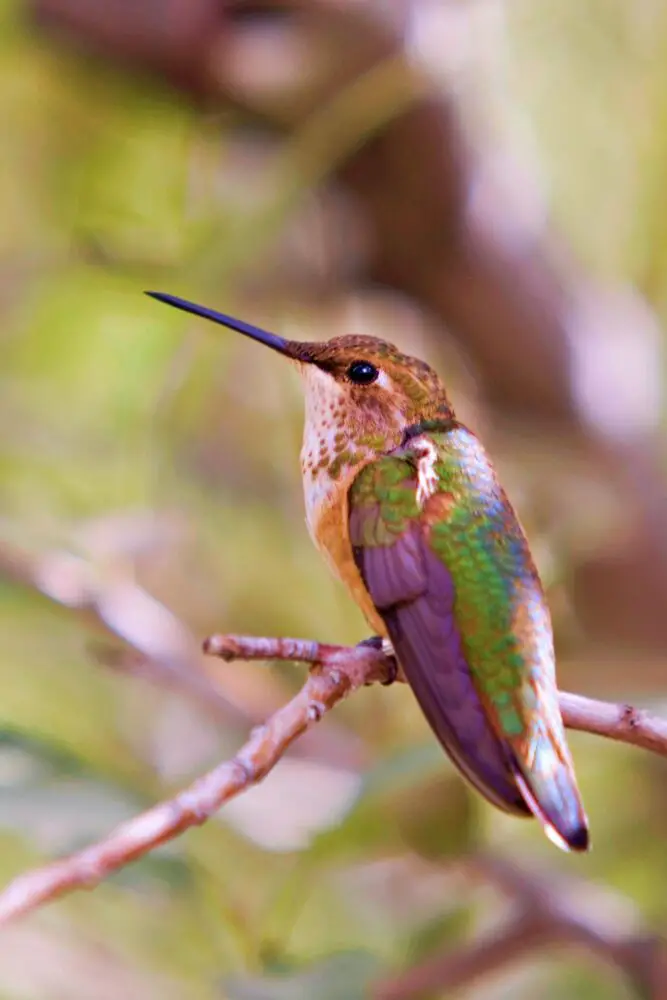 Grand Teton National Park doesn't just have animals – there is also an incredible variety of birds.  Including the smallest bird in North America, the calliope hummingbird. 
Weighing less than one a tenth of an ounce, they aren't the easiest bird to see.  Keep a careful eye out and you may see them zipping around willow shrubs or drinking nectar from scarlet gilia flowers. 
A little easier to see are the largest waterfowl in North America – also found in Grand Teton National Park.  Trumpeter swans can often be seen at Oxbow Bend; the appropriately-named Swan Lake; and Flat Creek in the National Elk Refuge.
READ MORE: If you're into bird watching, pick up a copy of Birds of Wyoming Field Guide: Includes Yellowstone & Grand Teton National Parks (Bird Identification Guides) by S Tekiela to help you identify the birds you're seeing
---
12. In Grand Teton / Jackson Hole, you can see elk, eat elk, buy elk antlers, and even hunt elk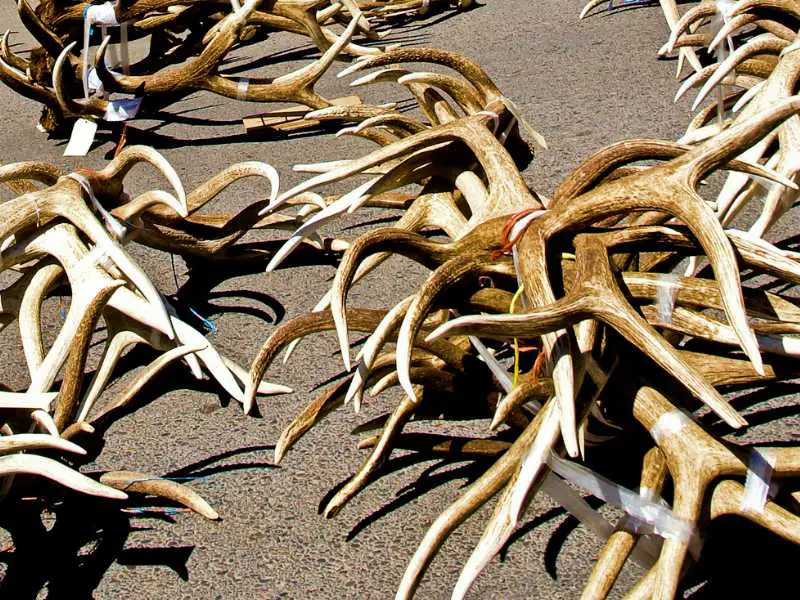 One of the more unusual Grand Teton National Park facts involves elk – and there is something for every season.
The Jackson elk herd is the largest elk herd in North America. Thousands of elk spend the colder months in what is designated as the National Elk Refuge.  In winter, you can take a sleigh ride through the elk refuge to see these majestic animals.
BOOK A FULL-DAY WINTER ADVENTURE INCLUDING A SLEIGH RIDE IN THE NATIONAL ELK REFUGE
In the early spring, male elk shed their antlers (they grow a whole new – and larger – pair each year).  This leaves thousands of antlers strewn across the valley near Grand Teton National Park.  These are collected and sold at the annual elk antler auction in the Jackson Town Square.  This is a key event in the annual Elk Fest that happens each May. 
You can also eat elk meat at many of the restaurants in Jackson throughout summer.  They are harvested – and hunted.  
And if you have a park permit and a valid Wyoming elk hunting license, you can join in the annual elk reduction program in late fall each year.  This is managed by the national park service and is an intentional effort to maintain the Jackson Elk Herd at 11,000 so that they remain sustainable in the area.
READ MORE: Homesteading With the Elk by B.C. Gilette, a fascinating story of frontier life in Jackson Hole
---
Read more Fun Facts about other US National Parks
More Information About Grand Teton National Park
Now that you've learned at least 10 facts about Grand Teton National Park, are you feeling inspired to visit Grand Teton National Park?  Start planning your trip now with these guides:
---
Do you have any other Grand Teton National Park interesting facts to share?  I'd love to hear them. Join my private Facebook group National Parks Collectors and comment and let me know (you can also pick up extra planning tips, share your photos and stories with other national park lovers and more). 
If you liked these facts about the Grand Tetons, please share the love and pin this post to your Grand Teton National Park board!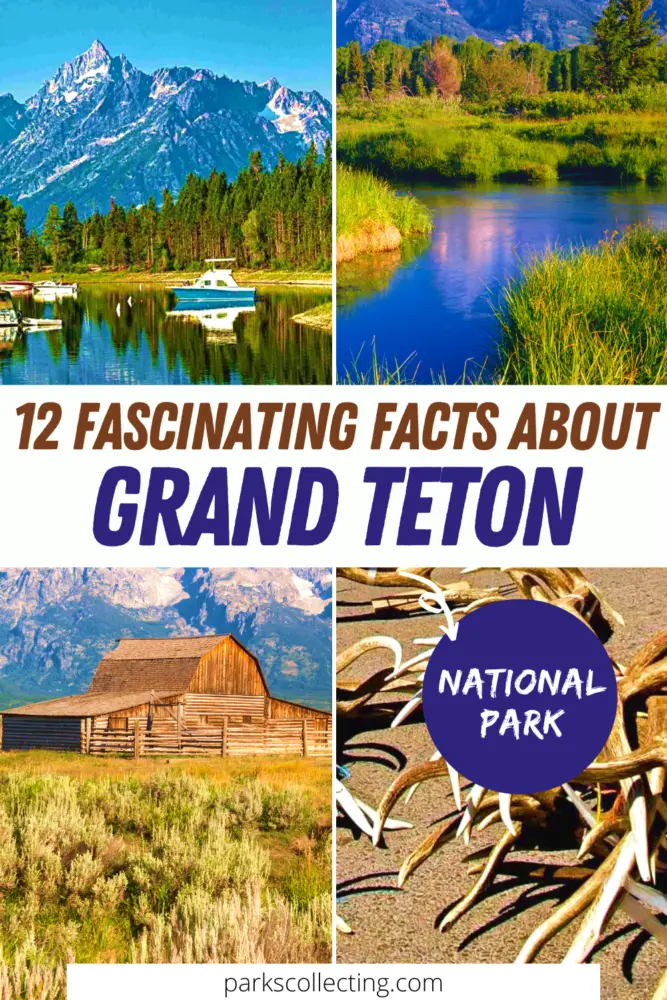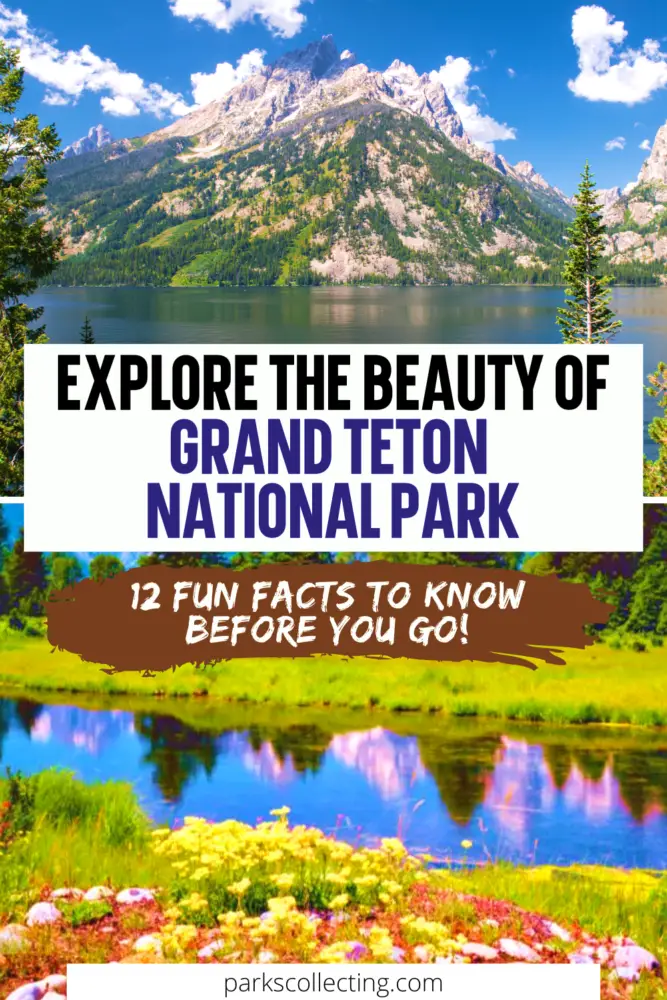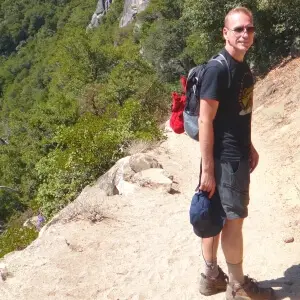 James Ian has traveled to 82 countries and all 7 continents.  He has visited all of the main national parks in the United States, as well as many national monuments and state parks.
He has rafted through the Grand Canyon; rappelled down slot canyons near Zion and Arches; hiked among the hoodoos in Bryce and the enormous trees in Sequoia; admired the waterfalls in Yosemite and the colored hot springs in Yellowstone; seen moose in Grand Tetons and seals in the Channel Islands, and much more.
---
Parks Collecting is a participant in the Amazon.com Services LLC Associates Program, an affiliate advertising program designed to provide a means for sites to earn advertising fees by advertising and linking to amazon.com. Amazon and the Amazon logo are trademarks of Amazon.com, Inc. or its affiliates. As an Amazon Associate I earn from qualifying purchases.