Spring is a wonderful time visit America's national parks.  As winter turns into spring, snow starts to melt in many national parks, feeding rivers and waterfalls.  Parks that are hot in summer and cold in winter can be lovely and cool, making for perfect hiking weather.  Wildlife also become more active and young babies are born. Several parks also see millions of wildflowers burst into bloom, carpeting fields and meadows.   
April is also National Park Week, filled with extra activities throughout the parks.  The first day of National park Week is also one of the few entrance fee-free days. Here is my pick for the best national parks to visit in spring in the U.S.A.
No time right now to read about the best national parks to visit in spring? Pin It and save it for later: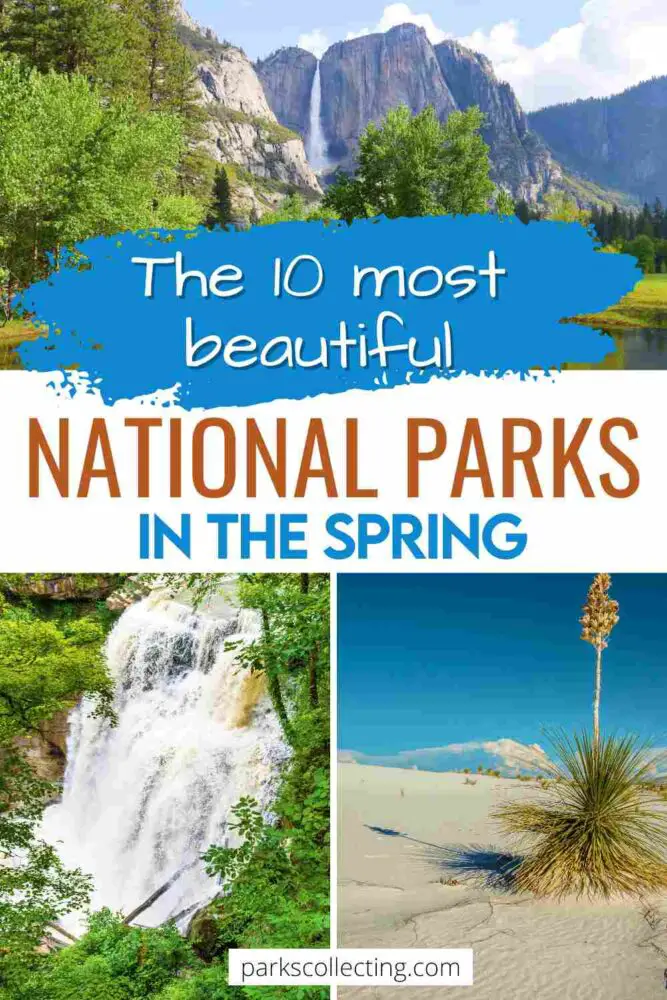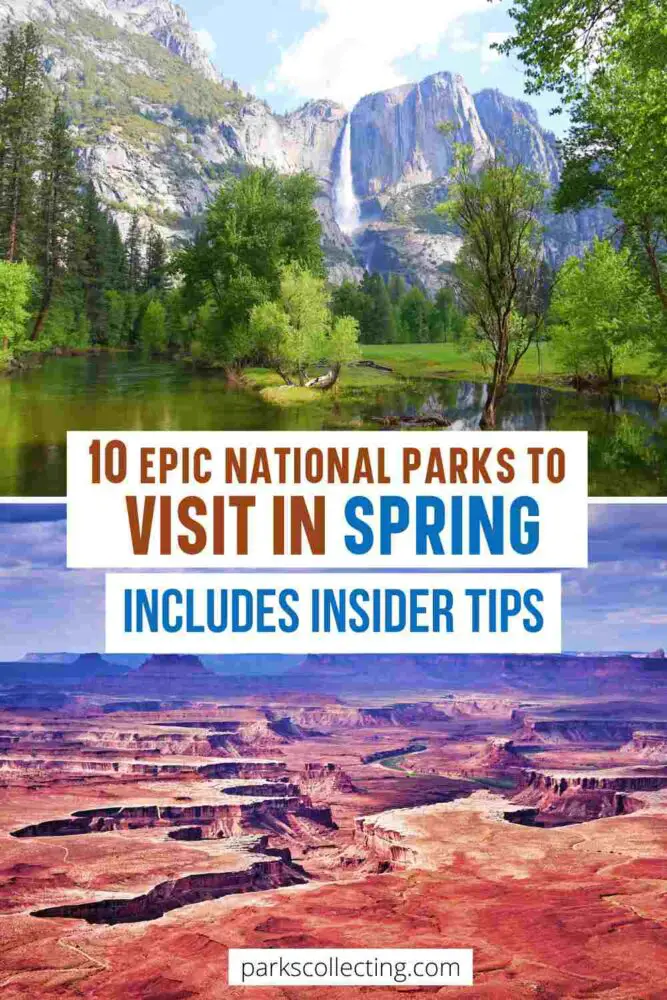 Yosemite National Park
California
Yosemite is one of the best national parks for spring break. The park is famous for its incredible rock formations and beautiful waterfalls.  As the winter snows melt, the waterfalls gain extra life and seeing them gush over jaw-dropping cliffs is a sight you won't want to miss. Mirror Lake also fills up completely, providing a stunning reflection of Half Dome.  Young fawns graze on the valley floor and, if you time your visit for late April-early May, the  dogwood trees burst into bloom for quite a display.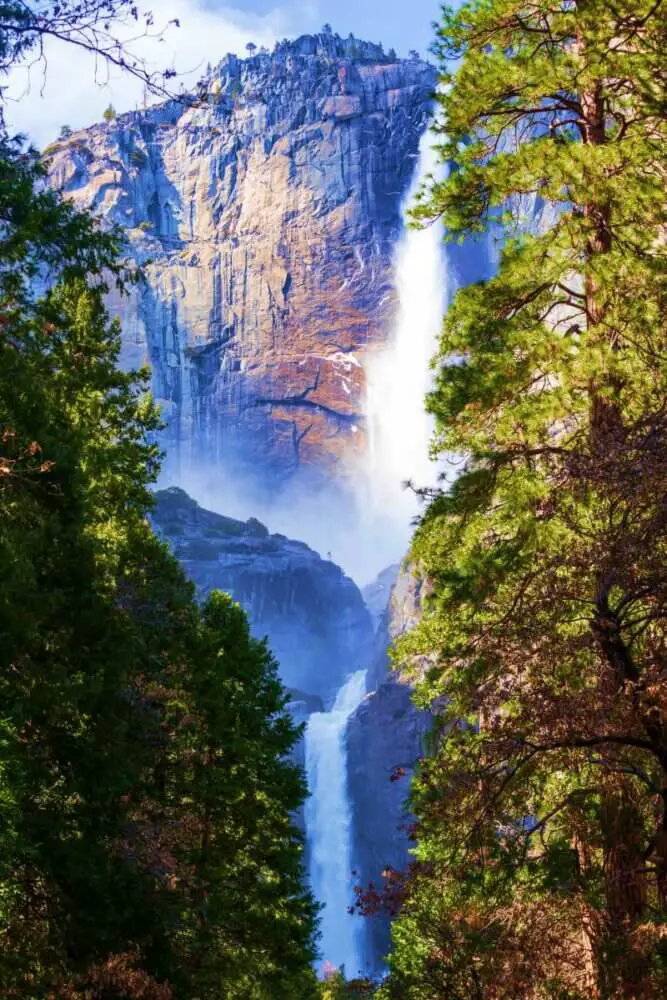 INSIDER TIP: Glacier Point Road and the Tioga Pass open in late May, so focus your visit on the main Yosemite Valley 
READ MORE: Yosemite National Park Guide
---
Saguaro National Park
Arizona
Saguaro National Park is home to the beautiful saguaro cactus.  If you imagine the typical cartoon wild west cactus, then you are thinking of the saguaro cactus.  The park gets extremely hot in summer, but is one of the best national parks in spring. The weather is especially lovely this time of year, making this a great time for hiking.  The cacti are mostly in the western Tucson Mountain District section of the park.  There is a separate Rincon Mountain District east of Tucson has fewer cacti, but many other types of plants.   
INSIDER TIP: The desert flowers bloom a couple of times throughout spring.  The saguaro cacti typically bloom in mid- to late-March, while other desert flowers put on a display early May. 
---
Grand Canyon National Park
Arizona 
Grand Canyon is another of the best national parks to visit in the spring.  Days are lovely, though nights and early mornings can be chilly.  The air is clear, making for great views.  This is a great time for hiking, though by late spring, the bottom of the canyon can already be hot.  The Colorado River is also full, so this is a great time for white water rafting through the canyon.  Venture out of the national park to the nearby Havasupai Reservation to see the stunning Havasupai Falls.  
INSIDER TIP: Although the South Rim is open all year round, the North Rim opens mid-May for the season.  
READ MORE: Grand Canyon Guide 
---
Shenandoah National Park
Virginia 
With more than 850 species of flowering plants, Shenandoah is a wonderful park to visit in spring.  Starting in late March, the park puts on a wildflower show.  Flowers and trees bloom, waterfalls gush and there are a lot fewer people than in summer.  Drive the length of the park along 105-mile Skyline Drive or hit the trails.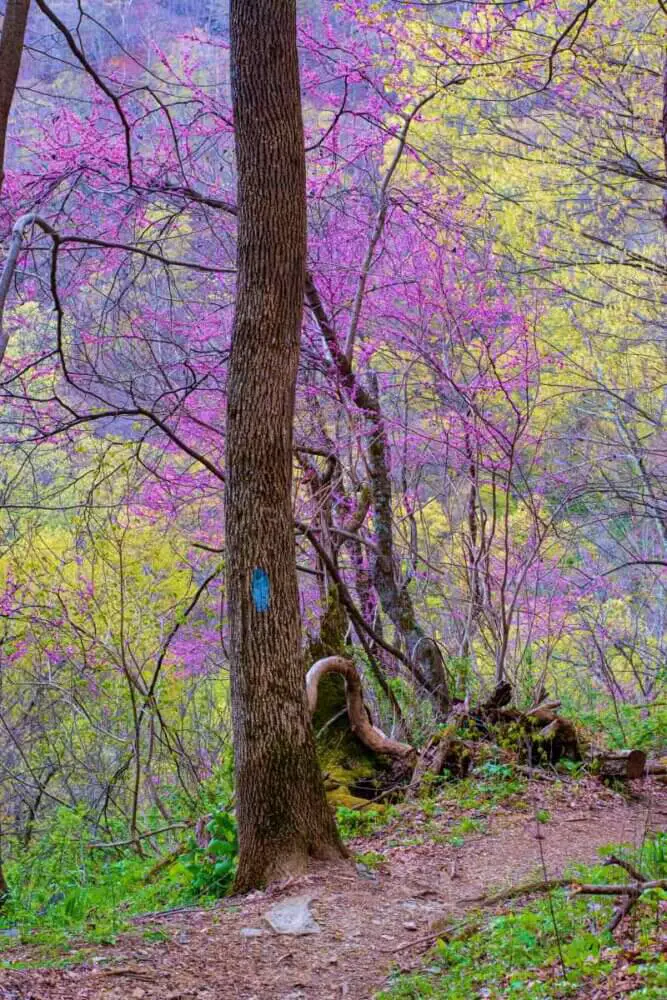 INSIDER TIP: Azaleas that line much of the Skyline Drive burst into bloom in May, so this is a great time to visit. 
---
Canyonlands National Park
Utah 
Canyonlands National Park is a labyrinth of mesas and buttes, arches and spires and colorful canyons. The park gets extremely hot in summer and many of the trails are exposed, so the cooler spring temperatures are much more pleasant for hiking.  Spring skies are clear and make for great star gazing. 
You can do river trips on the Colorado and Green Rivers.  They are mostly flat, but the section of the Colorado River through Cataract Canyon has Class V white water rapids.  This can be an awesome trip in spring for the adventurous, but check for water levels before you go, as it can be dangerous.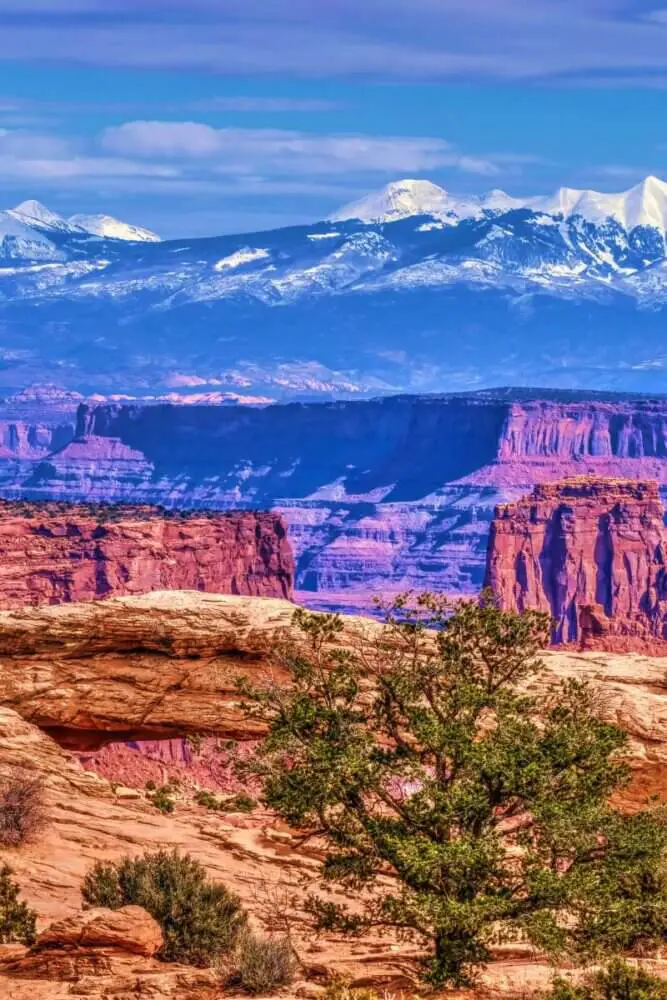 INSIDER TIP: Most of the roads are unpaved, so drive a 4WD and check weather reports before you head out.  You don't want to get bogged on a muddy, impassable road. 
---
White Sands National Park
New Mexico 
275 square miles of the New Mexico desert is covered in brilliant white sand dunes. You can hike out on to the dunes along several established trails.  Obviously, there is no shade and hiking in soft sand is hard work, so this can be grueling in summer.  Spring temperatures are perfect, making this one of the best national parks in the spring.  
INSIDER TIP: The road into the park is sometimes closed because of nearby missile testing. Check with the national park service before you go to make sure it will be open. 
---
Zion National Park
Utah 
Zion National Park is small and extremely popular, so it can very crowded in summer.  In spring, there are fewer people, and the waterfalls are especially lovely.  Temperatures are mild – perfect for hiking on trails that have very little shade.  Spring is also a great time for canyoneering in the slot canyons surrounding the park.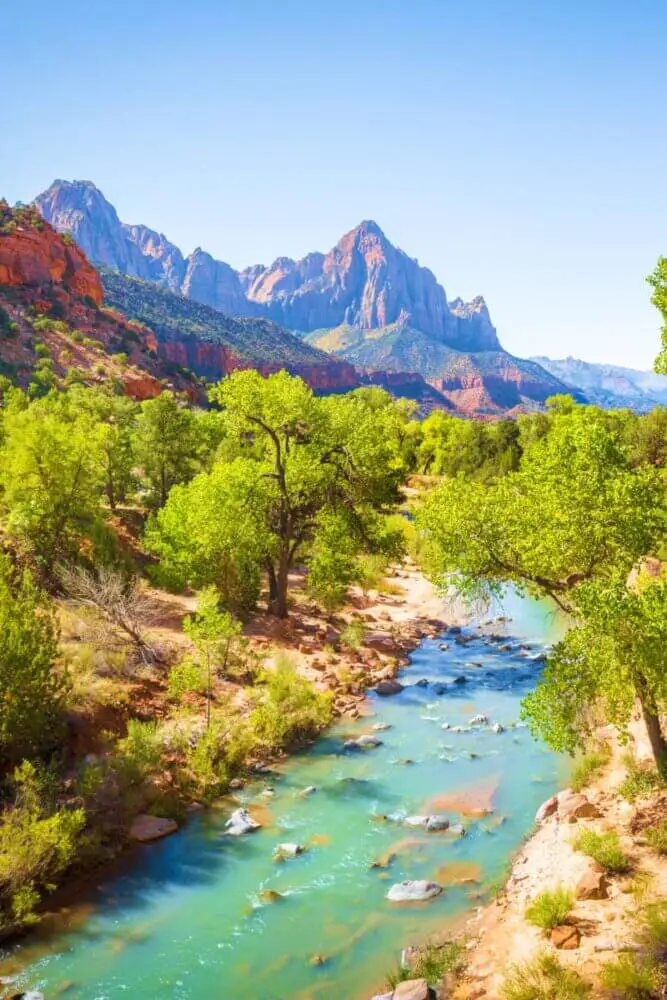 INSIDER TIP: The Narrows is closed for hiking if the river volume is too high.  This can change from year to year, so if you plan to hike the Narrows, check before you set out.  It can be closed into mid-June, though I went in mid-May and it had been open for a while.  
READ MORE: Zion Canyon National Park Guide
---
Great Smoky Mountains National Park
Tennessee and North Carolina 
Another frontrunner for one of the best US national parks in spring. Great Smoky Mountains National Park is often called the "Wildflower National Park" because of the abundance of flowers (there are more than 500 types of flowering plants) that burst into bloom in the spring.  As with many parks, there are fewer people in the park – which is no small thing considering this is the most visited national park in the country.  Even better?  The temperatures are perfect for hiking and there are typically clearer skies/ less of the haze that gives the mountains their name, so the views are even better.   
Insider Tip:  In mid-April 11–15 there is the annual Spring Wildflower Pilgrimage at Great Smokey National Park. There are specialist hikes, lectures, workshops and classes throughout the week, highlighting the beauty of the park.    
READ MORE: Great Smoky Mountains National Park Guide
---
Capitol Reef National Park
Utah 
Capitol Reef National park is named for a 'reef' or barrier of white cliffs with dome-like formations that look kind of like the white domes that sit atop capitol buildings.  The park has a rugged red and white beauty that is hard to believe, but it gets very hot in summer.  Spring, on the other hand, has cool temperatures that make hiking around the exposed areas much more pleasant.  
INSIDER TIP: Many of the roads are unpaved and can become impassable after it rains, so always check the weather forecast before setting out.  A 4WD is better bet than a regular car. 
---
Cuyahoga Valley National Park
Ohio 
Cuyahoga Valley National Park is centered around the winding Cuyahoga River.  One of the 10 best national parks to visit this spring, the river level is high and it a wonderful time for canoeing or kayaking.  There are not organized tours, so if you want to do this, consider buying an inflatable kayak.  The 65-foot Brandywine Falls and 15-foot Blue Hen Falls are especially beautiful in the spring.  This is also when the park bursts into color as the trees leaf up and fields turn into carpets of brightly colored wildflowers.  There is lots of wildlife active throughout the season and you have a chance to see bald eagles, otters, beavers and more. 
INSIDER TIP: Parking lots can fill up even in spring, so it is best to get there early in the day and have flexible plans 
---
Enjoy your spring trip!
Do you have another national park that you'd pick as the best national parks to go to during spring break?  I'd love to hear about it.  Join my private Facebook group National Parks Collectors and comment and let me know.
Want to save this for later? Pin it to your national parks and spring travel boards: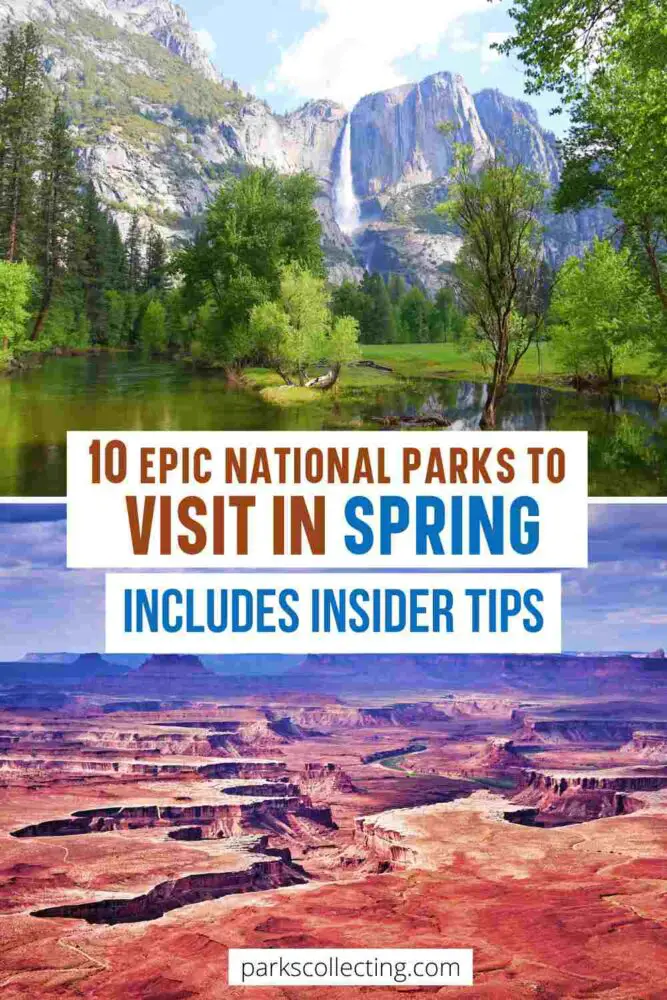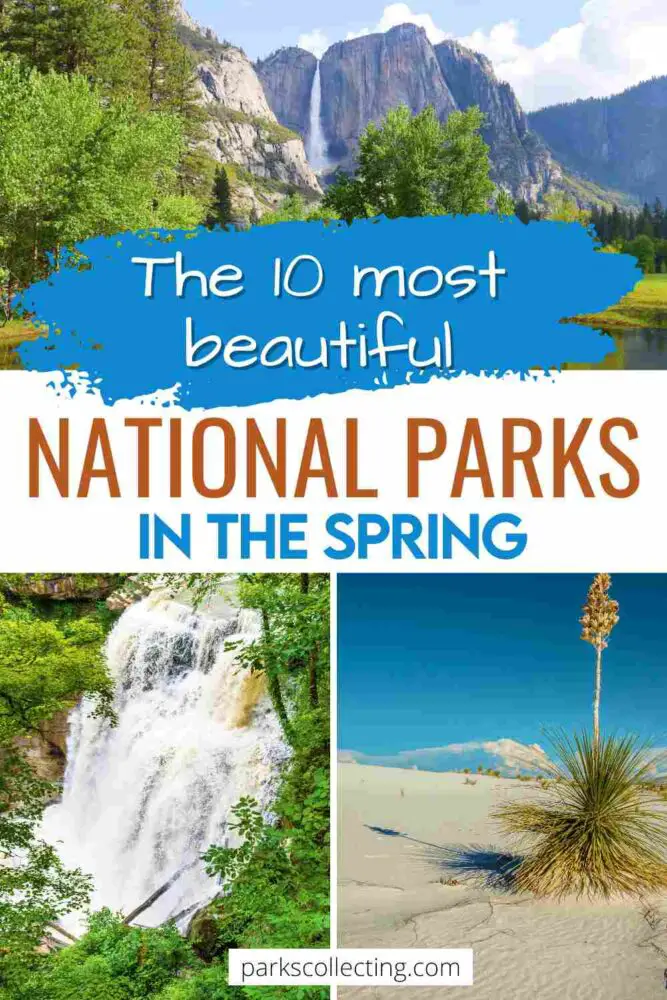 Read about other great U.S. national parks to visit:
---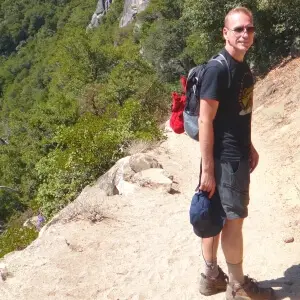 James Ian has traveled to 82 countries and all 7 continents.  He has visited all of the main national parks in the United States, as well as many national monuments and state parks.
He has rafted through the Grand Canyon; rappelled down slot canyons near Zion and Arches; hiked among the hoodoos in Bryce and the enormous trees in Sequoia; admired the waterfalls in Yosemite and the colored hot springs in Yellowstone; seen moose in Grand Tetons and seals in the Channel Islands, and much more.