Arches National Park, located near Moab in southern Utah, features incredible natural arches, plenty of fun hikes, and panoramic views of La Sal Mountains.
Here are some Arches National Park fun facts that you may not know.
No time right now to read these fun facts about Arches National Park? Pin It and save it for later: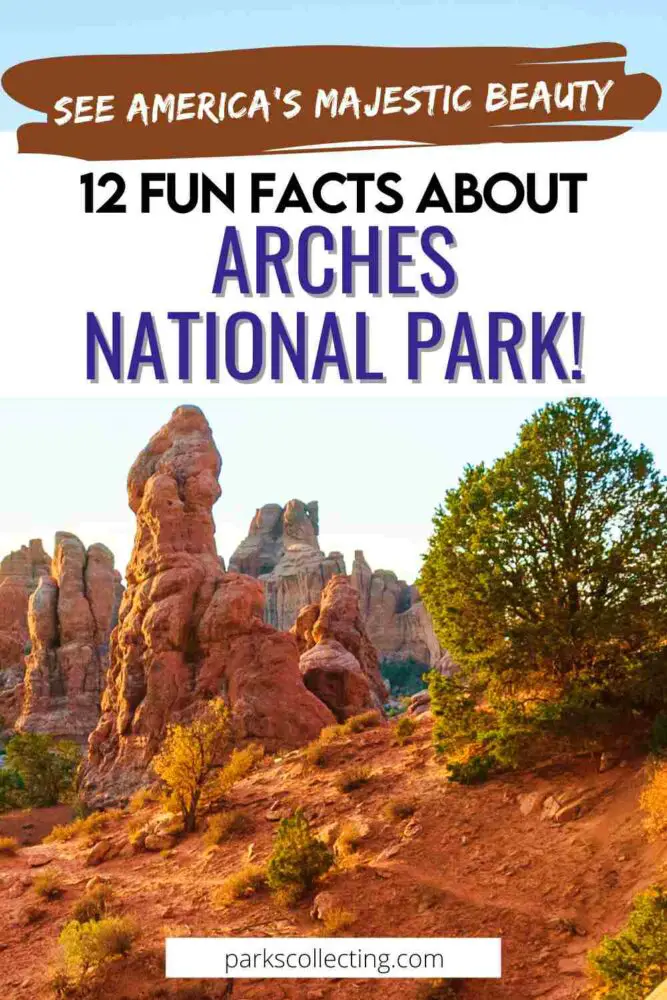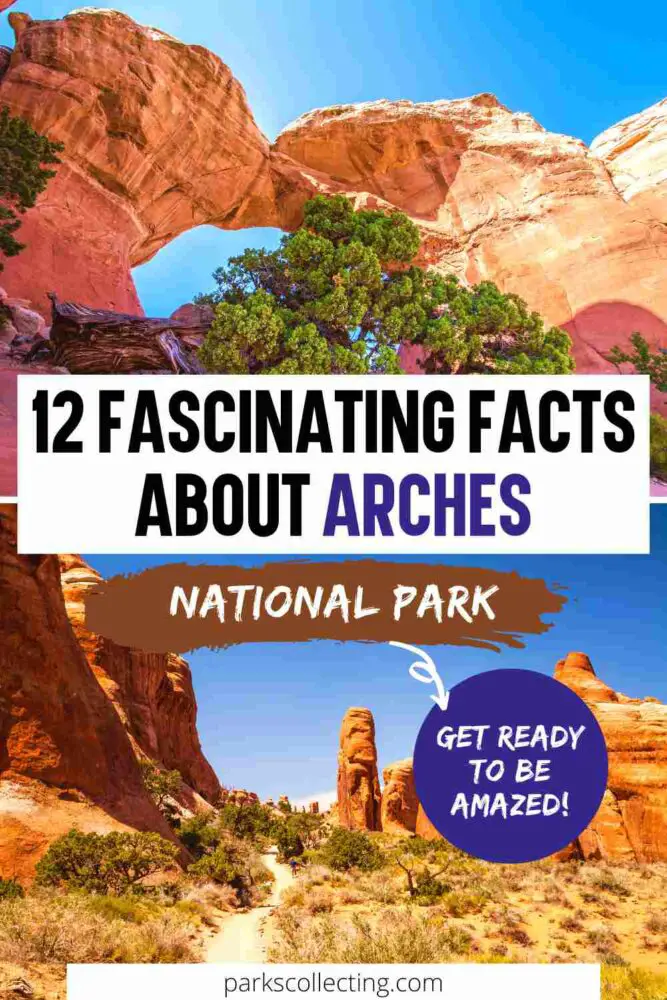 Please note this post may contain affiliate links, which means we may receive a commission, at zero cost to you, if you make a purchase through a link. Please see our full Disclosure for more information. If you have any questions, please contact me.
If you are planning to visit Arches National Park in spring, summer or fall, make your planning easy and stress free with a detailed itinerary. I have 1-, 2-, and 3-day itineraries for Arches National Park that include all the park highlights, give you choices based on your preferred activity level, and take all the stress out of planning your trip. 
Basic Facts About Arches National Park
Location: 5 miles north of Moab in southern Utah
How big is Arches National Park: 76,519 acres | 119 square miles
Number of annual visitors: 1,806,865
Annual rainfall: 8-10 inches
Highest Arches National Park Altitude: 5,653 feet (Elephant Butte)
Lowest Elevation: 4,085 feet (Visitor Center)
Date it became a national park: November 12, 1971 (it was Arches National Monument from April 12, 1929 until it became a national park in 1971)
FREE DOWNLOAD
Subscribe to regular updates with tips for planning, travel inspiration and trip ideas and get instant access to the free PDF of these
Fun Facts About Arches National Park
---
12 Fun Facts About Arches National Park
1. Arches National Park has the largest concentration of natural arches in the world!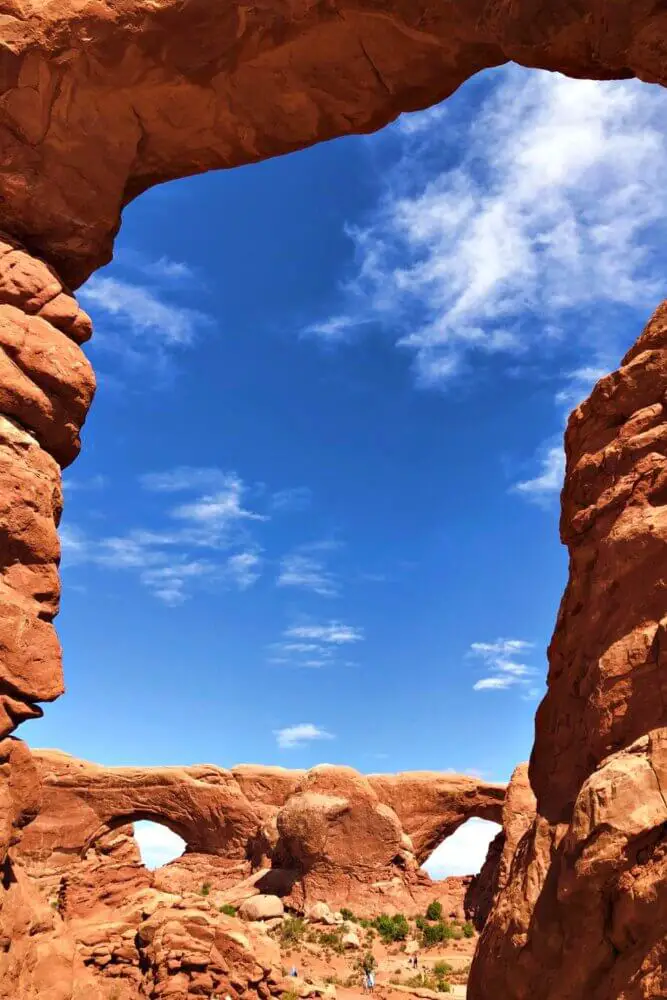 How many arches are in Arches National Park?
There are over 2,000 arches at Arches National Park.  The exact number of arches is changing all the time as new ones form and old ones collapse. 
Did you know there are four types of natural arches in the park?
Cliff Wall Arches appear on the side of or adjacent to rock walls or cliffs.  
Free-Standing Arches are the most obvious kind of arch: they stand alone, independent of other rock walls or fins. A few arches of this type have been called "windows" for the scenic views they frame.
Pothole Arches form when a pothole on top of a rock mass merges with an alcove on a rock face.
Natural Bridges sit astride a stream or stream channel.
---
2.  The most famous arch in Arches National Park is featured on Utah's license plate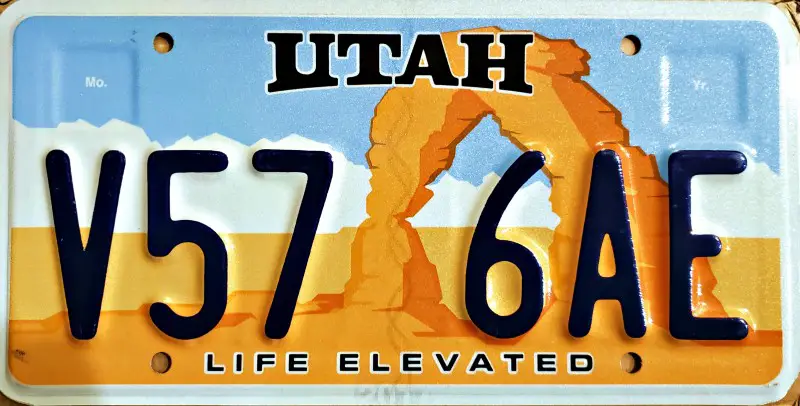 The most famous arch in the national park (the world?) is Delicate Arch. It is a rare completely free-standing arch with a dramatic location.  It's the largest free-standing arch in the park, with an opening 346 feet high and 32 feet wide. 
Delicate Arch is reached at the end of a 3-mile hike that goes along a narrow ledge near the end, the arch sits atop the rim of a sandstone bowl near the edge of a cliff.  It will collapse one day, btu for now,
---
3. There have only been a few deaths at Arches National Park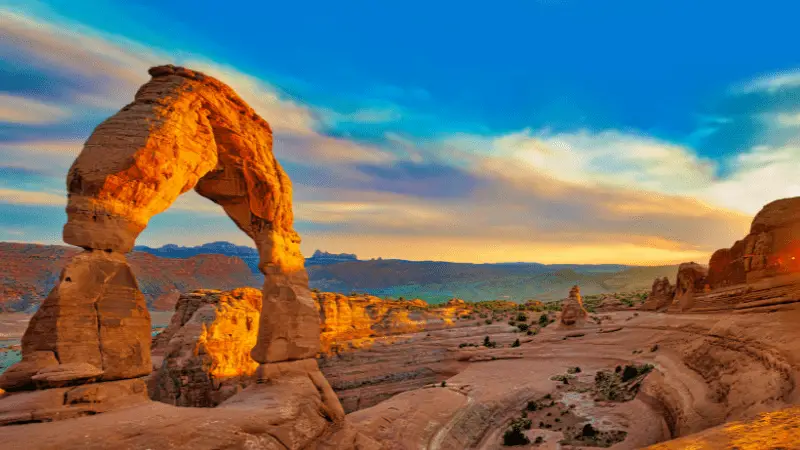 It is possible to slip and fall to your death in Arches national park.  However, there have only been 6 deaths in total. 2 falls, one environmental, 2 natural deaths and one undetermined.  That may seem a lot, but compared with the 900 people who have died in Grand Canyon National Park, that's not many at all!
If this kind of thing is of interest, there's a fun book Over the Edge: Death in Grand Canyon – get it here. 
---
4. The Balanced Rock is the Size of Three School Buses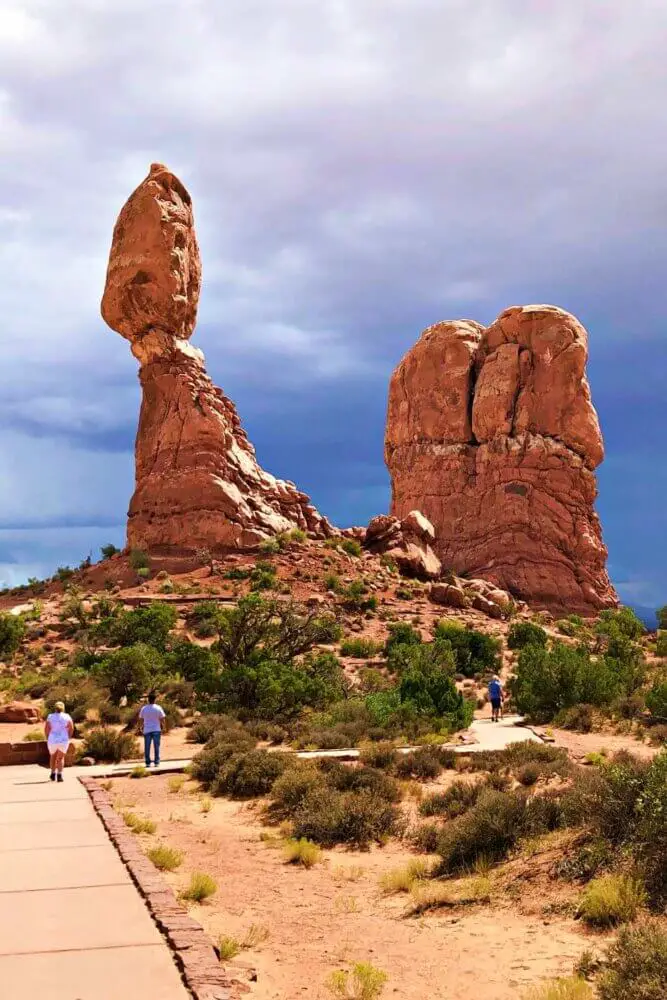 Balanced Rock is not an arch, but is nonetheless one of the most iconic features in Arches National Park. It looks like a large rock pillar with another rock balanced on top of it.  The total height is 128 feet tall – and the rock 'balanced' on top is as big as three school buses!
The name is a misnomer, however.  Although it looks – from some angles – as if the large rock is balanced on top f the pedestal, they are actually joined together. They are two different types of rocks – the top rock is Entrada Sandstone and the pedestal is Dewey Bridge mudstone.
One day is will erode so much that it will fall down.  In fact, it used to have a smaller sibling "Chipo-Off-The-Old-Block", which collapsed in 1975-76.
---
5. The 4th longest natural span in the world is in Arches National Park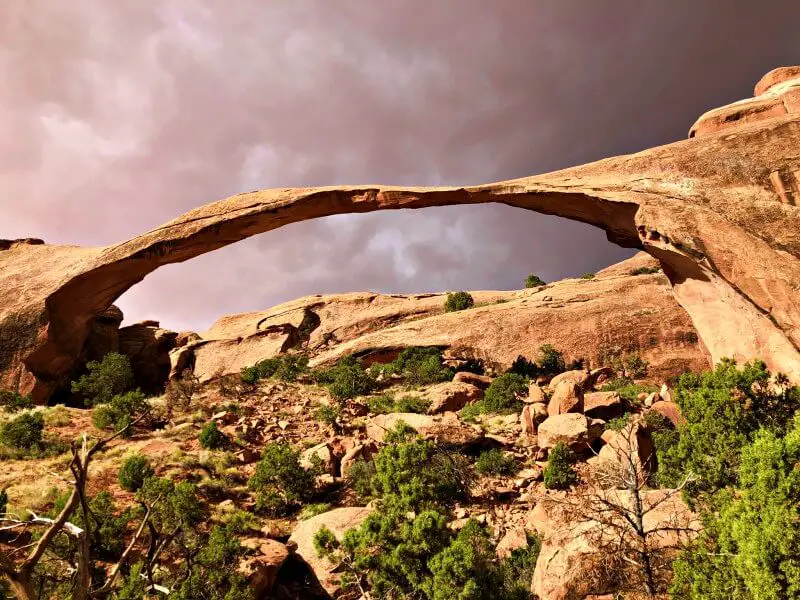 Landscape Arch has a span of 306 feet, making it the longest natural arch in North America.  Its length is surpassed only by three natural arches in China. 
To get to the arch, take the easy 1.8-mile round trip trail that starts the Devil's Garden Trail. You can continue on to Double O Arch or turn around. Read my full Devil's Garden Trail Guide.
---
6. The arch with the tallest opening is Double Arch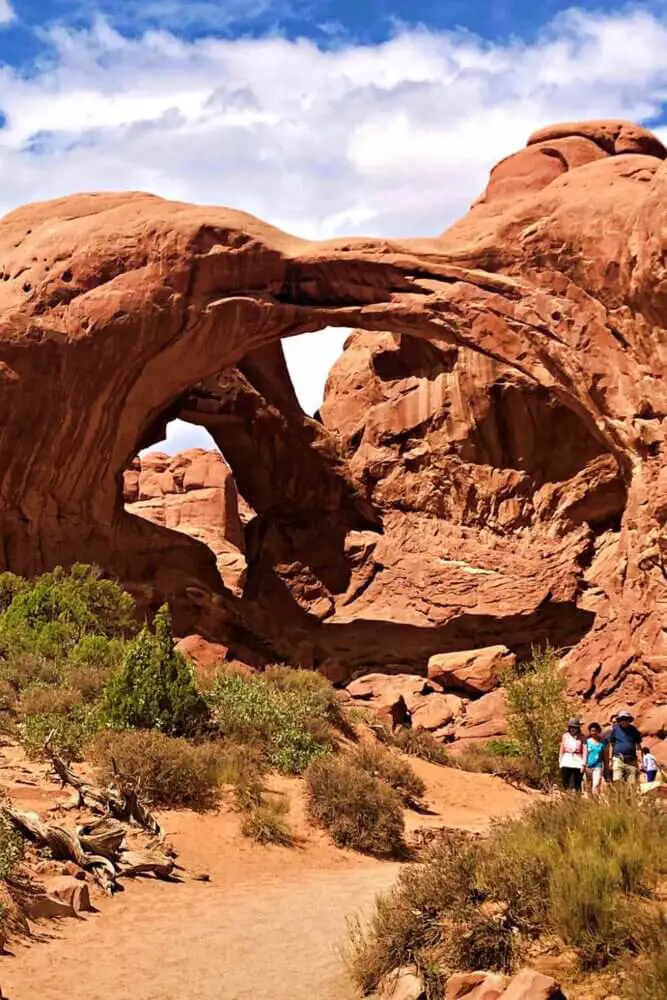 The southern span of Double Arch is an incredible 112 feet tall.  It's also the third-widest arch in the park, at 144 feet across. 
The arch is reached along a short trail in the Windows Section. 
Read More: Best Hikes in Arches National Park
---
7. Temperatures can vary by over 40 degrees in one day
Arches National Park is in the middle of the desert – but also at a high altitude.  Day time temperatures in summer can soar well over 100°F and it can snow in winter. In one day, day and night time temperatures can vary dramatically.  Weather can also change rapidly, so it's important to always wear layers.
These extremes in temperatures help form the natural arches. Water seeps into cracks in the rocks in the day, then freezes at night, expanding the cracks and helping weather the rocks.  
---
8. Arches National Park is officially an International Dark Sky Park
Arches National Park was designated an official International Dark Sky Park in 2019. This means that area is free of light pollution and is one of the best places in the United States for star gazing and to see the Milky Way. 
When getting to your photography spot, be sure to wear a headlamp with a red light.  The red light is less harsh than white light, so improves your night visions. You can get one here if you need one. 
---
9.  Arches National Park has featured in many iconic movies
Do you remember the opening scene of Indiana Jones & The Last Crusade? The boy scouts (including a young Indiana Jones) ride horses through the Double Arch section of Arches National Park.  
How about the scene in Thelma and Louise where they take the trooper's gun and leave him locked up in the trunk of his car?  That was filmed at the Courthouse Towers section of Arches National Park.
---
10. Arches National Park Has paintings that are 4,000 years old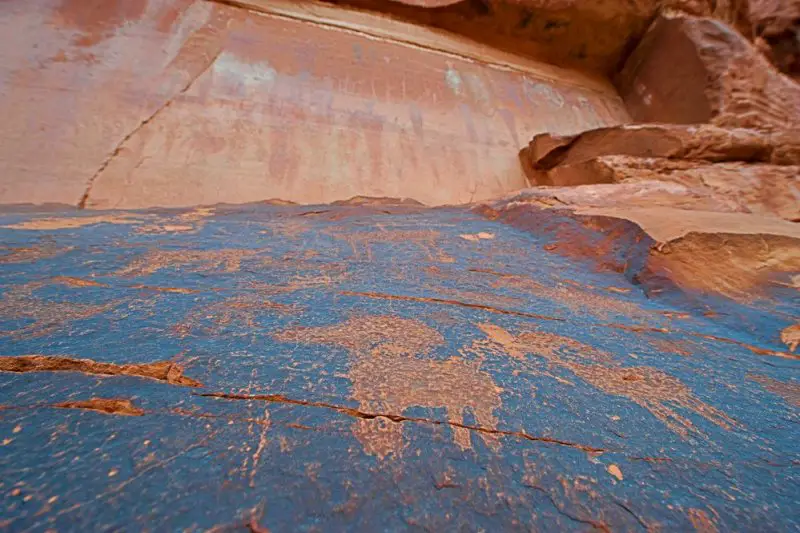 The Courthouse Wash panel at Arches National Park feature pictographs that are between 1,400 and 4,000 years old.  These incredible hand paintings reveal even more detail when photographed with infrared light. The pictographs lie just outside the park entrance and there is a small parking area and a short walk to get to get to them. 
---
11. The entire park used to be under water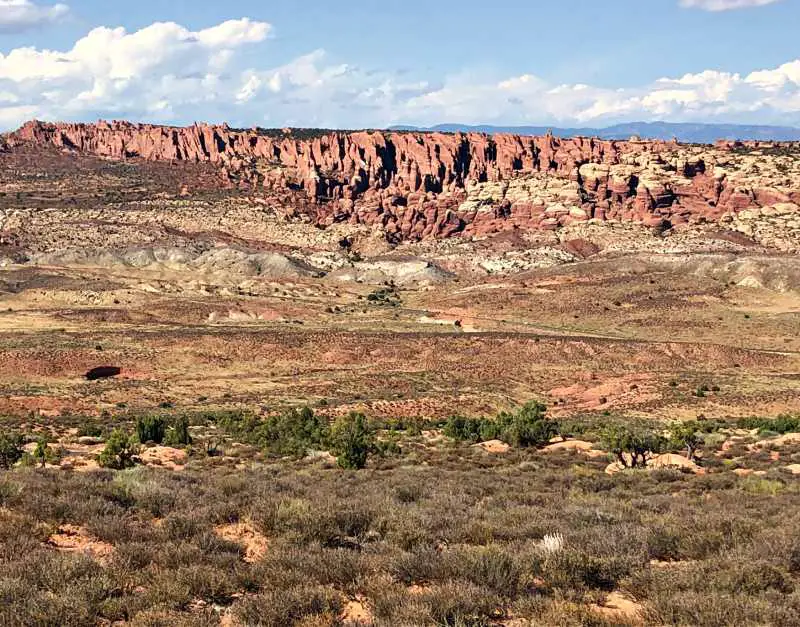 In between the sections of the national park that have arches is a giant salt valley.  This whole area dry seabed used to be an inland sea.  The sand formed dunes that petrified and turned into the rock that then eroded to form the natural arches in the park. 
---
12. The soil in Arches National Park is alive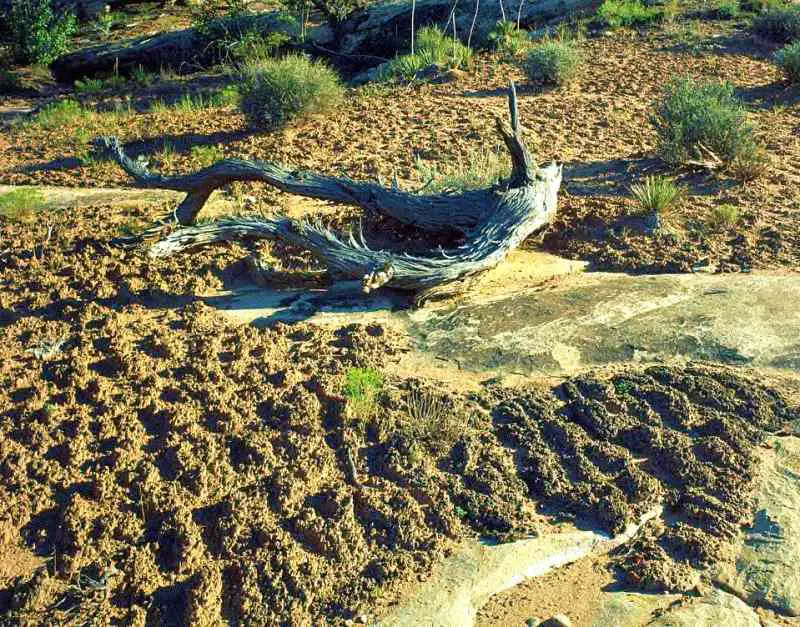 What looks like dark soil on the ground is biological soil – or cryptobiotic crust.  It's made up of cyanobacteria, fungi, lichen, algae, and mosses. The biological crust lies dormant when it's dry and grows when it gets wet.  It helps prevent soil erosion and is an essential part of the local ecosystem.  It moves around when wet and plays an essential role in protecting the land from erosion.
You can tell it by its darker color and sponge-like appearance.  It can take decades to grow and can be killed in an instant if you walk on it, so it is super important to stay on trails and avoid walking on the living soil. 
---
Read more Fun Facts about other US National Parks
---
More Information About Arches National Park
Are you feeling inspired to visit Arches National Park? Start planning your trip now with these guides:
Do you have any other Arches National Park facts to share?  I'd love to hear them.  Join my private Facebook group National Parks Collectors and comment and let me know (you can also pick up extra planning tips, share your photos and stories with other national park lovers and more). 
If you liked this post about interesting facts about Arches National Park, Utah, please share the love and Pin It to your Arches National Park board!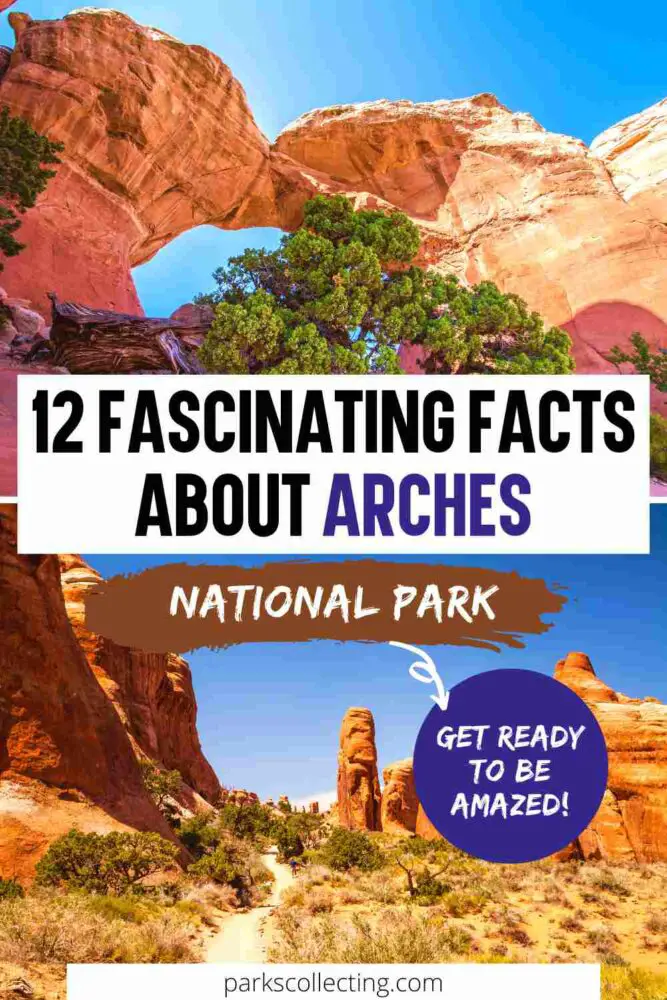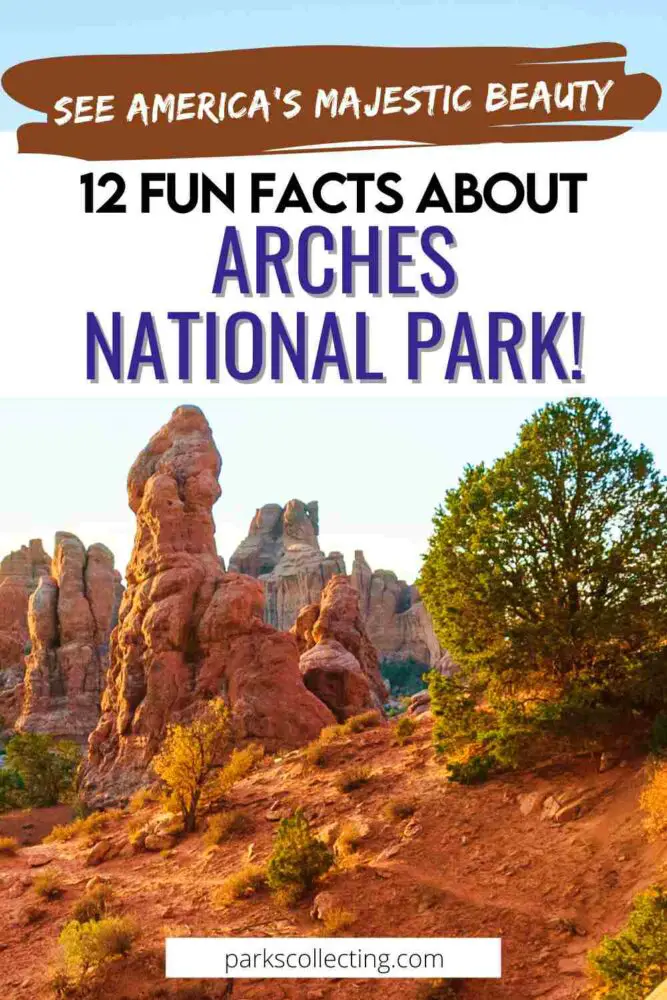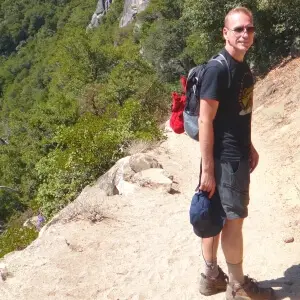 James Ian has dedicated his life to travel and has traveled to 82 countries and all 7 continents.  He's visited all of the main national parks in the United States, as well as many national monuments and state parks.
As a national park expert, James has contributed to many publications, including Time Business News, Savoteur, and Wired. He also has several published detailed itineraries in addition to many free online guides.
James has rafted through the Grand Canyon; rappelled down slot canyons near Zion and Arches; hiked among the hoodoos in Bryce and the enormous trees in Sequoia; admired the waterfalls in Yosemite and the colored hot springs in Yellowstone; seen moose in Grand Tetons and seals in the Channel Islands, and much more.
---
Parks Collecting is a participant in the Amazon.com Services LLC Associates Program, an affiliate advertising program designed to provide a means for sites to earn advertising fees by advertising and linking to amazon.com. Amazon and the Amazon logo are trademarks of Amazon.com, Inc. or its affiliates. As an Amazon Associate I earn from qualifying purchases.