Making a packing list for cold weather can be tricky. You need to make sure you have everything you need to be warm and comfortable, but also don't want to overpack.  
This guide has two sections.  First are handy tips for packing for cold weather vacation trips and second is a detailed packing list for winter trip essentials.  This has a description of exactly what to pack for winter vacation trips with direct links to buy any missing items you need and a handy downloadable printable winter packing list so you easily check off you have everything.  
Use this winter vacation packing list to make sure you have everything you need for an amazing winter trip. 
No time right now to read this guide to packing for winter travel with a complete a packing list for winter vacation trips?  Pin It and save it for later: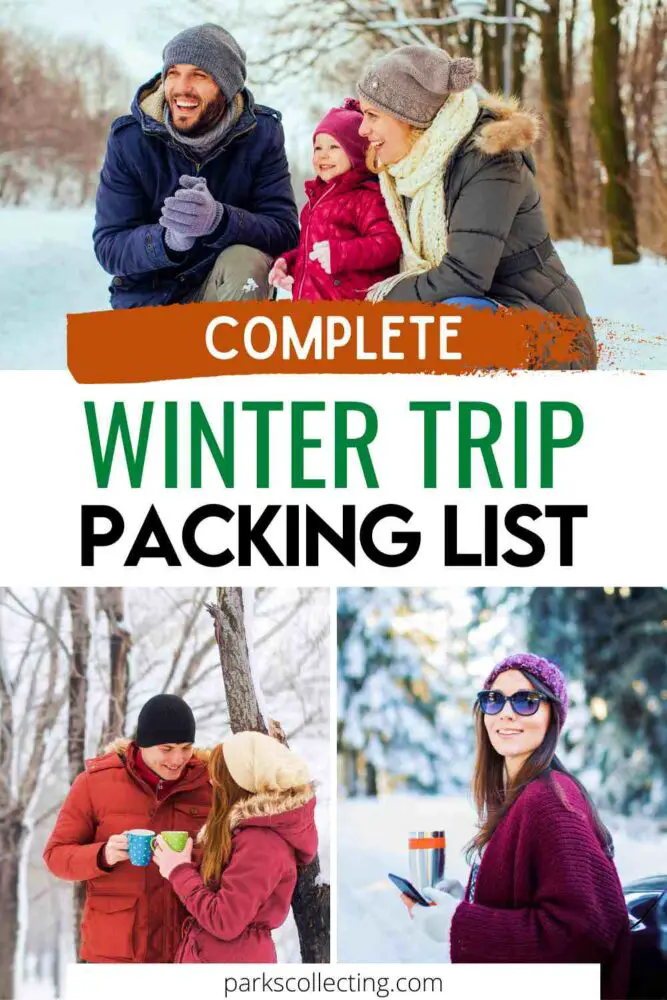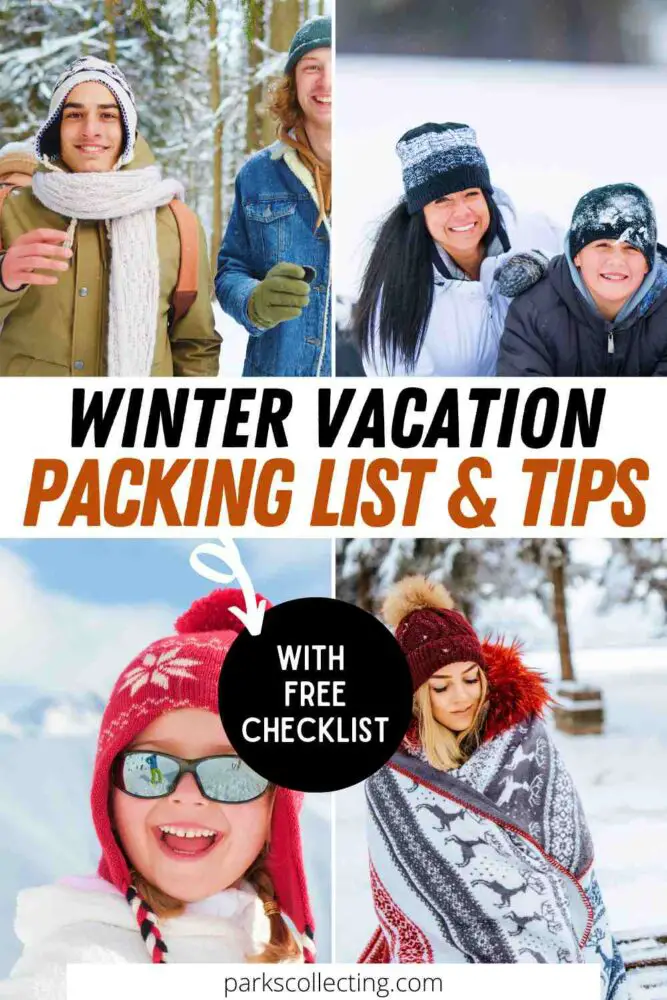 Please note this post may contain affiliate links, which means we may receive a commission, at zero cost to you, if you make a purchase through a link. Please see our full Disclosure for more information. If you have any questions, please contact me.
This packing list focuses on what you need for a winter vacation, but if you are doing any specialty kind of trip, check out additional packing lists: 
FREE DOWNLOAD
Subscribe to regular updates with tips for planning, travel inspiration and trip ideas and get instant access to the free PDF of this
Winter Packing Checklist and Tips
---
How to Pack for Winter Vacation Trips 
1. Wear bulky items on the plane 
If you're wondering how to pack for a winter vacation, there is a trick or two that you can use for winter travel packing. The simplest way to save space, especially if you're flying, is to wear all of your bulkiest and heaviest clothing and pack the smaller, lighter items. 
I always wear my heaviest sweater and coat and cram a light down jacket into my luggage.  It doesn't matter if it is too hot on the plane – you can take it off, but it doesn't count towards your carryon allowance! 
2. Layers are Key 
Another key thing to keep in mind when you're packing for winter vacation trips is to have plenty of layers.   
When you wear layers, air is trapped between the layers and this air heats up and helps keep you warmer.   
Plus, if you have layers, it is easy to adjust by taking them off or adding to them when the temperature changes.  And, this way your clothing can serve multiple purposes.  A T-shirt can add insulation during the day under other warmer winter vacation clothes and then be something casual to wear at night in a warm hotel room or to bed. 
3. Wear neutral colors 
A lot of active outdoor wear comes in bright colors so you stand out.  In general, though, I prefer to pack neutral layers, so that I can mix and match layers easily and still look good.   
A dark outer coat and pants with neutral tops and sweaters care super easy to mix and match and no matter what combination of layers you use, you'll look good. This versatility helps you be able to take fewer items and not overpack. 
4. Fabric matters 
Wool keeps you warm and is water resistant.  A sweater with at least 20% merino wool is a great investment.   
A fleece (or polar fleece) is 100% polyester, but will also keep you warm.  Wool typically takes longer to soak in moisture than a fleece, and unlike fleece, insulates even when wet.  However, wool also takes longer to dry out once it gotten wet.  
Down is also great insulation and has the added advantage of squishing down super small.  A trick for saving space: I squash my down jacket into a stuff sack (get one here if you don't have one) and it is amazing how small it gets and how little space in my luggage it takes up. 
For outdoor active wear, water-proof synthetic material like Gore-Tex is best. 
---
What to Pack for a Winter Vacation 
Here are the essential items for your winter travel packing list / winter vacation checklist.
2 Jackets 
Your packing list for winter travel should include two jackets.  First a bulky outer jacket (wear this one to save space in your luggage) and second a down jacket that you can squash down really small and it weighs next to nothing.  
I have written a comprehensive guide to the best jackets for extreme cold weather, which you can check out to see exactly what to look for, as well as detailed reviews and recommendations. 
For women, the best winter jacket is the Columbia Women's Heavenly Hooded Jacket 
For men, the top choice for best winter coat is the North Face Men's Altier Triclimate Jacket 
2 Sweaters or 1 Sweater and a Fleece 
When deciding what to pack for cold weather vacation destinations, you can choose whether to bring two wool sweaters or one sweater and a fleece.  Either way, the sweaters shouldn't be too bulky unless you're taking a road trip, in which case space is a little less important. 
I have mentioned some pros and cons to wool and fleece above.  On balance, I like to take one of each, but if you really love wool, and won't be hiking, go with two sweaters.  if you're going to be hiking, then definitely take a fleece, as they wick moisture away from your body better than wool.   
I love this Irish 100% merino wool sweater for men  
I also love this Irish 100% merino wool cable knit sweater for women 
There are great options for fleeces from Columbia.  You can pick up a Columbia Women's Fleece Jacket and a Columbia Men's Fleece Jacket using these links.  
2-3 Collared Shirts 
Make sure your collared shirts are for warm weather.  Flannel is a great winter fabric, and having at least one plaid flannel short is a personal favorite. 
Any shorts you have in your closet are fine, but if you want to get something especially for your vacation, I'm loving this vintage look plaid shirt lined with sherpa wool. 
For women, these 'boyfriend shirts' are super cute. 
1-2 T-Shirts 
T-shorts are super versatile.  You can layer them underneath your other clothing, wear them in a warm cabin or hotel room and even wear them to bed.  
2 Pairs of Pants 
Other essential things to pack for winter vacation destinations are pants.  It's best to go with one pair of blue denim jeans, because they go with everything, and another dark pair, since they also go with anything and they also don't show dirt, so you can wear them more than once. 
Check out options for women here and a selection of men's jeans here. 
1 Pairs of Sweatpants 
When you're packing for winter trip destinations, don't forget a pair of comfy sweatpants.  They're perfect for lounging around your cabin, hotel room, Airbnb or campground at the end of the day.   
If need some, pick up a pair of Icebreaker Merino sweatpants for men here 
1 Skirt 
A skirt for going out at night will help keep your vacation outfits fresh and fun.  
1 Pair of Warm Lined Leggings 
Leggings are super versatile for women.  Make them even warmer by taking a pair that are lined with either fleece or wool. If you need some, pick up a pair right here. 
2-3 Pairs of Thermal Underwear  
Thermal underwear is one of the key elements to successful layering in cold weather.  You should have both tops and bottoms.  They really do make a huge difference. 
The best thermal clothing for cold weather comes from Thermajane for women and Thermajohn for men. 
1 Scarf  
Whether it's a long wrap around scarf or a neck gaiter, you need something to keep your neck warm.  
It's hard to wrong with this cashmere plaid scarf.  It comes in multiple colors, but it's best to go with a neutral color so it goes with all of your winter vacation outfits. 
1 Warm Hat  
You really just need one hat, but they don't take up much space, so if you want to mix and match and have a few different looks in your photos, you could easily take an extra one or two.  You definitely need at least one beanie, though, that covers your ears and keeps your head warm.  
I like this unisex striped one. 
1 Pair of Warm Gloves 
You've got a few options here, depending on just how cold it will be. If you're headed somewhere super cold, then I recommend these gloves for men and women in extreme cold. 
For a more everyday version, take a look at these unisex knitted gloves. They have touchscreen fingertips, so you can use your phone or iPad without taking your gloves off.  
1 Pair of Boots 
Several Pairs of Warm Wool Socks  
No packing list for cold weather vacation destinations is complete without lots of warm socks.  I always take more than I think I'll need.  I learned the hard way that if all your socks are wet, dirty or both, you will have a very uncomfortable winter trip!  Socks take up almost no space, so I always take more than I think I'll need! 
If you need more warm winter socks, get some more right here. 
Rain Jacket  
If there is any chance you will be outdoors when it's raining or snowing, then you should take a rain jacket. An umbrella works for walking around a city in summer, but when you're in the great outdoor or anywhere when it's snowing, an umbrella doesn't really cut it.   
A tip: size up, so it fits easily over all your layers. 
Check out this men's rain jacket on Amazon. 
Toiletries/Makeup/ Chapstick & Moisturizer + Medication 
Take all your toiletries with you, but if you're flying, keep in mind the restrictions in liquids in your carryon (either check your toiletries or take travel-sized bottles). 
Cold winter weather can really dry out your skin and lips, so you will definitely need moisturizer and a chapstick. 
Travel Insurance 
You should take travel insurance on every vacation, but it's even more important in winter, when weather can play havoc with the best laid travel plans.  
A great insurance option is Travelex.  It has coverage for all you'll need. You can swap this link for  either choose the best travel insurance plan for your trip here or get a quote right now:
Day Bag 
Camera + extra Batteries 
I love the GoPro for travel cameras.  they are waterproof and durable and take photos, video and even streaming! Plus, there is a built-in stabilization feature, which makes them a great choice for action shots when traveling.  
Keep in mind that cold weather really drains batteries, so keep the camera and batteries warm.  Taki extra batteries is also a good idea.  
Polarized Lens Filters 
Photography in winter can be tricky, because of the extra glare off snow.  However, a polarizing filter can reduce glare on snow and ice. It's most effective when the sun is off to your left or right. 
You can get a polarizing filter of your GoPro here. 
Winter Hiking and Sports Gear  
Winter has plenty of opportunities for fun outdoor activities, like hiking and snowshoeing.  If you'll be doing this, make sure you have everything on my Winter Hiking Gear List. 
Also check out my Guide to The Best Snowshoes and Guide to The Best Hiking Microspikes 
The best winter hiking boots (men's) are the Salomon Men's X Ultra Mid Winter CS Waterproof Hiking Boots. Read detailed reviews of these and other top winter men's hiking boots. 
The best winter hiking boots (women's) are the Merrell Women's Thermo Chill 6″ Shell Waterproof Sneakers. Read detailed reviews of these and other great women's winter hiking boots. 
FREE DOWNLOAD
Subscribe to regular updates with tips for planning, travel inspiration and trip ideas and get instant access to the free PDF of this
Winter Packing Checklist and Tips
---
Enjoy your winter vacation!  
Do you have any other essential items you'd add to a cabin checklist?  Join my private Facebook group National Parks Collectors and let me know. 
If you found this packing checklist for winter vacation destinations helpful, please share the love and Pin It to your Packing Lists board!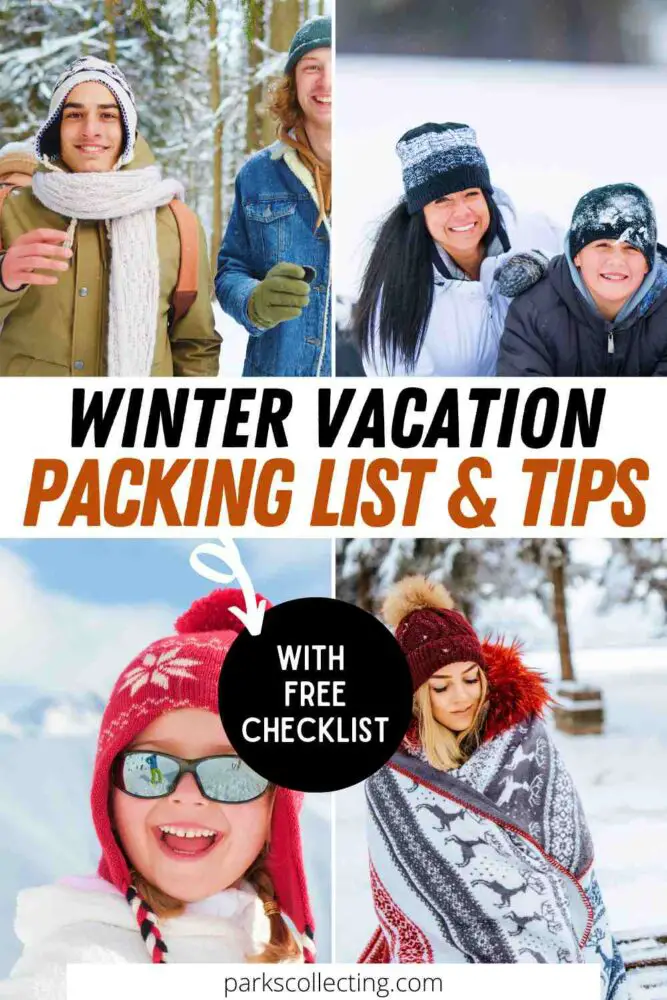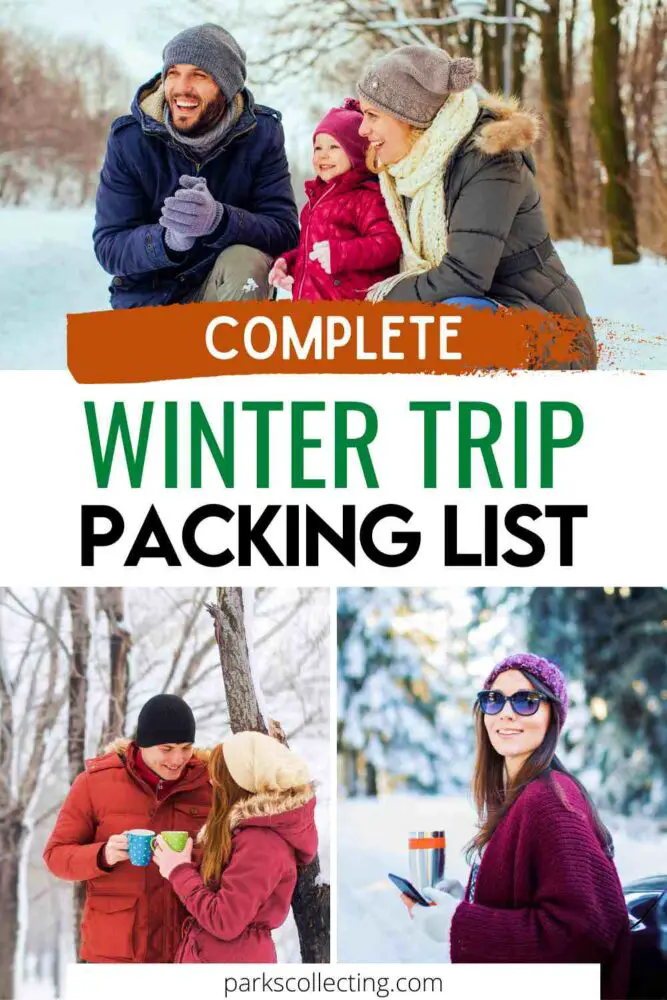 Other Packing Lists 
---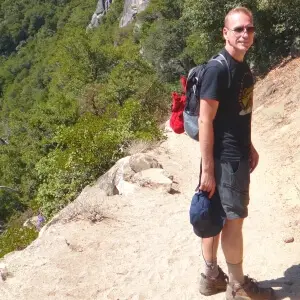 James Ian has dedicated his life to travel and has traveled to 82 countries and all 7 continents.  He's visited all of the main national parks in the United States, as well as many national monuments and state parks.
As a national park expert, James has contributed to many publications, including Time Business News, Savoteur, and Wired. He also has several published detailed itineraries in addition to many free online guides.
James has rafted through the Grand Canyon; rappelled down slot canyons near Zion and Arches; hiked among the hoodoos in Bryce and the enormous trees in Sequoia; admired the waterfalls in Yosemite and the colored hot springs in Yellowstone; seen moose in Grand Tetons and seals in the Channel Islands, and much more.
---
Parks Collecting is a participant in the Amazon.com Services LLC Associates Program, an affiliate advertising program designed to provide a means for sites to earn advertising fees by advertising and linking to amazon.com. Amazon and the Amazon logo are trademarks of Amazon.com, Inc. or its affiliates. As an Amazon Associate I earn from qualifying purchases.