Shenandoah National Park is known for its scenic drives, hiking trails, and breathtaking views of the Blue Ridge Mountains. 
If you're planning a trip to Shenandoah National Park and wondering what to do in Shenandoah National Park, you're in for a treat.
Whether you're an avid hiker, a nature lover, or simply looking for a peaceful escape from the hustle and bustle of everyday life, there are plenty of things to do in and around Shenandoah National Park.
Let's take a look.
TOP TOUR: Book a one-day tour now
TOP HOTEL NEAR FRONT ROYAL: Check availability now
TOP HOTEL NEAR LURAY: Check availability now
TOP HOTEL IN CHARLOTTESVILLE:  Check availability now
FIND THE CHEAPEST CAR RENTAL: Search Discover Cars for the best deals
FIND THE CHEAPEST FLIGHTS: Search Skyscanner for the best deals
GET TRAVEL INSURANCE: Get insured with Travelex before you go
No time right now to read about the best things to do in Shenandoah National Park?  Pin It and save it for later: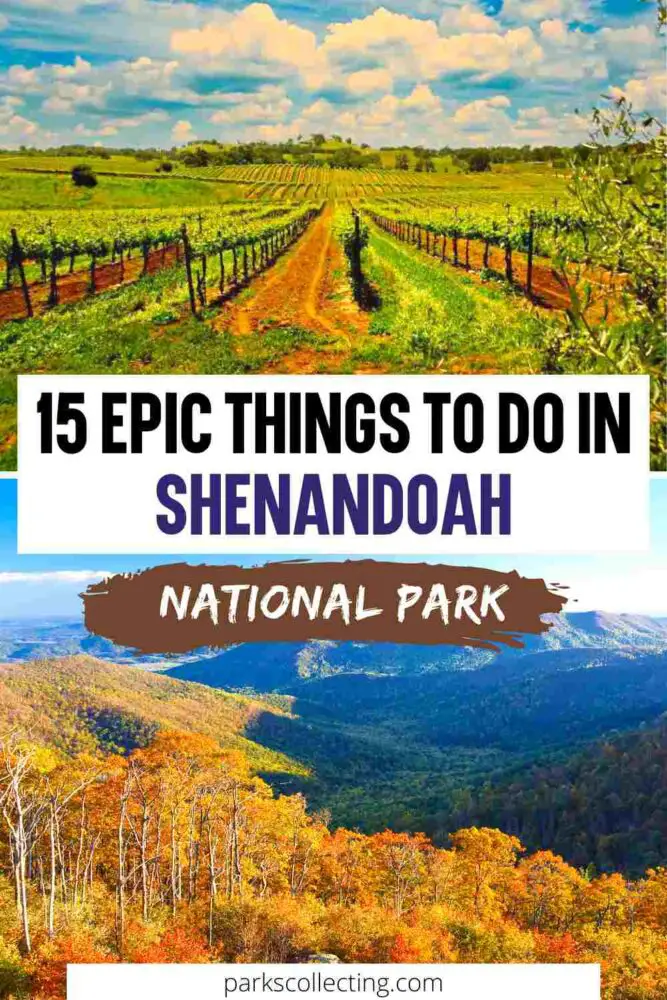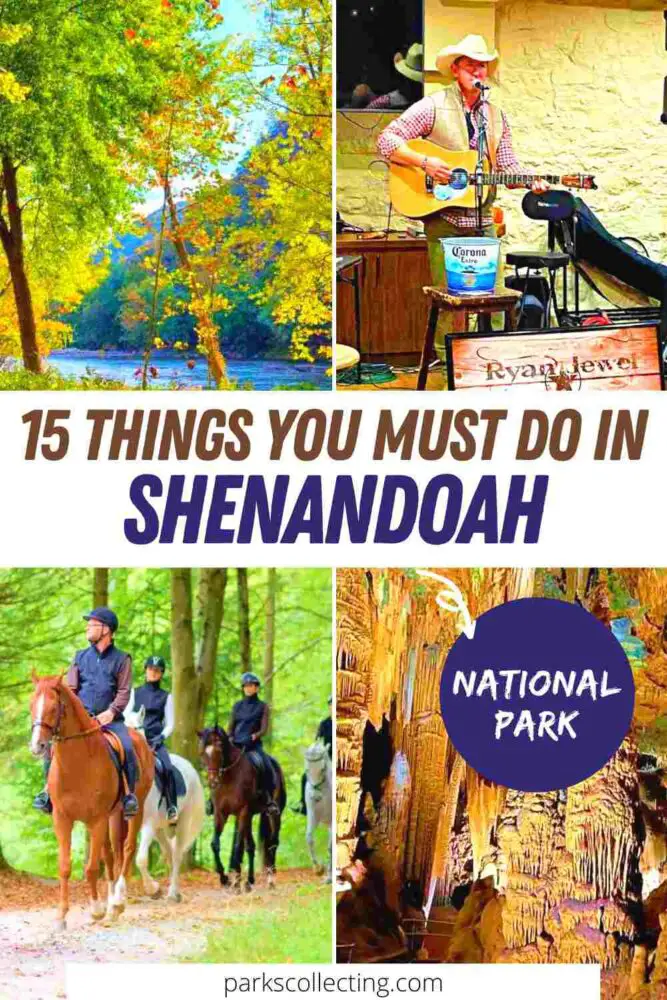 Please note this post may contain affiliate links, which means we may receive a commission, at zero cost to you, if you make a purchase through a link. Please see our full Disclosure for more information. If you have any questions, please contact me.
Best Things To Do Near Shenandoah National Park
While there is plenty to do inside the national park itself (jump straight to the Top 10 Things To Do in Shenandoah National Park if you are only interested in things to do inside the national park itself), there are also fun activities and places to visit in the nearby area. 
Let's start by looking at five activities nearby that you can easily include on your trip to Shenandoah National Park. 
15. Discover Historic Towns
Shenandoah Valley is home to several charming historic towns that are worth exploring. Winchester, Staunton, and Front Royal are all within easy driving distance of the park and offer a variety of shops, restaurants, and historic sites to explore. Be sure to check out the walking tours and other attractions in each town. 
I recommend having lunch in Main Street Mill Restaurant in Front Royal.  It's an old mill with wall murals of an 1800s life tavern upstairs. 
---
14. Visit a Local Winery
Shenandoah Valley is also known for its wineries, and there are several close by. Many offer tastings and tours, as well as beautiful views of the surrounding countryside.
Some popular wineries to consider include Veritas Vineyard & Winery, CrossKeys Vineyards, and Bluestone Vineyard.
I always like to go on a tour when I visit wineries so that I can try the wines without worrying about who will drive.  Two winery tours to Shenandoah valley are:
Winery Tour from Charlottesville
Take a private (2-6 people) of wineries on Virginia's Monticello Wine Trail.  You can create an itinerary with your personal guide based on your wine interests and then enjoy guided tours of each vineyard and purchase wine tastings, if you'd like.
BOOK THIS WINERY TOUR FROM CHARLOTTESVILLE
Winery Tour from Washington DC
A private tour (6-8 people) to a major winery in Shenandoah Valley with a guided tour plus tastings and tapas.
BOOK THIS WINERY TOUR FROM WASHINGTON DC
---
13. Visit Thomas Jefferson's Home (Monticello)
If you're a history buff, you won't want to miss a visit to Monticello, the former home of Thomas Jefferson.
Located in nearby Charlottesville, Monticello offers tours of Jefferson's home, gardens, and plantation, as well as exhibits on the life and legacy of this founding father. 
The home and gardens are beautiful and the guided tours give detailed insight into various aspects of Jefferson's life and life on the property.
A great way to round out your day at Monticello is to visit the rotunda he designed at the University of Virginia.
If you're in Washington DC and prefer not to drive, you can take a tour from DC to Monticello. Spend time at Jefferson's beautiful estate and have time for a lunch at the historic Michie Tavern. 
BOOK A ONE-DAY TOUR FROM WASHINGTON DC TO MONTICELLO
---
12. Canoe or Raft the Shenandoah River
A fun outdoor adventure to raft or canoe Shenandoah River. Several outfitters in the area, including Down River, offer rentals and guided tours, and the river offers stunning views of the surrounding mountains and forests. 
Keep an eye out for wildlife, including eagles, otters, and deer.
---
11. Explore Luray Caverns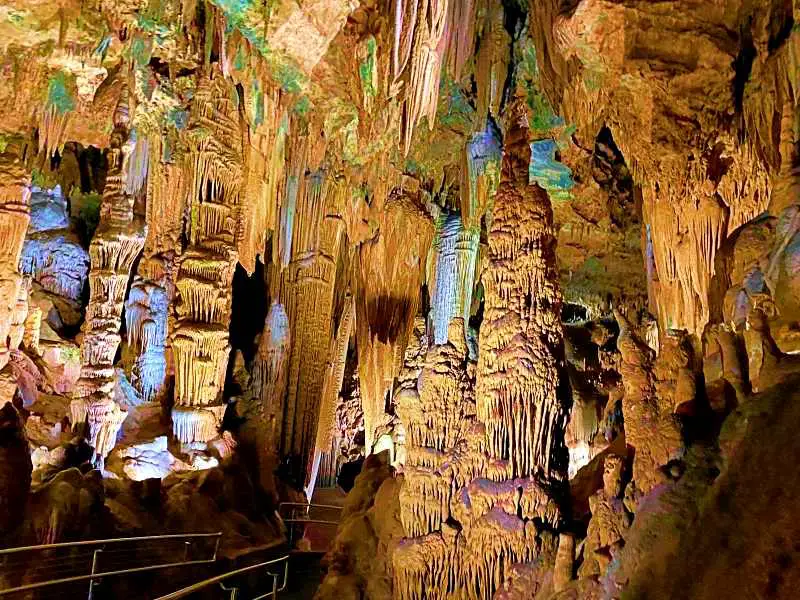 Luray Caverns are the largest series of caves in eastern USA and the most visited caverns in the US. This incredible cavern system was designated as a National Natural Landmark in 1973. 
The caverns are just a short drive from Shenandoah National Park, and are a must-visit attraction for anyone interested in natural wonders. 
On a visit to the caverns, you'll walk on a 1.25-mile loop through a series of interconnected caves filled with dramatic stalagmites and stalactites, past stunning rock formations and underground lakes. 
One highlight is Dream Lake, where a shallow lake reflects pinnacles on the ceiling, creating a mesmerizing 3D optical illusion. 
There is even a musical instrument that plays beautiful music through the caverns' acoustics. The Great Stalacpipe Organ in the Cathedral Room was invented in 1954 by Lelan W. Sprinkle, and uses electronic mallets to strike 37 stalactites to produce different tones. 
Guided tours are available, and there is also a museum and garden on-site.
If you're based in Washington DC, there are a couple of day tours you can take to Luray Caverns.
Small Group Tour to Luray Caverns
This 8-hour day trip from Washington DC includes entrance into Luray Caverns, with ample time to explore the cave system. There is also free time to do an additional activity such as hike the Massanutten Storybook Trail, go to the Rope Adventure Park, or visit the Luray Valley Museum.
BOOK A SMALL GROUP TOUR TO LURAY CAVERNS FROM WASHINGTON DC
Private day Trip to Luray Caverns
This is a similar trip to the small group tour, but it's a private trip so you have more control over what you do and when. 
BOOK A PRIVATE TOUR TO LURAY CAVERNS FROM WASHINGTON DC
---
10 Best Things To Do in Shenandoah National Park
We've looked at five fun things to do nearby. Now let's take a lot at the top ten things to do inside Shenandoah National Park. 
10. Enjoy Live Music
If you're looking for an evening of entertainment in Shenandoah National Park, look no further than Big Meadow Lodge. This historic lodge is one of the best places to go in Shenandoah National Park not only for its charming accommodations, good food, and spectacular views, but also for the music. 
The lodge offers live music and engaging entertainment on select evenings, making it the perfect spot to unwind after a day of hiking and exploring.
From bluegrass and folk to country and easy listening, there's something for everyone at Big Meadow Lodge. Check the Calendar of Events to see who will be performing during your visit.
---
9. Go Horseback Riding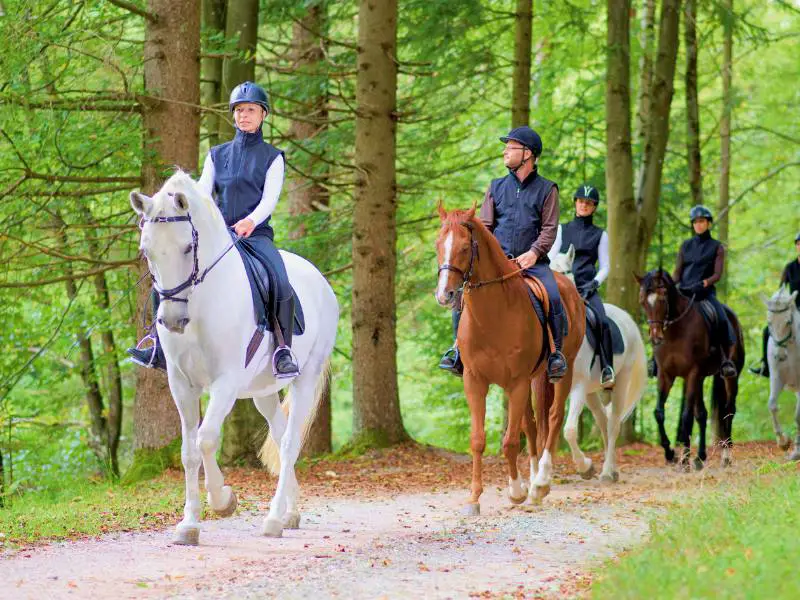 If you enjoy or want to try horseback riding, Shenandoah, VA is a great place to be. It's a unique way to explore the beauty of the park.
There are several options available for horseback riding in Shenandoah, including guided trail rides or bringing your own horse.
Guided trail rides are available with Skyland Stables from May through October.
One-hour horseback rides are available several times a day and reservations are recommended. Pony rides are also available throughout the day (except between 12:00 and 1:00PM) and reservations are not required. 
Guided horseback rides depart from the stables, cross over Skyline Drive, and travel past the Limberlost area through an old apple orchard. 
If you prefer to bring your own horse, Shenandoah National Park offers over 180 miles of trails open to horse use. You can explore the park at your own pace and enjoy the scenic views. However, make sure to check the park's regulations for horse use and follow the guidelines to ensure the safety of both you and your horse.
Another option for horseback riding is Fort Valley Ranch. They offer guided trail rides near Bear Mountain, minutes from Luray Caverns and the Shenandoah River Outfitters for canoeing, tubing, and rafting. These rides are not inside the national park itself, though.
---
8. Attend a Ranger Program
If you want to learn more about the history, flora and fauna of Shenandoah National Park, attending a ranger program is a great way to do it. These programs are led by knowledgeable and enthusiastic park rangers who are eager to share their knowledge with visitors.
You can choose from a variety of ranger-guided activities such as hikes, campfire talks, and stargazing programs. These programs are typically offered in the spring, summer, and fall and are designed for all ages and abilities.
During these programs, you'll learn about the natural and cultural history of the park, the wildlife that calls Shenandoah home, and the challenges facing the park and its ecosystem. You'll also have the opportunity to ask questions and interact with the park rangers.
Some of the most popular ranger programs include:
The Junior Ranger program is a great way for kids to learn about the park and earn a Junior Ranger badge.
The Ranger-led Hike to Old Rag Mountain is a challenging hike that takes you to the summit of one of the most popular peaks in the park.
The Stargazing Program is a great way to learn about the night sky and see the stars in all their glory.
---
7. Visit Historical Sites
There are several historical sites to explore in and near Shenandoah National Park. Here are a few must-see sites:
President Herbert Hoover's Rapidan Camp
President Herbert Hoover's Rapidan Camp is a historic site located in the park, and if you're interested in history, this is one of the best things to see in Shenandoah National Park. 
Rapidan Camp is where President Hoover and his wife, Lou Henry Hoover, would retreat during the summer months. The camp is a series of cabins and buildings that have been preserved and are open to visitors. 
You can hike to Rapidan Camp on your own following a recommended day hike to explore the grounds at this historic landmark. The NPS app includes a self-guided tour and there are numerous interpretive signs describing the camp and its significance.
Spring through fall, there are also ranger-led tours of the camp, so you can learn about the history of the Hoovers and their time spent at Rapidan Camp.
Civil War Sites
Shenandoah Valley was a significant location during the Civil War, and there are several sites in the area that commemorate this history. These are outside the national park, but worth visiting if you're interested in American history. 
One of the most notable sites is the Virginia Museum of the Civil War & New Market Battlefield State Historical Park. This park is home to the New Market Battlefield, which was the site of a significant battle during the Civil War. You can take a guided tour of the battlefield and learn about the history of the battle and the soldiers who fought there. 
Other Civil War sites to explore in the area include the Shenandoah Valley Battlefields National Historic District and the Cedar Creek and Belle Grove National Historical Park.
---
6. Go Leaf Peeping
The park receives 25% of its annual visitors in the month of October.  This is because enjoying the fall color is one of the most popular things to do in Shenandoah Valley National Park.
The park is one of the best places in the eastern United States to see fall foliage, with vibrant colors that typically peak in mid- to late-October.
One of the best ways to experience the fall colors is by driving along Skyline Drive, a 105-mile scenic byway that offers stunning views from 75 overlooks. Some of the most rewarding east-facing stops include Hazel Mountain, Pinnacles Overlook, and Tunnel Overlook. 
READ MORE: 
Best Overlooks on the Skyline Drive
Guide to the Skyline Drive Mile Markers
Alternatively, you can take a guided horseback ride or hike one of the many trails to get a closer look at the foliage. 
When planning your leaf peeping trip, keep in mind that fall foliage can be unpredictable and weather-dependent. It's always a good idea to check the park's website for up-to-date information on peak foliage times and road closures. 
---
5. Watch Wildlife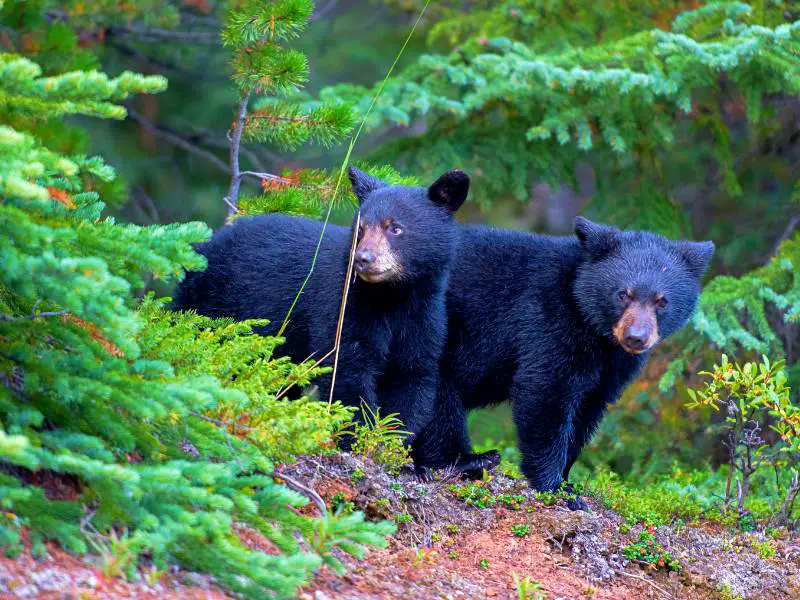 The park is home to a variety of wildlife, including black bears, white-tailed deer, and birds, making it a great place for wildlife watching and photography. In fact, Shenandoah National Park has the largest concentration of black bears of anywhere on the east coast of the United States! 
One of the best places to see wildlife is in Big Meadows. This expansive grassy area is a prime feeding ground for many animals, including deer, bears, and birds. 
Dawn and dusk are the best times to see animals, as this is when they are most active. Keep your eyes peeled for the park's famous black bears, but be sure to keep a safe distance of at least 75 feet away.
Another great spot for wildlife watching is Skyline Drive. This scenic road offers stunning views of the park and is home to a variety of animals, including chipmunks, squirrels, and deer. Be cautious when driving, as animals may dart across the road.
---
4. Go Star Gazing
With its remote location and high elevation, Shenandoah is one of the best places on the east coast to view the stars in all their glory.
For the best star gazing experience, head to the park's highest elevations, such as Big Meadows or Skyland, where you'll have an unobstructed view of the night sky. There are also several overlooks along the Skyline Drive that offer great views of the stars. The Big Meadows Amphitheater is also a good spot.
If you're new to star gazing, consider attending one of the park's ranger-led night sky programs. These programs are designed to help visitors learn about the stars and constellations, and provide an opportunity to view the night sky through telescopes.
There is also an annual Night Sky Festival in August with talks, activities for kids, and presentations.
Some tips for star gazing in Shenandoah:
Dress warmly and bring a blanket or chair to sit on. It can get chilly at night, even during the summer months. Get a cute (and warm) camp blanket here if you need one.
Turn off all lights and electronics to allow your eyes to adjust to the darkness.
Use a red LED light or flashlight. Avoid using white light flashlights or cell phone screens, as they can disrupt your night vision and the experience of others around you. Get a Celestron red night vision flashlight here.
Take a tripod. If you want to take photos of the stars, you'll need a tripod.  You can get a tripod that you can with an SLR camera or a smartphone here.
Use a telescope or spotting scope. This will help you zoom in on specific stars or constellations and see them in more detail. Check out my guide to the best spotting scopes for wildlife viewing (which you can also use for stargazing) if you're looking to buy some.
---
3. Chase Waterfalls
If you're not sure what to see in Shenandoah National Park, the park is home to several beautiful waterfalls that offer a breathtaking view of nature's beauty. 
I've written a whole guide to the best waterfalls in Shenandoah National Park, which I recommend you read if you like waterfalls, but here are a few of my favorites:
Dark Hollow Falls: The short out-and-back hike to Dark Hollow Falls is the most popular trail in the park.  The 70-foot falls cascade over several levels, surrounded by beautiful woods.  The route is only 0.75-miles and is popular families or those who want a shorter hike, but bear in mind that after you've enjoyed the falls, the return hike is entirely uphill.
Jones Run Falls: Located in the South District of Shenandoah National Park, Jones Run Falls is a beautiful waterfall that is reached by taking a 3.2-mile, roundtrip hike. The hike involves a 1,045-foot climb. Once you reach the waterfall, you'll be rewarded with a stunning view of the 42-foot waterfall.
White Oak Canyon: White Oak Canyon is home to six waterfalls and is a popular hiking destination in Shenandoah National Park. The hike is strenuous and covers 4.6 miles, but the view of the waterfalls makes it all worth it. The waterfalls range in height from 35 to 86 feet and are worth the effort if you like chasing waterfalls.
INSIDER TIP: Many of the waterfalls in Shenandoah are seasonal (Dark Hollow Falls is a notable exception), so if you're visiting in late summer or fall, check with a ranger at the Visitor Center before hiking specifically to see one. 
---
2. Take A Hike
With over 500 miles of hiking trails, Shenandoah National Park is a hiker's paradise.  Getting out on the trails is the perfect way to see and experience the best of Shenandoah National Park.
I've written a guide to the best hikes in Shenandoah National Park which has more details and suggested hikes than I'm including here, but some of my top picks are:
Dark Hollow Falls Trail
The Dark Hollow Falls Trail is the most popular trail in the park for good reason.  A moderate 1.4-mile hike takes you to the base of Dark Hollow Falls, one of the most beautiful waterfalls in the park. The trail is shaded and follows a stream, making it a great option for hot summer days. 
The trailhead is located near the Byrd Visitor Center, and there is a parking area nearby. 
Stony Man Trail
Another of my personal favorites, the Stony Man Trail is an easy-moderate 1.6-mile hike that takes you to the summit of Stony Man Mountain, the second-highest peak in the park. There are stunning views of the Shenandoah Valley and the Blue Ridge Mountains from the peak. 
The trailhead is located near Skyland Resort, and there is a parking area nearby. 
Old Rag Mountain Trail
The Old Rag Mountain Trail is one of the most challenging and rewarding hikes in the park. The 9-mile trail takes you to the summit of Old Rag Mountain, which offers stunning views of the surrounding mountains and valleys. 
The trail includes a rock scramble, which requires some climbing skills, so it's not recommended for beginners. 
Make sure to bring plenty of water and snacks, and wear sturdy hiking boots. In order to manage the number of hikers on the trail, a permit is required for several months of the year.  Also be aware that the trailhead for this hike is NOT located along the Skyline Drive – it's accessed by a completely separate entrance to the park. 
---
1. Drive the Legendary Skyline Drive
When you're deciding what to do at Shenandoah National Park, driving the Skyline Drive is sure to be top of your list. 
This 105-mile road is the most popular scenic drive in the park, and for good reason. The road runs along the crest of the Blue Ridge Mountains, offering stunning views of the surrounding landscape.
An interesting fact: Shenandoah is the only national park that was specifically created with the intention of featuring a scenic drive.  Land was bought up along the top of the ridge of the Blue Ridge Mountains and a road was specifically built for the purpose of providing visitors with the opportunity to enjoy the park on a scenic drive.
There are 75 overlooks along the way where you can stop and take in the scenery. Read my guide to the 25 best overlooks on Skyline Drive and check out my guide to the Skyline Drive Mile Markers before setting out on your drive.
A way to optimize your enjoyment of the Skyline Drive is to download a self-driving audio tour. Download an app, set off on your own schedule and along the way, listen to audio and learn secrets about Shenandoah's history and its landmarks.
GET A SELF-DRIVING AUDIO TOUR OF SHENANDOAH'S SKYLINE DRIVE
3-Day Smoky Mountains Tour
If you prefer not to drive yourself, then this 3-day tour is a great choice.  Leaving from Washington DC, nearby Falls Church VA or Rockville MD, the small group tour starts with a visit to Luray Caverns before driving along Skyline Drive in Shenandoah National Park and on to New River Gorge National Park.
Day 2 is spent in Great Smoky Mountain National Park and a visit to Dolly's Parton's Stampede.  The final day includes a visit to Natural Bridge Park before heading back to Washington DC. 
BOOK A 3-DAY TOUR TO THE SMOKY MOUNTAINS INCLUDING A DRIVE ALONG SHENANDOAH'S SKYLINE DRIVE
If you like to drive, there are several other scenic drives nearby:
Blue Ridge Parkway: This 469-mile road connects Shenandoah National Park with Great Smoky Mountains National Park. The road passes through Virginia, North Carolina, and Tennessee, and offers breathtaking views of the Appalachian Mountains.
Shenandoah Valley: If you're looking for a more leisurely drive, consider exploring the scenic roads of the Shenandoah Valley. The valley is home to picturesque towns and rolling hills, and there are plenty of opportunities to stop and explore along the way.
---
Travel Insurance for Shenandoah National Park
When you visit Shenandoah, I strongly recommend having travel insurance for your trip.  Whether it is for unexpected trip cancelation, emergency repatriation or medial help, or to replace something lost or stolen, having travel insurance will give you piece of mind and help you when you need it.  
A great insurance option is Travelex.  It has coverage for all you'll need. You can choose the best travel insurance plan for your trip here or get a quote right now:
Enjoy your trip to Shenandoah!
Do you have any other best things to do (Shenandoah National Park)?  I'd love to hear about them.  Join my private Facebook group National Parks Collectors and comment and let me know (you can also pick up extra planning tips, share your photos and stories with other national park lovers and more).
If you liked this post about the best things to do in Shenandoah National Park, please share the love and Pin It to your Shenandoah National Park board!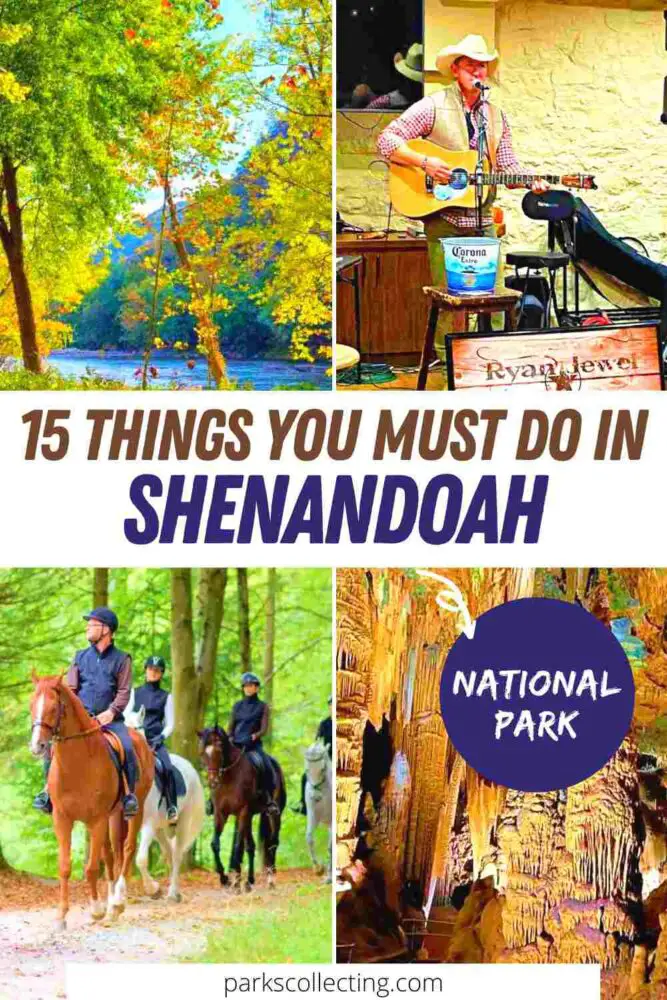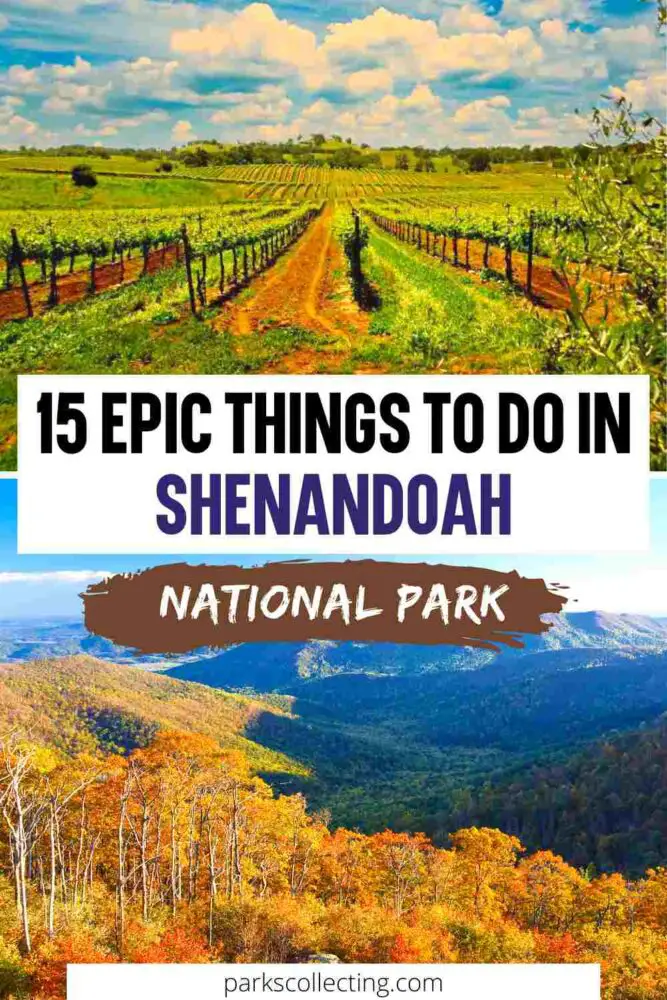 ---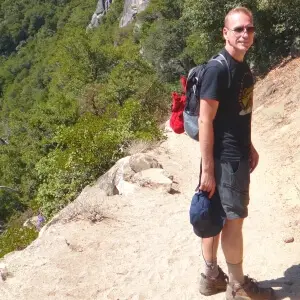 James Ian has dedicated his life to travel and has traveled to 82 countries and all 7 continents.  He's visited all of the main national parks in the United States, as well as many national monuments and state parks.
As a national park expert, James has contributed to many publications, including Time Business News, Savoteur, and Wired. He also has several published detailed itineraries in addition to many free online guides.
James has rafted through the Grand Canyon; rappelled down slot canyons near Zion and Arches; hiked among the hoodoos in Bryce and the enormous trees in Sequoia; admired the waterfalls in Yosemite and the colored hot springs in Yellowstone; seen moose in Grand Tetons and seals in the Channel Islands, and much more.
---
Parks Collecting is a participant in the Amazon.com Services LLC Associates Program, an affiliate advertising program designed to provide a means for sites to earn advertising fees by advertising and linking to amazon.com. Amazon and the Amazon logo are trademarks of Amazon.com, Inc. or its affiliates. As an Amazon Associate I earn from qualifying purchases.