Shenandoah National Park is most famous for its scenic overlooks, the Skyline Drive, great hikes – and waterfalls.   
"Does Shenandoah Park have waterfalls?", you ask.  It sure does!  The national park has dozens of waterfalls, ranging from tiny slopes you can slide over, to stunning multi-tiered cascades, and jaw-dropping single-drop falls.    
To help you narrow down the choice and make sure you don't miss out, here are the top picks for best waterfall in Shenandoah National Park. 
No time right now to the best waterfalls in Shenandoah National Park?  Pin It and save it for later: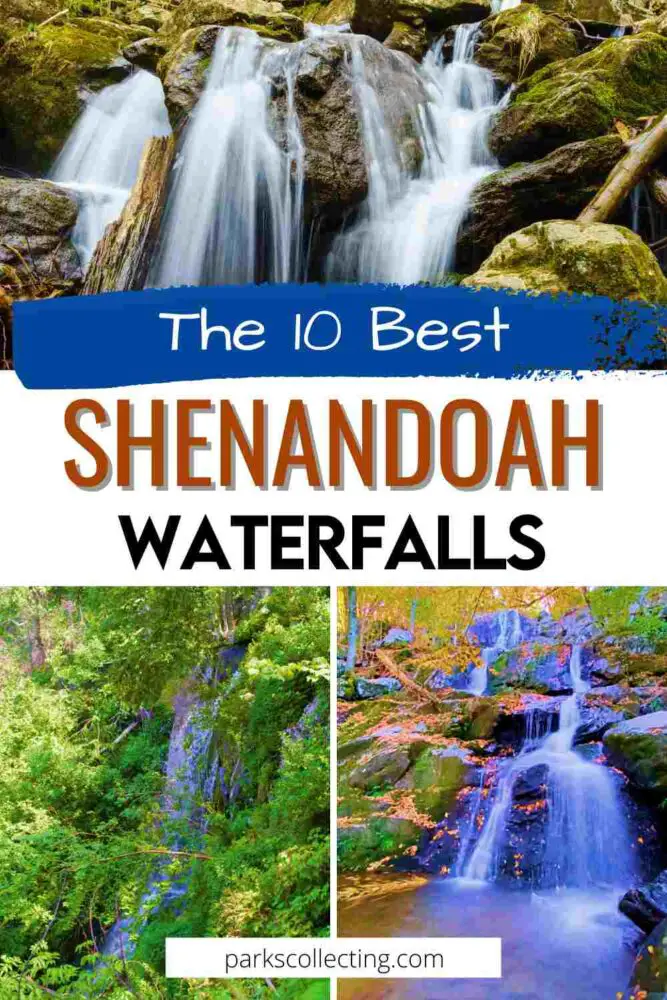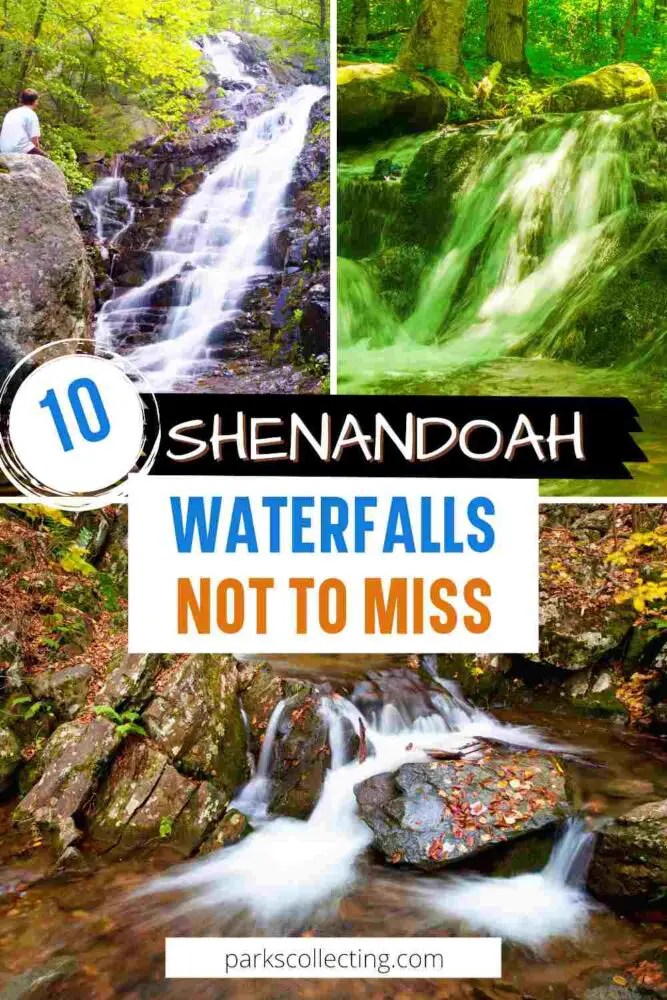 Please note this post may contain affiliate links, which means we may receive a commission, at zero cost to you, if you make a purchase through a link. Please see our full Disclosure for more information. If you have any questions, please contact me.
Tips for Visiting Shenandoah's Waterfalls
Spring is typically the best time to see the waterfalls in Shenandoah National Park.  Most of the waterfalls dry out in summer and fall unless there's been recent rain, so if you're visiting then, ask the park rangers if there's been rain recently before setting out on a hike.  
You need to hike to get to all of the waterfalls in Shenandoah.  You hike downhill to get to most of them, and you then have a steep hike back up to the trailhead.  I strongly recommend having good hiking shoes or boots.  Read my Guide to the Best Hiking Shoes/ Boots for recommendations if you need some.  I also recommend using trekking poles, as this will help take some of the pressure off your knees on the descents.  These Foxelli carbon fiber trekking poles are a good choice. 
In peak times (especially summer and weekends in fall), get to the trailheads early, as most of the parking lots are quite small and the trails popular.
The trailheads are not always marked very well from the road, so you should make sure you know exactly where they are.  Read my list of Skyline Drive Mile Markers and check the location for each hike below. 
Take plenty of water and snacks 
Check my Day Hike Packing List to make sure you have everything you need. This includes a sunhat and sunscreen. If you're hiking with a baby, you can carry them in a baby hiking carrier. 
There are ticks and other bugs in the park, so be sure to wear tick repellent and bug spray. 
Have a good trail map.  The National Park Service has maps that you can pick up at a Visitor Center or download, but you can also take a printed Shenandoah hiking map with you. National Geographic has a set of topographic trail maps you can buy here. 
I like to take binoculars with me when I hike.  You won't need them to enjoy the waterfalls, but you never know when you'll want to see a bird or animals or geological feature up close.  If you are looking to buy some, check out my Guide to Finding the Best Binoculars For the Money. 
Be safe.  Never walk around on the top of a waterfall.  Wet rocks can be really slippery and accidents have happened when people have slipped at these waterfalls.  
---
10 Best Waterfalls Shenandoah National Park
Dark Hollow Falls
Height of waterfall: 70 feet 
The hike to Dark Hollow Falls is the most popular trail in Shenandoah National Park.  As with most of the waterfall hikes in Shenandoah, you need to hike down the hill to get to the falls.  The trail is especially pretty, wandering beside a small creek.  For the most part, the it's quite wide and very easy to follow.   
You first arrive at the top of the falls, but the view isn't that great there; it is worth continuing down to the bottom.  The last part is steep and narrower, but the views when you arrive at totally worth the effort.   
Dark Hollow Falls is a beautiful waterfall that cascades over several tiers, splitting in the bottom section.  It ends in a large, calm pool, and you can walk around the rocks surrounding this pool (carefully).  The trail continues even lower, but the best view is from the pool at the bottom of the falls. 
The hike back up is steep and quite strenuous, but fortunately the entire trail is only 1.5 miles round trip, so if you take it slow and enjoy the scenery along the way, it is doable for most people with reasonable mobility.  Allow 1 – 2 hours.  
The large Dark Hollow Falls Parking area is located at Mile 50.7 on Skyline Drive, not far from Big Meadows. (Read all about the Skyline Drive Mile Markers for more information about them).
---
Overall Run Falls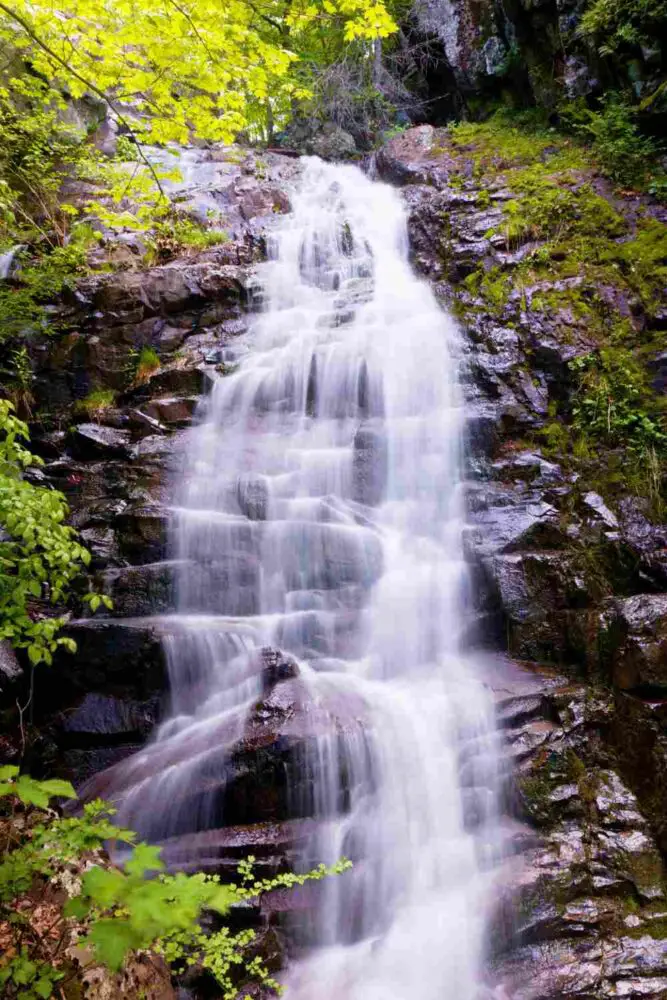 Height of waterfall: 93 feet 
Overall Run Falls are the tallest waterfalls in Shenandoah National Park. 
The falls are reached by a moderately strenuous 5.1-mile round trip hike.  The trail starts at the Matthews Arm Campground (Mile 22). From the campground, you take the yellow-blazed trail Mathews Arm Trail to the Tuscarora-Overall Run Trail. 
You can also park at Mile 21 just past Hogback Overlook (which is my favorite Skyline Drive Overlook – read about this and other great overlooks in my Guide To The Best Skyline Drive Overlooks). From there you can take the Appalachian Trail to the blue-blazed Tuscarora-Overall Run Trail. This adds a mile to the hike.  
The trail has a lot of up and down and a significant elevation change (mostly downhill to get there and uphill to return).  
When you get there, there are rock ledges you can sit on and enjoy the view of the stunning drop waterfall surrounded by lush forest.   
Allow about 4 hours for the hike to Overall Run Falls.  Overall Run Falls are beautiful when they are flowing, but they often dry up completely, especially in summer.  It's best to see them in spring or after rain. 
---
Rose River Falls
Height of waterfall: 67 feet
One of the most beautiful waterfall hikes in Virginia is located in Shenandoah National Park's Central District. Rose River Falls is a lovely 67-foot waterfall in the Big Meadows area of the park. But the Rose River hike is more than just one waterfall. Since the trail borders Rose River for almost two miles, hikers enjoy continuous views of cascades, falls, and pools as they walk. 
 
The 4-mile Rose River Loop hike begins at Fishers Gap Overlook, near Mile 50. Hikers cross Skyline Drive and connect to Rose River Loop via an equestrian trail. For the next two miles, hikers follow the stream, crossing twice on rocks and a bridge.
The trail is shady and there are fun pools where you can stop to cool your feet or take a dip. There are steep and rocky sections and the trail can be muddy and wet, so good boots are a must. 
 
Return to the parking area on the fire road, but first, take the quarter-mile side trail to the bottom of Dark Hollow Falls. Here you'll have an excellent view of the popular (and often crowded) falls before your return. 
Explored by Julie McCool from Fun in Fairfax VA 
---
Doyles River Falls
Height of waterfalls: Upper Falls 28 feet and Lower Falls 63 feet
The hike to reach Doyles River Falls is a pretty tough one as the elevation gain is 1,189ft over just 1.15 miles.
As with most waterfall hikes you'll be going downhill for the first half of the trip. It's a peaceful walk through the woods with a chance to branch off and see Doyles River Cabin which you can stay in overnight if you want to go camping in Shenandoah.
For a little way before you get to the falls you'll be walking alongside the river and there is one spot you have to cross. There are large rocks to walk across so you don't get wet.
While the upper falls are beautiful, the lower falls are the real stunner here. You arrive at the upper falls first which is a teaser for what's to come. When you walk around the corner and see the massive lower falls it's almost as if you are in a fairy tale. Especially if you go early in the morning while no one is there and it hasn't gotten incredibly bright out yet. It's a must on any Shenandoah itinerary!
Once you arrive at the falls you'll turn around and retrace your steps. It's a 3.3 mile round trip journey.
The easiest way to reach these falls is by parking at the Doyles River Falls Parking Area at Mile 81.1 along Skyline Drive.
Explored by Anna Cook from Stuck on The Go
---
Whiteoak Falls
Height of waterfall: Upper Falls 86 feet 
Whiteoak Canyon is home to a series of six major drops (and many more smaller ones) that, over the course of a mile, descend about 2,000 feet.  The two major falls are the Upper Whiteoak Falls and Lower Whiteoak Falls.   
The waterfalls can be reached from above from the Skyline Drive or from below from the park boundary, so there are a few different options.  The hike from the boundary is easier, especially since the return hike is downhill, rather than a steep uphill climb back to Skyline Drive, but, since most people visit Shenandoah National Park via Skyline Drive, it is also less convenient.   
If hiking from below (the park boundary), you'll encounter the Lower Falls first.  If you're hiking from above (Skyline Drive), you'll encounter the Upper Falls first. 
Options include: 
From Skyline Drive (Whiteoak Parking area at Mile Marker 42.6) 
4.6 miles out and back to Upper Whiteoak Falls only (moderate).  This section is fairly flat (compared to the next section) – and the Upper Falls are the most spectacular 
7.3 miles loop to Upper and Lower Whiteoak Falls (strenuous – it gets steep very quickly after the Upper Falls) 
8.2 miles loop to Upper and Lower Whiteoak Falls and Cedar Run Falls (strenuous) 
From Whiteoak Canyon Boundary Trailhead (accessed from town of Syria): 
2.8 miles out-and-back to Lower Whiteoak Falls only (easy – this is a great option if you just want to see the falls and can conveniently approach the national park from this part of Virginia) 
6 miles out-and-back to Lower and Upper Whiteoak Falls (moderate – but at least you're hiking down at the end) 
When you get to the waterfalls, there are pools at the bottom that make great places to cool off, relax (and recover) and enjoy the views.   
---
South River Falls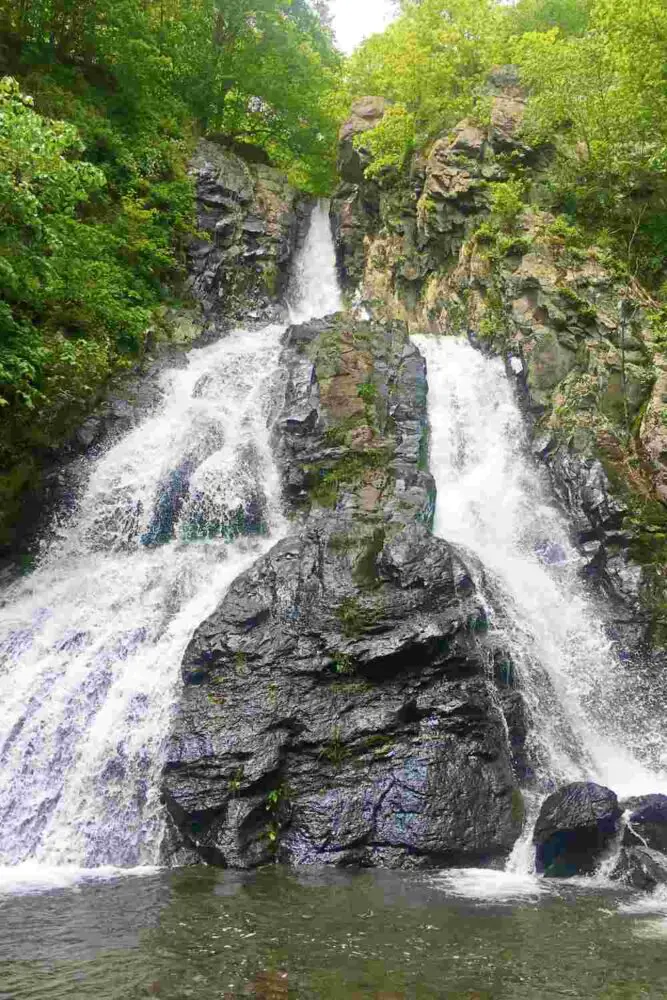 Height of waterfall: 83 feet 
South River Falls are the third tallest waterfalls in Shenandoah National Park.  They have two tiers, with a short ledge separating them, and the bottom tier splits into two twin cascades, so it's especially pretty. 
The falls are reached by a moderate 3.3-mile out-and-back hike on the South River Falls Trail or a scenic but more strenuous 5.1-mile loop that includes the South River Fire Road.  
The trail starts at the South River Picnic Grounds where you can have a picnic either before or after your hike.  From the trailhead just below the comfort station, it's a lovely hike through shady woods. There are plenty of rocks to sit on at the falls, so you can relax and enjoy the view before the hike back. 
Allow 2-3 hours for the hike to South River Falls.  
---
Jones Run Falls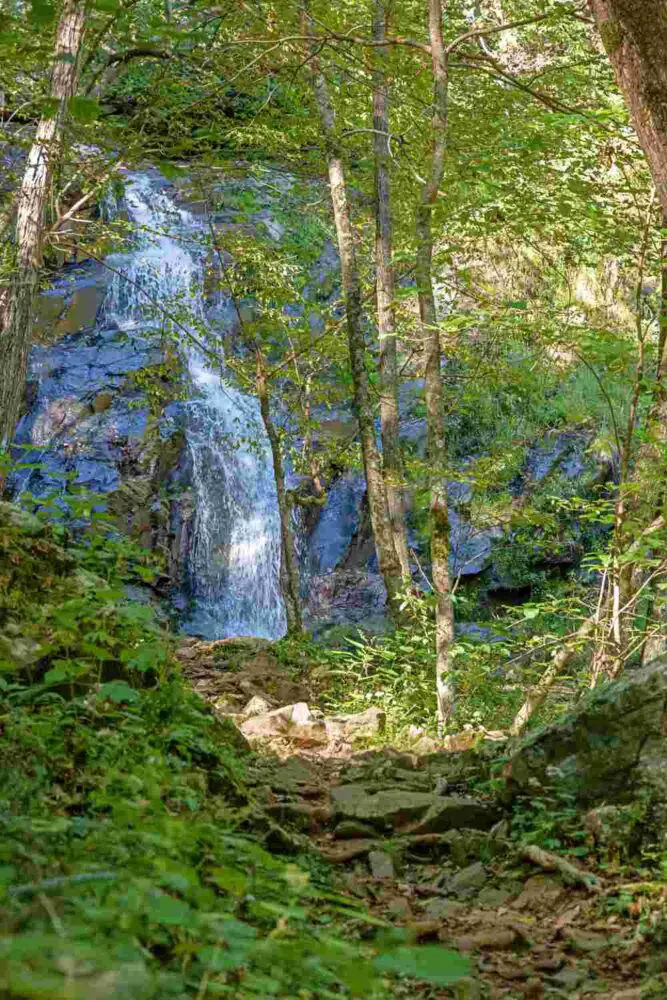 Height of waterfall: 42 feet 
Jones Run Falls are some of the most picturesque waterfalls in Shenandoah National Park.  They cascade down a slightly slanted rock face rather than drop straight down and are surrounded by trees and mossy rocks.    
To reach Jones Run Falls, take the moderate 3.2-mile out-and-back Jones Run Trail from the Jones Run Parking Area (Mile 84.1). 
The trail to the falls passes the lower and upper parts of the Doyles River and both the Doyles River Falls are nearby.  It's popular to hike the 6.5-mile Browns Gap Waterfall Loop to see all three of these waterfalls together.   
Although the waterfall is beautiful when it's flowing, it does dry up completely in summer, so it's best to go in the spring or after rain.  
---
Lands Run Falls
Height of waterfall: 80 feet over a series of cascades  
Lands Run Falls are a series of cascading waterfalls that end up flowing into a gorge.  Surrounded by lush forest, moss, ferns and rocks, they're a highlight of any trip to Shenandoah. 
The falls are reached by an easy 1.3-mile out-and-back hike from the Lands Run parking area (Mile 9.2). About 0.6 miles into the hike, which is mostly along a fire road, you'll come to small creek flowing under the road.  The falls are only about 25 feet away on the right.   
It's a pretty area to explore, but the rocks can be slippery, especially when wet. 
Like many of the Shenandoah waterfalls, Land Runs Falls can dry up completely in summer or if it hasn't rained in a while, so it's best to see them in the spring or after heavy rain.   
---
Cedar Run Falls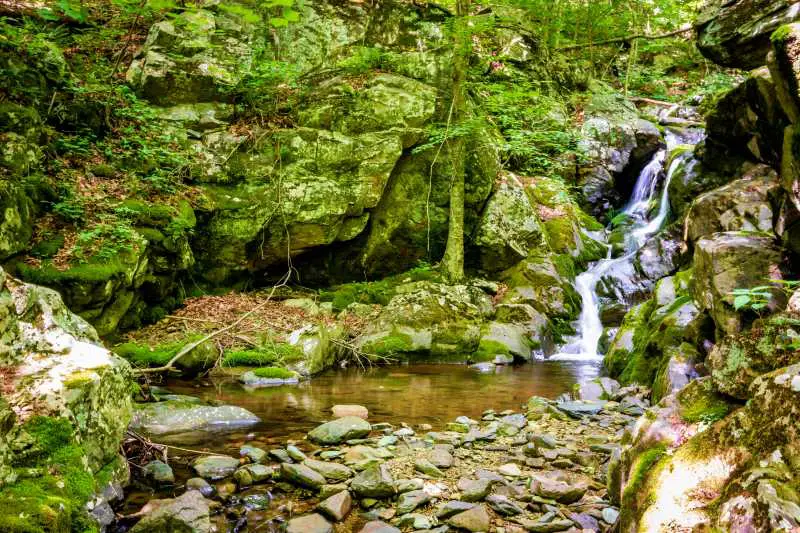 Cedar Run Falls can be visited by the steep but relatively short 3.4-mile out-and-back Cedar Run Trail or the longer and more strenuous 8.2-mile Whiteoak Canyon Loop trail. The most common starting point is the Hawksbill Gap Trailhead on Skyline Drive (Mile 45.5), but you can also start at the Whiteoak Canyon lower parking lot. 
From the Hawksbill Gap parking lot, the trail descends steeply through the woods. After about 0.8 miles, you'll come to Cedar Run creek, which the trail then follows.  1.5 miles in, you cross Cedar Run, which can be tricky if there has been lots of rain and the water level is high.   
A highlight of the hike is another 0.2 miles after the creek crossing.  You'll come to a small waterfall that acts like a natural slide.  Water runs over smooth slate rock into a small pool. You can easily slide down the 'waterslide' into the pool and cool off on a hot day!  
From the natural slide, listen for the falls and follow the sound; the trail isn't that clear for the last 50 feet or so.   
There's a small pond at the bottom of Cedar Run Falls where you can relax and enjoy the views.  You can also see Half Mile Cliffs on the other side of the creek.
From Cedar Run falls, you can return the way you came or continue on the trail to connect with the Whiteoak Canyon Trail. 
---
Lewis Falls
Height of waterfall: 81 feet
Lewis Falls is certainly one of the best hikes in Shenandoah National Park. It's a hike that is challenging without being too strenuous, takes you along a portion of the Appalachian Trail, and leads to rewarding waterfall views. It's perfect for novice hikers.
The descent is steep and rocky, so prepare if you have trouble with your knees. Other than this steep section, the remainder of the trail includes sections of moderate incline as you return to the parking area.
Plan to hike for about 4-5 hours on this 3.3-mile hike. You'll gain about 1,000 feet in elevation along the way. Pets are allowed if you're hoping to bring your furry friend!
To get there, park at the Big Meadows campground amphitheater parking area (Mile 51). From there, head left on the Appalachian Trail until you reach the blue-blazed Lewis Falls Trail on your right. There's a concrete marker to help you navigate. 
After viewing the falls, you can either return the way you came or make it a loop via the Lewis Spring Falls Trail.
Explored by Riley from The Parks Expert
---
FAQS: Best Waterfalls in Shenandoah National Park 
How many waterfalls are in Shenandoah National Park? 
Shenandoah National Park has more than a dozen named waterfalls. 
What is the biggest waterfall in Shenandoah National Park? 
Overall Run Falls is the tallest waterfall in Shenandoah National Park.  It's 93 feet tall. 
How tall is Dark Hollow Falls?
Dark Hollow Falls, the most popular waterfall in Shenandoah National Park, is 70 feet tall.
Can you swim in Shenandoah waterfalls? 
You can swim at some of the waterfalls in Shenandoah National Park.  There is a natural water slide near Cedar Run Falls, and this is a popular spot to cool off in summer. Rose River Falls have a swimming hole nearby.  There's also a swimming hole on Whiteoak Canyon.
---
Travel Insurance for Shenandoah National Park 
When you visit Shenandoah's waterfalls, I strongly recommend having travel insurance for your trip.  Whether it is for unexpected trip cancelation, emergency repatriation or medical help, or to replace something lost or stolen, having travel insurance will give you piece of mind and help you when you need it.   
A great insurance option is Travelex.  It has coverage for all you'll need. You can swap this link for  either choose the best travel insurance plan for your trip here or get a quote right now:
Enjoy the Shenandoah waterfalls! 
What do you think are the best waterfalls Shenandoah National Park has? I'd love to hear.  Join my private Facebook group National Parks Collectors and comment and let me know (you can also pick up extra planning tips, share your photos and stories with other National Park lovers, and more).  
If you liked this post about the best waterfalls in Shenandoah National Park, please share the love and pin it to your National Parks board!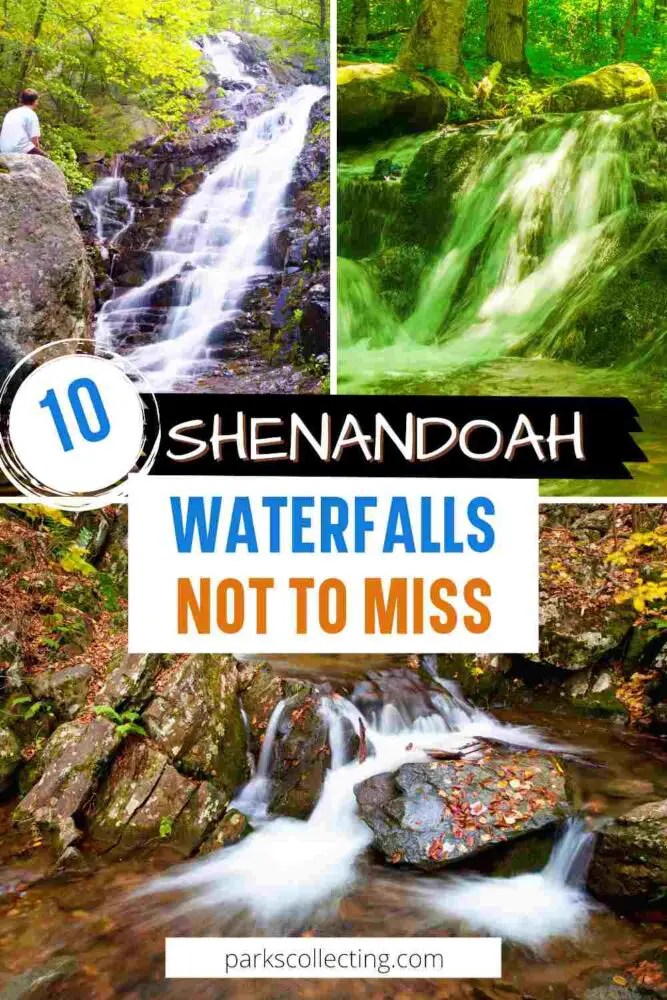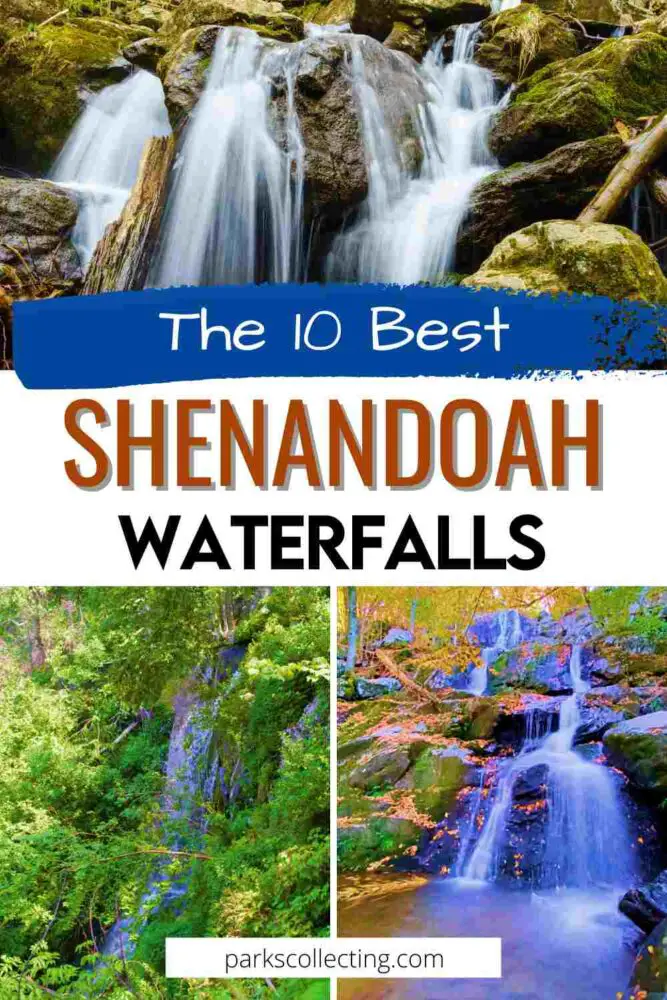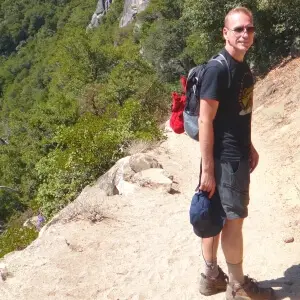 James Ian is a national park, camping and hiking expert.
He has dedicated his life to travel, visiting more than 80 countries, all 7 continents and all of the main national parks in the United States. With over 35 years experience in the travel industry, James has worked on cruise ships, at resorts and hotels, and as a travel planner who's helped hundreds of people plan successful trips to US national parks. 
Based on his experience visiting our national parks multiple times, in-depth research and expertise as a travel planner, James has published detailed itineraries for most of the major national parks in the US. These itineraries, as well as in-depth park guides, comprehensive camping and hiking gear reviews and buying guides, and helpful packing lists and gift guides will help you have your own incredible trip to US national parks without stress and hassle.
As a national park expert, James has contributed to many publications, including Time Business News, Savoteur, Best Trip, and Wired.
---
Parks Collecting is a participant in the Amazon.com Services LLC Associates Program, an affiliate advertising program designed to provide a means for sites to earn advertising fees by advertising and linking to amazon.com. Amazon and the Amazon logo are trademarks of Amazon.com, Inc. or its affiliates. As an Amazon Associate I earn from qualifying purchases.