Glacier National Park is one of the most spectacular places on the planet.  
Mountain peaks, glaciers, lakes, wildlife, waterfalls, and fields of wildflowers all compete for your attention. It often seems like there is yet another stunning view around every turn of the legendary Going to the Sun Road, the main road that carves its way between the east and west sides of the park. 
Would you like to learn more about this wonderful park?  Let's take a look at some cool facts about Glacier National Park.
Here are 10 Glacier National Park fun facts that you never knew you needed to know!
No time right now to discover these fun facts about Glacier National Park? Pin It and save it for later:
Please note this post may contain affiliate links, which means we may receive a commission, at zero cost to you, if you make a purchase through a link. Please see our full Disclosure for more information. If you have any questions, please contact me.
Basic Glacier National Park Facts
Location: Montana
Size: 1,583 square miles (4,101 square km)
Number of Visitors each Year: 2,908,458 people visited Glacier National Park in 2022
Annual Rainfall: The northeast and northwest edges of the park receive an average rainfall of 23 inches (58.4 cm) a year, while in the lowlands on the west side, the average rainfall is about 30 inches (76.2 cm).
Highest Elevation: 10,466 feet (Mt. Cleveland)
Lowest Elevation: 3,215 feet (the Middle Fork River near West Glacier)
Date it Became a National Park: Glacier National Park was established on May 11, 1910.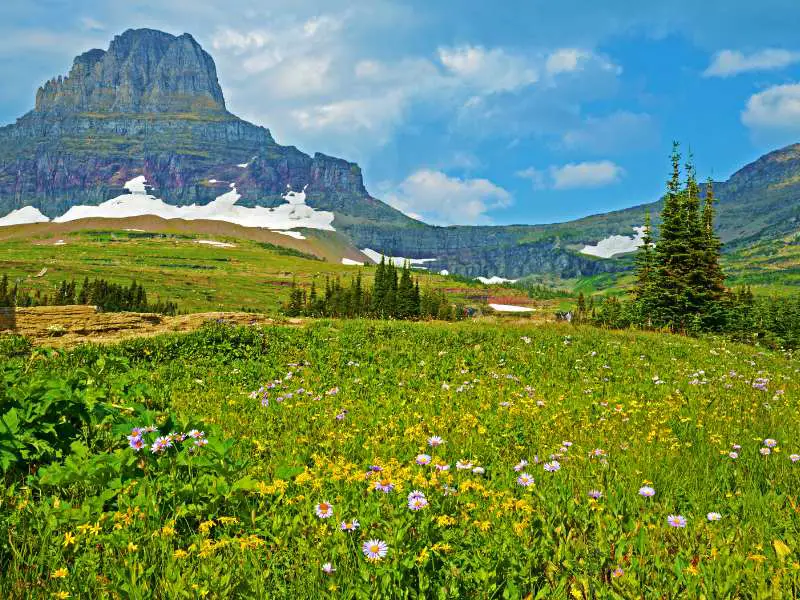 ---
10 Fun Facts About Glacier National Park
1. The area lost 54 glaciers in 154 years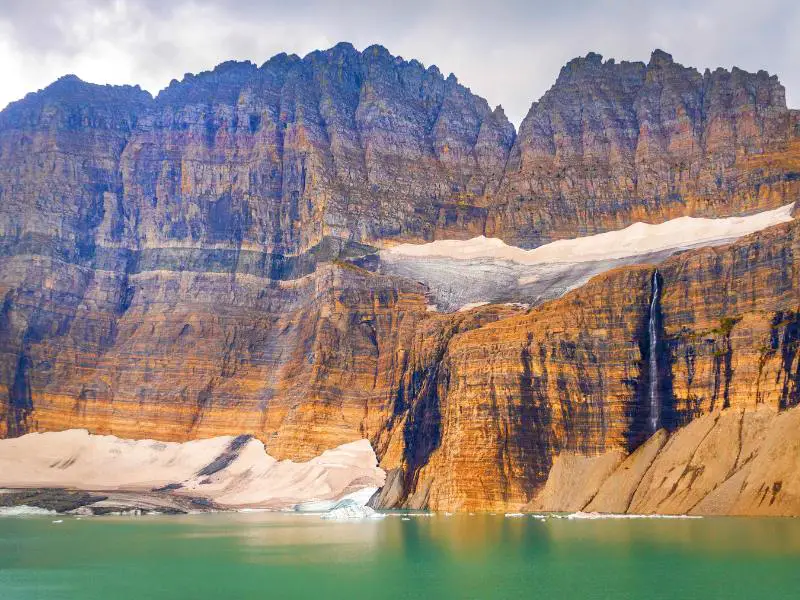 The Kootenai people traditionally referred to Glacier National Park as Ya·qawiswit̓xuki, which means "the place where there is a lot of ice." Given that name and the name of the national park, it's no surprise that the area is home to 26 glaciers.
What may be more surprising is that in 1850, around the end of the Little Ice Age, there were more than three times as many glaciers.  Those 80 glaciers had diminished to just 35 glaciers in 1966.  And in 2015, aerial imagery found only 26 named glaciers remaining. 
The numbers continue to decline and by now, several of these may be too small to be considered glaciers.
A few years ago, there were widespread predictions that all the glacier would be gone by 2030.  As scientists have learned more about glaciers, reference to this has since been removed from the park and there is no official estimate given.  But one thing is for sure – the number of glaciers in Glacier National Park is continually decreasing.
READ MORE: The Best of Glacier National Park by A Leftridge
---
2. The largest glacier in Glacier National Park is Harrison Glacier
Of the existing glaciers, the largest is Harrison Glacier, at 1,661,456.75 sq. meters. The glacier is on a southeast‐facing ridge immediately south of Mount Jackson.
Harrison Glacier has a minimum elevation of 4,964 feet (1,513 meters), a maximum elevation of 10, 026 feet (3,056 meters), and an average elevation of 7,756 feet (2,364 meters).
The glacier is getting retreating and getting thinner, but because its accumulation zone is approximately 9,000 feet, which is higher than most of the glaciers in the national park, it is disappearing at a slower rate than most of the Glacier glaciers. From 1966 to 2005, it lost only 9 percent of its surface area.
So, fortunately it will be around for a few more years yet.
---
3. There are 762 Lakes in Glacier National Park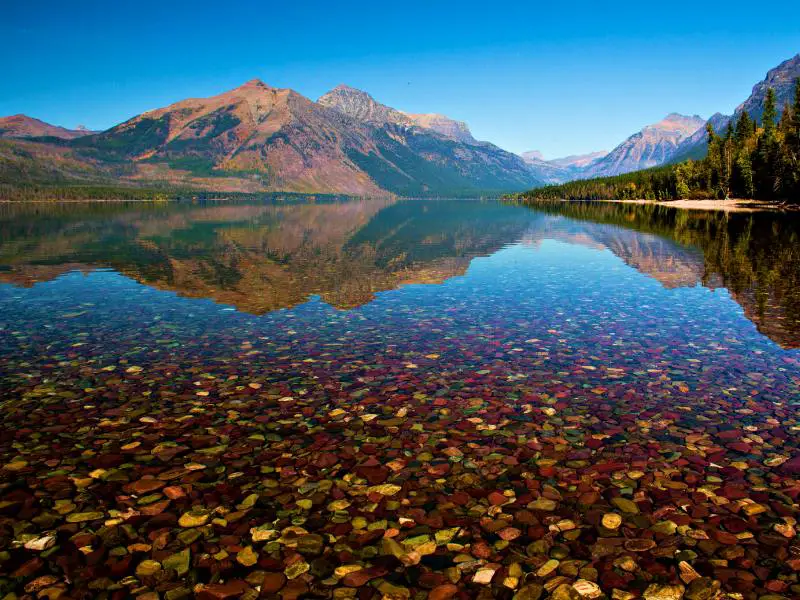 The national park may be named after the glaciers found there, but there are 762 lakes in the national park.  Now, admittedly only 131 have been given names, but still, that's almost 30 times as many lakes as there are glaciers! 
Perhaps it's not so surprising then that the Canadian national park connecting with Glacier on the other side of the US – Canada border is Waterton Lakes National Park.  The two national parks connect and together form the Waterton-Glacier International Peace Park.
The largest lake in Glacier National Park is Lake McDonald, which is 9.4 miles long, 1.5 miles wide, and 464 feet deep. 
READ MORE: Lake McDonald Fun Book: A Fun and Educational Book About Lake Mcdonald by JD Leonard
---
4.  The official symbol of Glacier National Park is the mountain goat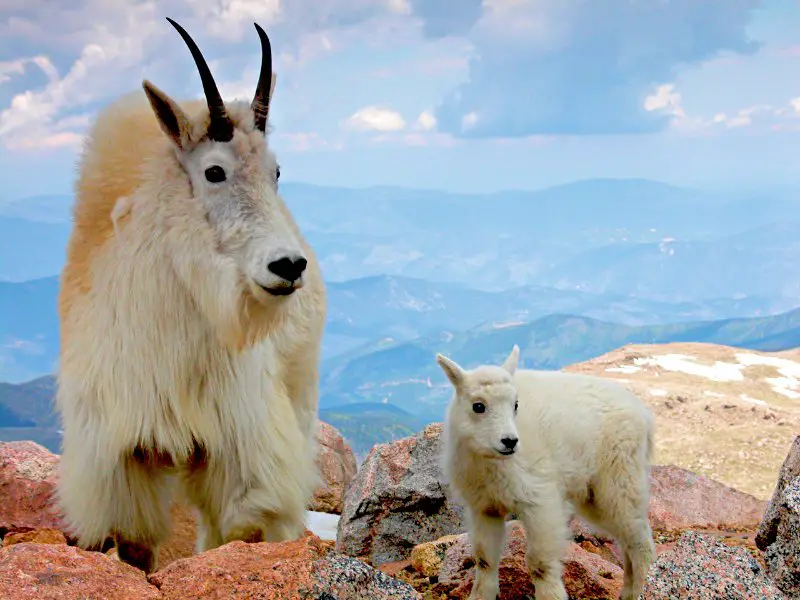 Also known as Rocky Mountain Goats (Oreamnos americanus), these cute white animals are endemic to the high mountains of western North America.
They may be cute, but they are wild and can be dangerous, so it's important to keep a safe distance from them (at least 25 yards). 
There are estimated to be more than 1,500 mountain goats in Glacier National Park and they are a common sight at higher elevations above the tree line. One of the best places to them is at the Goat Lick Overlook, a mineral lick located in the southern part of the park (they get salt from the mineral lick).  Another place where you often see mountain goats in Glacier National Park is the Hidden Lake Overlook Trail.
READ MORE: Mountain Goats of Glacier National Park by S Harada and K Yale
---
5. The main road through Glacier National Park is the iconic Going-to-the-Sun Road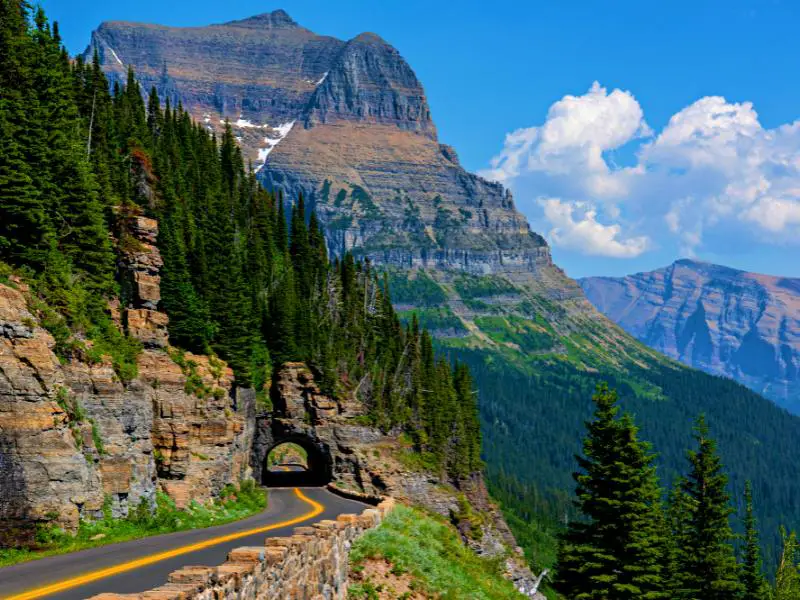 Going-to-the-Sun Road connects the east and west sides of the park, crossing the Continental Divide at Logan Pass.
The road is a modern engineering marvel. It took 14 years to build.  It was started in 1919 and opened in 1933, but it wasn't until 1937 that all the major structures were finished and not until 1952 that it was fully paved.  
Today, it's a registered national historic place, national historic landmark, and historic civil engineering landmark. It even appeared in the opening credits of the movie The Shining.
The road is one of the most scenic drives in the United States, but it's only open about three months a year.  It's snowed in most of the year, but is fully opened as soon as the snow can be cleared (usually around mid-July) until it gets covered in snow (usually around mid-October).
A timed entry reservation is required.
READ MORE: Guide to Glacier National Park Ticketed Entry
Going-to-the-Sun Road: Glacier National Park's Highway to the Sky by CW Guthrie
---
6.  The railroads helped establish Glacier National Park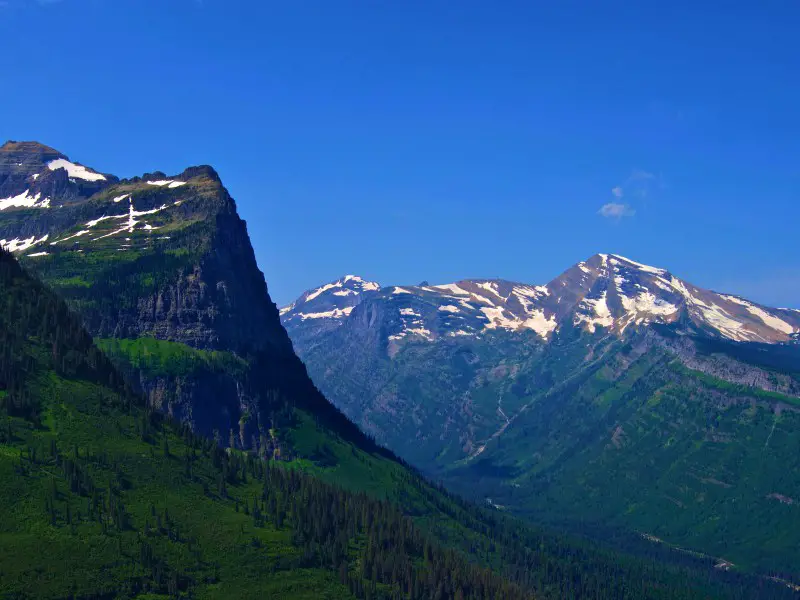 As has so often been the case, it took some powerful people making a lot of noise to get congress's attention. One of the interesting Glacier National Park history facts relates to its formation.
At the turn of the previous century, the only way to get to the area that is now Glacier National Park was by the Great Northern Railway.
James J. Hill, who was the president of the Great Northern Railway, and his son Louis, understood that for the railway to grow, it needed to go to interesting places. I'm sure they also understood the power of the "National Park" label.  So, they led a publicity campaign to encourage Americans to "See America First" and a political campaign to convince Congress to designate this area a national park.
Both worked.  President William Howard Taft signed the bill that created Glacier National Park into law on May 11, 1910. People flocked – and continue to flock – to this area of incredible natural beauty.
The Great Northern Railway no longer exists, of course, but Amtrak's Empire Builder line stops at Whitefish and West Glacier, just outside the national park.
READ MORE: All Aboard! for Glacier: The Great Northern Railway and Glacier National Park by CW Guthrie
---
7. "Parkitecture" started in Glacier National Park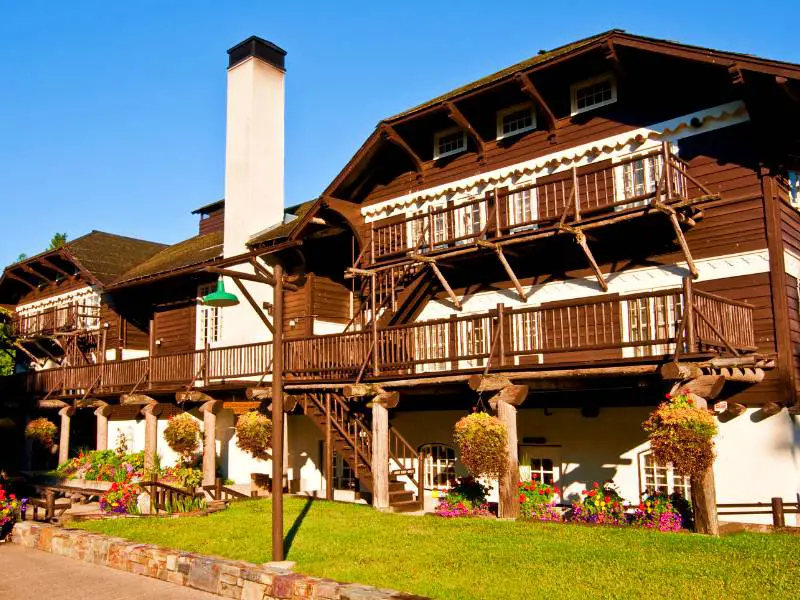 Now that Glacier was a national park and people were taking the Great Northern Railway to visit it, they needed somewhere to stay.  Louise Hill (James J. Hill's son) decided that it would be a great idea for his "See America First" campaign to design hotels that looked kind of like they belonged in the Swiss Alps.
A series of "chalet colonies" were built in the national park.  While only a few of them remain today, the style of architecture, using local logs and stones and other natural materials, became known as "parkitecture" and was adopted in many other national parks in the United States. 
One of the most outstanding examples of 'parkitecture' in Glacier National Park still stands today.  Lake McDonald Lodge is a grand lodge located on the shores of Lake McDonald.  Silver Wolf Log Chalets, just outside the park's west entrance, is another example.  
READ MORE: Classic National Parks Lodges and Inns
Parkitecture: A history of rustic building design in the National Park System: 1916-1942 by WC Tweed
---
8. Glacier is nicknamed the "Crown of the Continent"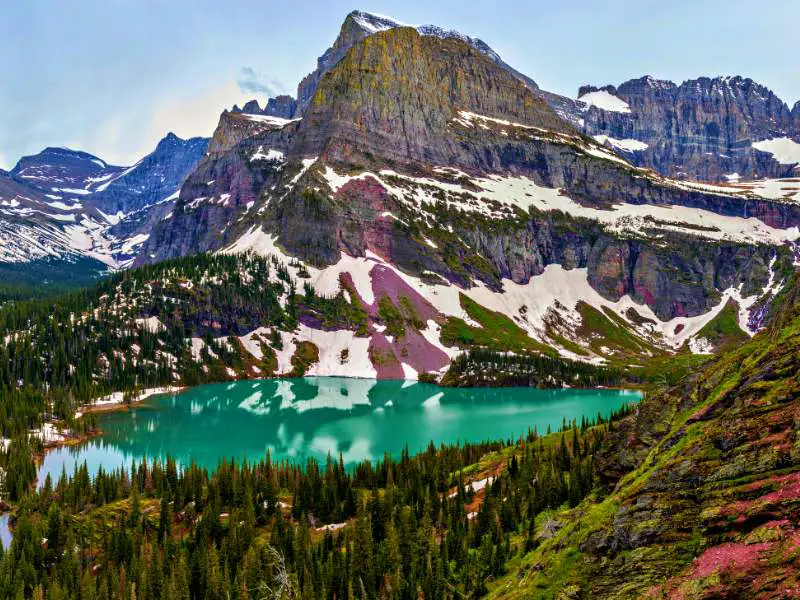 You'll often hear Glacier National Park being called the Crown of the Continent. It was given this name by George Bird Grinnell.  Yes, that's who Grinnell Glacier, Grinnell Mountain and Grinnell Lake are named after!
Grinnell was the editor of Forest and Stream magazine and one of the first environmentalists in the United States.  He first came to Glacier National Park in 1885 and immediately fell in love with the area.  In addition to giving the park its lasting nickname, he became a fierce advocate for the creation of a national park.  He wrote editorials in his magazine and lobbied politicians in Washington. 
His efforts, together with James J. Hill of the Great Northern Railway, and others, bore fruit and Glacier has been a national park since 1910. 
READ MORE: Grinnell: America's Environmental Pioneer and His Restless Drive to Save the West by John Taliaferro
The Father of Glacier National Park: Discoveries and Explorations In His Own Words by JB Grinnell and H Grinnell
---
9. Glacier National Park is the world's first international peace park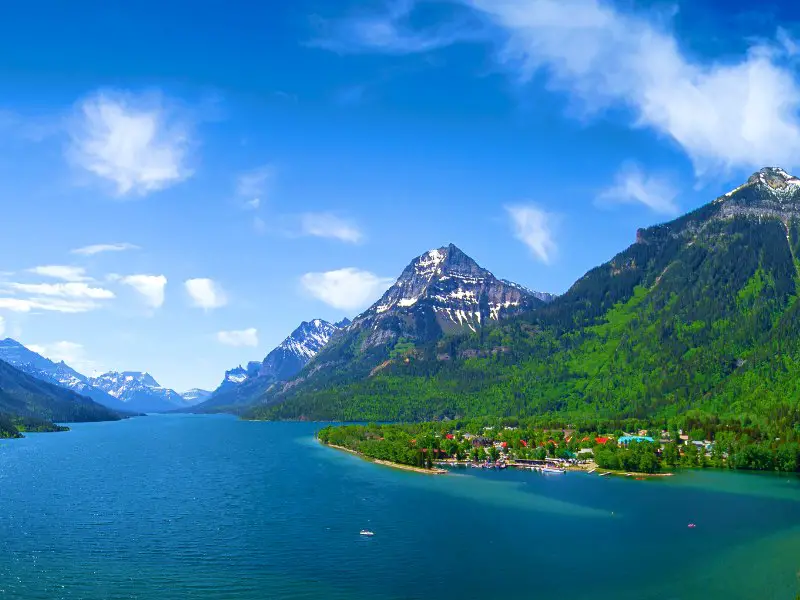 Glacier National Park (Montana, United States) and Waterton Lakes National Park (Alberta, Canada) were combined in 1932 to form the world's first International Peace Park. The Waterton Glacier International Peace Park was officially established by a 1931 US Act of Congress and a 1932 Canadian Act of Parliament. 
So, what is an International Peace Park, you ask?
A "Park for Peace" is a special designation used for "the promotion, celebration and/or commemoration of peace and cooperation".  The designation is used for Transboundary Conservation Areas to:
celebrate the endurance of peace and the commemoration of peace in a region; or
help reinforce peace and cooperation; or
to promote peace at some point in future on the Korean peninsula.
The Waterton-Glacier International Peace Park falls under #1 because it was established to celebrate longstanding peaceful relations between Canada and the USA.
Despite the unity, there's only one road border crossing within the Waterton-Glacier International Peace Park.  The Chief Mountain Border Crossing is reached by Montana Highway 17 from the US side and by Alberta Highway 6 from the Canadian side, and it's closed in winter.
READ MORE: Waterton-Glacier International Peace Park Wildlife: A Folding Pocket Guide to Familiar Animals by J Kavanagh, W Press and R Leung
---
10.  Glacier National Park is a UNESCO World Heritage Site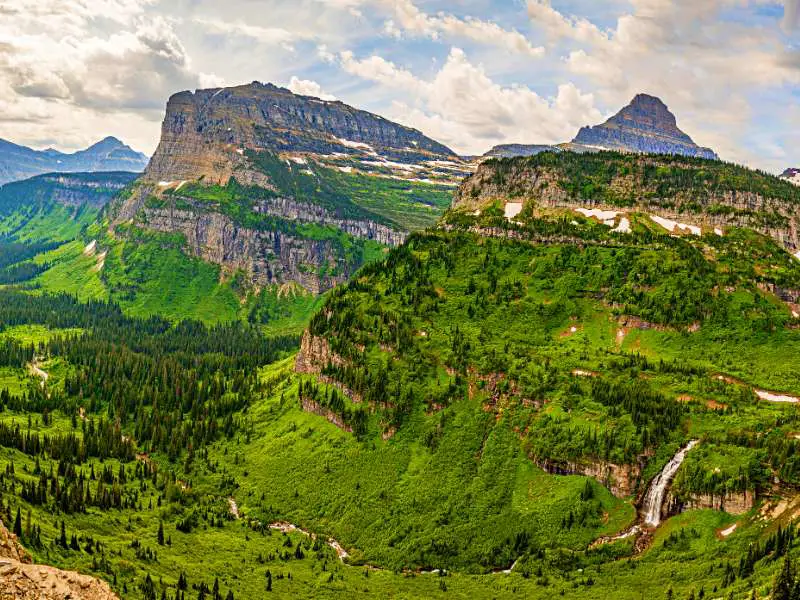 Actually, the Waterton – Glacier International Peace Park is a UNESCO World Heritage Site and has been since 1995.
The combined parks offer outstanding scenery that includes prairie, forest, alpine and glacial environments.
The combined parks were given the UNESCO designation for two main reasons.  One is "their superlative mountain scenery, their high topographic relief, glacial landforms and abundant diversity of wildlife and wildflowers."  The other relates to their pivotal position in several major ecosystems in their area. 
READ MORE: World Heritage Sites: A Complete Guide to 1,031 UNESCO World Heritage Sites by UNESCO
---
More Information About Glacier National Park
Are you feeling inspired to visit Glacier National Park?  Start planning your trip now with these guides:
Do you have any other interesting information on Glacier National Park to share?  I'd love to hear them.  Join my private Facebook group National Parks Collectors and comment and let me know (you can also pick up extra planning tips, share your photos and stories with other national park lovers and more).
If you liked these fun Glacier National Park in Montana facts, please share the love and Pin It to your Glacier National Park board!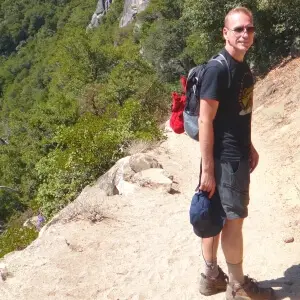 James Ian has dedicated his life to travel and has traveled to 82 countries and all 7 continents.  He's visited all of the main national parks in the United States, as well as many national monuments and state parks.
As a national park expert, James has contributed to many publications, including Time Business News, Savoteur, and Wired. He also has several published detailed itineraries in addition to many free online guides.
James has rafted through the Grand Canyon; rappelled down slot canyons near Zion and Arches; hiked among the hoodoos in Bryce and the enormous trees in Sequoia; admired the waterfalls in Yosemite and the colored hot springs in Yellowstone; seen moose in Grand Tetons and seals in the Channel Islands, and much more.
---
Parks Collecting is a participant in the Amazon.com Services LLC Associates Program, an affiliate advertising program designed to provide a means for sites to earn advertising fees by advertising and linking to amazon.com. Amazon and the Amazon logo are trademarks of Amazon.com, Inc. or its affiliates. As an Amazon Associate I earn from qualifying purchases.