I had descended without any issues and was now about 30 feet/ 9 meters underwater.  In front of me was a wall of giant kelp.  Golden seaweed stretched from the seafloor a couple of meters below me way up to the surface far above me. 
I slowly swam into the kelp, gently pushing the swaying vertical fronds apart.  I was soon lost in a forest of seaweed, with just my dive buddy beside me.
A bright orange fish swam past.  I was distracted by the flash of color, when suddenly something bigger and darker dashed up to me.  Right on front of my nose, looking into my mask, was a playful harbor seal. 
It looked at me, then turned and darted away, almost immediately disappearing into the kelp.  How cool was this?!
I was at the Californian Channel Islands, SCUBA diving near Anacapa Island. 
---
No time to read about giant kelp diving in the Channel Islands now? Pin it for later: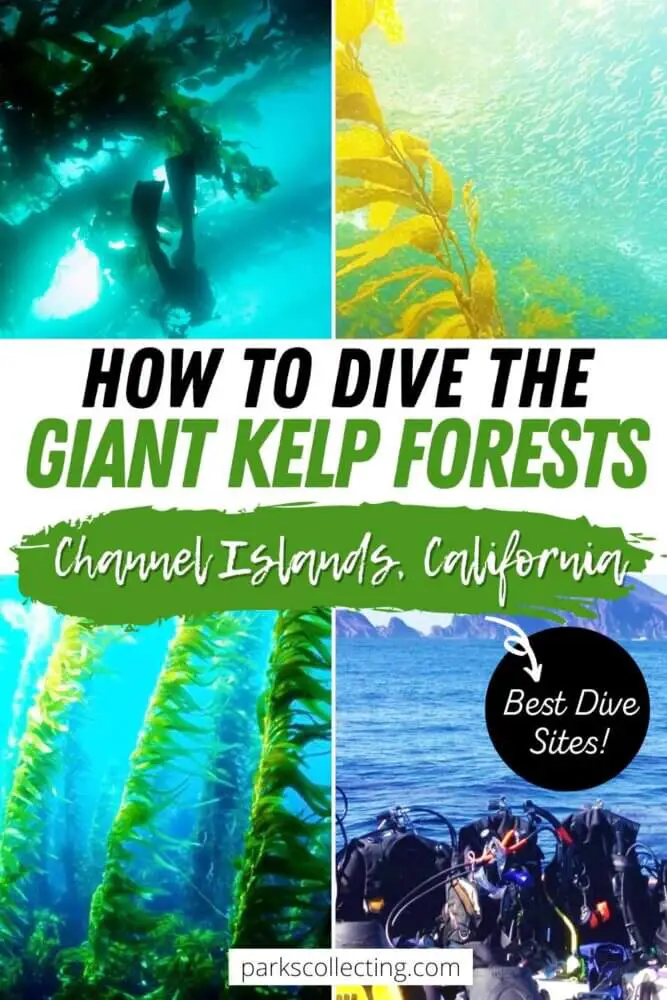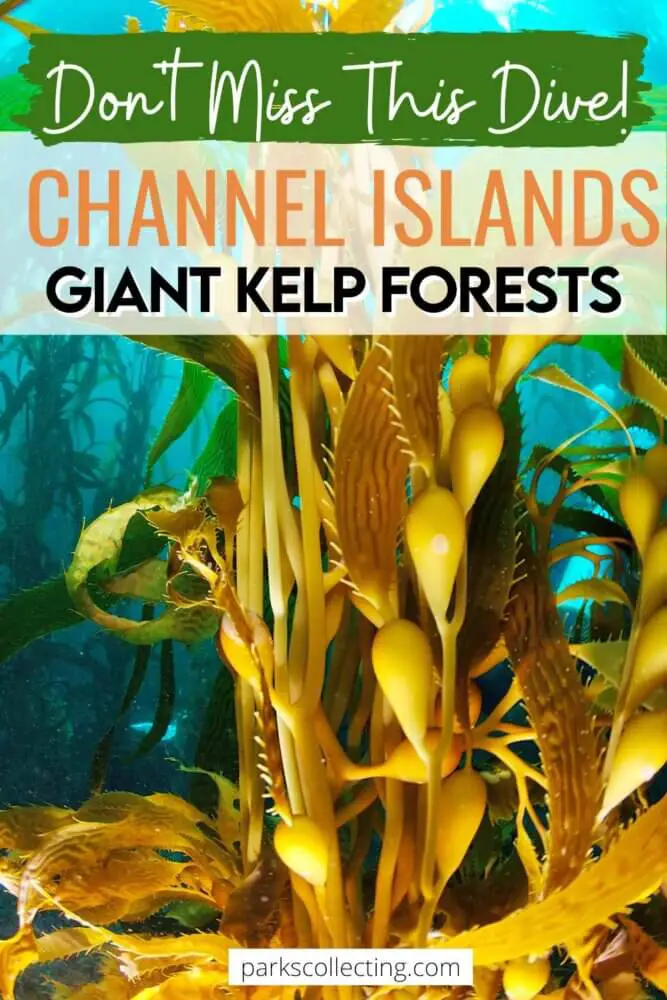 Please note this post may contain affiliate links, which means we may receive a commission, at zero cost to you, if you make a purchase through a link. Please see our full Disclosure for more information. If you have any questions, please contact me.
Channel Islands SCUBA diving, California
It strange to think of L.A. and diving together, but actually kelp diving in California is one of the top dive experiences in the world.  I had wanted to go on a SCUBA diving trip in California ever since I'd first read about the giant kelp forests, so when we planned a trip to southern California, it was on my list of things to do.
Getting to Anacapa Island
Anacapa Island actually consists of three smaller islets, East, Middle, and West Anacapa Islands. They are located approximately 14 miles/ 22.5 km south of Ventura, California and boats usually leave from Ventura Harbor. 
The boat left at 7:30 am and we were staying in central L.A., so we had headed out at 5:30 am to make sure I was there in time.  Kevin is not a diver, so he drove me there – and then spent the day hanging out in L.A. before picking me again when we got back about 6:00 pm.
The Anacapa Islands are beautiful – jutting straight out of the ocean, and I was excited as we approached them.  They are actually the closest of the eight Channel Islands to shore (when reached from Ventura Harbor) and it only took about 1.25 hours to get there.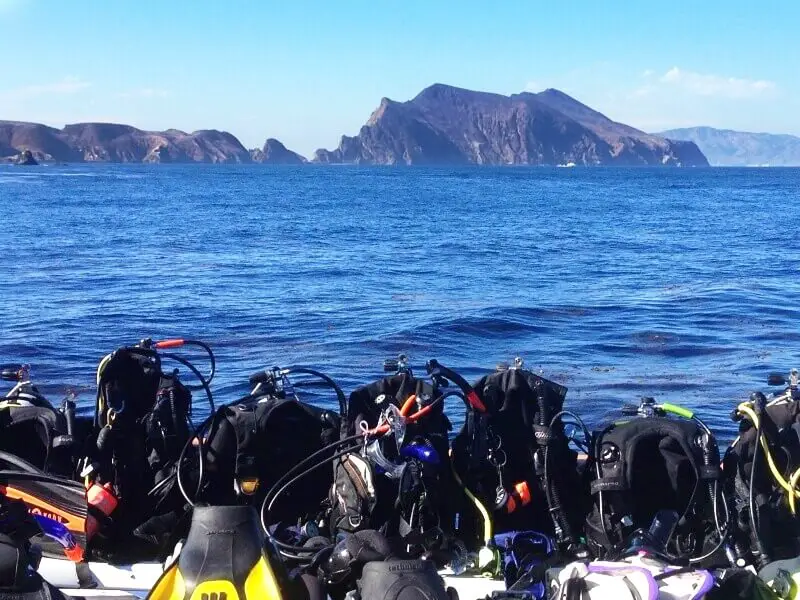 Dive 1: Canyons
This was a nice introduction to the kelp forests.  Maximum depth 39 feet/ 11.8 m.  We jumped in just outside a small kelp forest and swam into the kelp.  It was awesome!  It's another world, being surrounded by giant seaweed fronds, pushing them apart to make my way through them. There wasn't much marine life other than the kelp, but I was in heaven.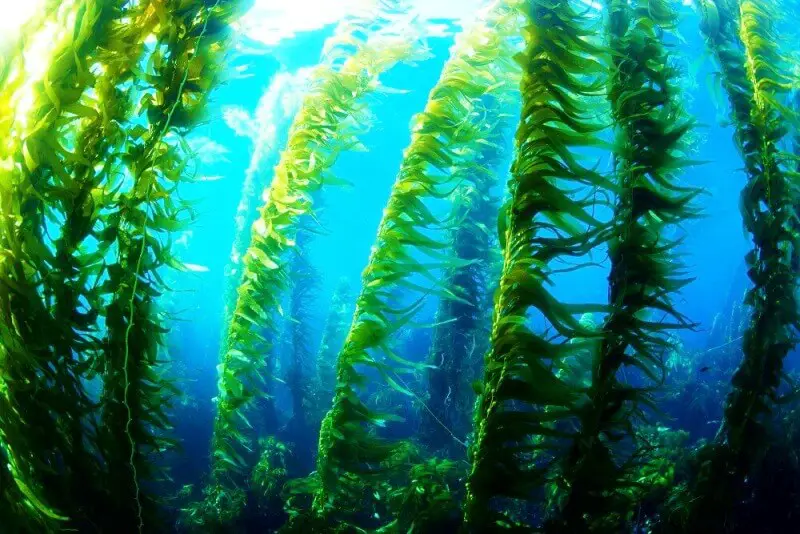 Dive 2: Cathedral Cove
This was the best of the three dives of the day.  Maximum depth 38 feet/ 11.5 m.  There was lots of kelp and bright garibaldi fish that this area is well known.  They are really cool.  There was also plenty of other fish swimming around.  There was no shortage of things to look at and enjoy.  And of course, my encounter with a harbor seal (or was it a sea lion? – I'm actually not sure).  It darted away quickly, but came right up to my mask and looked at me.  Great fun!
Dive 3: Winfield Scott
Another great dive to end the day.  Maximum depth 36 feet/ 11 m.  More kelp of course (which was the main thing I wanted to experience), but there were lots of other cool things like giant lobsters and sea cucumbers.
Of course there was lunch in between and a weary but extremely satisfied James on the way back.
The verdict: Kelp forest California diving
It was everything I had imagined!  Diving through the California kelp forests was incredible.  The cheeky seal (sea lion?) was an added bonus!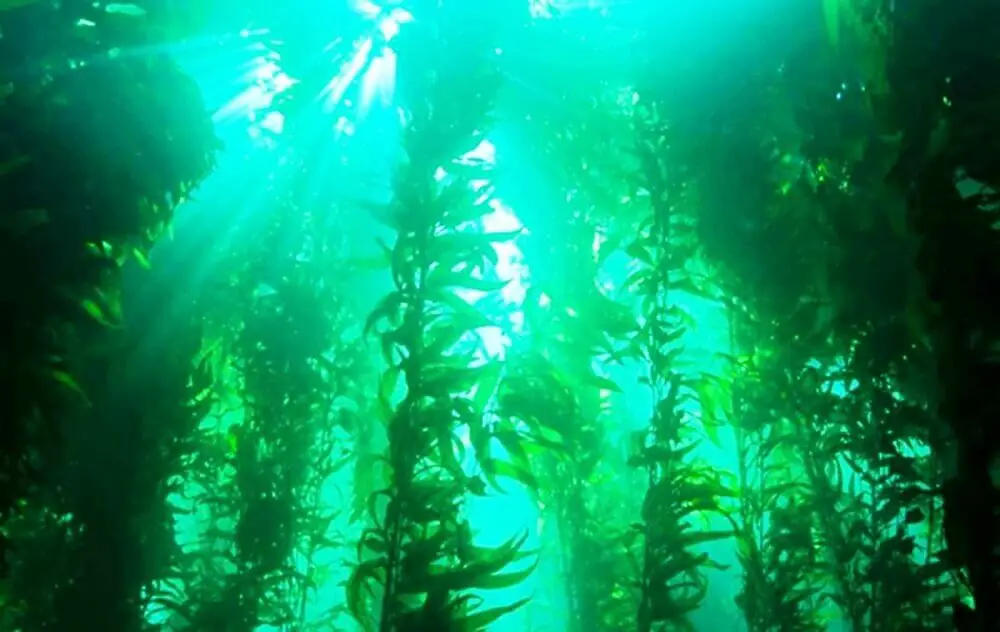 The Experience: Kelp diving, California
Diving in the giant kelp forests of California is one the world's top diving experiences.  The giant seaweed forests are around the Channel Islands.
The Channel Islands and Channel Islands National Park
The Channel Islands are eight islands off the coast of California around L.A.  The five northern Channel Islands (San Miguel, Santa Rosa, Santa Cruz, Anacapa, and Santa Barbara Islands) make up the Channel Islands National Park.  The other three (the southern Channel Islands) are Santa Catalina, San Clemente and San Nicolas Islands.  Seven of the islands are nature reserves.  Santa Catalina (usually just called Catalina Island) is the only one of the eight islands with human settlements.  There are two towns – Avalon and Two Harbors.
The Channel Islands' kelp forests are the area's main attraction. Probably the two most famous islands are Catalina Island and Anacapa Island.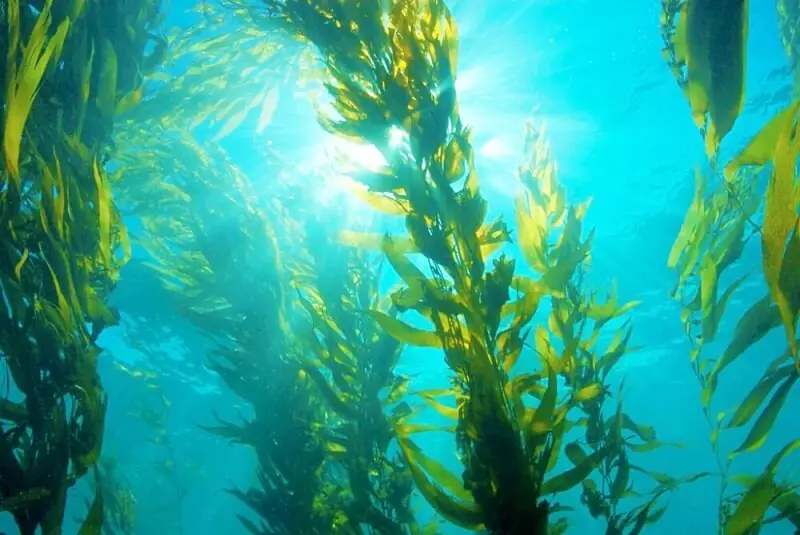 Where is best to dive the Channel Islands?
There are a few options to SCUBA the Channel Islands.  The main options (including how to get to the Channel Islands) are:
1. Diving straight from Santa Catalina Island
Catalina Island SCUBA diving can be done from the island or from the mainland.
Getting to Catalina Island
There are two towns on the island and both have ferries – Avalon and Two Harbors. Ferries leave from 3 different ports, all south of LA. Click here for the schedule of the Catalina Express ferry to/ from Catalina Island.
Catalina SCUBA diving is possible from both towns.
Dives from Avalon, Catalina
In Avalon, there is shore diving from Casino Point at Casino Point Underwater Park/ Avalon Dive Park.  One of the main Catalina Island diving operators in Avalon is  Catalina Divers Supply.  They have shore dives and boat dives. Shore dives are at the Avalon Dive Park daily at 8:00am, 10:00am, 12:00pm, and 2:00pm (2 hours each dive) The price of $115 per person or $135 for a private experience includes all equipment.  Their boat dives are Fridays, Saturdays & Sundays 9:00 a.m. to 2:00 p.m.  Prices for boat dives from Catalina is $107 for 2 dives (gear NOT included) and $85 for snorkelers (includes gear).
Dives from Two Harbors, Catalina
You can rent dive gear at Two Harbors and do shore diving by yourself (with a buddy, of course).
Other things to do on Catalina Island
There are actually lots of fun things to do on Catalina in addition to diving, including a zip line, a food tour and a bison tour. Check out all of the fun Catalina experiences here.
2. Diving Catalina Island as a day trip from LA
Boats for the Catalina Island kelp forest usually leave from San Pedro port south of LA.
There are several operators.  Eco Dive Center has Catalina Island Diving trips go most weekends from San Pedro.  It costs $135 for 3 dives (gear not included).  You can check out their trip schedule here.
3. Diving Anacapa Islands and/ or Santa Cruz Island
Boats for Anacapa Island SCUBA diving and Santa Cruz usually leave from Ventura Harbor north of LA.
Eco Dive Center also has Anacapa SCUBA diving trips (often alternating weekends with their Catalina trips) from Ventura Harbor.  It costs $140 for 3 dives (gear not included, but can be rented at their dive shop) for Anacapa and/ or Santa Cruz.  You can check out their trip schedule here.  This is the trip I did and I was extremely happy with their service.
Blue Holic SCUBA also has a monthly trip to Anacapa/ Santa Cruz, also leaving from Ventura Harbor.  Prices were not available on their website.
4. Diving San Miguel Island and/or Santa Rosa Island
The boats for the most northern Channel Islands usually leave from Santa Barbara.
Blue Holic SCUBA also has one or two trips/ month to San Miguel / Santa Rosa Island.  The 3-dive trip leaves at 3:00am from Santa Barbara.  You need to board before midnight and sleep onboard.  Prices were not available on their website.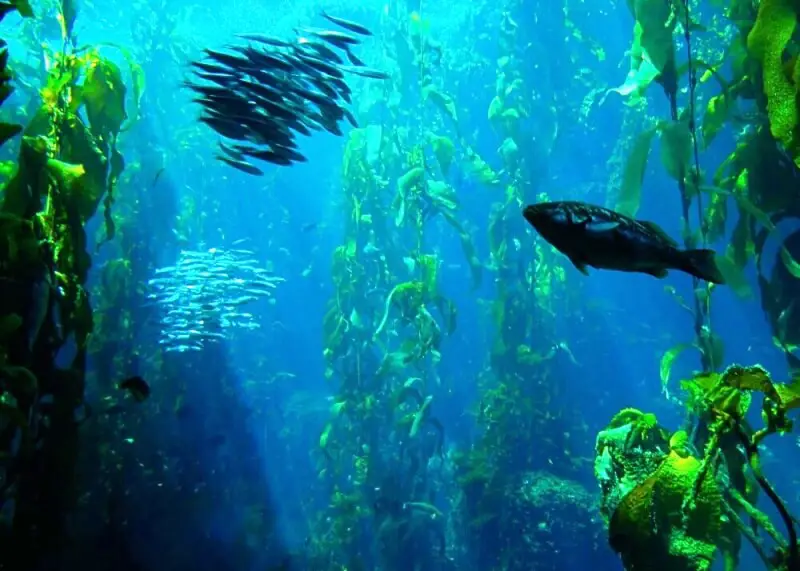 The best choice for Channel Islands diving
Of course, the best choice is different for everyone.  However, for me, Eco Dive Center was the best for several reasons.  I did this dive as part of a bigger trip around California, and this dive was a day trip, not the main focus of the vacation.  And my husband doesn't dive, so I wanted to limit this to one day.
They have a shop in Culver City. I needed to rent some of my equipment, so had to go there the day before the dive.  The fact that their dive shop was central, rather than out by the port, made this more convenient.
I could do it one day. The trips from Santa Barbra and from Catalina Island take up more than a day.
I did the trip to Anacapa rather than Catalina only because this was the trip running on the day I had available. I think either of them would be equally great.
Eco Dive Center was well organized and the equipment I rented was in good working condition.
If you specially want to go SCUBA diving in Channel Islands National Park, then options 3 and 4 are for you, because Catalina is outside the national park.  However, diving Channel Islands National Park isn't necessarily any better – the California giant kelp forest extends throughout all of the Channel Islands and is common all around Catalina.
If you are not a diver, but still want to experience the California kelp forest, then Channel Islands snorkeling is also an option.  Most dive centers also have prices (and equipment) for snorkelers.
Best time of year for Channel Islands SCUBA diving
So, when is the best time to dive the Channel Islands?
Visibility of Channel Islands for diving
Channel Islands diving (and snorkeling) is possible all year round.  However, the best underwater visibility in the Channel Islands is between July and January and sometimes into February. The best visibility is September to November.  I dived in November and visibility was good.  The southern Channel Islands have the clearest water, with visibility up to 80 feet (24 meters) of visibility.  April to June there are often plankton blooms and green water, with visibility of about 20 feet/ 6 meters.
Channel Islands water temperature
Summer is obviously the warmest and from mid-July to late October, the surface water temperature is over 70°F / 21°C.  The Channel Islands are coldest between February and late June (around 50°F / 10°C).  The southern Channel Islands Catalina and San Clemente are warmest, and San Miguel up north can be below 50°F / 10°C.
The major dive sites in the Channel Islands, California
Best dive sites Anacapa Island
* Canyons – kelp
Cat Rock – kelp, brittle stars
* Cathedral Cove – Giant Kelp forest, lots of fish, garibaldis and a sea lion rookery
Channels – Harbor Seals
Coral Reef – millions of brittle stars making a brittle star carpet (60-80f feet/ 18-25 meters).  Currents can be strong.
Landings cove – a large underwater arch you can swim though, lots of fish, nudibranchs
Lighthouse
Pelican reserve – nudibranchs, juvenile fish and uncommon critters. Only open in November
Portuguese Rock
Rat Rock – good overall diving
Underwater Island / Island Reef – near Channels, pinnacle 20 feet/ 6 meters, brittle stars, rockfish, black-eyed gobies, baby sheepshead, lingcod, and sea fans
* Winfield Scott – kelp, giant lobsters, sea cucumbers
* The sites I dived
Best dive sites Santa Cruz Island
The diving is better in the west of the island
Bowen Point – kelp forests, torpedo rays
Flame Reef – nudibranchs, small fish
Gull Island – lots of kelp, large fish, sea lions, harbor seals
Painted Cave area – Walls, sea lions, lots of fish
Potato Rock – a small pinnacle with nudibranchs
West end Pinnacles – pinnacles, sand channels, nudibranchs
Best dive sites Santa Rosa Island
There is a lot of lobster fishing here
Bee Rock
East end pinnacles – there are several underwater pinnacles around 50 feet/ 15 meters deep
Best dive sites San Miguel Island
Judith rock pinnacle – pinnacle about 55-60 feet/ 16.5-18 meters deep. Heavy currents are common
Rainbarrel – large kelp forest, abalones
Richardson Rock – good deep diving, but often has a strong current
Skyscraper & Boomerang – pinnacle about 55-60 feet/ 16.5-18 meters deep.  Good deep diving, but often has a strong current
Wilson Rock -good deep diving, but often has a strong current
Wyckoff ledge – Wolf eels, mosshead warbonnets and nudibranchs
Best dive sites San Clemente Island
The Navy often closes most of the island, so it is often not open for diving
Castle Rock – kelp forest, shallow caves
Little Flower – large reef, soupfin sharks
Nine Fathoms/ Arch Rock – 60 feet/ 18 meters deep, purple hydrocoral
Pyramid Cove – kelp, sea fans
Best dive sites Santa Barbara Island
The best place in Southern California to see sea lions because of its sea lion rookery
Sea Lion Rookery – shallow, sheltered, lots of sea lions in clear water
Archway – lots of fish, purple hydrocoral
Black Cavern – caves and caverns, deep
Sutil – kelp
Brittle Star Reef – kelp, millions of brittle stars making a brittle star carpet (60-75 feet/ 18-23 meters)
Best dive sites San Nicolas Island
San Nicolas Island is very exposed, and the Navy closes most of it off, so it is not common for dive boats to go here
Begg Rock – lots of fish, very deep and exposed
Best dive sites Catalina Island
There is no shortage of things to see on Catalina Island dives.  Giant kelp forests are all around Catalina Island.  Bat rays and angel sharks are often found in the sand near the kelp; octopi and moray eels can often be found in crevices; horn sharks & leopard sharks are not uncommon; sea fans & anemones are common; harbor seals are also common in shallow water in the kelp, and bright orange garibaldi, blue-banded gobies, and sheepshead are all around, as are nudibranchs.
Bird Rock – kelp, small walls
Blue Cavern Point – wall with some sea fans, caves and caverns.  A drift dive
Eagle Rock – sea fans
Farnsworth Banks – purple hydrocoral, lots of fish, and torpedo rays. Advanced divers only
Italian gardens – kelp, giant black sea bass July to October 40-70 feet (12-21 meters) deep
Long point – tall kelp, wall with sea fans 60-100 feet (18-33.5 meters) deep
Rock quarry – kelp, scythe butterfly fish, angel sharks
Ship Rock – kelp, lots of fish, angel sharks, nudibranchs
Two Harbors area (Sea Fan Grotto, Blue Cavern, Lion's Head, Bird Rock and Eagle Reef) – giant kelp forests, lots of fish
West end cove – jack mackerel, harbor seals, yellowtail, nudibranchs.  Currents can be strong.
Map of the Channel Islands
I had no idea where the ports were and where they were in relation to downtown LA, and to the different Channel Islands when I first started planning my trip.  It is really helpful to know this though, when deciding what option to choose.  So, I made this map: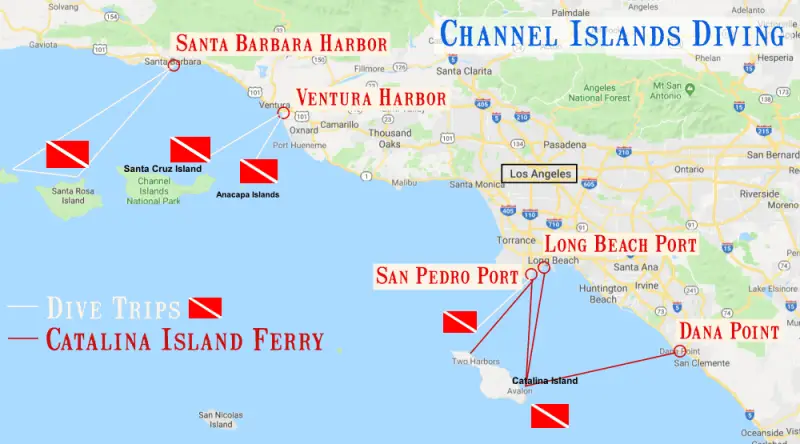 Dive gear for diving the Channel Islands
I like to travel light without a whole bag of dive gear, because this was just on part of a bigger trip.  The basic essentials for this trip are:
1. Mask
It's possible to rent mask and fins, but they typically suck, so I try to bring my own with me if at all possible. I love the Aqualung Mask.  It fits great – I have a high bridge over my nose and used to get headaches from ill-fitting masks.  The Aqualung Mask did away with this, so I LOVE it.  If you are looking for a new mask, buy the Aqualung Mask here.
2. Fins
I prefer open-heeled fins, as they are easier to get on and off.  The booties that you have to wear also keep your feet warm.  I like Tusa Imprex fins.  If you need new fins, buy the Tusa Imprex fins here.
3. Booties
You need booties in cold water, of course, and 5mm is best at these temperatures.  I was very comfortable with my Scubapro booties.  Buy the Scuba Pro (unisex, 5mm) booties here.
4. Knife
I actually got a knife specifically for this dive.  Of course, it's always a good idea to take a knife with you, but it is essential when diving in kelp because it is possible for the kelp to get caught around your tank and/ or BCD.  You should NEVER dive in kelp without you and your buddy having a knife. Buy the Tusa Imprex knife here.
5. Dive Flashlight
I first got a dive flashlight when I started doing night dives, but now I always carry it with me.  There will often be a crevice or hole to explore.  I actually take my dive flashlight with when I travel even when I'm not planning on diving – you never know when a waterproof flashlight will come in handy. I've used it for hiking, camping, and caving. I like the BigBlue dive torch – it's small but fairly powerful. Buy the BigBlue dive flashlight here.
I rented wetsuit, hood, gloves, BCD and dive computer from the dive shop, but of course, if you have gear and want to bring it, your own gear is always most comfortable.
---
Travel Insurance
My aim is to not only inspire you to have amazing experiences when you travel, but to also give you the practical information and resources you need to have them.  In addition to accommodation, planning and flights, you should always have travel insurance, just in case.  A great insurance option is Travelex.  It has coverage for all you'll need. You can swap this link for  either choose the best travel insurance plan for your trip here or get a quote right now:
---
Have a great dive!
Do you have any dive stories to share ? I'd love to hear them. Join my private Facebook group National Parks Collectors and comment and let me know.
If you liked this post, please share the love and Pin It to your Diving board for later!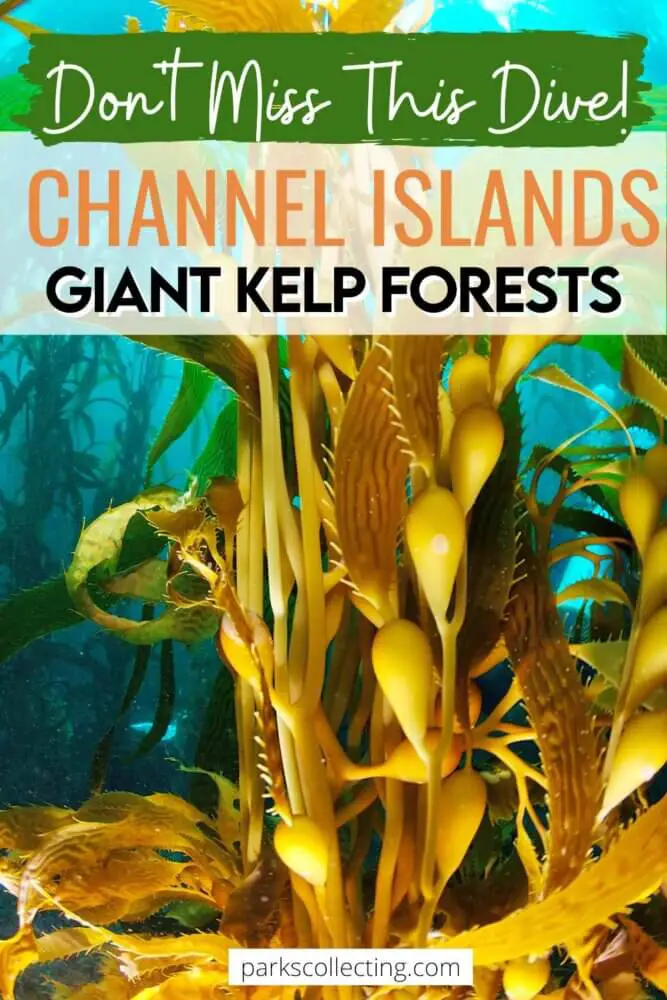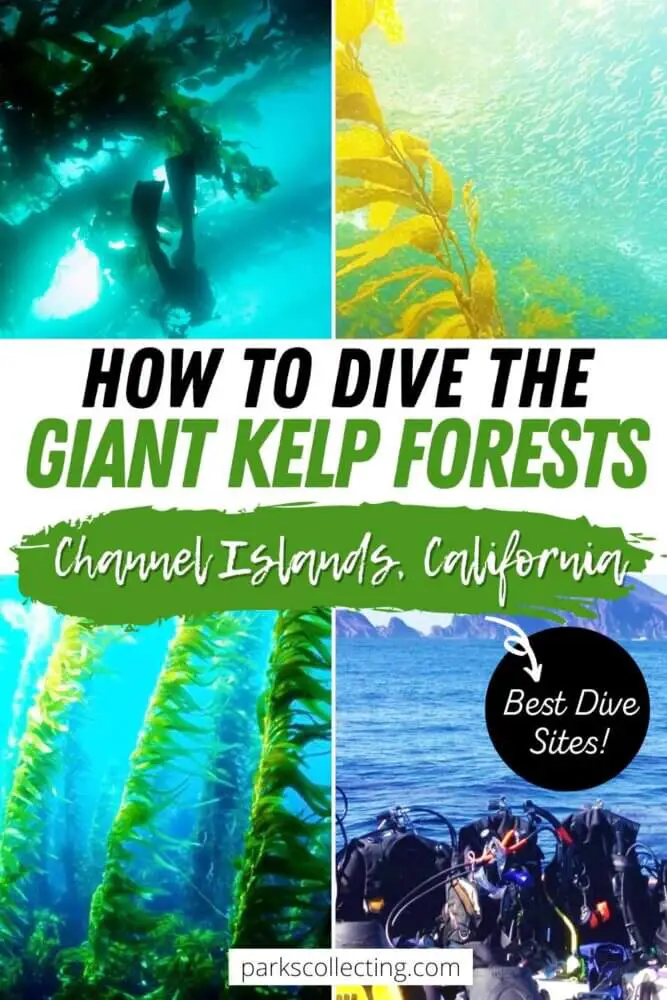 ---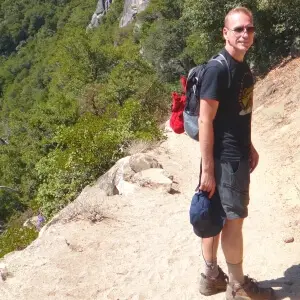 James Ian has traveled to 82 countries and all 7 continents.  He has visited all of the main national parks in the United States, as well as many national monuments and state parks.
He has rafted through the Grand Canyon; rappelled down slot canyons near Zion and Arches; hiked among the hoodoos in Bryce and the enormous trees in Sequoia; admired the waterfalls in Yosemite and the colored hot springs in Yellowstone; seen moose in Grand Tetons and seals in the Channel Islands, and much more.
---
Parks Collecting is a participant in the Amazon.com Services LLC Associates Program, an affiliate advertising program designed to provide a means for sites to earn advertising fees by advertising and linking to amazon.com. Amazon and the Amazon logo are trademarks of Amazon.com, Inc. or its affiliates. As an Amazon Associate I earn from qualifying purchases.